The 12 Different Types of Veils to Top Off Your Wedding Day Look
Here's the difference between blusher and birdcage, once and for all.
A veil has long been considered the finishing touch to any wedding gown, but this elegant accessory continues to evolve, and there are more options than ever for modern brides. If you're thinking about wearing a veil as part of your look on the big day, start with this guide to wedding veil styles and lengths. From statement-making cathedral length veils to short birdcage veils and everything in between, here are all the options to know before choosing your own.
In this article:
Short Wedding Veil Styles
Perfect for no-fuss brides and petite figures, short wedding veils allow you to accessorize without obscuring your wedding gown or compromising ease of movement. Even better, they can be paired with a range of wedding hairstyles, whether you're rocking a pixie cut and don't want to feel weighed down by a heavy veil or you want to add even more personality to a fun updo.
1. Birdcage Wedding Veil
Reminiscent of styles worn in the 1940s and 1950s, the birdcage veil is a short piece of raw-edge netting or tulle that drapes slightly off-center on the side of the head. The super-short veil provides a distinctively retro effect and leaves the lower half of your face uncovered, making it an easily wearable accessory that you won't have to worry about lifting or pushing aside when it's time for the first kiss. Birdcage veils are sometimes attached to a headband or pillbox hat, adding even more demure charm.
2. Flyaway Wedding Veil
A simple veil that barely brushes the shoulders, the flyaway veil is considered less formal than other styles. It's often made with tulle, giving it a stiff shape, and can be single- or multi-layered. If you're wearing a wedding dress with a heavily embellished back or neckline, this shoulder-length style is the perfect hair accessory that won't distract from your gown. Wear the veil high on the crown of your head to frame your face and create a flirty effect.
3. Blusher Wedding Veil
The blusher veil is technically just the top layer of a two-tier wedding veil. Blushers, which can be attached to wedding veils of any length including medium and long veil styles, tend to fall between the shoulders and elbows but can sometimes be longer. The blusher is worn over the face before the ceremony and during the processional, then either flipped over the head or removed afterward. Wedding veils with blushers are considered to be more formal, and they're commonly worn for Catholic weddings and other ceremonies in houses of worship.
Medium Wedding Veil Styles
The sweet spot between short and long wedding veils, medium veils are some of the most versatile styles. Their longer length makes them appropriate for semi-formal and formal weddings, but you won't have to worry about accidentally stepping on the veil edge or picking up the fabric to walk.
4. Elbow Wedding Veil
As the name implies, this type of veil extends from the crown of your head down to your elbows. Its shorter length makes it a great option for showcasing the skirt or train of your wedding dress while covering your shoulders and back. Elbow-length veils are also a good compromise if you like the look of a veil but don't want to risk snagging it or feeling restricted with your movements.
5. Fingertip Wedding Veil
A very common veil length, this wedding veil style extends to—you guessed it—the fingertips when your arms are resting by your sides. It's a particularly popular pick for ball gowns and A-line dress silhouettes that get wider at the bottom. For added dramatic effect, we love the idea of pairing a fingertip veil with another wedding headpiece, like a flower crown or sparkling barrette.
6. Ballet Wedding Veil
Also called a waltz veil, this medium-length veil is the longest option before you enter floor-length veil territory. It falls somewhere between the knees and ankles, which means you won't have to worry about tripping over it (and hence the name, it's perfect for dancing!).
Long Wedding Veil Styles
Envision the scene of a veil trailing along the ceremony aisle or draped dramatically down a grand staircase for portraits. If these sound like your idea of iconic wedding moments, then a long veil is for you.
7. Chapel Wedding Veil
The chapel veil is a semi-formal veil style that reaches to the floor and extends just an inch or two behind your gown. It's often worn in combination with a chapel wedding dress train that is roughly the same length. If you want to add oomph without resorting to a longer veil, look for a chapel length veil that has a blusher or embellishments, such as beading, sequins or lace.
8. Cathedral Wedding Veil
The mother of all wedding veil styles, the cathedral veil is also one of the most formal lengths. This bridal veil extends roughly two feet onto the floor behind your wedding dress, which creates a stunning effect as you walk and pose for portraits. Keep in mind that cathedral length veils are high-maintenance—you'll need to have a bridesmaid on standby to help you spread out the fabric and the veil will need to be carried when you walk around.
9. Royal Wedding Veil
Typically reserved for monarchs and the grandest of weddings, the royal veil pools onto the floor for several (or dozens of) feet behind your dress. A few famous examples of royal-length veils include Hailey Bieber's embroidered veil, Priyanka Chopra's 75-foot veil and Princess Diana's veil that matched her 25-foot-long dress train.
Other Types of Wedding Veils
On top of deciding which veil length works with your bridal style, there are a few different designs you might not be familiar with. If you're interested in something other than the standard two-tier veil, here are some options.
10. Juliet Wedding Veil
Beloved by boho brides (Kate Moss wore a Juliet cap veil), this tulle veil is fitted to the curve of your head and fastened on both sides above the ears. Juliet veils were extremely popular in the 1910s and 1920s, so you might recognize them for their Art Nouveau and Art Deco-inspired look. The cap part of the veil is typically embellished with ornate beading or appliqués.
11. Mantilla Wedding Veil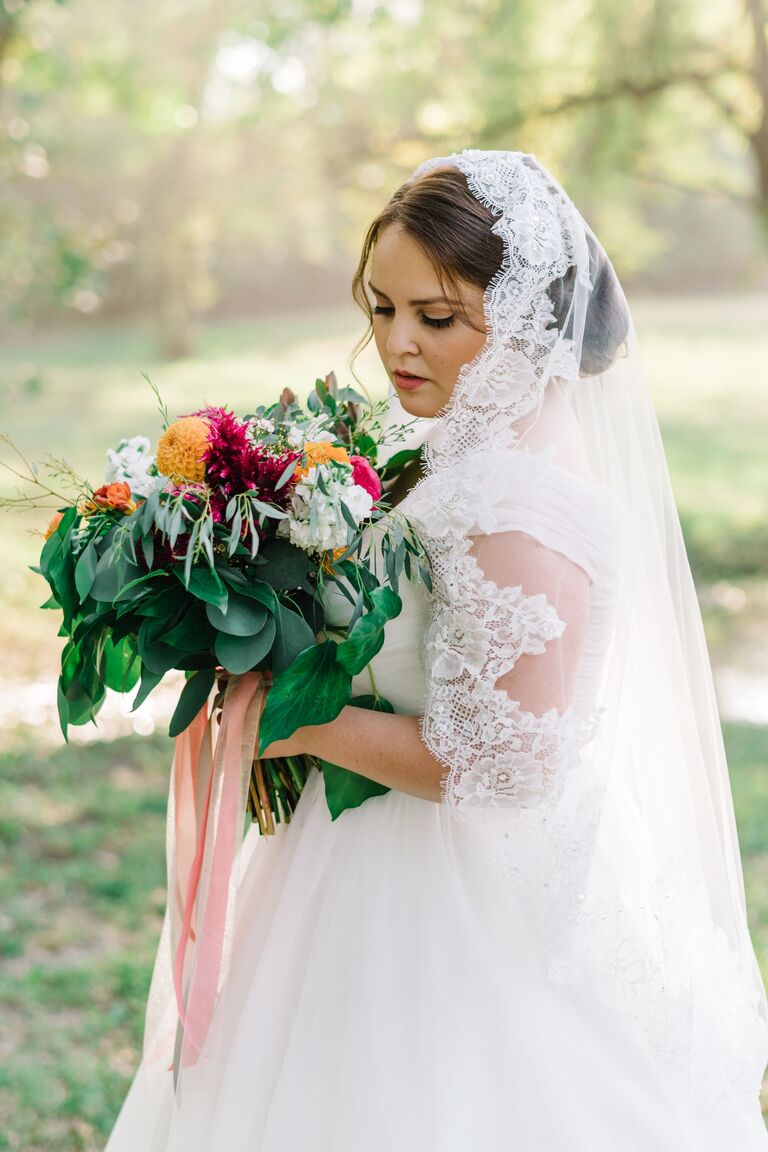 The mantilla veil is a large, circular piece of tulle that is fastened just a few inches from the hairline on the top of the head, versus at the crown where most other veils are typically worn. This Spanish-style wedding veil is finished with scalloped lace trim and reaches the floor.
12. Drop Wedding Veil
The drop veil is similar to the mantilla veil in its circular design, but instead of being fastened near the hairline, it fully covers the face and upper body. Unlike two-tier veils, there's no ruching or volume to this style, which creates a sleek and timeless look. Case in point: Grace Kelly opted to wear a drop veil, followed by Kate Middleton (paired with a diamond tiara, naturally).