The Wedding Expenses You Should Definitely Put On Your Credit Cards, According to The Points Guy
Here are the main 'points' you need to know if you're throwing a hotel or restaurant wedding.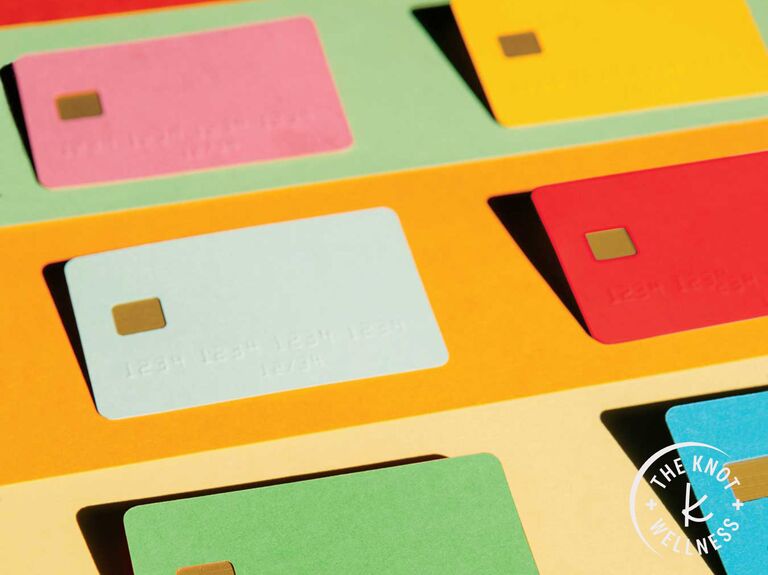 We have included third party products to help you navigate and enjoy life's biggest moments. Purchases made through links on this page may earn us a commission.
Using credit cards to pay for wedding expenses is a hack that could benefit your overall budget. Planning a wedding means you're naturally going to accrue expenses across multiple categories. From food and entertainment to hotel stays, there are certain expenses to put on cards—and even further specific to preceding events like bach parties, showers and beyond. It's valuable to put certain expenses on credit cards so that you're not missing out on earning points while you spend. (Editor's note: In fact, explore our picks for the best credit cards for wedding planning, which are well-recommended by experts and couples, alike.)
By doing so, you'll earn wedding credit card points (consider it free money) to put towards your honeymoon or, even, a hefty post-wedding purchase like upgrades in your home. (Editor's Note: The rule of thumb, always, is never to swipe cards when you lack the cash flow to pay it off. Otherwise, the interest rates will create additional debt–far from the financial wellness necessary for your new marriage. If you're able to pay down your credit cards immediately, then the following tips are for you.)
In This Article:
The Best Wedding Expenses for Credit Cards, According to The Points Guy
Venue
I recommend using a high-earning card for the biggest charges, such as the reception. If your venue takes cards as a form of payment, be aware of any potential transaction fees and do the cost-benefit analysis of whether swiping is the best option for you. If so, the ideal card to use to pay your reception venue will vary on how the purchase is coded. These are questions to ask your prospective venue's sales contact, especially if you value accruing points with larger expenses.
Food
If your reception expenses (i.e. caterer and/or venue) are coded as restaurants, I recommend putting these purchases on an American Express Gold Card which gets you 4x points per dollar at restaurants. A close runner-up is the Chase Sapphire Preferred which gets your 3x points per dollar at specific establishments. These cards can also be handy for the rehearsal dinner or the wedding farewell brunch if you're giving your loved ones a multi-day experience.
Flowers
For additional expenses, such as flowers for the bridal shower or the rehearsal dinner, specific online floral delivery businesses will offer between one to 30 miles per dollar via airline partners through their shopping portals. This is a great option for prewedding events, but not necessarily for the wedding itself, as most couples work with local florists.
Miscellaneous Wedding Items
Credit card shopping portals are a great resource for couples who want to shop for other wedding-related purchases, such as accessories or gifts (even your wedding ring can earn you credit card points). Some vendors have deals with David Yurman, Blue Nile, Nordstrom and more.
For purchases with merchants that don't fit into traditional bonus categories—like a photographer or furniture rentals—turn to a card that offers a solid earning rate on everyday spends. These options include the Capital One Venture/Venture X cards or the Citi Double Cash option. Alternatively, if you're looking to pay for your wedding over time, consider opening a card that offers a 0% APR introductory offer, which could allow you to pay off expenses without any interest for up to 18 months. Again, pay off the entire balance prior to the expiration date of the offer or the due date. Otherwise, you may get hit with massive interest charges.
For even more savings tips and discounts on wedding planning essentials (such as save-the-dates and invitations), click here.
The Unexpected Wedding Costs to Put on Credit Cards
If you're planning a destination wedding, most large hotel brands will allow you to earn points for hosting your wedding at one of their locations. Depending on the property, this could be in addition to the points you earn from paying with your credit card.
For example, hosting your event at a Marriott property could earn you 2x points for every eligible $1 (up to $30,000 in spending). Elite members will even earn their usual bonuses, meaning that a Titanium Elite member could take home up to 105,000 points on the event. Hyatt, on the other hand, is offering its Together Offer through 2023. This awards couples up to 150,000 points on your event, again depending on your total spend. Participating properties will even provide bonuses like complimentary guest rooms or enhanced food and beverage options. You'll want to check with your property, of course, to ensure this is the case.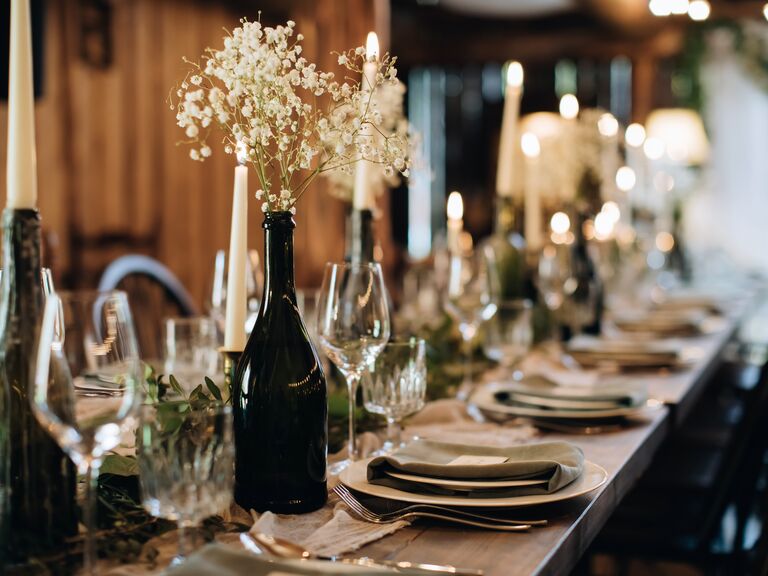 How to Avoid Transaction Fees on Cards
Some vendors won't take credit cards, or they'll charge a fee. In this case, write a check—unless you're working toward a welcome bonus on a new card and you wouldn't otherwise be able to reach the spending minimum.
If the vendor is willing to take a debit card without fees, consider opening an American Express Reward Checking account. You'll earn 1x points for every $2 you spend on the card, which is better than nothing.
If any portion of your wedding (or honeymoon) is international, utilize a card that waives foreign transaction fees. If you swipe the wrong card when you're abroad, you could incur an additional 2.7-3% fee on top of the purchase. That's money for an extra cocktail with your spouse.
Please note: The Knot and the materials and information it contains are not intended to, and do not constitute, financial or tax advice and should not be used as such. You should always consult with your financial and tax advisors about your specific circumstances. This information contained herein is not necessarily exhaustive, complete, accurate or up to date and we undertake no responsibility to update. In addition, we do not take responsibility for information contained in any external links, over which we have no control.