How I Used My Wedding Registry to Buy My First House
Because you don't have to register for traditional gifts if that's not your thing.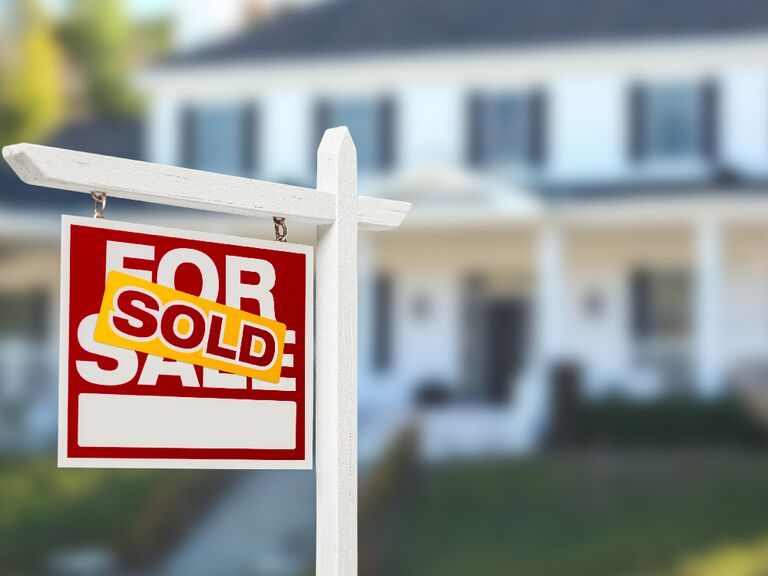 Andy Dean Photography/Shutterstock

After our last vendor payment was made and a majority of the wedding day details had been squared away, my wife and I finally got some downtime to breathe and take on a more enjoyable planning task—putting together our registry.
At this point in our lives, we had both been to a few weddings and had the wedding guest drill down to a science. You show up on time, have fun, try not to forget the envelope full of cash at the hotel or in the cab on the way to the venue, and above all, ensure your gift makes its way into the card box.
So when it came down to putting together our registry, we knew we wanted to lean more towards cash gifts. We saw how much flexibility cash could provide us with over physical gifts that we had no room for in our 700-square foot apartment in New York City. We also considered the more recent weddings we had attended, where we didn't see large gifts. It seemed like cash gifts had become the norm, especially because many millennial guests like to give money. Once we decided that using our wedding registry for a down payment on a house and paying for our honeymoon was our top priority, we got to work. Here's how we did it.
First, We Set Priorities
Our main reason for prioritizing cash funds on our registry was that we didn't have a ton of space in our apartment, and we really aren't big on material things. We like to prioritize experiences over possessions, and we knew setting up cash funds for specific goals would give us the most flexibility without being wasteful or letting a gift we will probably never use sit in the closet until the end of time.
We Made Logical Financial Goals
Our initial goal was to save up and pay cash for our wedding and since we took care of that, setting up a cash fund for money towards our first home, in our minds, was the next logical step for us. We didn't physically have the space in our apartment for large gifts so we thought the next best thing would be to allow folks to contribute to our next life goal: owning a home. We also planned out how to stretch our cash after the wedding—we opted to use Varo Bank's high-yield savings account to build on our funds while keeping it accessible for our down payment.
We Offered a Variety of Gifting Options
To be as accommodating and considerate as possible, we did add a few physical gifts to our registry. We knew that some people are not comfortable giving cash gifts for a variety of reasons. In any case, we wanted to provide the option to guests who preferred to give a traditional gift. At the time, we didn't need many things, but we did ask for a few items we needed or knew we would eventually need for a house.
We Created Multiple Cash Funds
In addition to requesting a handful of physical gifts, we also created multiple cash funds through our registry on The Knot. The Knot Registry provides couples with several kinds of gift options to add to their registry, including allowing guests to purchase experiences, like cooking classes, or simply give cash funds to the couple directly.
We created six different funds because we wanted to give our wedding guests the opportunity to contribute to various experiences and needs. One fund was for money towards a down payment on a home, while the others were for various honeymoon excursions and experiences, including a tour of the Colosseum and several special meals.
We explained within the gift description that we wanted to eventually purchase a home after we got married, and any contribution towards that goal would be greatly appreciated. We didn't have a specific goal in mind, so we left this open and didn't require guests to give a certain amount per person.
For each of the honeymoon funds, we researched in advance how much a wine tour would cost, how much tickets to the Colosseum run, and how much a really nice dinner in each place could cost. We then created the fund amount for each one based on our research. For example, for a nice dinner in Rome, we set the gift amount at $100 figuring roughly $35 a person with a bottle of house wine would amount to roughly $100, taking care of at least a majority of the bill.
Using The Knot Registry was helpful because it allowed us to put a mix of gift types, both physical and monetary (like cash funds and experiences), and allowed us to manage the funds easily. For the funds that were contributed to experiences, we were able to use them right away to book excursions. Once the wedding was over, we were able to transfer the "dream home fund" to our savings account earmarked for our down payment. It was simple and super-convenient to use.
Some guests were enthusiastic about wanting to help us get our first home, while others wanted us to let loose on our honeymoon and treat us to an experience that was paid in full.
We Showed Guests Their Gifts in Use
Although we didn't close on a home right after the wedding, we did go on our honeymoon the same month we got married, which allowed guests to see their gifts put to good use immediately. We sent pictures of the Colosseum tour we took and dinners we had to the guests that provided money for those unique experiences. They were all so happy and couldn't wait to hear about the trip when we got back.
We Spread Out the Use of Cash Funds After Our Wedding
These gifts were especially nice coming off the heels of our wedding and having paid so much money out of pocket. It was a welcomed relief to have a nice dinner or go on a tour without having to worry about the costs because it was already taken care of in advance. Overall, we are glad the cash funds helped us pay for future milestones. Our goal up until the wedding was to save as much cash as possible in order to fund it ourselves and not go into debt. While we tried to do as much DIY as possible, the wedding drained a lot of our savings but we don't regret one cent spent. It was nice to be able to have a debt-free wedding and enjoy the day without expecting one cent in return or feel the pressure of a hefty bill looming over our heads.
If buying the home of your dreams is next on your to-do list and you both know you'll need a little help from your community to make it a reality, ask for it. If you've both had your hearts set on that 20-piece stainless steel cooking set, go for it.
My best advice for soon-to-be newlyweds is to be practical and put what will make you happy on your registry. It's your day and increasingly a day you alone are paying for, so ask for things you'll need and don't worry about what others will think. We physically couldn't keep many gifts in our apartment and didn't want to pay storage costs just to keep stuff in boxes until we decided to use it, if at all. And, best of all, I'm happy to say we had an overwhelmingly positive response to our seemingly simple registry.