23 Wedding Umbrellas That Will Look Great in Photos
We have you covered.
We have included third party products to help you navigate and enjoy life's biggest moments. Purchases made through links on this page may earn us a commission.
There are things you can control on your wedding day, such as your reception playlist, your vows and your catering menu. But the weather is one factor you can't control (as much as we'd all like to). If Mother Nature has planned for rain on your wedding day, we recommend incorporating wedding umbrellas into the nuptials. While rainy weather may not be your ideal situation, there are many chic umbrellas and parasols that keep you comfortable and dry on your day. (Plus, they're stylish!) We've rounded up 23 wedding umbrellas that will add a romantic touch to your pictures.
Finally, if your wedding has the possibility of being affected by stormy weather, it's best to ensure that your venue has a wedding backup plan. That way, if the weather does take a turn, you'll be covered. Literally. Otherwise, here are the cutest wedding umbrellas you can buy right now.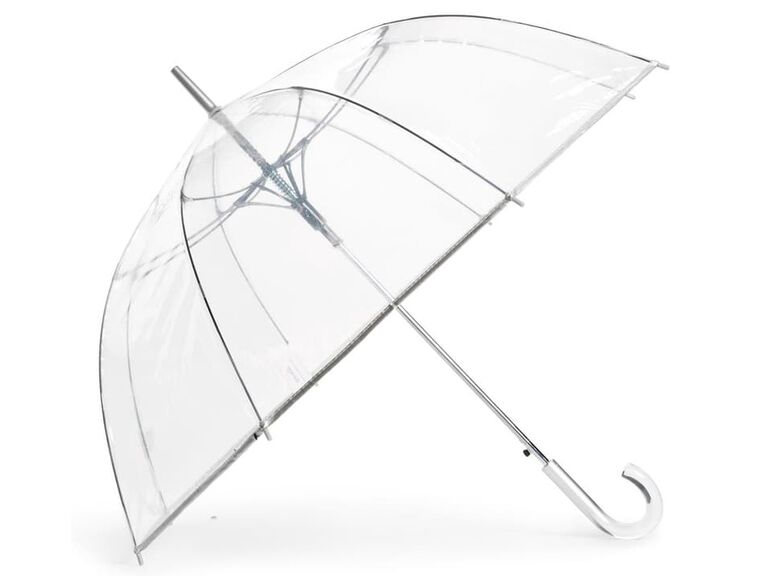 Keep things simple with this clear, understated dome umbrella. It will keep you dry and it won't hide your smiling faces.
ShedRain auto open stick clear dome umbrella, $30, Nordstrom.com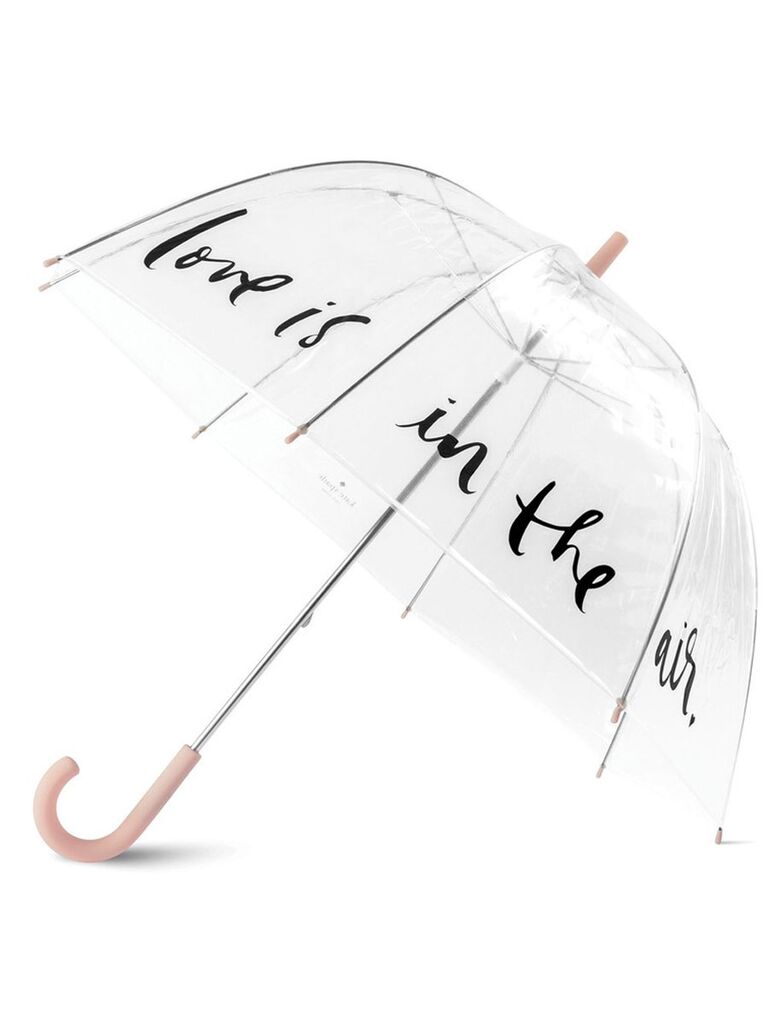 Rain may be in the sky, but love will be in the air on your wedding day. Get this clear umbrella for a cute photo with a built-in Instagram caption.
Kate Spade polka dot clear umbrella, $38, Nordstrom.com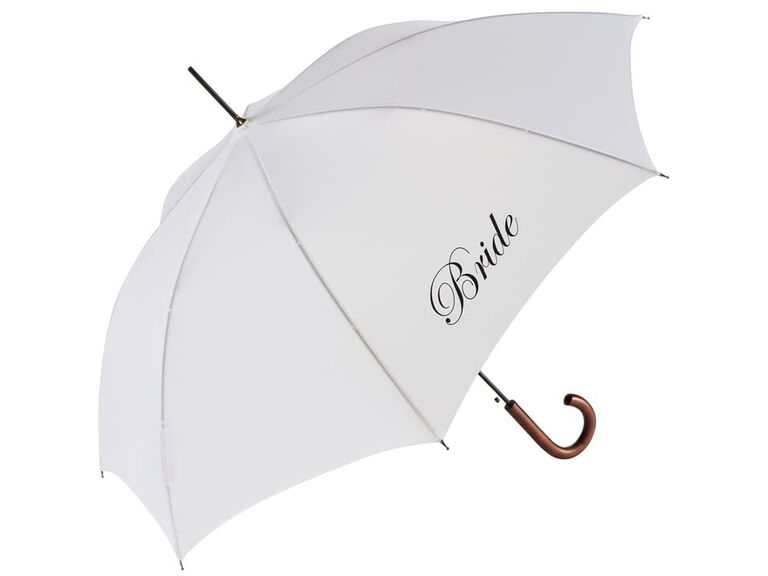 Not only will these elegant umbrellas protect you from the elements, they'll also make an adorable addition to any wedding photos you take.
ShedRain Wedding Day auto open stick umbrella, $25, Nordstrom.com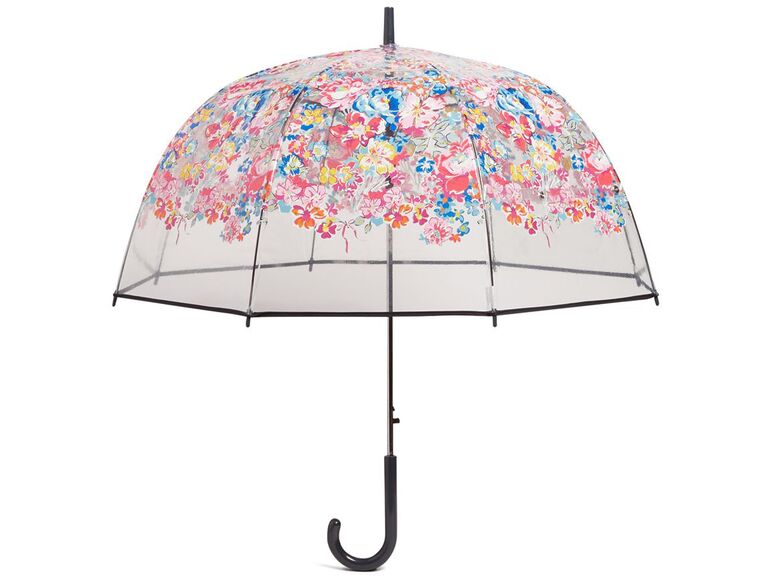 Add a pretty pop of color to your pictures with this floral umbrella. Bonus: You can coordinate the pattern with your wedding flowers.
Vera Bradley auto open umbrella in Pretty Posies, $45, VeraBradley.com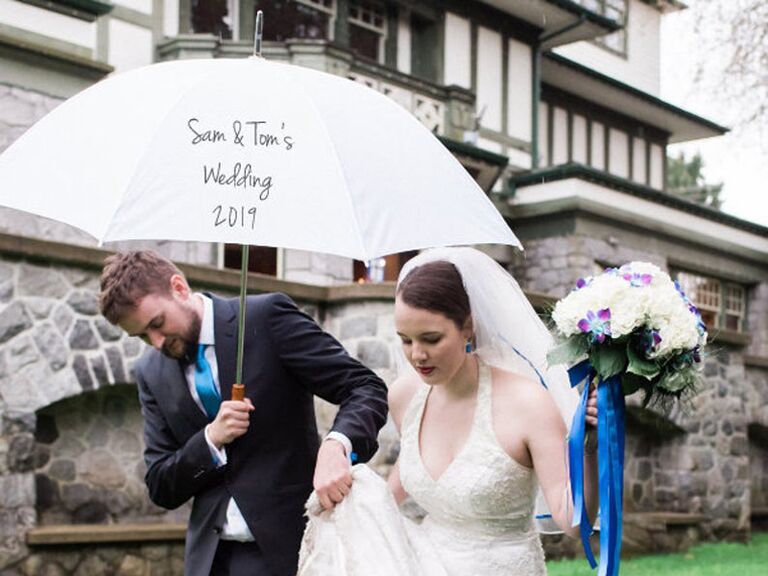 Take the rain as an opportunity to personalize your wedding photos with a cute printed wedding umbrella.
Party Box UK Store personalised, monogrammed wedding umbrella, $32, Etsy.com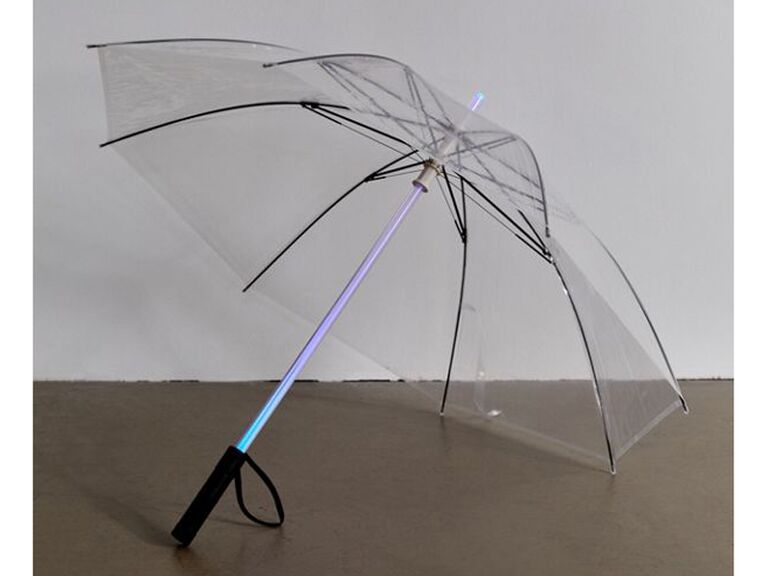 This light-up umbrella will bring some fun and brightness to your wedding photos—even if the clouds darken the sky.
Urban Outfitters light-up umbrella, $30, UrbanOutfitters.com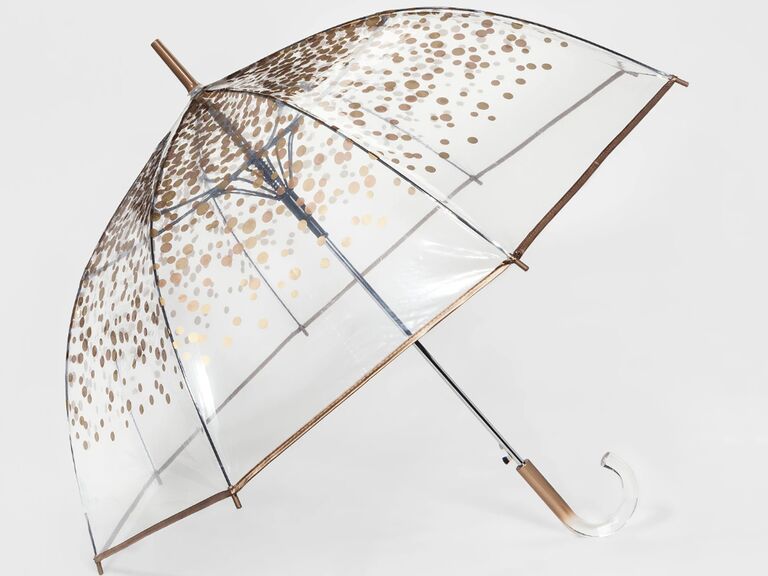 According to our Real Weddings Study, gold continues to be a popular wedding color. Incorporate the pretty metallic hue into your wedding pictures with this clear umbrella that has gold dots.
ShedRain bubble umbrella in Clear Gold Dot, $19, Target.com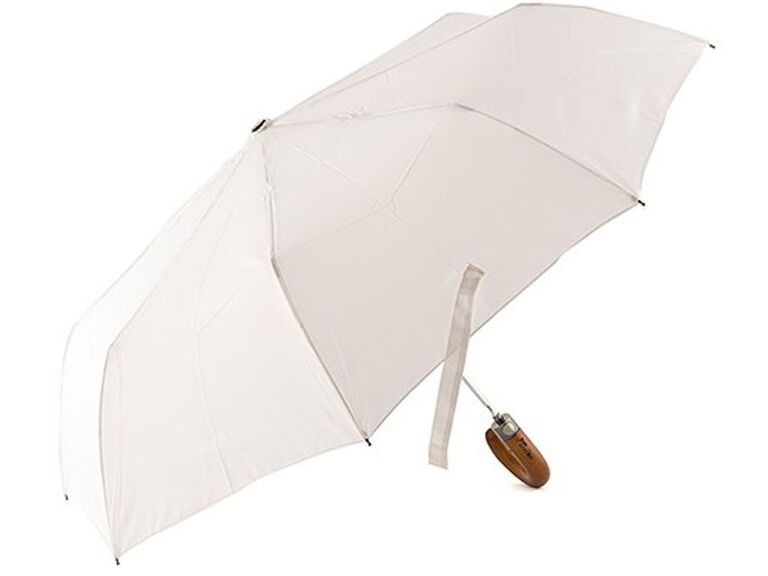 For a classic look, opt for this sleek, white umbrella that has an adorable "Just Married" inscription detail on the handle.
The Knot Shop wedding umbrella, $20, TheKnotShop.com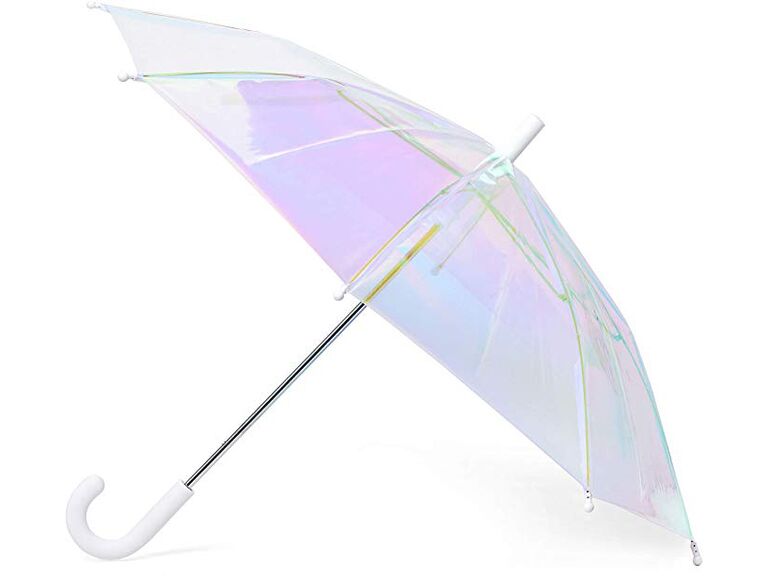 This iridescent wedding umbrella is perfect for any unicorn-loving bride or quirky couple.
FCTRY holo umbrella in White, $30, Amazon.com
If your guests need protection from the rainy weather, offer them these adorable mini umbrellas. They come in an assortment of fun colors too.
RainStoppers W20F assorted display umbrellas (24 piece), $114, Amazon.com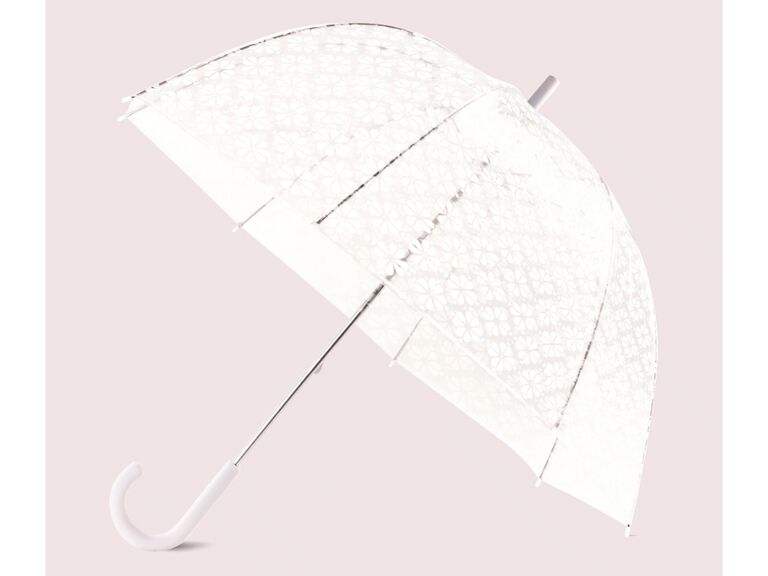 This clear dome umbrella has a pretty white floral pattern on it, making it the perfect accessory for your wedding day.
Kate Spade spade flower clear umbrella, $38, KateSpade.com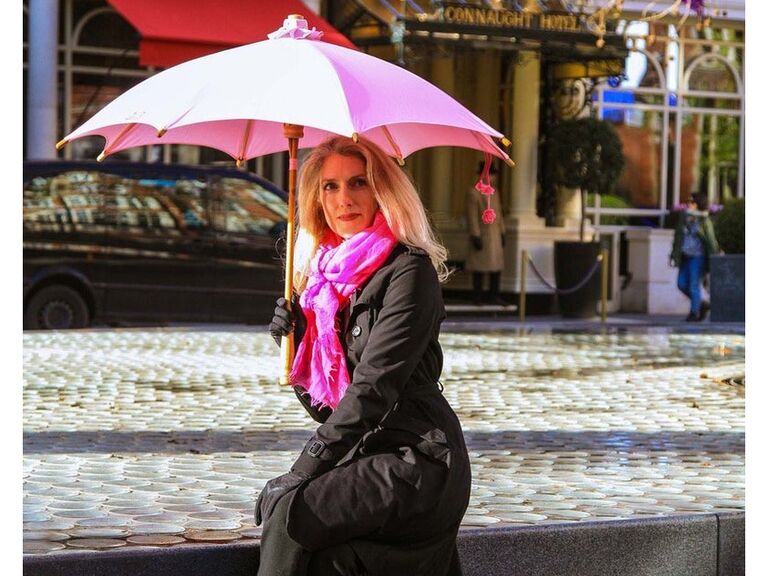 Planning a sustainable wedding? Consider picking up one of these pink umbrellas. They're plastic-free, fair-trade and biodegradable. (Psst: 10 percent of the cost is donated to the National Breast Cancer Foundation.)
Haasch Design large pink supabrella, $124, Etsy.com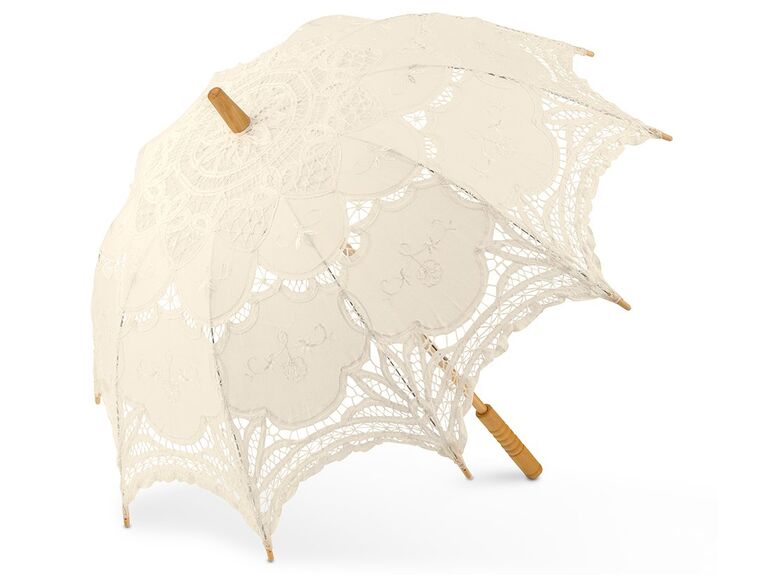 If the hot sun is an issue during your nuptials, consider using a wedding parasol to stay cool. This gorgeous lace one is the perfect accessory to your wedding day outfit.
The Knot Shop antiqued battenburg lace parasol, $50, TheKnotShop.com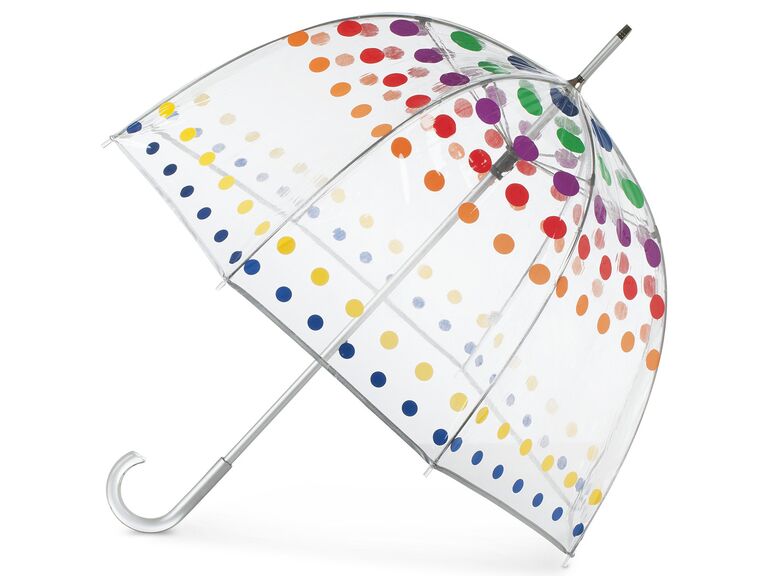 Who says wedding umbrellas have to be clear or white? This colorful bubble umbrella will add even more fun to your rainy photo shoot.
Totes clear bubble umbrella in Primary Dot, $29, Macys.com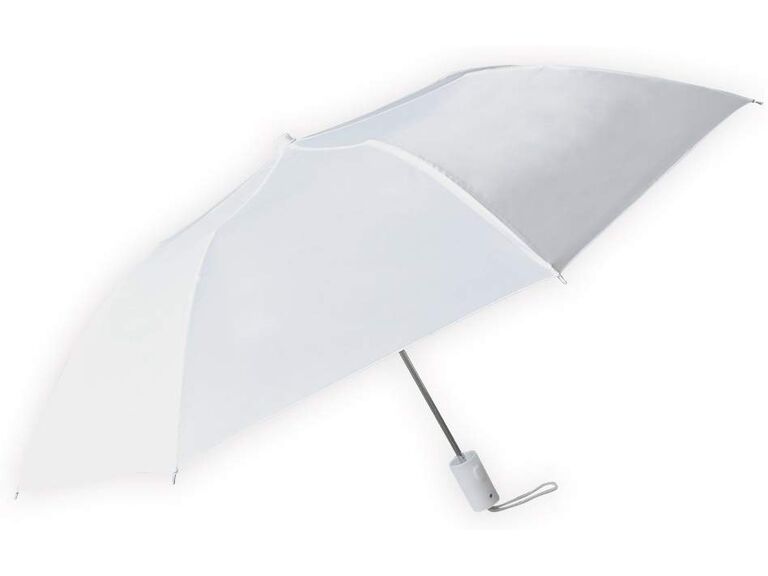 If you'd like your guests to have uniform umbrellas on your wedding day, gift them these white compact ones. They're a cute wedding favor they can use again down the line.
Barton Outdoors pack of 12 compact mini umbrellas in White, $43, Amazon.com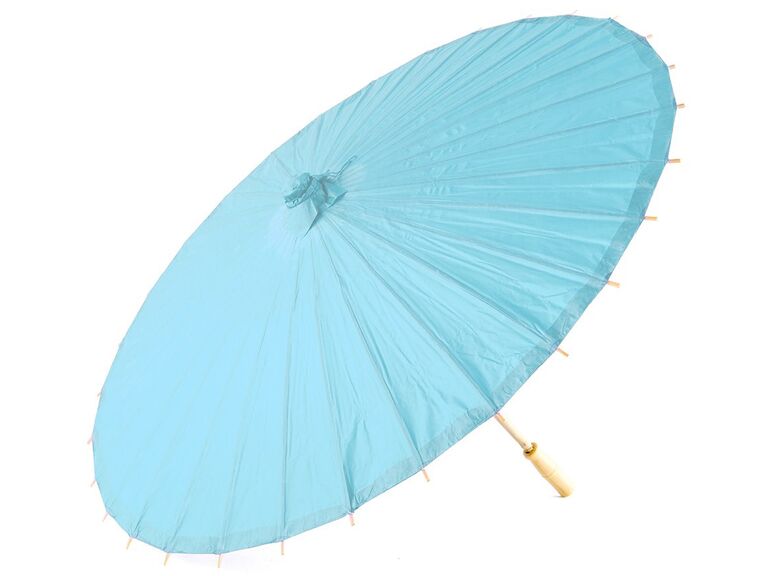 Looking for your something blue? Try out this stunning paper wedding parasol, complete with bamboo boning.
The Knot Shop paper parasol with bamboo boning in Aqua Blue, $14, TheKnotShop.com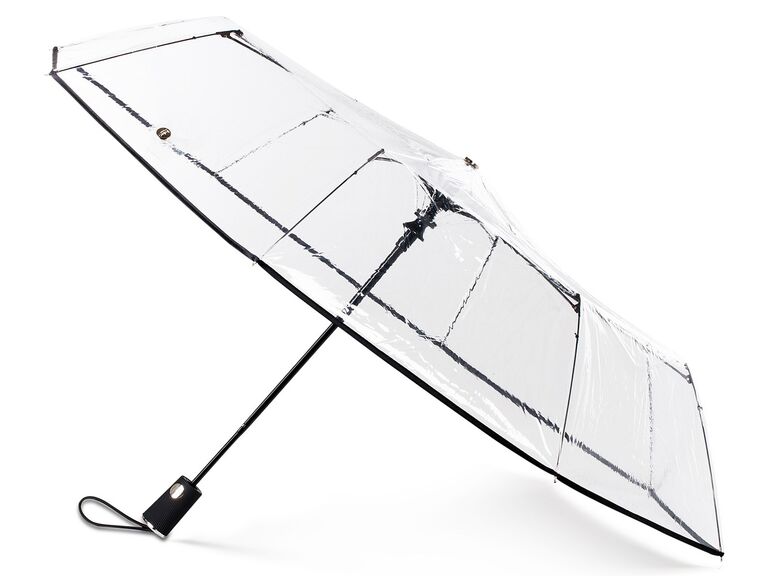 We love this clear umbrella because it's not a dome shape (read: it won't cover your faces at all), but it still offers a great amount of coverage.
Totes 3-section auto-open clear umbrella, $32, Macys.com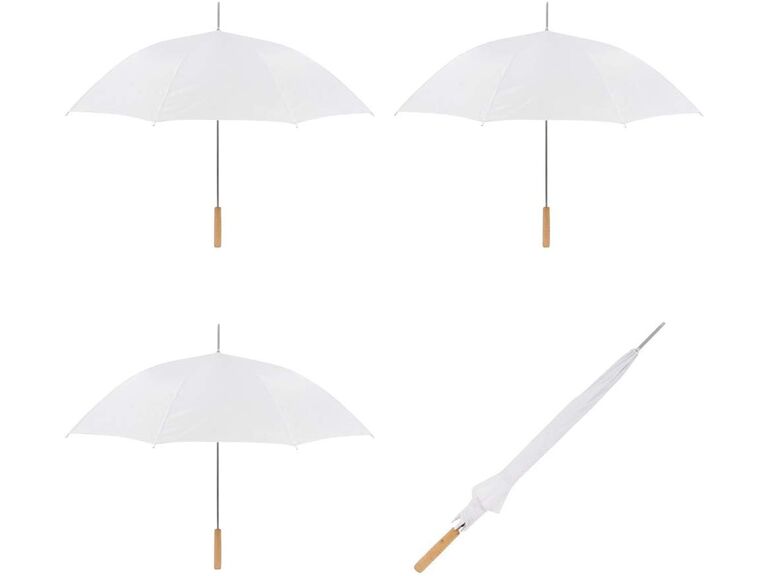 Make sure your guests (or your wedding party members) stay dry with these simply pretty white umbrellas. They come in a convenient pack of 10, so you can get enough to go around.
Anderson Umbrella wedding umbrella (pack of 10), $62, Amazon.com
This paper wedding parasol—with its adorable "Just Married" cursive type—is sure to give you the epic wedding exit picture you've been dreaming about.
Exclusive Elements wedding umbrella personalized, $35, Etsy.com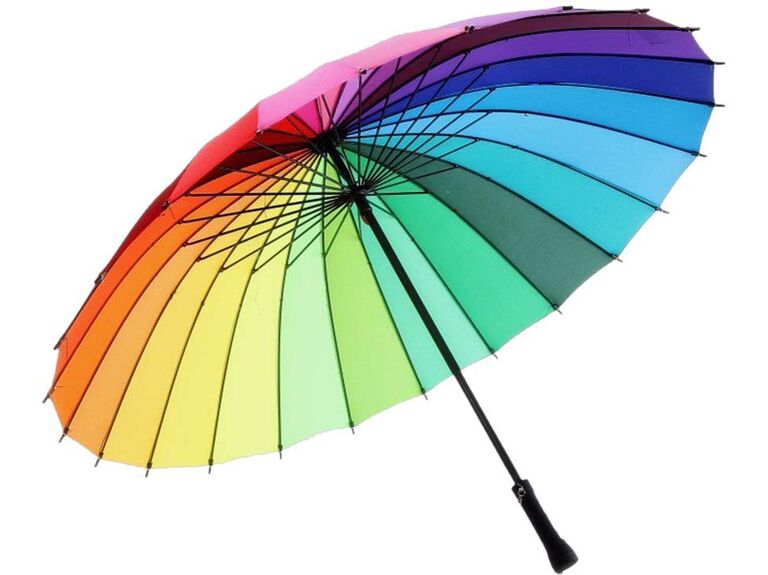 Show off your love of color with this stunning rainbow umbrella. It will add a ton of fun to any pictures you take.
meizhouer 24k rib large color rainbow umbrella, $19, Amazon.com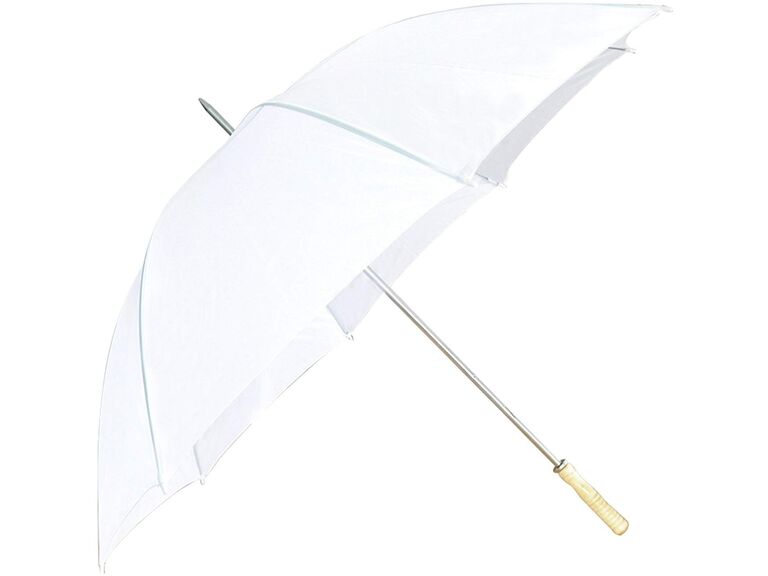 Use the rain as an excuse to get cozy with your S.O. by sharing an umbrella for photos. This one is 60 inches wide, so you can both fit.
Barton Outdoors 60" white wedding umbrellas, $8, Amazon.com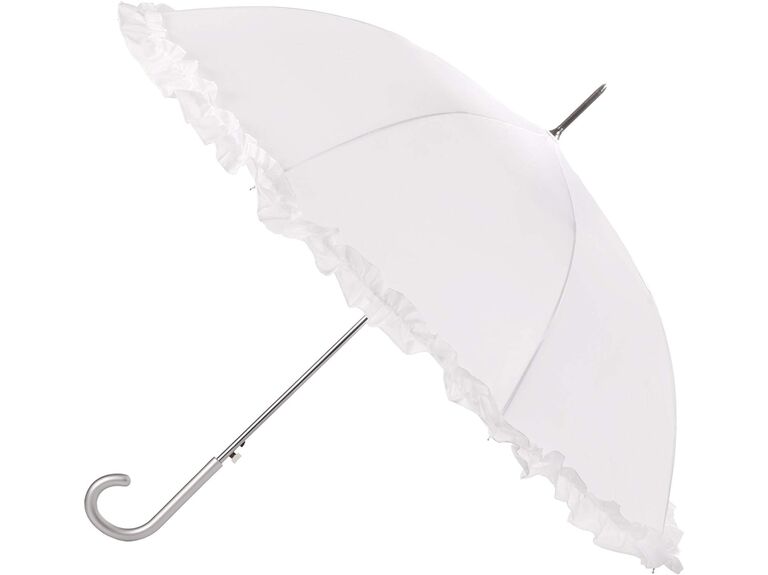 Going for an ultra-romantic vibe? We love this pretty wedding umbrella, which has delicate ruffles on the edges.
Totes women's auto open ruffle stick umbrella, $15, Amazon.com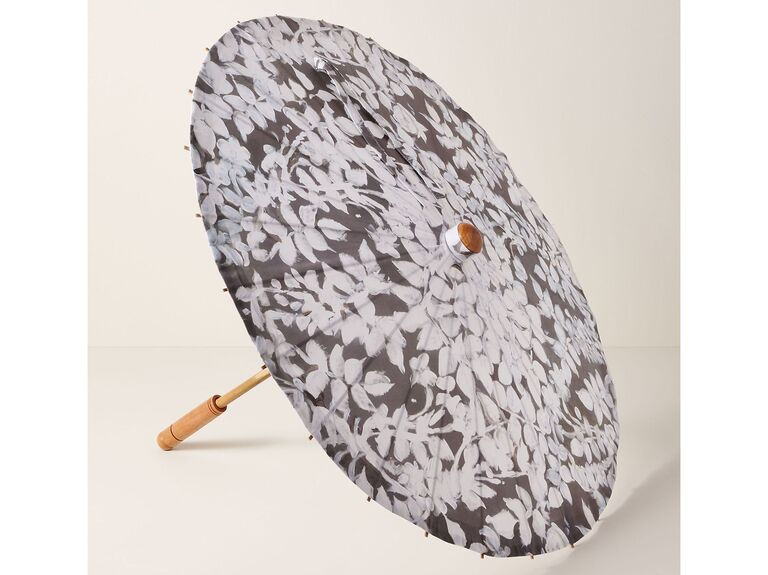 The gorgeous floral pattern isn't the only thing we love about this wedding parasol. It also has UPF 50+ coating, which will protect you from over 98 percent of the sun's UV rays.
BHLDN floral parasol, $166, BHLDN.com