What to Do (And Buy) If It Rains on Your Wedding Day
There's no need to take a rain check (we promise).
We have included third party products to help you navigate and enjoy life's biggest moments. Purchases made through links on this page may earn us a commission.
Whether a drizzle or a downpour, there's no reason to let rain ruin your nuptials. While stormy weather might not be what you were hoping for, Mother Nature's plans are out of your hands. The good news is, a shower actually signifies good luck! And there's plenty of prep you can do in advance so that rain on your wedding day doesn't get in the way.
Any couple having an outdoor wedding ceremony should confirm a weather backup plan in their venue contract—whether it's an indoor room, a covered outdoor area or a last-minute tent setup. That way, if the forecast spontaneously calls for rain on your wedding day, you'll have something to fall back on—and no reason to panic. However, if you forgot to make a plan B from the start, here's how to pull off a fabulous affair no matter what. Plus, learn more about the pros of getting married in the rain.
What Does Rain on Your Wedding Day Mean?
First things first: What does it mean if it rains on your wedding day? That depends on who you ask. There are lots of different wedding superstitions and beliefs when it comes to the weather. According to Hindu tradition, a rainy wedding is a sign of a lasting marriage (since a wet knot is harder to untie). Others claim it signifies a fresh start for the newlyweds, washing away any bad memories from the past. Rain has also been thought to represent fertility, fortune and abundance. One thing most people will agree on, however, is that rain on your wedding day is good luck—so keep your chin (and your umbrella) up!
Tips for Handling Rain on Your Wedding Day
You planned an outdoor wedding, but your only weather prep was crossing your fingers—now it's supposed to pour down on your special day. Don't panic: There's still plenty you can do beforehand to keep things running smoothly. To help you out, we're sharing our top tips to make a wet wedding day as right as rain.
Talk to Your Venue
Call your venue coordinator, or put them in touch with your wedding planner, and find out your options. Do they have another protected space on-site you could relocate to? If you were planning an outdoor ceremony and an indoor reception, can they help transform the indoor space for both the ceremony and reception? (If you go with this plan, ask them how long it'll take to flip the room. A good team should get the job done in about an hour while you and your guests enjoy cocktails and hors d'oeuvres at another spot at the venue.) Another option, if your budget and venue allow, is to rent a tent last minute. The site manager might even be able to refer you to a rental company they've worked with before.
Think of the Positives
We get it, nobody likes the feeling of their parade being rained on, and you're more than entitled to stomp your feet. But while you're at it, don't forget to think of the positives. Whether it's April showers or a fully fledged storm, there are actually lots of awesome perks to getting married in the rain. For starters, just think of the cute umbrellas, cozy atmosphere and cool rainy wedding photos. Your celebration will have a unique edge that not everyone gets to experience. On top of all that, rain creates an incredibly romantic setting. (Who doesn't love a Hollywood-style kiss in the rain?)
Embrace It
Get ready to roll with the punches and welcome the weather—remember, rain on your wedding day is actually good luck! If the rain brings wind and chilly temperatures too, arrange for heat lamps, offer blankets and make sure there's plenty of hot coffee, tea, cider or cocoa. The last thing you want is for loved ones to stand shivering while you say your "I do"s. Provide enough umbrellas and blankets for your guests—or, at the very least, for your wedding party. And after you've tied the knot, plan a playful rainy photo session with your wedding party holding the cute umbrellas and wearing colorful rain boots. Or, sneak away with your soon-to-be spouse for a first look and romantic kiss under a shared umbrella.
Our Favorite Rainy Day Wedding Supplies
Before adding another thing to your to-do list, find out if any of your vendors can supply the kinds of props you're looking for. No luck? Then shop these thoughtful supplies and accessories to upgrade your rainy wedding day.
1. Pretty Pashminas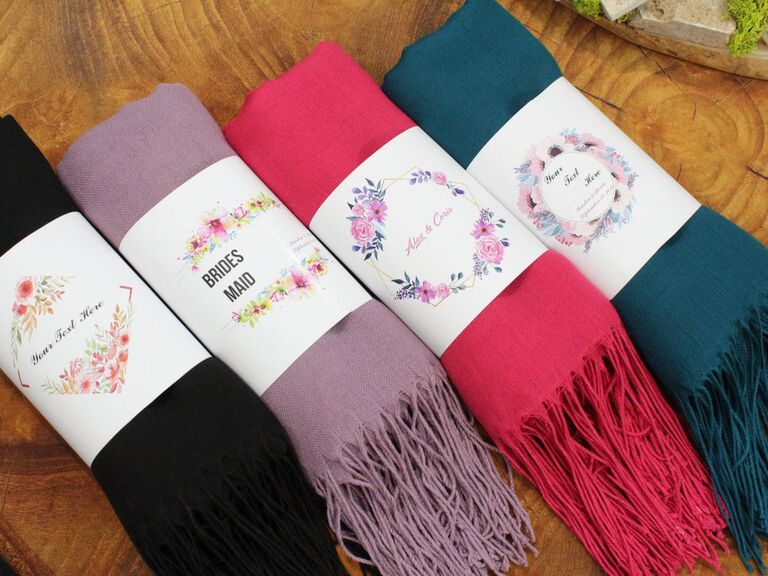 If the forecast for your big day is bringing the cold too, why not hand out these cozy pashminas for your wedding party to wrap up in? Choose the shade that best suits your color palette and present them to loved ones with a cool custom label.
Pashminascarf Gifts personalized pashmina wedding favor, from $6, Etsy.com
2. Cozy Throws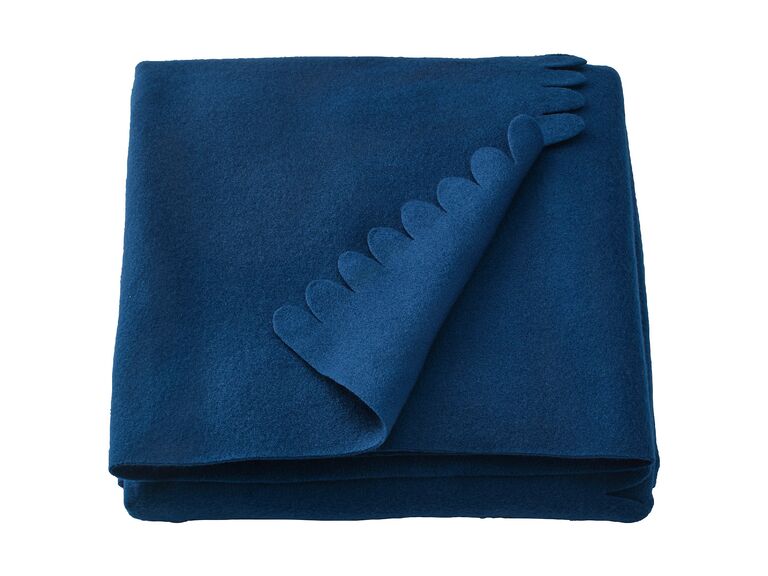 These blankets are an awesome (and surprisingly inexpensive) option that'll instantly level up the rain plan for your outdoor wedding. Stock up on the snug throws for guests to drape around their shoulders or over their knees to keep toasty warm. Your celebration will forever be remembered for its cozy, intimate atmosphere.
IKEA POLARVIDE throw, $4, IKEA.com
3. Adorable Tags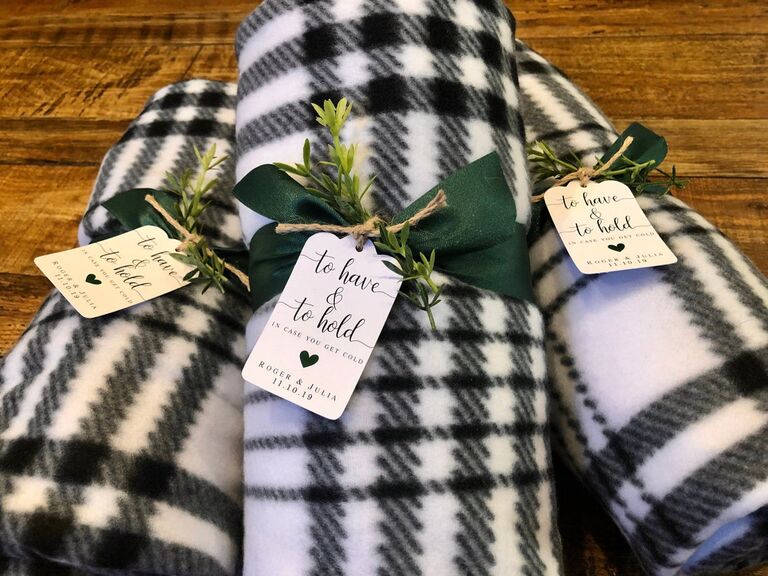 Go all in with these cute wedding favor tags for blankets that read: "to have and to hold in case you get cold." Whether or not it rains on your wedding day, guests will be blown away by your thoughtfulness.
BW Paper Studio To Have & To Hold in Case You Get Cold wedding blanket tags, from $4, Etsy.com
4. Heartfelt Signage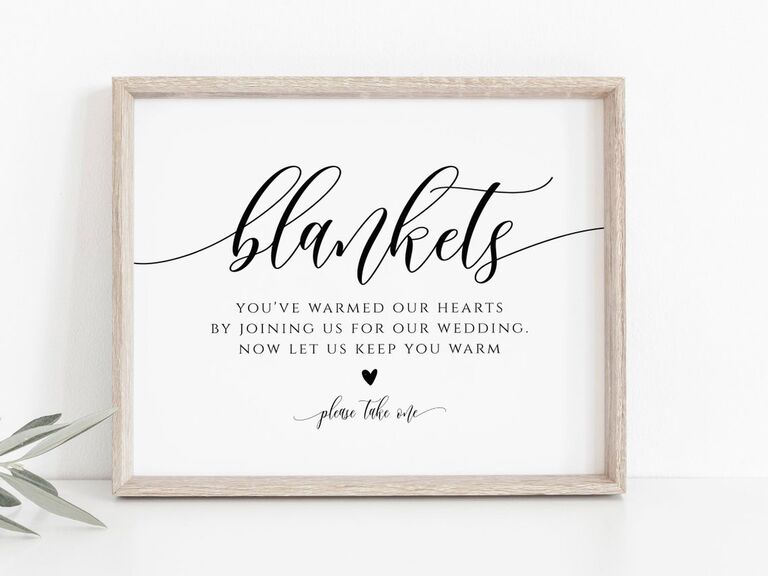 Or, set up a dedicated blanket station for loved ones with some rustic woven baskets and this sentimental sign. The icing on the cake? It's a printable file, so you don't have to worry about getting it shipped in time.
Willow Lane Paperie wedding blanket sign, $5, Etsy.com
5. Cotton Towels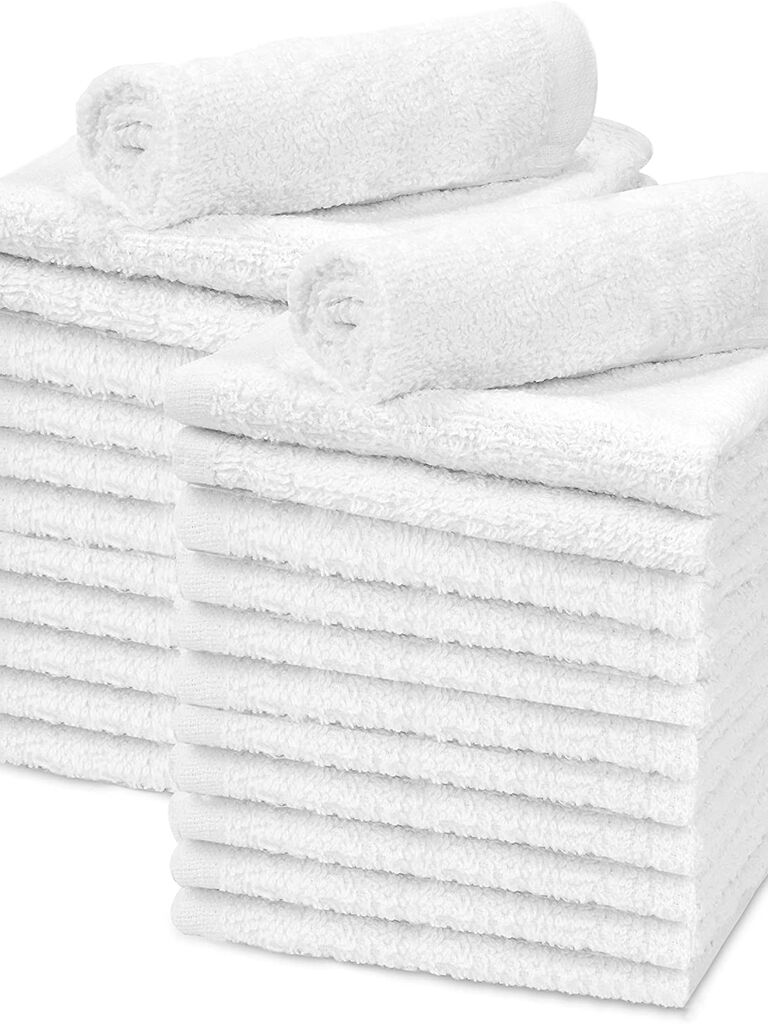 No one wants to sit around wet. Leave towels on every ceremony or reception seat for rained-on attendees to dry off with. These handy white face cloths are 100% cotton, making them super soft and ultra absorbent.
Talvania 12" x 12" white cotton face towels, $15 for a set of 24, Amazon.com
6. Handwoven Towels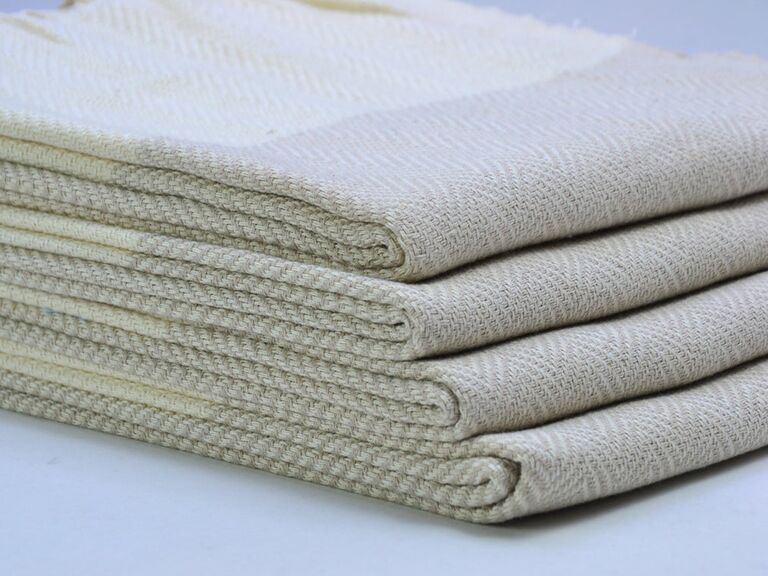 If you're planning a small wedding, you might be more willing to splash out on towels that double as keepsakes. Treat your guests (or just the wedding party) to these elegant Turkish hand towels they can take home as favors.
Arasta Crafts Turkish hand towel, $7, Etsy.com
7. Bubble Umbrellas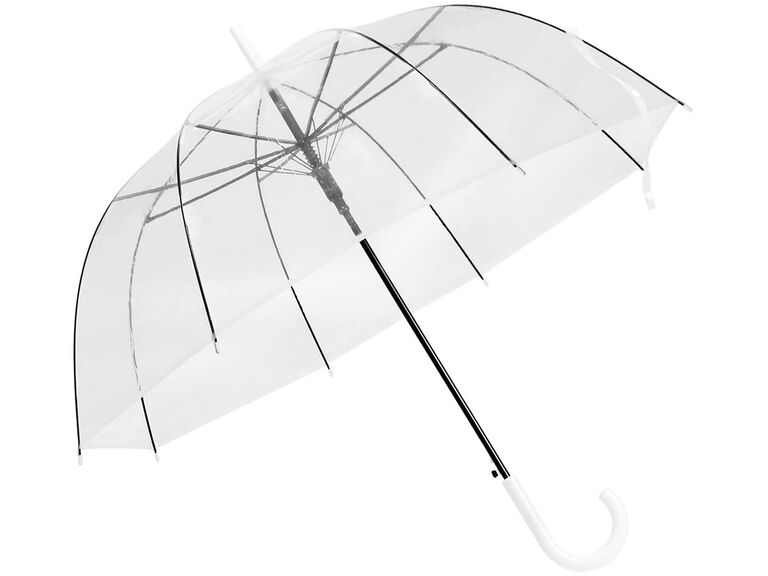 Your guests will seriously appreciate you taking the time and effort to provide umbrellas for them. These translucent ones will let loved ones flaunt their best wedding style, all while staying safe and dry.
WASING clear windproof auto open bubble umbrellas, $64 for a set of 10, Amazon.com
8. Sweet Signage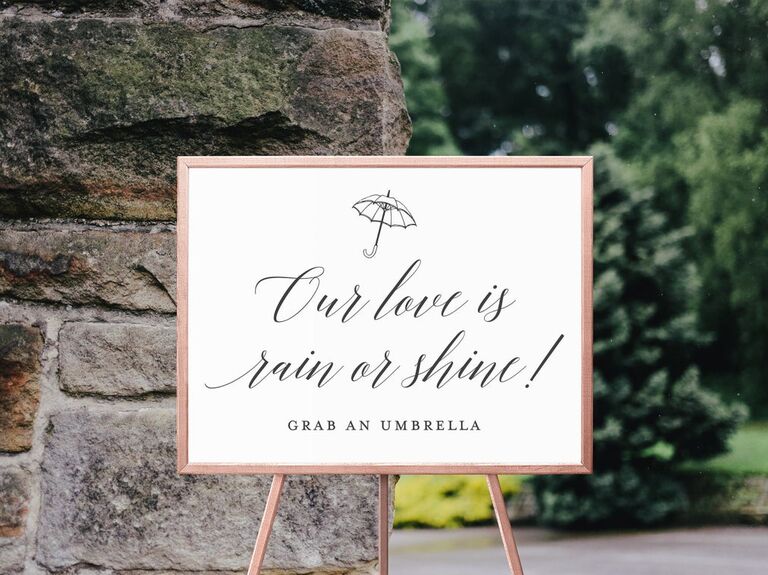 Still not sold on having a rainy wedding? There are lots of ways to put your own creative spin on it, like this adorable sign for an umbrella station that reads: "Our love is rain or shine!"
Howl Creative Design Studio Our Love Is Rain or Shine wedding umbrella sign, $5, Etsy.com
9. Couple's Umbrella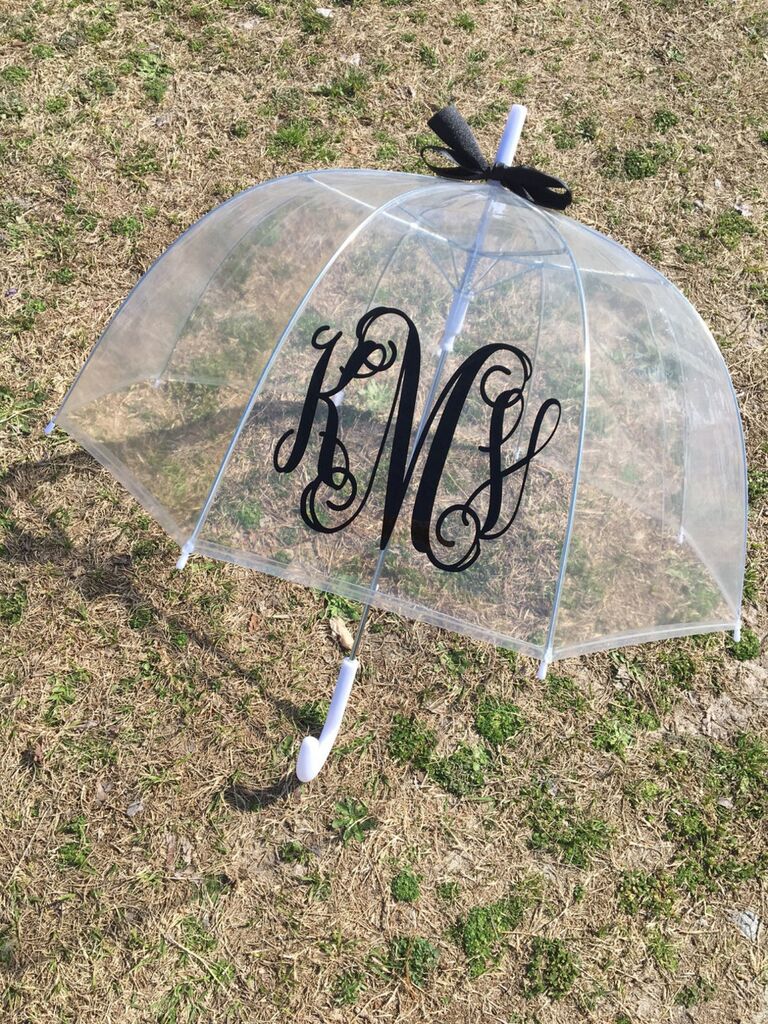 Even if you invite guests to bring their own umbrellas, as the newlyweds, you'll probably want to carry something special. Have your monogram printed on a clear vinyl umbrella to seriously up your photo game.
Sweet & Southern Creations monogram umbrella, $18, Etsy.com
10. Bridal Rain Boots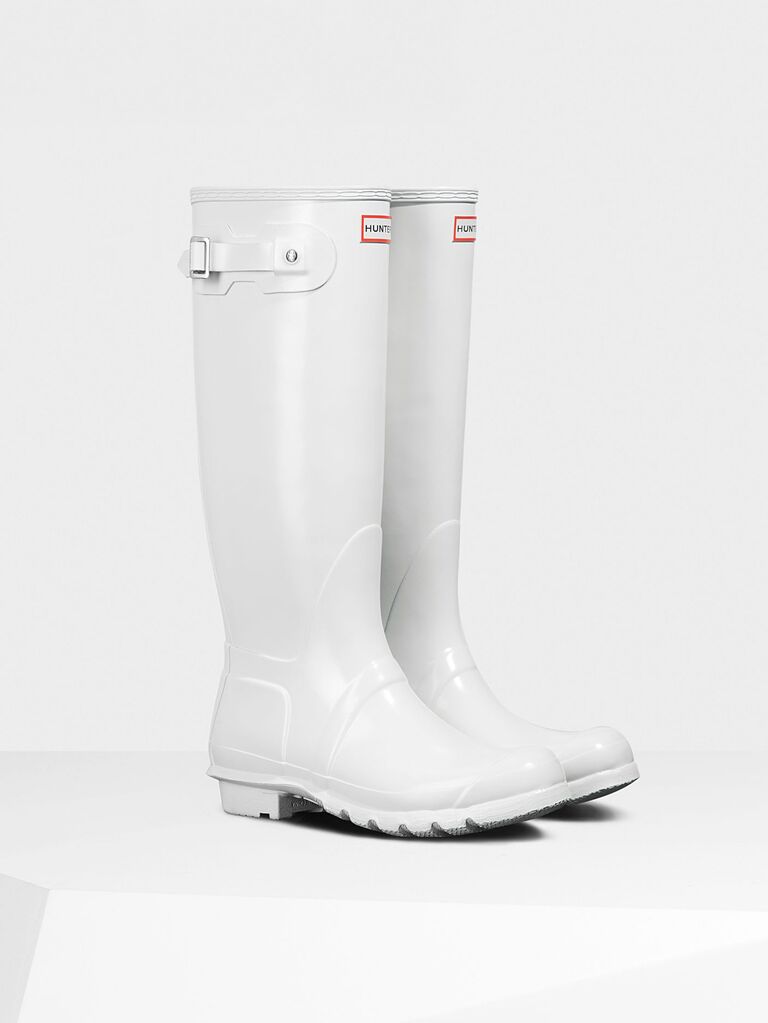 If anything, rain on your wedding day is an excuse to invest in some stylish new boots. This glossy pair comes in a brilliant shade of white that'll befit any bride. That said, feel free to sway from the traditional and pick out a more colorful set if that's more your vibe.
Hunter women's original tall gloss rain boots in White, $150, HunterBoots.com
11. Monogram Duck Boots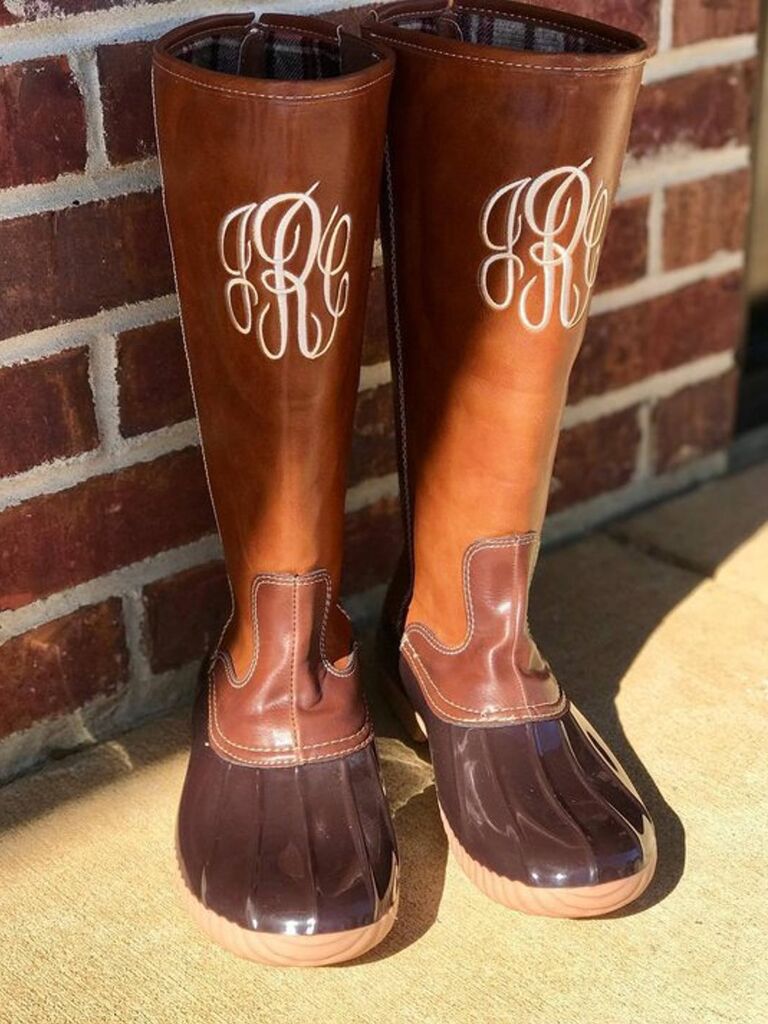 Suitable footwear is non-negotiable when it comes to an outdoor wedding in the rain, especially if you're celebrating somewhere that might get a little muddy. How about decking out your wedding party in classic pairs of duck boots embellished with their initials? They'll make excellent wedding party gifts, particularly when it comes to the bridesmaids.
MonogramaniaShopCom monogram duck boots, from $50, Etsy.com
12. Ankle Rain Boots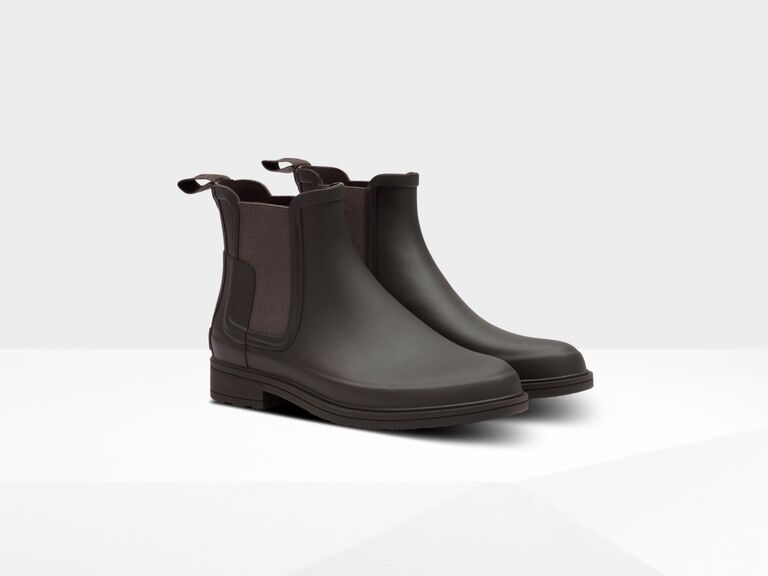 For the dapper guys in your wedding party, try these uber-stylish Chelsea boots with a slick slimmer fit. They come in a choice of gray, navy or black so you can choose the shade that goes best with each outfit. And yes, they're totally waterproof.
Hunter men's refined slim fit Chelsea boots, $155, HunterBoots.com
13. Rain Ponchos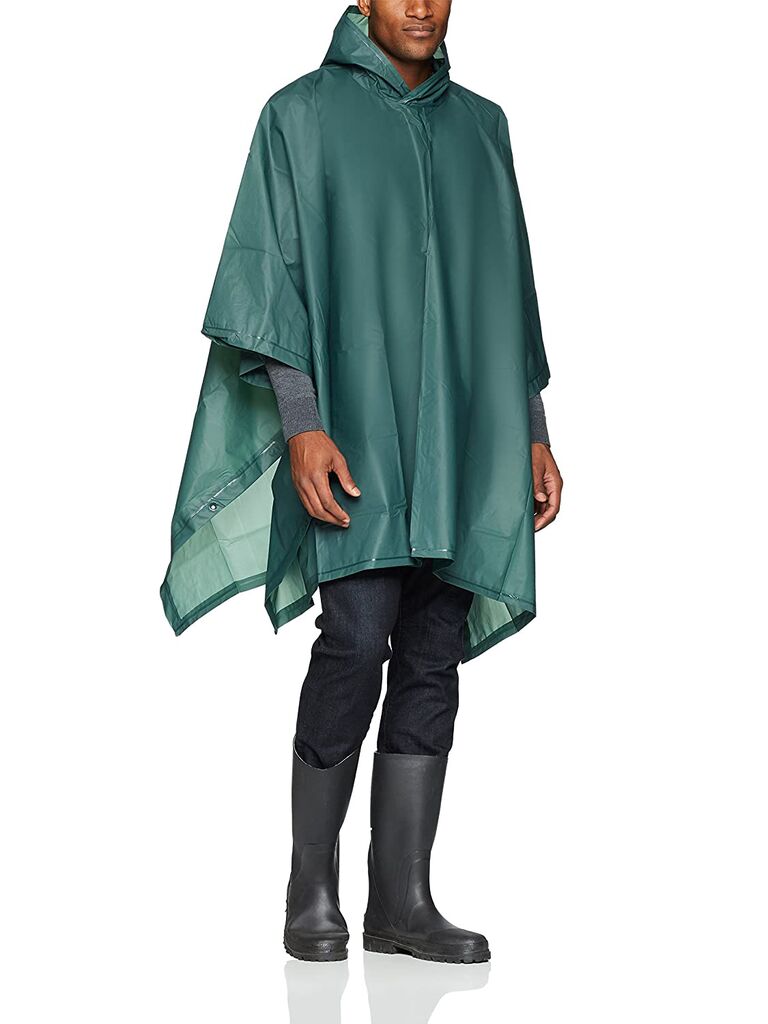 Okay, so a poncho may not be the most fashionable solution to rain at your wedding, but hear us out: If you're just planning an outdoor ceremony, it'll keep guests warm and dry until the reception (where they can fully resume looking their best).
totes adult unisex rain poncho, from $9, Amazon.com
14. Custom Mugs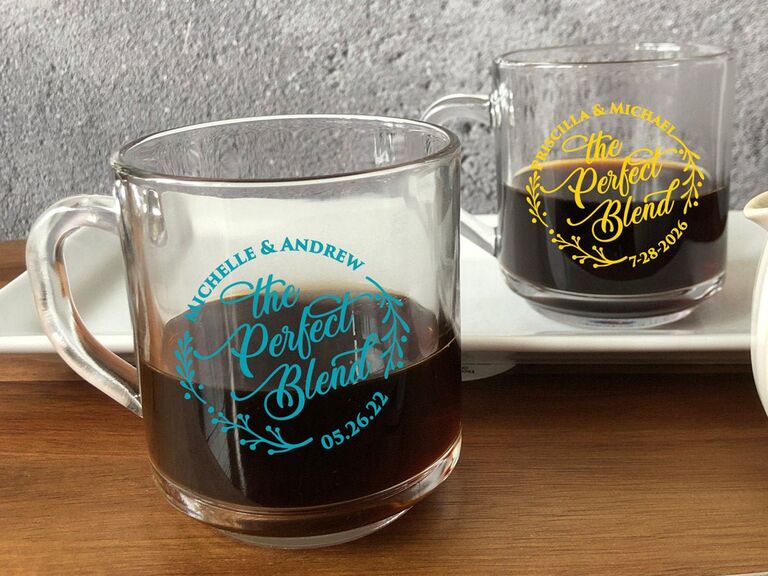 Still not sure what to do if it rains on your outdoor wedding? Work with your venue or caterer to see if setting up a tea, coffee or hot chocolate station is possible. Then, hand out these cute coffee mug wedding favors so guests can help themselves. Nothing warms the soul like a delicious hot beverage.
dm home company The Perfect Blend personalized clear coffee mug wedding favors, $71 for a set of 24, Etsy.com