Don't Panic: Here's Exactly What to Do If It Rains on Your Wedding Day
Alanis Morissette warned us about this.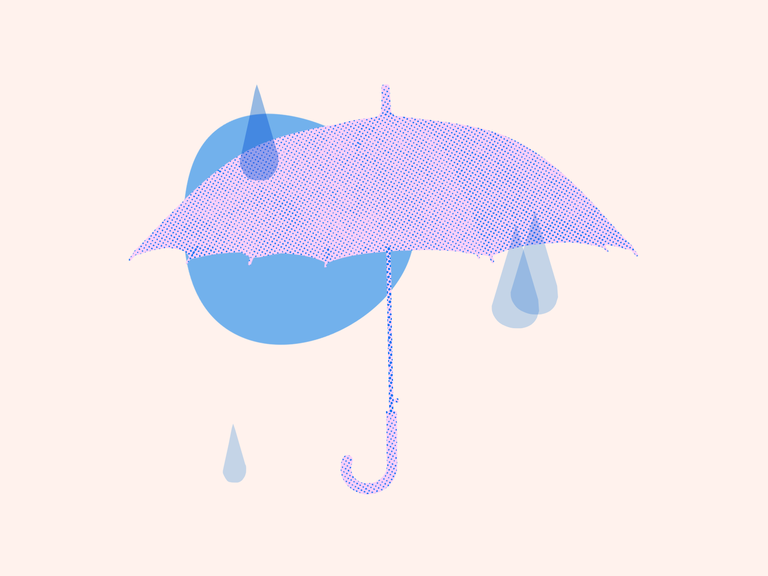 Illustration by Tiana Crispino for The Knot
Where would we be if the notorious line, "It's like rain on your wedding day," from Alanis Morissette's hit song "Ironic" didn't randomly come into our heads at least once a month or play overhead at the grocery store? (And no, we aren't getting into the legitimacy of the song's use of ironies today.) We don't know the answer and are scared to find out, but it does bring up the question of what you and your partner should do if a rain forecast is on the horizon for your special day.
Whether a drizzle or a downpour, there's no reason to let rain ruin your nuptials. While stormy weather might not be what you were hoping for, Mother Nature's plans are out of your hands. The good news is there are plenty of ways you can face the situation head-on and have a beautiful wedding. Read below to learn how to pull off a fabulous affair no matter what, according to wedding industry experts. Plus, learn more about the pros of getting married in the rain.
In this article:
Rain on Your Wedding Day Meaning
First things first: Is rain good luck on your wedding day? That depends on who you ask. There are lots of different wedding superstitions and beliefs when it comes to the weather. According to Hindu tradition, a rainy wedding is a sign of a lasting marriage since a wet knot is harder to untie. Others claim it signifies a fresh start for the newlyweds, washing away any bad memories from the past. Rain could also represent fertility, fortune and abundance. One thing most people agree on, however, is that rain doesn't mean your wedding is ruined—so keep your chin and your umbrella up.
How to Prepare for Rain Before Your Wedding Day
"All couples should have a rain plan no matter the location or time of year. The more well-prepared you are, the easier it will be if you have to make any last-minute decisions," Kristen Weaver, professional wedding photographer and founder of Kristen Weaver Photography since 2009, advises.
First, talk to your venue coordinator or put them in touch with your wedding planner so you can figure out your options. Do they have another protected space on-site you could relocate to? If you were planning an outdoor ceremony and an indoor reception, can they help transform the indoor space for both the ceremony and reception? (If you go with this plan, ask them how long it'll take to flip the room. A good team should get the job done in about an hour while you and your guests enjoy cocktails and hors d'oeuvres at another spot at the venue.) Another option, if your budget and venue allow, is to rent a tent last minute. The site manager might even be able to refer you to a rental company they've worked with before.
But Kate Cohen, owner and principal photographer of Katherine Elyse Media, who's captured over 200 weddings, wants to-be-weds to know that even though tents are a good idea, they come at a cost. "Tenting is deceptively expensive, especially if you need to do it last minute, so finding a venue with indoor and outdoor options is a great way to avoid that extra expense."
What To Do If It Rains on Your Wedding Day
You planned an outdoor wedding, checked the weather and see it's supposed to pour down on your special day. Don't panic: There's still plenty you can do to keep things running smoothly. To help you out, we're sharing the top expert tips to make a wet wedding day fun and successful.
Don't freak out.
We understand seeing a rain forecast on the day of your event is frustrating, but Cohen wants to assure couples it's not the end of the world. "Your vision for your day may have changed slightly, but you won't be any less married because it's raining." Remember, being as flexible as possible can result in you not feeling out of control on your big day. Consider doing breathing exercises or other stress-reducing practices to get in the right head space to enjoy your wedding to the fullest.
Talk to your vendors.
Weaver believes it's crucial to have a stellar vendor team who are professionals at adjusting at a moment's notice when it's raining on your wedding day. "Great planners and photo/video teams can make last-minute changes happen seamlessly and keep you calm." But when you're talking to your vendors about your new plan, trust their decision and try to be realistic about the limitations showers can cause. "Your photos may have some puddles in them, you may not get that sunset you dreamt of or your hair may fall a little sooner than you want. But it's all going to be okay, and you will have an amazing, perfectly imperfect day that you can talk about for years," Weaver says.
Bring out the tents.
If the venue doesn't have an indoor space for you to escape to, a tent rental will be the best plan b purchase you make. And don't think wedding tents have to be the plain white ones you see at other events. Feel free to get one that matches the theme of your wedding. Or ask your design team, before the wedding, if they're willing to add some simple but festive decorations to it––if the tent needs to be used. (Psst. You can rent tents and other weather-related items on The Knot Marketplace.)
Embrace the situation.
Get ready to roll with the punches and welcome the weather—remember, rain on your wedding day is considered good luck. If the rain brings wind and chilly temperatures, arrange for heat lamps, hand out blankets and ensure there's plenty of hot coffee, tea, cider or cocoa. The last thing you want is for loved ones to stand shivering while you say, "I do." Provide enough umbrellas and blankets for your guests or, at the very least, for your wedding party. "We all know it's not ideal for it to rain on your wedding, but your attitude is everything. So enjoy the day no matter what you're given," Weaver encourages.
Use the rain for photos.
Before or after you've tied the knot, do a fun rainy photo session with your wedding party holding cute umbrellas and wearing colorful rain boots. Or, sneak away with your soon-to-be spouse for a first look and romantic kiss under a shared umbrella. "Leaning into the moody nature of a rainstorm can make for some seriously gorgeous and intimate photos. Allowing nature to guide the vibe of your wedding will always make for a more unique and memorable event. No one will ever forget the playful nature of you and your partner stomping in puddles and wiping away tears mixed with the elements," Cohen says.