Live Painting Is the New Wedding Reception Trend You're Going to Love
Trust us—after your wedding photos and video, this is going to be the next most-treaured memory of your wedding.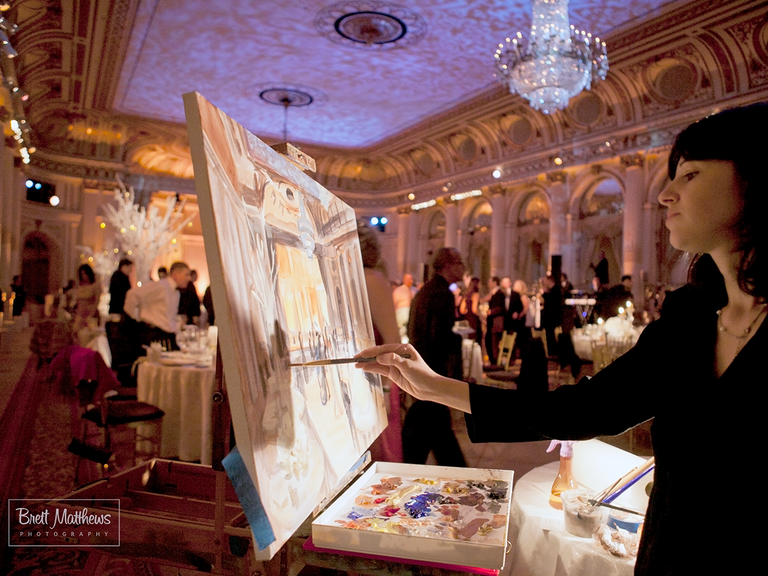 Brett Matthews Photography
Think about it—there are tons of ways to capture memories at your wedding. Besides your photographer and videographer, obviously, you can incorporate photo booths, GoPros, drones, robots, live-streaming, countless social media outlets and even have someone write your love story for you. But let's take it back to the first way to ever preserve a memory: paintings.
Believe it or not, there are trained artists across the country who specialize in painting live events—and where better to do that than a wedding? Besides giving yourself a cherished, unique gift that'll make an awesome conversation starter in your home, your guests will love the artistic element added to your reception—and they may even be captured in the painting! And in this crazy digital age, it's fun to have something included in your wedding that you can't see the results of immediately, making it even more special to finally see the finished work of art.
We spoke to three live painters who gave us insight into everything you need to know to have one beautiful moment captured at your wedding.
Why have a live painter at your wedding?
"I really enjoy being able to make the happiest day of someone's life extra special by capturing it as a work of art," says live painter Katherine Gressel. "I also love figuring out how to translate my clients' personal vision for their wedding, and the emotion in the room between the couple and their closest friends and family members into a painting. I think my favorite moment in any wedding is when the couple comes up and sees their painting in progress for the first time—sometimes this isn't even until the very end of the wedding when it's nearly finished. I love seeing the look on their faces, especially when the painting is a surprise gift to someone. I've even had people start crying tears of joy!"
What are the challenges of painting a live event?
"It's always a fun challenge to try to get a detailed painting done all in one day," Gressel says. "I really try to get all the main elements into the painting before the party ends, so the guests can see what looks like a finished painting on their way out—but I usually do take the painting back to the studio to make sure all the most important details and guests are recognizable. This is partly because I really try to capture people's likenesses, especially the couple getting married—and I do offer to revise things like faces if needed, because it's important to me that my clients recognize themselves and the most important people in their lives and are 100 percent happy with the final product. But, I've also been able to sometimes arrange to give the finished painting to the client at the end of party.
I've had to work under many challenging conditions in terms of setup and timing. In the most ideal scenario, a wedding venue is able to give me access to the fully decorated reception room about four hours before the party starts so I can paint most of the background in advance, and set me up somewhere with a good view of whatever part of the room contains the main action I'll be capturing in the painting. But I've worked in plenty of situations where there's a room flip right before the party and I only have a half hour to set up, where my view is blocked by tables or columns that I have to pretend aren't there in the painting, or where I'm working outside in windy or 90-degree weather. Once I even got rained out when prepping to paint an outdoor ceremony and had to basically start the painting over again, changing it to an indoor scene. Having faced many scenarios of this nature by now, I've learned to really roll with the punches and be as flexible as possible in working with the restrictions of each venue."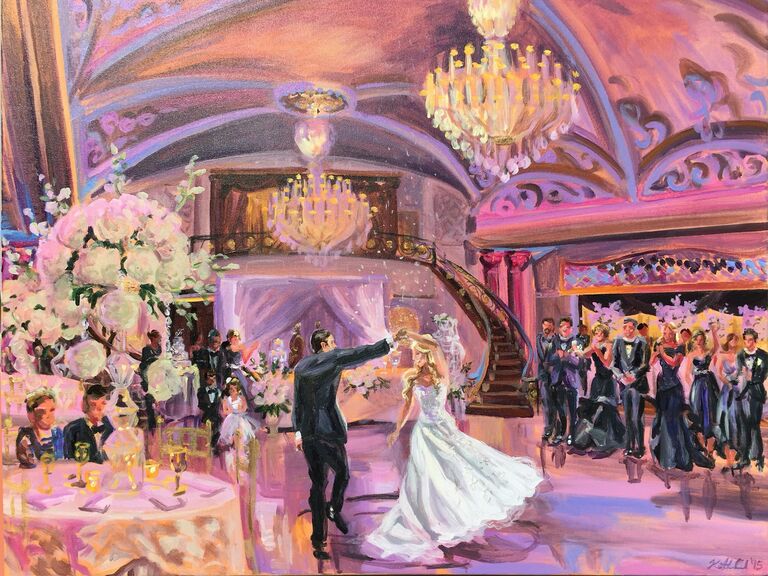 How do you communicate with your clients about the look they want?
"I find it essential to have a detailed consultation with each client a month or two before the wedding, both about the logistics of my setup and the content of their painting," Gressel says. "For example, there are a few things I absolutely can't work without, such as access to electricity so I can plug in a light. Everyone has different preferences about who and what they want captured, and if I know this ahead of time, it avoids having to make too many changes to the painting after the wedding. Some people want the dance floor to look really crowded, like a party in full swing, whereas some want to just focus on a moment like the first dance or wedding vows with all eyes on the couple. I also ask for a list of specific people to include, and if there are any special details I might not necessarily notice or choose to include on my own, like a special monogram, a guest singer in the band or the lace pattern on a bride's veil."
"Good communication is key!" agrees live painter Evelyn Henson. "Make sure the artist knows what's important to you and you'll end up with a painting you love. Be sure to clearly communicate any specific details you might want conveyed in the painting—things like color scheme, what wedding moment you want the artist to focus on, or if there's a guest or small wedding detail you want to make sure is on the canvas. The more details you provide beforehand, the better your painting will be. Other than that, just be sure the artist is clear on where to be and when to set up. You don't want them to be too in the way of any wedding events, but also need to make sure they have a good vantage point to paint from."
How do the painting styles vary?
"When guests see me painting at an event, they're mostly surprised as it's still a new trend and haven't seen it done," says live painter Agnes Russo. "I believe there are only a handful of artists doing this, and we probably all work a bit differently. In my case, I may work on one to three canvases throughout the night, depending on the sizes and details, as the style of the artwork can be loose, impressionistic or detailed to the point of likenesses of guests portraitures. It all depends on what my client is asking for."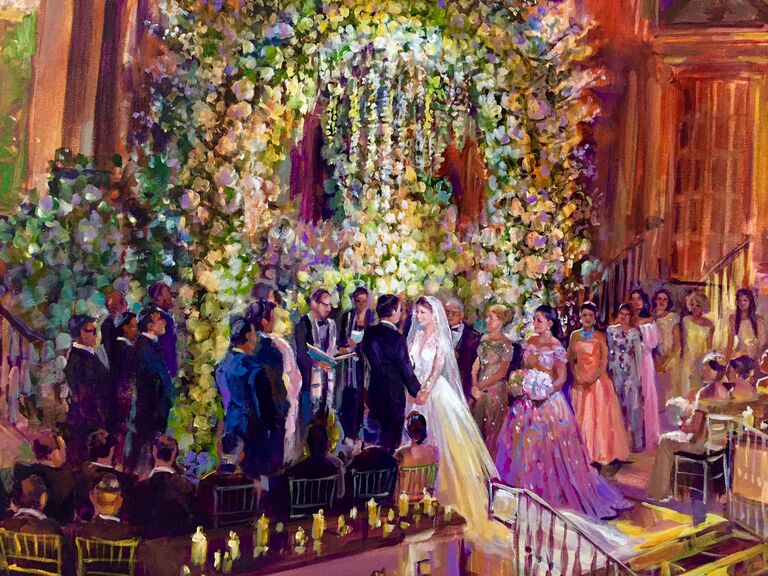 How long should you plan on having your artist at the wedding venue for?
"Most parties I paint are four to five hours long—the typical length of a wedding reception—but I've also painted many ceremonies, in which case I usually stay for the party afterward so I can keep working on the ceremony painting while guests watch," Gressel says. "I like to arrive about four hours early if the venue permits it to paint the background, so typically I'm at a venue for 7 to 10 hours total, including setup and cleanup."
How do guests interact with the live painter?
"That's one of most fun aspects of live painting," Russo says. "It provides great entertainment for the guests, as they love seeing the different stages of the painting being developed and finding themselves on the canvas. Fascinating conversations develop around my easel each night about art, colors, life and so on."