The 44 Best Wedding Wedges on the Market Right Now
Shop comfortable bridal wedges in every color of the rainbow, from classic white to bold blue.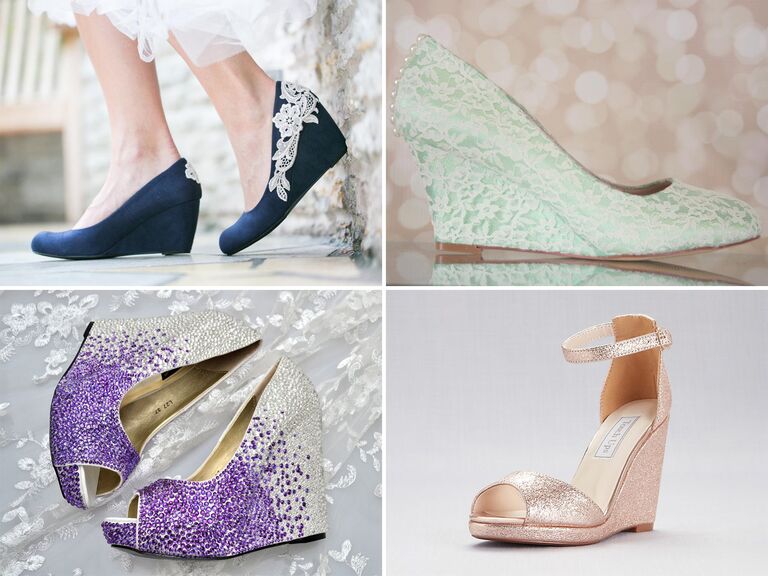 We have included third party products to help you navigate and enjoy life's biggest moments. Purchases made through links on this page may earn us a commission.
Your dream wedding outfit should definitely include a pair of dream wedding shoes. Whether you're looking for ultimate comfort or a pair of haute-couture stunners, wedding wedges are, hands down, one of the best footwear choices recommended by brides. Wedge wedding shoes are a safe and sturdy bet to last you the entire day and into the night, whether you're on grassy terrain for your garden wedding or a repurposed barn floor out in the country. The best bridal wedges are made so that the platform creates equal weight distribution from the balls of your feet to your toes, which can keep your ankles safer than high heels and eliminate pressure points, making for a more comfortable experience overall.
Love the look of wedding wedges? We've put together a shopping guide for those who choose to forgo stilettos but still want a bit of height. Plus, we've included a fun roundup of wedding wedges in all the bridal colors you can buy right now.
In this article:
Wedding Wedge Tips
Before you start your search for the perfect wedding shoe wedges, consider the following tips:
1. Find the right wedge for your specific wedding. Take into consideration where you'll have your ceremony and reception; the style of wedge wedding shoes you choose should accommodate the type of ground you'll be on. Shop around and try on different styles of wedding wedge heels before committing to one so that you're certain your choice is the best fit for your wedding style and theme.
2. Don't forget to break your shoes in. When you're standing around for two to three hours taking pictures with the entire wedding party, your thirteen cousins and a dozen work friends, you'll be glad you took the time to break your shoes in months in advance. One good way to do this is to wear them around your house to do housework; just be careful to keep them clean! And if you find they're hard or painful to prance around in (even with practice), consider swapping them out for something else.
3. Accessorize! Dolling up your wedding wedges with brooches and shoe clips is fun, but here we're talking about accessorizing your shoe to give you maximum comfort. From arch inserts to toe protectors, make sure you add the necessary padding to give you all-day support.
4. Have a spare pair of shoes. Experienced wedding planners recommend always carrying an extra pair of shoes for your wedding. They know that tired and sore feet or a wedding wedge with a broken heel or strap can ruin a bride's night in about 3.5 seconds.
5. Consider getting a pedicure. Treat yourself to a little bit of luxury and stress relief with a pedicure. Not only will you feel more relaxed, but you can also choose a fun polish that complements your kicks.
White and Ivory Wedding Wedges
White wedding wedges are a popular and traditional choice. For the conventional bride, matching white wedding wedges with your dress is a simple and foolproof way to go. Beach weddings and all-white ensembles are the best situations for a pair of white wedding wedges. Whether your shoes will be in plain view or hidden underneath your hemline, pick a style that reflects who you are because it's probably still part of the visual storyline your photographer will capture.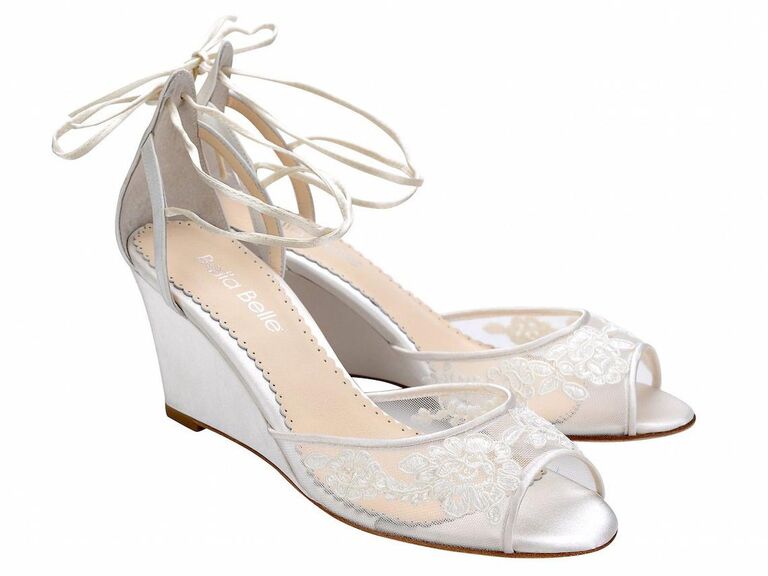 With embroidered lace, ballerina ankle straps and a three-inch heel, these ivory wedge wedding shoes are intricate, detailed and elegant. They feature a classic open-toed design, perfect for enjoying outdoor weddings in the spring or summer sun.
Bella Belle Shoes ivory floral lace wedding wedges, $285, Etsy.com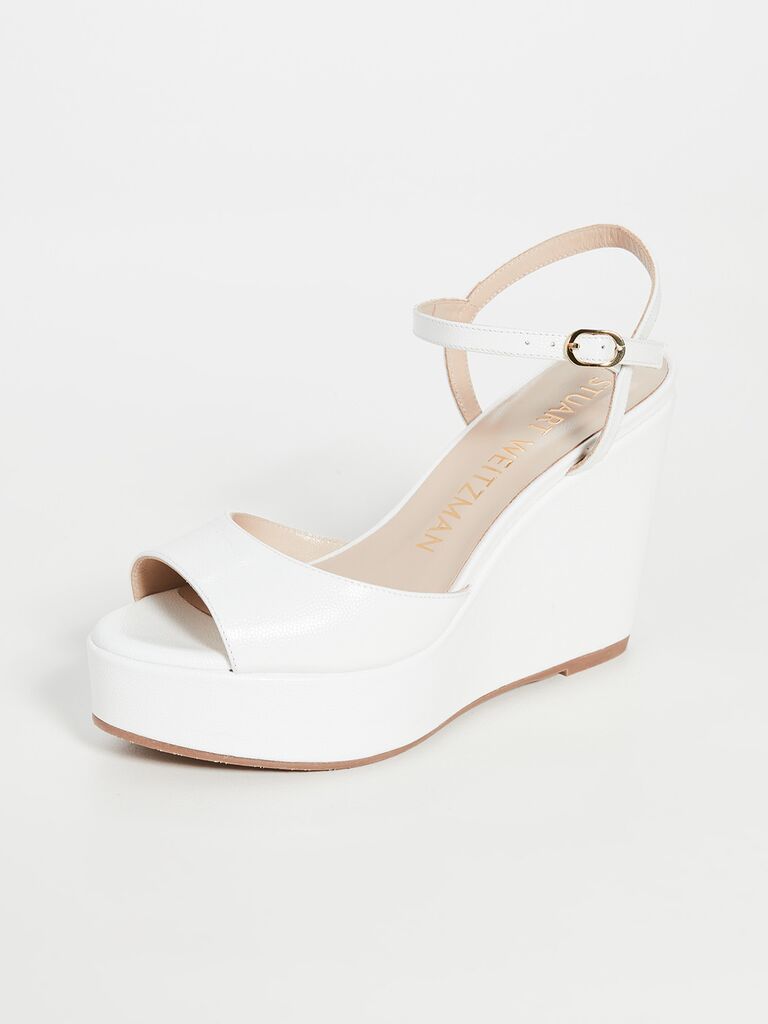 These exquisite Stuart Weitzman wedge sandals are crafted from soft goatskin with a rubber sole and lightly cushioned footbed. Smart yet subtle, they'll give your wedding ensemble an extra boost and are comfortable to wear all day long.
Stuart Weitzman Palmina wedge sandals in White, $425, Shopbop.com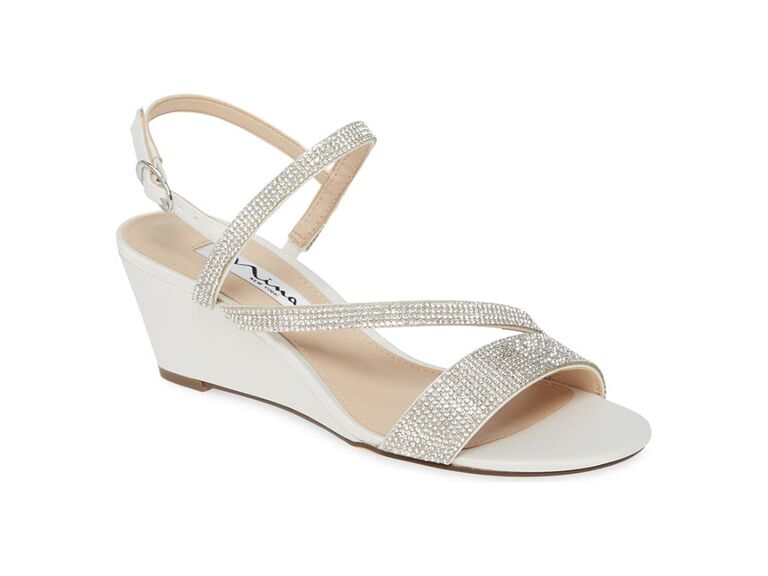 Sleek and modern brides will agree that these white wedding wedges from Nina are a stylish finish to an elegant look. Combining satin-wrapped heels and crystal-lined straps, they'll bring some extra sparkle to your special day.
Nina Naloni crystal-embellished wedge sandal in Ivory Satin, $79, Nordstrom.com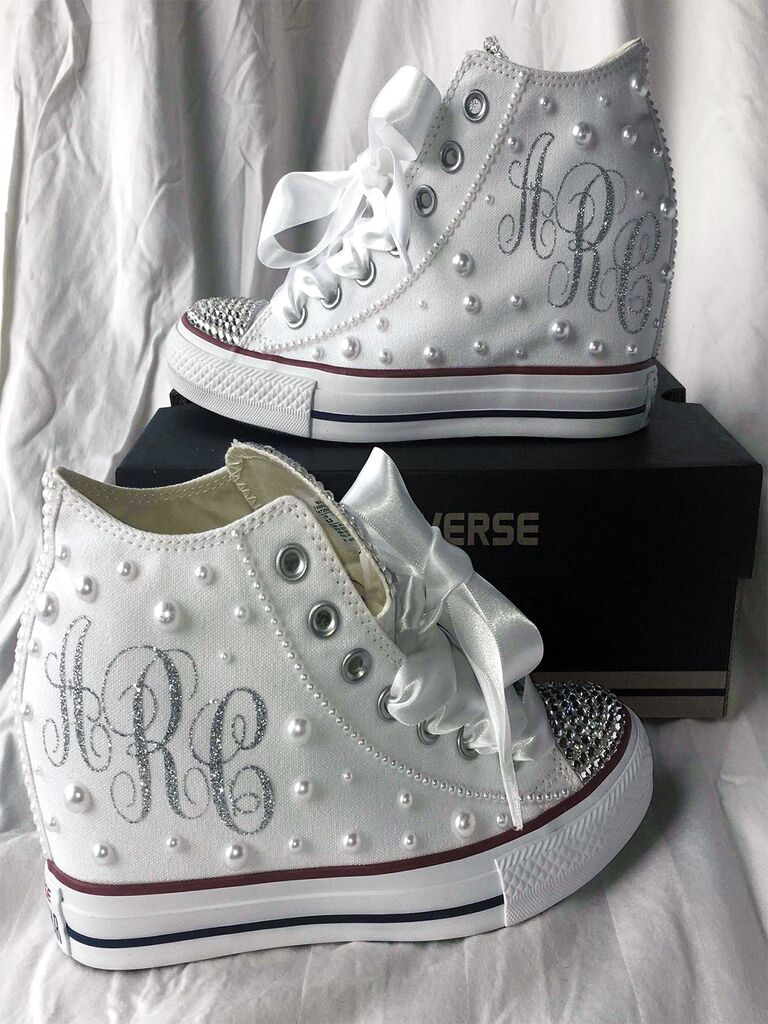 Nothing says classic-casual style like Converse kicks. These cool sneaker wedding wedges will show off your personality for your walk down the aisle. They can even be customized with your monograph and the date of your special day for that added "oooh" factor.
ShowUpandStandOut customized hidden wedge wedding Converse, $250, Etsy.com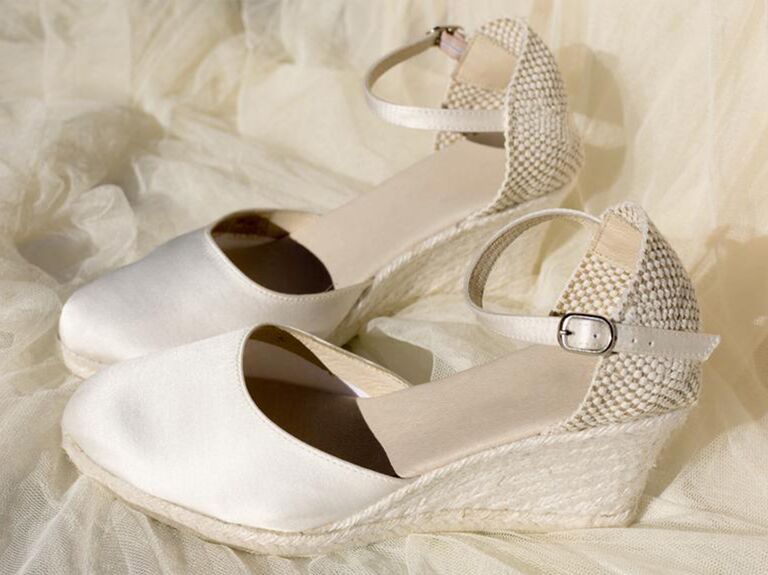 Handcrafted in the Mediterranean, these satin wedding wedges bring a classic sense of European-inspired style to your celebration. Featuring a soft leather lining and an adjustable ankle strap, they're as comfortable as they are glamorous.
Ibizencas Shoes Paris satin ivory bridal wedges, from $102, Etsy.com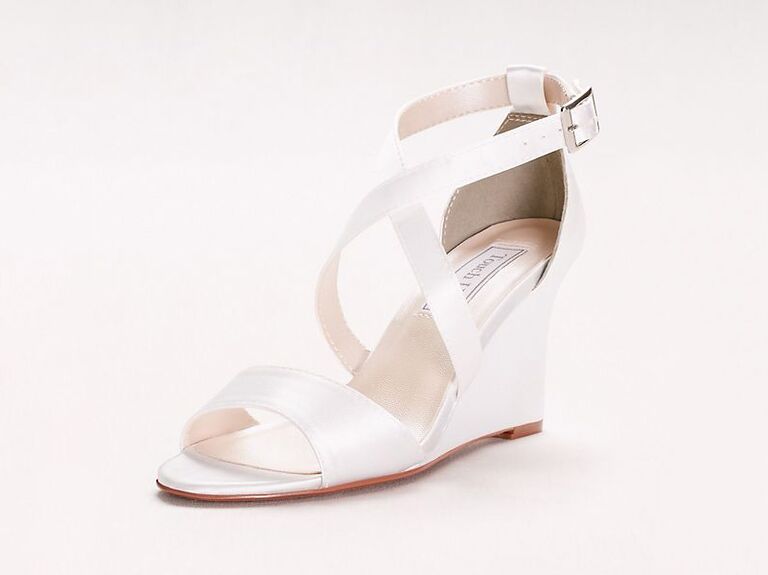 Sometimes, finding that perfect-toned shoe to go with your wedding colors can be mission impossible; luckily, this dyeable option is the solution we've all been hoping for. It's noteworthy that "white" can actually mean a whole range of different shades, but a pair of dyeable wedge wedding shoes let you achieve just the right ivory hue to match your wedding dress. The choices are nearly endless.
Touch Ups Jenna dyeable wedge sandals, $70, DavidsBridal.com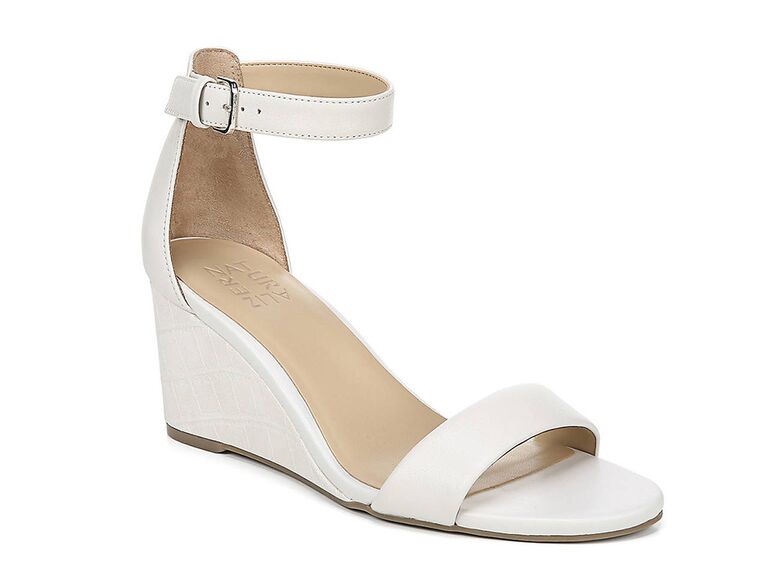 Elevate your style with these simple and sophisticated Naturalizer bridal wedges. Designed with N5 comfort technology, they feature a towering heel and a round open toe for effortless movement and style.
Naturalizer Leonora wedge sandal in White, $20, DSW.com
Silver and Gray Wedding Wedges
Silver and gray wedding wedges are usually aligned with visions of sophistication. Choosing sparkly silver wedges for your wedding ensures you'll be the center of attention. Meanwhile, muted gray sandals are on-trend for modern brides. Satisfy your elegant taste with one of these gorgeous pairs of shoes.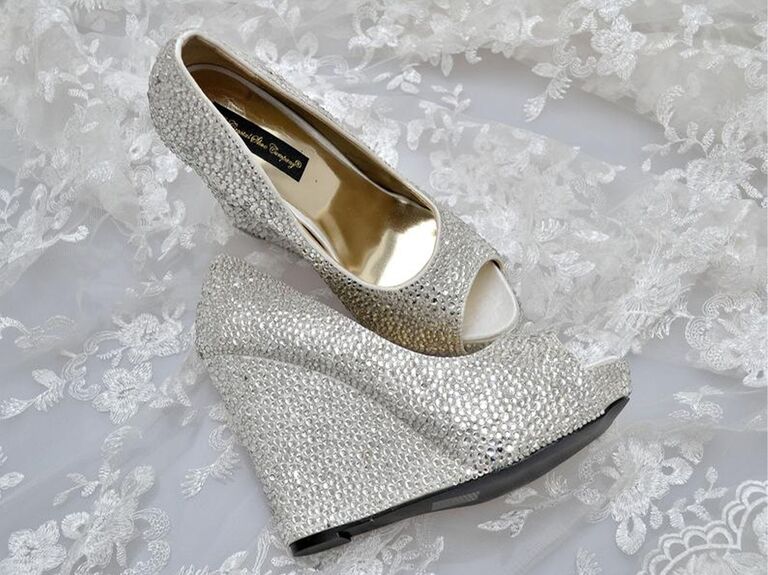 Nothing says style quite like Swarovski crystals. These breathtaking wedges are handcrafted from leather and satin with a dazzling silver stone finish. The formal wedding wedges will keep you up all night on the dance floor.
The Crystal Shoe Company silver Swarovski crystal platform wedges, $250, Etsy.com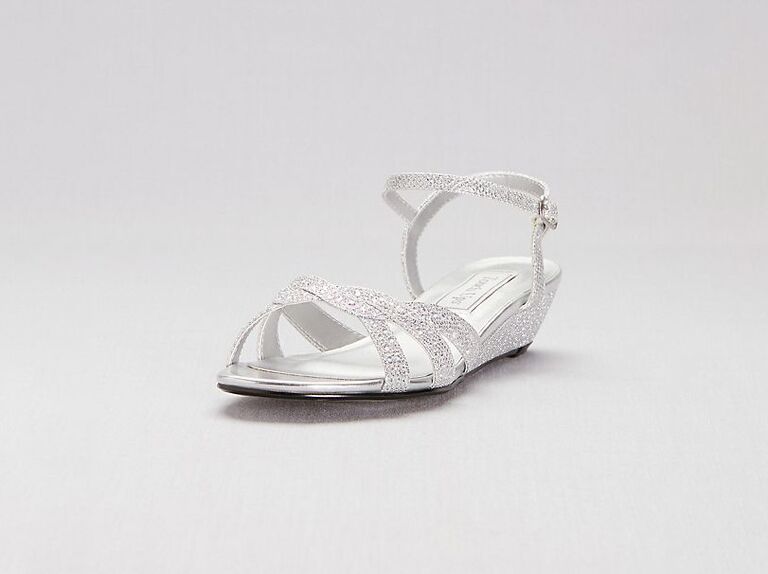 These silver wedge wedding shoes have criss-cross straps lined with crystals to give support and style to the busy bride. Straight out of a fairy tale, they're ready to be paired with a princess gown to complete your look as the belle of the night.
Touch Ups glitter mini-wedge sandals with woven straps in Silver, $70, DavidsBridal.com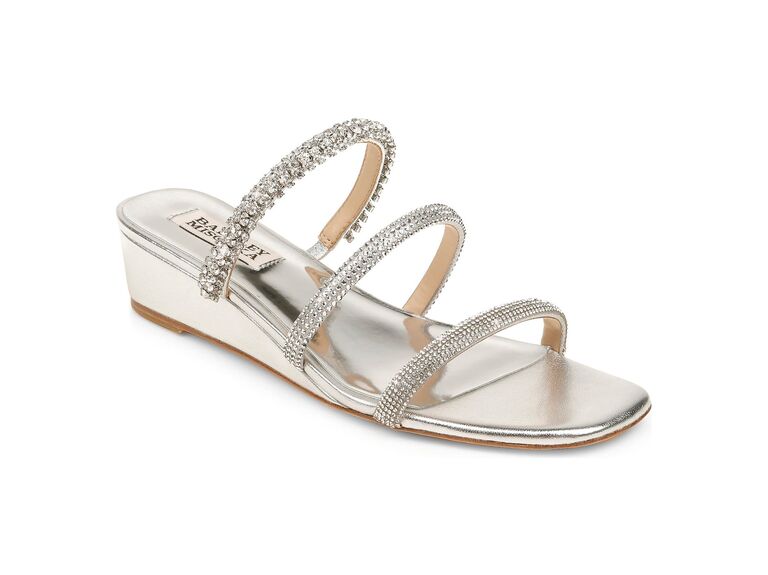 Badgley Mischka is a household name for wedding shoes, including wedding wedges—and for good reason! These sparkly sandals are perfect for your outdoor reception. The straps are embellished with tiny crystals, and the smooth slide shape is designed for optimum comfort.
Badgley Mischka Zofia strappy wedge slide sandal in Silver Nappa Leather, $198, Nordstrom.com
Reach new heights with this timeless platform pump from 1.STATE. With a classic wedge heel design, it has a stylish gray finish that's cool and chic.
1.STATE Maeve wedge pump in Grey Suede, $40, DSW.com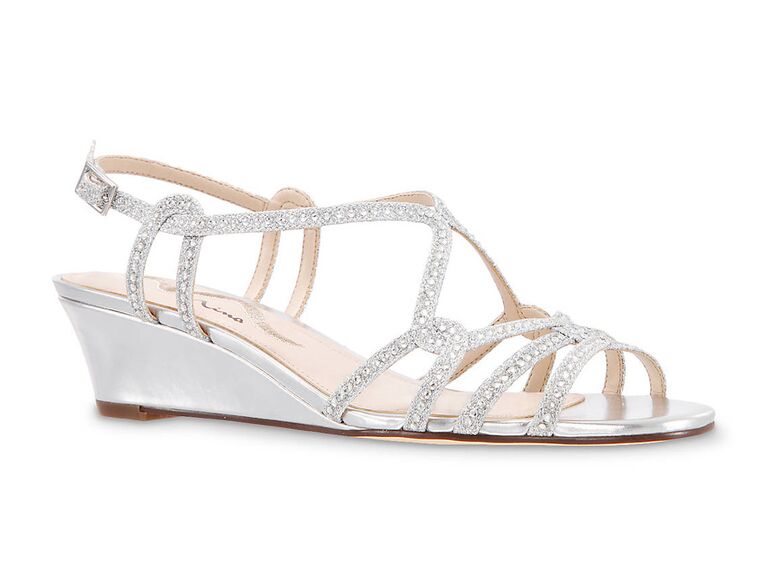 Embrace your inner Cinderella with these bedazzled wedding wedge sandals. With shining slingback straps, an adjustable buckle closure and a lightly padded footbed, they're sure to have you disobeying your fairy godmother's instructions.
Nina Florita wedge sandal in Silver Metallic, $30, DSW.com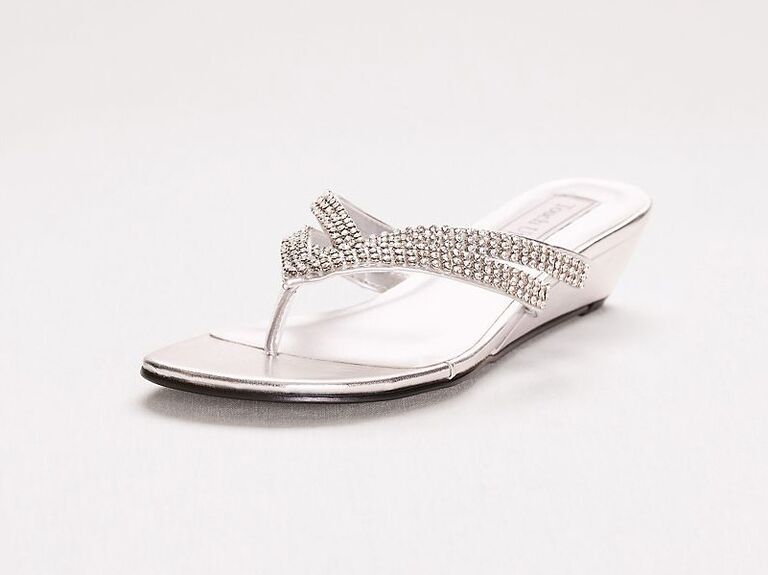 With shining straps and a subtle one-inch heel, these wedding wedge flip-flops blend shimmering style and convenient comfort. Casual yet chic, they'll effortlessly add some extra sparkle to your summertime celebration.
Touch Ups Tango low wedge crystal flip-flop sandals, $80, DavidsBridal.com
Gold and Rose Gold Wedding Wedges
The warm and rich tones of gold wedding wedges bring a pop to any wedding outfit. Wealth and prosperity are associated with the color, which is a traditional choice for autumn weddings (but certainly not limited to them). Gold wedding wedges tend to work well with most skin tones, so if your wedding dress shows a bit of leg, a golden wedge heel is a great choice for your wedding attire. Looking for an up-and-coming alternative? Opt for rose gold instead!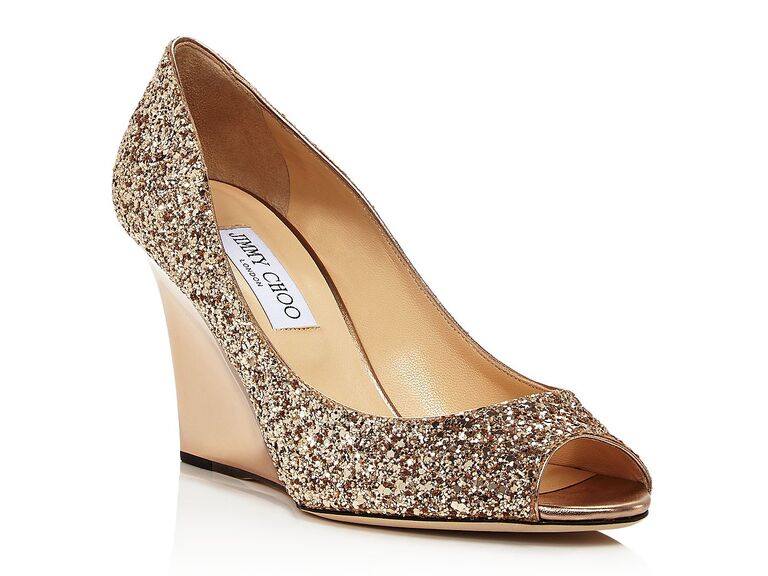 Your search for some fancy yet comfortable gold wedges can end here with these Jimmy Choo peep-toe pumps. The luxe glitter wedges will make sure your feet look as good as gold.
Jimmy Choo Baxen peep-toe wedge heel pumps in Goldie, $675, Bloomingdales.com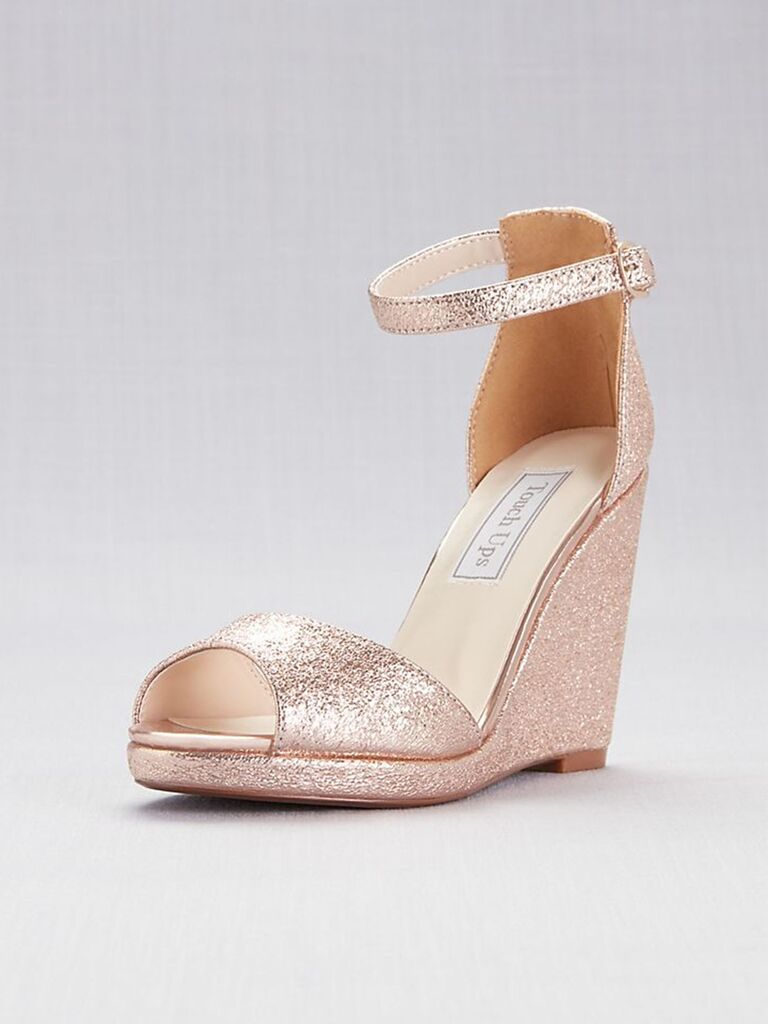 Like a queen descending from her throne, these peep-toe, rose gold wedding wedges will float you around on your wedding day. Providing both height and style, they're a simple and shimmering addition to your wedding-day wardrobe.
Touch Ups Holly ankle-strap peep-toe wedges in Rose Gold, $60, DavidsBridal.com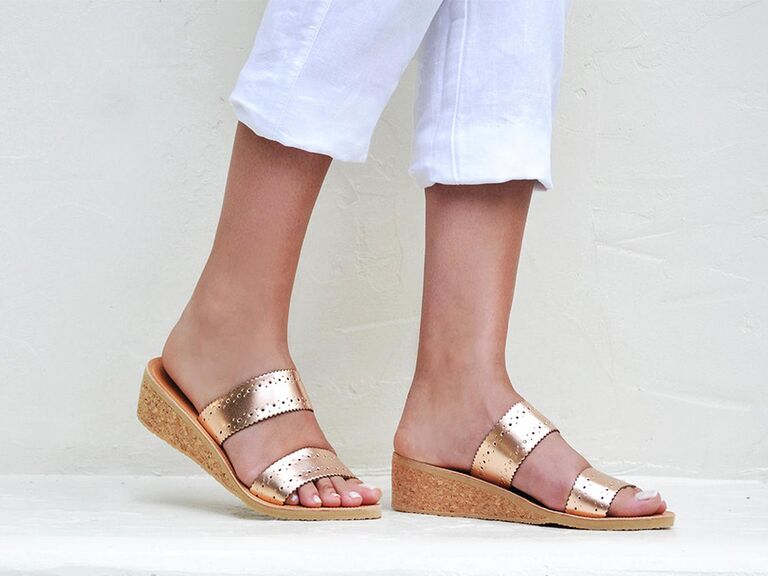 Crafted straight from the island of Crete, these casual wedding sandals are sure to help you feel like a laid-back Greek goddess. Durable, versatile and comfortable, they're perfect for non-stop brides spending a lot of time on their feet.
SAVOPOULOS Greek Miranda leather wedge sandals in Gold or Rose Gold, $74, Etsy.com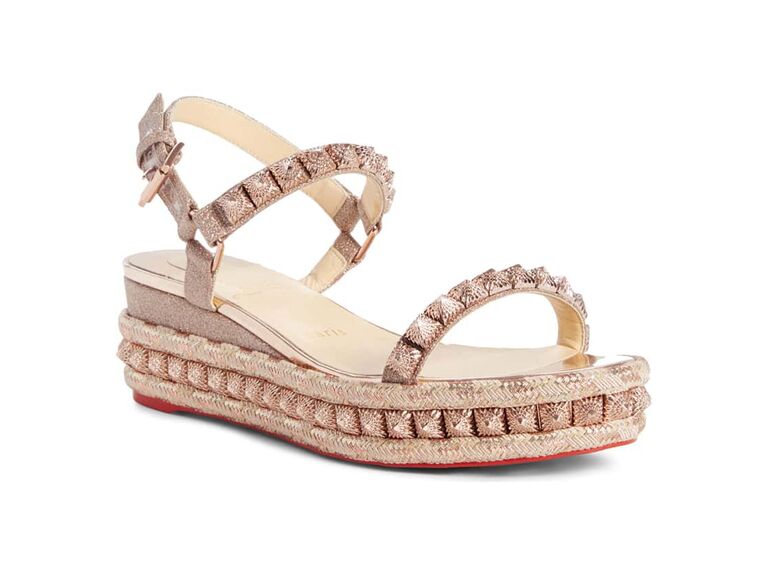 Willing to splurge on your wedding wedges? Then these Christian Louboutin studded sandals are the perfect choice for beach weddings, outdoor celebrations and more. With textured pyramid studs and a layered metallic platform, these captivating bridal wedges ensure that you shine like a polished diamond.
Christian Louboutin Pira studded glitter wedge sandal in Bronze Glitter, $795, Nordstrom.com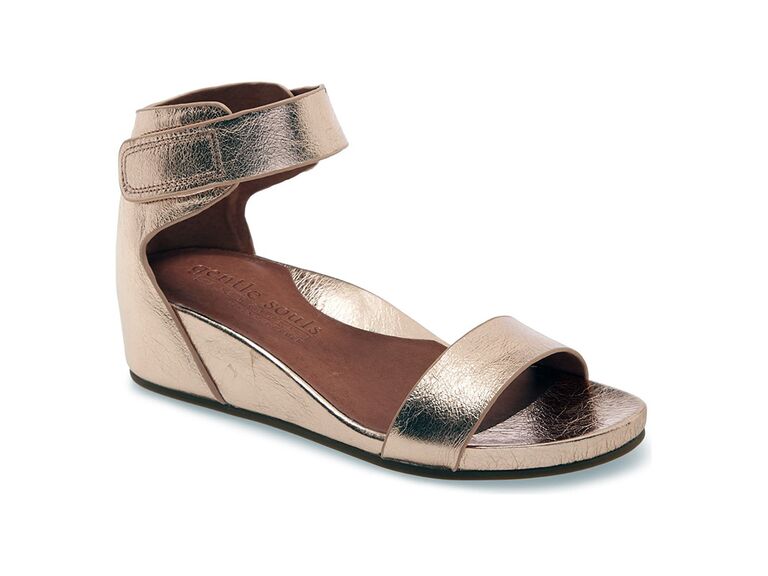 Summer backyard celebrations are a breeze with these Gianna wedge sandals from Gentle Souls. With a sophisticated yet comfortable design, they are an ideal choice for warm-weather weddings.
Gentle Souls signature Gianna wedge sandals in Rose Gold, $140, Nordstrom.com
Nude and Champagne Wedding Wedges
Brides choose these neutral tones for their softness and warm elegance. Nude wedding wedges are dependable and can be timeless or contemporary. To add a dose of extravagance, choose a shimmery champagne wedge for your wedding.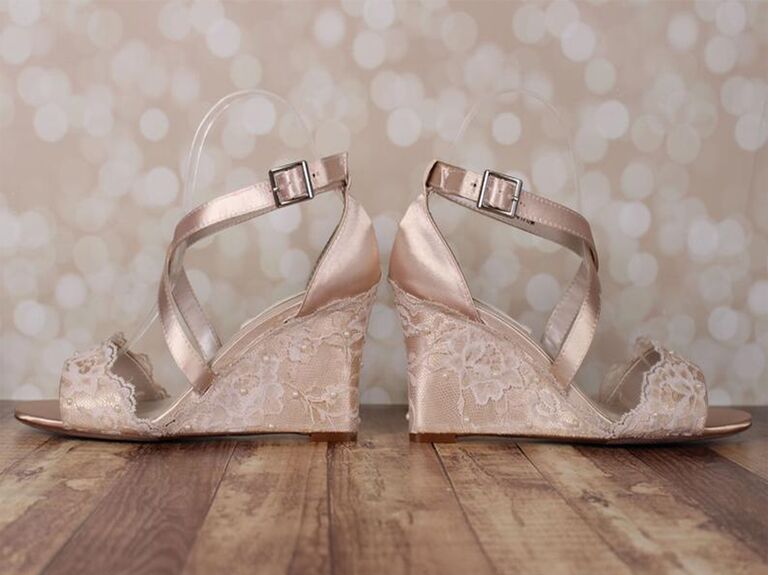 These made-to-order lace wedding wedges will make you want to start popping bottles. Customized to your exact specifications, they'll shine as bright as you on your special day.
Ellie Wren custom lace champagne wedding wedges, $280, Etsy.com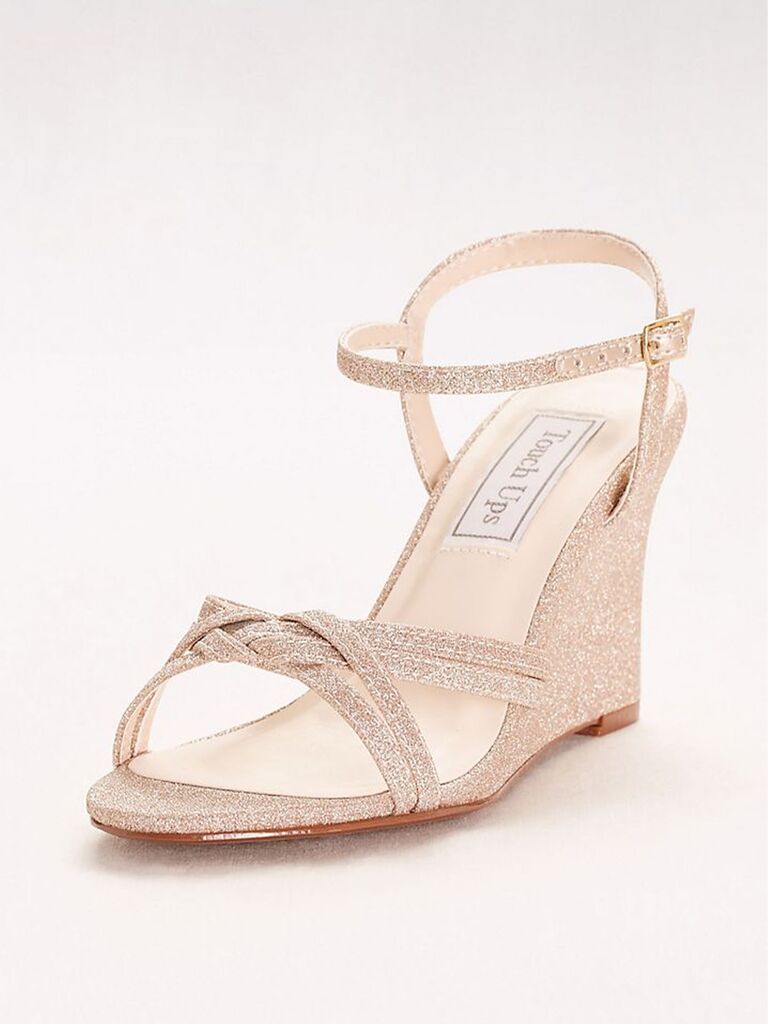 Bounce onto the dance floor with these champagne wedding wedges from Touch Ups. With wide, dazzling straps and a glittery finish, these wedding wedge heels are a fun tribute to your personality.
Touch Ups Buffy woven-strap glitter wedges in Champagne, $60, DavidsBridal.com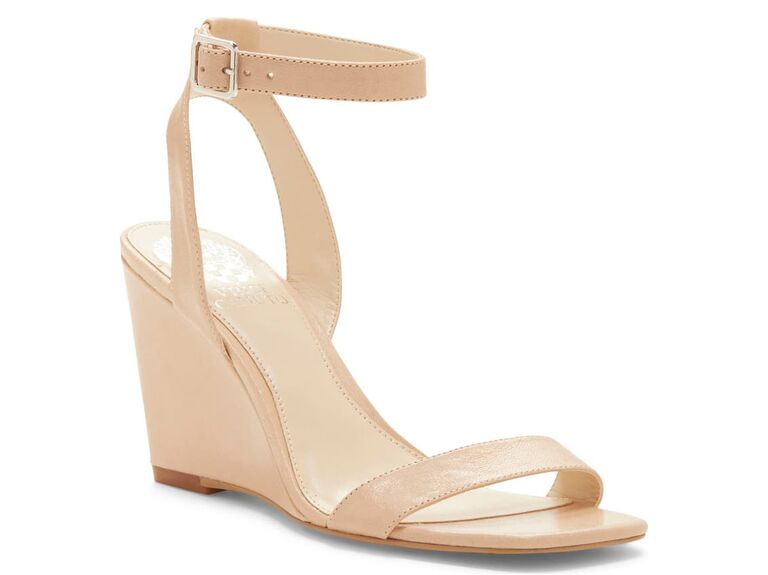 This sandal from Vince Camuto is perfect for brides in need of a comfortable and lightweight wedding wedge. Breezy and simple, it's versatile enough to go with practically any dress.
Vince Camuto Gallanna wedge sandal in Bisque Leather, $110, Nordstrom.com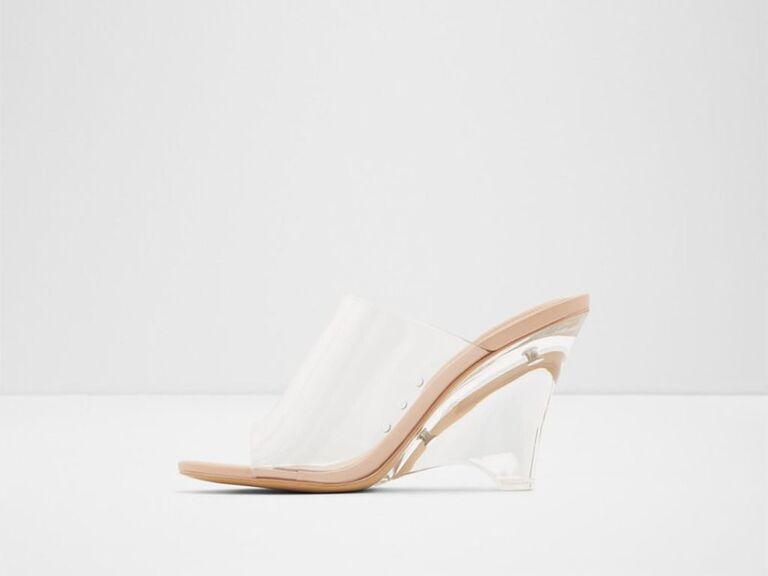 These see-through wedges from ALDO will see you through your special day in an ultra-modern way. Stylishly crafted, they're an excellent choice if you're hoping to make a subtle statement.
ALDO Shoes clear wedge sandal mule, $100, ALDOShoes.com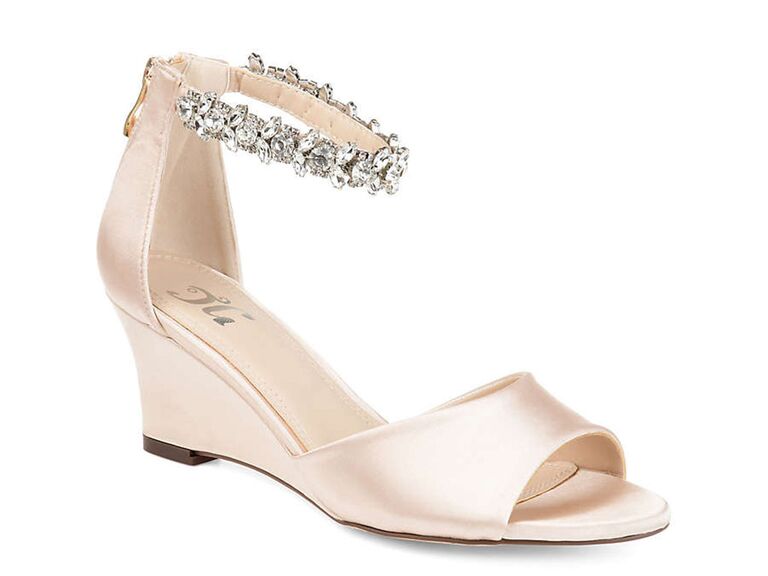 Neutral wedding wedges don't have to be boring. With a smooth satin finish and a rhinestone-embellished ankle strap, this timeless wedge wedding shoe stands out.
Journee Collection Connor wedge sandal in Champagne, $55, DSW.com
Blue and Purple Wedding Wedges
Something old, something new, something borrowed, something blue; complete your wedding traditions in unique blue wedding wedges. Purple wedges are also a popular choice to add some color to your look—the color is associated with royalty, which makes it fitting for your special day. Different shades of blue and purple are versatile for weddings of all seasons, so take a chance and choose a boldly colored blue or purple wedding wedge.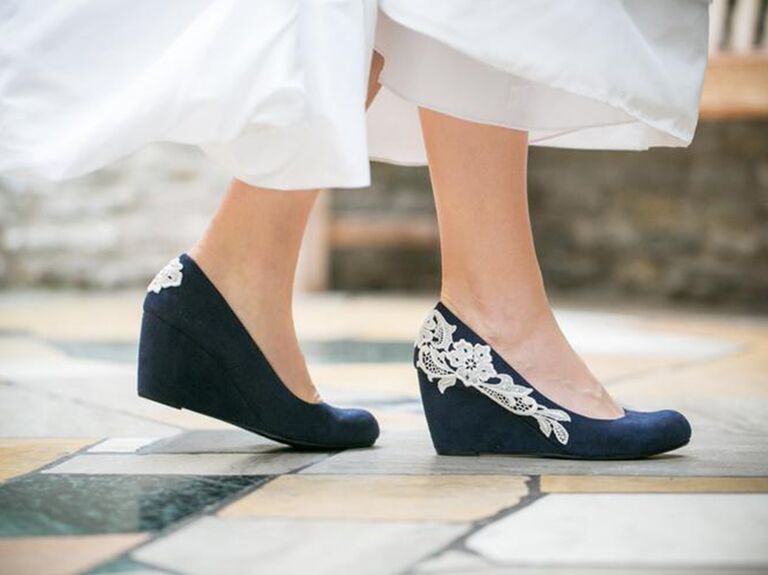 You can never go wrong with a pair of navy blue wedding wedges with an ivory lace motif. If finding the perfect pair of shoes has you feeling overwhelmed by wedding planning, try these low-wedge wedding shoes with timeless form and romantic style.
Walkin On Air navy blue wedding wedges with ivory lace, from $93, Etsy.com
Casual weddings in your backyard or at the local restaurant call for an easygoing and relaxed blue wedding wedge. These platform wedge sandals from Caslon in chic blue suede will beautifully complement your cool-girl style.
Caslon Jillien wedges sandal in Celestial Blue Suede, $100, Nordstrom.com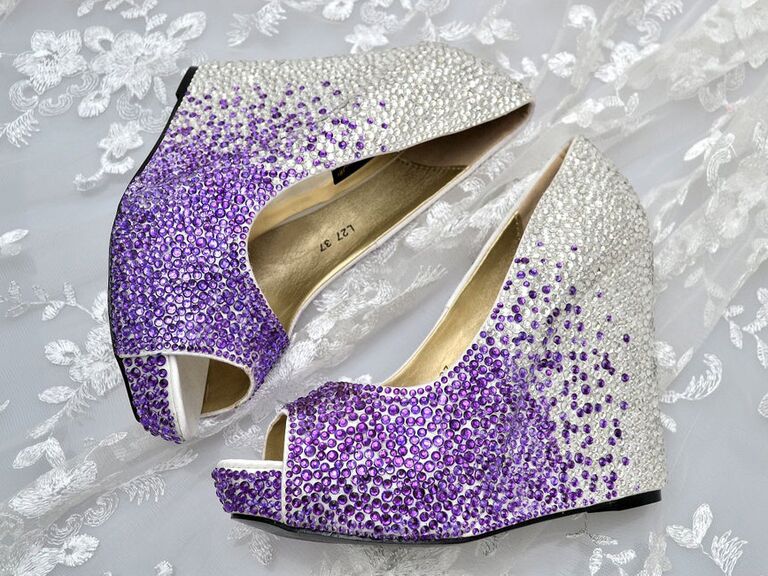 Stand tall and stand out with these dramatic platform wedding wedges. With a cushioned leather insole and a crystal design, they're completely handmade for superior comfort and style, perfect for the dance floor. Prepare for a whole bunch of "oohs" and "aahs."
The Crystal Shoe Company Cadbury purple ombre and silver Swarovski crystal platform wedding wedges, $263, Etsy.com
These Badgley Mischka crystal-embellished wedges are ideal wedding wedges for a refined yet vibrant look. They'll look great while allowing you to move effortlessly throughout your day.
Badgley Mischka Collection Cashmere crystal embellished wedge in Navy Satin, $245, Nordstrom.com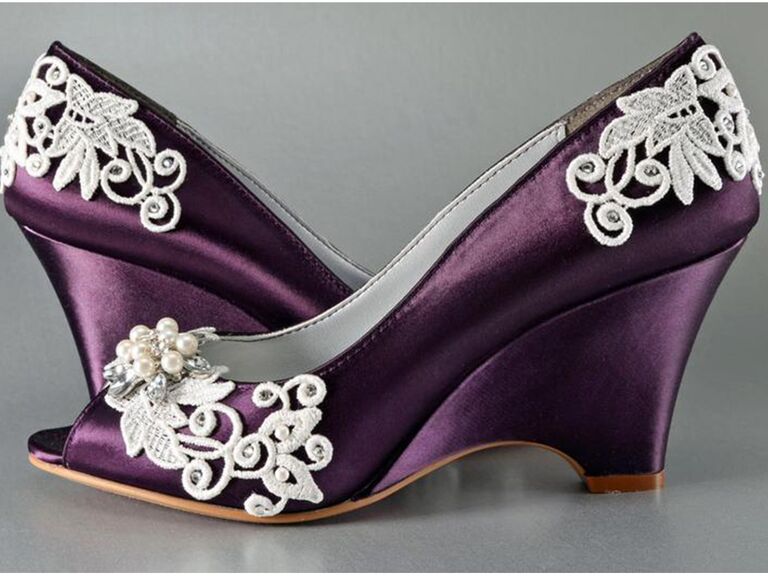 Featuring a medium-height heel and an ornate floral lace motif, these stunning wedding wedges blend classic design with modern purple flair. Rich and regal, they'll give you a sense of confidence that's sure to turn heads. (FYI: They also come in a few stunning shades of blue.)
Pink2Blue custom lace wedding wedges in Purple, $175, Etsy.com
Pink and Red Wedding Wedges
A pair of pink or red wedding wedges reflects a bride's grace and joy; plus, they're the colors of romance. Either hue is a great choice for any season of the year—pair fiery red with other bright and warm colors for a summer wedding, or complement a pale pink with some cool silvers and grays for your winter festivities. Regardless of the style of your wedding dress, there are shoes out there for you.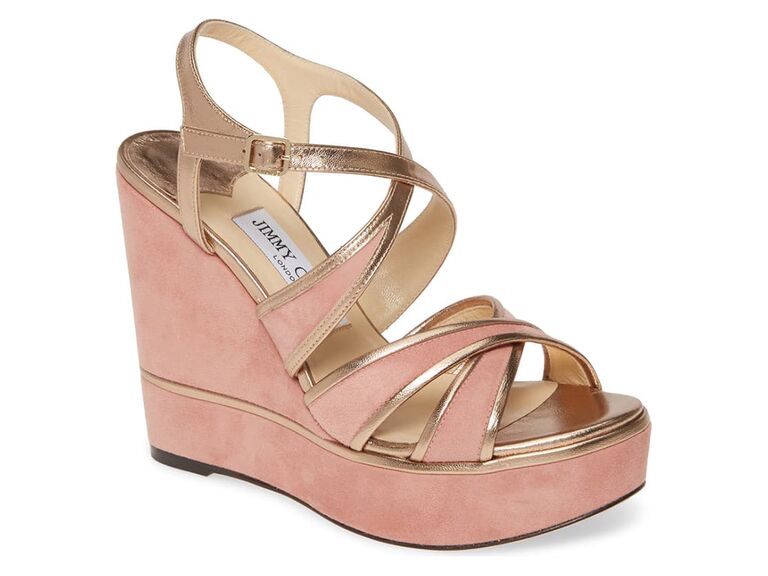 Looking for a pair of blush wedding wedges that are elegant yet subtle? These Jimmy Choo sandals will be the perfect fit. Designed with criss-crossed straps and metallic accents, these pale-pink platform shoes will help you shine all day long.
Jimmy Choo Alissa platform wedges in Blush/Gold, $595, Nordstrom.com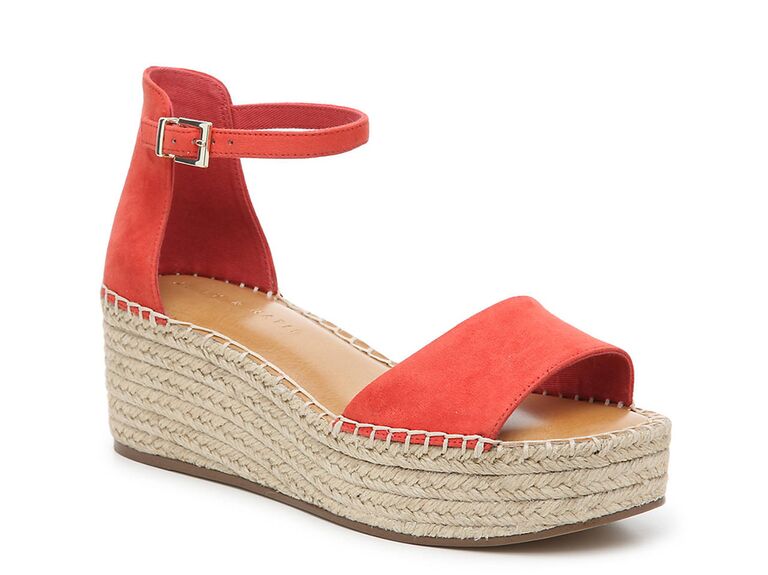 These wedge sandals from Kelly & Katie are designed for a feeling of stylish comfort. With an espadrille platform and a soft red fabric finish, they're perfect for colorful and casual outdoor wedding celebrations.
Kelly & Katie Fedrick espadrille wedge sandal in Coral Fabric, $40, DSW.com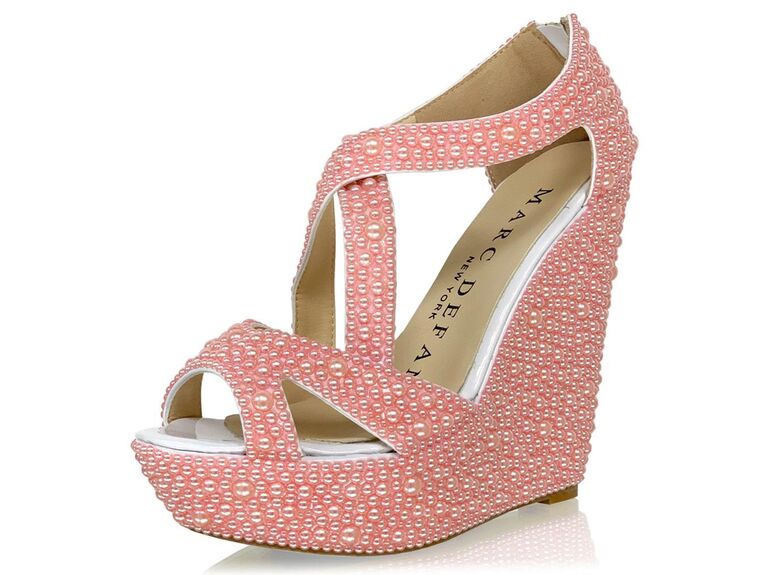 Covered entirely by pearl embellishments, these pink wedding wedges by Marc Defang will turn heads with their extraordinary details that are custom-made by hand. Intricate cutouts decorate the upper, creating a lovely wedge wedding shoe worthy of any one-of-a-kind bride-to-be. Bonus: You get to choose the pearl color—options include ivory, fuschia and red.
Marc Defang Maria bridal wedges, $190, MarcDefang.com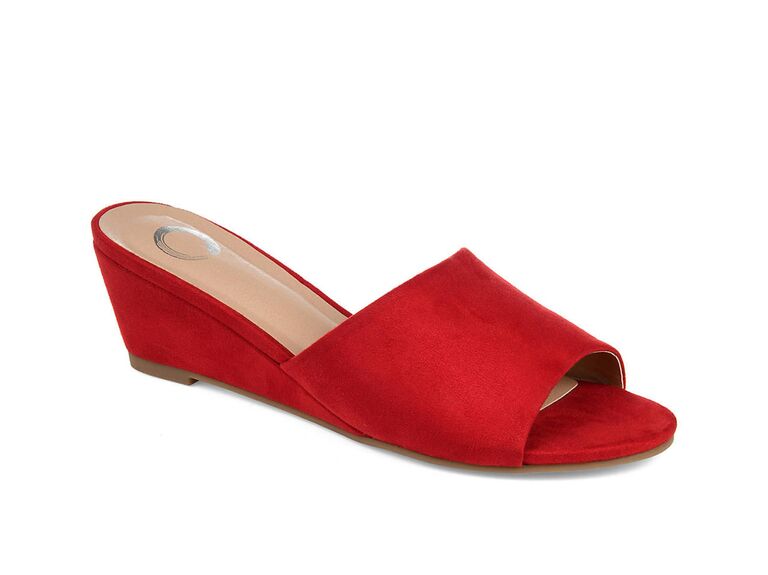 With a classic wedge shape and a striking red fabric, these wedge slide sandals are perfect for bringing some color into your celebration.
Journee Collection Pavan wedge sandal in Red, $60, DSW.com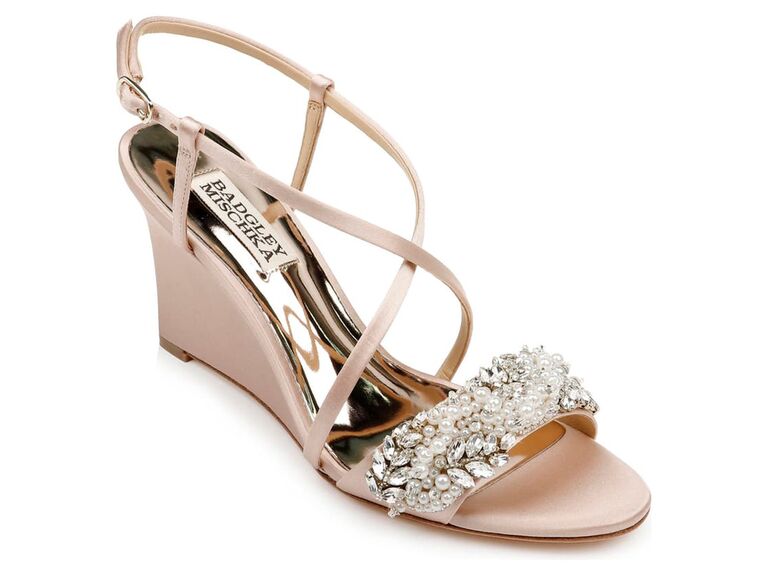 With lavish imitation pearls and a soft blush satin fabric, these wedding wedge sandals from Badgley Mischka are fun, fancy and fashionable. They have an adjustable strap and foam-cushioned footbed, making them ideal for owning the dance floor.
Badgley Mischka Collection Clarisa embellished wedge sandal in Soft Blush Satin, $225, Nordstrom.com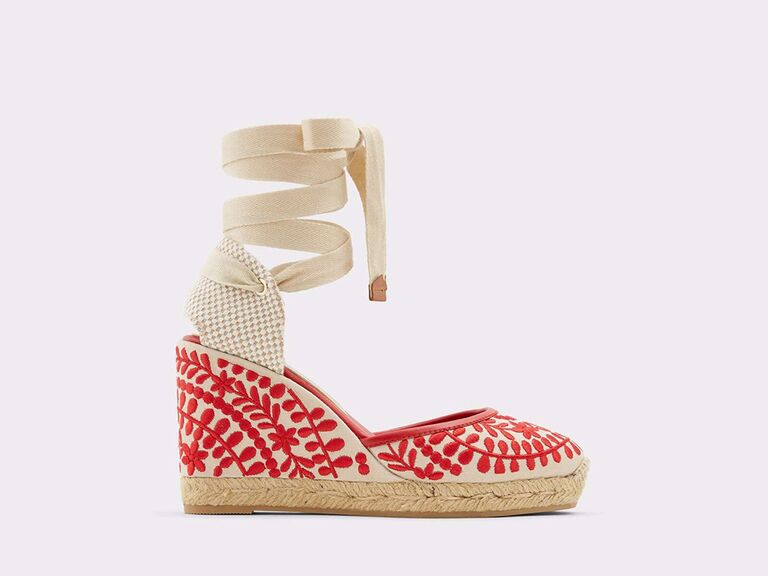 Strut your stuff in celebratory style with these strappy espadrilles wedge heels. With a floral pattern and a tie-up ribbon, they're the quintessential destination wedding wedge. Plus, they'll look great on your honeymoon too.
ALDO Shoes Muschino strappy espadrilles wedge heel in Red, $80, ALDOShoes.com
Yellow and Green Wedding Wedges
Let's face it. White shoes aren't for everyone and sometimes you just want some footwear that adds a splash color to your overall wedding ensemble. From pale green wedges to zesty yellow sandals, this out-of-the-box footwear will let your personality take center stage.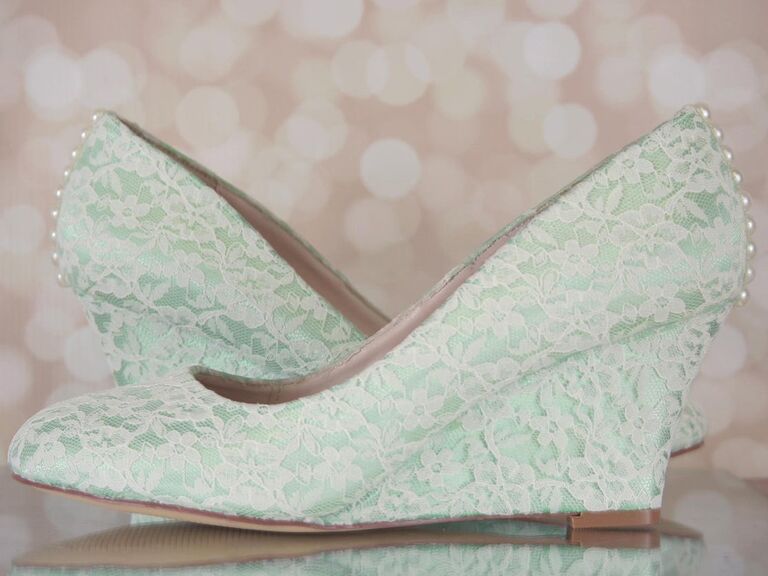 Expert shoe designer Ellie Wren specializes in handcrafting custom shoes to fit your specific needs and desires. These beautiful lace wedding wedges are designed for comfort and quality for every stage of your day.
Ellie Wren mint green satin lace wedding shoes, $265, Etsy.com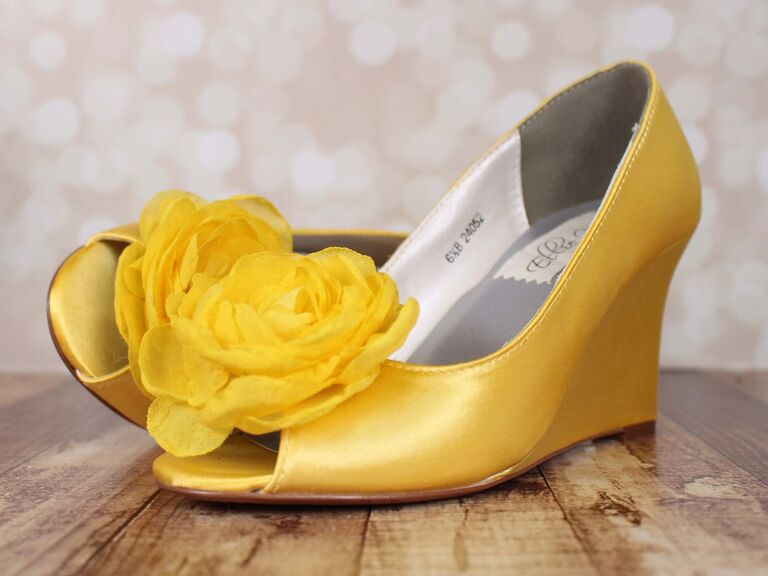 With a shining yellow satin finish and handmade organza flowers, these peep-toe wedges will help you fully bloom. Simple, stylish and sunny, they're an excellent way to brighten up your wedding day.
Ellie Wren yellow wedge wedding shoe, $161, Etsy.com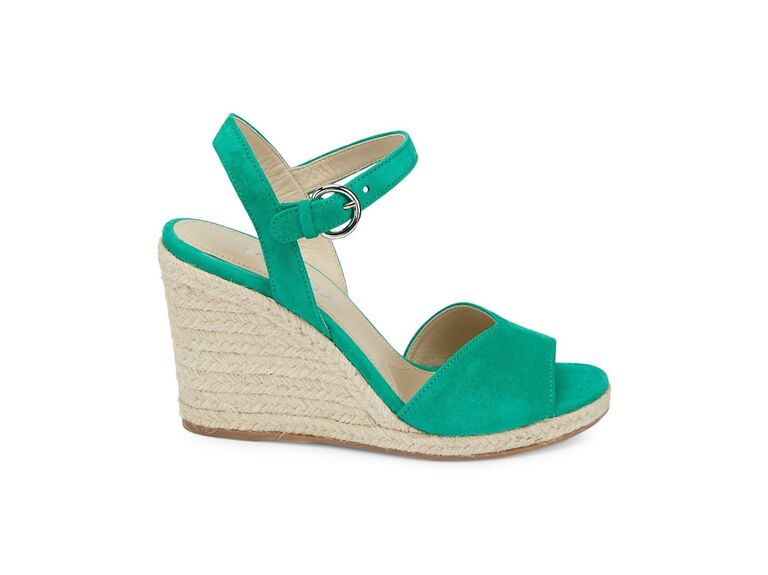 Prada green wedding wedges? Yes please. These suede espadrille sandals are the perfect combination of cool, classic and comfortable and add a splash of modern color to your wedding ensemble.
Prada suede espadrille wedge sandals in Emerald, $690, SaksFifthAvenue.com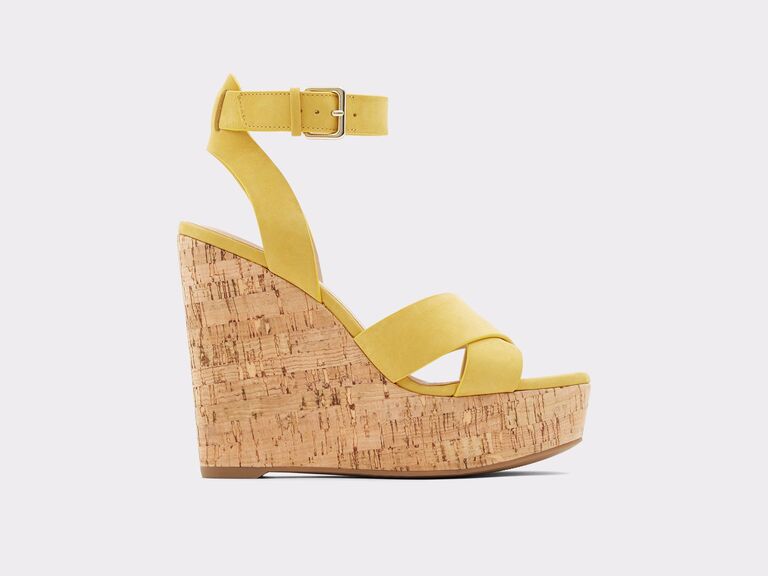 Step into the sun with these comfortable and stylish wedge sandals. Vibrant and elevated, they are the perfect footwear for your outdoor summer celebration.
ALDO Shoes helena wedge heeled sandals, $90, ALDOShoes.com
Black Wedding Wedges
Much like the famous "little black dress," black wedges are a stylish yet versatile option for all types of events, and nuptials are no exception. We've rounded up the perfect array of black wedge shoes for your wedding that'll help you embrace the dark side and look good doing it.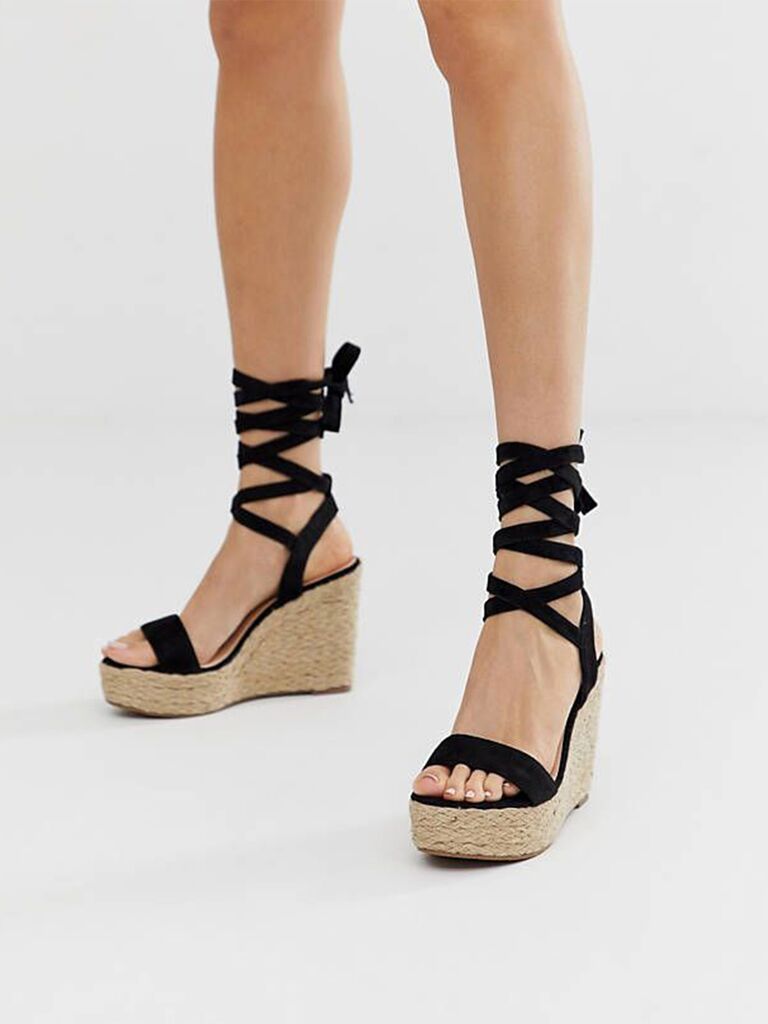 These wedge wedding sandals offer a sense of casual coolness. With chic ankle ties and an elevated platform, they're the perfect meeting point of sophistication and style.
Glamorous espadrille wedge sandal with ankle tie in Black, $45, ASOS.com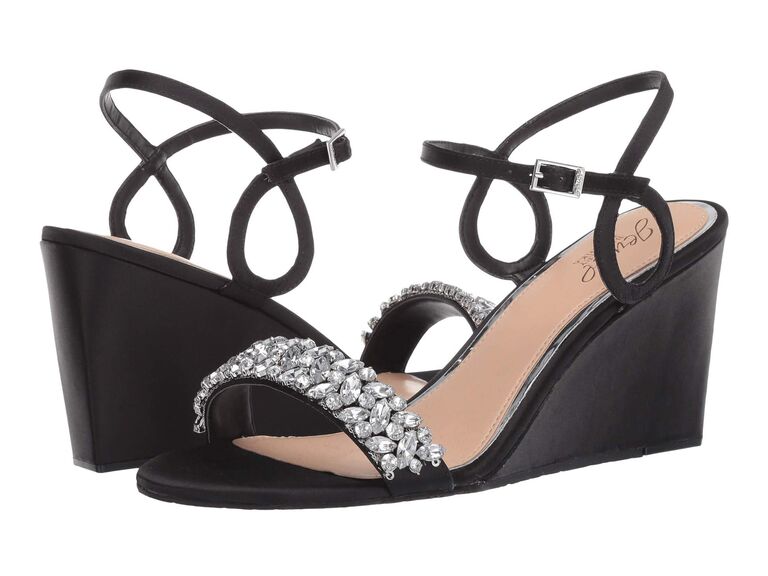 Crafted in Italy with a crystal-embellished toe strap, these sandal wedding wedges are timelessly stylish. Shimmering and moody, they scream "nighttime soiree."
Jewel Badgley Mischka Noralie heels in Black, $109, Zappos.com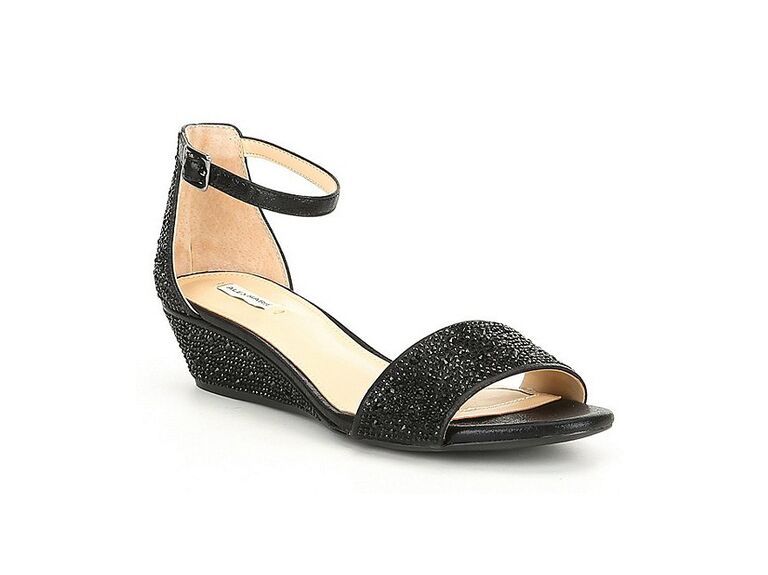 With a stylish black fabric, chic ankle strap and rhinestone detailing, these wedge sandals mean business. They're fun without being too overpowering.
Alex Marie Mairithree rhinestone wedges in Black, $70, Dillards.com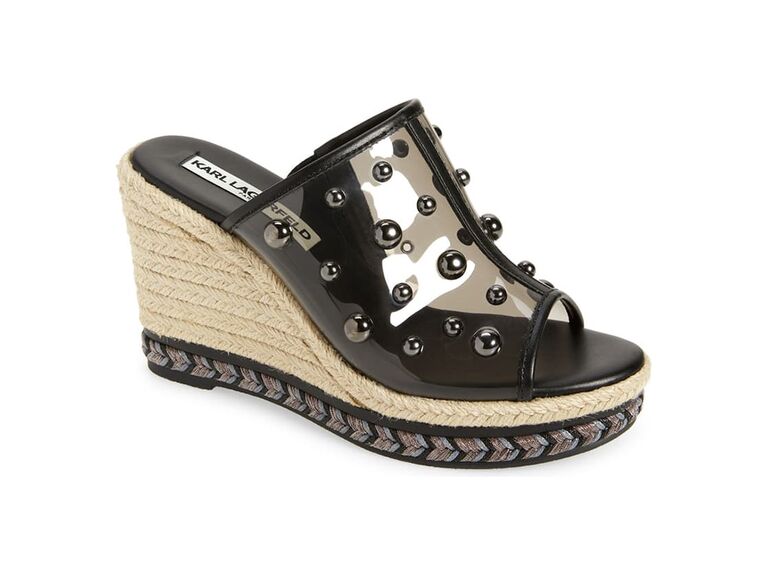 These wedge sandals from Karl Lagerfeld are sure to turn heads and wow your guests. Fun, funky and fashionable, they'll show the world your style savviness.
Karl Lagerfeld Paris Carita wedge sandal in Black Rubber, $139, Nordstrom.com
These wedge sandals from Klub Nico are sure to help you own the room. With elegant teardrop cutouts and a thin ankle strap, they are delicate, feminine and perfect for strutting your way down the aisle.
Klub Nico Kismet wedge sandal in Black, from $195, Nordstrom.com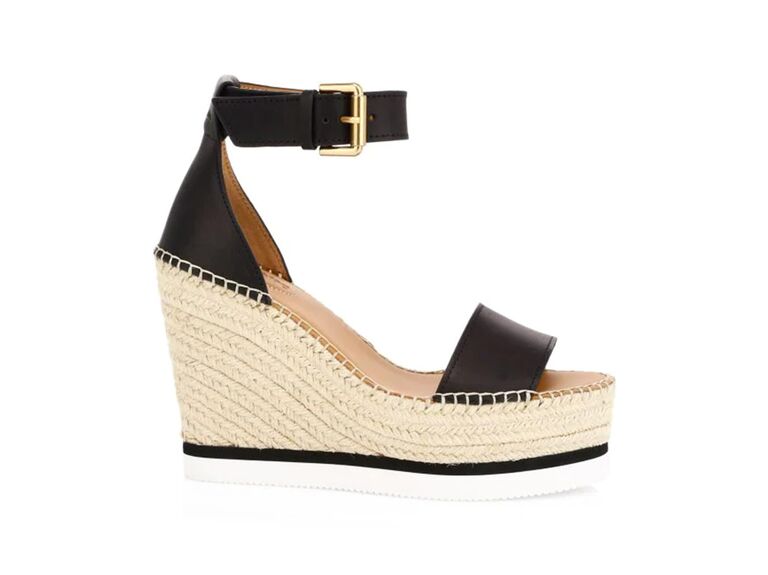 Light meets dark in these leather platform espadrille wedge sandals. The base says fun, and the upper says sophisticated.
See by Chloé Glyn leather platform espadrille wedge sandals in Black, $215, SaksFifthAvenue.com