The Rumors Are True, We All Have B-List Wedding Guests—Here's How to Invite Yours
Here's the tea—timing is everything.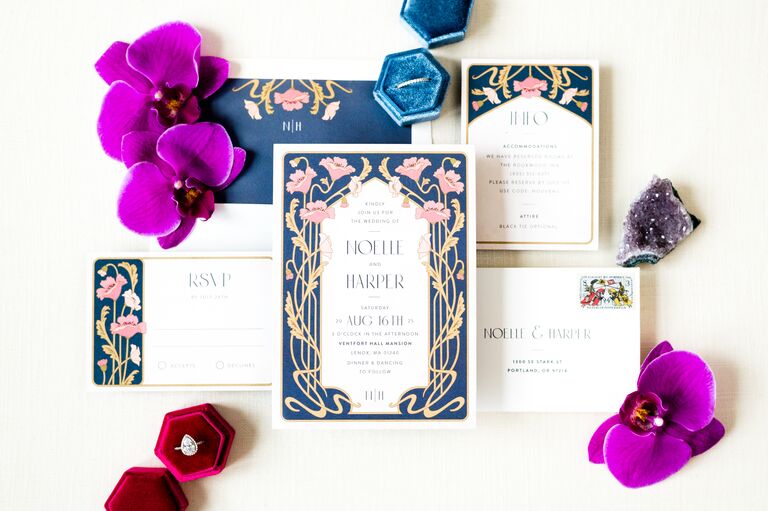 Photo: Terri Baskin Photography
Carefully crafting the perfect wedding guest list is a bit of an art that requires prioritization, especially for intimate weddings or weddings with limited space and budgets. One way to do this effectively is by creating an A-list and a B-list wedding guest list. The tricky part is figuring out how to invite B-list wedding guests without being rude or hurting anyone's feelings. To help navigate this situation, we turned to wedding planners to give us the scoop on the etiquette behind approaching the B-list wedding guest list. Read on for their tips on how to determine your B-list wedding guest list and steps for inviting them to your wedding.
In this article:
What Is a Wedding B-List?
Backing up for a second: What's the difference between an A-list vs B-list? Cathy O'Connell, co-founder of COJ Events, explains that an A-list comprises the non-negotiable guests you absolutely want to attend your wedding. These are the folks who play an active part in your life, and you'd be greatly disappointed if they couldn't attend your wedding.
B-list guests, on the other hand, are the people that are not as important as A-list guests. "Not that you don't enjoy them," O'Connell says. "But, their presence may not be missed if they can't come." For example, a B-list can include extended and difficult family members, estranged relatives, colleagues from work or friends of your parents.
In other words, Janice Carnevale, owner of Bellwether Events, sums it up by saying that your B-list guests are the people who are nice-to-haves at your wedding. However, due to budget or venue size constraints, you must wait to see if anyone from your A-list can't make it to your wedding in order to invite people from your B-list wedding guest list.
How to Determine Your Wedding B-List
How to determine your B-list wedding invites begins with first calculating how many people you can invite to your wedding based on your budget and wedding venue size. For instance, O'Connell says if you're having a small wedding, you may only have an A-list of guests and no B-list is needed. If you do have some wiggle room though, she advises couples to choose who is on their A-list vs B-list by how much time they spend with them. "Have you spent time with them in the past year?," she says. "If not, maybe they are B-list people, even if they are family." You could also base this decision on who you don't have a strong connection with compared to your A-list guests.
As for how long your B-list guest list should be, it depends on the length of your A-list. As a rule of thumb, Carnevale says your RSVP acceptance rate will increase as your A-list guest number decreases. So, if your A-list wedding guest list includes 100 or fewer guests, she recommends keeping your expectations low about how many people you'll be able to invite from your B-list without exceeding your original guest limits. For instance, she says micro weddings of 20 to 50 guests may see a 100 percent acceptance rate, which wouldn't leave any room for inviting B-list guests. So keep that in mind as you craft your B-list.
How to Invite B-List Wedding Guests
Once you've got your A-list and B-list wedding guest lists down, next comes inviting them. Below, planners offer their top tips on how to invite B-list wedding guests in a timely and effective manner.
Time your invitations strategically.
Timing is everything when it comes to politely inviting your B-list wedding guests because last-minute invites are a giveaway that someone wasn't on your top list. Ideally, Carnevale recommends mailing your A-list invitations 12 weeks in advance and asking for an RSVP eight weeks before the wedding date. Once the A-list RSVPs are in, you can then send your B-list invitations at the eight-week mark with an RSVP deadline of four weeks. Carnevale offers another pro tip: "You must print two versions of the invitation enclosure card that directs guests to RSVP by a certain date on your website."
Opt for digital RSVPs.
To help make the process of inviting your B-list guests as smooth and swift as possible, Carnevale advises opting for digital RSVPs only via your wedding website. Here's why: "Using a reply card through the USPS takes too long and is unreliable," she says. Furthermore, she cautions about having appropriate verbiage on your wedding website that doesn't tip people off that they may be on a different guest list.
Be gracious.
As with handling anything wedding guest list-related, O'Connell says the most important thing is to be gracious about it all. For example, Carnevale says if, for whatever reason, a guest learns they were on your B-list, she recommends just being honest with them. Tell them your wedding guest list was restricted and you needed to stagger the invitation mailing process while RSVPs rolled in, but you are of course so happy for them to attend your wedding.