22 White Wedding Tuxedos That Are Dashing and Elegant
Look out, James Bond—these debonair jackets are an instant wedding wardrobe upgrade.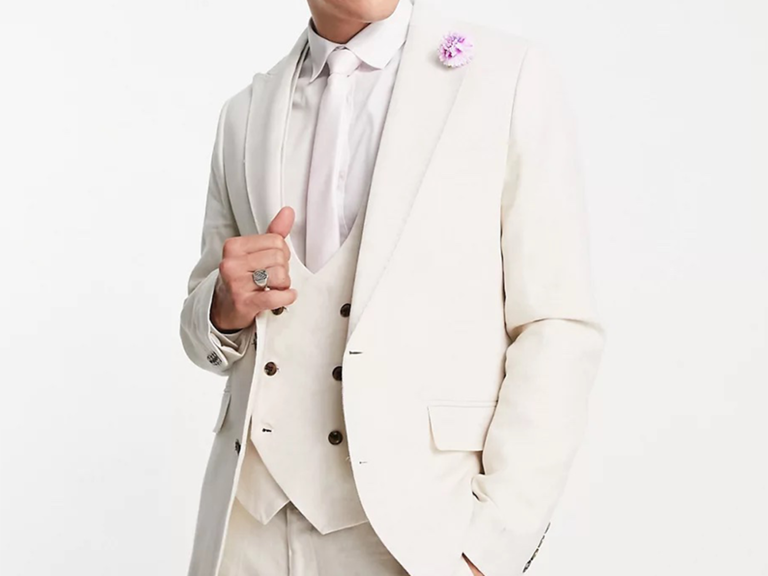 We have included third party products to help you navigate and enjoy life's biggest moments. Purchases made through links on this page may earn us a commission.
White tuxedo wedding jackets are typically reserved for the most formal of dress codes: black tie and white tie attire. If you're planning a formal wedding and need to sort out your look for the big day, these dinner jackets and tuxedos will help you get the job done.
You might think that the color white is only reserved for warm weather events (or the bride's wedding dress, if applicable), but that's not always the case. During the winter, off-white and ivory white tuxedo wedding jackets are both appropriate, along with heavier styles that are made from seasonal fabrics, such as wool. If the event is taking place during spring or summer, tuxedos made from lightweight fabrics, like linen and cotton, are the most comfortable.
If you're in the market for a white dinner jacket or tuxedo, we've pulled together a range of options, and the best part is that you can shop them all right here. Ready to give 007 a run for his money? Keep scrolling for 22 dashing white tuxedo looks for grooms that will definitely turn a few heads.
The Black Tux Contrast Shawl Jacket Tuxedo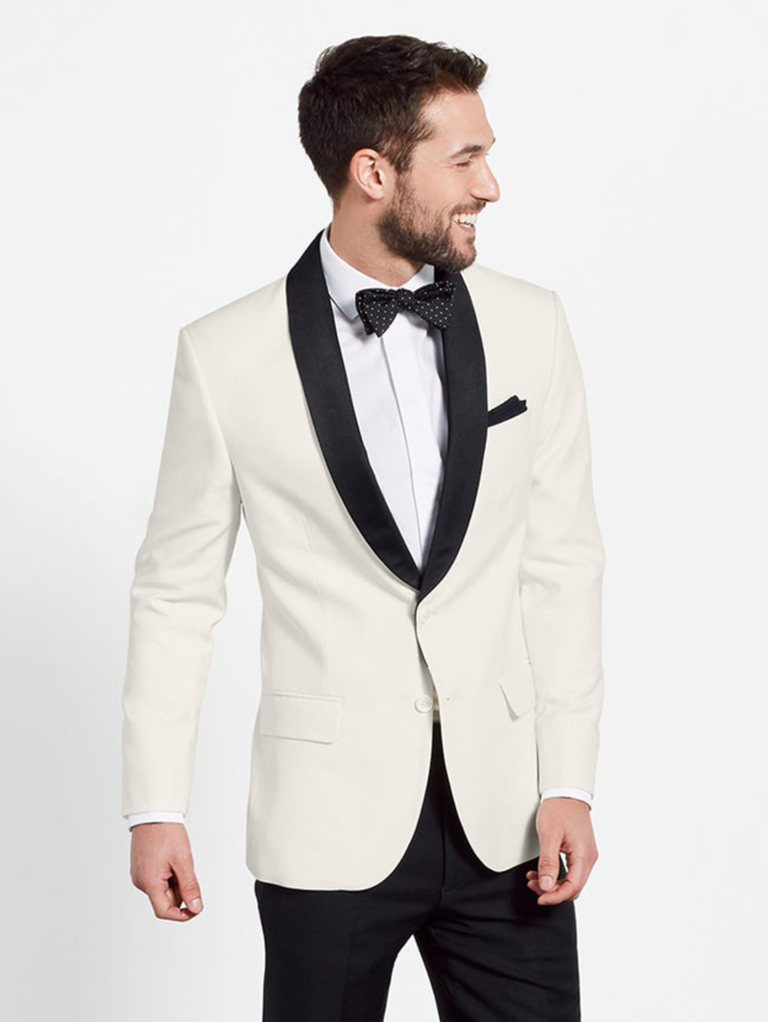 If you prefer a classic tuxedo jacket, this style made from Italian merino wool will have you looking and feeling like a million bucks. It's finished with a black shawl collar to add a dash of contrast.
Suitsupply Off-White Havana Jacket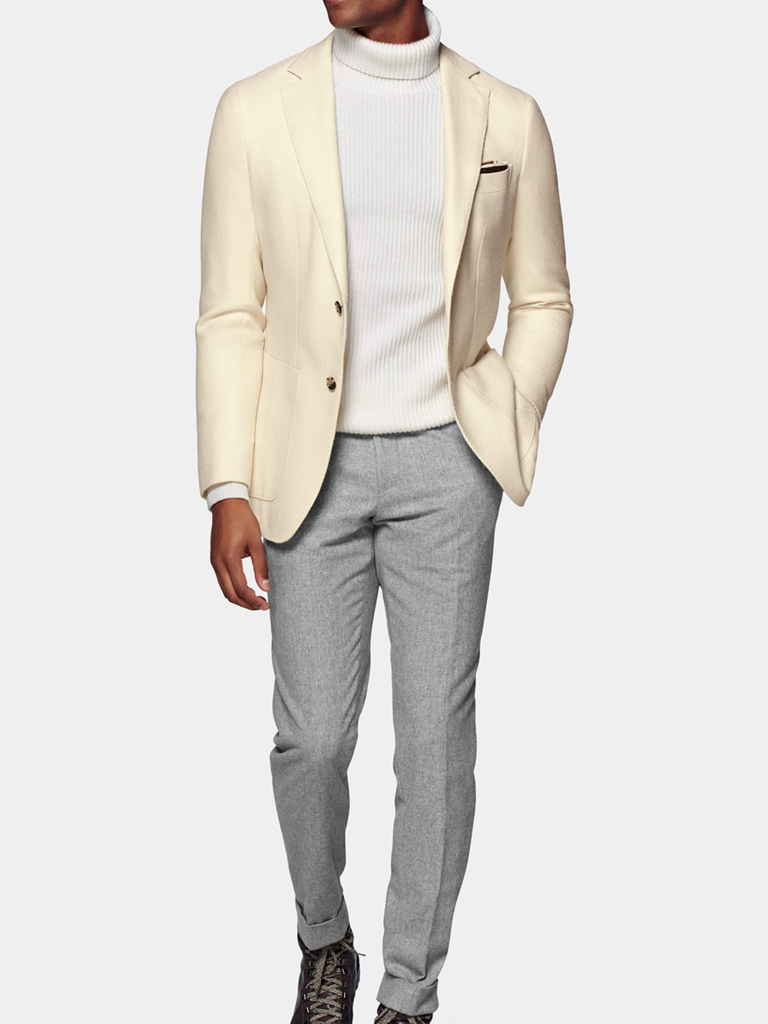 For a less formal alternative to white tuxedo wedding jackets, we love this super-soft option. Featuring a basketweave pattern, this jacket made from wool, alpaca and silk is a perfect example of how to rock winter whites.
Lauren by Ralph Lauren Men's Classic Fit Tuxedo Blazer, Cream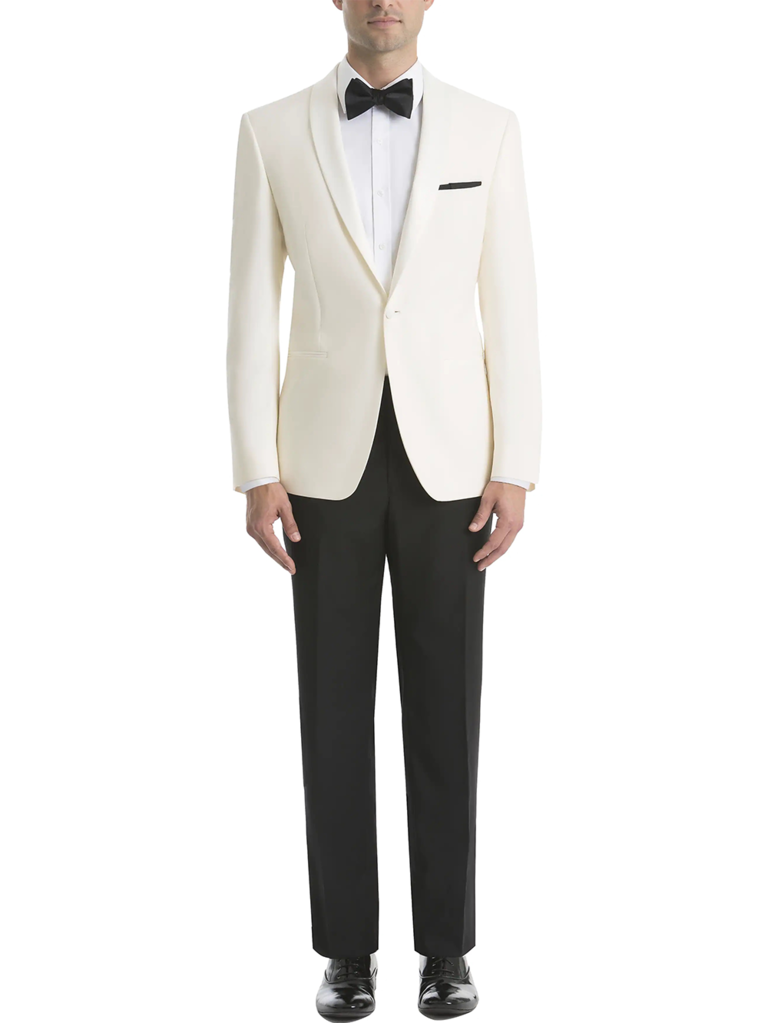 While this is technically an off-white dinner jacket, it would make a stunning presentation at any wedding with the right dress shirt and black pants. Don't forget to complete the look with a pair of stylish tuxedo shoes.
Hickey Freeman Ivory Barathea Dinner Jacket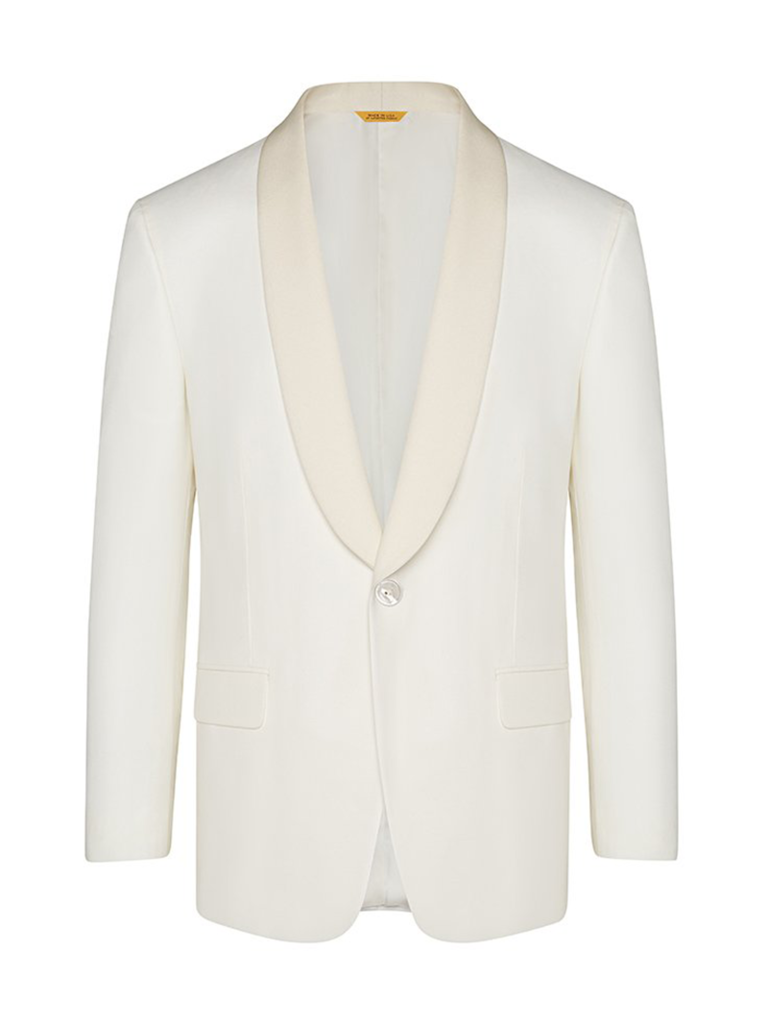 This dashing dinner jacket by Hickey Freeman has plenty of show-stopping details (like satin lapels and a single-breasted button) that make it wedding-worthy. Crafted in Super 140s wool for breathability and fewer wrinkles, this jacket is lightweight and comfortable enough for a destination wedding on the beach.
J.Crew Ludlow Slim-Fit Dinner Jacket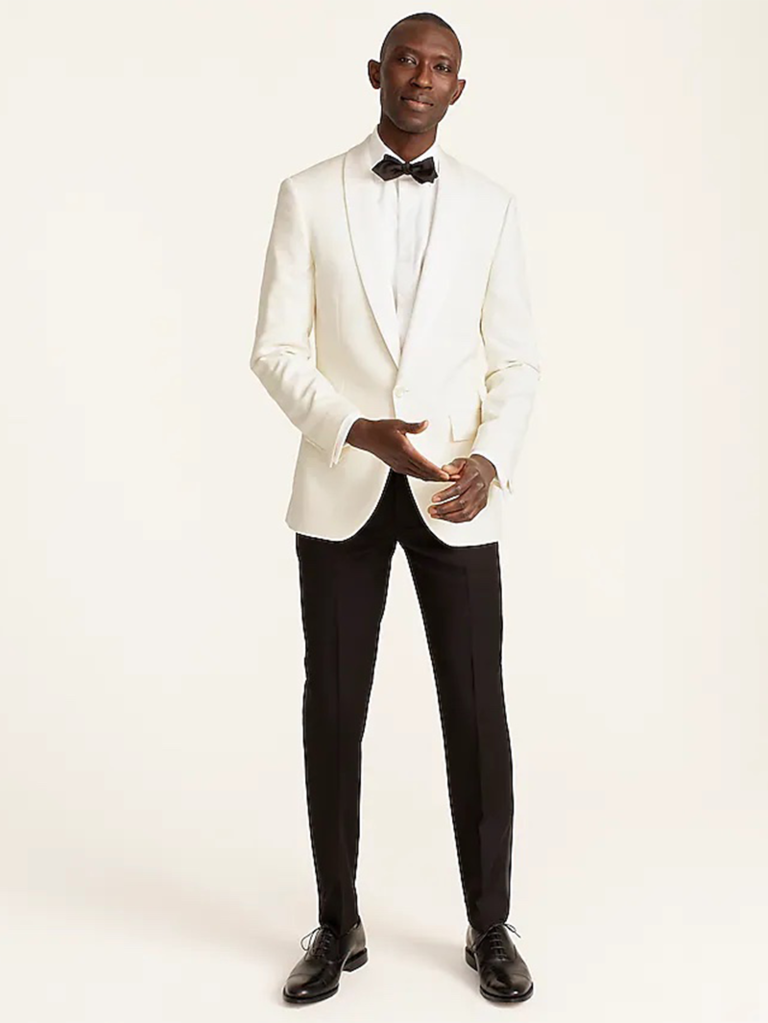 This stunning all-white dinner jacket from J.Crew is modern and sleek—perfect if you're going for an updated classic look. Crafted in Italian wool, it features a one-button closure, decorative buttons at the cuffs and looks equally stylish with black tuxedo pants on the wedding day and jeans once you're married.
ASOS Devils Advocate White Tuxedo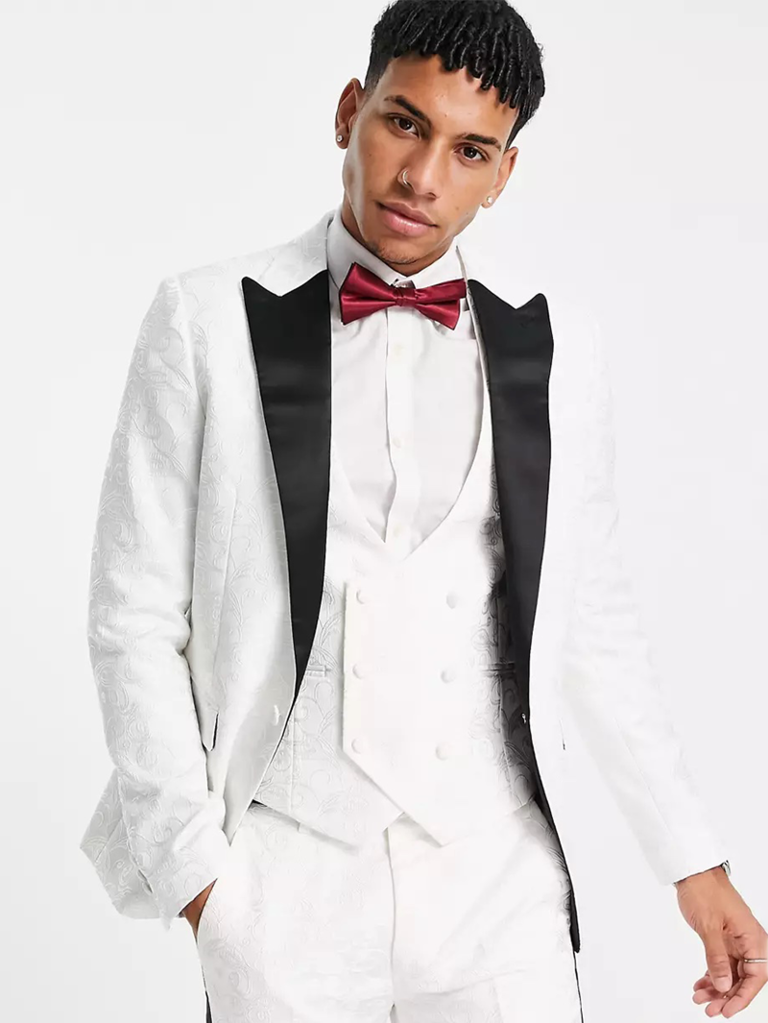 This tone-on-tone white tuxedo wedding jacket features a jacquard paisley print and black satin lapels. Pair it with the matching double-breasted vest and tuxedo pants for a wedding day look that's guaranteed to garner plenty of double-takes.
Indochino Hampton Black and Ivory Tuxedo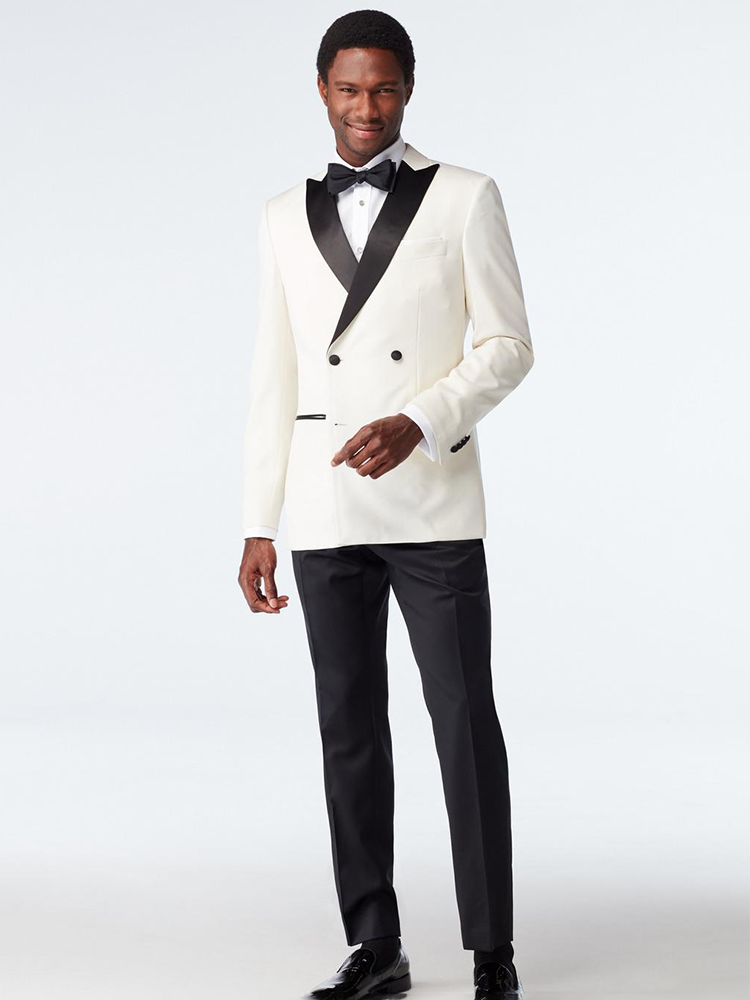 Crafted from a luxurious blend of cashmere and silk-blend Super 140s, this chic tux is everything. This peak lapel tuxedo features double-breasted black buttons, a slim, tailored shape and black satin trim for high contrast.
Men's Warehouse Egara Slim Fit Shawl Lapel Dinner Jacket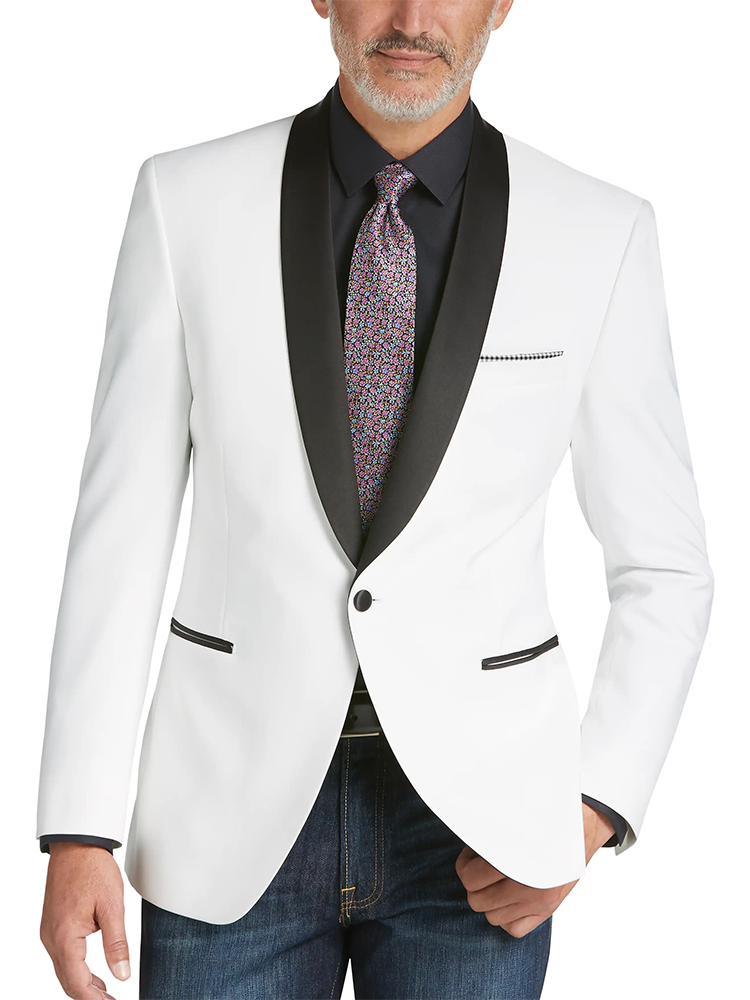 The black shawl collar, a single button closure and black trim details give this classic dinner jacket an eye-catching element. Top it off with a bow tie, a cummerbund and maybe even some suspenders, and you'll be ready to walk down the aisle looking dapper.
HUGO Harvey Slim Fit White Dinner Jacket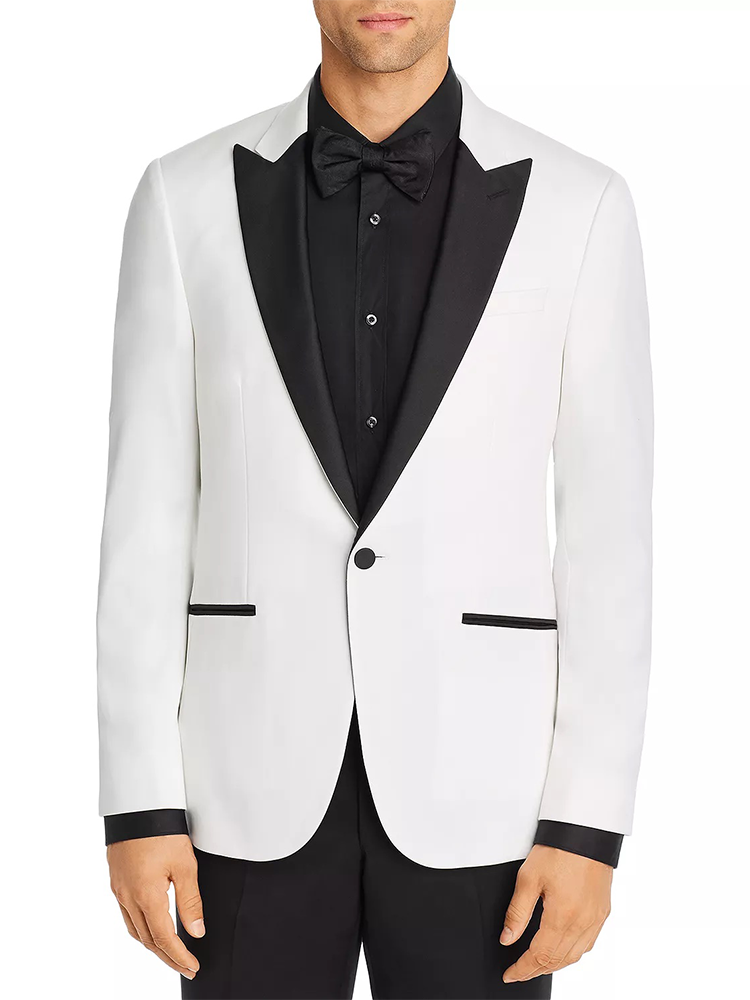 Featuring contrasting black satin lapels and trim, this wool dinner jacket can certainly pass for a men's tuxedo with the right styling. Pair it with a formal dress shirt, black bow tie and a pocket square to round out the look.
The Black Tux White Dinner Jacket Tuxedo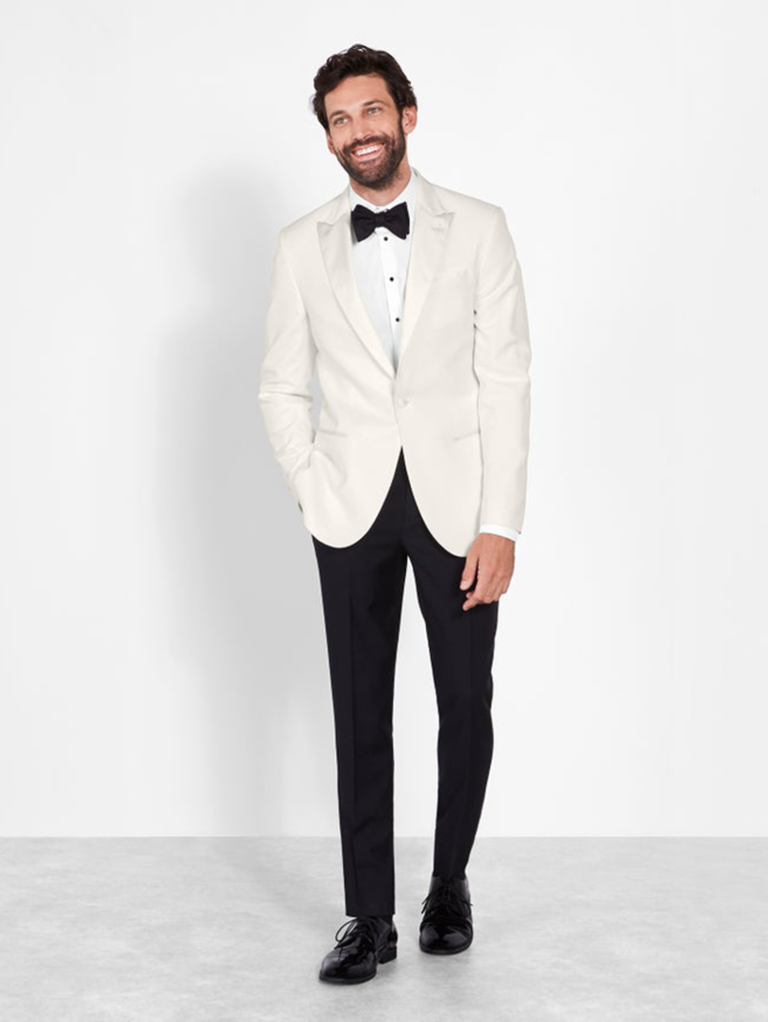 This white tuxedo wedding jacket is beautifully crafted from super-fine Italian merino wool. It features a sleek one-button closure and silk grosgrain peak lapels—plus, the tuxedo pants are included, so all you need to do is add a bow tie and you're set.
Emporio Armani Metallic Tonal Dinner Jacket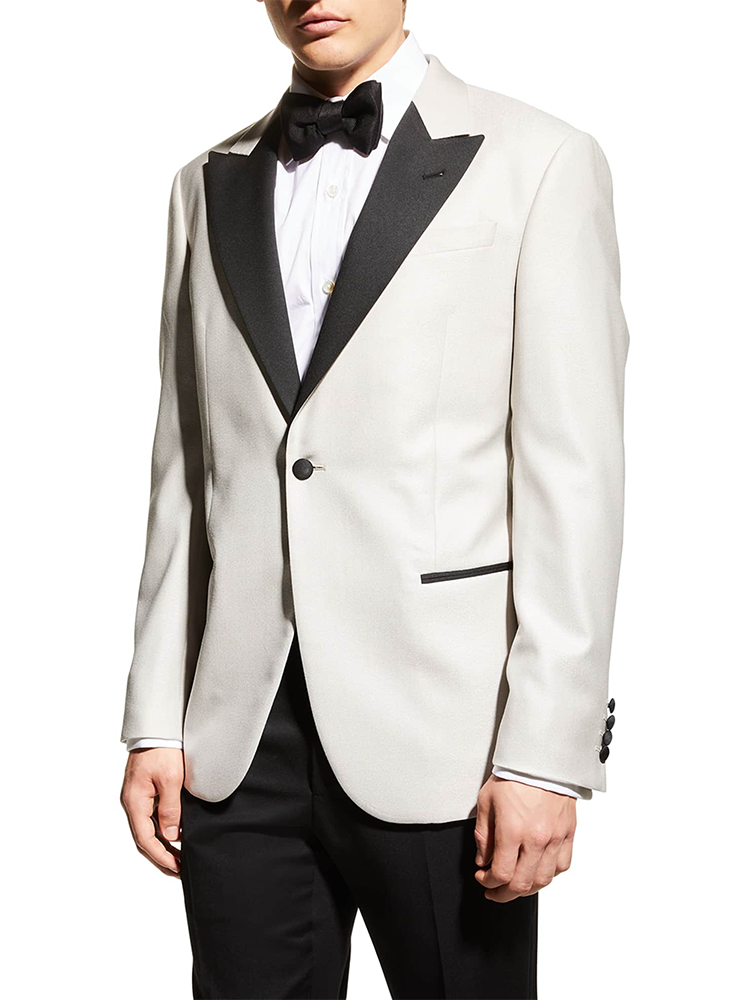 With sharp black lapels and black trim, this shimmering metallic dinner jacket is especially fancy. Pair it with black tuxedo pants for an ensemble that's spot-on for a formal New Year's Eve wedding.
Robert Graham Floral Jacquard Classic Fit Dinner Jacket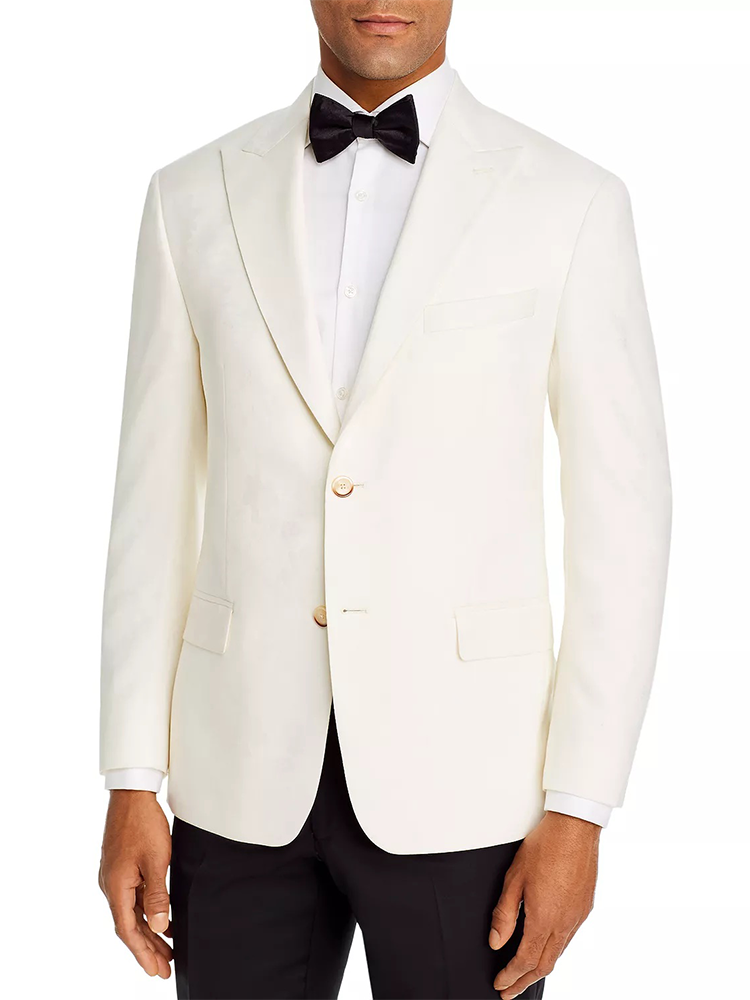 Look closely and you'll notice a monochromatic woven print on this white tuxedo wedding jacket. The 100% wool style is a great wardrobe investment piece, and the print gives it a slight edge over traditional dinner jackets if you're looking for a unique black tie option. The peak lapels, two-button closure and double vents are timeless details.
Tom Ford O'Connor Base Satin-Lapel Wool/Mohair Jacket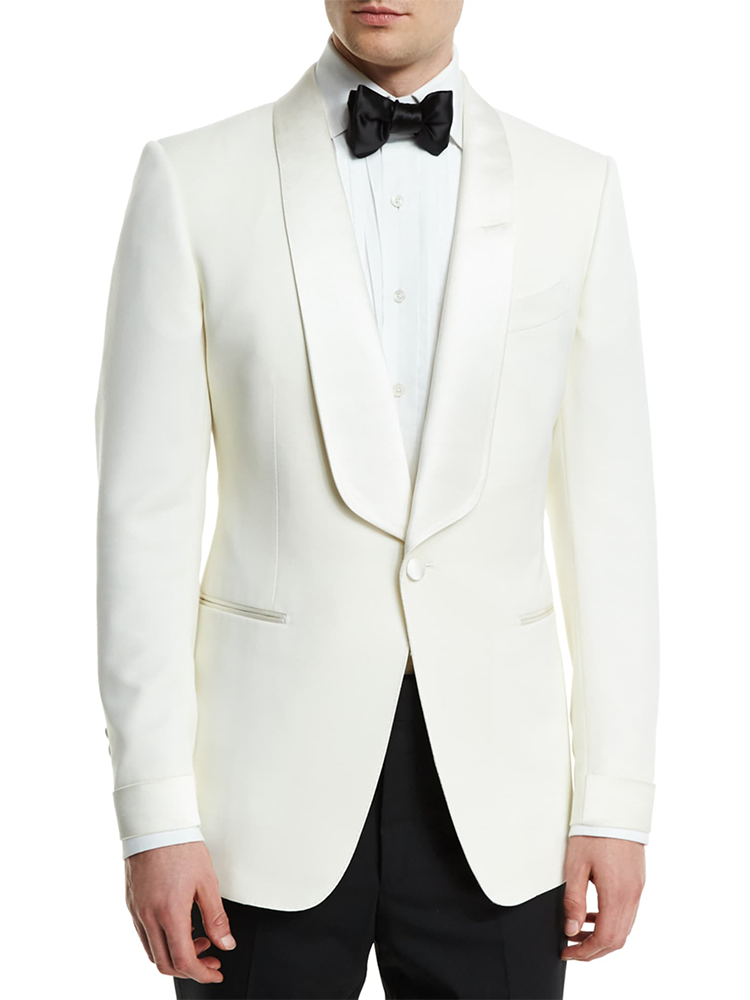 Pair this white wedding jacket with classic black tuxedo pants and you've got a look that's worthy of James Bond himself. The satin shawl collar and rolled satin cuffs add even more flair to make this option stand out from the everyday tux.
Indochino Hampton Satin Lapel Ivory Tuxedo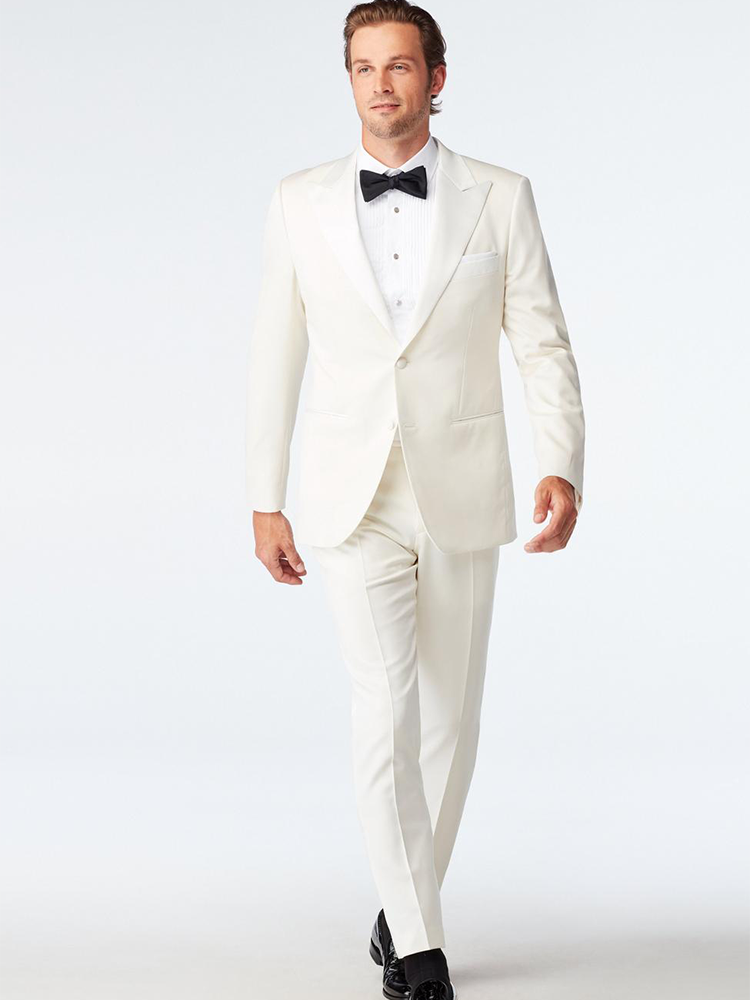 This white-on-white wedding tuxedo jacket features a notch lapel in ivory satin that will no doubt pair beautifully with a black bow tie and a black pocket square. As far as formalwear goes, you can't go wrong with a classic staple like this.
ASOS Design Slim Fit Tuxedo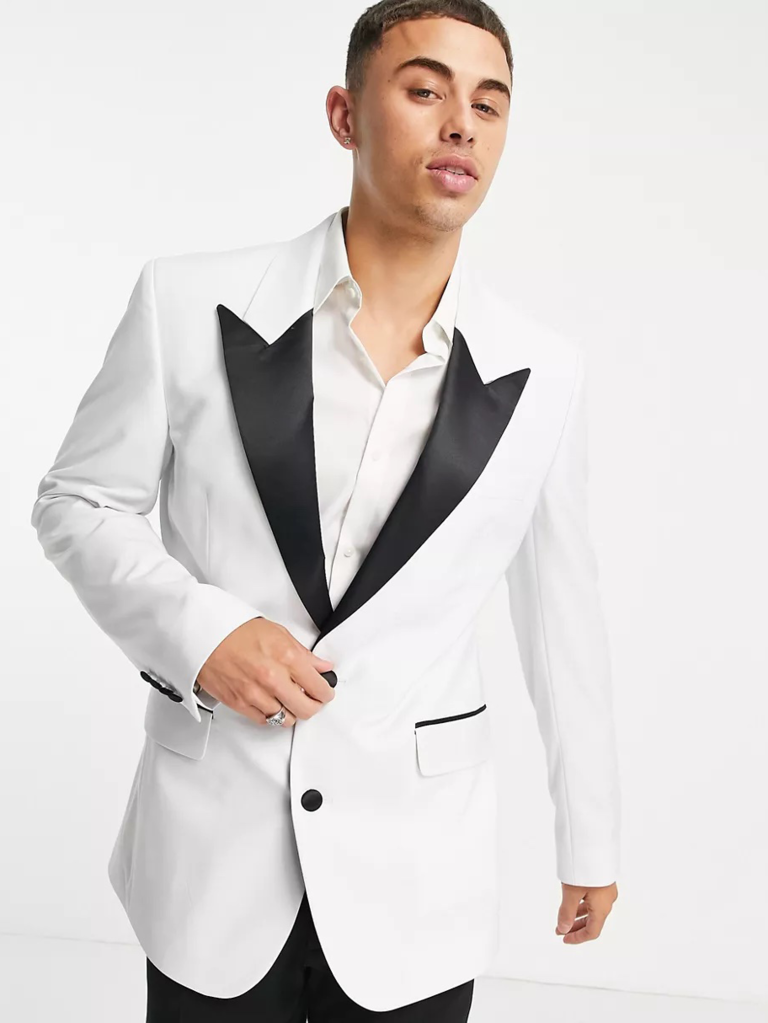 For a budget-friendly approach to formalwear, this jacket nails it. The slim-fit tuxedo jacket works as an upgrade from a wedding suit, but for the price, it's great for your groomsmen or even a prom tuxedo.
Brooks Brothers Milano Fit Wool Tuxedo Jacket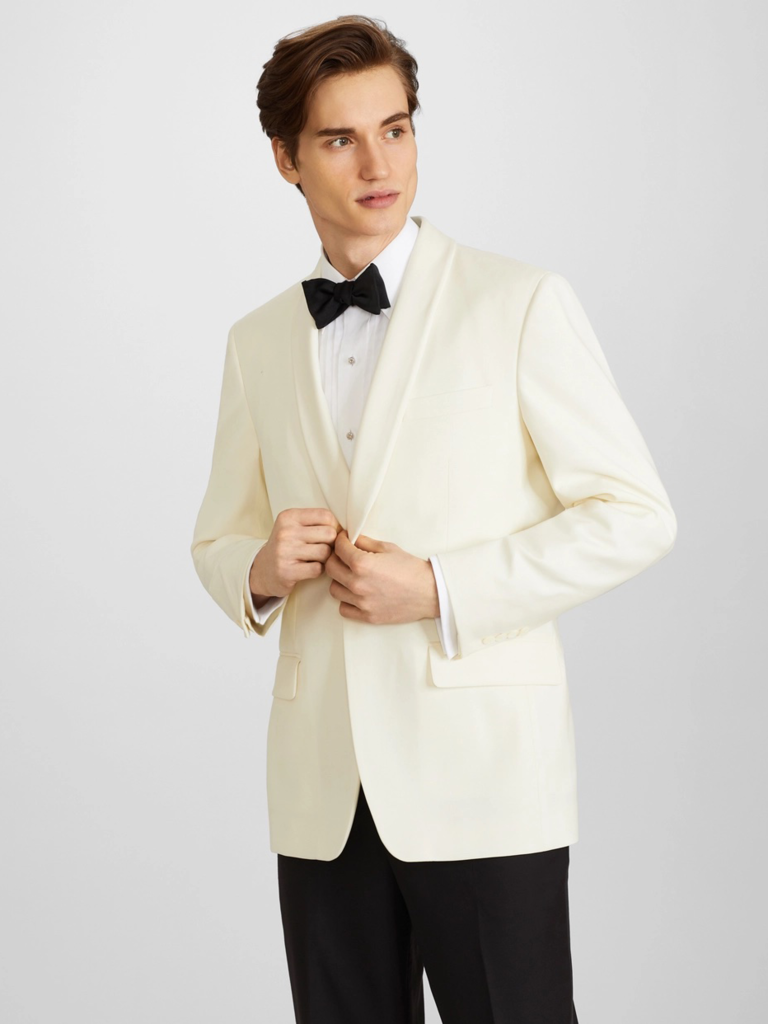 Pair this wool jacket with a cummerbund, bow tie and stylish cufflinks to customize your look. After the wedding day, it's versatile enough to wear as a sport coat with a sweater or button-down shirt.
Savile Row Slim Fit Satin Shawl Two-Piece Tuxedo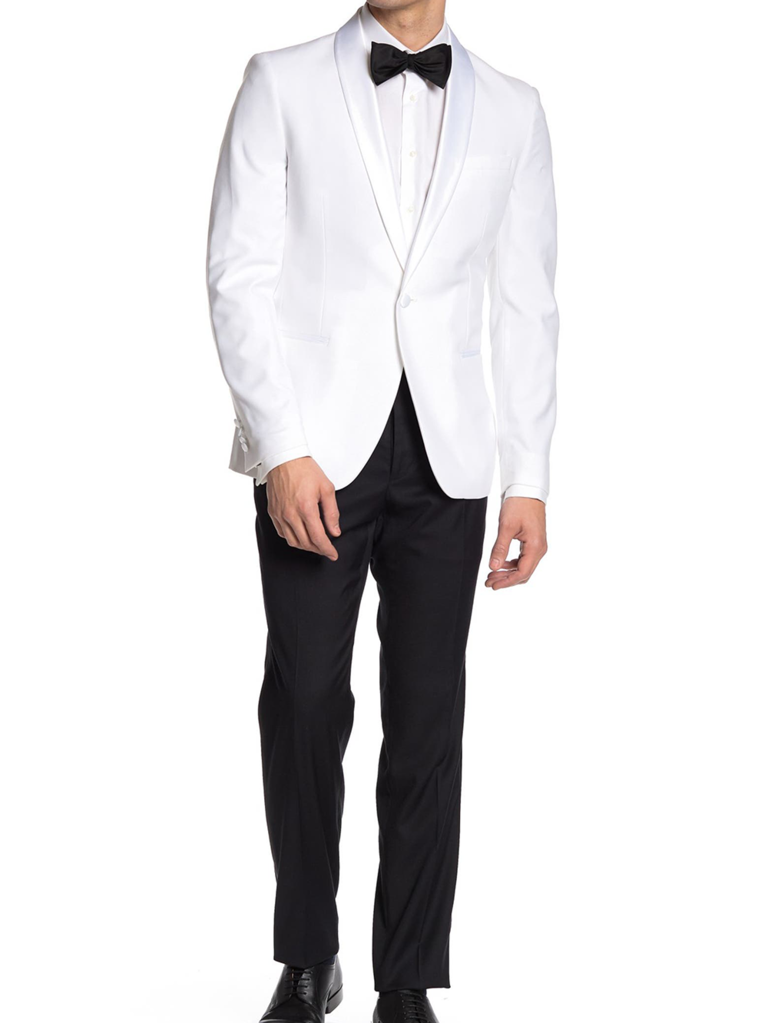 This two-piece set is a straightforward option if you're looking for a basic white tuxedo wedding jacket. At this price, it's a great way to outfit your wedding party too.
Perry Ellis Slim Fit White Tuxedo Jacket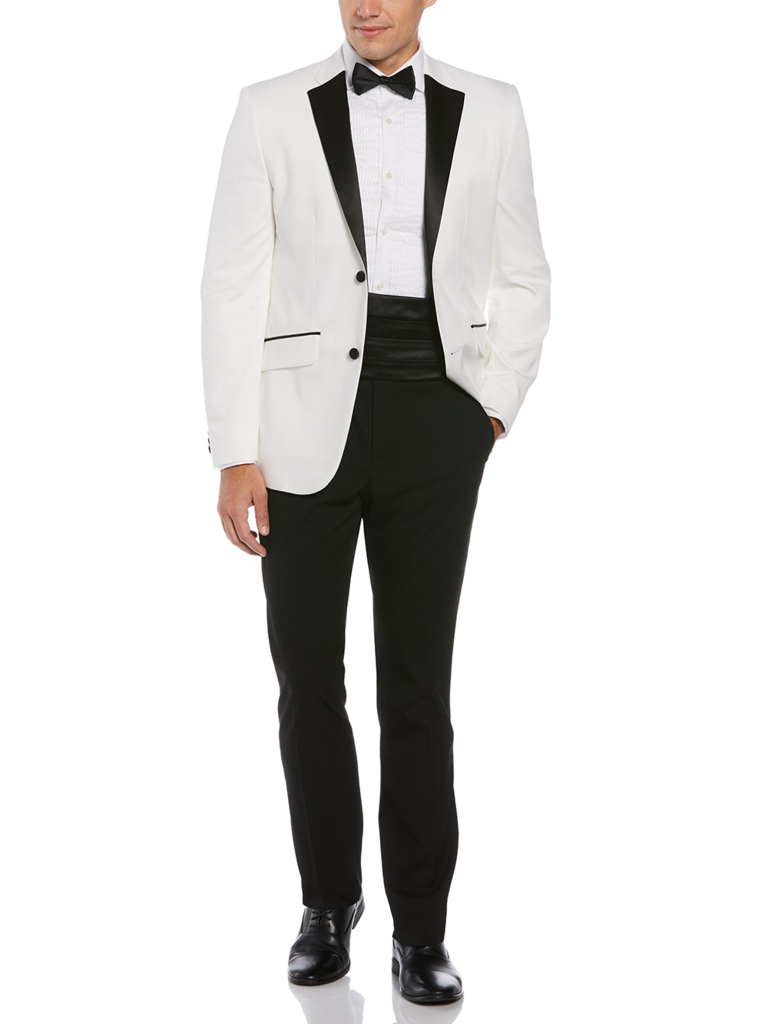 Featuring a notched collar and contrasting black trim, this slim fit white tuxedo jacket is an undoubtedly sophisticated choice for your wedding attire. For something out of the ordinary, opt for a colorful silk bow tie to complete your look.
Jos. A. Bank Slim Fit Dinner Jacket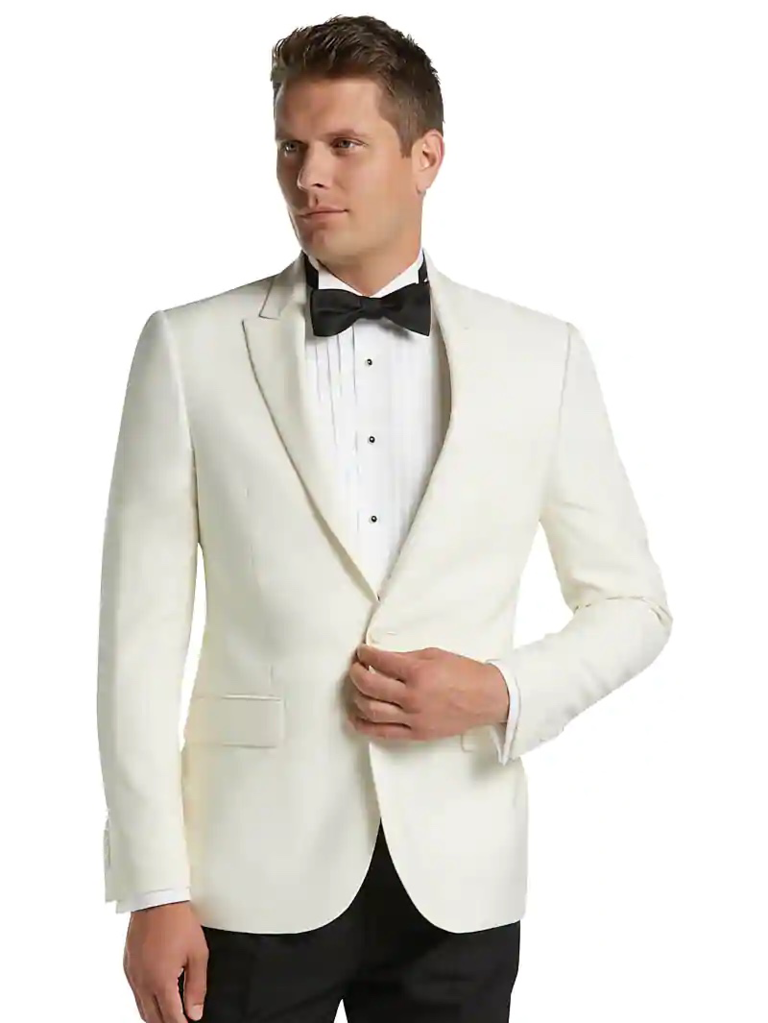 With a one-button closure and a slim fit construction, this 100% wool dinner jacket by Jos. A. Bank is a sleek update to a tried-and-true classic. Pair it with a pleated tuxedo shirt, add a bow tie and you'll be poised to tie the knot in style.
Gianni Feraud Linen Slim Fit Suit Jacket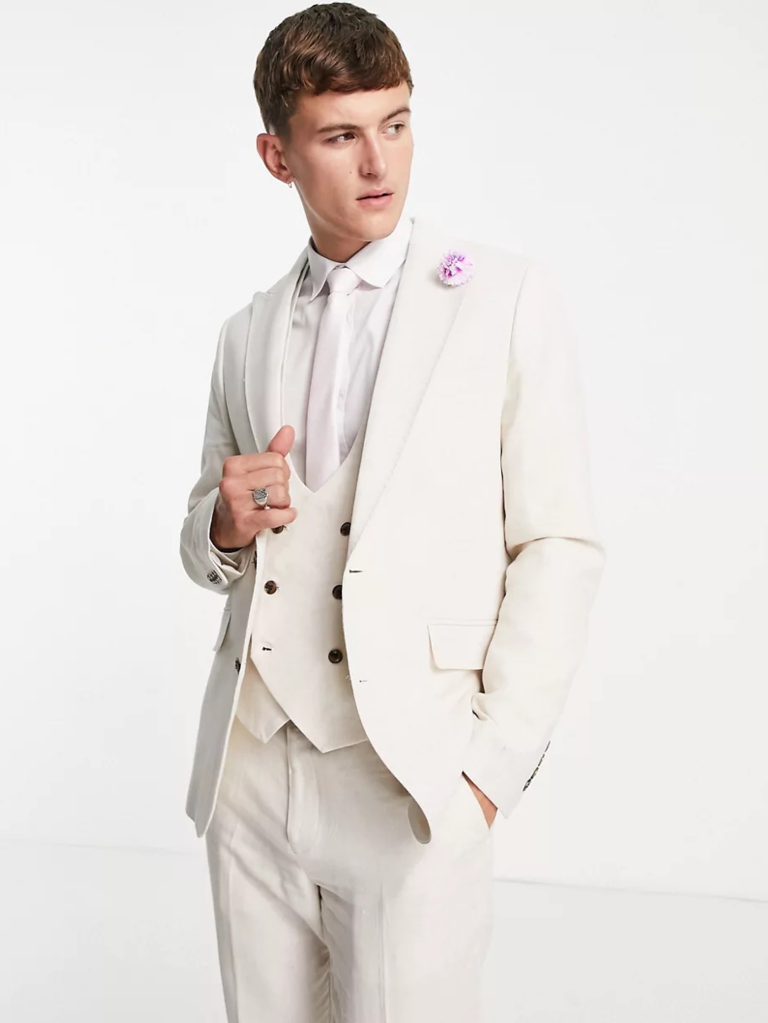 This cream white suit jacket is tailored and lightweight for a stylish summer wedding look. Made from a cotton and linen blend, it features a subtle herringbone pattern. Pair it with a white shirt and tie for a monochromatic effect, or add black accessories for a little pop of color and contrast.
Calvin Klein White Dinner Jacket Tux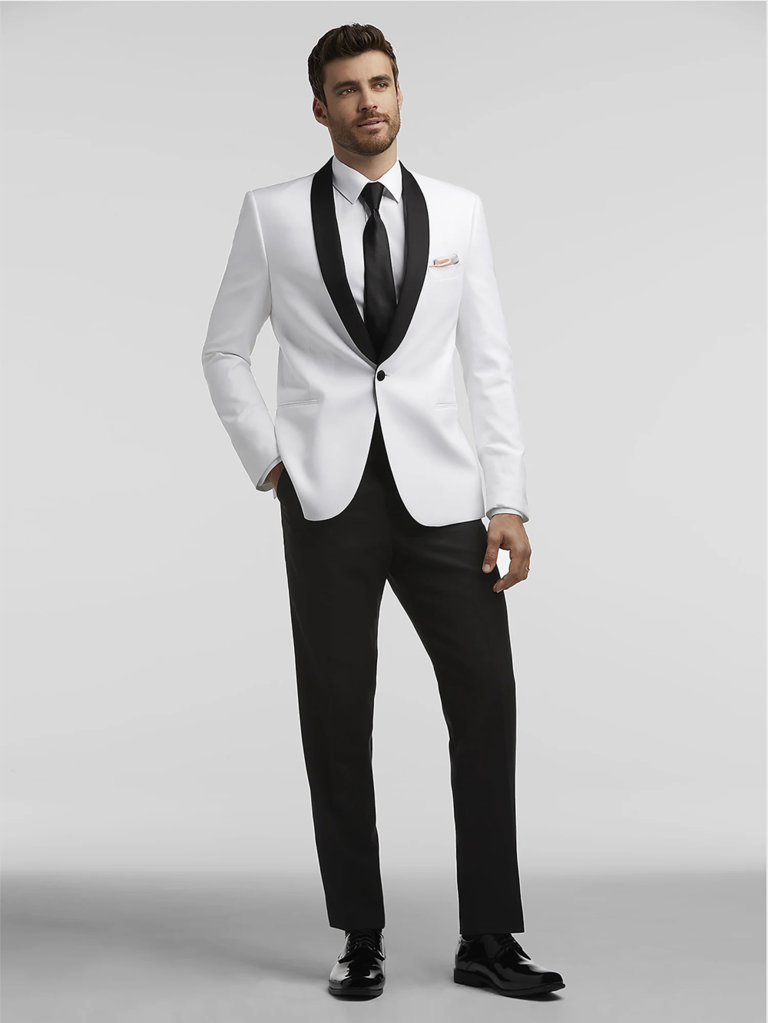 This white dinner jacket by Calvin Klein features a satin shawl lapel, one-button closure and side vents. Finish it with a black tie or bow tie for a formal, elegant look (and complete the ensemble with black slimfit tuxedo pants).
Casablanca Contrast Trim Single-Breasted Blazer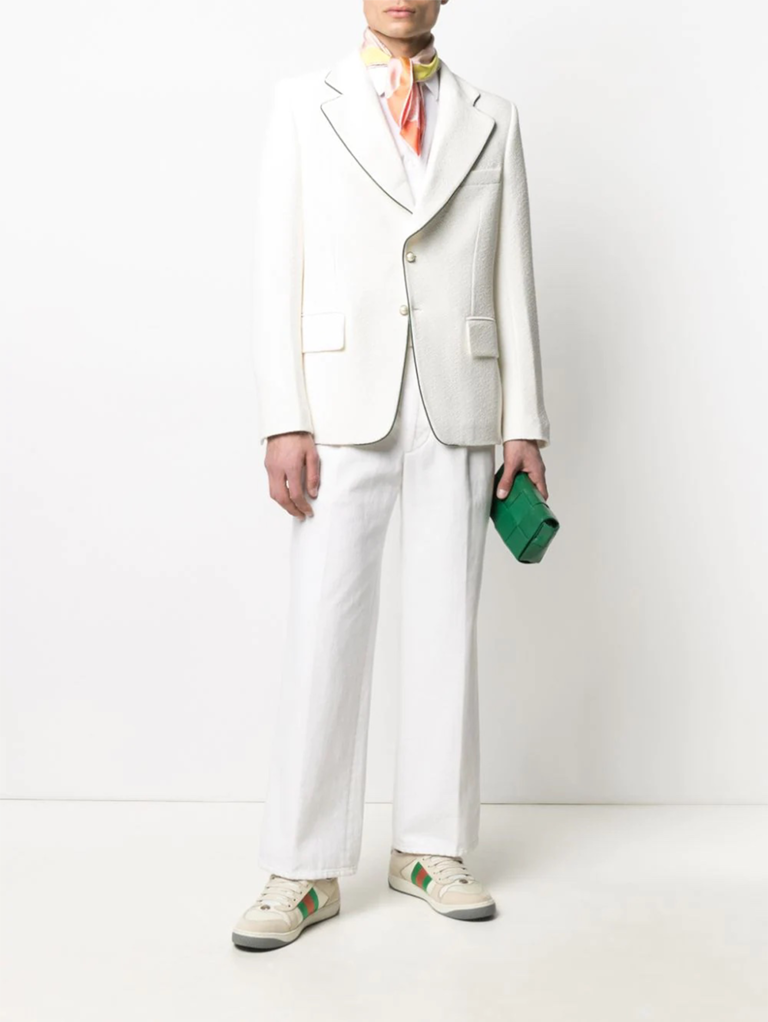 Want to make a statement with your look? This nontraditional white tuxedo wedding jacket is finished with dark green piping trim and pearl buttons for a fashion-forward, couture vibe.