The Best White Tuxedo Jackets and Suits For Weddings
Black-tie attire doesn't mean you can't mix in a white tuxedo jacket. It's one of our favorite fashion flexes–here's the best way to pull it off.
We have included third party products to help you navigate and enjoy life's biggest moments. Purchases made through links on this page may earn us a commission.
Dressing for a black-tie affair but feel like pulling off a sartorial swerve? A white tuxedo jacket might just be the way to go. White tuxedos and dinner jackets are a longtime formal favorite in the menswear world, adding an eye-catching spin on a traditional look. They're far from a new innovation–Humphrey Bogart famously wears one in Casablanca and Sean Connery dons one in the very first James Bond movie–but these days they're becoming more popular than ever at weddings. White tuxedo jackets offer the opportunity to commit to a black-tie dress code without looking too stuffy. They're undeniably cool and vibey, especially when paired with a shawl collar–that will have you looking like a member of the Rat Pack in all the right ways. The next time you're suiting up in a tux for a black-tie wedding or a white-tie affair, consider a white tuxedo jacket for an unforgettable menswear moment.
In this article:
The Best White Tuxedo Jackets and Suits for Weddings
Todd Snyder Ivory Shawl Collar Tuxedo Jacket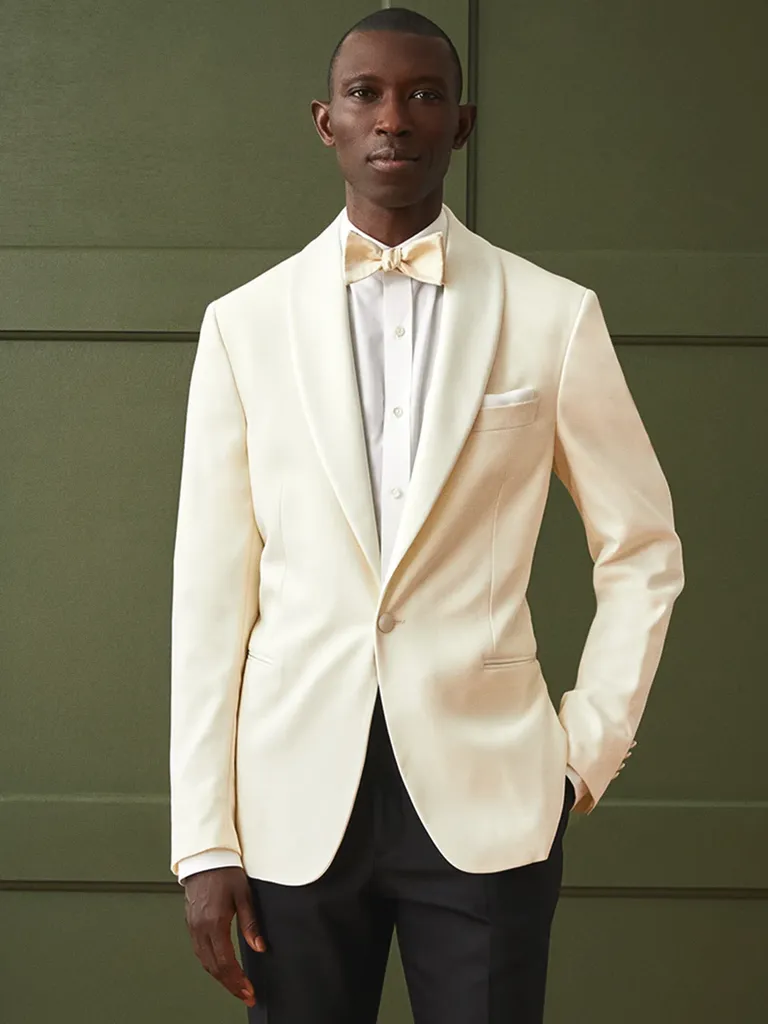 The thing about Todd Snyder is the brand basically does everything they do at the highest possible level in menswear. Whether you're buying a knit polo or crewneck sweatshirt, it'll quickly become your favorite thing in your wardrobe. The same can be said for their ivory shawl collar tux, which is a sartorial stunner perfect for anyone looking to wear this look and wear it well.
The Black Tux Contrast Shawl Jacket Tuxedo
The Black Tux's wares aren't the same rental tuxes you wore to junior prom. For a fraction of the price you'd pay to buy one, you can rent a top-tier tux complete with shirt, shoes, and accessories and have it delivered right to your door. Their contrast shawl collar tux is a particularly fun play on the white tuxedo jacket and very wedding worthy.
Anthony Sinclair Ecru Peak Lapel Dinner Jacket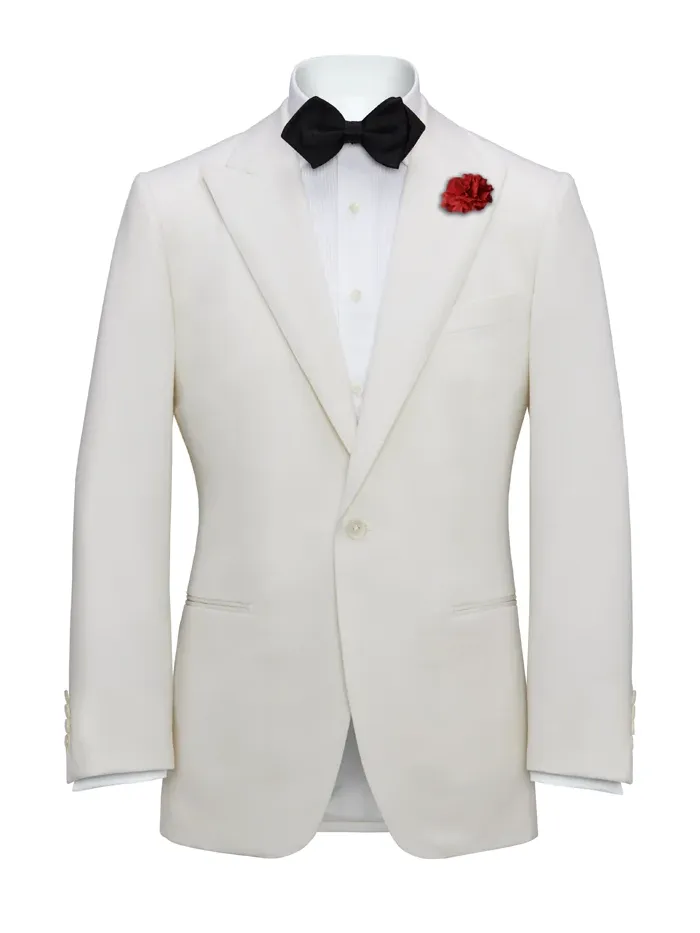 If you're gonna wear a white tuxedo, why not wear the white tuxedo? Anthony Sinclair outfittedSean Connery's in the original James Bond films and this is the exact jacket he wore in his iconic turn in Dr. No. It's one of the most famous menswear moments of all time–one you can wear yourself. We can promise you'll have every head in the room turning your way.
Banana Republic Lanza Tuxedo Jacket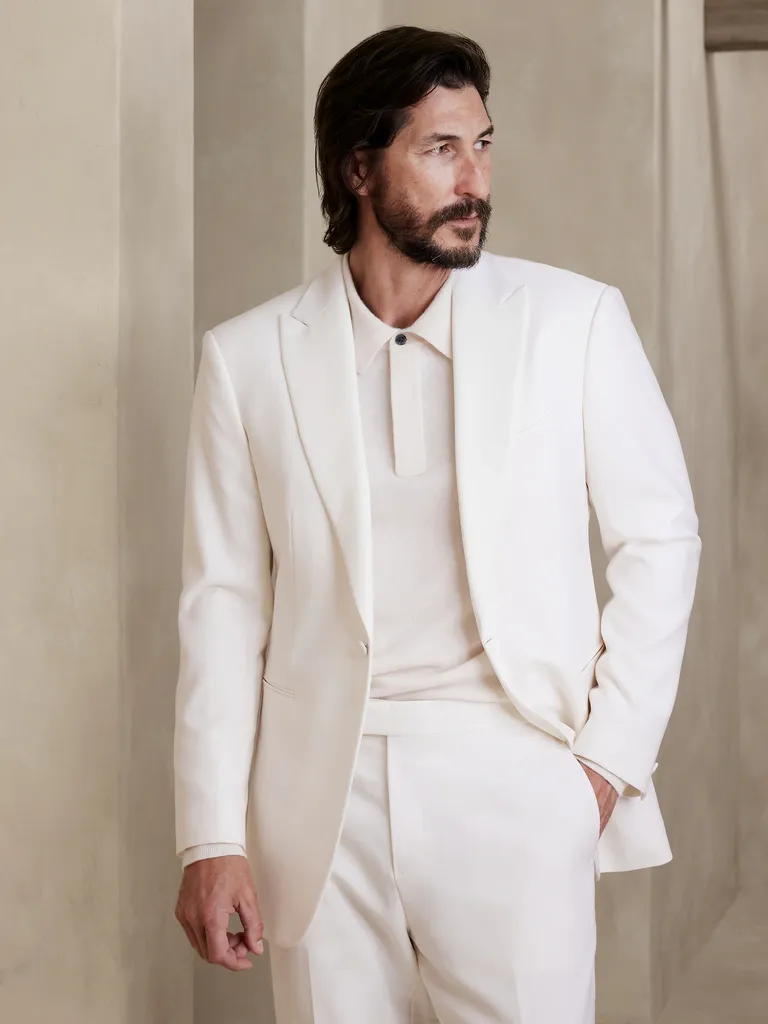 For a full-white look in luxe Italian virgin wool, try Banana Republic's Lanza jacket. It's the rare tux jacket that can be worn with a full and proper black-tie outfit but also be dressed down with linen shirts or knit polos for beach weddings, cocktail hours, or any other excuse you can find to pull off a great fit.
Jos. A. Bank Tailored Fit Formal Dinner Jacket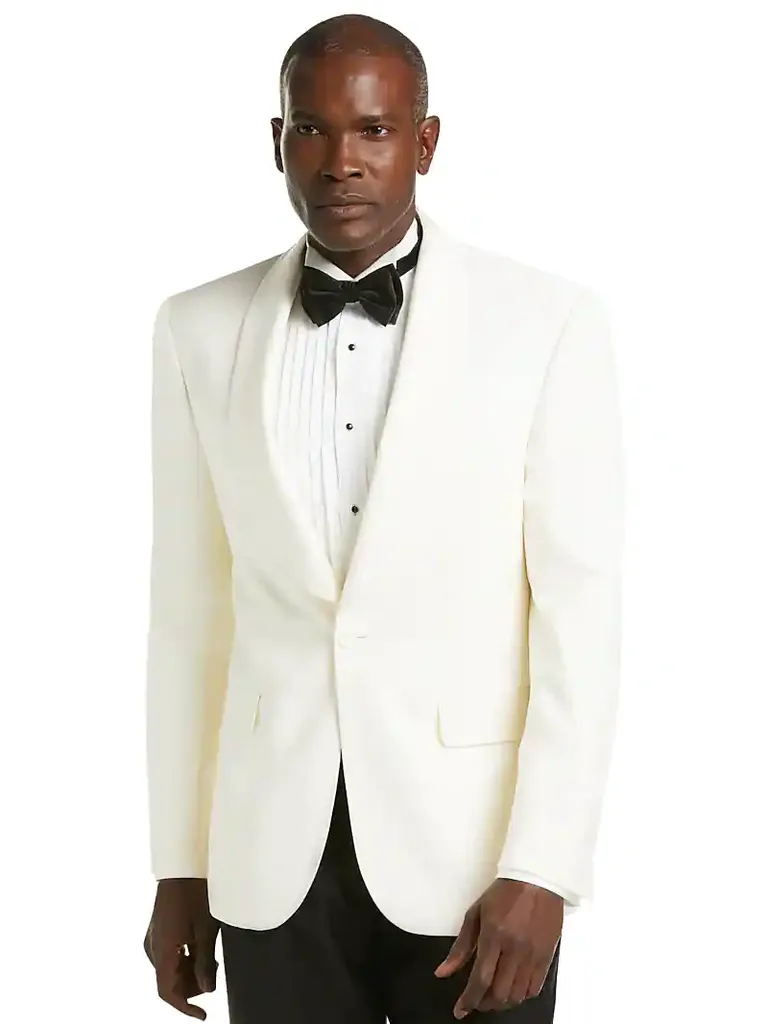 Jos. A. Bank has long been one of the most reliable names in accessible formalwear for decades, and for a good reason. Their pieces, like this tailored dinner jacket in a creamy off-white, provide great fits that won't break the bank.
Saint Laurent Men's Pique Silk Tuxedo Jacket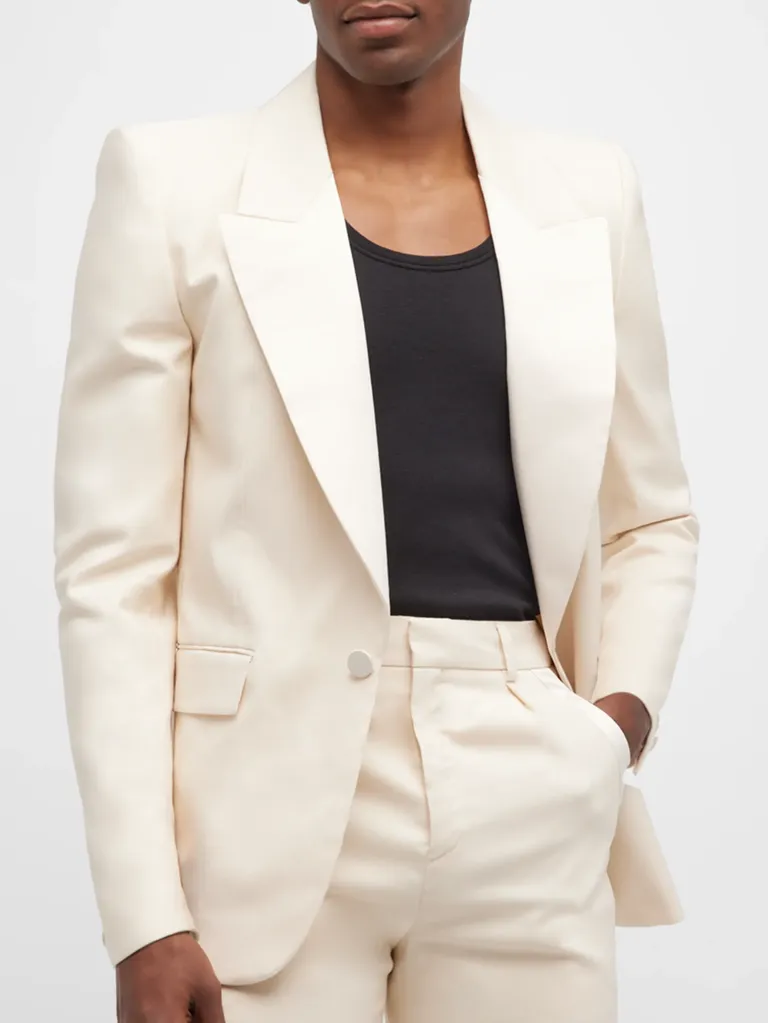 For those with a "go big or go home" mentality, go full couture with Saint Laurent. Long one of the hottest names in high fashion, their take on the classic white dinner jacket comes with a thick, angular lapel that arranges its peaks in the formation of a shawl collar. It's a showstopper.
Suitsupply Off-White Washington Dinner Jacket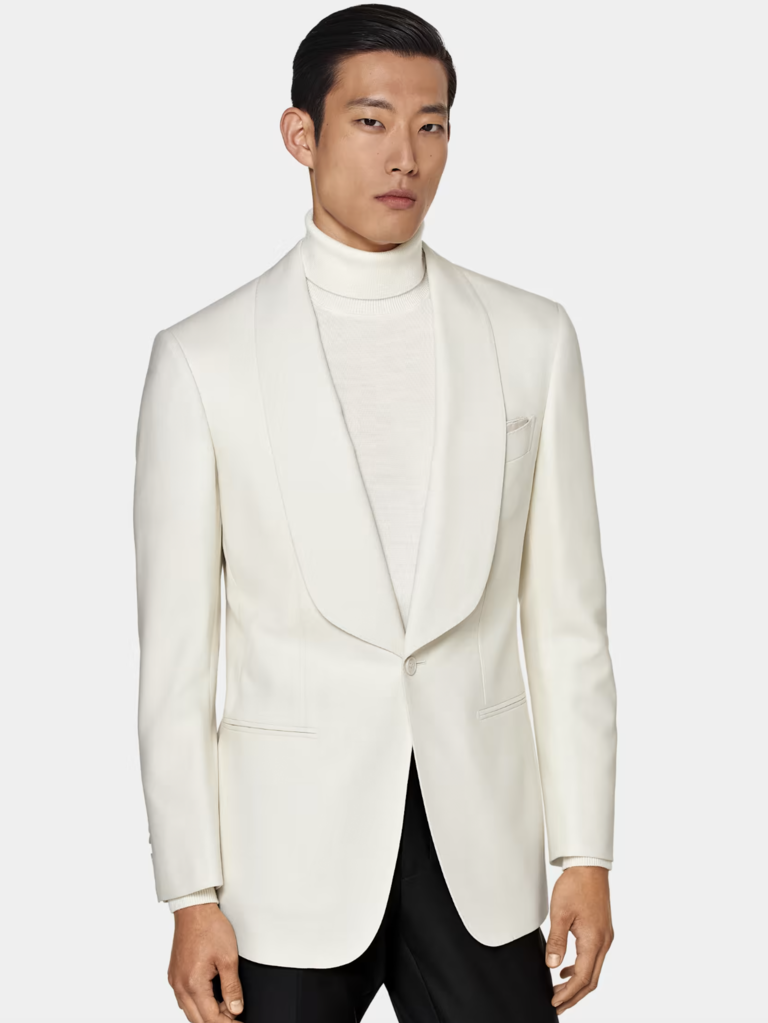 Suitsupply's take on the shawl-collared white dinner jacket is the intersection of classic and trendy. It's got old-school chic wide proportions but with a pronounced taper to the lapel that gives it a modern, edgy feel. Pair this with a full tuxedo or with a turtleneck sweater for a unique wedding fit.
Ralph Lauren Purple Label Kent Silk Dinner Jacket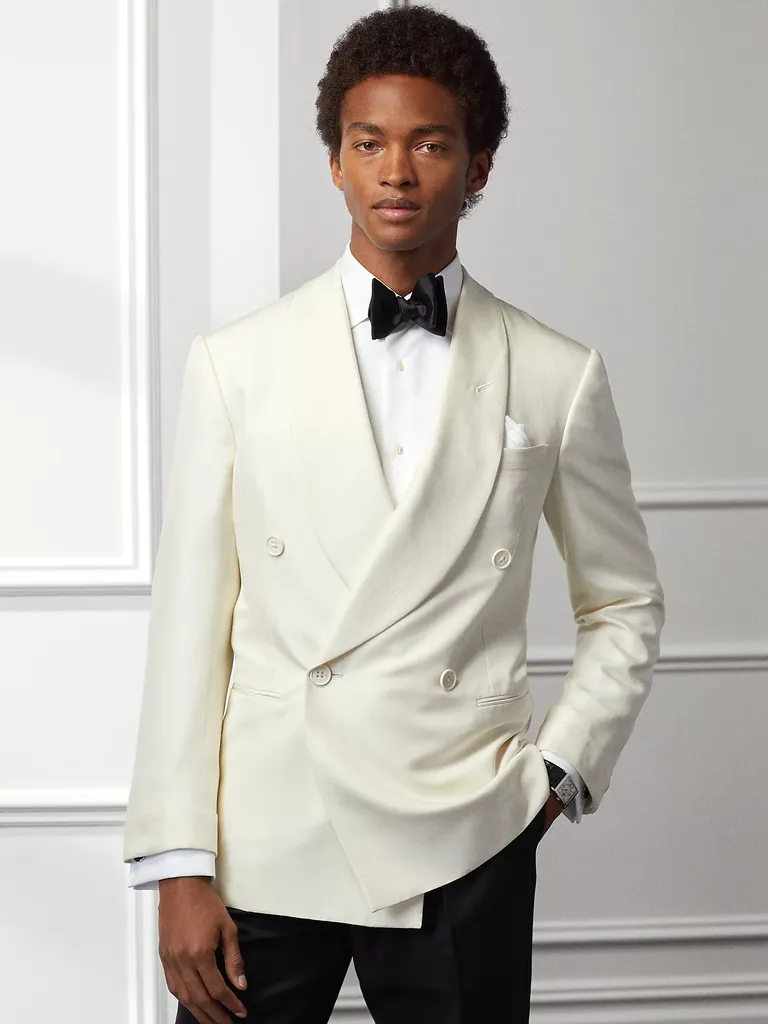 Opulent Americana and Ralph Lauren are synonymous. The famed designer practically invented the vibe. The brand's Purple Label suiting has a number of standout selections but the white Kent dinner jacket is tough to beat. With a four-button double-breasted closure and relaxed lapels, you'll feel as good as you look.
Proper Cloth Shawl Lapel Cream Wool and Linen Dinner Jacket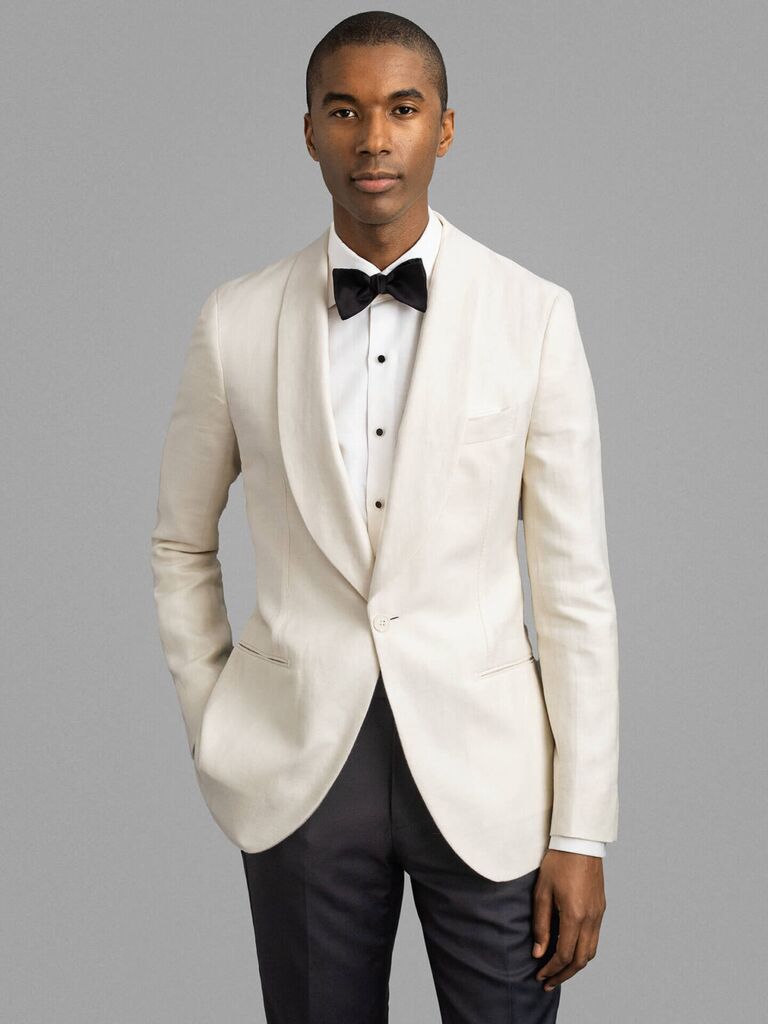 Proper Cloth's wares are as quality as they come, with their suiting being available in both custom and off-the-rack sizing. For anyone looking to go the made-to-measure route with their white tuxedo jacket, try their shawl lapel number–it can be customized to your liking, making itan extra special wedding day fit.
J. Crew Ludlow Dinner Jacket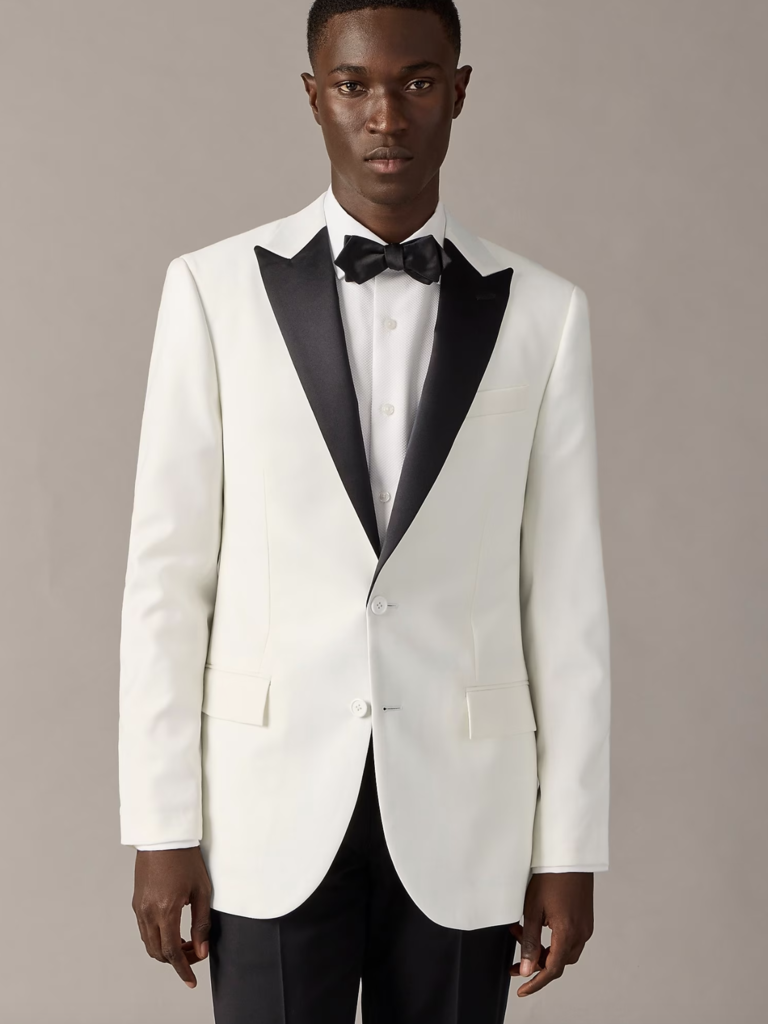 With contrasting peaked lapels, a handy two-button closure, and quality craftsmanship that won't break the bank, J. Crew's Ludlow dinner jacket is an instant classic. Grooms and guests alike will look their best on the day of the wedding in this jacket.
Can I Wear a White Tuxedo Jacket To a Wedding?
The good news is yes, you can absolutely wear a white tuxedo jacket to a wedding as a groom or as a guest. The primary determining factor as to whether or not you can is dress code. For black-tie and black-tie optional weddings, tuxedos are going to be required. White tuxedos fall under the outlines of these dress codes so you should be good to suit up in one if that's the direction you're leaning in.
Who Can Wear a White Tuxedo?
As with almost any wedding dress code question, figuring out if you can wear a white tuxedo jacket to a wedding comes down to the preference of a couple. The general adage of the bride being the only one who should wear white tends to just apply to any guests wearing dresses, not so much the ones wearing suits. However, it's always a good call to ask ahead of time. You may also find that the groom is wearing a white dinner jacket and wants to stand out, in which case it's best to find a different color.
When Can I Wear a White Tuxedo?
You can wear a white tuxedo to any wedding with a black-tie or black-tie optional dress code. Anything less formal isn't going to be the right time or place to wear any kind of tuxedo.
How to Wear a White Tuxedo Jacket
Wearing a white tuxedo jacket isn't going to be all that different from wearing any other tuxedo jacket. You'll want to make sure to wear any and all traditional tuxedo pieces and accessories. Some white tuxes come with white trousers to match, though it's also appropriate to mix a white dinner jacket with a pair of traditional black tuxedo pants. Include a tuxedo shirt and the necessary cufflinks and tie. Cumberbunds are generally optional these days so you only need to wear one of those if you feel it elevates your look.
White Tuxedo Jacket Inspiration from Real Weddings
Double-Breasted Beauty
Double-breasted tuxes are supremely underrated, and the stylized button closure of this one makes it all the more impressive.
Contrast Lapels
We love an all white tuxedo jacket but don't sleep on contrast lapels. They're a great styling choice that adds a real pop to a white dinner jacket.
It's Shawl Good
Thick shawl collars on a dinner jacket evoke old-school glamor–think Humphrey Bogart and Sammy Davis Jr. Leaning into that vibe as you style your tux is a great call. Pair yours with velvet slippers or an old-school vest in lieu of a cumberbund.