Home

Moore & Co Event Stylists
About this Vendor
Tell the Love Story You've Already Written
Moore & Co. Event Stylists consists of a group of experienced planners that specialize in creating signature events with ease. Every occasion is an occasion worth celebrating in a style all your own, meticulously designed and made deeply memorable by a team you can trust.
Details
Day-Of Coordination, Full Service Wedding Planning, Planning
Contact Info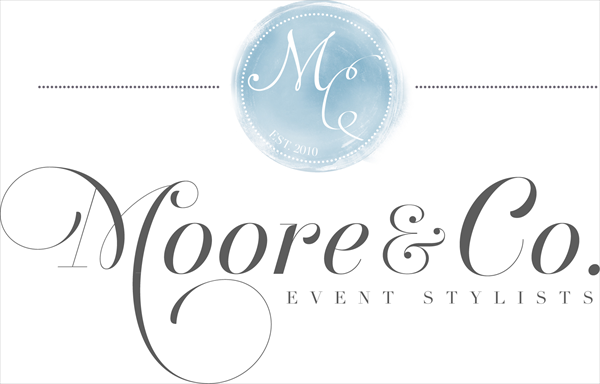 I couldn't have done this without Courtney!
Reviewed on

11/01/2014
Caroline K
I can't even begin to think what planning my wedding would have been like without Courtney from Moore & Co. I was hesitant to set aside part of my budget for a planner, given that I think of myself as a pretty organized person who could handle all the planning myself. But... Read More as soon as we started working with Courtney, it was immediately evident that she was well worth it. We decided to go with the "Full Planning" package, meaning she'd help find, evaluate, negotiate with, and manage all the vendors and timelines from the beginning to end, leaving all the "event styling" to me. She helped us work within our budget, finding us amazing vendors and deals I know I couldn't have found or negotiated without her. After understanding what our priorities were and what we were looking for, she brought potential vendors and venues to me, we figured out which I wanted, and then she went back and negotiated a contract for me. It was almost too easy. Additionally, given all the added stress that comes with planning a wedding, she helped me stay on top of the timelines with helpful reminders about what we needed to accomplish each month. And every time I emailed her a question (which was incredibly often over the 14 months of planning), she was very responsive and helpful. On top of it all, Courtney was just a pleasure to work with. I couldn't more highly recommend Moore & Co.
---
Courtney was wonderful!!
Reviewed on

1/07/2015
Meredith C
Courtney of Moore & Co. is great! She was fun to work with and our wedding day was beautiful and ran very smoothly. She saved our wedding (and our pennies!) after we initially started the wedding planning process with another planner (Eventi Planning), who had no regard for... Read More our budget- the budget that planner had helped to create! Courtney, on the other hand is very respectful and mindful of your budget, which was extremely important to us. Courtney has great contacts and vendors and gives you many choices (something we did not find with Eventi...) I would highly recommend her to other brides in the Maryland area!!
---
We Could Not Have Done It Without You!!
Reviewed on

10/06/2013
Angie w
We found our way to Moore & Co. through K & B Bridals. This pair truly is a one-stop wedding shop! My wife had her dress altered, the bridesmaids got their dresses, the grooms got their tuxes and the flower girl also found a dress there. So naturally, when we decided to have... Read More a day-of coordinator, we we chose them. From our first meeting with Rebekah, we just knew that our special day would go according to plan. Rebekah brought a strong level of organization, creativity and experience to the table. We had already planned alot of our DIY wedding, but she was able to think of things that we hadn't and solve problems that had us stumped. Rebekah also helped to focus and calm us as the big day approached. On our wedding day, we were very comfortable. Rebekah had familiarized herself with our other vendors and the venue. So all we really had to do was show up and have fun. We stayed on schedule, but never felt rushed. She even was quick to act when the wedding dress got stained. Rebekah was able to carefully remove the stain and the party carried on! At the end of the night and for weeks afterward, we couldn't help thinking that we couldn't have done it without Rebekah and Moore & Co. I would highly recommend that anyone use Moore & Co. for their event!
---
Reviewed on

12/30/2017
Colleen H
Courtney and Moore & Co. absolutely nailed our wedding dream! They were professional and prompt throughout the entire process, and made the planning a breeze. They were respectful of our budget, and made every effort to create our vision. I would recommend them to anyone... Read More that doesn't know where to start with wedding planning!
---
Reviewed on

10/13/2017
Melissa P
I used Moore & Co for their month-of wedding coordinator services and was incredibly happy with my choice. My coordinator was Ariel, and she did a great job working with me before the wedding to get all of the timing details straight. I got married in Maryland, but live in NYC,... Read More and she was so easy to work with! She had a running list of details that had to be confirmed, helping me to have a clear list about what still needed to be done at all times. Having an out-of-town wedding can be pretty stressful, but having her on my team made me feel calm and excited heading into my wedding weekend. She and her assistant Sara ran our wedding rehearsal, keeping our large extended family on task, and making sure everyone knew their jobs so that the ceremony would go off smoothly. On our wedding day, Ariel and Sara were focused on all of the details so that my husband and I could focus on our love, our families, and our friends. They made sure our iPod playlist for the ceremony went off without incident . Ariel also stepped in when the venue made a significant omission, and resolved the situation quickly and effectively (and brought me a big glass of prosecco while she did her magic, keeping me having fun and in the moment). We spent so much time, effort, and money planning our wedding, and I consider Ariel and Sara's services to be the best money we spent since they basically made sure that everything else that we spent time and money on was executed to our vision. Thank you so much Ariel, Sara, and Moore & Co! We're so glad we worked with you all!
---
Reviewed on

10/09/2017
Barbara M
Hiring Moore and Company for our daughter's wedding was the best decision we made. Courtney and Rebekah were with us every step of the way, always pleasant and professional. There was never a time that I doubted that we were in good hands. They kept us on budget, put us in... Read More contact with fantastic vendors, and had wonderful ideas. Their help on the day of the wedding was unbelievable, from the set up to the cleanup. And they are just really nice! Very, very pleased.
---
Reviewed on

8/22/2017
Melissa G
The wonderful ladies at Moore & Co helped plan three weddings for our family. They truly impressed us with helping transform our visions (and beyond) into reality for our wedding days. I personally got to work with Courtney - what a beautiful person inside and out. She knew... Read More exactly the theme and look I wanted for my wedding and absolutely nailed it when giving advice and suggestions. Since I live out of state, it was amazing to be able to whole heartedly trust her to make important decisions when I wasn't there, and feel confident she would make the best choice. We can't thank Moore & Co enough for all they've done for the Grimmel Girls! We love them so much!
---
Reviewed on

7/10/2017
Kelsey L
Moore & Co was without a doubt the most vital piece of our wedding! I came to them with the idea of doing something slightly less traditional than the average wedding and reception and they were able to not only help organize the day but help me bring my vision to life. They... Read More were full of ideas, extremely organized, took the lead, and help me create our wedding that was exactly what we were dreaming of. Even with the threat of severe rain exactly when our outdoor ceremony was supposed to start, they had it so under control that I honestly wasn't even worrie. And in the end, they pulled off our ceremony pricisely how we invisioned it. I can't say enough nice things. Thank you so much to Ariel and Rebekah for all your attention to detail and an outstanding job!!
---
Reviewed on

6/04/2017
Sarah K
We were hesitant to hire a coordinator for our wedding, but could not be happier that we did. We chose the "month of" option and it was such a relief to be able to say "here's what I have so far" and then receive endless support on those last minute details. Ariel and Bridget's... Read More day of service was impeccable. I was never presented with any issues or decisions and it made the day so enjoyable. Everything played out as we had planned and I cannot thank them enough for their organization and hard work! I would highly recommend Moore & Co for your next event!
---
Reviewed on

11/07/2016
Alayna B
I am honestly speechless! I chose the full planning and styling option and am so unbelievably thankful that I did! For the last year, Courtney and Moore and Co. did just about everything! She provided suggestions on vendors (she even got discounts from some of them), kept track... Read More of payments and contracts, provided me with vision boards and color schemes, made the wedding day go smoothly and stress-free, and everything in between! Courtney also answered every single text, phone call, and email, calmed every nerve, and took the stress out of wedding planning - she is seriously AMAZING! The day of the wedding was so easy for me - if there was something stressful going on, I honestly didn't know about it! Not to mention, (I might be biased) it was the most beautiful wedding I'd ever seen! When I first started planning, I had probably thirty different visions of what I wanted our wedding to look and feel like. Somehow, Courtney managed to pull from each vision and some of her own visions and we got one insanely beautiful wedding! I will most definitely recommend Moore & Co. to anyone and everyone! Thank you, thank you, thank you for everything!!
---
Reviewed on

9/26/2016
Laura M
ou have found the best of the best and should stop looking, because you cannot go wrong with Moore & Co. Event Stylists. Kayte, Courtney and their entire staff are knowledgable, respectful, organized, kind, efficient, and everything else you would want your event planner to... Read More be. My now husband and I were out of town Bride & Groom for our wedding. We chose to have our Wedding in MD, but we were living in Pittsburgh when we began the planning process. Then about a year from our actual wedding day, we decided to move to Boston. This is when I began my search for coordinators. Since I was well in to the planning process Courtney was honest and told me I only needed to book them for their Day of Coordination package, because I had all my vendors and contracts completed. Then when it came time for our face-to-face meeting to review all our vendors and their contracts, Courtney informed us that we had over booked/overspent with some of our vendors. Then Kayte asked every question possible to know every detail about our day from our ceremony to how we wanted our napkins folded. When people ask "Is there anything you would go back and change?" or "What advice do you have for those just starting the planning process?" I respond "If your venue doesn't offer every detail and a coordinator then hire Moore & CO. Event Stylist. I wish I would of hired them for their entire planning process. It's my one mistake I made." I had no clue we would have to decide how we wanted our napkins folded or the cake should be delivered during cocktail hour. I was amazed how out of all my vendors, Courtney and this company were the only ones interested in saving us money and making sure every detail was perfect. Not many brides and grooms can say "Our wedding day was flawless.", but my husband and I looked at each other on the bus at the end of night and said at the same time "that was flawless and perfect."
---
Reviewed on

9/18/2015
Michelle G
My sister has worked with Moore & Co. on several occasions at our farm where we have weddings. When I got engaged, she told me I HAD to meet with them. After meeting with them, I knew right away that I wanted to book them for our "Month Of" coordination. The energy and... Read More excitement each of the girls we met with was contagious. They really made the entire last month of the planning process a lot less stressful. A common mistake many brides make is having an aunt or family friend try to do all of the day-off coordination. Don't put that burden on them – they will not be able to enjoy the wedding! It is well worth hiring a professional! Moore & Co. was so wonderful on the day of our wedding. Everything ran exactly as planned and according to their amazingly detailed timeline. I don't know how we would've pulled everything off without them! VERY HIGHLY RECOMMENDED!
---
Reviewed on

6/12/2015
Megan S
Courtney was absolutely wonderful!! Our wedding planning experience was made so much easier because of all the contacts and resources she had. We had our wedding at my parent's house so we had to do everything- decor, tent, seating, lighting, DJ, catering, etc. Courtney knew... Read More exactly who to contact, how much they were, & which vendors were best. She also made herself available to meet often and really catered to us. On the day of the wedding, Courtney knew how to keep the day on track and well-organized. Any issues that arose, Courtney took care of without even letting us realize there was a problem (our photobooth person showed up 2.5 hours late). Everything was so smooth. A lot of my friends and family will be getting married/engaged soon and I will be referring them to Moore & Co. for sure! The new Mrs. Thompson : )
---
Reviewed on

6/11/2015
Toni V
We had the most amazing wedding and it couldn't have been done without Rebekah from Moore & Co. Events! I knew that I didn't have to worry about a single detail, we could have fun and enjoy our friends and family because Rebekah had everything under control. We were even thrown... Read Moreauyfcbefvrafaxtfuutwwtrufxwrzdburayxxw for a loop with the Baltimore City riots and curfew, but Rebekah handled it like a true professional and made sure our wedding was exactly how it was supposed to be. We used Moore & Co. events for wedding planning and design and the wedding turned out exactly how we wanted it; BEAUTIFUL!!! The design was flawless and sophisticated and Rebekah always had such great ideas! Planning a wedding is so much work and they make it possible and enjoyable. If you are planning a wedding, don't waist a minute trying to do everything yourself, hire them, it was the best thing I did! Thankful for Sanity During the Wedding, Toni and Noel Dotterweich
---
Reviewed on

6/09/2015
Nicole S
Amazing! No words to express how grateful we were to have Courtney and her team put together our spring Maryvale Castle wedding. Courtney made our day a fairy tale come to life!
---
Go to K and B!
Reviewed on

11/06/2012
Lauren C
Lauren and Bridget are two of the most wonderful people! K and B provided us with our day of wedding planning on 10/20/12. Lauren was absolutely wonderful throughout our planning process- keeping in touch with our vendors, setting up the day of and helping us with our... Read More rehearsal. Lauren and Bridget did such an amazing job on the day of our wedding- I felt completely relaxed knowing that they had everything under control! I also used K and B for my gown and alterations as well as my bridesmaids' dresses. All of the dresses were perfect! Overall, I would highly recommend K and B to everyone! They are truly some of the most genuinely wonderful people!
---