Home

Niko's Landing Banquet Center
Book Your Wedding with Niko's Landing Banquet Center
---
A BALLROOM IN KALAMAZOO, MI
About Us
DoubleTree by Hilton Hotel Chicago is a full-service hotel conveniently located in the heart of Woodfield in Arlington Heights, Chicago. It is a short drive from O'Hare International Airport and has easy access to great shopping and dining destinations such as the Mitsuwa Asian Marketplace, Arlington Park Race Track, Woodfield Mall and Medieval Times. The hotel features a fitness center, an indoor pool, a 24/7 business center and on-site dining options. The hotel offers 8,000 square feet of indoor and outdoor venues that can accommodate weddings of any size.
Arbor Ballroom. The Arbor Ballroom is the largest space in the hotel with a total floor area of 4,900 square feet and ceiling height of 12 feet. It can accommodate a reception with a maximum guest count of 500 and banquets with up to 350 guests. The ballroom can be sectioned into four smaller salons to accommodate more intimate celebrations. All four salons each have a total floor area of 1,225 square feet and can accommodate receptions and banquets with up to 88 guests.
Oakwood Room. The Oakwood Room is ideal for small- to mid-sized celebrations with a maximum guest count of 90 guests. It can be divided into two rooms to accommodate events with up to 45 guests.
Private Dining Room. The Private Dining Room is the smallest venue in the hotel and is ideal for engagement dinners and bridal showers. It has a total floor space of 450 square feet and can accommodate a maximum of 50 guests.
Rosewood Room. Rosewood Room has a floor space of 1,200 square feet and can accommodate banquets and receptions with up to 80 guests.
What You Should Know
In order to book the venue for your wedding, you will need to sign a contract and pay a non-refundable deposit. An estimate of the total charges will be billed and a payment schedule arranged. A 30 percent initial payment is due six months prior to the event and another 30 percent is due three months before the event. The remaining balance must be paid in full seven days prior. All payments made throughout the course of the planning stage will be applied to your total balance and are non-refundable. Once you make a reservation, the deposit must be paid within 14 days otherwise the reservation will be canceled. Final guest count and menu selections shall be submitted at least a month before your event, otherwise the estimated final count determined upon contract signing will be considered and shall not be reduced.
Extra Perks
Pet-friendly venue
Complimentary suite for the couple on the night of the wedding
Discounted room blocks
Complimentary self-parking for all guests
Wireless Internet available
From the Vendor
Waterfront Banquet Center in Kalamazoo, MI
Situated on the bank of the Kalamazoo River on the outskirts of Kalamazoo, our venue has breath-taking views that capture the serenity of God's creation. Our entire facility is lined with portrait glass windows that overlook running rapids and natures beauty. Top notch service and cuisine to boot!
Amenities + Details
Amenities
Handicap Accessible

Liability Insurance

Indoor

Reception Area
For more details about amenities, please message the Venue.
Ballroom, Waterfront, Park
Bar + Drinks, Food + Catering, Planning, Rentals + Equipment, Service Staff
Contact Info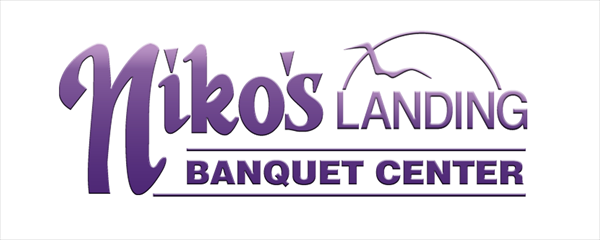 Fantastic Venue from Start to Finish!
Reviewed on

10/17/2014
Michelle O
We could not have been happier with our decision to choose Niko's Landing for our recent wedding and reception location. From the beginning working with Shannon was a joy, she was able to quickly answer any and all questions we had. The food was outstanding, and the service... Read More impeccable. We were able to customize anything we chose from the menu to the handling of the bar to the venue setup with ease. We chose to hold our ceremony there as well, next to the building and the setup and handling of that was also wonderful, they truly took care of everything. The setting of Niko's is beautiful, right along the river and it made for a fantastic spot for photos without having to travel anywhere. Their professionalism prior to and at the actual event is fantastic. I have no regrets whatsoever in our decision, and I cannot tell you how many of our guests commented on how wonderful the food and venue was. If I had to choose a wedding/reception location again I would not choose any differently and I highly recommend Niko's Landing to any future brides, they will NOT disappoint!
---
BEST RECEPTION EVER!!
Reviewed on

3/10/2014
Kayla Z
My husband and I had our wedding reception at Niko's Landing back in August. Dennis and Shannon were extremely flexible and easy to work with. The food was amazing (my husband especially enjoyed the stuffed mushrooms)!! The venue is beautiful! At the end of the night we actually... Read More lit Chinese sky lanterns and sent them off over the river! I would highly recommend Niko's Landing for any of your banquet hall needs!!
---
Wedding
Reviewed on

10/05/2015
As a lot of Brides have come to find out wedding planning is expensive, stressful, but always turns out fabulous afterword's and seems to come together after we have spent months running around like chickens with our heads cut off! I found Niko's Landing and am so pleased with... Read More their services. They helped me at any time with all my questions and concerns. I loved how much NIko's offers; they offered table decorations, lighting, the arch for the ceremony. We did not have an outside wedding but they offer that as well. The outside is great for pictures and allows you to do everything for your wedding day in one place if you wish to do that. The food is amazing and the service was just as great, and especially to the Bride and Groom they treated wonderful. They made me feel as wonderful and beautiful as I was on my wedding day as I should have felt! I would recommend Niko's Landing to anyone and everyone for any occasion you may need to host a larger party, wedding, ect.
---
Reviewed on

9/15/2015
Our experience at Niko's Landing was Amazing! We loved that we were invited along with other brides and grooms to a food tasting event earlier in the year to select our food choices. Shannon did an excellent job answering our questions, making suggestions when asked and promptly... Read More responding to my emails. She made everything so easy for us. We had many compliments on the view of the river, appearance of the venue and of course the food. The food was hot, tender and delicious. We chose to go with 2 appetizers, 2 entrees that included 3 sides, pizza for our late night snack and open bar for our guests. I don't remember the exact amount of our total bill but I believe it was around $6000 for about 130 guests, which was very reasonable and affordable. My wedding reception was my favorite and most least stressful part of the day and that's because we chose Niko's Landing.
---
Reviewed on

9/14/2015
Raquel S
We got married September 4th 2015 and we could not have been happier. We had our ceremony and reception inside the venue. It was beautiful!!! The food was great and all the guests were extremely pleased! Shannon the wedding coordinator was very pleasant to work with and a huge... Read More help. There were minor communication errors the day of the wedding but were quickly fixed. I highly recommend this venue for future events!
---
Outdoor Wedding/Indoor Reception
Reviewed on

8/24/2015
Shannon emails brides back very quickly to answer all questions. She is very professional and knowledgeable and has a good relationship with other local vendors. Niko's also makes it easy to move a wedding indoors if there were to be inclement weather. My husband and I were... Read More married outside at Niko's (the only thing I wish was that there wasn't so much traffic noise, but nothing can be done about that) and then had an indoor reception with 110 guests. My guests enjoyed themselves and we were able to get some very pretty pictures. Other than a couple mishaps on the dj's end, I wouldn't change a thing.
---
Reception at Nikos Landing
Reviewed on

6/22/2015
Kristina K
I had my wedding reception located here in June. It is an absolutely beautiful location on the Kalamazoo river. Shannon was so helpful throughout the whole process. She answered all of my crazy questions and made everything so much easier on me! The day of the wedding... Read More everything was setup for us and the room looked amazing. The food was great and the service was great as well. Everyone had an amazing time. The outdoor patio was a plus too, all of my guests loved being able to go outside and look at the river and take pictures outside. Thank you Shannon and staff for making my wedding reception an amazing time! :)
---
Reviewed on

6/15/2015
Brittany W
We were very pleased with our choice to go with Niko's Landing. As we planned our wedding from out-of-state, our coordinator Shannon was very easy to work with, patience, and understanding throughout the process. Everyone loved the service, atmosphere, and food and the venue... Read More had more than enough space for our 125 guests. We hired a decorator to help punch up the space a little, but Niko's does come with some charming decorations as is. We would HIGHLY recommend Niko's to ANYONE who's looking to celebrate ANYTHING- especially a wedding. Their fantastic outdoor backdrop matched with their spacious, full service banquet hall makes this a place you MUST consider if you're in the Kalamazoo area.
---
Best All-in-1 Wedding Venue in Kalamazoo
Reviewed on

10/24/2014
Susan D
We couldn't have been happier with our experience at Niko's Landing. We used Niko's Landing for our ceremony and reception. The way the space is set up made it easy for guests to mingle and dance. It was cold and overcast on our wedding day but the view of the Kalamazoo... Read More river from the windows was still gorgeous. Our photographer commented on how great the lighting was for pictures. The fact that the venue has a fireplace was an added bonus since the day was much colder than we expected for October. We had a buffet and our guests raved about the food. I saw people going back for seconds and thirds. My parents said the food served on our wedding day was better than what they tried at the tasting so that was a pleasant surprise! The bar service was great as well. We ended up doing a cash bar but provided guests with punch and other non-alcoholic beverages. The cash bar was priced very reasonably and none of our guests seemed to have an issue with it. Shannon Root, the event consultant at Niko's, was great to work with. She mainly dealt with my mom since I live out of state but she was always available to answer my mom's questions and was extremely helpful. She went above and beyond to make sure our needs were met. Our wedding day went smoothly thanks to the wonderful staff at Niko's Landing. People say your wedding day goes by super fast but as the bride I felt like I still had plenty of time to eat, dance, and enjoy myself! I would recommend this venue to anyone looking for a place that will do it all.
---
3 Stars Overall
Reviewed on

8/16/2014
We had Niko's Landing provide the venue and catering for our wedding reception. We were very happy with how friendly and flexible the staff were with our budget and other requests. We requested that they do a few things before we arrived such as filling our centerpieces with... Read More water and they were very willing to help out with that. The place was decorated beautifully and the windows overlooked the Kalamazoo River which was very pretty during the summer. The head table is higher than the rest of the tables which was neat during the reception because everyone was able to see us and we could see them. We were disappointed with several things, however, which caused me to give Niko's Landing an overall 3 stars. First of all, the place was expensive and there's a minimum spending point of 5,000 for Saturday events. Also, we requestd a brunch for our morning wedding and while the food was very good, we were very frustrated when Niko's Landing ran out of food for our guests despite the fact that we had much fewer guests than expected. We had guests go through the line that were only given the choice of a couple dishes. Eventually Niko's Landing took food from their restaurant across the parking lot to give some other options for our guests, but it was not food that we had requested. Along with this problem, we had many guests that had finished their food before other guests had even been called up to go through the buffet line. Another thing you should be aware of is that it costs $100 for using their sound system and projector and screen. They do not actually own these items and have to rent them.
---
May 16 wedding
Reviewed on

5/27/2014
Ricardo P
The venue was very well put together and Shannon was a bigger help to the event than most of the family members.
---
A-MAZ-ING!!!!!!!
Reviewed on

10/16/2013
Jessica C
We loved loved loved working with Niko's Landing. They answered every question we had before and after the wedding. The worked with us on every detail, they lit our candles before the reception started for us and the next day they had everything on a table easy for us to pack... Read More up. The food was amazing. We had pepper crusted sirloin and foccia chicken. Everyone raved about the food. I know people say being the bride and groom you do not get to enjoy dinner but we did, we made sure we did. Everyone had smiles on their face and was friendly and helpful. I would get married again and again and still have the same reception location (to the same man of course).
---
Wedding 9-14-13
Reviewed on

9/23/2013
Ashley V
I really appreciate all the hard work and hospitality that Niko's Landing staff showed my husband and myself throughout the wedding process especially Dennis. I cannot thank you enough for the beautiful venue and amazing food! 9-14-13 will always be a special day to us and we... Read More will be able to look back and say nothing but great things about the choice we made to make Niko's a part of our amazing BIG day.
---
Would recommend to anyone!
Reviewed on

6/24/2013
Jennifer D
It was such a great place for both the ceremony and reception. I have people still talking about how beautiful the place is and how great everything turned out! I planned heavy appetizers, punch fountains and cash bar and I'm so glad I did. It was just enough for... Read More everyone. Shannon and Dennis made things so simple and helped make my day a blast!
---
very happy
Reviewed on

3/26/2013
Kristin L
awesome service, good food, beautiful inside and out
---
Attentive and Awsome
Reviewed on

12/22/2012
Ericka F
First of all, Dennis and his staff are the best to work with. They were always there to do anything we needed and got everything we asked. My husband requested different beer and wine for our beer and Dennis was more than happy to get that for us. The food was amazing and the... Read More location is absolutely beautiful. I will recommend this hall to anyone that is looking for a hall. Everything is included except for the cake but they will cut it for you. I would do another event in this hall in a heart beat. Loved every second of it and have heard nothing but great things. Expecially how wonderful the champange is!!
---
Beautiful Banquet Hall with Wonderful Staff
Reviewed on

11/06/2012
Courtney R
I had my wedding reception at Niko's, and I was very pleased with the venue, First, they already had very tasteful decorations on the walls and ceilings, so half the decorating was already taken care of. Also they provided linens, napkins (of various colors), dishes, and... Read More silverware. All I really had to do was decorate tables to my liking. The hall rental is very reasonably priced. They included cake cutting in their rental fee, and I didn't experience any hidden costs (which is always nice). You do have to use their catering service, but the food is great, and they are more than willing to change menu items to whatever you would like. I thought price per plate was a little on the high side for catering, but it actually is very competitive for the wedding catering business. Lastly, their coordinator (Dennis) was very nice and attentive. If he didn't answer the phone when I called, he called me back in a very timely manner. He was very helpful and allowed me to come back to the hall many times so I could figure out anything that I couldn't picture in my head. I would definitely recommend them for a reception venue. No complaints here!
---
Perfect
Reviewed on

8/28/2012
Valerie D
staff was beyond friendly and accomodating. Everyone loved the view and the decorations... it was just PERFECT!
---
So you say you have air conditioning......right
Reviewed on

7/14/2012
Kristina W
After the initial issue, things were taken care of. The initial response about the air conditioning was not great, but after a complaint and other discussion things were resolved.
---
Review for Niko's Landing
Reviewed on

11/21/2008
Michelle M
The staff was friendly and very helpful!--Very easy to work with!! The food was AMAZING!! The venue is next to a creek. It easily fit our 150 guests. They made it a very special evening!;The front of the building isn't exactly pretty. But everything else is awesome!
---