Home

Tre Bella
About this Vendor
Elegant Events and Celebrations
Reserve your date by 2/24/15 and receive $750 in FREE UPGRADES!
Amenities + Details
Amenities
Handicap Accessible

Indoor

Reception Area
For more details about amenities, please message the Venue.
Bar + Drinks, Food + Catering, Planning, Rentals + Equipment
Contact Info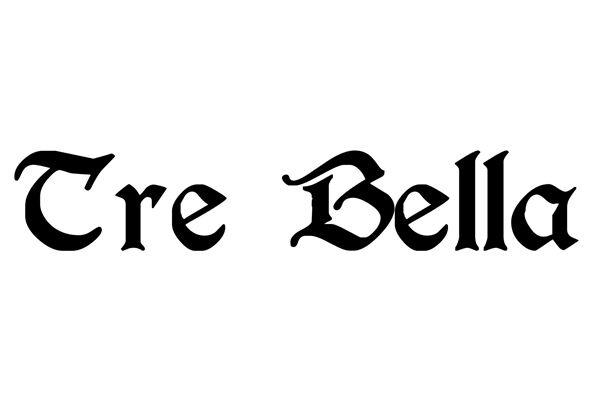 119 West Main Street, Mesa, AZ
Amazing venue!!!!!!! Caused me to be stress free!!
Reviewed on

10/21/2013
Brittany B
Tre Bella was the best decision!!! Jenelle and Kim were wonderful through the whole process. On the wedding night, we didn't have to worry about a thing. Jenelle kept checking to see if we needed a drink or food or anything. The waiters dished out my food for me so I didn't spill on my dress. Tre Bella is an awesome choice because it is affordable, comes with an open bar, photo booth, and they have all of the table linens and decorations you could possibly want. Seriously, Tre Bella is the best.
---
Everyone should marry at Tre Bella
Reviewed on

10/20/2013
Michele M
There are too many good things to say, so to sum it up, the entire experience was amazing. I don't know what I would have done if I didn't marry my husband at Tre Bella. So many of our guests said what a great time they had; from the food to the photo booth! Kim and her entire team were wonderful during the entire process. I can't thank them enough!!!!!
---
Great Venue for Fundraising Event
Reviewed on

10/06/2013
Tre Bella hosted a fundraiser for a local nonprofit Hospice client. The food was excellent, service outstanding and venue was beautiful. Kim was incredibly helpful and worked very hard to make sure everything was perfect. The client loved the event and raised a lot of money that evening.
---
FANTASTIC
Reviewed on

7/02/2015
Megan M
Tre Bella was the perfect place to host our wedding. We did one of their inclusive packages that had the photographer, food, drinks, decor, cake, DJ, and wedding planner (kind of) included. Janelle helped us out and from helping us pick our centerpieces to being able to bring in all our extra decorations and her just knowing where things were supposed to go, Tre Bella made the wedding so stress free! The photographer that came was great and the cake was delicious! DJ Mike kept all our guests dancing for most of the night. This place is fantastic and I would do it again in a heartbeat! Also, very affordable for everything that comes with it!
---
UNFORGETTABLE
Reviewed on

12/08/2014
"Unforgettable!!!!" ,"Best wedding Ever" , "Man the food was great", "that cake is AMAZING", "My feet hurt from dancing ALL NIGHT, great DJ". These are just a few of the comments/feedback we got from our friends and family after holding our wedding ceremony & reception at Trebella on 12/6/14. We looked for several months trying to find the perfect venue and in March 14' we found Trebella. At first Kim was a little stand offish with my husband and I so we were a little concerned. Although we booked the venue and began planning and we were not let down!! The day after our wedding my husband and I were talking and he recalled that Kim had been stand off'ish the first time we meet. Than I remembered that first meeting was on a Monday late evening , DUH ...KIM was probably exhausted that first meeting. She and her staff worked incredibly hard to make our wedding perfect. She never sat down, she was right there when we needed her and attended to our every need. As well her staff was professional and well managed meaning they all knew where to be and when to be there. Great Great Job Tre-Bella!! Pro's 1. Low Stress 2. Kim had clearly explained everything that needed to be done prior to the wedding including dates and contact info. 3. Open house taste testing - **this is a must I wish I would have gone to more than one ** 4. Easy payment option 5. Excellent price for what you're getting. This venue does not nickel & dime you like others . It's truly all inclusive (no I didn't buy the most expensive package either, in fact I purchased the lower end one but you'd never have known that the day of the wedding) 6. I am not a DIY Kinda chick in fact I'm the opposite. The reception hall looked as if we spent weeks decorating, it was breath taking and I didn't add anything to the tables other than flowers!! The lighting made all the difference!! 7. Food : I'll sum it up!! My Italian family from NY, said they loved the Italian food we served. ;) 8. Flexible : I change my table and decor what felt like 10 times and Kim never fletched never said no she was happy to make the necessary adjustments. My husband wanted a different beer then they offered Kim was so easy "ok no problem" was her exact words!!!! 9. Cake vendor: phoenix cake company WOW amazing not only did it look beautiful it tasted amazing!! 10: DJ Mike: AWSOME SAUCE! Hubby and I don't dance so gracefully and when wanted to be done with the first dance and walked off he transitioned that song without missing a beat!!! Great job Mike 11. PHOTO BOOTH: Spend the money it's worth ever penny!!!! I got mine for free as part of the incentive package but would have paid for it!! CON's: I believe that constructive criticism is the best way to continually improve, this wasn't easy. I really struggled to find things as con's. Here are the ones I have. 1. Light rail construction, not Trebellas fault but had the light rail been running that was have been great. I believe it starts in the next two months. 2. Grooms sweet was warm and slightly uncomfortable when they got there Kim immediately corrected it once we told her.
---
Great venue at a fair cost
Reviewed on

7/15/2014
Pamela M
I got married here on 6/21/14 and everything turned out great. Kim and Jenelle did a great job setting up the venue like I wanted it and they were great at organizing everything together. They were very helpful with all the details before the wedding. I would recommend it to any brides.
---
Perfect!!
Reviewed on

10/02/2013
Kim, Janelle and the entire Tre Bella staff were amazing; they were friendly, professional and competent. Everything looked beautiful and the food was delicious, we received so many complements from our guests about our venue and we are so happy we decided to book with Tre Bella!! They made our day perfect and stress free!!
---
Desiree Claudio
Reviewed on

10/02/2013
Desiree C
Loved everything about Tre Bella! Food was good and the service was really good as well. Our wedding planner was really helpful and everything was perfect
---
Couldn't be happier with Tre Bella
Reviewed on

7/08/2013
Veronica W
We were extremely happy with every part of our wedding. Kim and her staff were so sweet and accomodating. They made planning the wedding easy and stress free. They offer an all inclusive package which fit our budget. The venue itself is unique and beautiful. We couldn't have picked a better place to have our wedding.
---
Elegant Wedding
Reviewed on

4/23/2013
Erica L
I had my wedding on 3-23-2013 at Tre Bella and it was amazing! The set up in the reception was what I dreamed my fairy tale wedding to be. Kim always answered my questions in a timely manner and was so accommodating. I couldn't have asked for a better person to work with to coordinate everything I needed and wanted on my wedding day. Guest thought it was such a pretty venue and very unique! They loved the food as well. I would recommend this venue to everyone! I think the only hiccup was that the wrong song played when I walked down the aisle but for me that wasn't the end of the world. Other than that everything was what I wanted!
---
amazing!
Reviewed on

4/16/2013
Kitiara
This is the best wedding venue for your money. The all inclusive wedding package makes it so easy to plan everything. Kim and her team set everything up and make sure its perfect!
---
Absolutely perfect!
Reviewed on

3/18/2013
Katrena H
Kim and the rest of the staff at Tre Bella made our wedding absolutely perfect! I could not have asked for a better combination of venue, food, decorations, DJ services, booze selection and staff- and at Tre Bella it all comes together making it SO easy! I can't thank them enough!
---
Better than I could have ever dreamed
Reviewed on

12/12/2012
Kim E
When my fiancé and I were looking for venues last year we would come home and feel defeated and just couldn't figure out how we were going to have our wedding and stay in our budget. Then we found Tre Bella. We had a beautiful wedding and the value was fantastic. We received numerous compliments from our guest on how beautiful our venue was and how much fun our wedding was. Our guest loved the photo booth, the DJ and the food. I can honestly say our wedding was better than we could have dreamed of.
---
Loved my wedding day!
Reviewed on

11/07/2012
Sariah S
I couldn't be happier with everything that Kim and the whole staff at Tre Bella did! I got many many compliments on how great the venue looked, how beautiful the flowers look & smelled, how great the food was, and how awesome the music was. Everyone was always so polite and nice. They definitely did all they could to make my wedding day dream come true! I want to do it all over again!! :)
---
Definitly fits it's name
Reviewed on

10/16/2012
Lisa T
I loved how everything turned out! They helped me with everything and made my wedding fabulous!
---
Couldn't ask for better.
Reviewed on

9/18/2012
Kendra P
Everyone at Tre Bella was understanding and on the ball. I had no stress when it came down to my wedding day, knowing that the staff at Tre Bella had everything already taken care of. Kim was absolutely amazing at keeping everything in line and everyone where they needed to be. My wedding was flawless, but I couldn't have done it without the awesome staff at Tre Bella.
---
Amazing
Reviewed on

6/03/2012
Kelsey T
I just got married here a few weeks ago and I can not thank Kim enough. The decorations, the food, photographer, service...everything was FABULOUS. I had people tell me it was the best wedding they have ever been to. I wish I could do it all over again. It was simple and so well organized. Thank you Tre Bella for making my day so special.
---
Absolutely Fabulous
Reviewed on

5/22/2012
Katy S
Tre Bella was the perfect place for our wedding!! A wonderful, all-inclusive, low-stress place to celebrate our happy day with friends and family. Kim was our planner and did an absolutely wonderful job helping make decisions, keeping us on schedule and making our day perfect. Highly recommend Tre Bella!!!
---
The most bang for your buck in Arizona!!!
Reviewed on

12/22/2011
Lynn P
I love love love Kim and everyone at Tre Bella!!! My wedding was amazing and everything turned out perfectly. I told Kim my vision for the reception area and she set everything up just as I had envisioned. There was no extra charge for chiavari chairs, different table set-up, up lighting, switching out wine selections…everything was included and super flexible. I would recommend Tre Bella to anyone looking to get the most bang for their buck…very reasonably priced all-inclusive that feels like you paid the big bucks! I had 125 guests, did the Luna package and added the photography and photo booth, brought in my bouquets, homemade cupcakes and decorations. If you are super picky about food it was hard to get a feel for the entire menu because to taste the food you had to attend the once a month open house but everything was delicious so there really wasn't a need to taste everything. The bridal suite was so nice and made for some awesome pictures. The DJ kept the music flowing and party going, the Photo Booth upgrade was worth every penny and was actually very well priced compared with outside vendors, everyone had a wonderful time and many told me that it was best wedding they had ever been to! I had 125 guests, did the Luna package and added the photography and photo booth, brought in my bouquets, homemade cupcakes and decorations and everything just worked out wonderfully. THANK YOU SO MUCH!!!
---
Long Distance Planning
Reviewed on

12/16/2011
Daryl G
I was stationed in Washington DC, active duty Army, while trying to plan my wedding in Arizona. Tre Bella has some truly amazing people working for them, who would work around when I would be in town, and ensured that every detail was taken care of for our big day. The ceremony site and reception were breathtaking the day of, and we could not have imagined a better experience. Our wedding coordinator at Tre Bella was absolutely amazing.
---
AMAZING
Reviewed on

9/28/2011
Amanda M
I was married at Tre Bella on 9/10/11, and all I can say is AMAZING! The venue is beautiful, modern, and fun. And the staff is incredibly helpful. This venue is so affordable, and makes wedding planning easy and stress free! Most packages are all inclusive, including tables, chairs, centerpieces, dj, wedding cake, catered meal, and bartender and booze! I hardly had to go anywhere else for planning my wedding. Kim was my personal wedding consultant, and she was very understanding, friendly, and prompt at returning all my phone calls and emails with all questions and concerns. I would suggest Tre Bella to any bride to be looking for an affordable, all inclusive, modern venue.
---
Amazing!!!
Reviewed on

6/29/2011
Tiffany P
Our wedding at Tre Bella was perfect! And we couldn't have done it without Jill. She is an amazing wedding coordinator! The day went so smoothly and everything was exactly what I wanted. DJ Mike was nice and did a great job entertaining the crowd. And the bartenders and wait staff were great the day of. You can't beat the price and it's so nice to have almost everything planned for you and to not have to worry about anything on your wedding day!
---
Laidlaw/Drange Wedding
Reviewed on

6/01/2011
Jody L
It was very easy to work with Kim...we had a smaller wedding and she was able to meet our needs outside of their regular packages. Everything was on time and great! Loved the photographer they worked with!
---
Amazing!!
Reviewed on

5/17/2011
Martina A
I was married at Tre Bella on 4/30 and loved them. They were so understanding of our wants and needs. Kim was wonderful and all our family and friends were so impressed with everything. I am just so thankful that I found Tre Bella for our wedding and would to over again everyday if could!
---
Perfect venue for a smaller, elegant wedding
Reviewed on

10/28/2010
Leah G
In a word...AMAZING! The venue looked exactly as I'd pictured and I got so many compliments on the smoothness of the day. Kim was such a help through the whole process and she made sure that I didn't have to worry about a thing the day of the wedding.
---
Send Message