Bring a Smile to Your Guests' Faces With These Funny Save-the-Date Cards
Get the laughs rolling before the big day with these unique save-the-date ideas.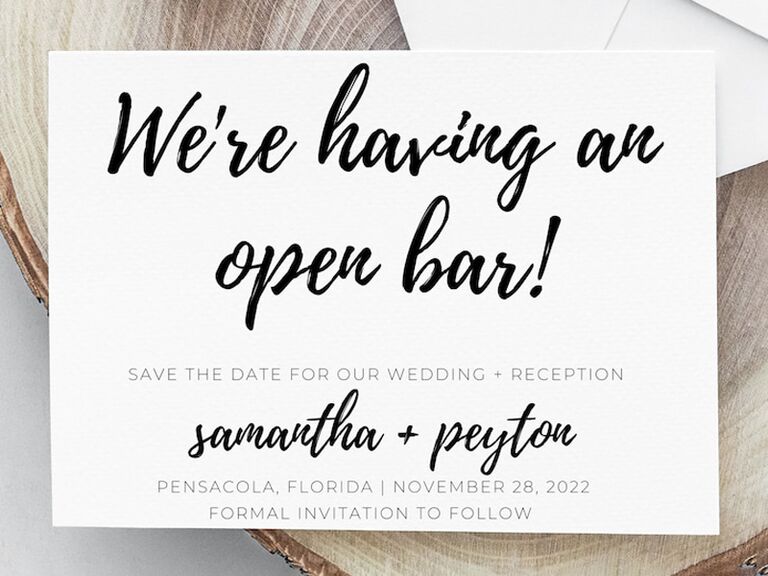 We have included third party products to help you navigate and enjoy life's biggest moments. Purchases made through links on this page may earn us a commission.
It's 2021 and all the old-fashioned etiquette rules about weddings are out the window. Whether you want to have a friend officiate your big day, want the "best man" to be your golden retriever or want to walk down the aisle wearing a neon green tux, you can go for it. It's your wedding and should reflect your personalities.
Naturally, the same goes for your wedding planning process, including your save-the-date cards. There's no need to list your parents' names or include ribbons and flowers if you don't want to. Instead, many couples are opting for funny save-the-date cards to reflect their shared sense of humor and get their wedding guests excited for the big day. After all, wedding stationery doesn't have to be formal, so there's no reason for couples to hold back their sense of humor or creative side when it comes to communication with guests. You may even be able to make a matching wedding website, too.
If you're just starting the planning process, check out the unique save-the-dates below, all of which inject an element of humor to ensure your guests know your special day will be anything but boring.
Alula Sunshine Funny Photo Save-the-Date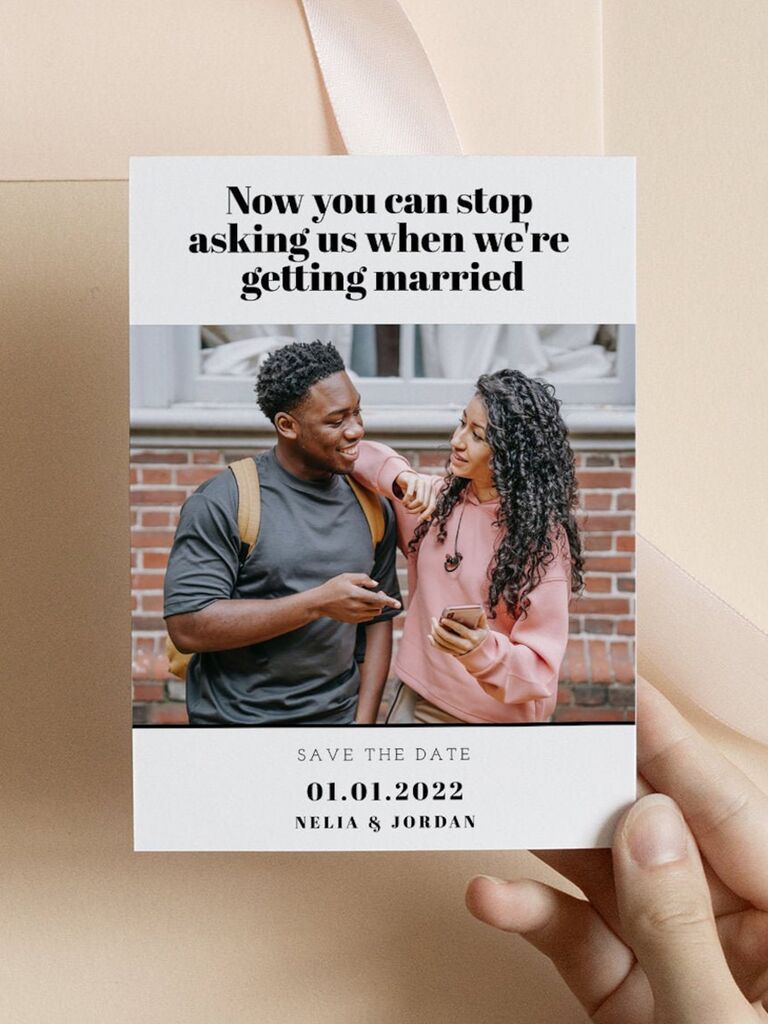 Couples who have been dating for a while are probably all too familiar with friends and family asking when they're going to get hitched, but these to-the-point save-the-date cards should put an end to all that questioning. This particularly unique card is a digital file that couples can download and customize online (don't worry, it's easy!). You can then have it printed at a local shop or through an online printer of your choice.
The Knot Natural Palette Save-the-Date Postcards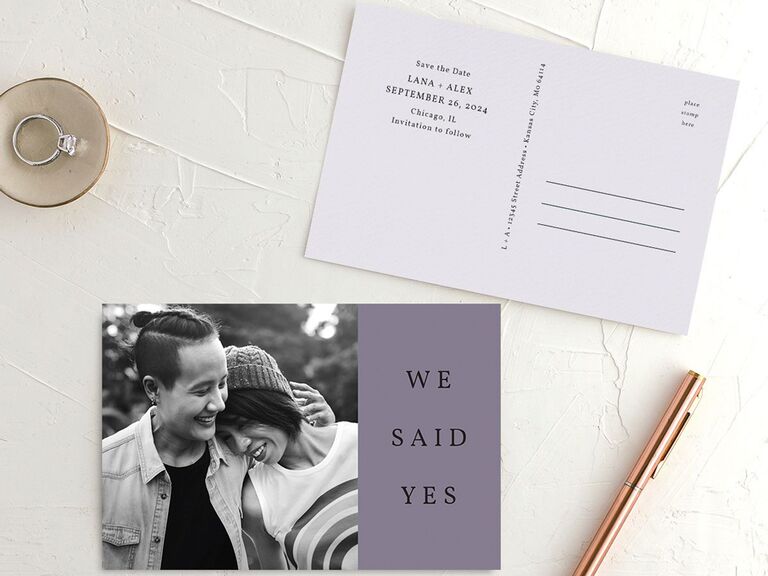 Can't find a unique save-the-date that strikes your fancy? You can find hundreds of photo-based postcards and mailers on The Knot Invitations, which gives you full control over your layout. You can upload a ridiculous photo of the two of you or add your own inside jokes, puns and personalized reminders of your shared sense of humor. This elegant and simple save-the-date postcard has space for whatever photo you'd like on the front, along with room for details and addresses on the back. You'll also get access to designers who can make changes and edits for you at no extra cost.
Dote on Life Four-Photo "Free Drinks" Save-the-Date Card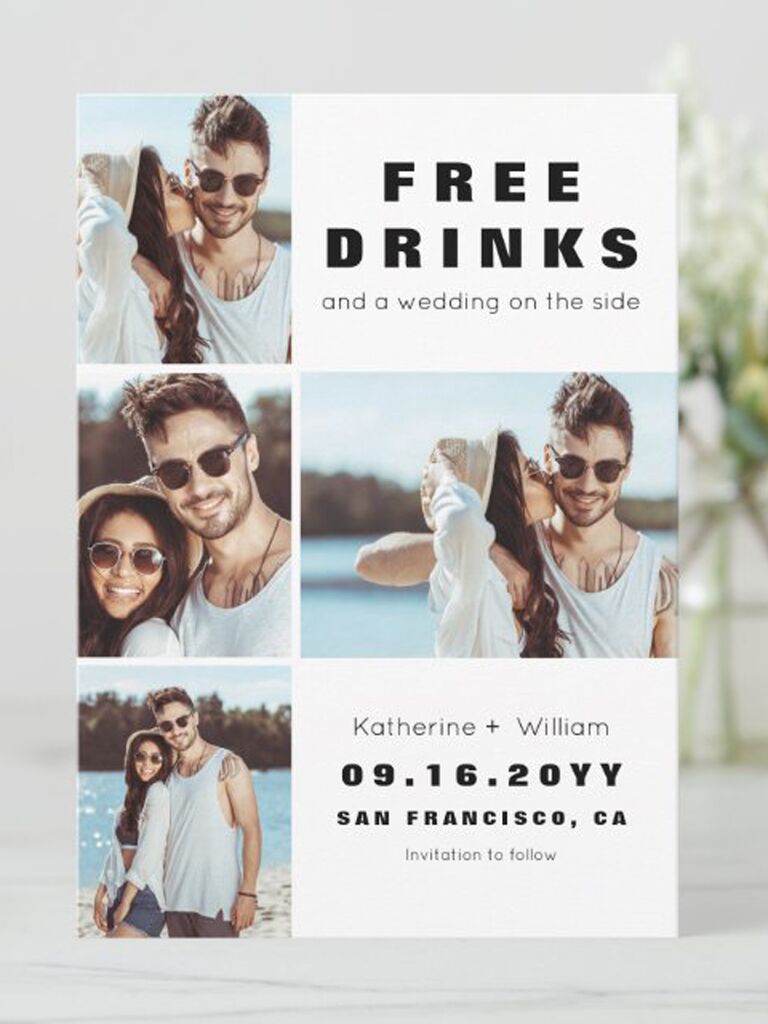 Cut right to the chase with your friends and let them know the drinks are on you (oh, and that you're getting married). You'll find plenty of variations on save-the-date cards promising an open bar (and sometimes bad dance moves), but this one is particularly nice as it also allows you to include up to four photos. It'll come in handy for reminding your friends that it's not just an open bar—there's a wedding happening, too.
Centerstate Digital Love is Patient Save-the-Date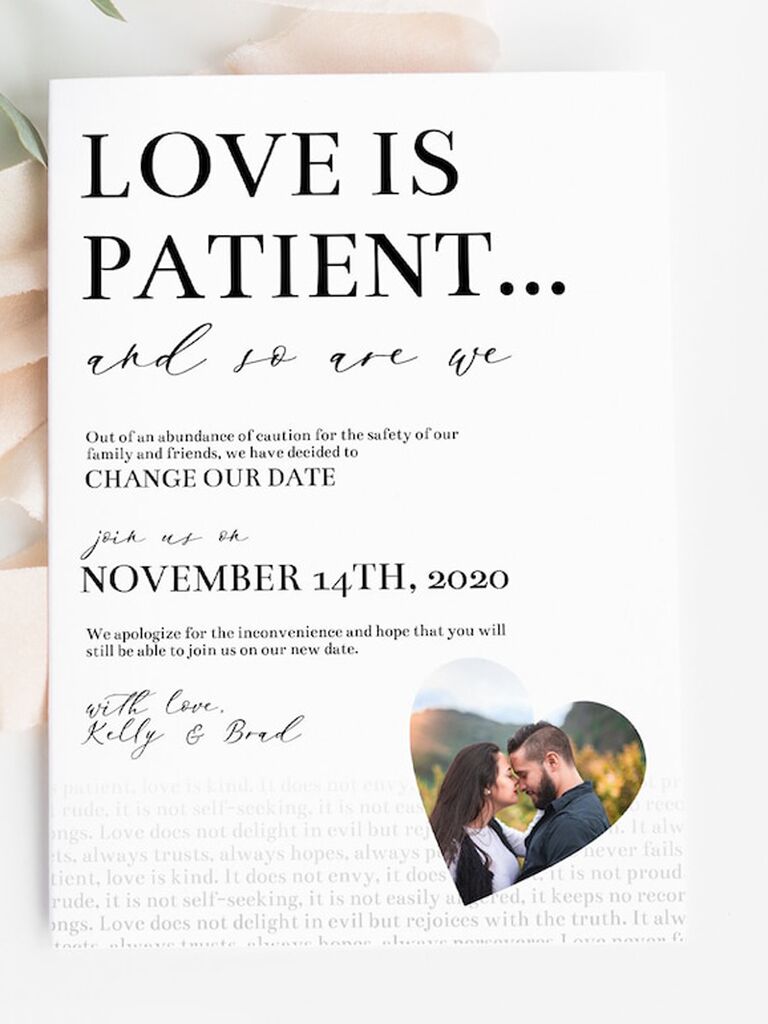 While some couples who had to cancel their weddings in 2020 and 2021 opted to elope, many patient couples are just delaying the big day to 2022 and beyond. If that's you, order these funny "Love is patient...and so are we" save-the-date cards. The template is only $10 and you can customize the text to list whatever reason you want for rescheduling.
Alula Sunshine Dog Save-the-Date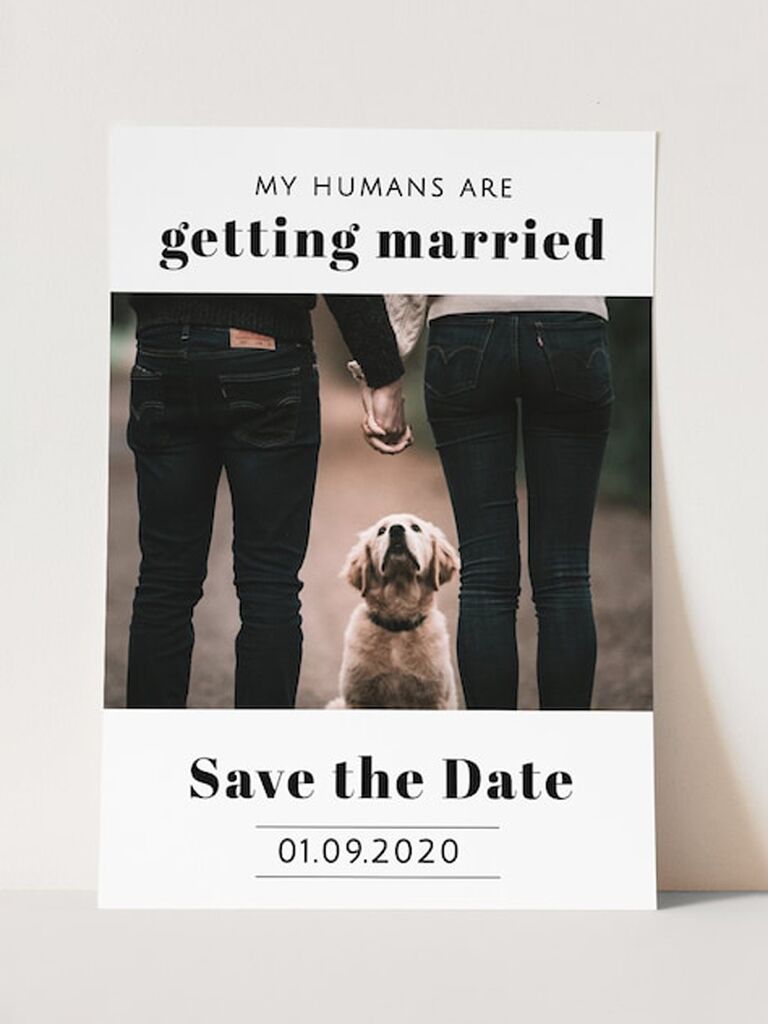 If you have a pup who you plan to have front and center on your big day, consider including them on a unique save-the-date card, too. This template has space to feature your pup front and center, as well as details like your wedding date and location. The final product is a digital file you can have printed with any online vendor. For an extra personal touch, why not have custom stickers of your pet made to seal each envelope?
Unique Invites Old Photos Handwritten Script Save-the-Date Announcement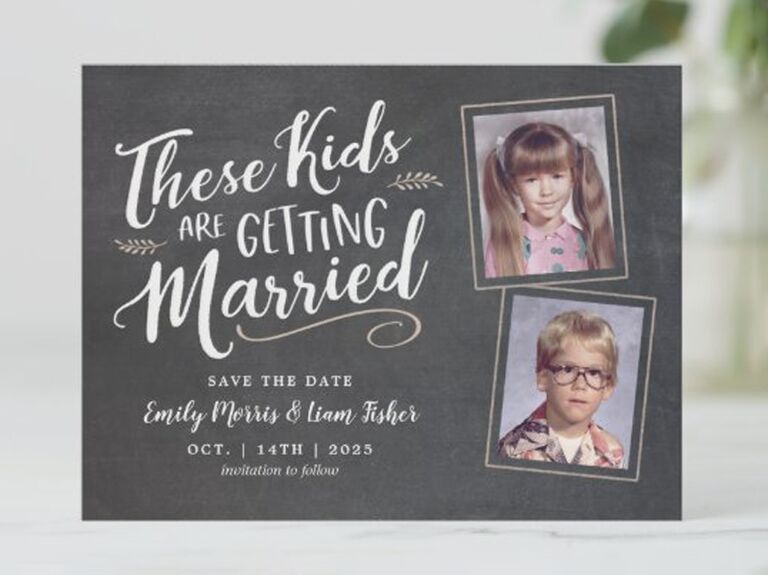 Couples ready to relive their awkward years—braces, bad haircuts, cringe-worthy outfits and all—should opt for this vintage-inspired save-the-date card featuring vintage you! Give friends and family a laugh when they open the envelope and see the two of you as kids. And there's no point in holding back—we all had an awkward middle-school phase, after all.
Caitlin Considine Original Plan Save-the-Dates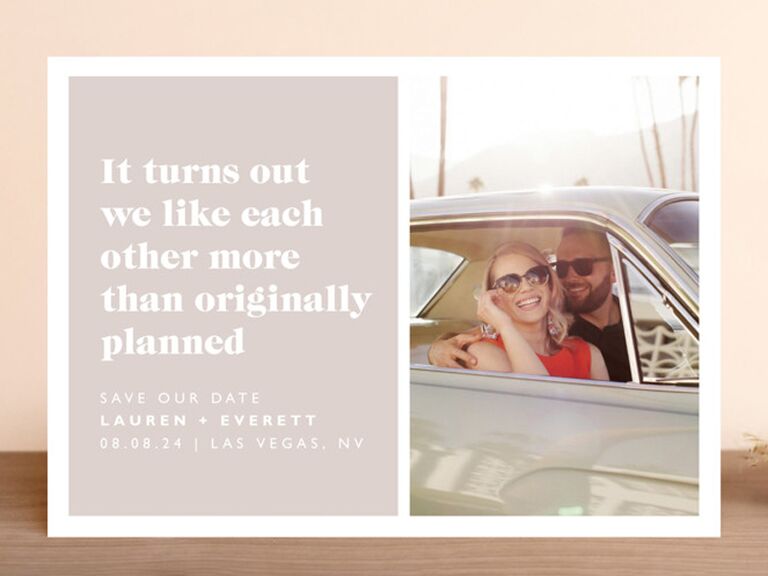 Especially cute for couples whose first date may have been relatively casual, this charming save-the-date design proves that you don't have to choose between something funny and something sweet. This modern card is available as a postcard or keepsake save-the-date magnet. You can customize everything from the color palette to the paper type, and the designer Caitlin Considine has hundreds of designs if you like the concept but want a slightly different message.
Stationery by George Fun Flowchart Save-the-Date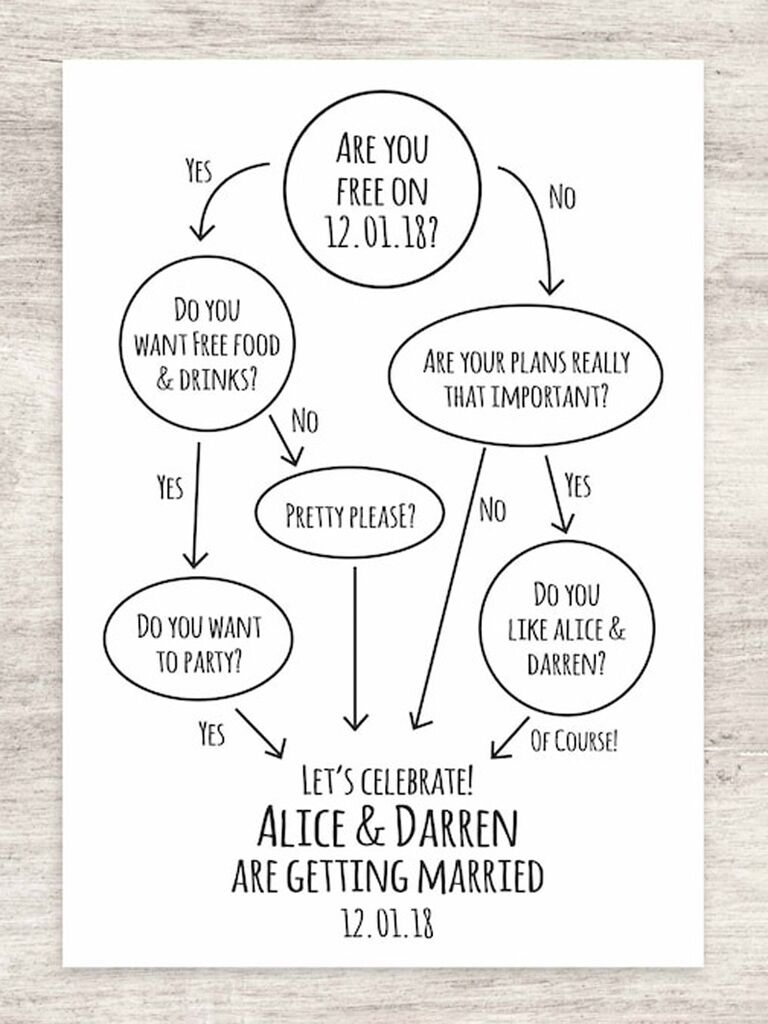 Make it easy on your friends and family to figure out if they actually should save the date or not with this oh-so-useful flowchart mailer. Wedding guests can follow along to figure out if free cake and their love for you is enough to entice them to attend (hint: it will be). The artist can also work in photos if you want to add an extra level of personalization.
Peridot Creative We Have a Date Postcard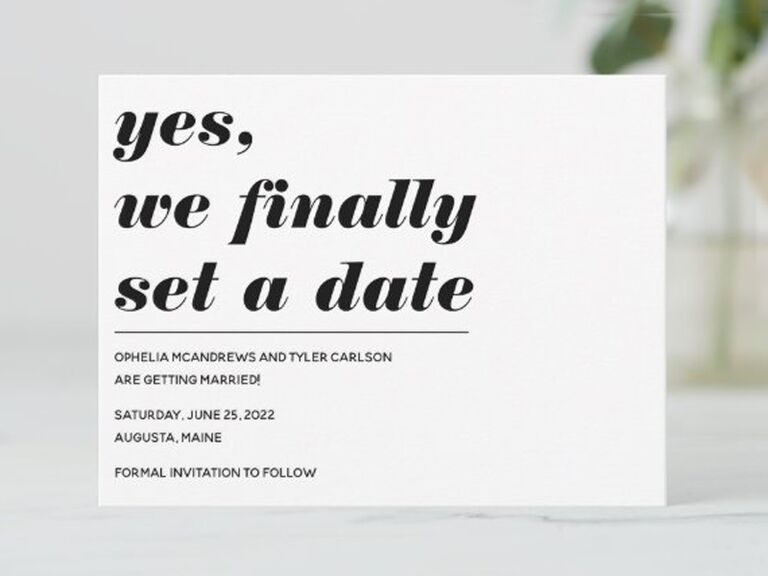 Don't beat around the bush: Yes, you've been together a while, but now you finally set a date. And these save-the-dates will let your guests know exactly when and where the big day is (finally) taking place. You'll find variations on this concept at most online retailers, including Etsy, but this option is especially nice as you can still put a photo on the reverse while keeping it simple on the front.
CeeCee Design Date Rescue Save-the-Date
Couples who take "save-the-date" literally should check out this whimsical take on a creative card, complete with a life preserver. It's as punderful of a card as you're going to find if you like wordplay, though you can add photos and more straightforward info like a wedding website URL or location on the back.
Bliss Paper Boutique Tech Save-the-Date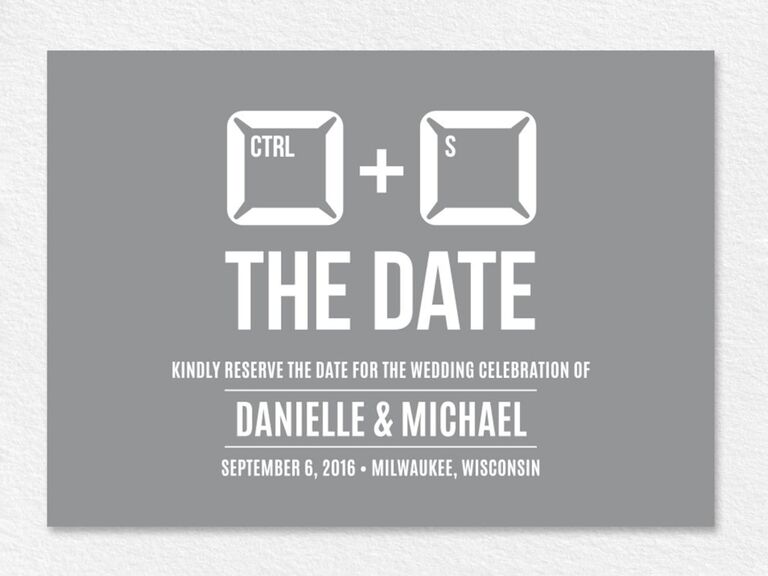 Couples who work in the digital space (or who just consider themselves true technophiles) will love this card, another semi-literally take on the "save" the date concept. Whether you're writers, programmers, artists or working for a tech startup, you know that the easiest way to save something is simply to press "CTRL" + "S." Now, your guests can do the same for your wedding date.
IYHTV Designs Did We Say Change the Date Cards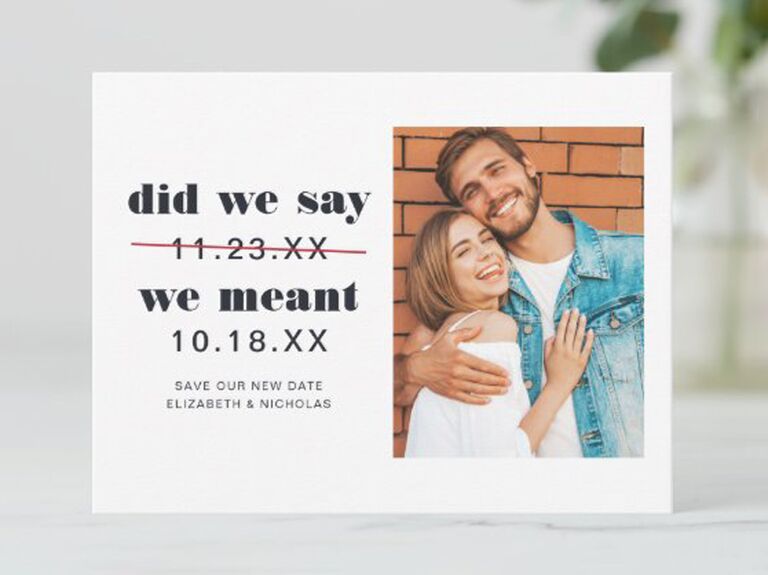 If you've had to change your wedding date for any reason, you'll probably need to send out new save-the-date cards. These cute cards are a great way to show your guests you're planning to roll with the punches, rescheduled wedding and all.
Black Dog Art Dog of Honor Save-the-Date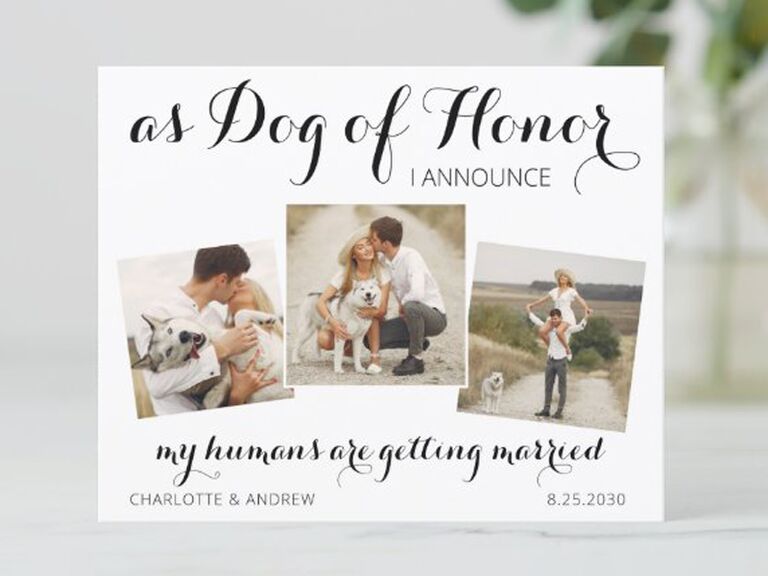 This card is yet another cute spin on save-the-date cards for dog owners. It does away with the traditional "parents presenting the wedding" thing and instead gives that honor to your furry bestie. Upload a few photos of the three of you, and you're ready to go. (Don't forget to buy the best dog a fancy bowtie for the big day, of course.)
Green Shingle 'Bout Time Save-the-Date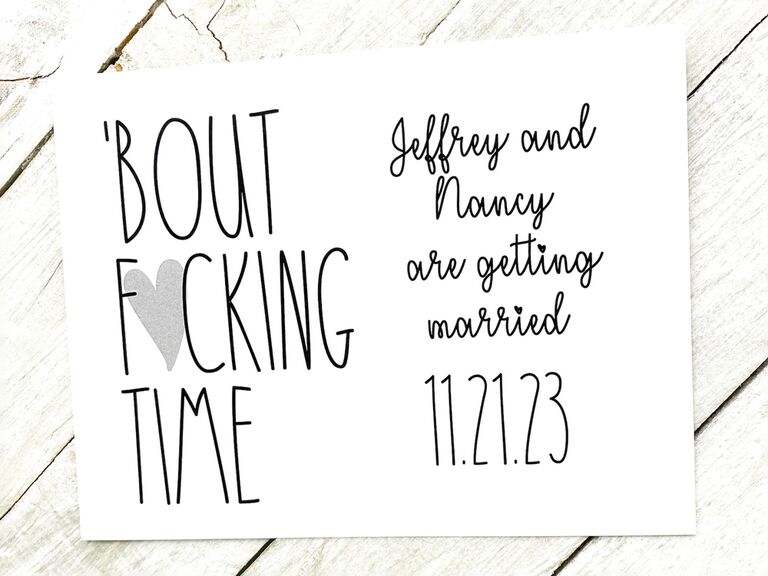 Okay, this to-the-point save-the-date card may not be the best choice to send to Grandma. But if you've been dating for years, or perhaps already rescheduled your wedding at least once, these very nontraditional save-the-dates are an ideal choice (especially considering they're very affordable and ship quickly).
Jill Ellis Let's "I Do" This Thing Save-the-Dates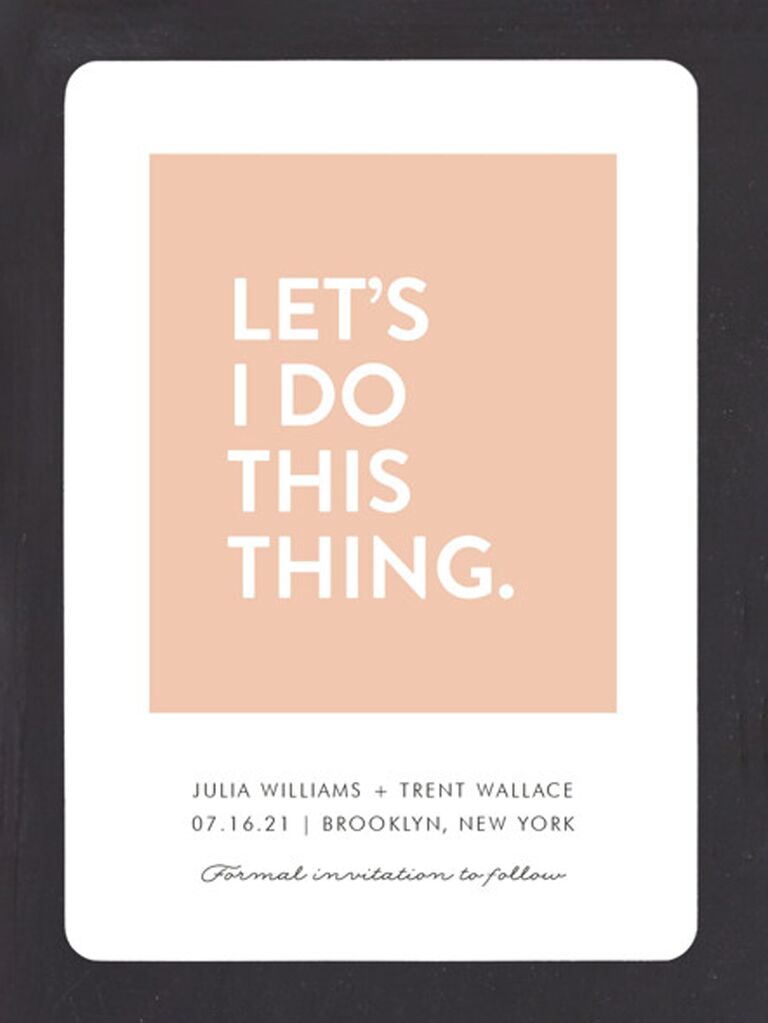 If the two of you are ready to stop doing the dating thing and start doing the married thing, let your friends know with this modern and bold announcement. You can opt for the solid color background or add a photo, and the seller can print on magnets to ensure your guests actually do remember to save the date.
Mistry Doodler Groom & Groom Save-the-Date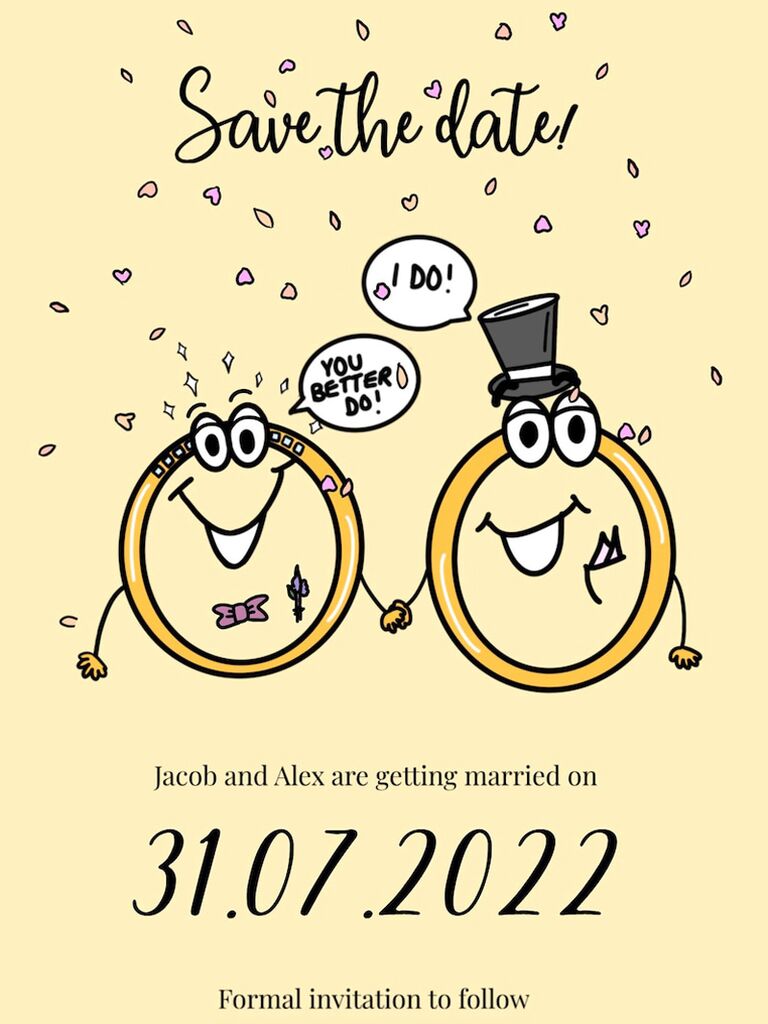 Let the rings do the talking with this unique save-the date-card, perfect for grooms with a sense of humor. You can choose from a dozen background colors and request that the artist change the speech bubble text or add in personalized features like a beard or glasses. There are also hers-and-hers and his-and-hers versions available, too.
Wed With Stylee Open Bar Save-the-Date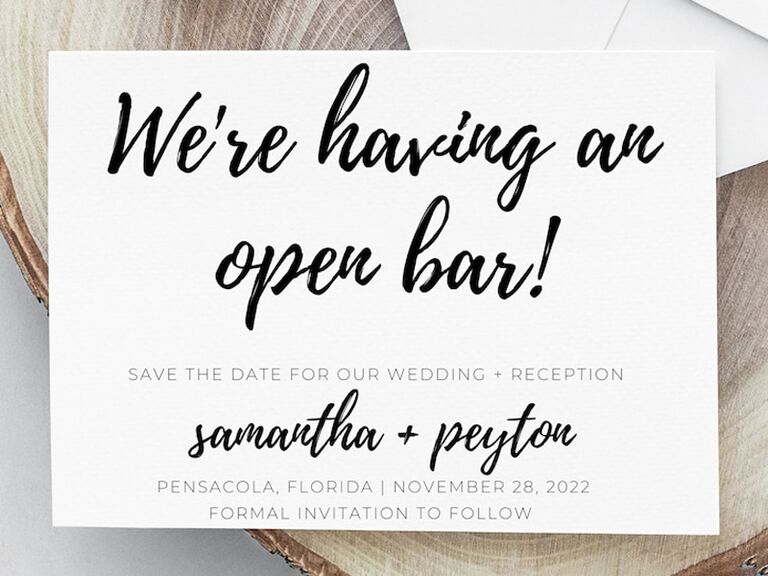 Invite your nearest and dearest to your open bar—oh, and your nuptials—with these straightforward and creative save-the-date cards. You can DIY the digital download using Canva, a free online graphic design program which allows you to change the colors if you want to brighten it up a bit. Tough, we're pretty sure the words "open bar" in big letters will probably be enough to entice most of your guests to say bookmark your date.
I Smiled You Store 'Nuff Said Save-the-Date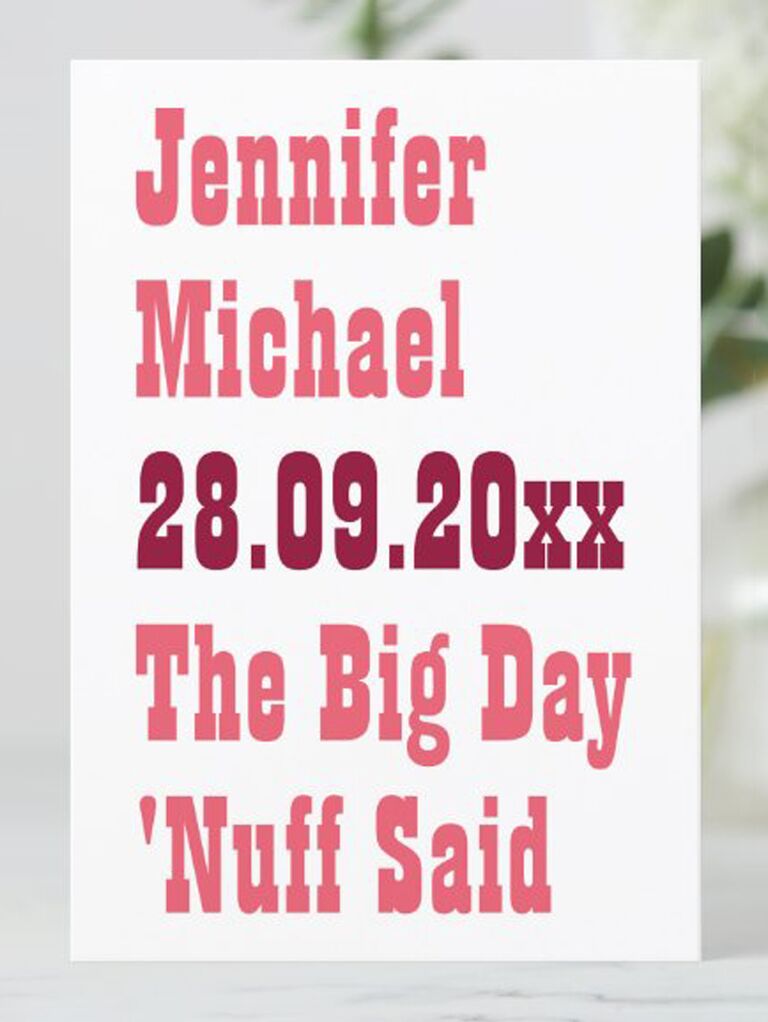 Short on time but still need to let your friends and family know the wedding is coming up? These funny wedding save-the-dates don't waste anyone's time. Just add your names, the date and the fact that it's the "big day," and you're good to go. If you do want a bit more personalization, you can use the online editor to add your monogram, additional details or an engagement photo to the printable.
Nicky May Creates Simpsons Portrait Save-the-Date
Give your save-the-date cards the cartoon treatment with these custom calendars that nod to the longest-running show on TV: The Simpsons. Simply email the artist your photos and they'll create a custom design with your smiling cartoon faces. There's not a lot of space for additional details, so consider putting anything else your guests need to know about your wedding day on your official wedding invite or website.