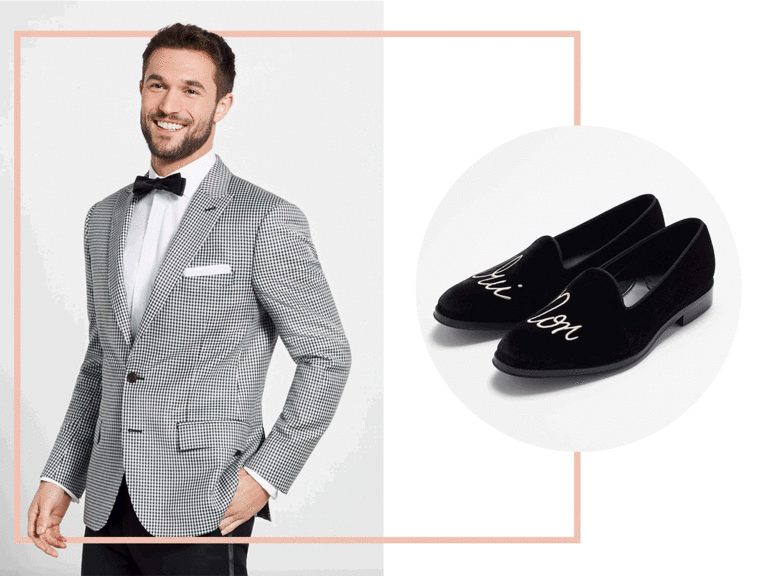 When you start thinking about what to wear for your wedding, you might not know too much about the differences in styles or trends—especially if you don't get dressed up on a regular basis. Once you've decided on the formality and overall vibe of your day, this flowchart can give you some direction on whether a tux or suit is the right pick. But of course you'll also want to put your own twist on it to really showcase your style and personality. That's why we spoke to Jerod Walburn, a menswear expert from The Black Tux, to get the scoop on the latest trends you might want to incorporate into your (or your groomsmen's) look. From bold colors to a fun reception-only outfit, these ideas should get you excited about planning your wedding fashion.
Trend #1: Standout Grooms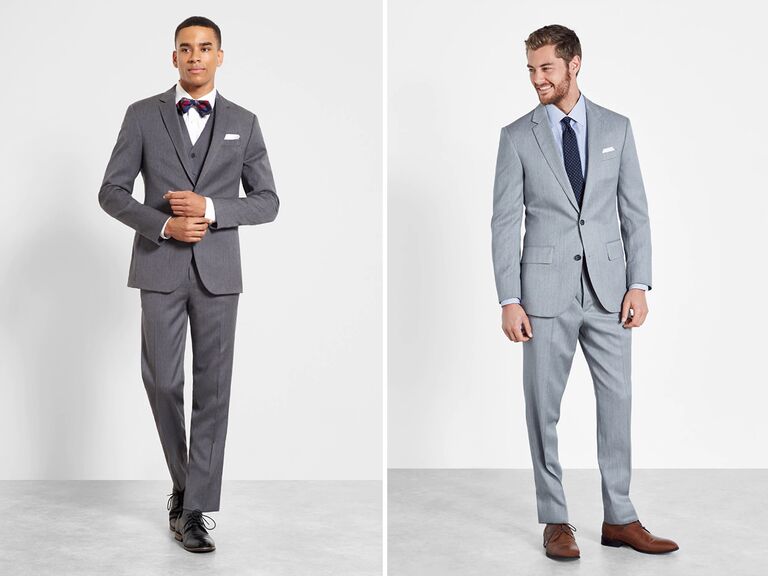 Brides have always worn different dresses from their bridesmaids, while grooms typically blended in with their wedding party. Now, more grooms are deciding they (rightfully) deserve their own unique look too. "I don't think there's anything wrong with matching, but there are so many ways to help the groom step forward a little bit, which is great for your big day," Walburn says. You can do this through your color and styling choices, or simply by choosing different accessories. So maybe the groom sports a charcoal suit while the groomsmen wear light gray—just choose hues that are in the same color family. Or the groom wears a three-piece suit and the rest of the guys wear a similar two-piece number. The goal is to have some connecting thread, whether it's the same tie or an accent color, so you have a cohesive look.

What to Rent (from left): The Black Tux The Whitman Outfit, $215; The Thornhill Outfit, $175; both available at TheBlackTux.com
Trend #2: Bold Colors and Prints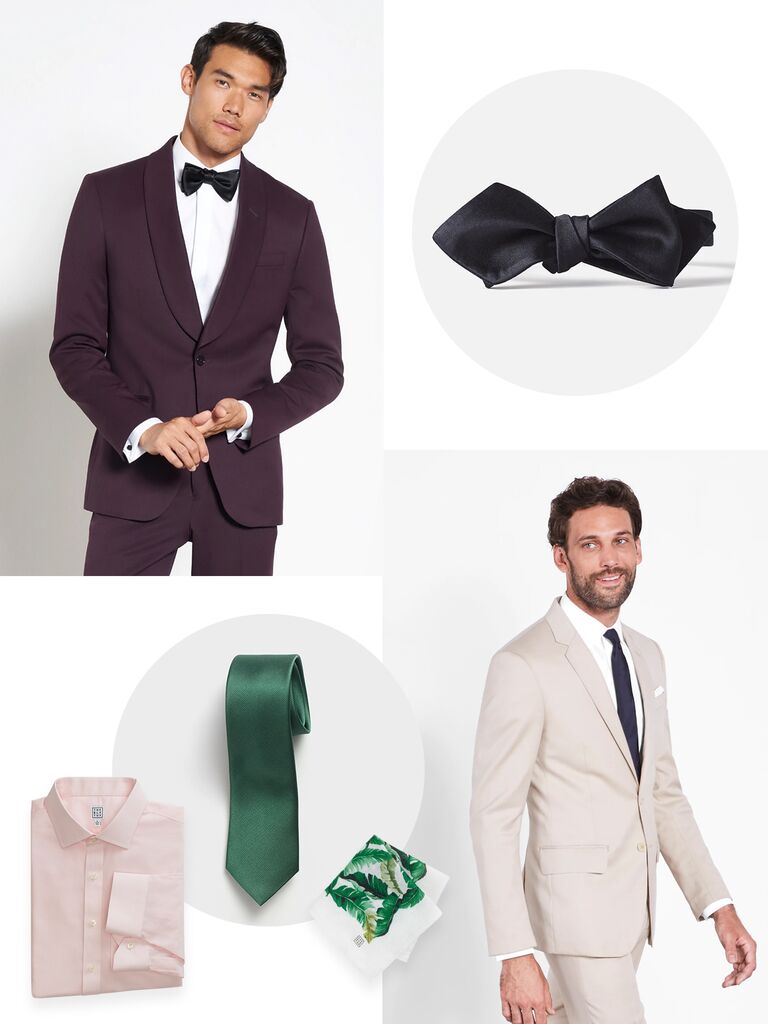 Your wedding is the perfect opportunity to stand out from the crowd, and there's no easier way to do that than with color. A brighter color palette is on trend, says Walburn, whether you choose a vibrant jacket or use accessories to punch up a neutral suit. For a formal affair, you still can't go wrong with a classic black tux. But if it's not a black-tie dress code, and "you're more of a stylish, fashionable guy, don't be afraid to go for a colorful tuxedo," he says. (Jewel tones like plum and emerald are both good alternatives.) For a less formal event, consider a tan or blue suit, then add a necktie or pocket square in a unique print or bold color.
What to Rent (clockwise from top): The Black Tux plum shawl tuxedo, $145; black satin diamond self-tie, $10; tan suit, $110; banana leaf pocket square, $10; olive silk necktie, $10; pink dress shirt, $20; all available at TheBlackTux.com

Trend #3: Velvet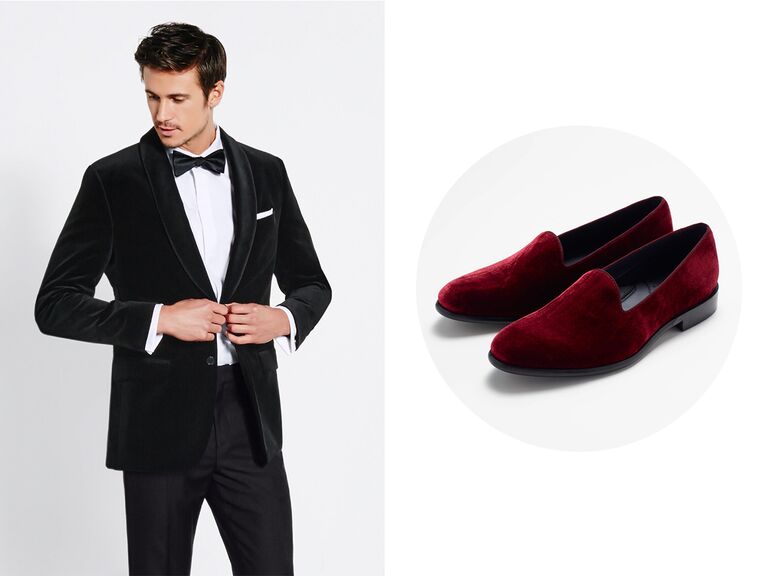 Velvet is huge for 2019. You can make a big statement with a jacket or use it in small doses, like with shoes or accessories, says Walburn. Try a luxe black velvet jacket, or go for a daring color like ruby red. For a more subdued version of the trend, add a velvet bow tie or pair velvet slip-ons with your standard suit or tux. "[Velvet slippers] are a great opportunity to step outside your comfort zone and up your game," he says.

What to Rent (from left): The Black Tux velvet jacket tuxedo, $125; burgundy velvet loafers, $35; both available at TheBlackTux.com
Trend #4: Slim-Fitting Suits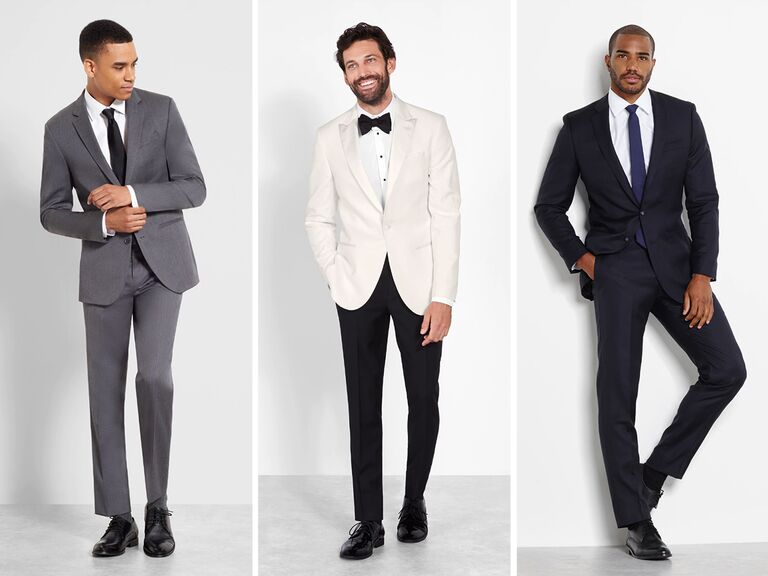 "Men's fashion in general is trending toward a looser fit, but for a suit, a good fit still means a slim fit," says Walburn. Don't worry, we're not talking skintight; it's all about a tailored look with tapered trousers and a close-fitting jacket. "[Fit has] a huge impact on the way you'll look and feel, so it's really important to get that right," he says. If you're renting, make sure you try on your look well before the big event. The Black Tux makes that part easy with free at-home try-ons and showrooms around the country. To help you get the right fit on the first try, simply answer a few online questions about your body type, and The Black Tux will recommend the sizes likely to suit you.

What to Rent (from left): The Black Tux grey suit, $110; The Clemens Outfit, $195; navy suit, $110; all available at TheBlackTux.com
Trend #5: The Second Look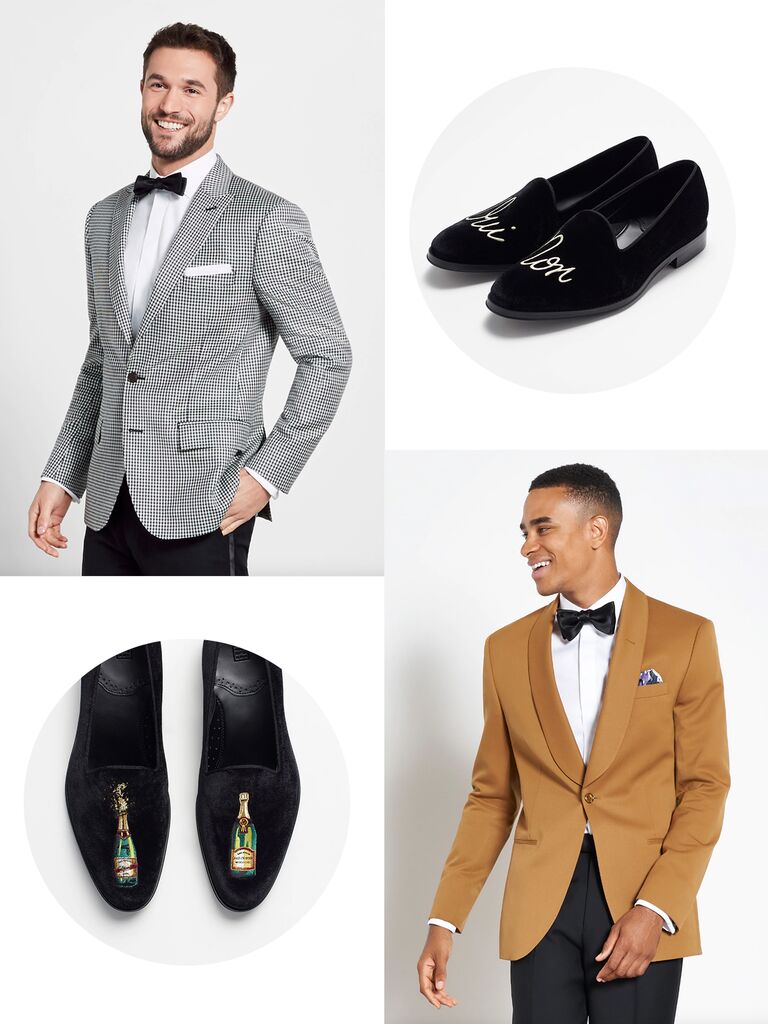 You may already know about the second look trend for brides—changing into a new outfit before or halfway through the reception—but grooms are getting in on the action too. "The reception is a great opportunity to have some fun and really own your look," Walburn says, especially if your ceremony is on the more formal side. For example, you can recite your vows in a classic tux, then change into a more colorful (and more fun) dinner jacket. Or when the music starts playing, switch up your footwear from black oxfords to those aforementioned velvet or monogrammed loafers. The bottom line? It's your day, which means pretty much anything goes.

What to Rent (clockwise from top): The Black Tux gingham jacket tuxedo, $125; Decisions velvet loafers, $35; marigold shawl jacket tuxedo, $145; Cheers! velvet loafers, $35; all available at TheBlackTux.com
Want more inspiration before finalizing your look? Check out The Black Tux's men's wedding attire guide, or dive deeper into their 2019 men's wedding trends.
This article is sponsored by The Black Tux, the easiest (and most stylish) way to outfit your wedding party.