7 Upcycled Wedding Ideas
Laura Gordon Photography
Not only is upcycling eco-friendly, but giving new life to your old things is a great way to add a DIY wedding element to your decor. Take for example these ideas below. They'll make you think twice before throwing anything away.
Pastel Fabric Garland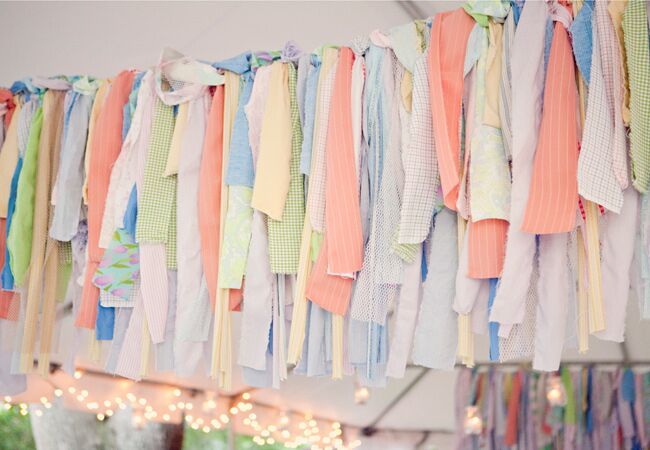 Collect fabric scraps and old clothes from your basement, friends and family to create a pretty textured garland for your reception.
From the album: A Garden Charm Wedding in Lilburn, GA
Board Game Piece Menu Labels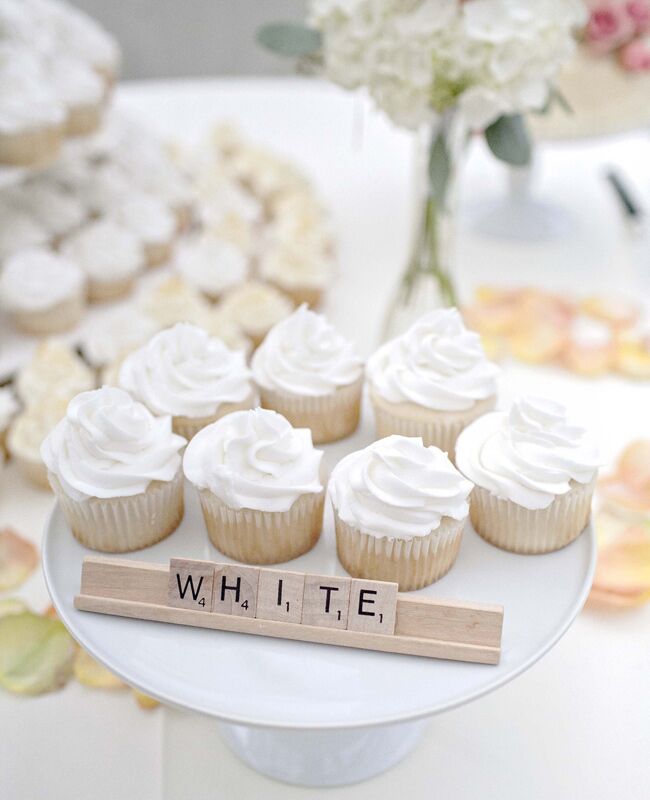 There's nothing worse than having a board games with missing pieces from family game nights past just piling up in your parents' attic. Dump out those long forgotten games and use the pieces in creative decor.
From the album: A Whimsical Scrabble-Themed Wedding in Cincinnati, OH
Vintage Luggage CardTable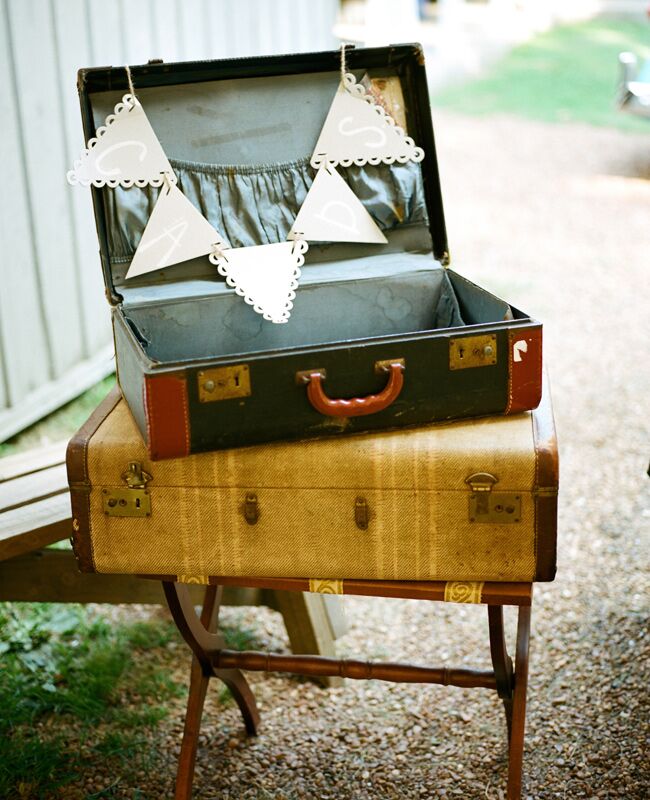 Vintage luggage makes the perfect guest book or card box display (especially on top of a vintage luggage rack!). All the better if you can find a piece of blue luggage — make it your "something blue!"
From the album: A Fall Vintage-Inspired Wedding in Nashville, TN
Keg Barrel Dessert Table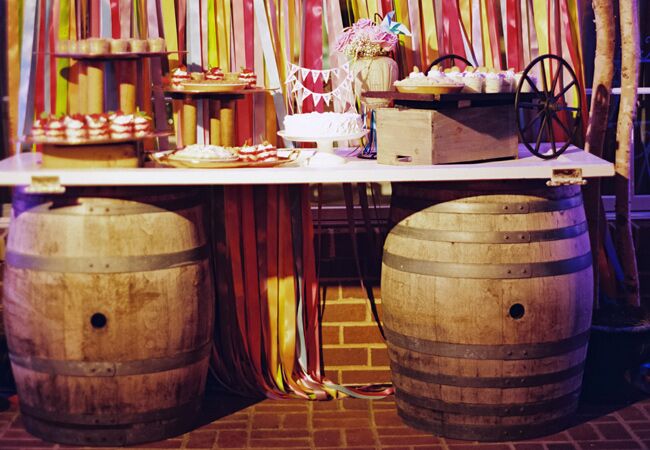 This rustic dessert table made out of two old keg barrels and a door is actually genius and an easy way to make extra table space in a pinch. Keg barrels also make for perfect ceremony decor (think pedestals for an overflowing floral arrangement)!
From the album: A Charming Colorful Wedding in Virginia Beach, VA
A Six-Pack Centerpiece Vessel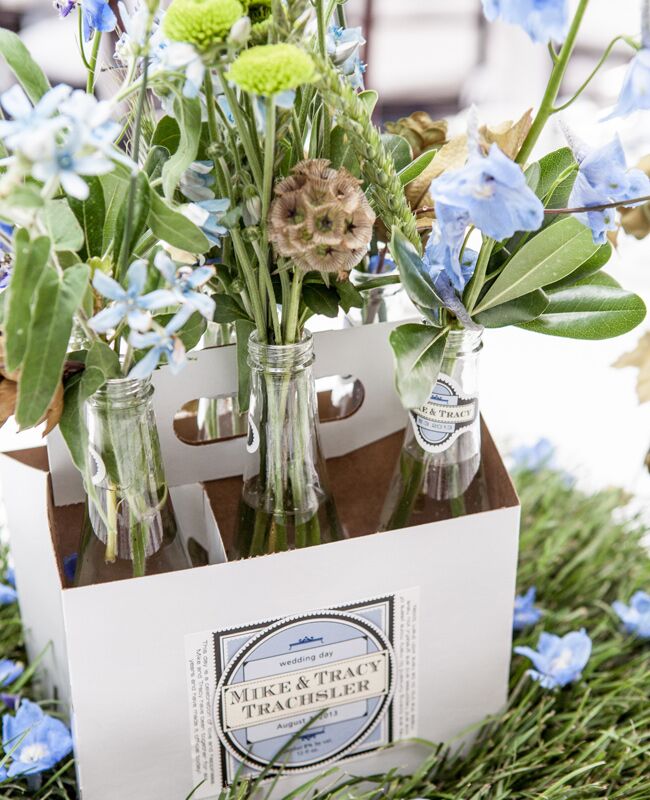 Before you take those beer carriers out for recycling, hear us out. Spray-painted white and filled with bottles customized with your wedding monogram and a few fresh wildflowers gives these recyclables a whole new life. Reuse carriers you already have or buy kraft paper carriers at wholesale (we found them at RAndBsWineSupply.com). Another fun idea: Use them as condiment holders for a laid-back BBQ rehearsal dinner!
From the album: A Simple Summertime Inspired Wedding in Syracuse, NY
Oversized Can Centerpiece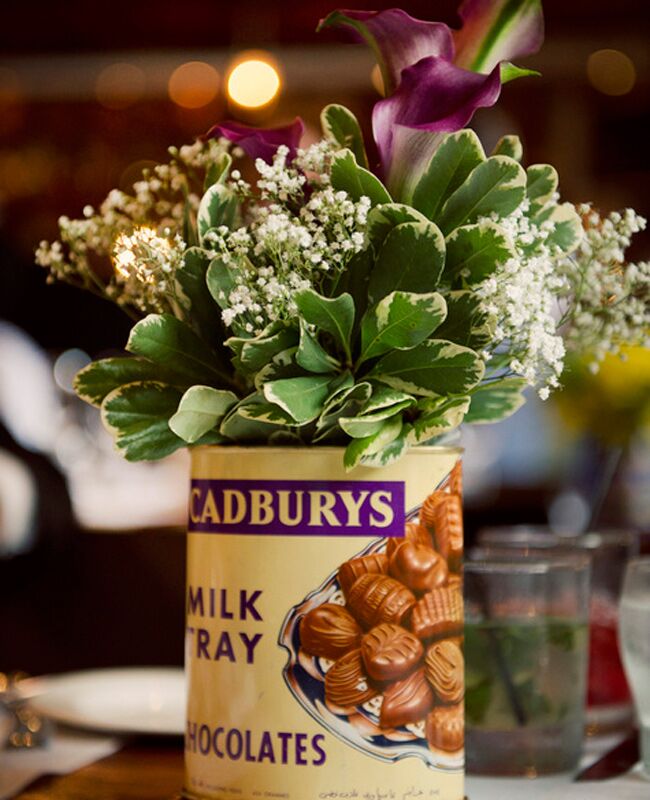 Collect cans with pretty vintage labels and reuse them as vessels for your centerpieces! Find them at flea markets, garage sales or even grandma's attic.
From the album: A 1920s Wedding in Toronto, Canada
Vintage Bathtub Bar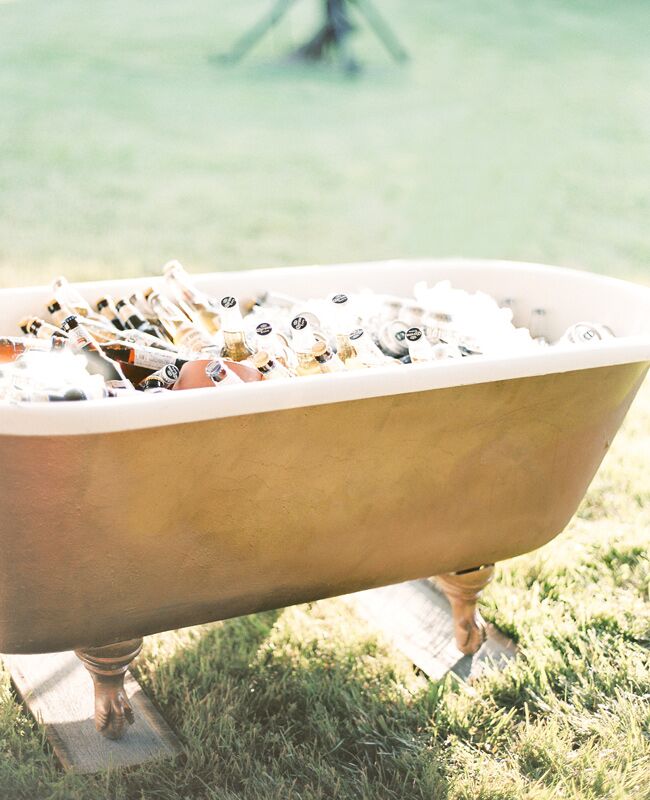 Found pieces of furniture can be an unexpected way to serve drinks at your wedding. And while we don't expect that you have a claw foot bathtub lying around (although if you do, we're extremely jealous!), we know of lots of couples who have picked up amazing pieces at garage sales and antique markets.
From the album: A Quirky Vintage Wedding in Unison, VA
Want more? Of course you do!
> 6 eco-friendly wedding reception ideas
> Ideas for wedding gifts that give back