12-Year Anniversary Gifts They'll Really Appreciate
These traditional, modern and alternative gifts go above and beyond.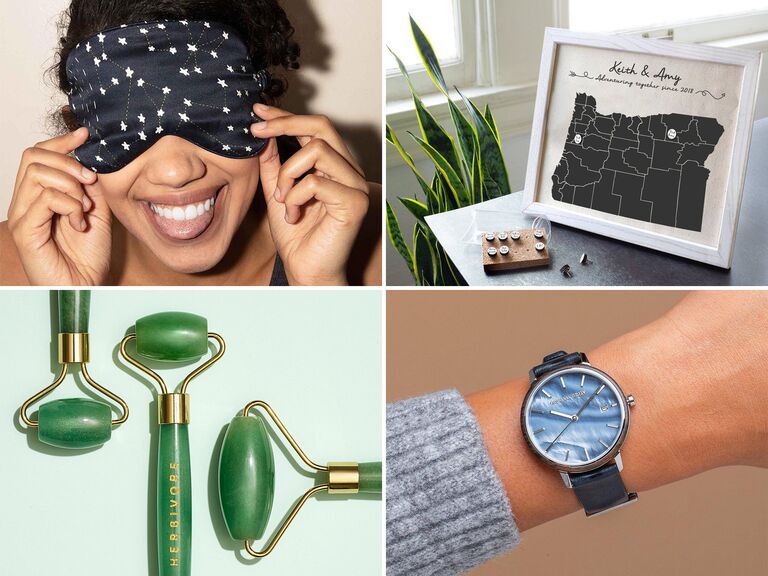 We have included third party products to help you navigate and enjoy life's biggest moments. Purchases made through links on this page may earn us a commission.
Three cheers for a dozen years! Now comes the fun part: picking out the perfect 12-year anniversary gift for your partner or favorite couple. You may be familiar with the traditional and modern anniversary gift themes: platinum at 20 years, silver at 25 years and gold for 50. Other marriage milestones get less attention, but every beautiful year spent together is worthy of special recognition—and the 12th anniversary is no different. Keep reading to learn about this year's traditional and modern themes, then shop our favorite 12th wedding anniversary gifts. Don't worry—if neither symbol speaks to you, we've found plenty of alternative presents too.
In this article:
What Is the 12-Year Anniversary Gift?
Traditional: Silk or Linen
Long story short: There are traditional gifts associated with every wedding anniversary year, which comes in handy if you want to give something with extra meaning. The traditional 12-year anniversary gifts are silk and fine linen—two classic home decor materials that represent the life a couple has built together. If you're unsure where to begin, don't fret—there are plenty of traditional gifts on our list, from soft silk eye masks to decorative linen napkins.
Modern: Pearls
If you're looking for modern 12-year anniversary gifts, pearls are considered the contemporary option. A dozen years of marriage is an incredible achievement, so why not celebrate with one of the finest gemstones? A timeless gift, pearls traditionally represent purity, honesty and wisdom. In association with pearls, the 12th wedding anniversary color (yes, that's a thing) is oyster white, so we've also included our favorite mother-of-pearl gifts—from a luxury watch to a really fancy pen.
Anniversary Flower and Stone
If you're searching for something else that's meaningful, there are a couple other 12-year anniversary themes you can focus on. The 12th anniversary flower, the peony, is associated with love, honor and happiness. Meanwhile, the anniversary stone, jade, represents nobility and wealth (and makes a lovely jewelry accent stone).
Silk and Linen Anniversary Gifts
It hardly gets more luxurious than fine linen or silk anniversary gifts, so you simply can't go wrong with these classy and stylish picks that keep with tradition. Your spouse or the couple will be smitten with one of these incredibly thoughtful and pampering traditional 12-year anniversary gifts. Whether you choose a silky pajama set or a personalized linen art piece, they'll be impressed by your creativity and good taste.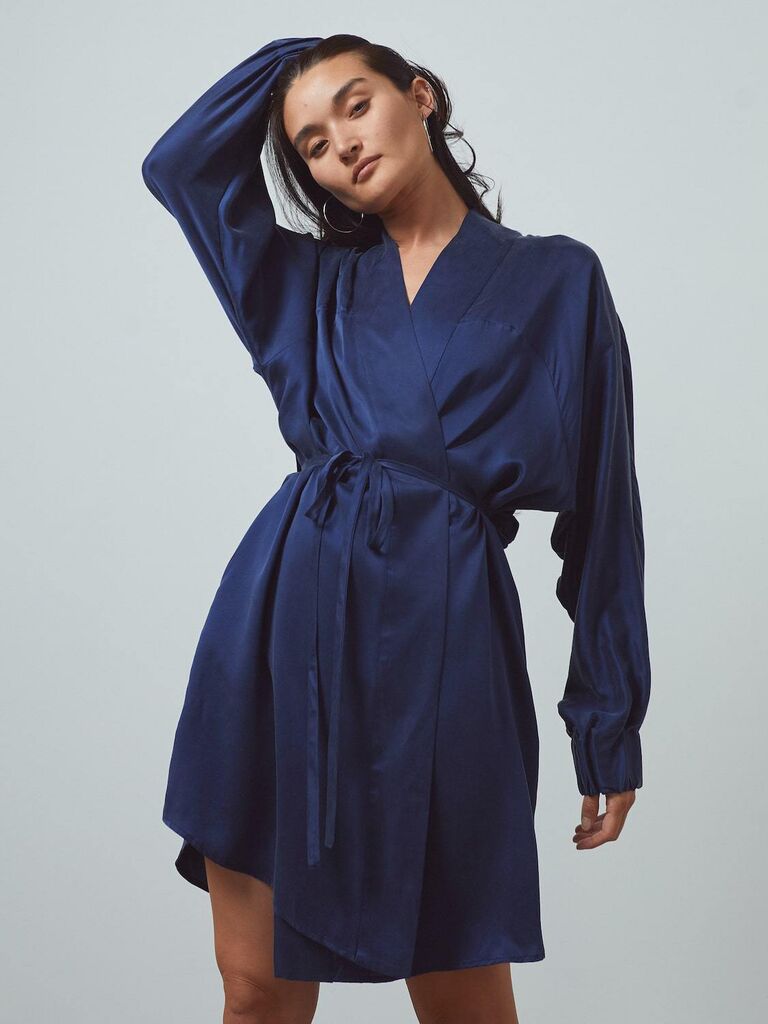 A silk robe is a foolproof 12-year anniversary gift. And this one is—believe it or not—machine washable. It's also made with thermoregulating technology, so they'll never get too hot or too cold while wearing it (likely for hours, we might add).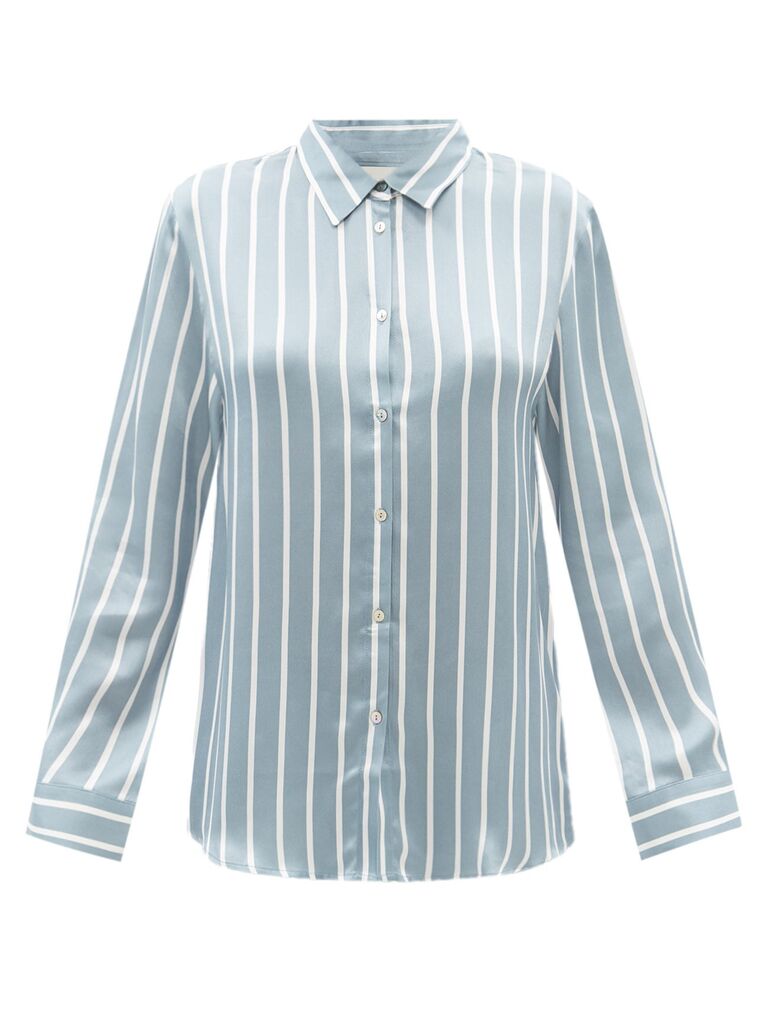 Getting a great night's sleep will be a breeze when they can relax in silky soft pajamas. This striped satin PJ shirt is an ultra-cozy silk anniversary gift.
They'll be the best dressed at special events after you give them this versatile tie gift set. Included inside are a linen-silk pocket square and a coordinating tie.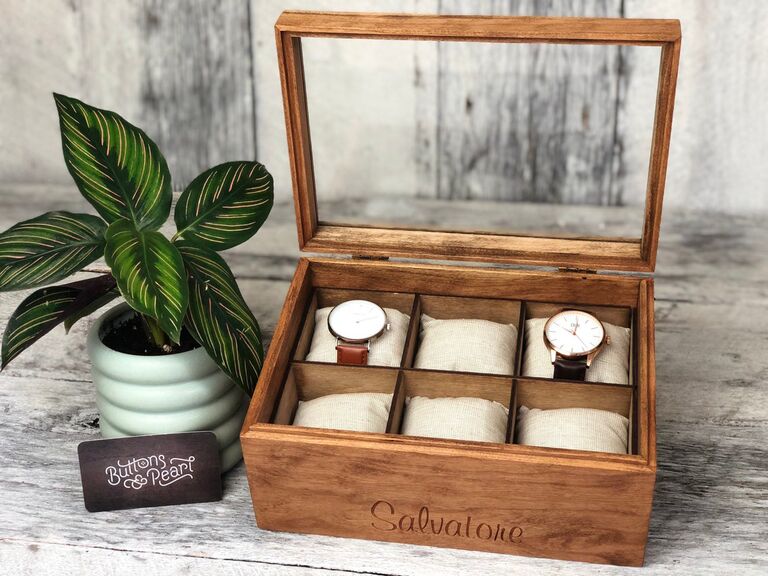 This gift knocks it out of the park in terms of traditional 12th anniversary gifts for watch lovers. This glass watch box has tiny linen pillows that'll keep their accessories safe and snug. And, you can engrave their name on the box for a personalized touch.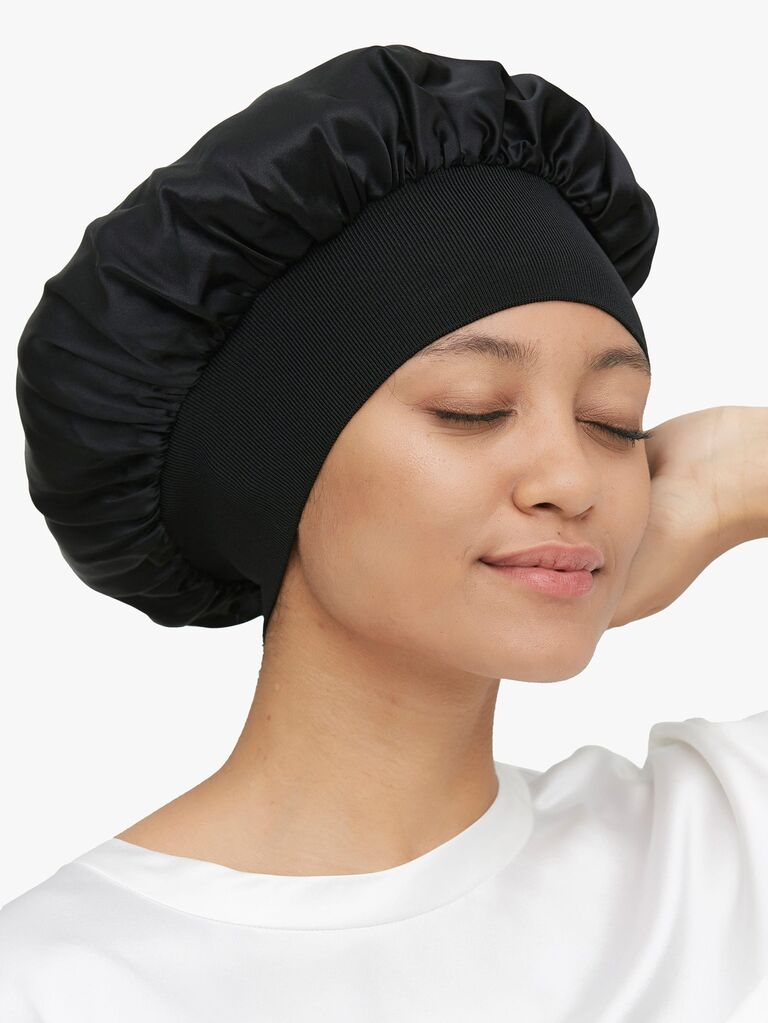 If you're unfamiliar with silk sleep caps (also known as bonnets), they're one of the most essential hair care items out there. The silk absorbs oils and moisture, preventing frizz, tangles and split ends. Your loved one will be thanking you for this gift later.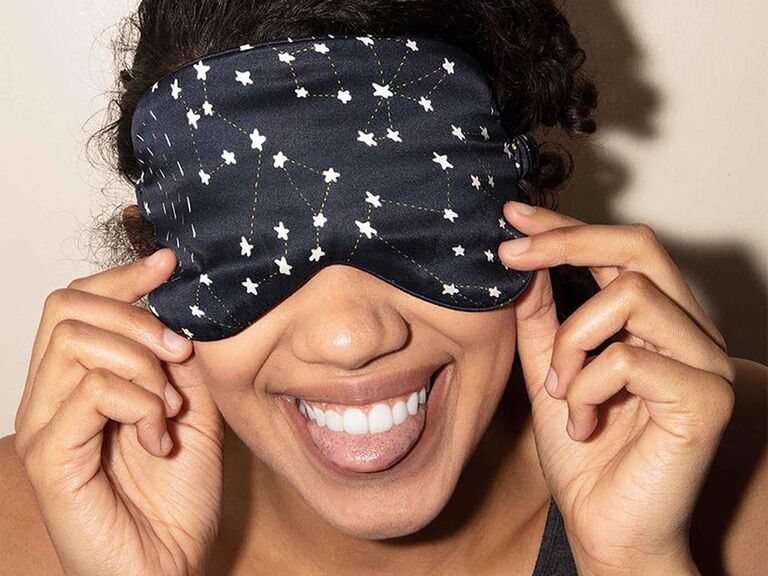 Make them feel glamorous with this incredibly soft silk sleep mask. It's made of breathable fabric that protects the hair and skin from friction damage that can occur while sleeping (and comes in so many fun color variations).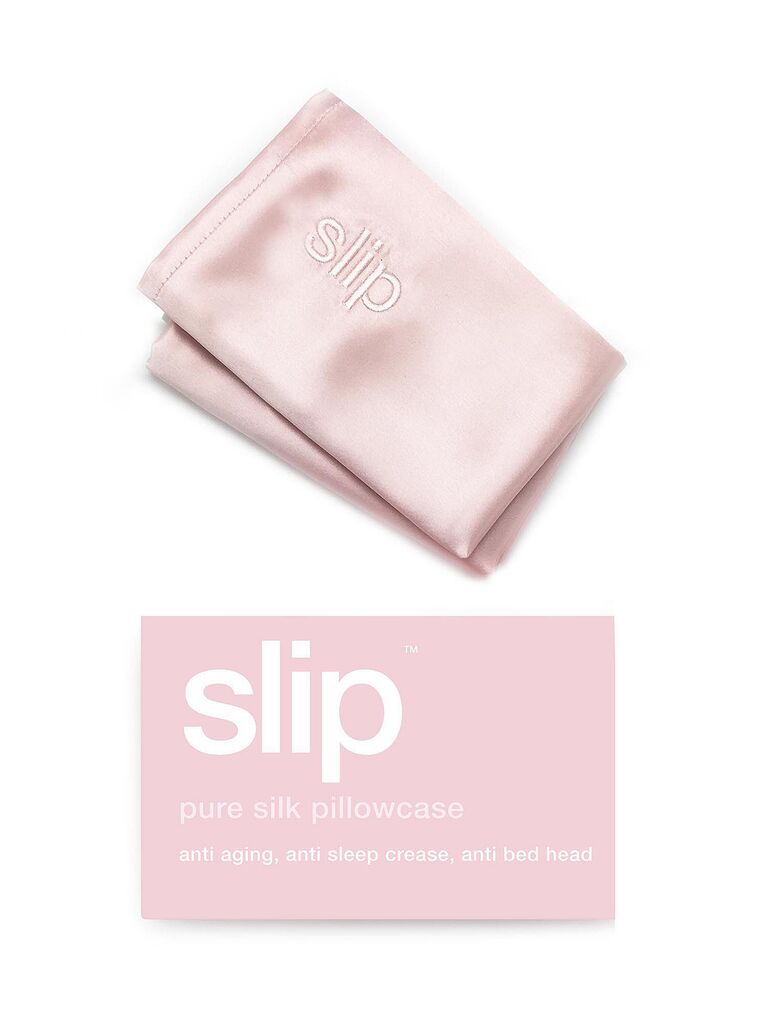 Like silk bonnets and eye masks, silk pillowcases also have similar protective benefits. The fine material can prevent frizzy hair and it doesn't transfer oil and dirt as easily. While you're buying one for your spouse, don't be afraid to pick up a matching one for yourself too!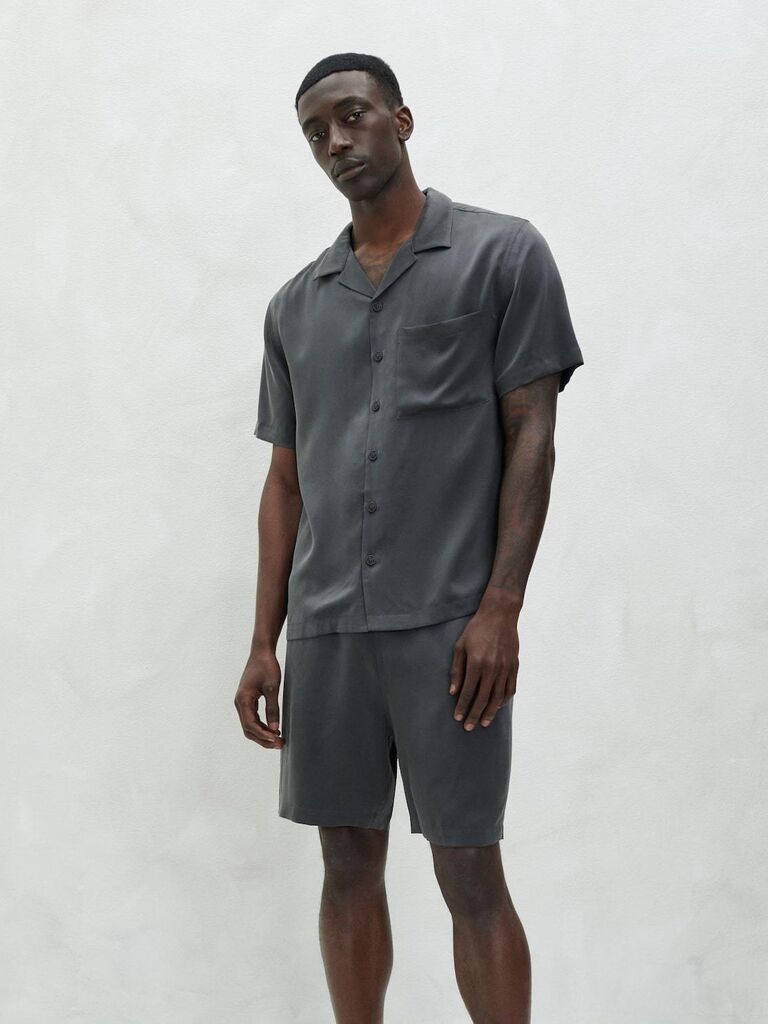 In keeping with the theme of luxurious and cozy silk gifts, we just had to include this silk loungewear set from Lahgo. The set includes a dapper collared shirt, which they can dress up or down, plus silky smooth shorts.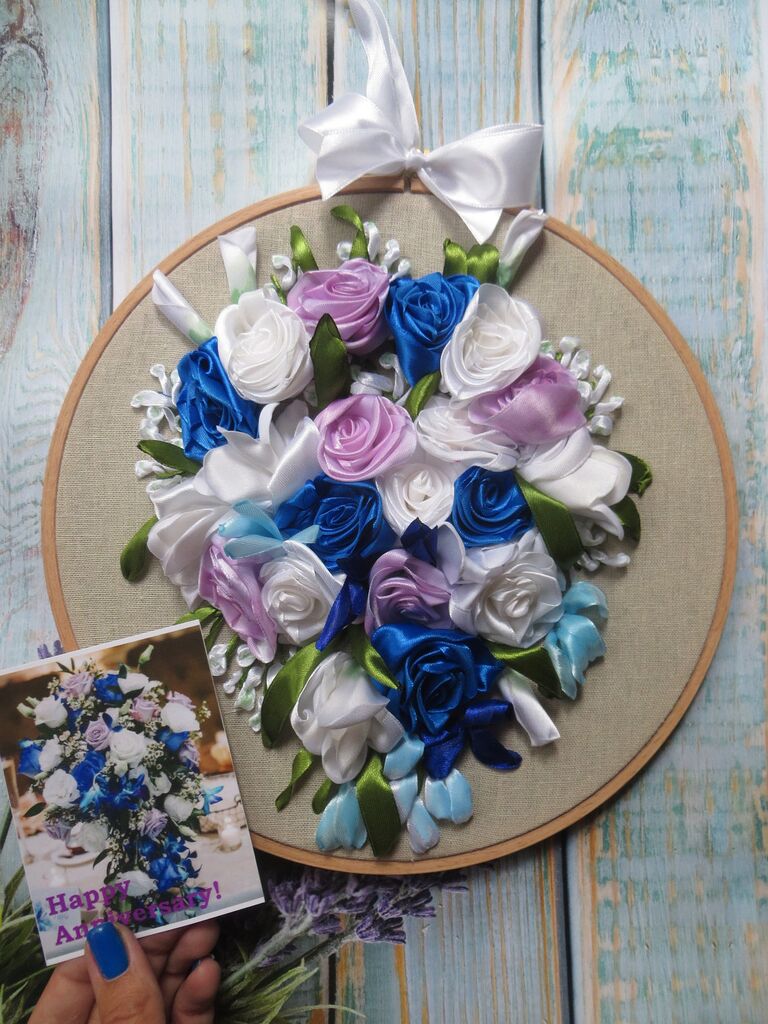 Sadly, wedding flowers don't last forever, but you can preserve their memory with this linen recreation of the wedding bouquet. Using just a photo of the blooms, this Etsy shop will turn them into a 3D art piece. What a beautiful way to celebrate 12 years of marriage!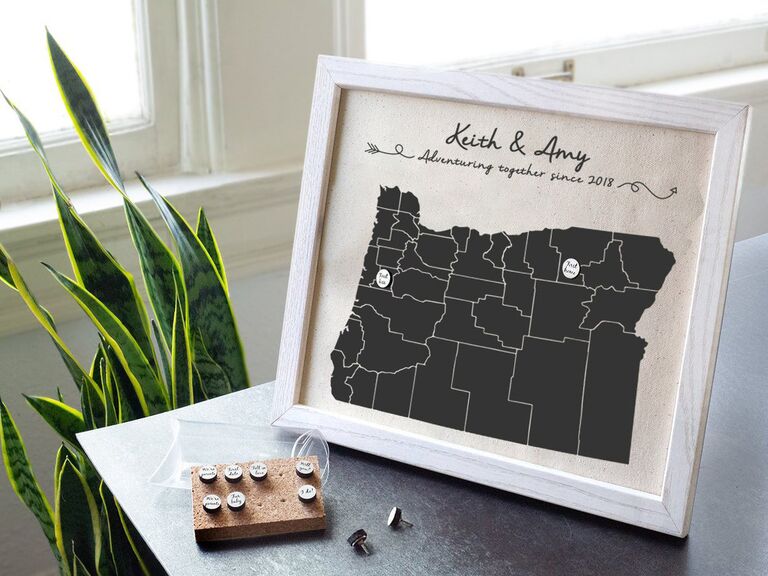 This linen 12-year anniversary gift is a sentimental way to record precious life milestones. The custom map comes with 10 pushpins to mark where meaningful moments took place, from your first date to the honeymoon.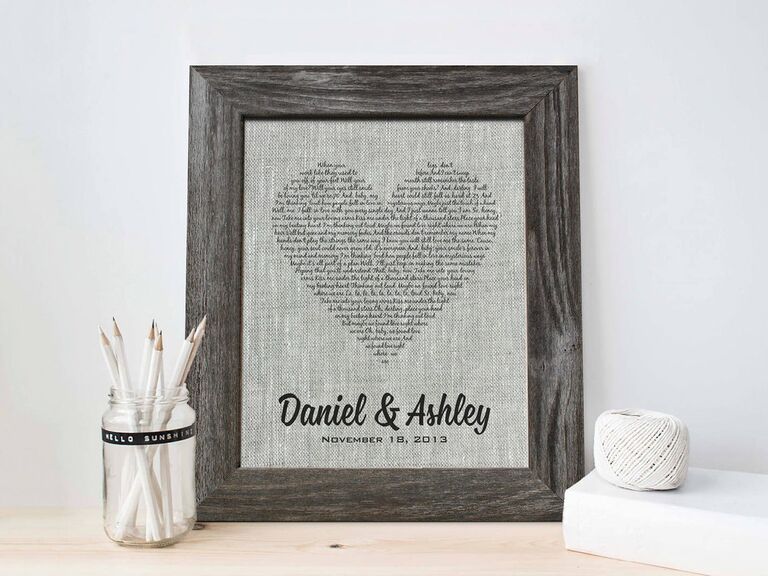 This personalized linen print can be customized with the couple's name, wedding date and lyrics from their first dance song. How's that for a special 12th wedding anniversary gift?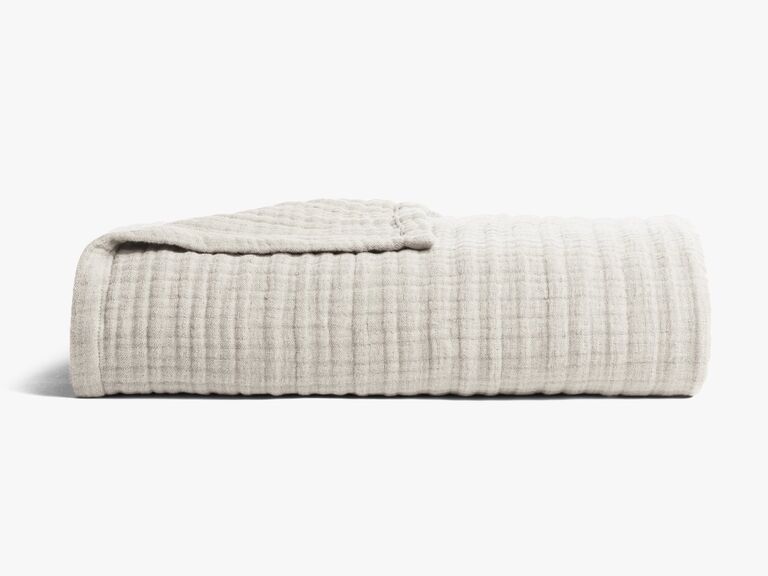 Bring coziness to their living room (or bedroom) with a lightweight, fuzzy linen throw. This one is incredibly soft—ideal for anyone who loves to snuggle up after a long day.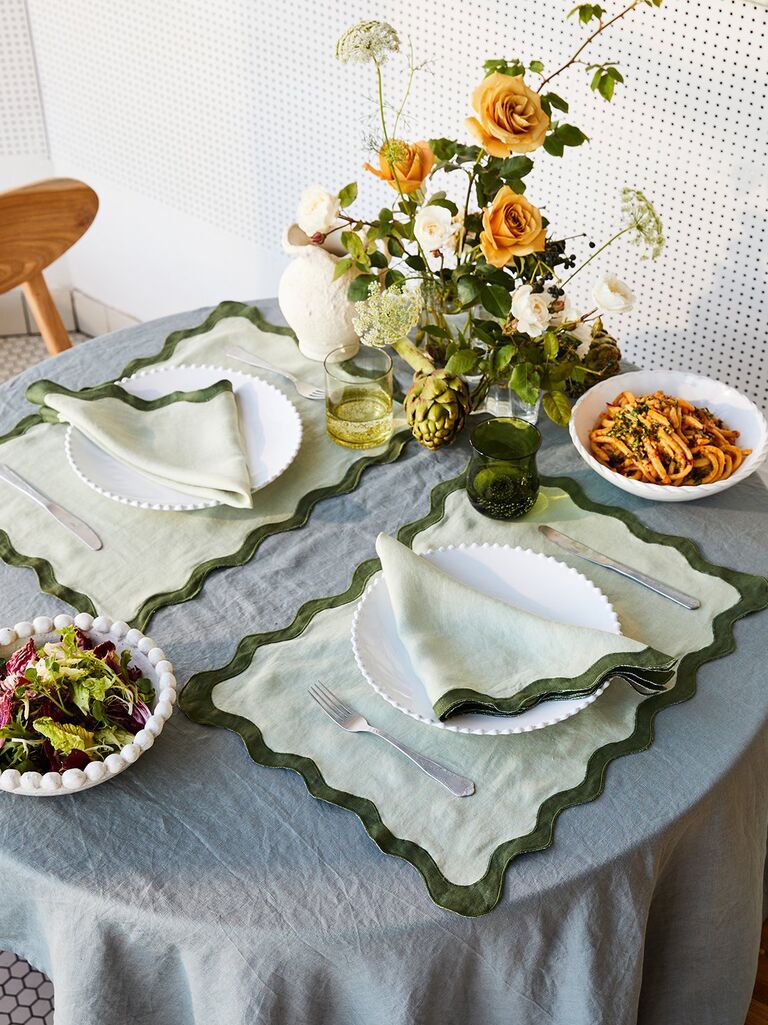 For a thoughtful gift they can use at home, these charming scalloped placemats are a great choice to dress up their tablescape. The linen placements, lined with a beautifully curved trim, come in five pretty color variations.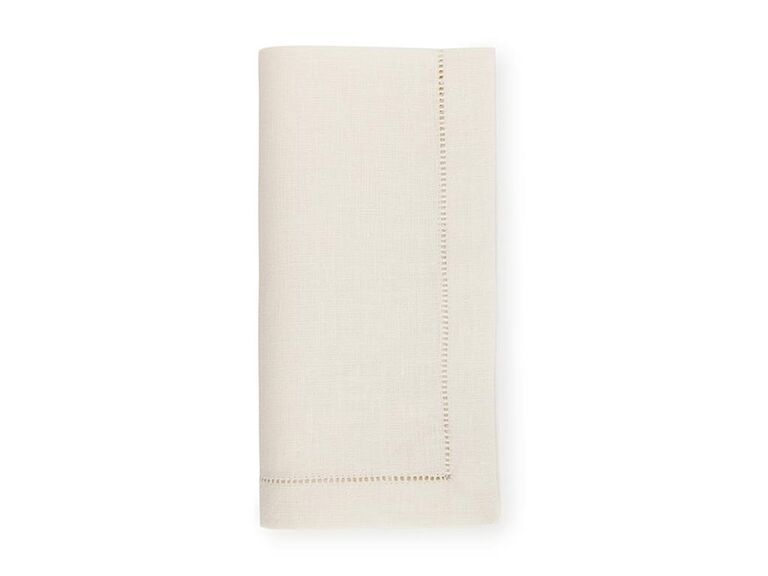 If they're big on entertaining, they'll appreciate the gift of quality linen napkins. These ones are sold in sets of six and available in more than 100 colors—including oyster white, the 12th anniversary color.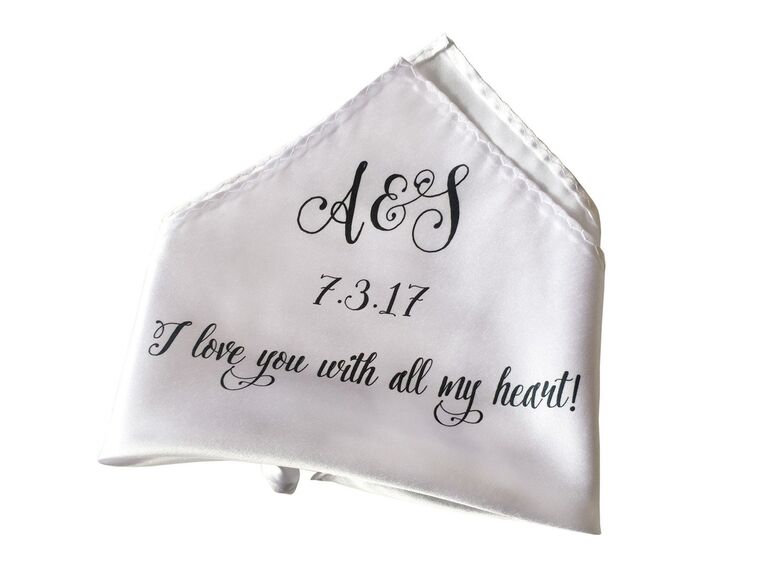 Elevate your spouse's formal attire collection with this silky, customized pocket square. Add your first initials, your wedding date and a short, hidden message for a sweet 12-year anniversary gift.
Pearl Anniversary Gifts
Whether you're shopping for your spouse or a couple you're close to, a pearl anniversary gift can strike just the right fresh, unexpected note. And you're not limited to jewelry either. Check out these modern pearl (and pearl-inspired) gifts that appeal to fashionistas, foodies, frequent hosts and more.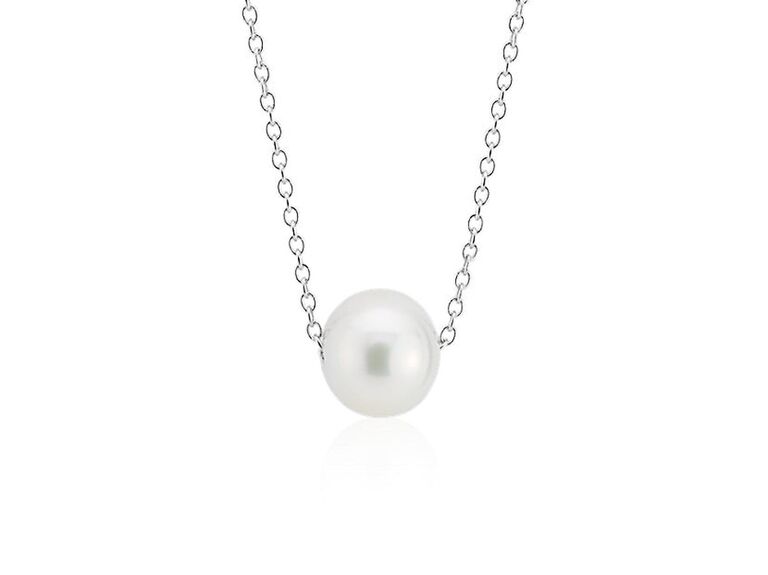 A stunning pearl necklace is a present they'll love showing off every day. Paired with a white gold chain, this timeless 12-year anniversary gift will never go out of style. (FYI: The pearl also comes in pink!)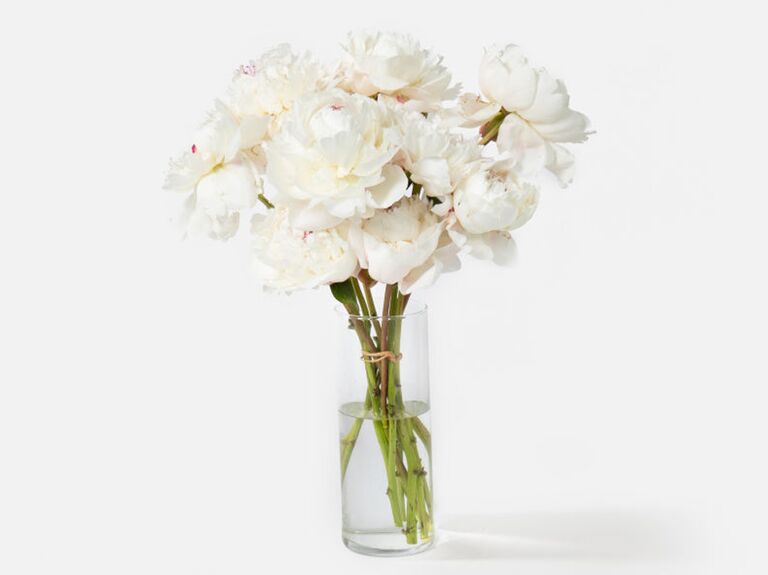 Pay tribute to both the 12th wedding anniversary flower and the modern anniversary theme with this thoughtful two-in-one gift: a peonies bouquet called "The Pearl." The lush arrangement features white peonies with sweet hints of subtle pink in the center.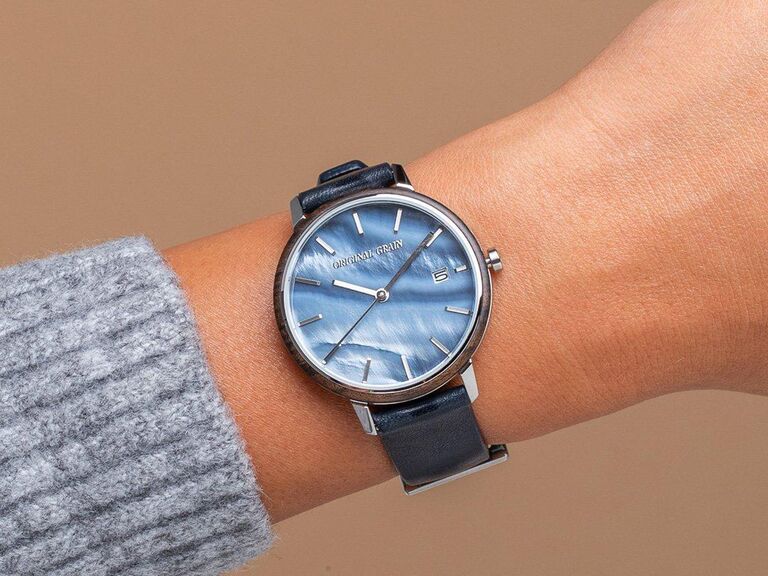 If they're not into flashy jewelry, then they might enjoy the simplicity of this minimal watch. The decadent navy band pairs beautifully with the mother-of-pearl dial facade—making for a thoughtful and classic 12-year anniversary present.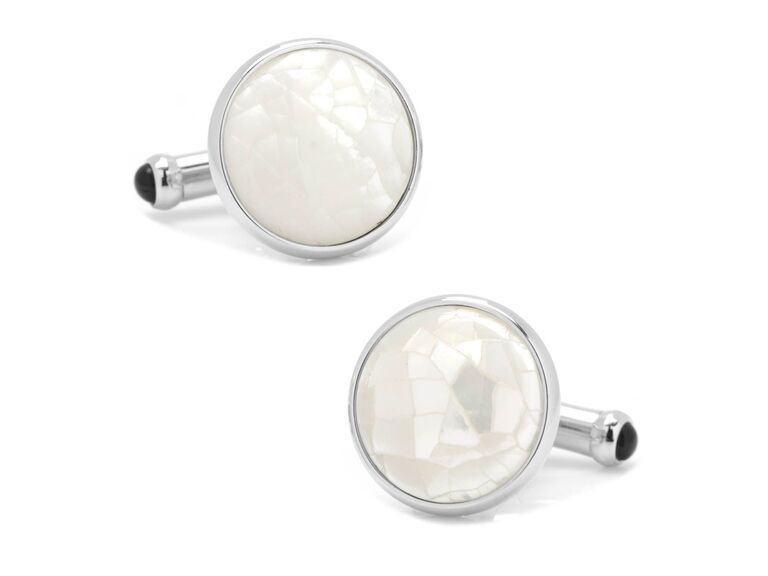 Whether your spouse dresses up every day or just for special occasions, consider buying them a pair of pearl-inspired cuff links. These mosaic accessories will surely add to their formalwear repertoire.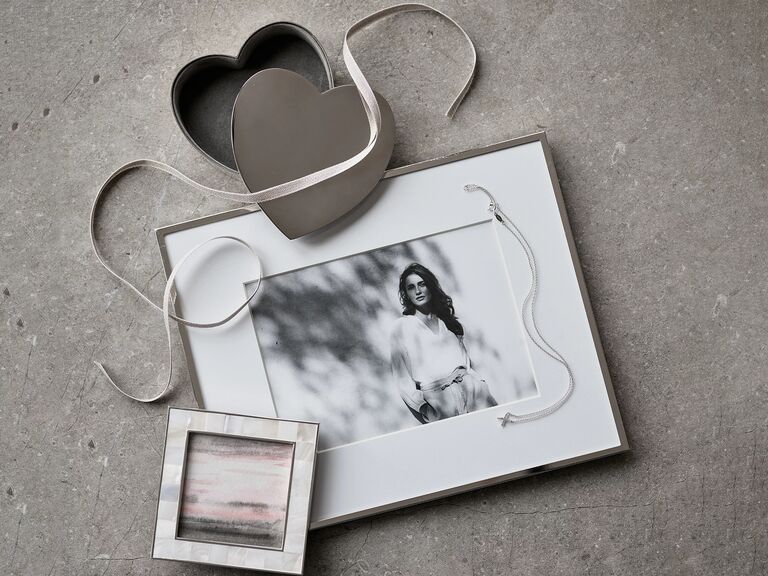 Help them display their favorite memories by purchasing a set of mother-of-pearl frames, which they can use to create a collage of their beloved wedding photos.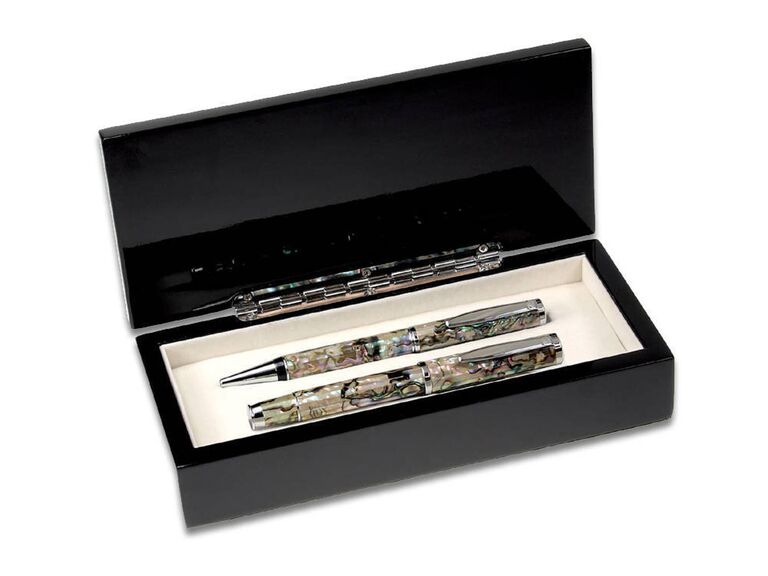 Writing down to-do lists and important reminders will feel so much fancier when your spouse uses a mother-of-pearl pen. Add a personal touch and engrave the pen case with their name and a sweet note to commemorate your 12th anniversary.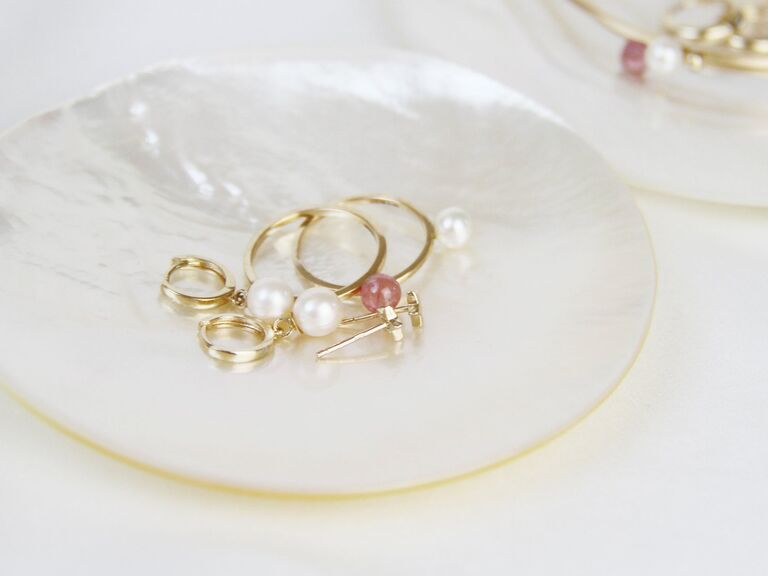 If your spouse likes a place for everything and everything in its place, look no further than this lovely ring dish. The hand-crafted mother-of-pearl dish will look perfect on their dresser or bedside table for their rings, jewelry, trinkets and more!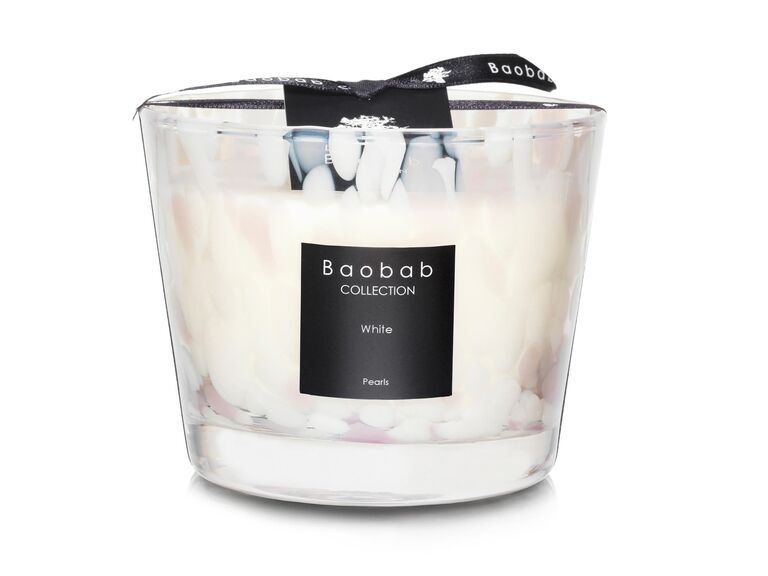 This elegant "Pearls" candle looks as good as it smells. The hand-blown glass vessel will add a sophisticated touch to any room, and the wood and jasmine scent is divine.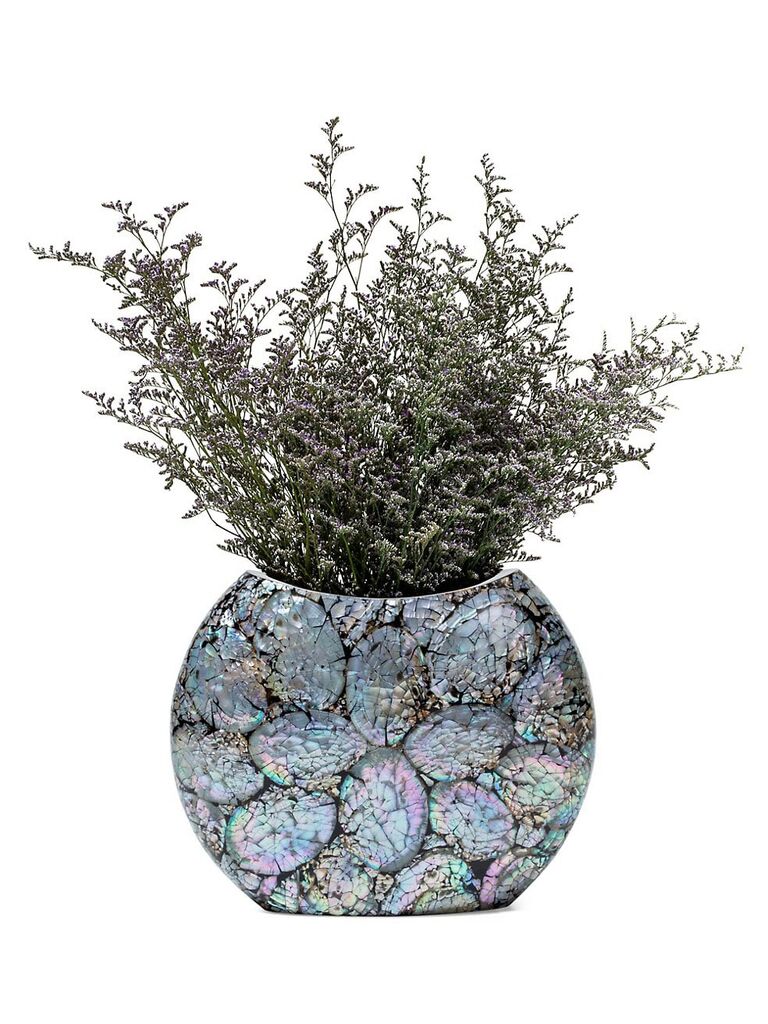 Fresh flowers perfectly accompany a milestone occasion. For 12 years of marriage, present them with a bouquet of their favorite blooms in this iridescent mother-of-pearl vase. They'll be grateful to receive such a beautiful offering.
A classic pearl stud is a versatile gift they can (literally) wear every day. Your spouse can pair the piece with their favorite casual T-shirt or use it to complete their out-on-the-town look. You simply can't go wrong with this stylish 12-year anniversary gift.
Alternative 12th Anniversary Gift Ideas
While thematic presents are certainly special, you definitely aren't limited to the traditional and modern materials. Coming up with alternative 12th anniversary ideas can take some thought—luckily, we've done most of the thinking for you! Check out these exceptional ideas to brighten your spouse's (or the couple's) day at home and away.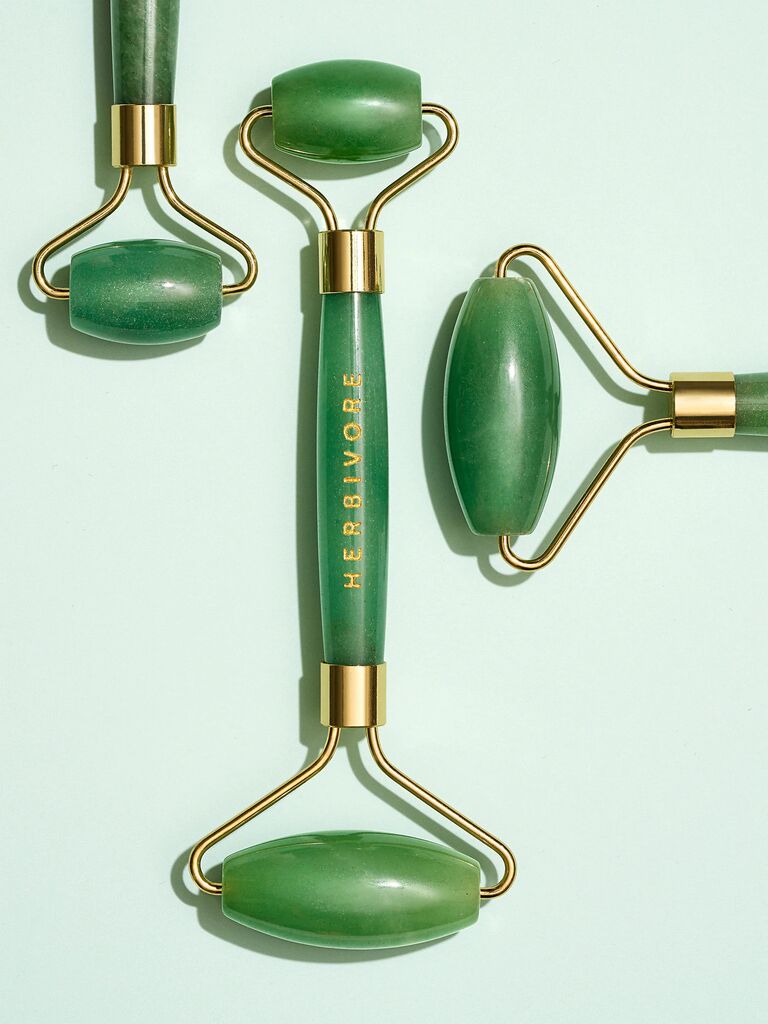 If they've ever been on TikTok, then they're likely familiar with jade facial rollers (and jade conveniently happens to be the 12-year anniversary stone!). This tool gently massages the skin to reduce stress, puffiness and wrinkles.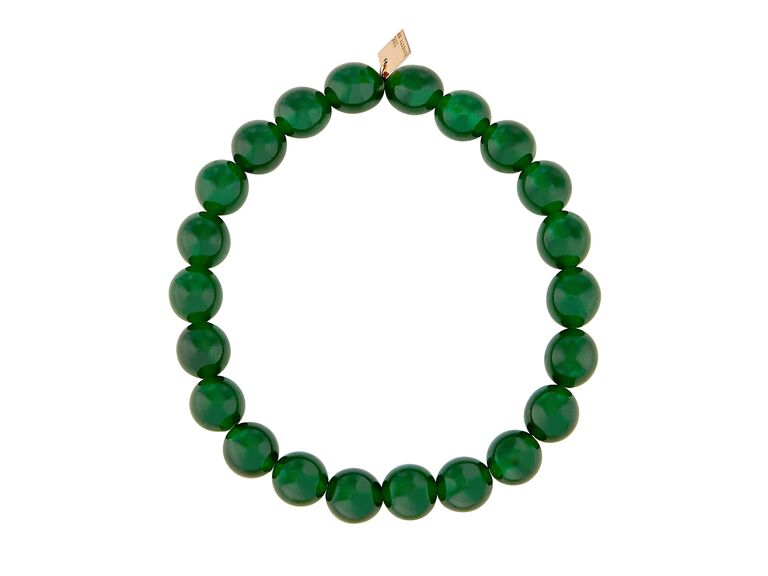 If you're vibing with the 12th anniversary gemstone, another option is this sentimental Heal Jade bead bracelet. The serene piece is crafted from a combination of stone beads and wood beads (and is meant to receive a few drops of soothing essential oils!).
The person who enjoys everything from tailgates to backyard BBQs needs a sturdy vessel to keep party beverages cold. This durable cooler will keep drinks chilled for hours and can withstand years of wear and tear.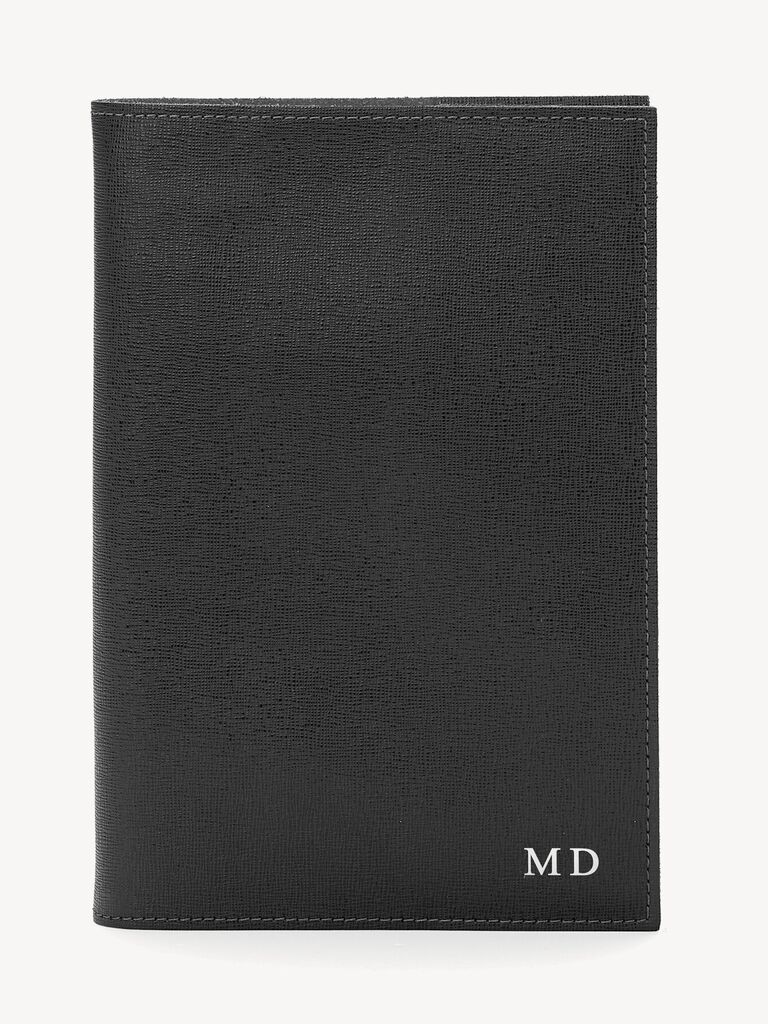 Whether they're jotting down important memos or writing sweet love notes to you, they'll appreciate this leather-bound notebook to store their important thoughts. Why not go the extra mile and emboss it with their initials? It's also refillable.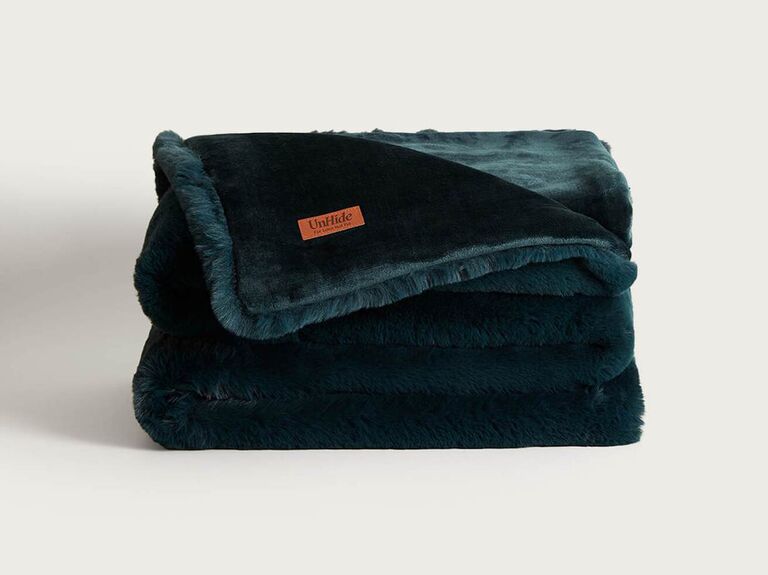 If you're looking for a sustainable option for their 12th wedding anniversary gift, these fuzzy Marshmallow blankets are made of 90% recycled materials. And you won't believe how soft they are!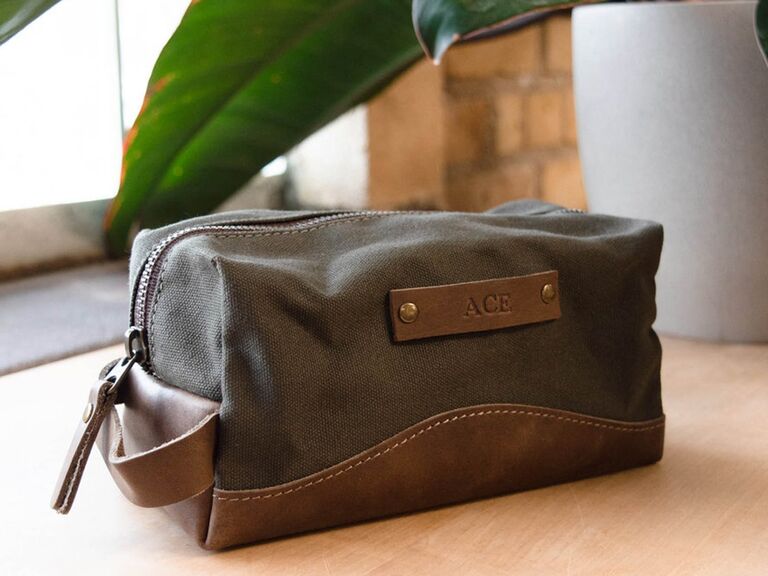 For the person who applauds (or needs) organization, consider this personalized leather toiletry pouch. They can use it to keep their beauty and skincare products (and their odds and ends) stored neatly.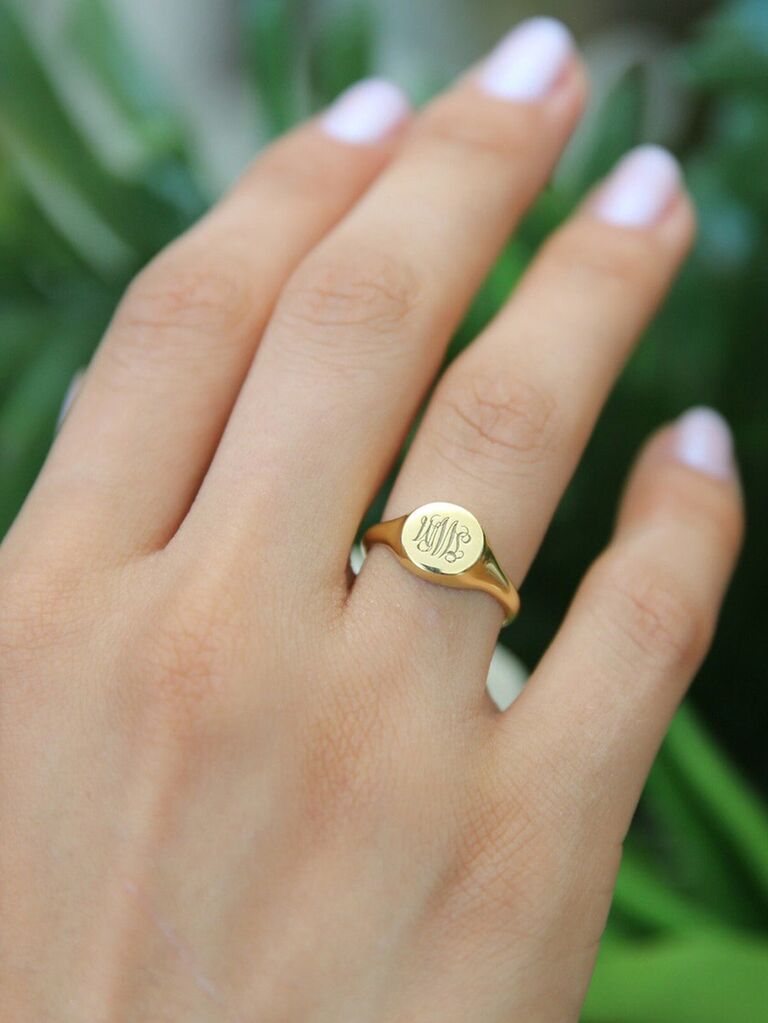 What's more effortlessly elegant than a classic signet ring? Let them show off their monogram with this personalized gold bauble to honor their 12th anniversary.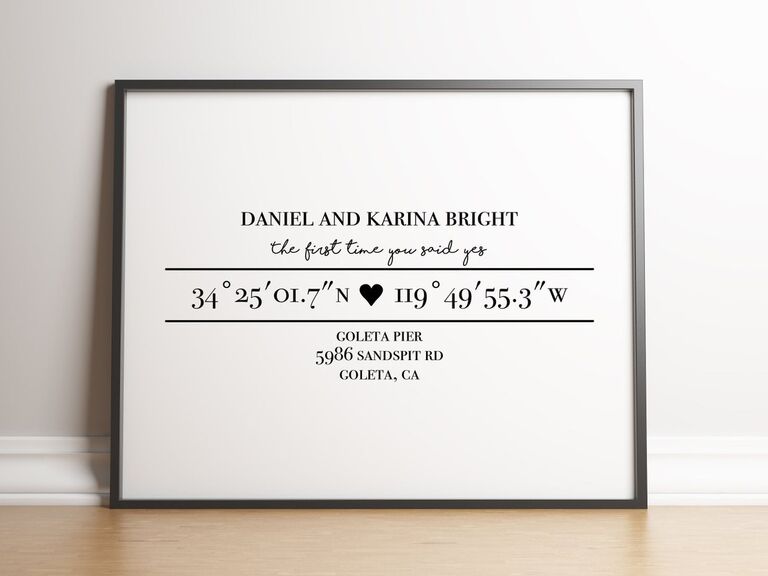 Take the couple back to their wedding day with this printable coordinates art. The piece can include their names, the date of their wedding and the location where they said their vows. Clever, right?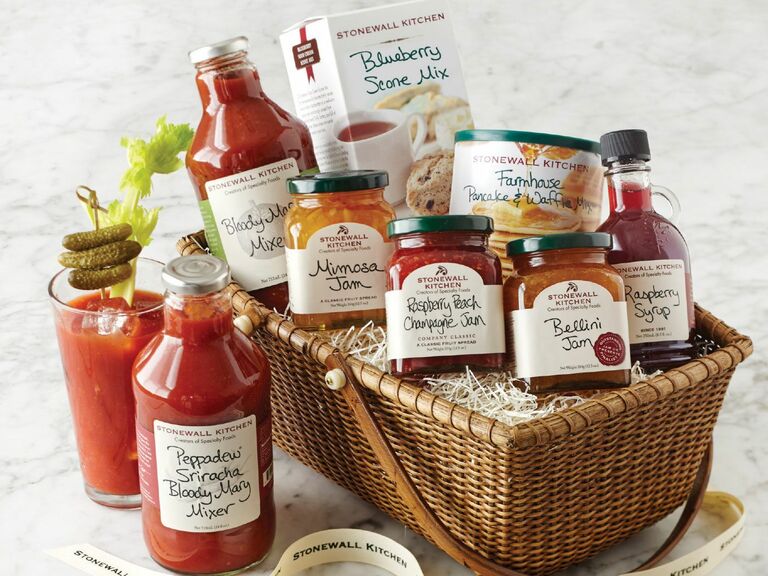 Your friends who love to entertain will appreciate a set that has everything they need for a decadent brunch. This delicious mix also includes a Bloody Mary mixer to toast to their 12 years together!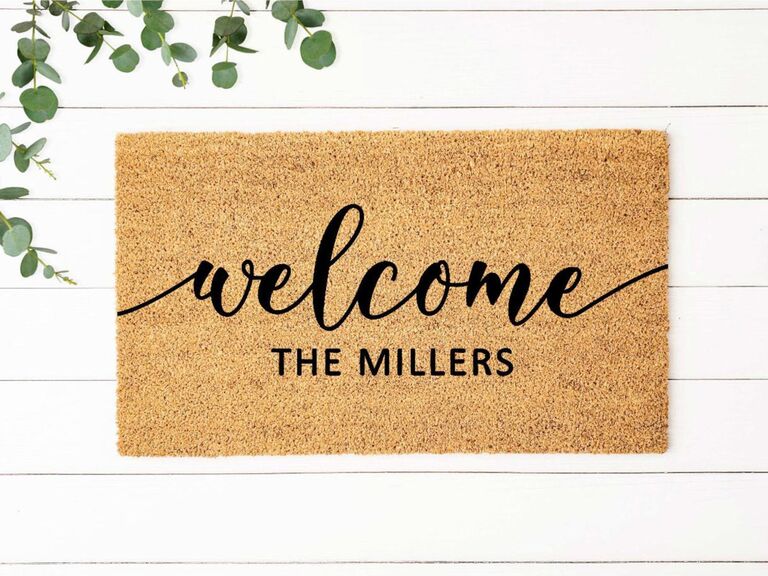 With this custom welcome mat, they can proudly display their last name for any guests that come to visit. This mat is made of high-quality natural coir and is backed with slip-resistant backing (very essential!).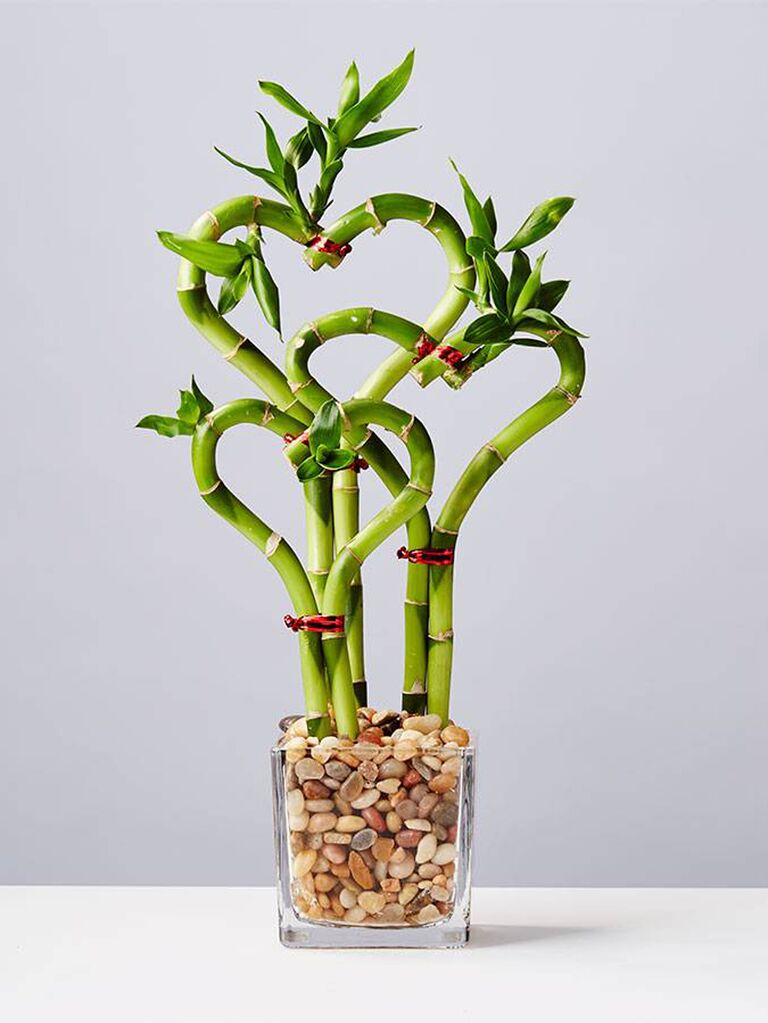 Okay, how sweet are these heart-shaped bamboo plants? Choose from single, double or triple hearts. Bonus: The bamboo purifies the air too.