17th Anniversary Gift Ideas Your Spouse (or Favorite Couple) Will Love
We've got you covered.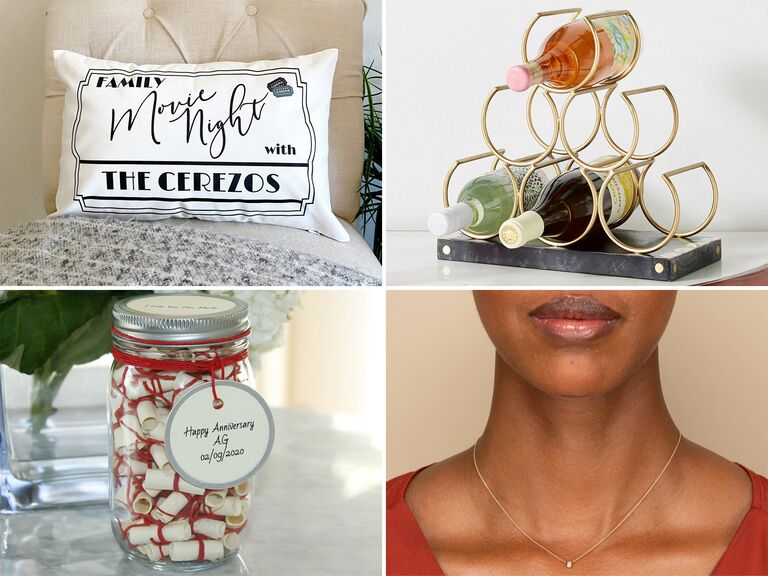 We have included third party products to help you navigate and enjoy life's biggest moments. Purchases made through links on this page may earn us a commission.
Congrats! You've made it to 17 years with your spouse (or you have a loved one who's reached this milestone). Now comes the tricky part: picking out that absolutely perfect 17th anniversary gift.
When it comes to presents for this relationship milestone, you might be familiar with the traditional anniversary themes, whether it's paper for your first anniversary or aluminum for a couple's tenth. Every year comes with its own symbol that represents love. The classic and modern 17-year anniversary gift is furniture. Read more about 17th anniversary gifts and what they symbolize, then find some serious gift-spiration here.
What is the 17th anniversary gift?
Furniture
The 17th anniversary gift is furniture, which represents sturdiness and a good investment as quality pieces get better with age—just like your relationship. Sweet, right? Still, we know it can be tricky to select meaningful furniture anniversary gifts. You might want something that both of you can get use out of, or a special piece just for your spouse. Either way, think about the decor of your home before picking out a 17-year anniversary gift to make sure it'll match your existing furniture. And if you're shopping for a couple, use extra caution, since everybody has different taste. (When in doubt, we recommend a gift card!) Or, buy a nontraditional present—we've got plenty of recs for those too. 
In this article:
17-Year Anniversary Gift Ideas for Him
When it comes to picking out a 17-year anniversary gift for your husband, you're certainly not limited to furniture if you don't think that's what he wants (or if your house is already chock-full of it). It's totally okay to think outside the box (or the furniture store) and stick to other ideas you know he'll love as the perfect 17th anniversary gift for him.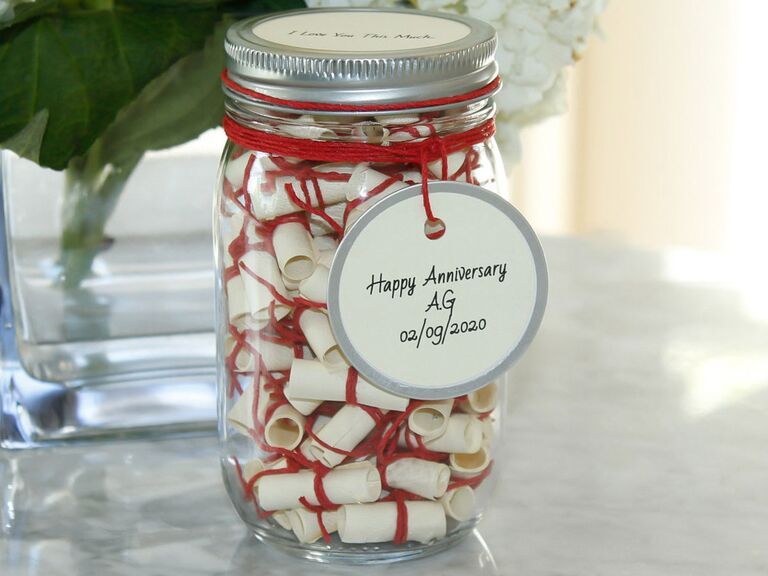 A glass jar filled with love notes to him is a super-sweet 17th anniversary gift that'll help keep the spark alive. 
The Mason Jar Inc. mason jar filled with love notes, from $36, Etsy.com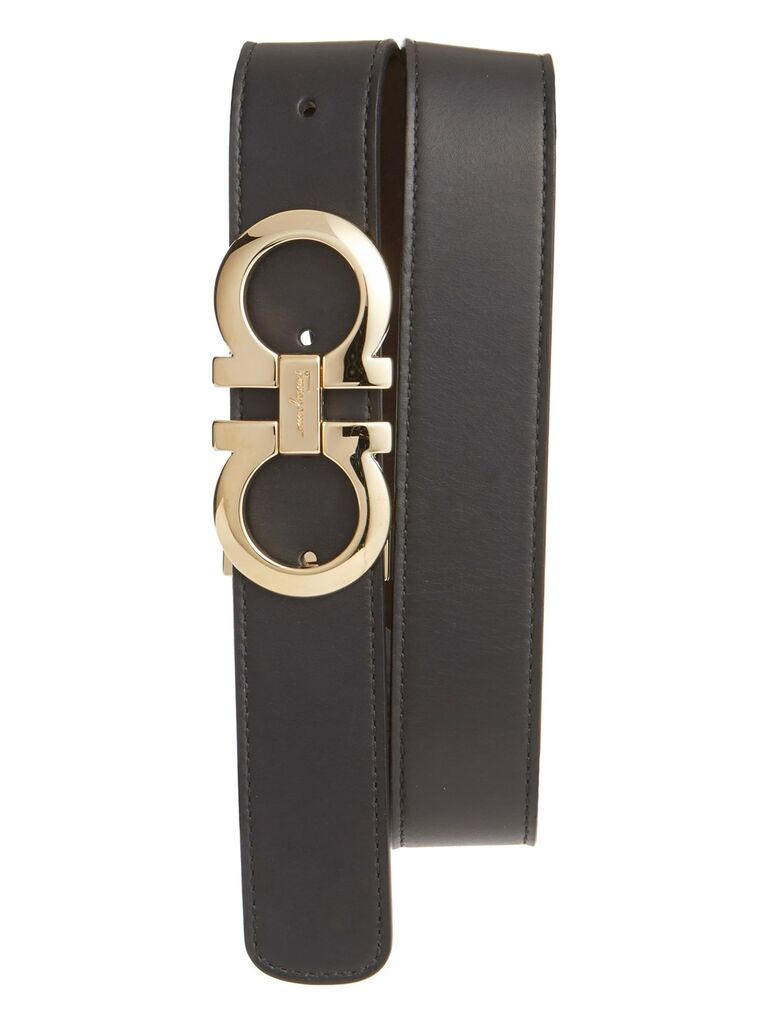 Want to say "happy 17th anniversary" with a gift that'll get a lot of use? A fashionable leather belt is a 17th anniversary gift he'll wear for years to come. 
Salvatore Ferragamo reversible leather belt, $430, Nordstrom.com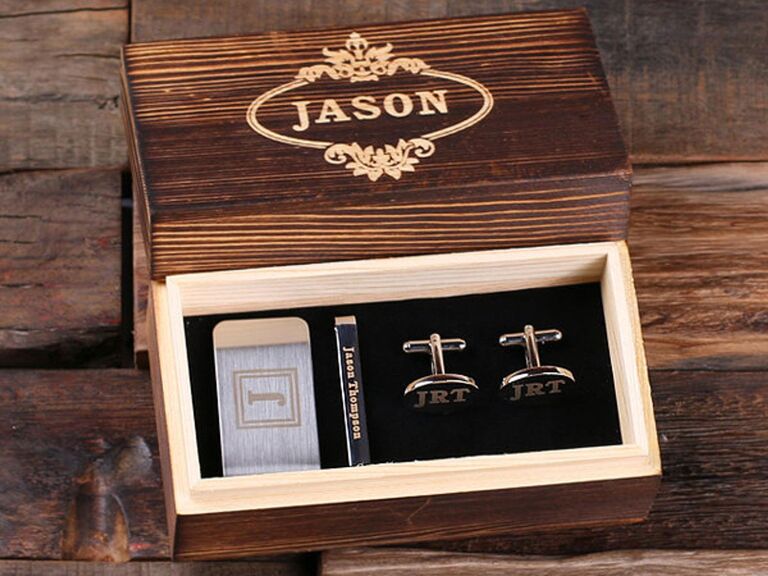 Give your husband's usual suit-and-tie combo an update with this accessory set. In the personalized wooden gift box, he'll find engraved cufflinks, a money clip and a tie clip.
Teals Prairie & Co. gift set with engraved cuff links, money clip and tie clip, $39, Etsy.com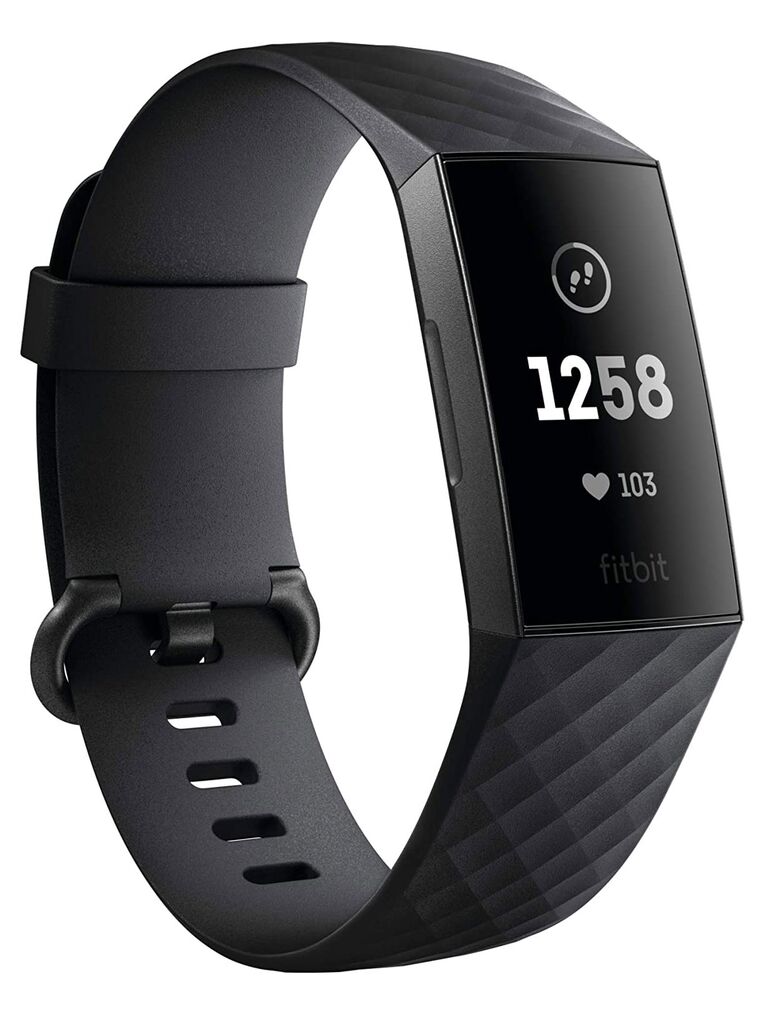 Have a husband who hits the gym frequently or goes for lots of walks? A smartwatch that tracks his activity is a gratifying 17th anniversary gift for him.
Fitbit Charge 3 activity tracker, $150, Amazon.com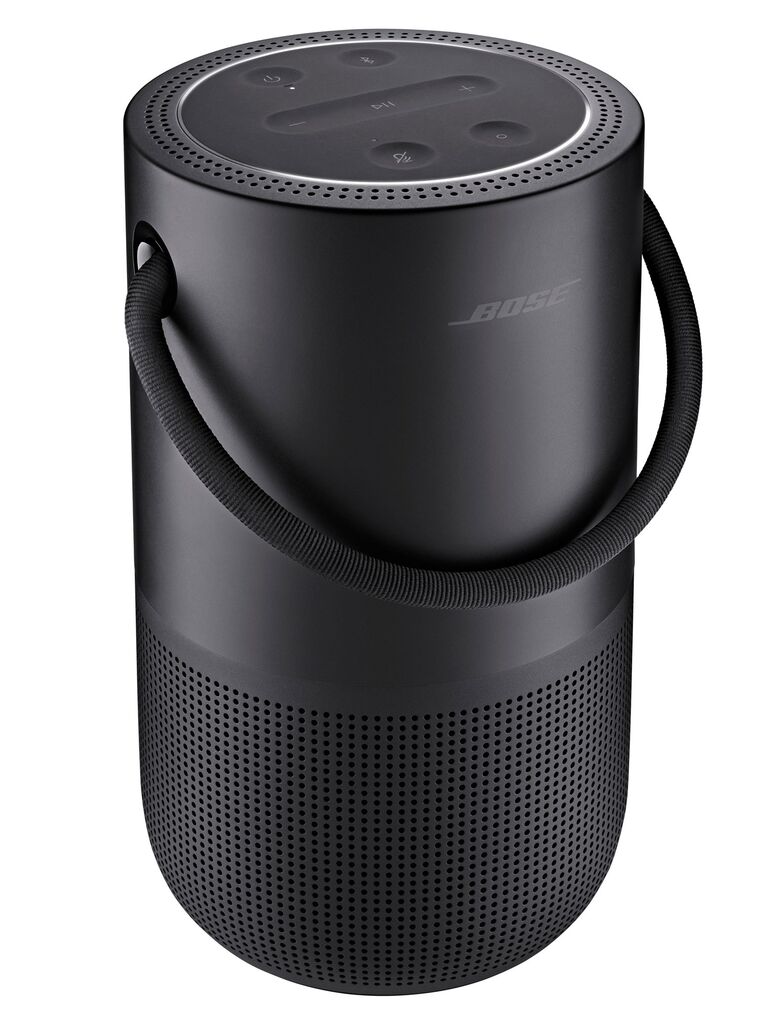 If your partner loves to listen to his favorite bands all day, give him a sophisticated Bluetooth speaker for your 17th anniversary. This one has voice-control technology too, so he doesn't even have to move if he wants to change the song. The convenient handle means he can carry his favorite tunes with him wherever he goes.
Bose portable home Bluetooth speaker, $349, Nordstrom.com
17-Year Anniversary Gift Ideas for Her
The same idea goes for picking out a 17-year anniversary gift for your wife: You certainly don't need to stick to furniture gifts if you're having trouble finding something she'll like. Find the best alternative 17th anniversary gifts for her below.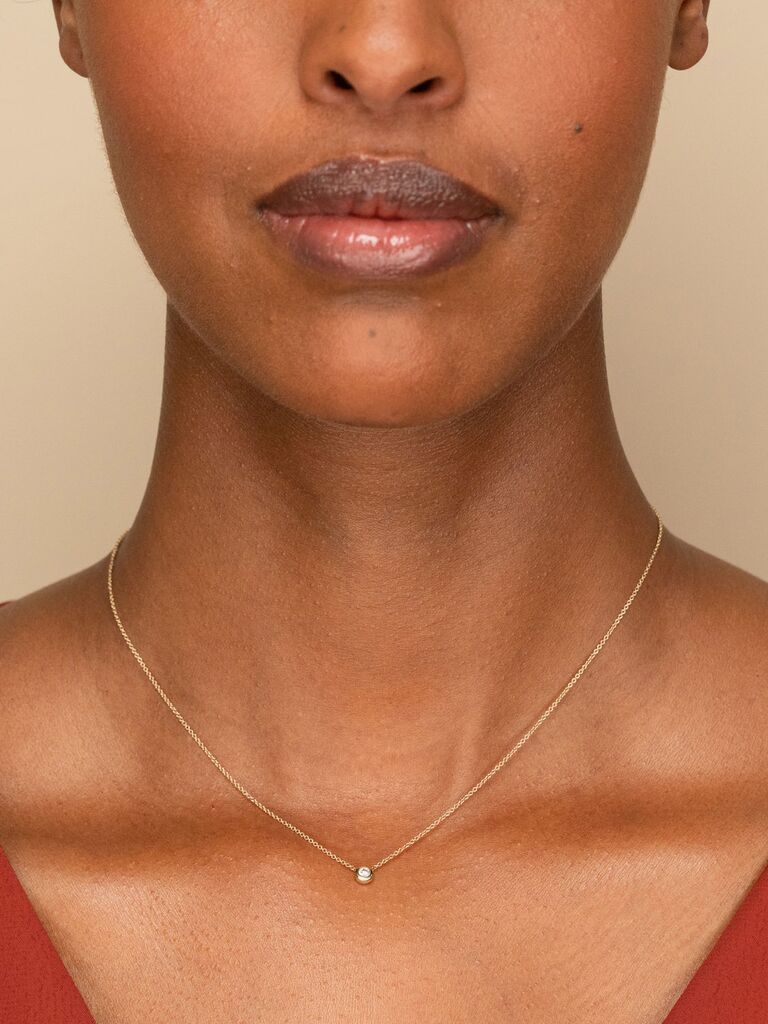 Give her something that shines just as much as her with this delicate diamond necklace. Its understated look means she can easily layer it with her other favorite pieces.
Mejuri diamond necklace, $300, Mejuri.com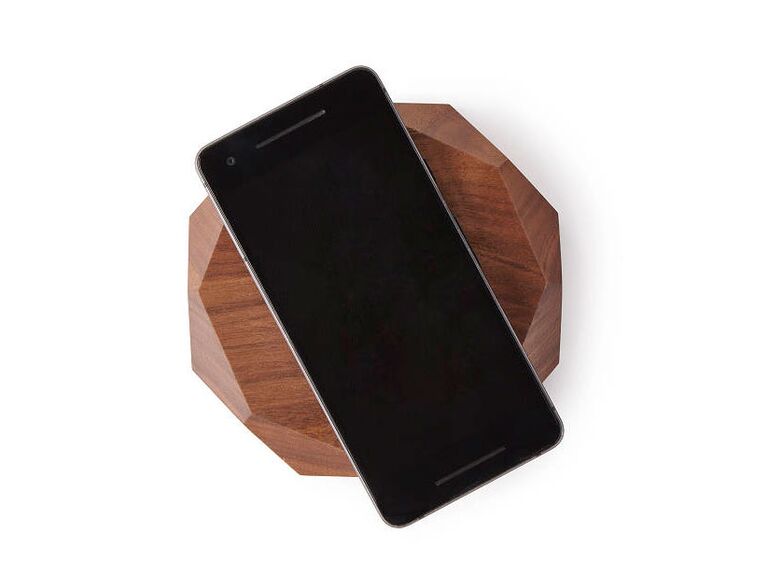 Make sure she never has to put up with a low battery again with this unique 17th anniversary gift: an eye-catching handmade walnut phone charging dock. We love the chic (and wireless!) geometric design, sure to look at home on her desk.  
Mateusz Haberny walnut wireless charger, $99, UncommonGoods.com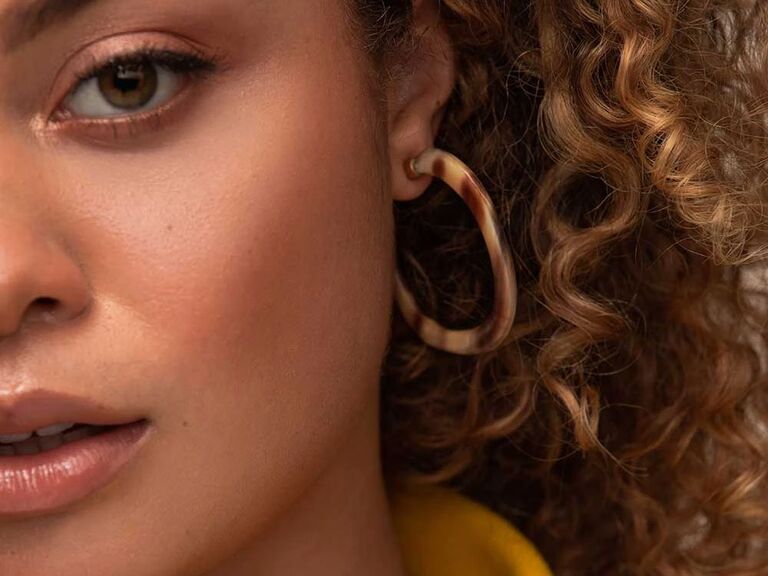 If your wife's a fashion or jewelry lover, get her a piece she probably doesn't already have—like these unique hoop earrings made with ethically-sourced materials from Kenya. 
SOKO Pendo organic horn hoop earrings, $58, ShopSOKO.com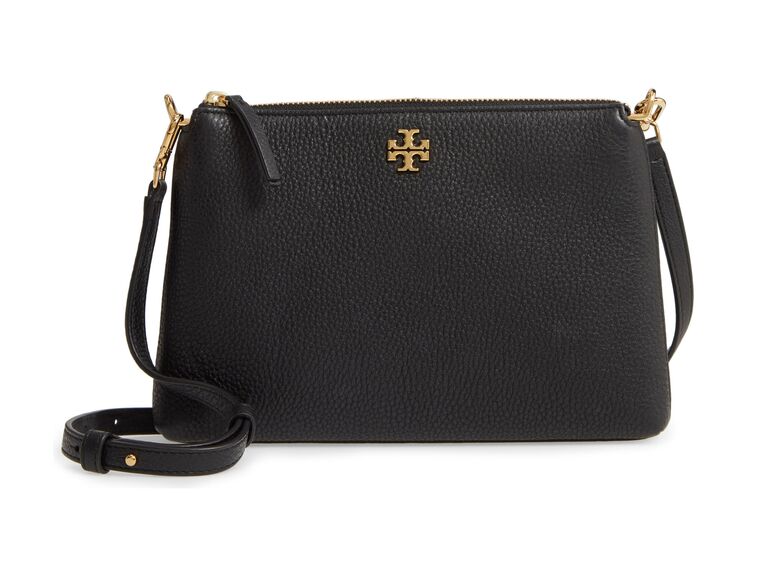 If your wife is always on the go, she probably hates lugging around an oversized tote bag. Gift a crossbody purse that's big enough to fit all her essentials without weighing her down throughout the day.
Tory Burch Kira pebbled leather wallet crossbody bag, $198, Nordstrom.com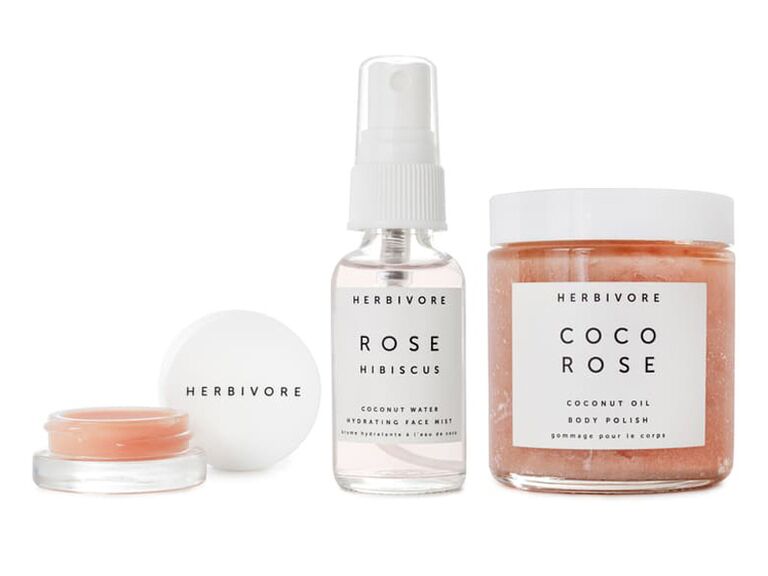 Here's yet another 17th anniversary gift she'll love: A skincare set made up of rose and coconut products that promise to nourish and hydrate skin.
Herbivore Botanicals Coco Rose luxe hydration trio, $39, Nordstrom.com
17-Year Anniversary Gift Ideas for Them
Know a couple whose 17-year anniversary is approaching? We have the perfect 17th anniversary gift ideas for them that go beyond the traditional theme. (Looking for furniture? Keep on scrolling.)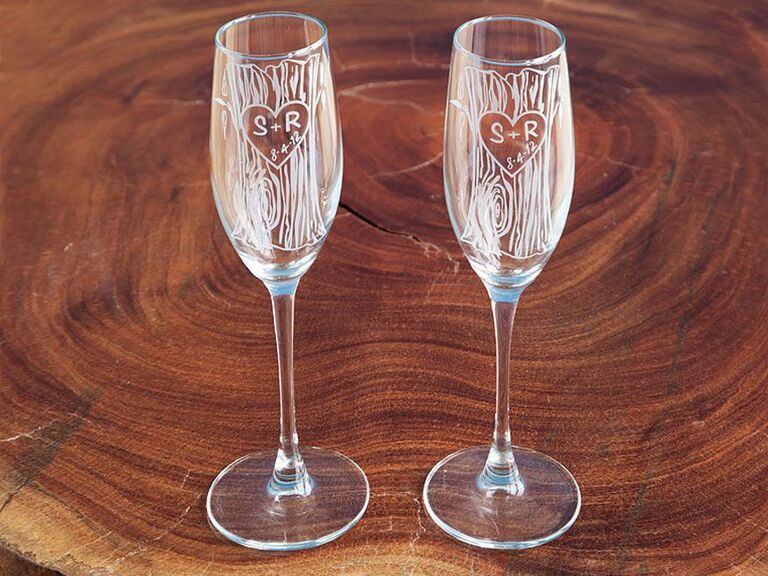 17 years is a huge accomplishment, so help them toast to the relationship in style with these beautiful etched champagne flutes.
Jennifer Francis Fillinger etched champagne flutes, $85 for a set of 2, UncommonGoods.com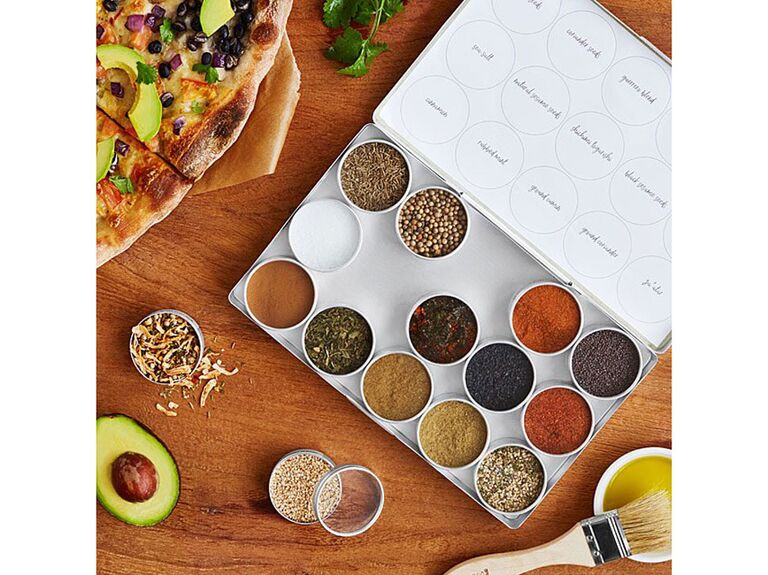 Does the couple absolutely love pizza? Help them celebrate their relationship milestone by cooking a fun meal together using this fancy seasoning kit.
Julie Pedersen global pizza seasoning kit, $38, UncommonGoods.com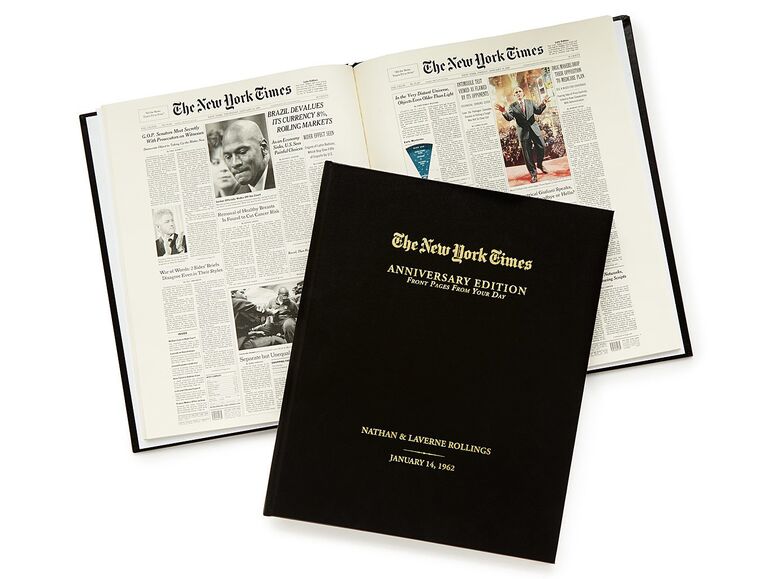 Time flies when you're in love. Gift the couple this custom anniversary book that features every The New York Times front page from the day they got married to their most recent anniversary.
Uncommon Goods New York Times custom anniversary book, $100, UncommonGoods.com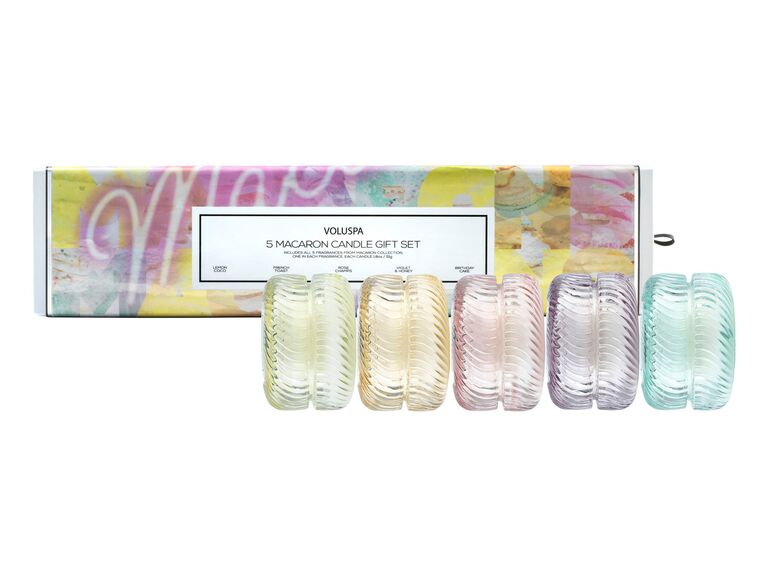 Get your favorite couple a chic candle collection to help them relax and unwind on their 17th anniversary. 
Voluspa Macaron Collection, $75 for a set of 5, Nordstrom.com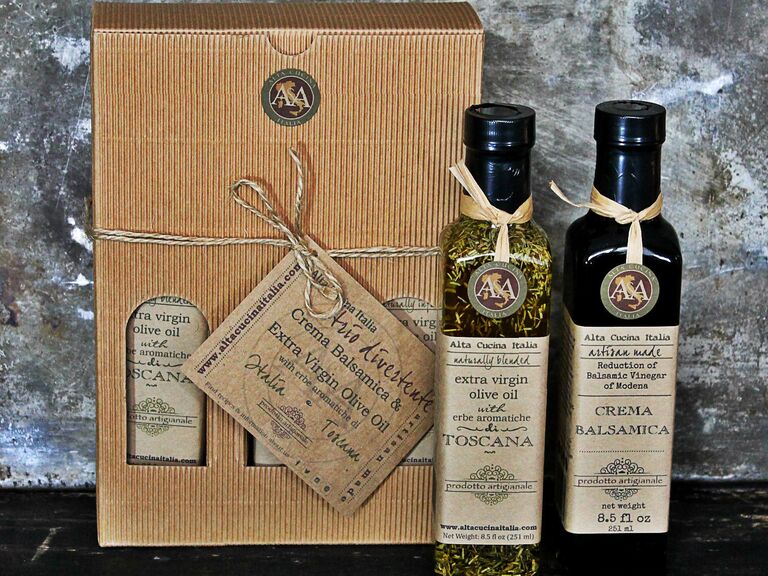 Give the foodies in your life something they'll love using. This 17-year anniversary gift features two artisanal olive oils and a balsamic reduction—yum. 
Alta Cucina olive oil and balsamic gourmet gift set, from $50, Etsy.com
Furniture Anniversary Gifts for Him
If you'd rather stick to the traditional and modern theme when it comes to getting a 17th anniversary gift for your husband, you have plenty of options. Below, check out the best furniture anniversary gifts for him.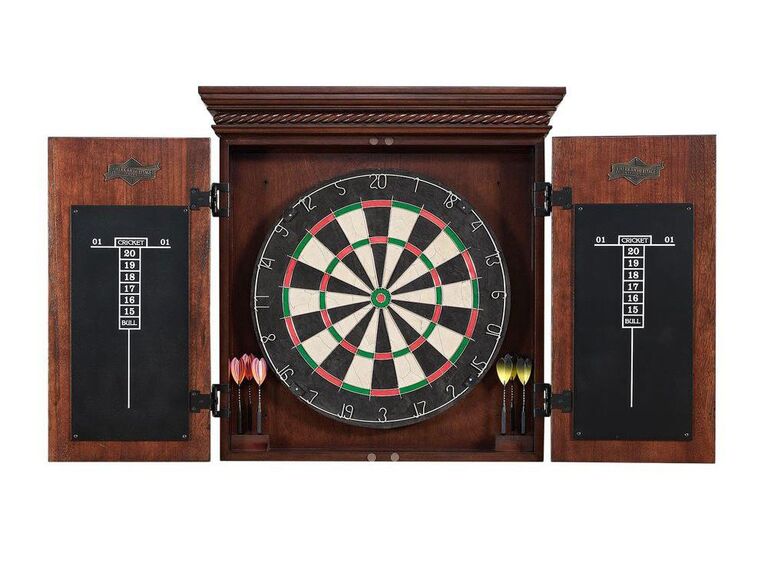 Game night, anyone? Gift your husband this sleek dart board and enjoy all of the fun tournaments and duels for many nights to come.
American Heritage Billiards Cavalier 22 inch dart board, $238, HomeDepot.com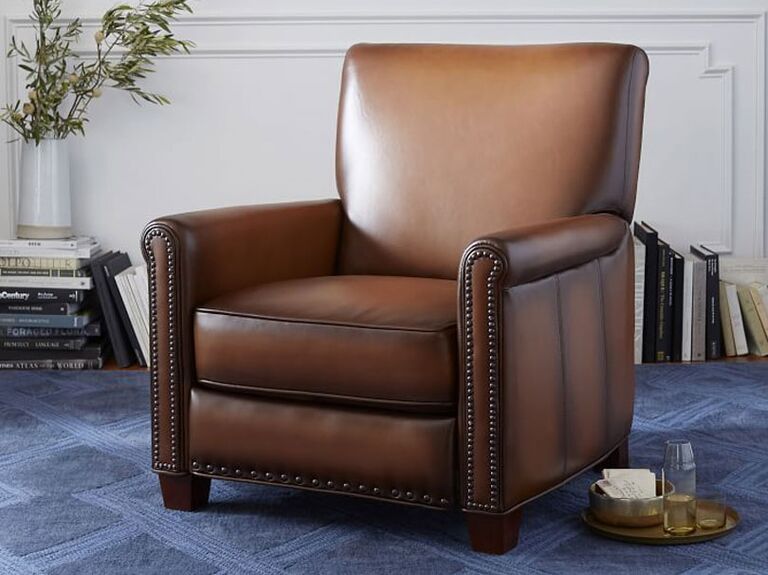 Give your husband the gift of kicking back and relaxing in a luxurious recliner for your 17th anniversary.
Pottery Barn Irving roll arm leather recliner with nailheads, from $949, PotteryBarn.com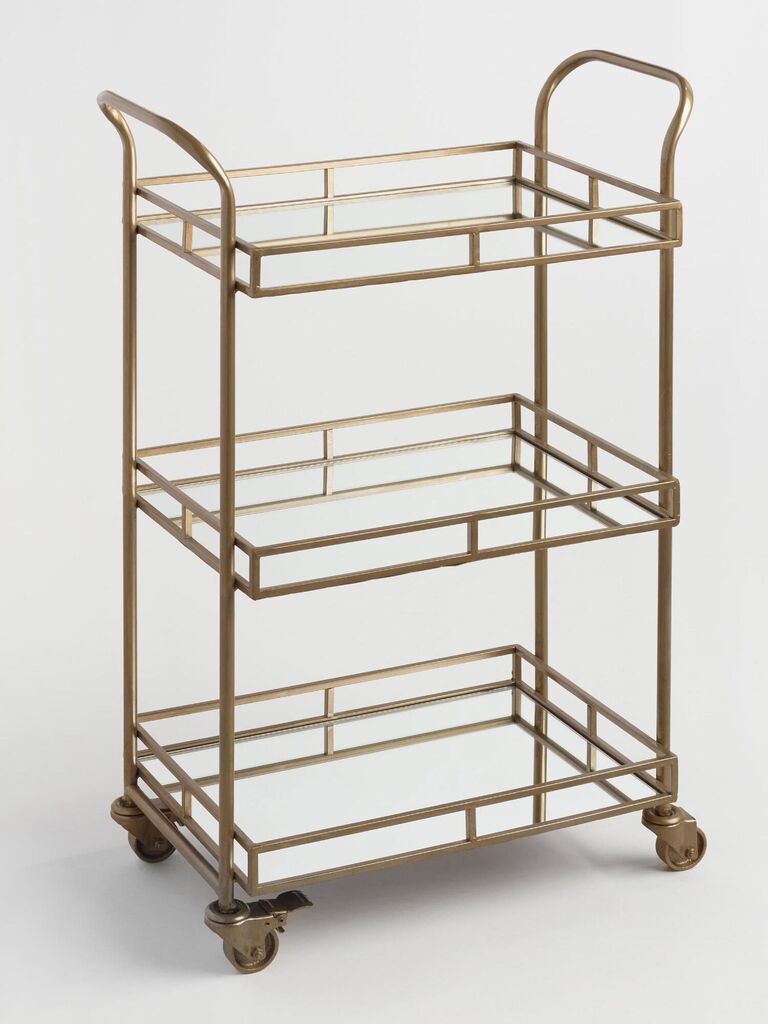 If he's a budding mixologist, this antique brass bar cart is the perfect 17th anniversary gift for him. It'll store all his favorite ingredients in a sleek and sophisticated way.
World Market Cole three-tier bar cart, $170, WorldMarket.com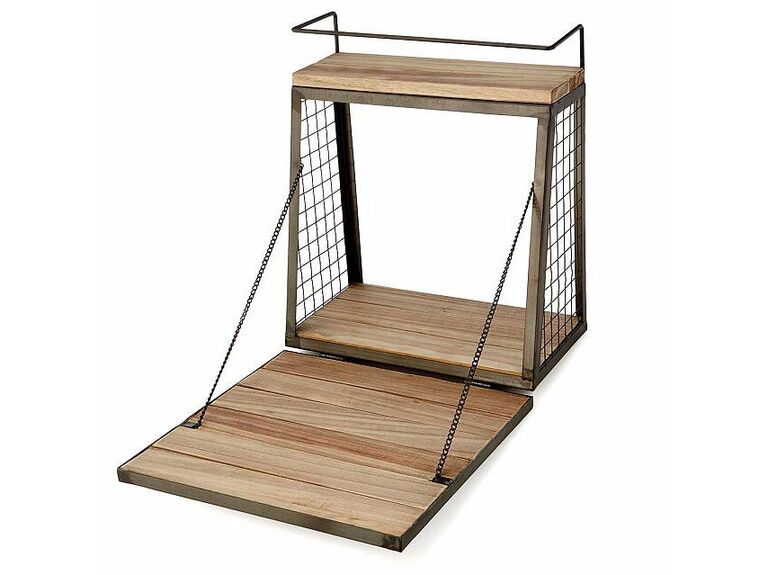 Don't have space for a full bar cart? Try this unique hanging bar instead.  Inside, you can keep a cocktail shaker or your favorite bottles, while the handy shelf at the top is ideal for storing glasses or recipes.
Uncommon Goods wall-mounted hanging cocktail bar, $118, UncommonGoods.com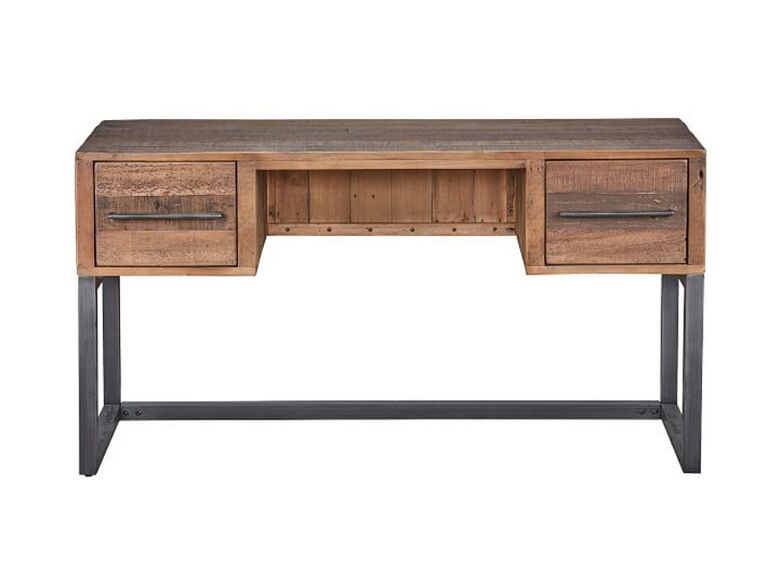 Does your husband love to write? Get him a desk guaranteed to inspire him. 
Pottery Barn Dearborn reclaimed wood desk with drawers, $699, PotteryBarn.com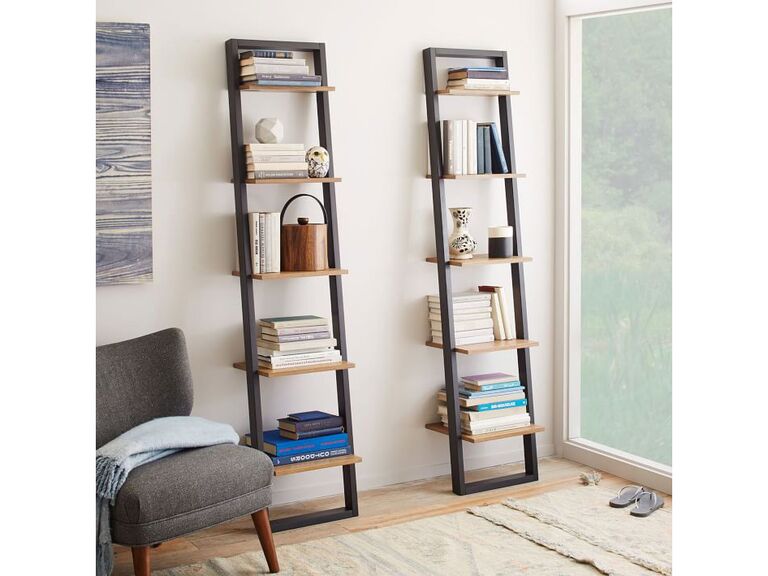 For the man who's a total bookworm, this ladder bookshelf is a great 17-year anniversary gift. It'll hold all his favorite books while taking up minimal space.
West Elm narrow ladder bookshelf, $199, WestElm.com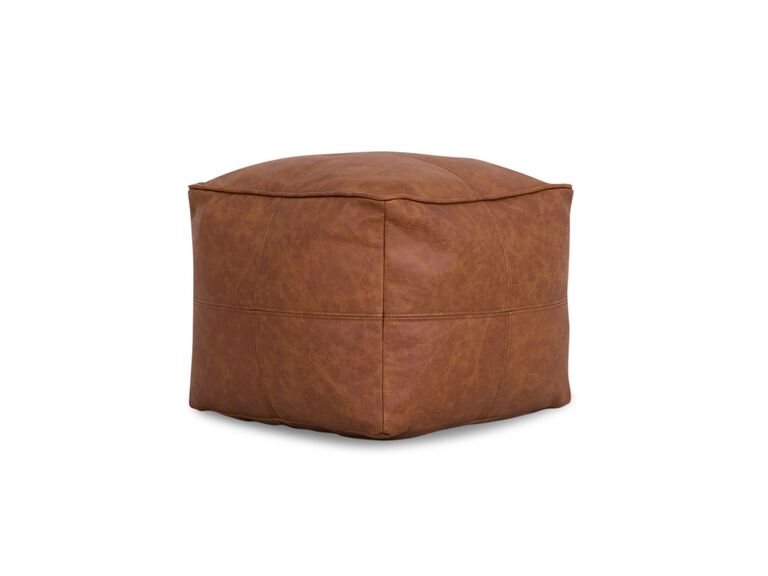 A leather pouf that he can use as a comfy footrest is a 17-year anniversary gift he'll surely appreciate.
Castlery Brooks leather pouf, $219, Castlery.co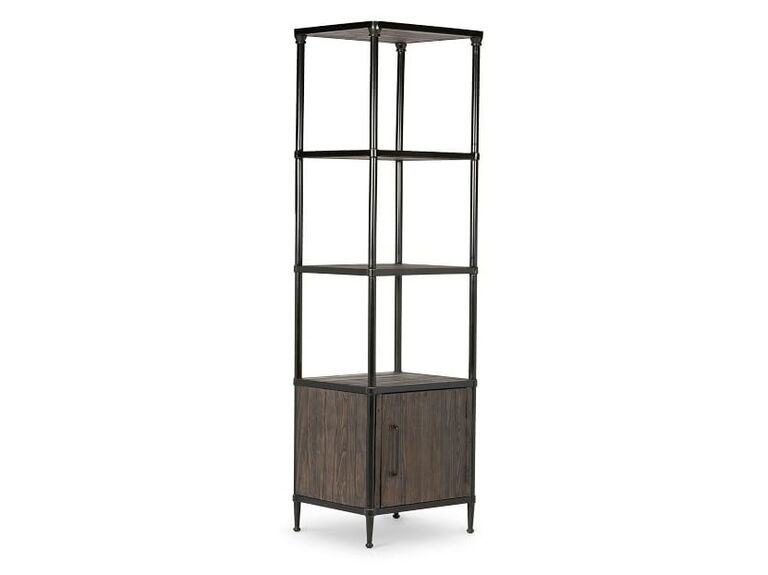 If he's got a movie collection he's especially proud of or a video game stack he wants to show off, this media tower makes an excellent 17th anniversary gift for him. It's a stylish way to keep your living room a little more organized.
Pottery Barn Juno reclaimed wood bookcase with door, $699, PotteryBarn.com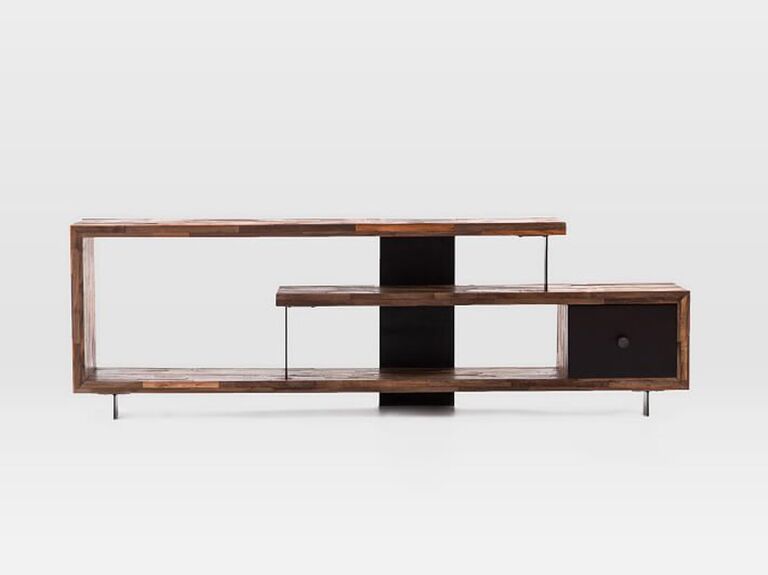 Whether he's a movie lover, a video game fanatic or a massive sports fan, he'll definitely appreciate this wooden console. The investment piece is a stylish way for him to store his films, games or tailgate snacks.
West Elm staggered wood console, $1,599, WestElm.com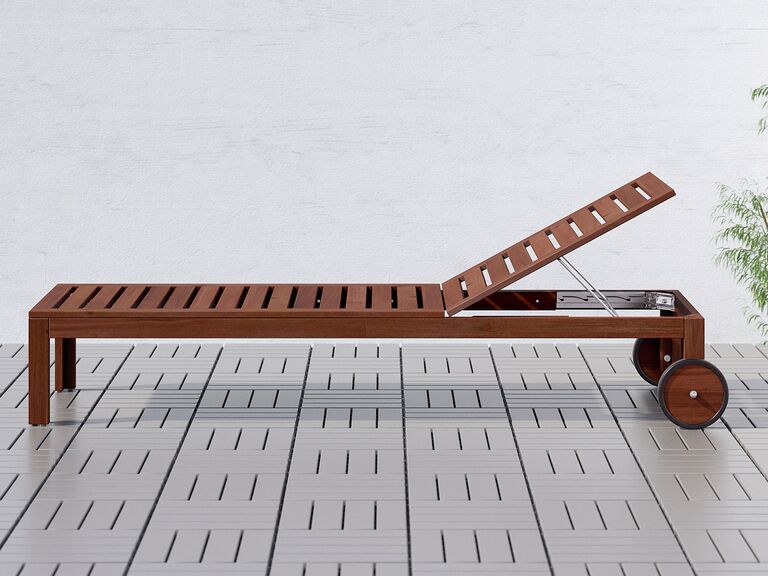 This wooden recliner is the perfect gift for the guy who wants to relax after grilling up dinner.
Ikea ÄPPLARÖ wooden chaise recliner, $129, Ikea.com
Furniture Anniversary Gifts for Her
There are lots of furniture anniversary gift ideas for your wife too. Below, check out the best furniture 17-year anniversary gift ideas for her.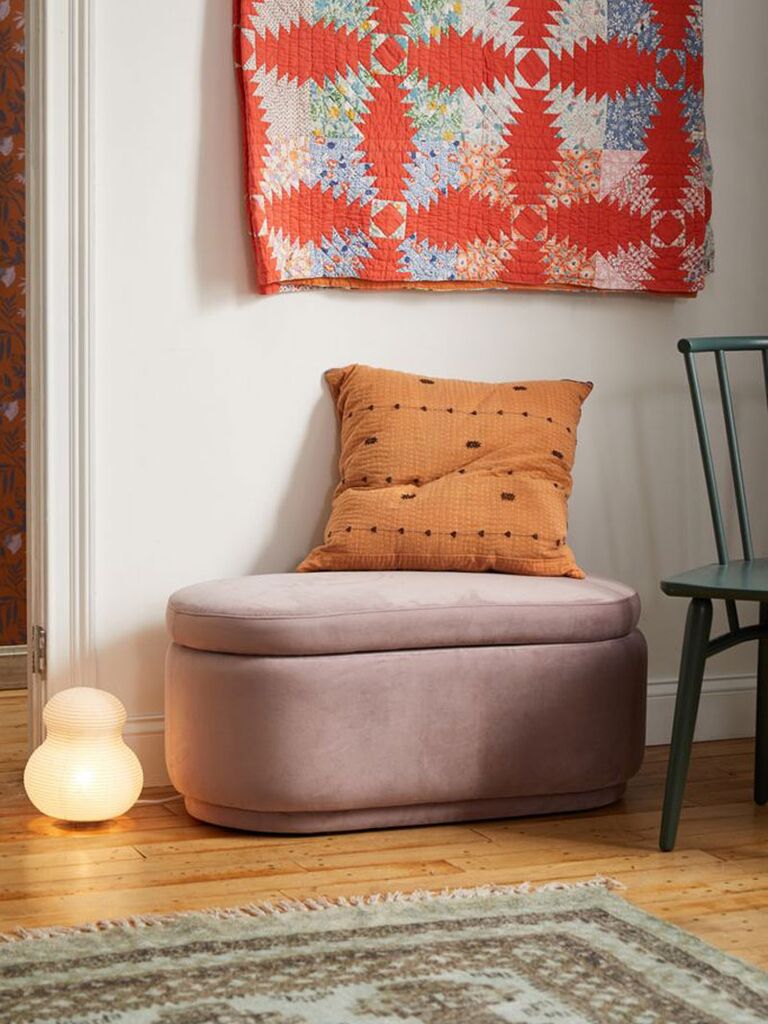 We love this velvet ottoman because it's multipurpose. She can use it as a footrest or for extra seating, as well as for storage.
Urban Outfitters velvet storage ottoman, $329, UrbanOutfitters.com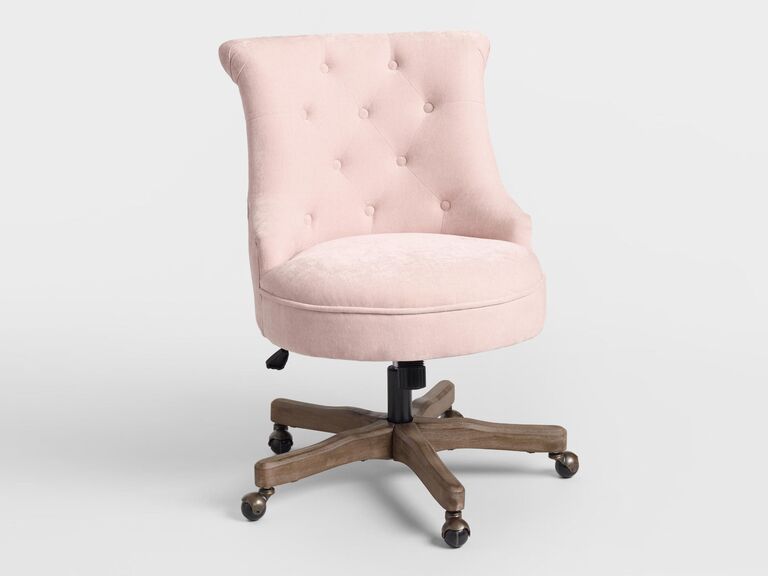 A pretty blush rolling chair is the perfect 17-year anniversary gift for the wife who has a home office. 
World Market blush Elsie upholstered office chair, $280, WorldMarket.com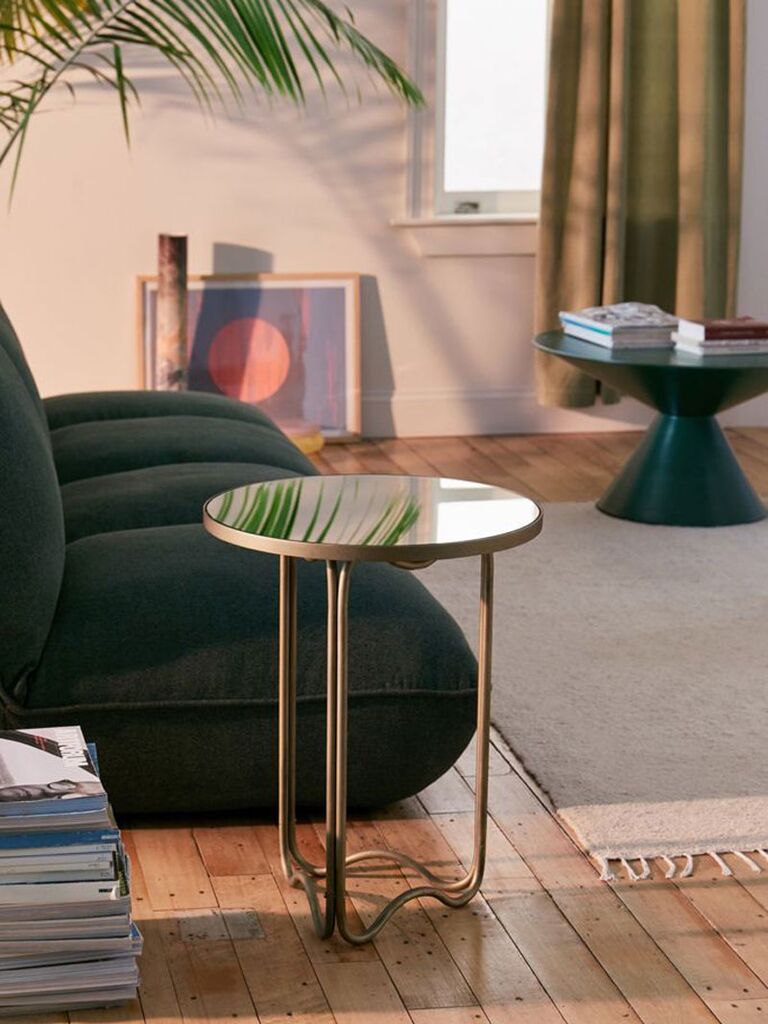 Giving furniture can be difficult because you might not have the space for it. This side table is small enough to fit almost anywhere, but the mirrored surface keeps it cool.
Urban Outfitters Amaia side table, $99, UrbanOutfitters.com 
Get your partner a gift that combines form and function for your 17th anniversary. This gorgeous gold mirror also has a storage shelf for bathroom accessories, makeup and more.
Anthropologie Francis shelved mirror, $268, Anthropologie.com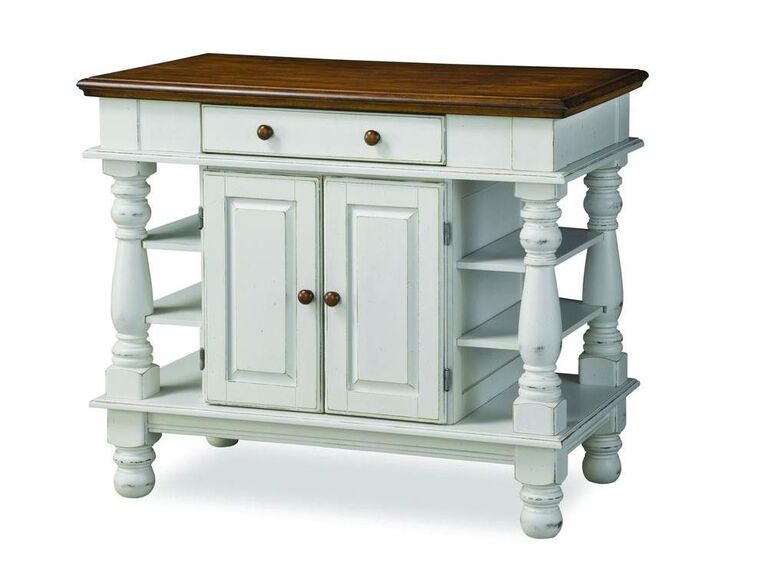 If your home's in need of a new kitchen island, surprise her with this chic storage unit for your 17-year anniversary. 
HOMESTYLES Americana white kitchen island with storage, $449, HomeDepot.com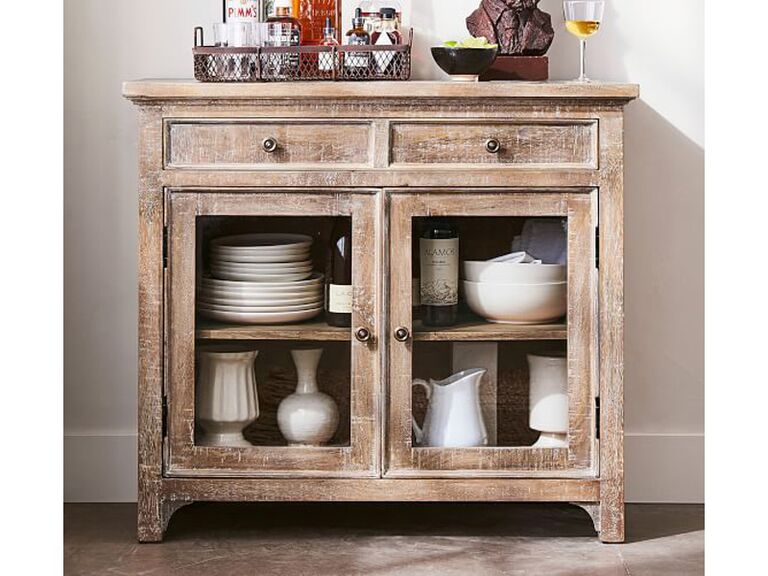 If your partner has some beautiful china she wants to show off, this rustic buffet table is a thoughtful gift for her. It has space to display her collection, but it's small enough to fit in almost any room.
Pottery Barn Thalia buffet, $899, PotteryBarn.com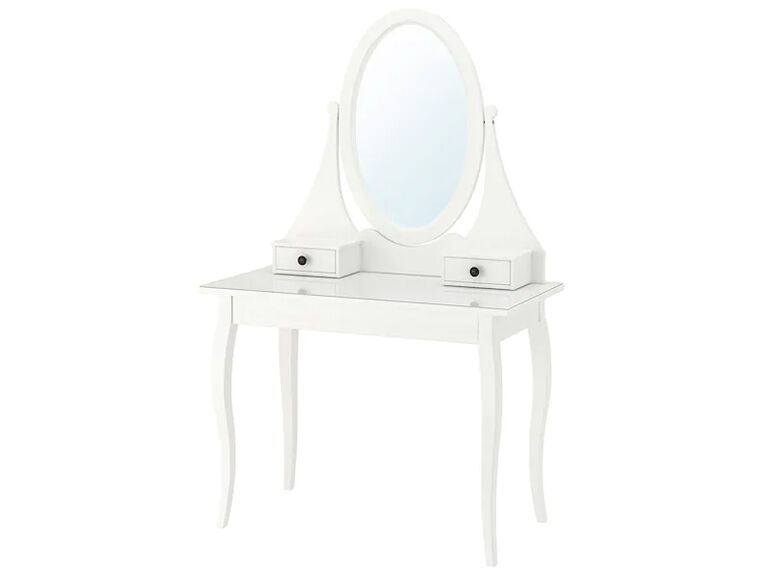 A stylish vanity set goes a long way for a woman who enjoys a nice place to get ready.
Ikea HEMNES dressing table with mirror, $249, Ikea.com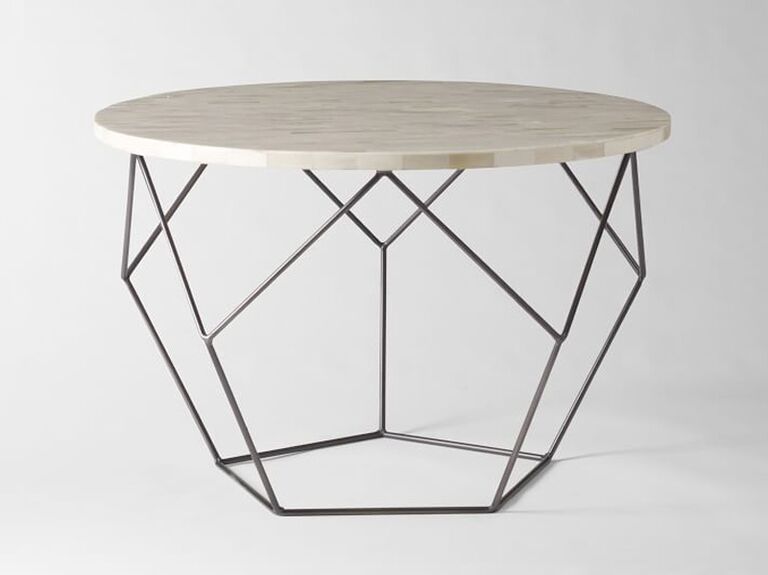 This architectural coffee table is a stylish addition to any modern home—and a great 17th anniversary gift for the woman with an eye for design.
West Elm origami coffee table, from $399, WestElm.com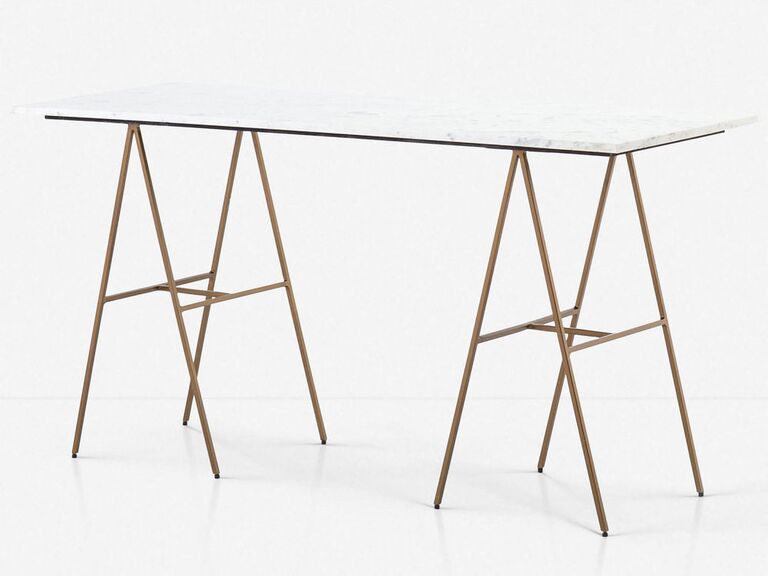 If she's busy working in her office most days, give her an upgrade. The marble surface is elegant and stylish, and the sleek frame makes sure it doesn't look too bulky.
Lulu and Georgia Audrey desk, $860, LuluandGeorgia.com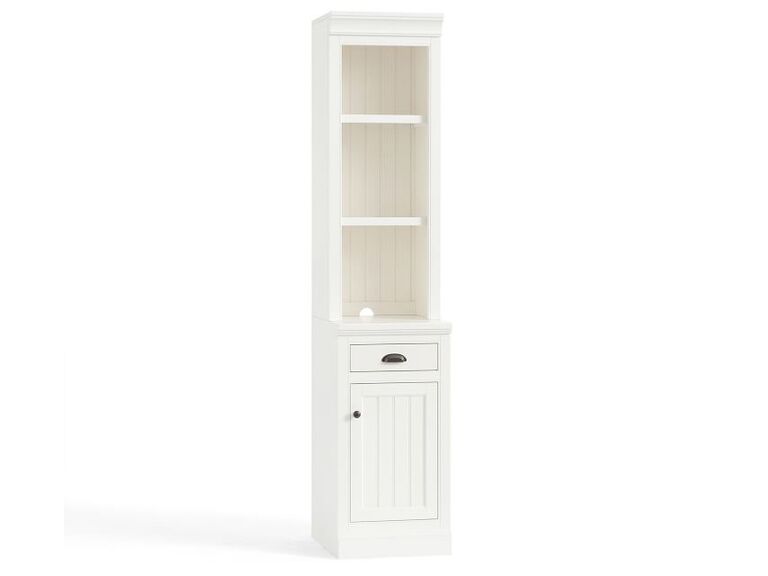 Does your wife have an overflowing book collection? Gift her this bookcase. It'll fit all her favorite novels and look good doing it. Added bonus: This piece is made with sustainably sourced wood.
Pottery Barn Aubrey narrow bookcase with door, $798, PotteryBarn.com
Furniture Anniversary Gifts for Them
If you have close friends or family members whose 17-year anniversary is coming up, give them a classic, on-theme furniture gift to commemorate their love. Below, find our favorite furniture 17th anniversary gifts for them.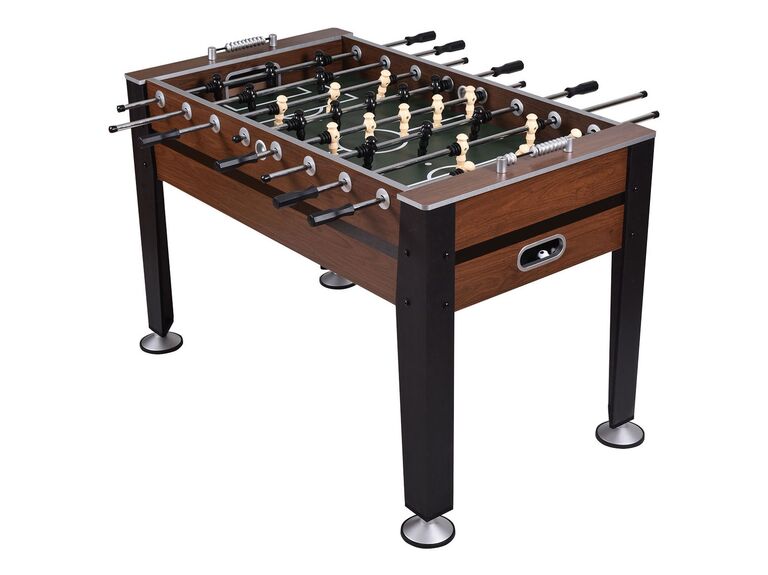 Feel free to get creative when it comes to what counts as "furniture." After 17 years, it can be tough to think of fresh date ideas. Gift the couple this foosball table to make their nights at home even more fun.
Costway 54" foosball table $300, Walmart.com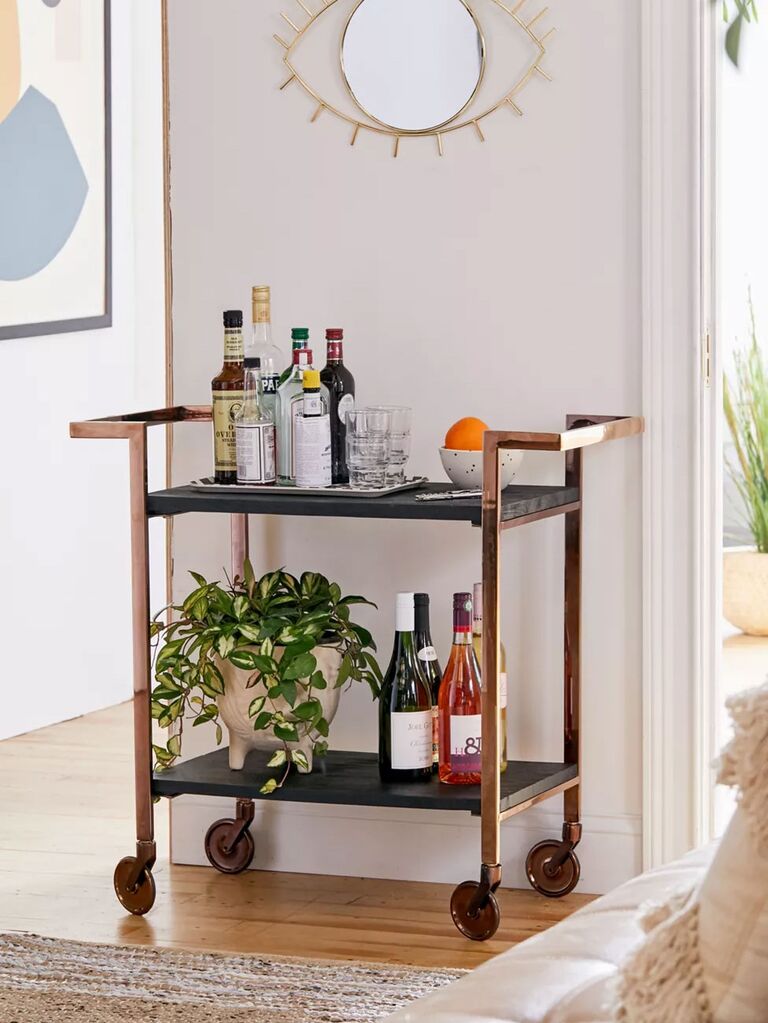 If you know your friends or family members love to entertain, what could be a better 17-year anniversary gift than a stylish copper and wood bar cart?
Urban Outfitters Madilyn bar cart, $379, UrbanOutfitters.com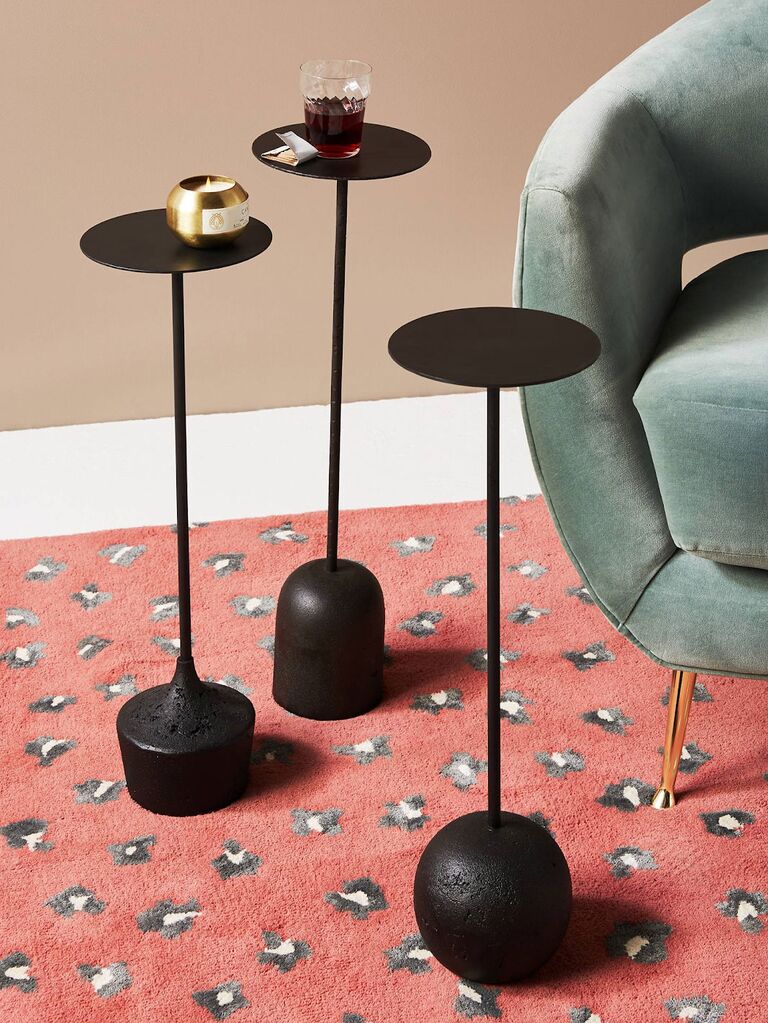 If the couple has a ton of furniture already, how about a petite side table? It's a functional piece that won't take up too much space. Plus, you can choose what shape you want for the base.
Anthropologie Carmen end table, $198, Anthropologie.com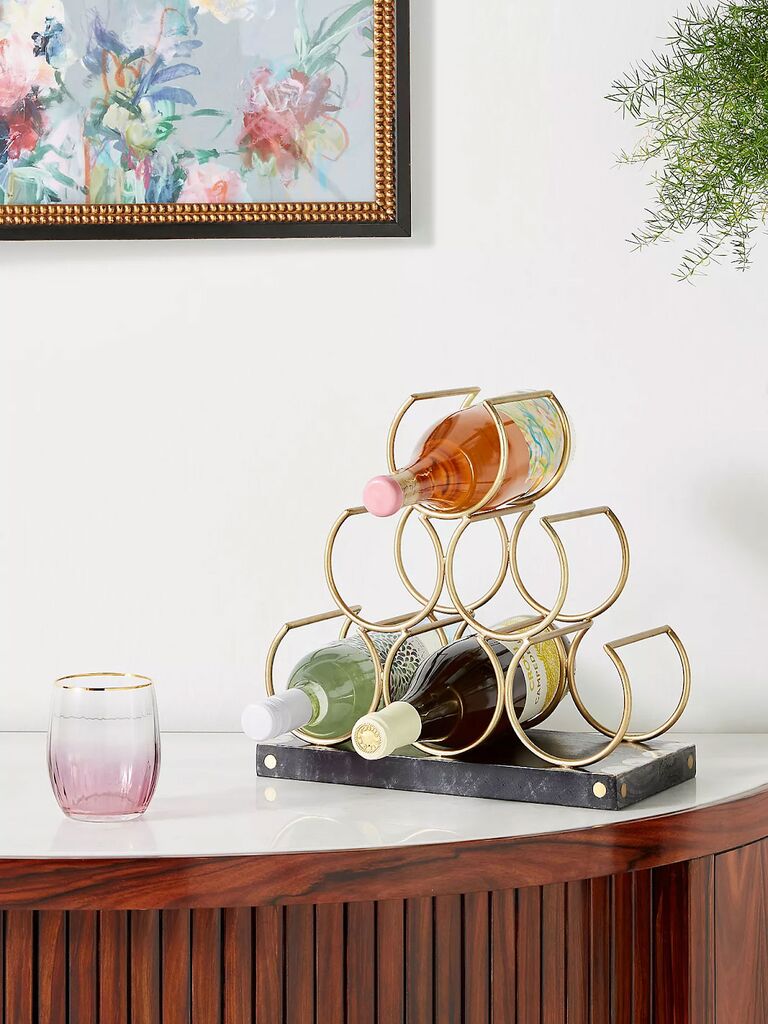 Does the couple in question adore collecting wine? Give them a chic way to display their favorite bottles. This rack offers storage and serves as a unique piece of decor.
Anthropologie mother-of-pearl inlay wine rack, from $98, Anthropologie.com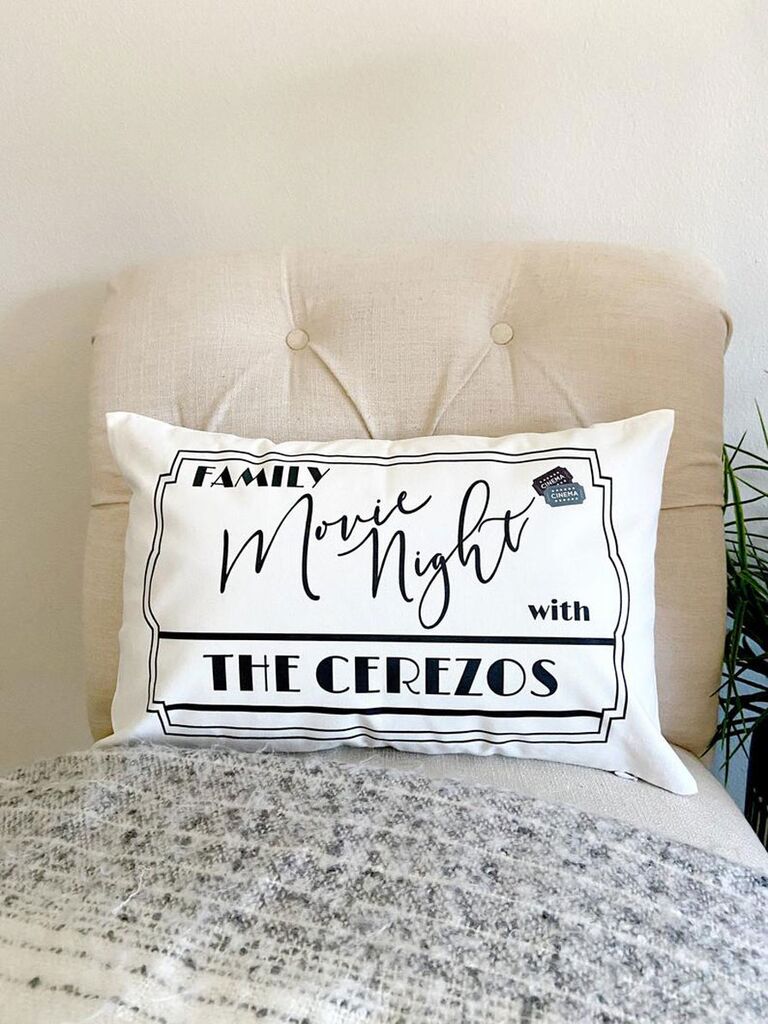 Not sure what sort of furniture would make the best 17th anniversary gift? Why not give them a way to accent their seats? This creative, movie night-themed pillow is a sentimental addition to any room.  
Touch of Vintage Design personalized family movie night pillow cover, $22, Etsy.com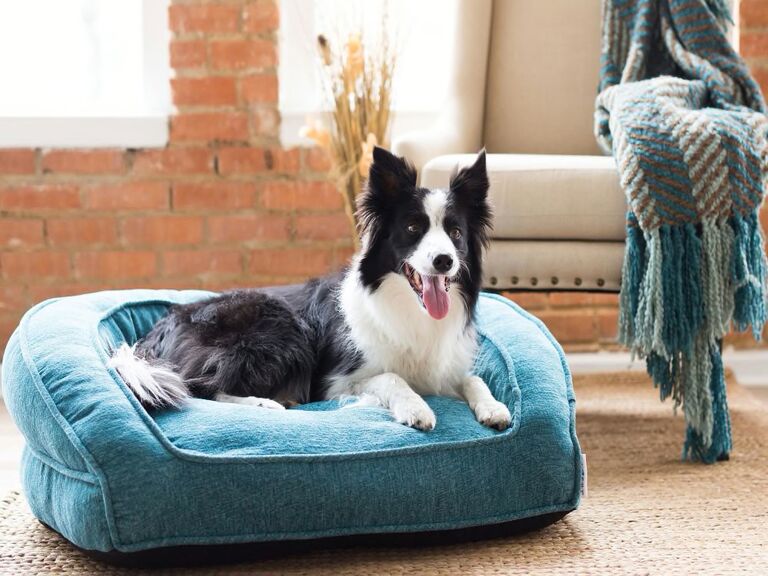 If they're obsessed with their pet, they may appreciate new furniture for their furry friend even more than they'd appreciate furniture for themselves! This dog sofa is perfect for the couple who treats their pup like royalty. 
La-Z-Boy Tucker dog sofa in Carribean, $110, Petco.com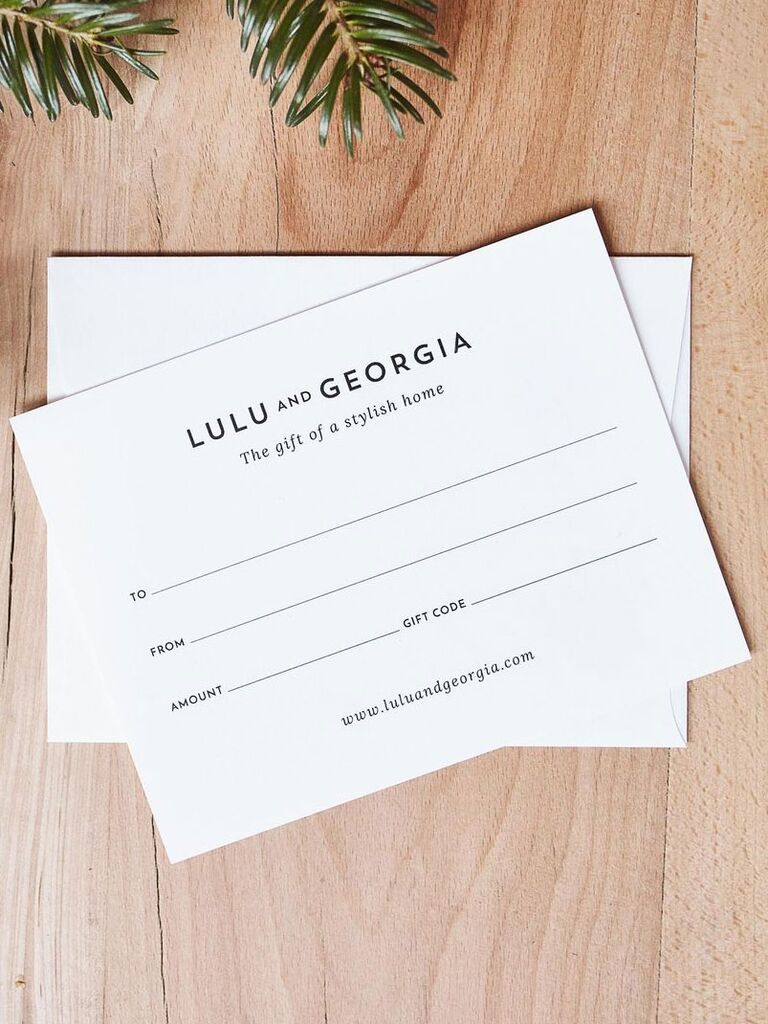 Give them a gift card so they can decide how best to accent their home. At this trendy store, they can buy everything from furniture and home decor to lighting. 
Lulu and Georgia gift card, from $25, LuluandGeorgia.com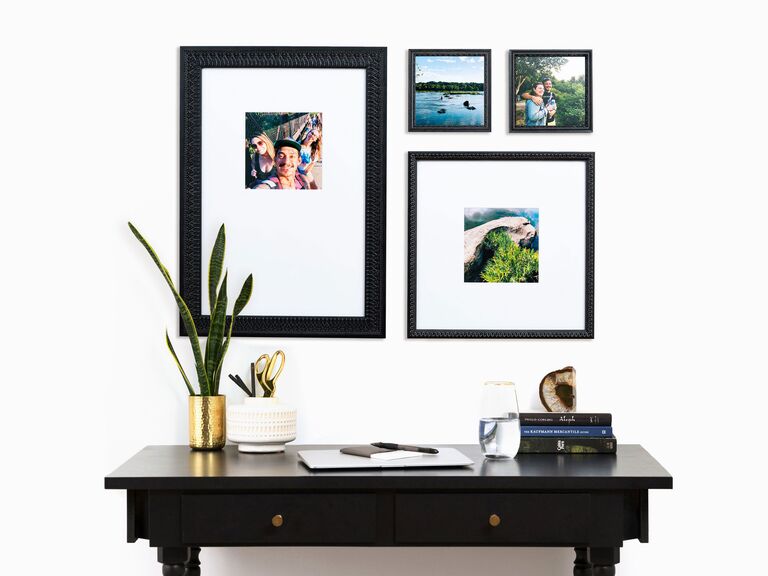 Yes, frames may technically be more of a decor item than furniture. But if the couple really has no room for extra furniture, this photo gallery collection is the perfect 17th anniversary gift for them.
Framebridge The Uneven Grid, from $265, Framebridge.com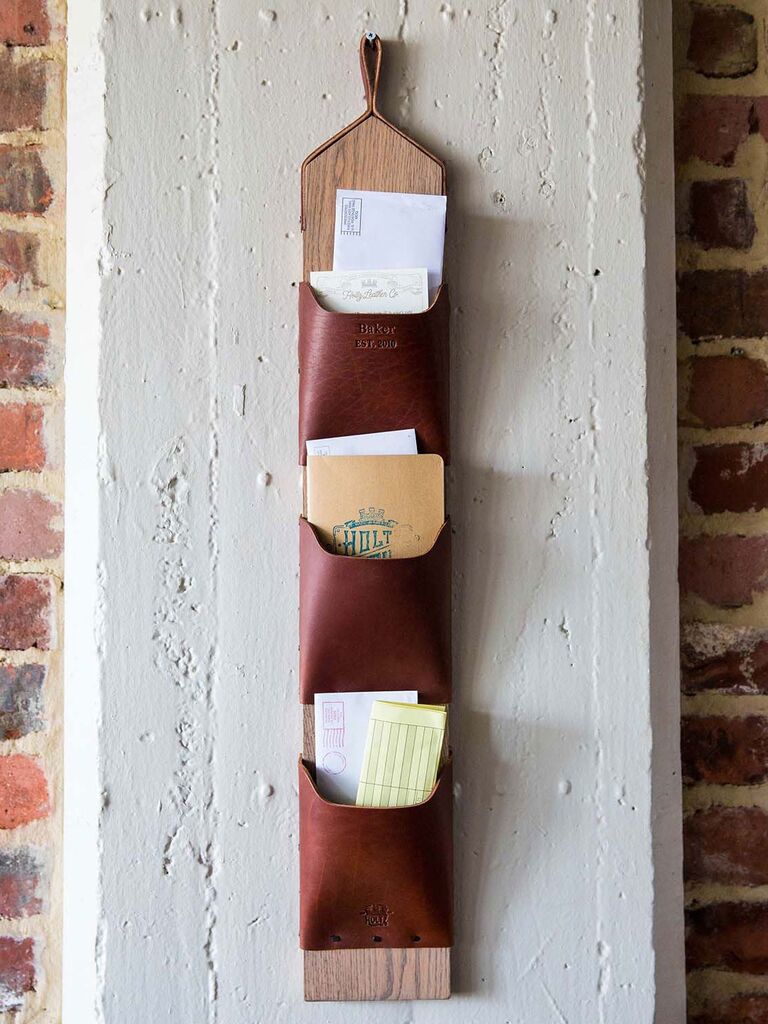 Help the couple take care of any mail clutter they may have with this wall-mounted organizer. It's a unique and practical piece of home decor they'll use over and over again.
Holtz Leather The Postman, $141, Etsy.com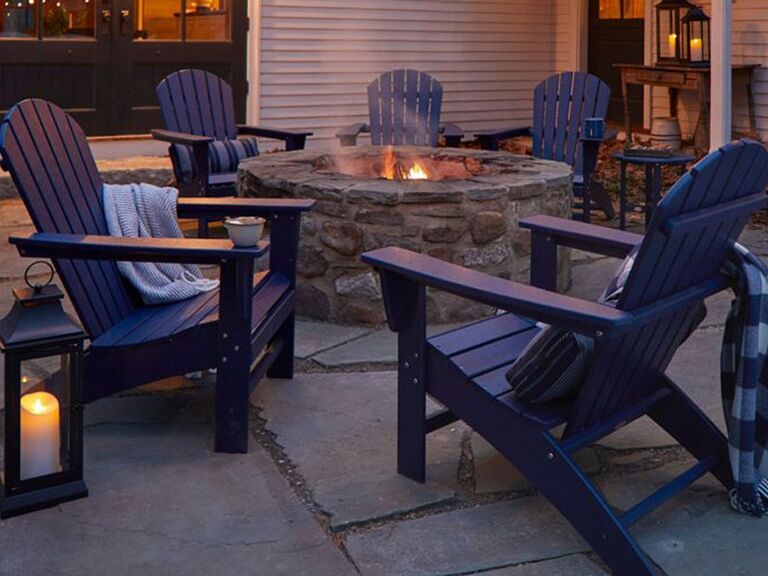 If the couple loves spending time outdoors, a set of two Adirondack chairs is a classic, thoughtful gift. These ones are made to withstand whatever the weather might throw at them and can be left outside all year.
L.L.Bean all-weather Waterfall Adirondack chairs, $249 each, LLBean.com