The Complete Amsterdam Honeymoon Guide for Blissful Biking and Beyond
Cyclists, art lovers and history buffs will love this bucket list-worthy destination.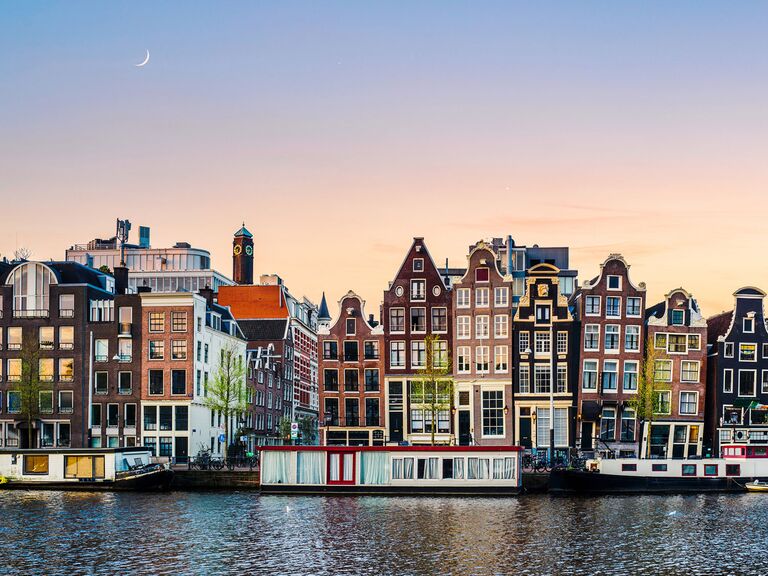 Karl Hendon / Getty Images
We have included third party products to help you navigate and enjoy life's biggest moments. Purchases made through links on this page may earn us a commission.
They call Paris the City of Love (and there's no denying the French capital is a dreamy spot for a post-wedding escape), but an Amsterdam honeymoon is a unique European getaway that's only slightly off the beaten (bike) path. The capital of the Netherlands is steeped in 17th-century history, still evident in an intricate canal system lined by trees and colorful merchant houses with gabled facades. Modern Dutch design and amenities give the romantic destination a contemporary, cosmopolitan appeal.
There are museums aplenty—particularly for the arts—and the endless biking opportunities make Amerstadam a dream for active couples. A trip to Amsterdam is easiest for couples in the US who are traveling from the Northeast. It's about 7.5 hours away from New York City. Couples departing from the South or West Coast who are traveling nonstop should expect a 10- or 11-hour trip. Travelers from the US will want to ensure they have a valid passport before departing for a honeymoon in Amsterdam.
Amsterdam Honeymoon Tips in This Article:
Is Amsterdam Good for a Honeymoon?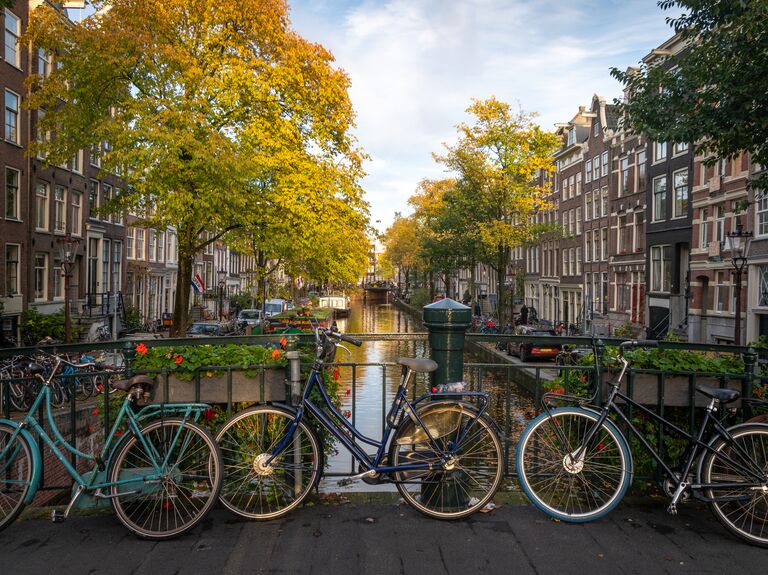 Pros of a Honeymoon in Amsterdam
Amsterdam's scenic surroundings, monuments and museums give couples plenty of opportunities to get to know the past and present of the city both indoors and out. Plenty is within walking distance, and biking is a lifestyle in these parts, making an Amsterdam honeymoon ideal for active and adventurous pairs. Popular attractions include famous sights like the Red Light District and the Anne Frank Museum.
The capital city is fun as a post-nuptials getaway by itself or as part of a longer Netherlands honeymoon. Day trips to fishing towns and the countryside—complete with postcard-perfect windmills—are also possible throughout your stay in Amsterdam. An adventure to Keukenhof—a 30-minute drive from the capital city—when the tulips are in all of their glory in April and May? Iconic.
Cons of a Honeymoon in Amsterdam
Amsterdam is a trek for couples from the South and West Coasts of the US. For some, it's well worth it. But pairs hoping to spend less time in the air might consider going elsewhere. Although the city has plenty of water vistas and opportunities to sail through the canal system, it's no beach vacation. The trip is best for couples looking to have an itinerary packed with sightseeing. You also won't find all-inclusive honeymoon packages at resorts as you might in a more tropical locale. Those hoping to relax at an all-inclusive resort with a white-sand beach would likely prefer a Caribbean or US Virgin Islands getaway.
The Best Times to Visit Amsterdam
It's up to Mother Nature, but the sprawling tulip fields are usually in full bloom from mid-April through early May, making it prime time to visit Amsterdam and take a day trip to nearby Keukenhof. The weather this time of year is often mild, too.
If you can handle the cold, the Amsterdam Light Festival happens each November through January. Artists from around the world compete for a chance to help light the canal system, which couples can cruise for a unique tour.
Amsterdam Tourism Tips for Couples
People in Amsterdam speak Dutch and use the euro as the official currency. The country uses Central European Time, which is six hours ahead of Eastern Daylight Time and nine hours ahead of Pacific Daylight Time.
Amsterdam isn't heavy on resorts. Expect luxury chains and unique boutique hotels, some of which take on the city's artsy aesthetic. The need for reservations varies. But if you're traveling to Amsterdam in the spring and summer, booking tours in advance can help you avoid long lines.
Best Amsterdam Day Trips and Places to Visit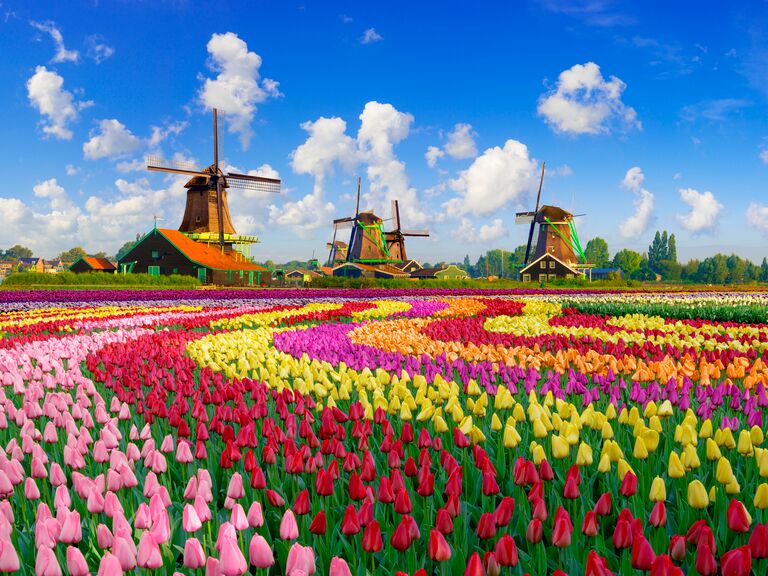 There are enough things to do in Amsterdam to keep you busy for a good seven to 10 days. But there are also tons of opportunities for day trips from Amsterdam. Windmills and seasonal fun, like tulips in the springtime, await. Consider adding these excursions to your Amsterdam itinerary.
Zaanse Schans
A trip to Zaanse Schans feels like traveling back in time to the 18th and 19th centuries. In the 1960s and 1970s, old structures from around the region were relocated to Zaanse Schans to recreate a snapshot in time. Numerous historic windmills and green wooden houses give the area a quintessential Dutch look. Ditto for the numerous cyclists you'll find.
Giethoorn
An 85-minute drive from Amsterdam, Giethoorn is a Dutch village with old-world charm. It's mostly car-free—there are no roads in the village's center. It's OK—locals prefer to get around by bike and foot, and there are plenty of pathways catering to both. Amsterdam natives enjoy boating as a popular pastime, and couples can take cruises or rent boats. However you get around Giethoorn, expect to see quaint thatched-roof houses. Museum Giethoorn 't Olde Maat Uus is full of information on the region's history.
Utrecht
The fourth-largest city in the Netherlands, Utrecht is a hidden gem bursting with Medieval charm. The city center is full of buildings, some dating back to the second century. Honeymooners can cruise or kayak tree-lined canals. It's home to the Netherlands' oldest civic museum, Centraal Museum. Another possibility is a nearly 500-step ascent to the top of the 14th century Dom Tower for a bird's-eye view of the city.
Keukenhof
Located about 30 minutes from Amsterdam in the municipality of Lisse, Keukenhof is known as the Garden of Europe. Each spring, it transforms into a 79-acre tulip paradise, with 7 million colorful bulbs adorning the sprawling field. Keukenhof hosts an annual Flower Parade every April to celebrate this beautiful transformation (the next one is April 20, 2024). Throughout the eight-week span of tulip season—the only time Keukenhof is open to the general public—more than 1 million people come to get coveted snaps of the blooms.
Rotterdam
Situated in South Holland, Rotterdam translates to "The Dam on the River Rotte." The port city is the second largest in the Netherlands and sits along the North Sea. Though much of the Netherlands can feel like a throwback to centuries past, Rotterdam's architecture offers a more contemporary appeal. Find local delights at The Markthal, snap a photo of the iconic harp-shaped Erasmus Bridge, or visit with the animals at the Rotterdam Zoo.
Best Things to Do in Amsterdam for Couples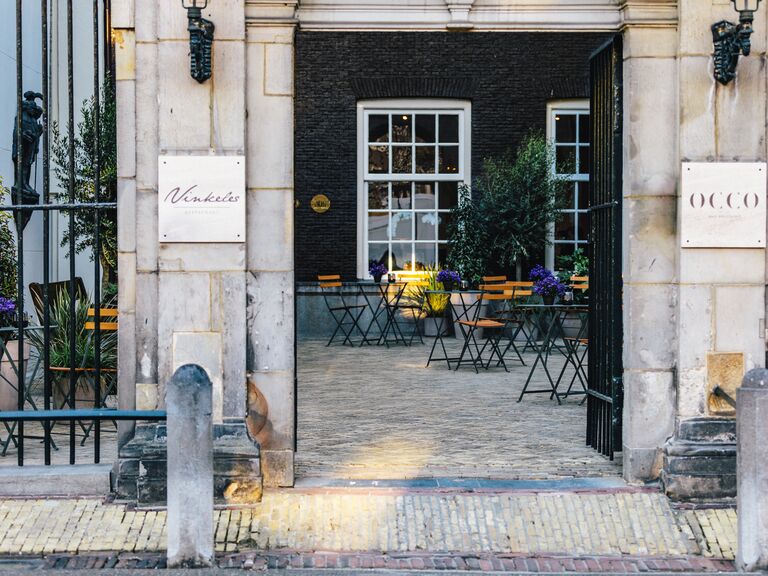 Rent a Bike
Bikes are the transport method of choice in Amsterdam, where it's ingrained in the culture. School pick-up? Bike. Work commute? Also, bike. Couples don't have to deal with either on their Amsterdam honeymoon, but they can still cycle around the city, taking in the sights, sounds and smells at their own pace. Bike rentals and self-guided tours allow couples to knock off Amsterdam honeymoon itinerary items like the Old Church, Rijksmuseum and Vondelpark. Foodie paradise De Pijp—home to some of the most happening and romantic restaurants in Amsterdam—is another worthwhile stop.
Cruise a Canal
It's not a trip to Amsterdam without a cruise down the city's centuries-old canal system. The three canals, Herengracht, Prinsengracht and Keizersgracht, were once central to the city's commerce, transporting goods. These days, they're popular among tourists, including honeymooners, who can take guided tours. Food and drink are often included. Guides will point out landmarks, like Rijksmuseum and the Anne Frank House, as you sail by them for a unique perspective on the city.
Visit the Anne Frank House
Set along the Prinsengracht, the Anne Frank House shares the story of the young Jewish Holocaust diarist whose work became required reading for people around the world. Today, the Anne Frank House shares educational information and programs about the place where the Frank, Van Pels and Fritz Pfeffer families hid during the war. Though somber, it's a piece of history not to be missed. Couples can walk through it at their own pace in a self-guided tour that typically takes an hour or two.
Hop Art Museums
Amsterdam is a cultural hub that pays homage to the arts, both past and present. Numerous museums are within walking distance—ambitious couples could probably see all of them in a day or break visits up across two days or so. The Van Gogh Museum is home to masterpieces from the iconic Dutch painter, such as Sunflowers, The Potato Eaters, Almond Blossom and The Bedroom. Rijksmuseum is the Netherlands' national museum, and it focuses heavily on Dutch art and history. Small-group tours are available. For contemporary works, stops at Stedelijk and the smaller indie museum Moco are a must.
See the Red Lights of De Wallen
Also known as De Wallen, Amsterdam's Red Light District is a hub of Amsterdam tourism. Couples can learn more about Amsterdam's sex work profession at the Red Light Secrets Museum and see the infamous red lights. The area is also home to lauded coffee shops, bars and restaurants. It's typically at its liveliest in the early evening, making it a favorite spot for those wishing to indulge in Amsterdam nightlife without staying out too late.
The Best Amsterdam Honeymoon Packages and Hotels
This five-star boutique spot is considered one of the best Amsterdam hotels and is a retreat near the lush Oosterpark and lively city center. All rooms feature handpicked artwork, giving them a unique feel. Beds are made for sinking into after days spent walking and biking. Some have seating areas. An on-site spa offers massages and pedicures—perfect for bodies weary from sightseeing.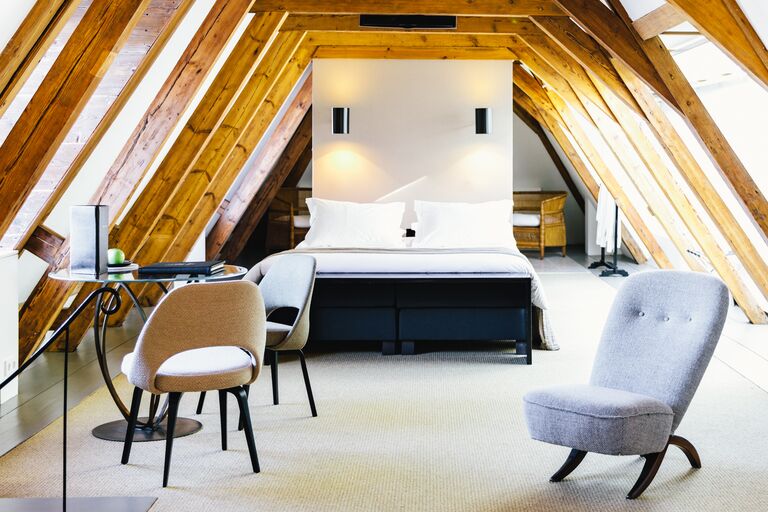 This chic hotel overlooks the Keizersgracht Canal and sits in the heart of "Nine Streets." The Dylan Amsterdam has a 17th-century stone facade on the outside and modern amenities like Bose sound systems and flat-screen TVs on the inside. Some rooms have elegant cathedral ceilings. It has one of the top Amsterdam honeymoon packages—the celebratory offer includes a romantic bath, bubbly upon arrival and late check-out.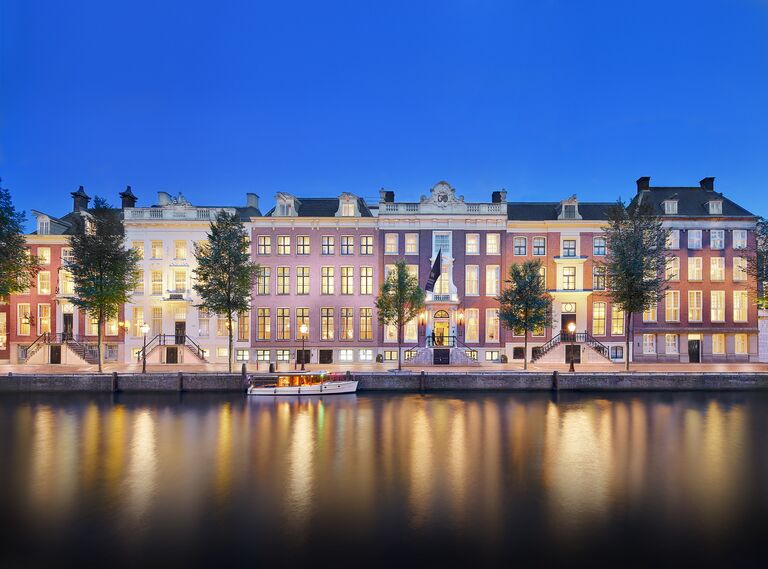 This luxury hotel is housed within numerous 17th-century palaces, leaving honeymooners feeling like they've received the royal treatment. One room has a 17th-century spiral staircase. Others have fireplaces and dazzling chandeliers. Afternoon tea is served daily, and a Michelin-starred chef helms the well-regarded restaurant within the hotel, Spectrum. It's located just a stone's throw away from the legendary canal system.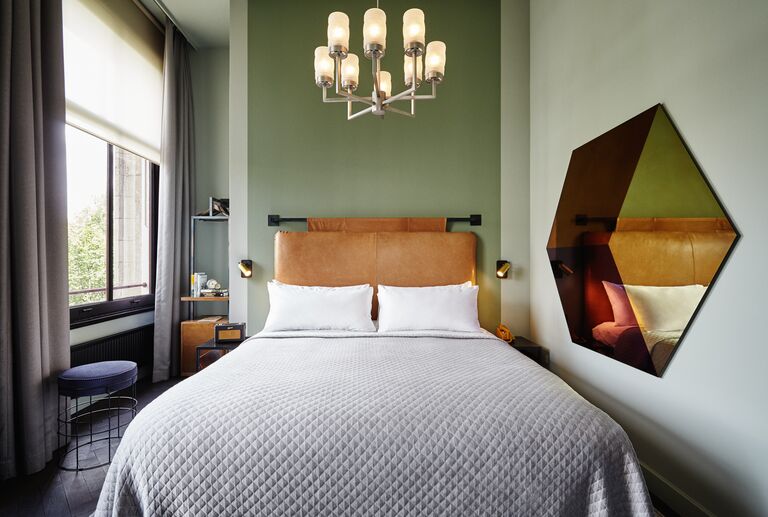 Past meets present at this waterfront hotel set in canal houses. Rooms are unique and trendy, with fun furnishings like glamorous chandeliers and funky sofas. It's within walking distance from the Royal Palace of Amsterdam, the Anne Frank House and the Van Gogh Museum.
Sweets serve as a quirky alternative to other Amsterdam hotels. Formed from a collection of 28 bridge houses turned into independent suites, Sweets Hotel offers honeymooners a stay that's equal parts unique and intimate. There are hideaways along the River Amstel and spots in the bustling city center. Navigate the website like you would AirBnb or Vrbo, selecting a location and style to fit your heart's desire.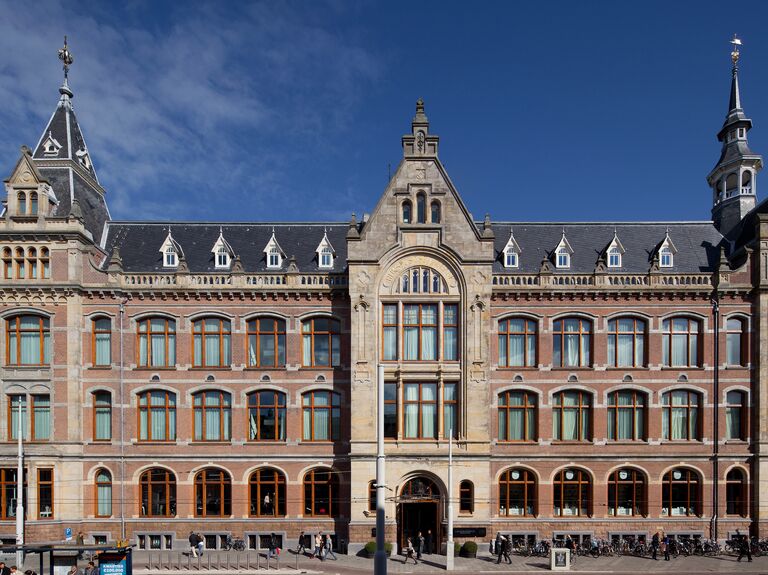 This upscale hotel with a Neo-Gothic facade has rooms with sweeping city views. A luxury spa has an indoor pool and sauna. Some rooms have rainfall showers, and upgraded ones offer free-standing tubs for romantic soaks. It's a dreamy location for couples looking to be near the center of it all—it's just a three-minute arm-in-arm stroll from the Van Gogh Museum and a seven-minute walk from the Rijksmuseum.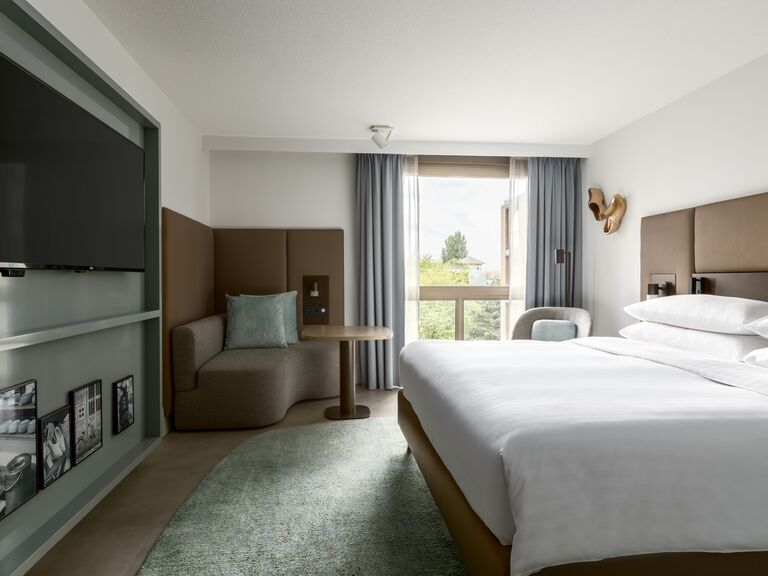 Situated near the Vondelpark and a six-minute saunter from the Rijksmuseum, Amsterdam Marriott Hotel offers a retreat for sightseeing pairs. A sauna gives sore muscles some TLC, and a modern lounge serves craft cocktails made for toasting to many adventures to come. After a day of seeing it all, cozy mattresses and quality linens set the stage for rejuvenating sleep.
What to Pack for an Amsterdam Honeymoon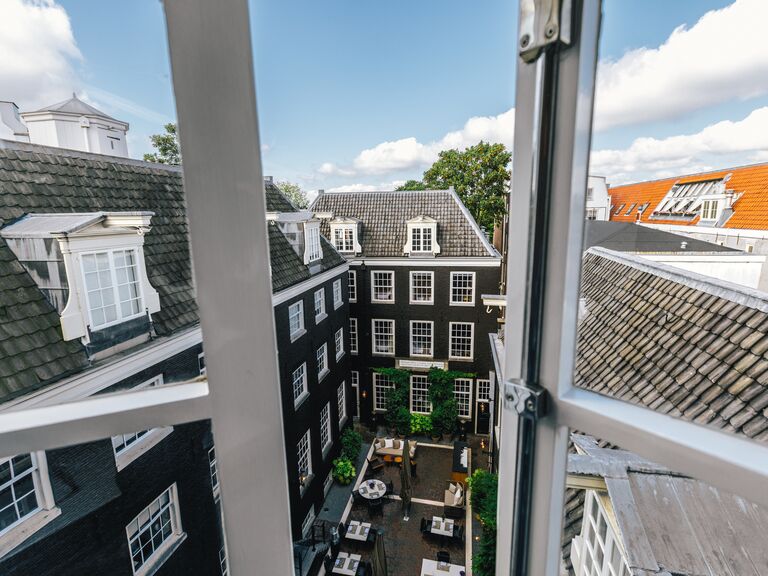 Your packing list will depend on when you're heading to Amsterdam for your honeymoon. Light layers are ideal for spring, fall and even summer, as indoor attractions can be breezy. A cardigan or two should keep your arms warm.
Amsterdam involves a good bit of exploring by foot or bike. Sturdy but comfortable sneakers are best. Linen pants, nice jeans and polished-but-casual tops like lined V-neck T-shirts are perfect for day-tripping.
Be prepared for sun or rain—either is possible throughout the year—with raincoats, an umbrella, sunscreen and sunglasses. A hat will protect your head from the elements. Mosquitos are an issue from early spring through fall, particularly around canals, so stash some bug spray in your suitcase. A backpack is perfect for carrying all of these items during the day.
Some dressier items for upscale dinners at romantic restaurants in Amsterdam are also good to pack. Think black dresses, nice slacks, polos, flowy blouses and collared shirts.