Anguilla Honeymoon: Weather and Travel Guide
by The Knot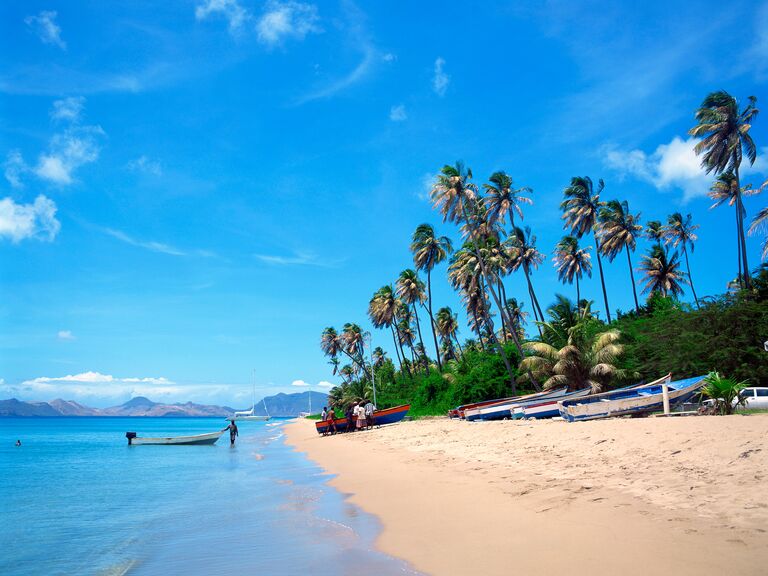 The island of Anguilla combines mellow Caribbean life with exotic Mediterranean style. Everywhere you look, you see blue and white: turquoise sea tickling white-sand beaches or blue sky framing stark white resorts. There are no casinos, cruise ships or high-rises; the focus here is on lingering meals, silky sand and starlit strolls. You may pay a higher price to visit Anguilla than other tourist-trampled islands, but you'll be rewarded with great food, over-the-top luxury and star-studded beaches.

Before You Go: Need-to-Know Info
Language: English
Flight time: 8 hours from New York City; 13 hours from LA; 7 hours from Chicago
Getting around: Car (keep to the left!), taxis and ferry to St. Martin
Entry requirements: Passport and return ticket
Currency: Eastern Caribbean dollar (EC) and US dollar

When to Go: Anguilla at its best
Best weather: Anguilla receives relatively little rainfall (hence its arid topography) and has a monthly mean temperature of 80 degrees all year long
Best prices: May to December
Festivals: Anguilla International Arts Festival and Competition occurs biannually during the third week in January; Moonsplash Annual Music Festival begins on the night of the full moon in March; Summer Festival rocks the first week of August with parades, pageants, boat racing and calypso competitions.

What to Do
People watch: If you're looking for a glimpse of famous faces, or if you'd like to make like a superstar yourself, this is the place to be. Beyoncé and Jay-Z, Uma Thurman, Jennifer Lopez and Queen Latifah have all been sighted along the powder-white shores of Anguilla. (Don't forget your movie-star shades!)
Treat yourself: Anguilla is the place to indulge. (It is your vacation, after all.) The island is loaded with extravagant spas offering massages, polishes, wraps, masques, scrubs -- even bathing rituals. Try a yoga session under the palm trees. Or, for real luxury, have a couple's rubdown in a private "spa suite" overlooking sand and sea.