Relax on Stunning Beaches During an Anguilla Honeymoon
This Caribbean island is a truly luxurious escape.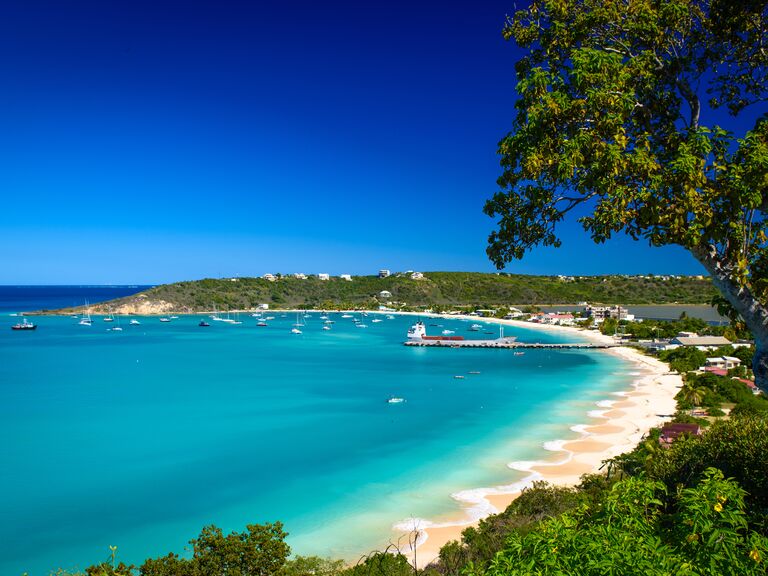 Kristopher Kettner / Shutterstock,Location: Sandy Ground Beach, Anguilla
We have included third party products to help you navigate and enjoy life's biggest moments. Purchases made through links on this page may earn us a commission.
With more than 30 beaches on one tiny island, an Anguilla honeymoon is the perfect destination for couples who want a romantic and secluded getaway. Spend your days on white-sand beaches and soak in the sun. We guarantee you'll never want to leave this slice of paradise in the heart of the Caribbean.
To get to Anguilla from the United States, you'll need to book a connecting flight through St. Maarten or San Juan, Puerto Rico. Anguilla is most accessible for travelers from the East Coast or the South.
As of October 2021, in order to visit Anguilla, adult travelers must have received a COVID-19 vaccine. Additionally, travelers are required to apply to visit Anguilla before arriving on the island. Travelers must also submit a negative PCR test result taken in the five days prior to arriving on the island. Upon arrival, you'll be COVID-19 tested and will be required to quarantine until you receive a negative result.
Is Anguilla Good for a Honeymoon?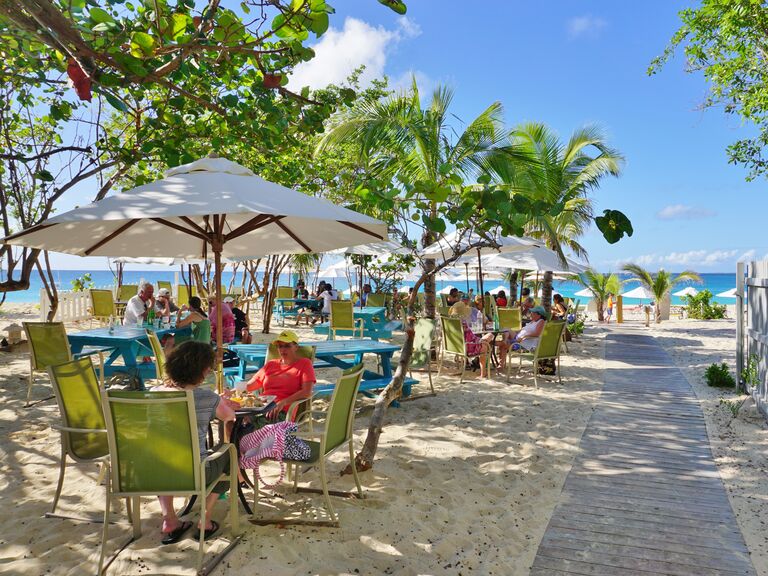 Pros of an Anguilla Honeymoon
As a smaller island (it's only 16 miles long), Anguilla is a great spot for those hoping for a calmer and more secluded romantic getaway. Anguilla has some of the best snorkeling and scuba diving in the Caribbean, with tons of ocean life to explore under the clear-blue waters. Plus, the year-round warm weather guarantees you'll be able to bask in the sun.
Cons of an Anguilla Honeymoon
Unfortunately, there are no direct flights from the US to Anguilla. In order to get to this idyllic Caribbean island, US travelers will have to take a connecting flight, making the travel process a bit more tedious. Since Anguilla is a British territory, US visitors will need a passport to travel there. Additionally, due to the smaller size of the island, hotels and resorts can fill up quickly, making booking your trip early essential.
The Best Times of Year to Go on an Anguilla Honeymoon for Good Weather
Like many Caribbean islands, Anguilla experiences hurricane season from June to the end of November. For this reason, you'll want to plan your trip for the earlier months of the year. The spring is a great time to travel to Anguilla, as temperatures usually hover around the high 70s and low 80s—without the looming threat of hurricane season.
Places to Visit in Anguilla for a Honeymoon
Meads Bay Pond
Interact with some of the island's natural wildlife at Meads Bay Pond. This wetland located on the island's southwestern shore is home to tons of native birds. Beyond the native wildlife, the lush landscape will leave you in awe.
Shoal Bay Beach
One of the island's most gorgeous beaches, this white sandy beach feels like a private enclave—even though it's open to the public. Tan on the soft sand or wade into the crystal-clear water. You'll never want to leave this hidden gem.
Little Bay
Looking to do some snorkeling on your honeymoon? Little Bay is the perfect spot for you. This beach, which is only accessible by boat, is nestled in a tiny cove. If you're feeling a bit adventurous, you can opt to go cliff jumping off of the cove's big rocks.
Rendezvous Bay Beach
If you love long walks on the beach, consider heading to Rendezvous Bay Beach for your next stroll. This beach boasts fantastic views of St. Maarten, so make sure to have your phone or camera ready to snap some pictures.
Maundays Bay Beach
Searching for a beachfront spot to plop down for a few hours and dig into your next great read? Head to Maundays Bay. In addition to being one of the best beaches on the island, this area is known for its calmer waters and fewer crowds.
Island Harbour
One of the island's fishing villages, this quaint spot is a great place to watch the local fishermen bring in the day's catch (and maybe get a glimpse of your dinner). Located on the northern side of the island, Island Harbour is also full of scenic views.
Best Hotels and Resorts in Anguilla for a Honeymoon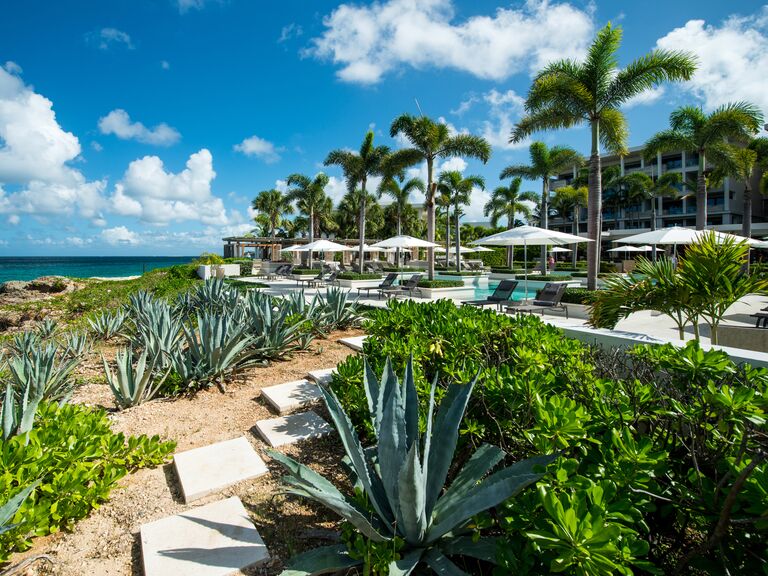 If you're looking for a luxurious beach resort, consider the Belmond Cap Juluca. This stunning hotel features an infinity pool, a spa and four restaurants. Interested in some water sports? The resort offers snorkeling, scuba diving and sailing.
Located on Meads Bay, this island resort feels like a tropical paradise. Part of the Auberge Resorts Collection family, Malliouhana has tons of different activities and experiences to choose from—including a private destination dinner atop the Malli Bluff and an afternoon fishing experience where you get to catch your own dinner. You'll never run out of things to do—or views to take in.
The vast majority of rooms in this resort have jaw-dropping oceanfront views. The Four Seasons in Anguilla is a honeymooner's paradise, offering activities like yoga on the beach, sunset sails, access to prime beach snorkeling and tons of relaxing spa treatments.
Formerly known as the Resort & Residences by CuisinArt, this hotel is packed with tons of amenities. From a stunning pool to an 18-hole championship golf course, Aurora Anguilla has something for everyone.
This luxury hotel is full of ocean views, complimentary activities and delicious meals. Head to the shore for tubing or wakeboarding before enjoying a dinner at the resort's award-winning restaurant, Straw Hat. Located right on Meads Bay, Frangipani is in a prime location on the island.
What to Pack for an Anguilla Honeymoon
Since you'll spend most of your days basking in the sun, be sure to pack sunscreen and summer clothing. Rainstorms are common in Anguilla (especially during hurricane season), so be sure to pack a raincoat or throw an umbrella in your bag. Rainstorms in the Caribbean can pop up with zero warning, so make sure you're always prepared for a downpour.