The Complete Guide to a St. Maarten Honeymoon
There are two sides to this island for double the romance.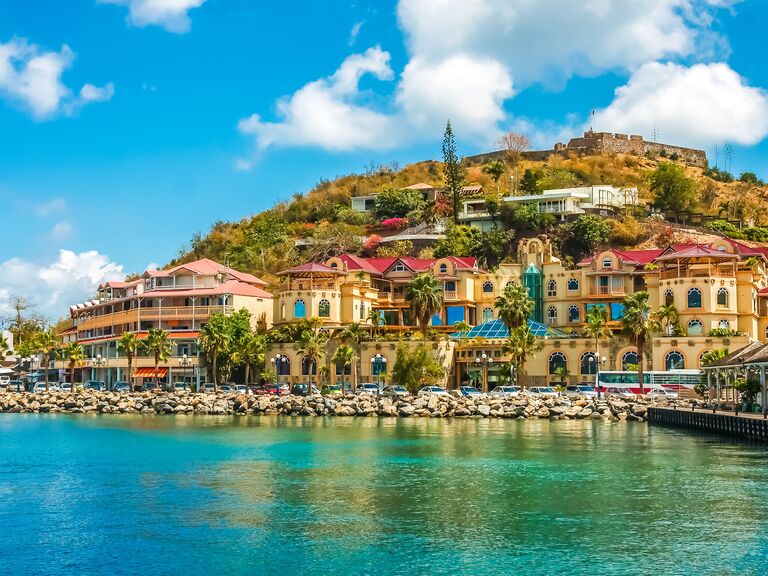 Shutterstock
We have included third party products to help you navigate and enjoy life's biggest moments. Purchases made through links on this page may earn us a commission.
Looking for a romantic getaway in the heart of the Caribbean? Look no further than the 37-square mile island of St. Maarten, which was first inhabited by the Arawaks and later colonized. The European culture of the island can be felt in the old stone historic forts dotting the island, while the natural beauty can be experienced by the stunning red-and-white-sand beaches.
St. Maarten is divided into two parts: the northern side of the island speaks French and is called Saint-Martin, while its southern side, Sint Maarten, is Dutch-speaking. Located only three hours from New York and under three hours from Miami, St Maarten is easily accessible and makes for a stunning honeymoon surrounded by warm locals and intriguing culture.
Is St. Maarten Good for a Honeymoon?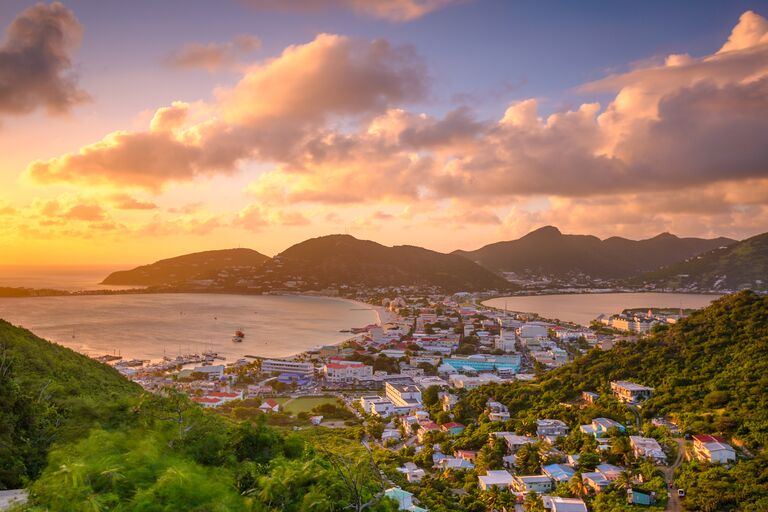 Pros of a St. Maarten Honeymoon
There's much for honeymooners to experience, including shopping and secluded beach hopping. The mile-long boardwalk and shopping hub of Philipsburg Island, for example, is brimming with souvenir shops, ice cream parlors and fashion boutiques. A few forts dot the island where history buffs can learn about the past stories of St. Maarten. Beautiful beaches like Cupecoy Beach, a secluded spot surrounded by limestone cliffs, allow couples to snorkel with few crowds.
Cons of a St. Maarten Honeymoon
Depending on your location, direct flights to the destination may be sparse or simply unavailable. This can require a layover or two from the departing airport. Also the small airport means that customs lines can get lengthy depending on the time of year and the sizes of planes landing at the same time. (Our tip: pack a book and travel in comfy shoes.)
The Best Time of the Year to Go to St. Maarten
St. Maarten weather is tropical hot and sunny year-round. The average daily temperature is around 79 degrees in the coolest time of the year from January to March. From June to October, the weather is an average of 84 degrees and is also the most humid time of the year.
Things to Do During a St. Maarten Honeymoon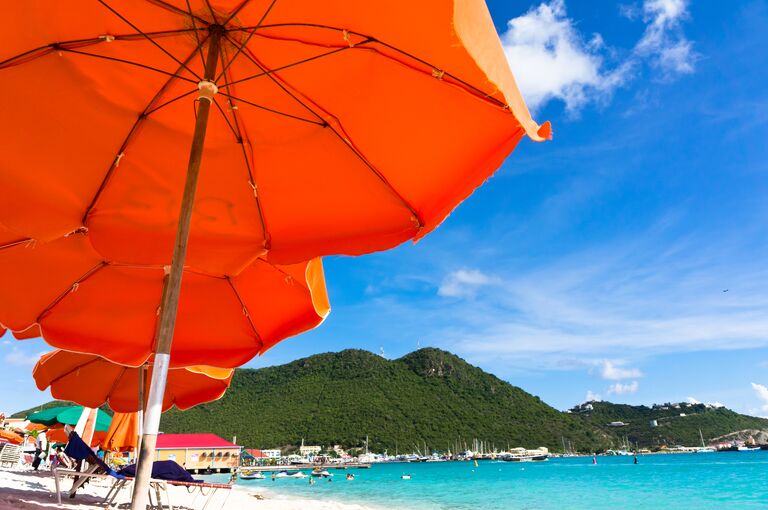 Explore the Stunning Underwater World
Get certified to dive with local dive shop Dive Sint Maarten located at Bobby's Marina. Owned by Captain Willem, your PADI Open Water Certification will allow you to experience an array of thrilling dives around the island. For example, you can visit Charlie's Shoal: a site that remains quite pristine as it doesn't get many visitors. In these calm waters, take in the colorful coral and look out for grouper, sea turtles and nurse sharks. If you're looking for a great snorkeling site, Mullet Bay offers tons of natural rocks on the beach's northern side so you can spot plenty of tropical fish hiding and feeding off these formations.
Experience an Adrenaline Rush
Set on a hilly incline over several acres, Rainforest Adventures is an amusement-style park fit for couples who want to be big kids again in a nature-based setting. The Schooner Ride allows you to zip down and around a mountain via inner tube. Real daredevils can do the Flying Dutchman: called the steepest zip line in the world, where you sit in a harness chair and fly down the mountain with St. Maarten views in the background. Also check out the Sentry Hill Zip Line and the Sky Explorer which takes to a 360-degree viewing deck which shows the islands of Anguilla, Saba and St Barthelemy. After a day of adventure, wake up in the morning for a private couple's yoga session on your resort property.
Enjoy the Diverse Landscape
One of the main attractions to St. Maarten is the thrilling experience of planes taking off and landing not too far from your head. A five-minute drive to Maho Beach from Princess Juliana International Airport will allow you access to the planes from a safe distance and makes for a great backdrop to photos. Located in the port city of Philipsburg, Great Bay Beach is a serene place to walk, run, or even just sunbathe with your plus one. Don't miss another great beach located near the village of Marigot. The craggy cliff beach of Baie Rouge ("Red Beach") is extremely photogenic with its pinkish-red sand and also a popular spot for bringing along lunch or cocktails and watching the sun set.
Take in the History of the Island
Pay a visit to the Emilio Wilson Museum where you can learn about life on St. Maarten during slavery and history of the island colonized by the Dutch. Overlooking blue waters of Great Bay and Little Bay, Fort Amsterdam is worth a mild hike to the top. Being that it was Holland's first island outpost built in 1631, the purpose of the fort was to claim control of the island's salt resources. A short walk from Orient Bay, the two-acre wide Mount Vernon Plantation is actually the site of several old plantations. You can take a guided tour of the area to learn about the sugar making as well as some of the native tropical fruit trees and spices that were also cultivated in the area.
The Best Hotels and Resorts for a St. Maarten Honeymoon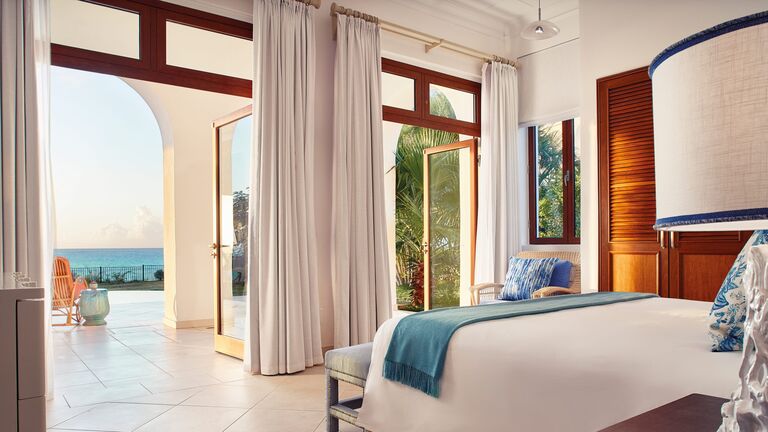 This Belmond Hotel property in the Caribbean infuses Mediterranean touches to its property. With 63 rooms, suites and villa options, honeymooners can't go wrong with what they book–especially as all come with oceanfront views. During the daytime, guests can explore the beach and rent a bamboo cabana. Evenings are complete with cruises around the island and delicious dinners at L'Oursin.
There's nothing quite like a honeymoon experienced at an adults-only resort. The all-inclusive Sonesta Ocean Pointe Resort has 130 suites where you can lounge by a variety of pools, grab a drink at several bars and have upscale dining experiences at the signature Azul Restaurant. Your stay gives you access to the adjacent all-ages Sonesta Maho Beach Resort, Casino & Spa. wellness and fitness center, personalized concierge and butler service in the top suites.
–With reporting and writing by Adrienne Jordan.