Your Guide to Wedding Anniversary Flowers and Their Meanings
Plus, where to buy fresh blooms for a gift.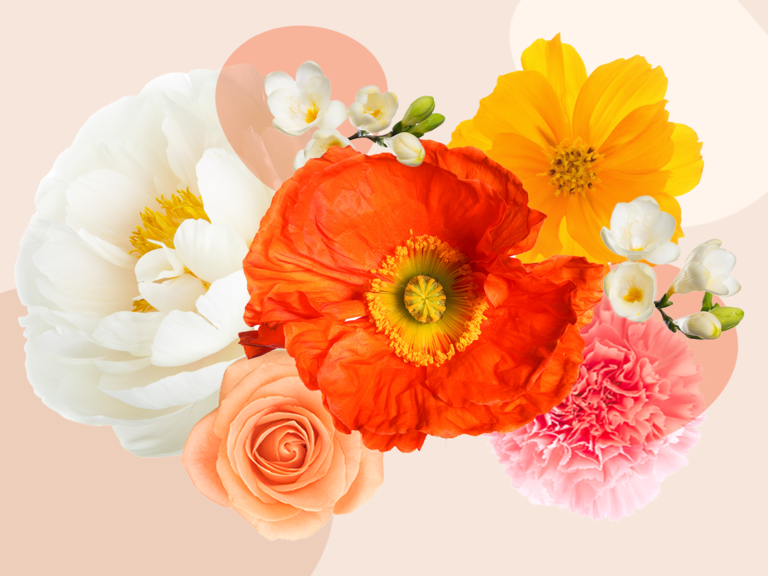 Getty | Design by Tiana Crispino
We have included third party products to help you navigate and enjoy life's biggest moments. Purchases made through links on this page may earn us a commission.
Fresh flowers are a classic, romantic gift—especially if you're celebrating another year of marital bliss. Don't just pick up any bouquet at the store, though. Each year of marriage is associated with traditional anniversary gifts that have an assigned material (paper, porcelain etc.), color, gemstone and, of course, an anniversary flower. Thus, anniversary flowers are a thoughtful present for your spouse. Pair them with a handwritten card explaining the meaning behind the bloom. Unsure what flower correlates with the year milestone you're celebrating? Don't worry. Below, we've rounded up what each wedding anniversary flower is, what it symbolizes and where to buy anniversary flowers for delivery.
In this article:
Anniversary Flower Symbolism by Year
Here's your guide to wedding anniversary flower meanings by year so you can surprise your spouse with the right bloom for your milestone.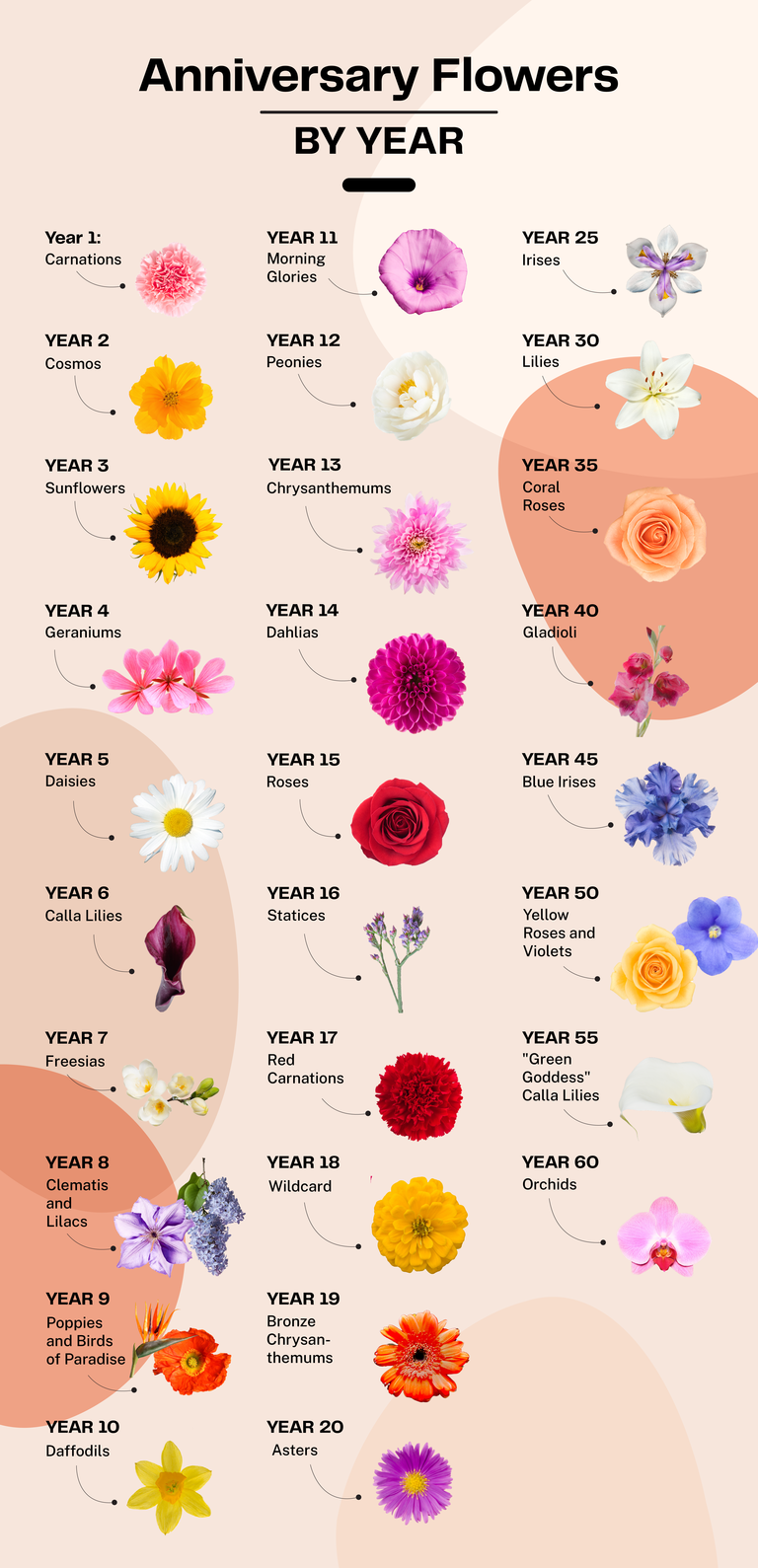 Anniversary Year 1: Carnations
Carnations are the first wedding anniversary flower because they're a symbol of passion and young love—a fitting comparison to your new marriage, we'd say. While they come in many different colors, we recommend looking specifically for light red and pink carnations, since these colors are most commonly associated with admiration.
Anniversary Year 2: Cosmos
The second year of marriage is associated with cosmos. These dainty blooms look similar to daisies, but can grow up to six feet tall and often bloom in large numbers. For this reason, they represent growth as well as peace and love. Like a cosmo, a couple celebrating their two-year anniversary is just starting to blossom and grow strong.
Anniversary Year 3: Sunflowers
By the third year, a marriage is strong and sure—just like a sunflower. It's said that the stalk of a sunflower represents the sturdy foundation a couple has built, while the vibrant yellow petals (which always face the sun) represent all the bright and happy times ahead.
Anniversary Year 4: Geraniums
The four-year wedding anniversary is represented by geraniums. This flower often symbolizes friendship, as each stalk has multiple blooms. For a marriage, it's associated with two people coming together in mind, body and spirit—since after four years, they have a sense of familiarity and comfort with each other.
Anniversary Year 5: Daisies
Daisies are a symbol for the fifth anniversary because of their unique structure. Each petal that fans out from the center is indicative of all the wonderful experiences a couple has yet to share. Even if the marriage has fallen into a routine or seems mundane, the daisy reminds them of all the excitement yet to come. It's also a symbol of fidelity and endless love. We recommend pairing the bouquet with a card that says: "Every daisy is better because of you."
Anniversary Year 6: Calla Lilies
The sixth anniversary's flower is the calla lily, which has many different meanings. For instance, white calla lilies are often used at weddings to represent marital bliss and true devotion—and this sentiment still holds true after six years. Conversely, pink calla lilies signify appreciation and admiration. In general, the calla lily's elegant, lean and graceful structure symbolizes magnificent beauty, just like that found in a loving relationship.
Anniversary Year 7: Freesias
The seventh-anniversary flower is the freesia. These unique blooms have funnel-shaped flowers that grow in clusters on slender stems and usually come in yellow and white (the year's colors), but can also be found in purple, magenta and orange. Freesia is most known for its fragrant buds, lending to the sweetness of a seven-year-long marriage. Additionally, they symbolize the trust a couple has built over time.
Anniversary Year 8: Clematis and Lilacs
The eighth wedding anniversary's flower is the clematis, which is associated with intelligence, thanks to its clever ability to climb walls. In a marriage, it's often thought to represent the linking of two minds through the wisdom gained from shared life experience. That said, the eight-year wedding anniversary is also sometimes associated with lilacs, which represent passion and confidence.
Anniversary Year 9: Poppies and Birds of Paradise
There are two anniversary flowers for the nine-year milestone: the poppy and bird of paradise. Poppies are a symbol of peace and comfort, while birds of paradise denote adventure. Together, they perfectly describe the balance of security and excitement you feel in a long-term relationship.
Anniversary Year 10: Daffodils
The anniversary flower for a decade together is the daffodil. Like your spouse, daffodils are dependable as they come back every year and, thus, are a reflection of unconditional love. Exactly what you hope to continue to accomplish in a 10-year relationship. Plus, their vibrant yellow color is just so cheery.
Anniversary Year 11: Morning Glories
Perfect for the first year of your second decade, morning glories are the 11th wedding anniversary's flower. The summertime bloom is associated with new beginnings since it opens with the sun each day. It also reminds couples to appreciate each and every day together.
Anniversary Year 12: Peonies
The peony is the 12th anniversary's flower. They have a number of meanings, mostly centering around prosperity, good fortune and wealth, since the blossom resembles the shape of a coin and is composed of many petals. They're often given on special occasions—like a wedding anniversary—to express goodwill. Sounds like the perfect wedding anniversary flower gift to your spouse or to your couple friends to congratulate them for being married 12 years and counting.
Anniversary Year 13: Chrysanthemums
Celebrate the 13th anniversary with an anniversary flower bouquet of chrysanthemums. Each color has a different meaning, with yellow representing fidelity, red for passion, white for truth and honesty, and purple for good health. We suggest adding each color to your arrangement for a well-rounded gesture of your love.
Anniversary Year 14: Dahlias
Have you heard of floriography? In the Victorian Era, flowers were used to communicate different meanings. For instance, dahlias, the 14-year wedding anniversary's flower, were used to express devotion, love and beauty. Today, dahlias are used to signify grace and a lasting commitment.
Anniversary Year 15: Roses
After a decade and a half together, it's likely you've experienced some ups and downs. Roses, the 15th anniversary's flower, show that your love and passion are still strong through it all. We recommend a bouquet of long-stemmed, red roses. Red roses are universally recognized as a symbol of romance and the thick stems will show that your roots are stronger than ever.
Anniversary Year 16: Statices
The 16-year anniversary's official flower is the statice. Also known as sea lavender, these tiny blooms come in a host of colors—the most common being purple—and signify remembrance. As such, couples are encouraged to spend the milestone reflecting on all the wonderful moments the past year—and really the past 16 years—brought them.
Anniversary Year 17: Red Carnations
Like the first anniversary, the 17th anniversary's flower is the carnation, specifically a red carnation. A deep red color moves past simple admiration to symbolize great love and affection. After all, your feelings for your spouse have likely only grown stronger after 17 years together.
Anniversary Year 18: Wildcard
The 18-year wedding anniversary doesn't have an official flower. This means it's completely up to you what type of bouquet you gift. Perhaps opt for your partner's favorite bloom or a classic red rose. Alternatively, you could look for blue flowers to complement the 18th anniversary's official color, which represents contentment. Think: blue anemones, hydrangeas, Felicia daisies, bluebells, irises, larkspur—the list could go on and on.
Anniversary Year 19: Bronze Chrysanthemums
The 19th wedding anniversary flower is the chrysanthemum—this is the same as the 13th anniversary's flower. For this milestone, though, not just any color will do. Specifically, look for bronze chrysanthemums to complement the year's traditional gift material and color. The pom-pom-like bud in reddish-brown represents friendship as well as happiness and longevity.
Anniversary Year 20: Asters
Two decades together deserves a particularly special bloom and that's why the 20th wedding anniversary's flower is an aster. Derived from the Greek word for "star," asters were placed on the altars of gods in mythology. That's right, your relationship has reached deity status. Today, asters are often considered weeds, but this just means that—like your 20-year relationship—they're resilient. They come in a few different colors, all with their own meaning. Purple asters represent knowledge, white is loyalty and pink is unwavering devotion—all fitting descriptions of your 20-year relationship.
Anniversary Year 25: Irises
Irises are the official anniversary flower for 25 years of marriage. They come in nearly 250 colors—fitting since the Greek word origin means "rainbow"—though they are mostly associated with a bluish-purple hue. While each color can have a different meaning, they're most commonly used as a symbol of faith and hope, which is a fitting representation of a love that's lasted a quarter century—and counting!
Anniversary Year 30: Lilies
On your 30th anniversary, say "I love you a lily more each day," with the official anniversary flower, lilies (if that wasn't obvious)! Lilies represent humility and devotion—perfect for a couple that knows no marriage is perfect and has stuck by each other through the good and the bad.
Anniversary Year 35: Coral Roses
While the 35th anniversary doesn't have an official flower, it's often associated with coral-colored roses to match its traditional gift material. After 35 years together, you're not just romantic partners, you're also best friends. Coral rose bouquets symbolize the joy a relationship brings you and your gratitude for having a partner to experience life with.
Anniversary Year 40: Gladioli
The 40th anniversary, also known as the ruby anniversary, is symbolized by gladioli. Derived from the Latin word "gladius," meaning "sword" (a tribute to its shape), this flower lets your spouse know they still pierce your heart. It also represents strength of character, faithfulness and moral integrity—all the traits of a knight (and dame) in shining armor.
Anniversary Year 45: Blue Irises
The 45-year wedding anniversary is known as the sapphire anniversary, so it makes sense that its flower is the blue iris. It symbolizes hope for even more wonderful years together. And, if you're looking to give blue irises as an anniversary flower gift to a couple, it represents admiration for their long-lasting and happy marriage.
Anniversary Year 50: Yellow Roses and Violets
The golden wedding anniversary—aka the 50th wedding anniversary—is represented by not one, but two flowers. (It's a massive milestone after all.) The anniversary flowers are yellow roses (basically gold in the plant community) and purple violets. These complementary colors represent two people coming together to support, complement and uplift one another. The blooms are also symbolic separately. Yellow roses stand for friendship and joy, while violets show faithfulness and affection.
Anniversary Year 55: "Green Goddess" Calla Lilies
The 55th anniversary, like the 6th anniversary, is associated with calla lilies, specifically the "green goddess" though. This type of calla lily has the classic trumpet shape, but its petal fades from white in the center to bright green on the tip. This makes sense, since the 55-year anniversary is also the emerald anniversary. Like an emerald, calla lilies represent devotion and magnificent beauty.
Anniversary Year 60: Orchids
The diamond jubilee, or the 60th wedding anniversary, has the official anniversary flower of orchids. These unique flowers symbolize strength, beauty, love and luxury. Couples who experience this milestone know the luxury of having a lifelong partner and appreciate the strength it takes and the beauty it is to stay in love for six decades.
Where to Order Fresh Anniversary Flowers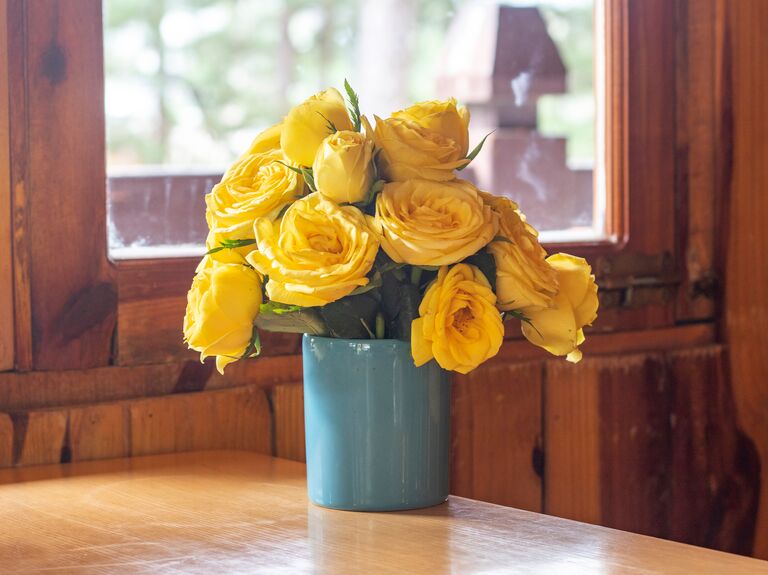 Now that you know which anniversary flower you're gifting, you need to know where to shop. We've got tips on how to buy in person and the best flower gift delivery services, if you'd prefer the online route. You're pretty much guaranteed to find anniversary flower arrangements you (and the recipient) will adore at one of these retailers.
Your local flower shop: The benefit of going to a local flower shop for an anniversary flower bouquet as opposed to shopping online is that you'll get personalized service. Not only will you get a florist's recommendations that are customized to your style, needs and budget, but you can pick exactly what flowers you want—like the milestone's anniversary flower and your spouse's favorite—to make an arrangement that is unique to your love. Plus, you know the flowers will be fresh and they're less likely to be damaged during travel.
UrbanStems: If you're shopping last minute, anniversary flower arrangements from an online retailer might be more efficient. UrbanStems can deliver a bouquet straight to your front door, usually with just a day's notice, so you don't need to run any errands if you're short on time. They have fresh and dried flowers, as well as house plants like succulents. Many of the arrangements come in multiple sizes to accommodate your budget and you can add vases or small gifts like candles or chocolates to the delivery. Plus, you can get 15% off using the code THEKNOT15.
BloomsyBox: BloomsyBox also sells fresh bouquets for delivery, but they're most known for their flower subscription service. Every week, two weeks or month your spouse can receive new blooms for an anniversary flower gift that keeps on giving. And there are dozens of arrangements to choose from, so you can find one with the anniversary year's flower in it.

1-800-Flowers.com: If you're looking for a same-day anniversary flower delivery, 1-800-Flowers.com is the first place we recommend shopping. Simply type in the recipient's zip code and it'll pull up a bunch of bouquets to shop, including some edible arrangements for an additional gift.

The Bouqs Co.: The Bouqs Co. is another great online flower delivery service. Plus, they have new deals every week, so you might get lucky and find the anniversary flower in a discounted bouquet. Best of all, though, they have gift box options that include fresh flowers with chocolate, candles, jewelry and more.