29 Awesome Anniversary Gifts for Your Relationship Role Models, Your Parents
Celebrate their lasting love.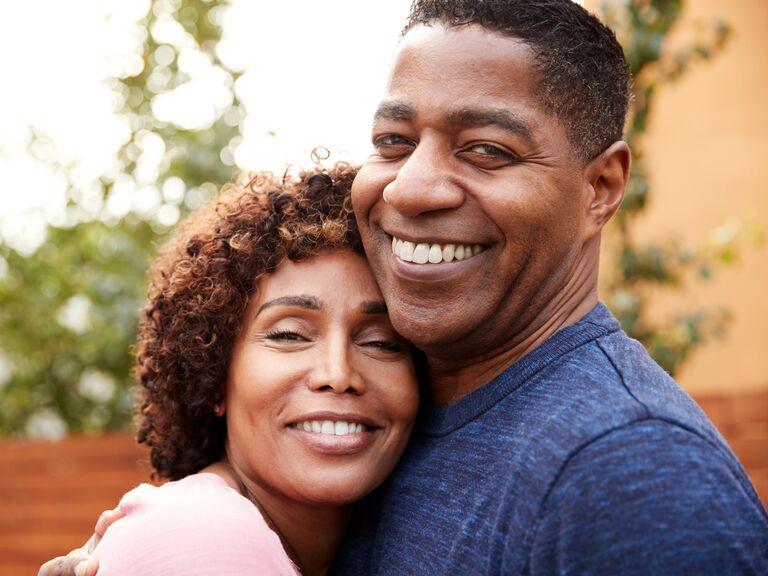 Monkey Business Images / Shutterstock
We have included third party products to help you navigate and enjoy life's biggest moments. Purchases made through links on this page may earn us a commission.
Not sure what to get your parents for their wedding anniversary? A tried-and-true route is to give them something that honors one of their milestone's traditional symbols (yep, almost every year of marriage has at least one anniversary theme). Really though, there are tons of different ways to say "happy anniversary" to your parents. What about a functional gift that they can use every day, like a cutting board or cozy blanket? Or, you could go in a customized direction—perfect for celebrating sentimentalists. To help you out, we're sharing some of our all-time favorite anniversary gifts for parents. Some are super personal, others are more practical, but all of them are worthy of your parents' love.
1. Sound Wave Art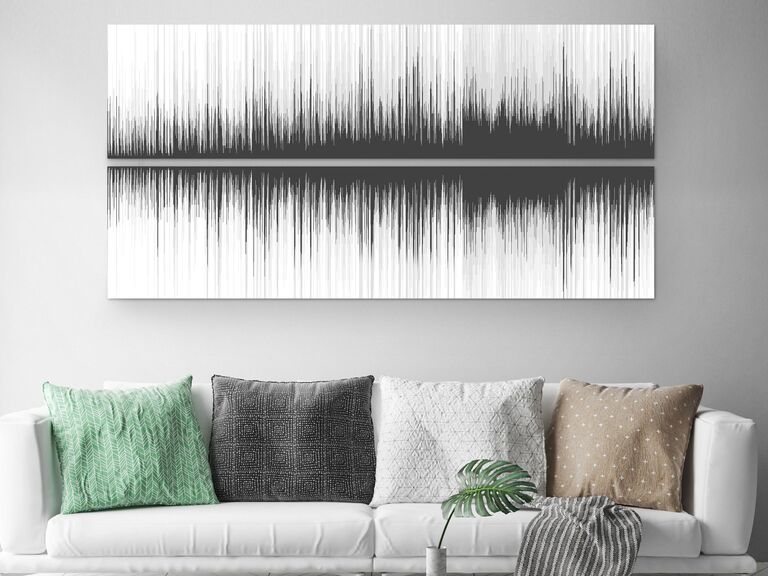 Looking for ultra-personalized anniversary gifts for parents? Take their first dance song and turn it into the coolest piece of decor. This company sells stylish sound wave art that'll get all the compliments.
2. Unique Photo Print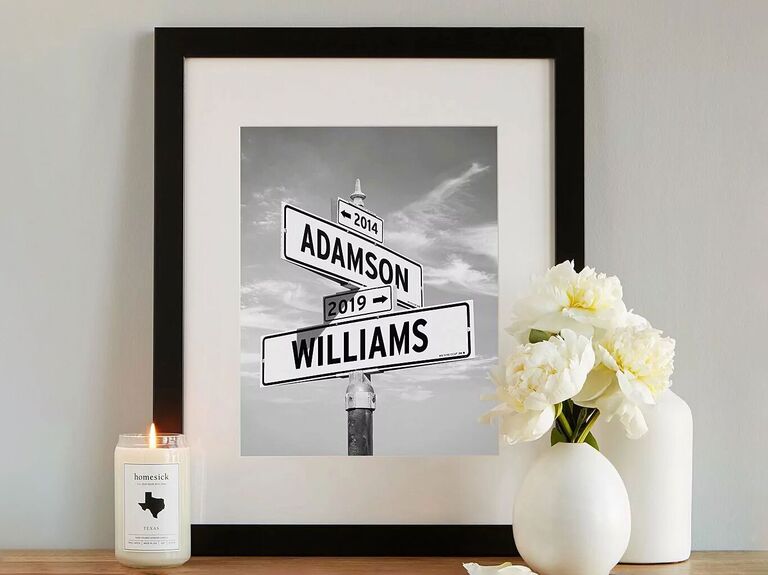 Celebrate the moment their paths first crossed with this adorable artwork. It displays their names on intersecting street signs, plus the year they met. You can even add their wedding date for an extra-memorable parents anniversary gift. Shopping for a major milestone, like the 20th or 50th anniversary? Choose a special frame in that anniversary's color.
3. Custom Cutting Board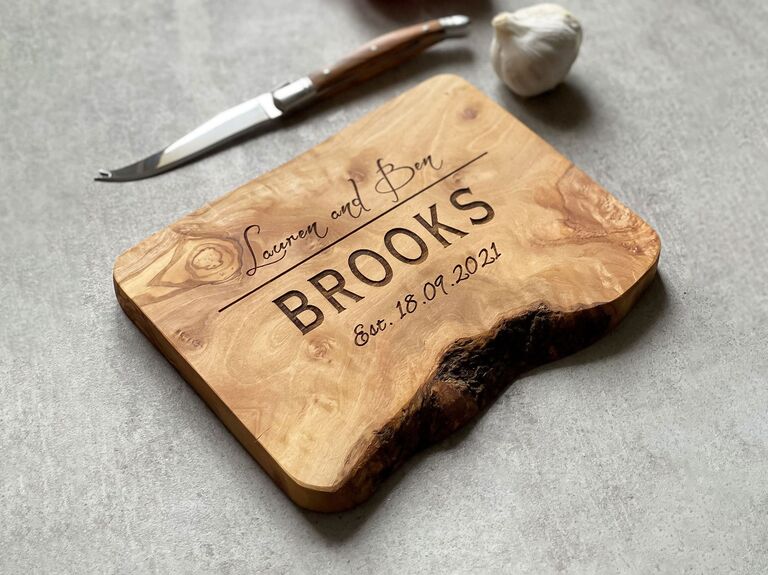 Elevate their kitchen with this gorgeous chopping and serving board. Each piece is handmade from strong, naturally patterned olive wood. Engrave it with their names and established date, then watch them marvel over the unique live edges. Now that's a stunning anniversary present for parents.
4. "Burning Bright Since" Candle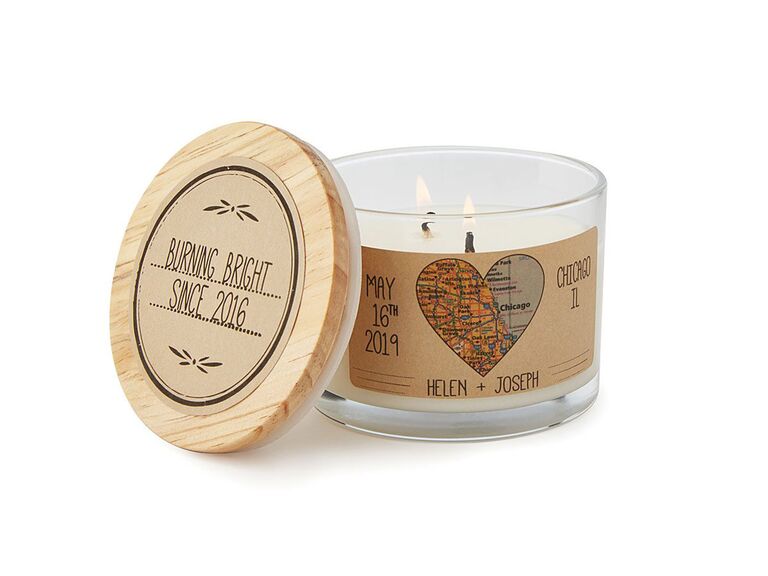 Get their names and wedding date printed on this cute anniversary candle. It also displays a heart-shaped map of somewhere special to them (their wedding location, perhaps?). It's a small but seriously meaningful gift for sentimental lovebirds.
5. Self-Growing Garden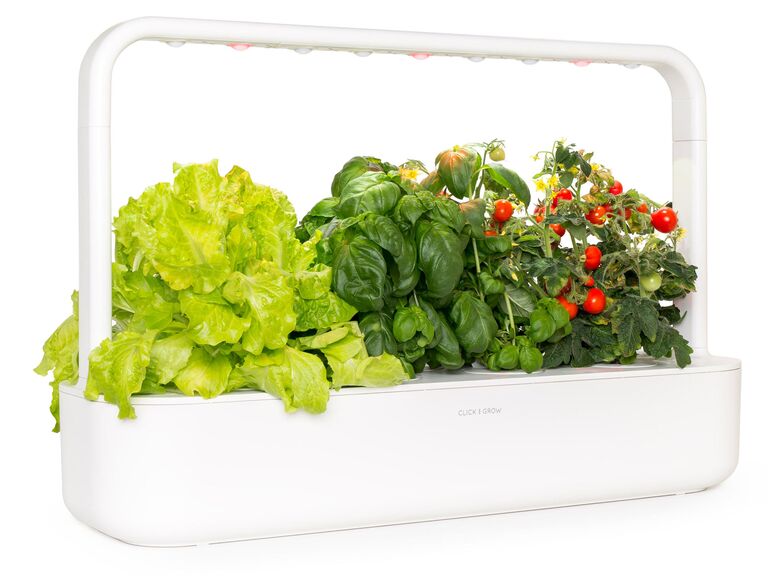 If your parents love gardening but don't have the outdoor space, they'll appreciate this compact indoor smart garden. The system provides just the right amount of water and light—so your parents barely have to lift a finger. To get started, it comes with nine complimentary plant pods: three tomato, three lettuce and three basil. They'll be growing fresh fruits and veggies in no time!
6. Celebrity Shout Out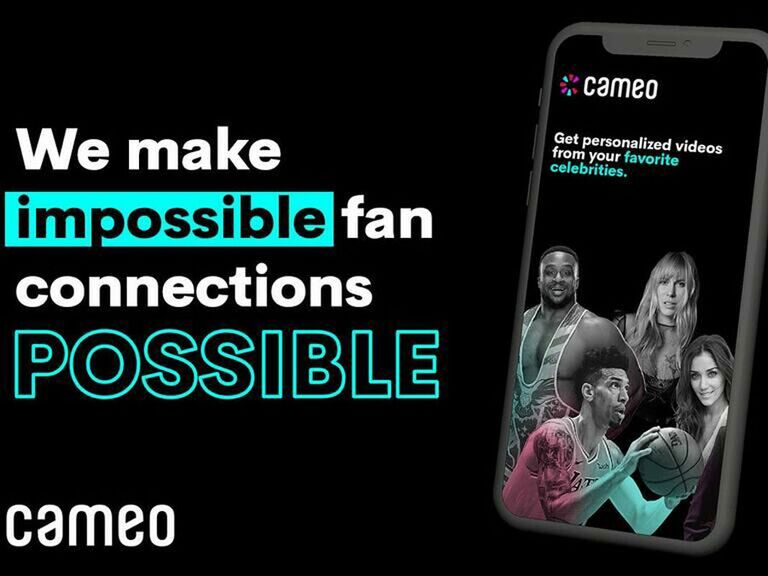 If you can't find the right words to wish them a happy anniversary, have their favorite star do it for you! This awesome service lets you book celebrity talent to send your parents a special message. Pick from actors, athletes, musicians, comedians… the list goes on. It's the kind of surprise your parents will promptly tell all their friends about. Guess who just earned the title of Best Kid Ever?
7. Wedding Vow Portrait
Do some digging and try to find a copy of your parents' wedding vows. Then, work with this Etsy artist to print them out on paper. This anniversary present, which also features an old photo of your parents, is bound to make them emotional.
8. News-Worthy Puzzle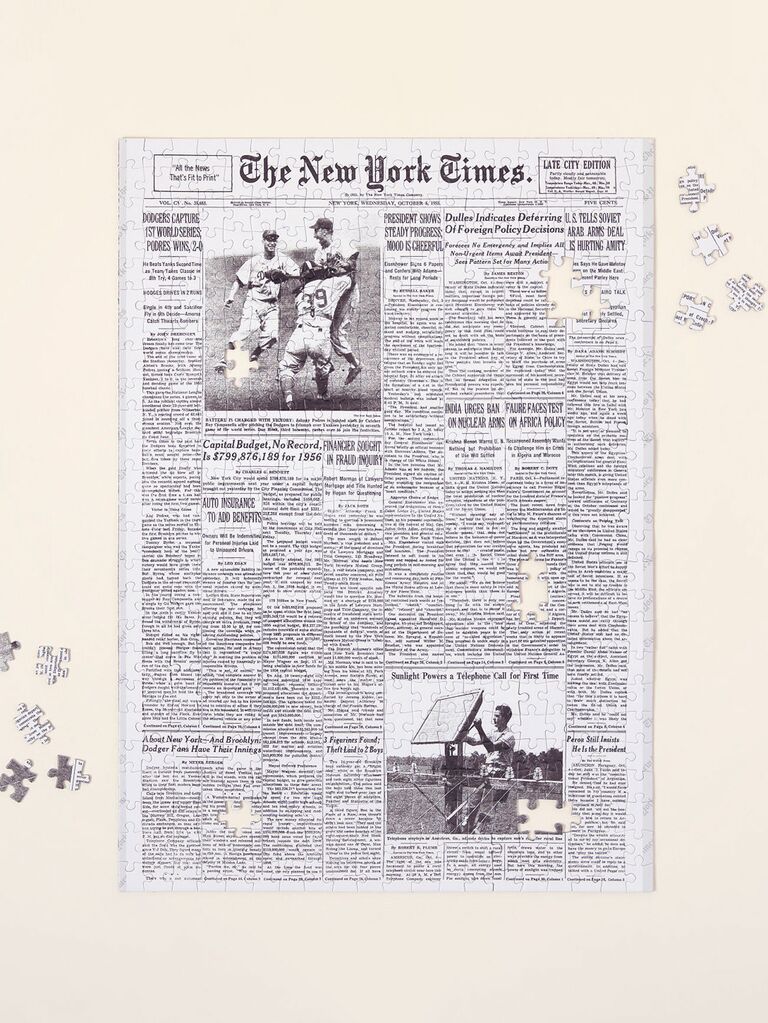 How about a new puzzle to pass the time? Turn the New York Times cover from the day they said "I do" into a cute couple's activity. You already know they're a great team, so they should have no trouble tackling it together.
9. Etched Wine Bottle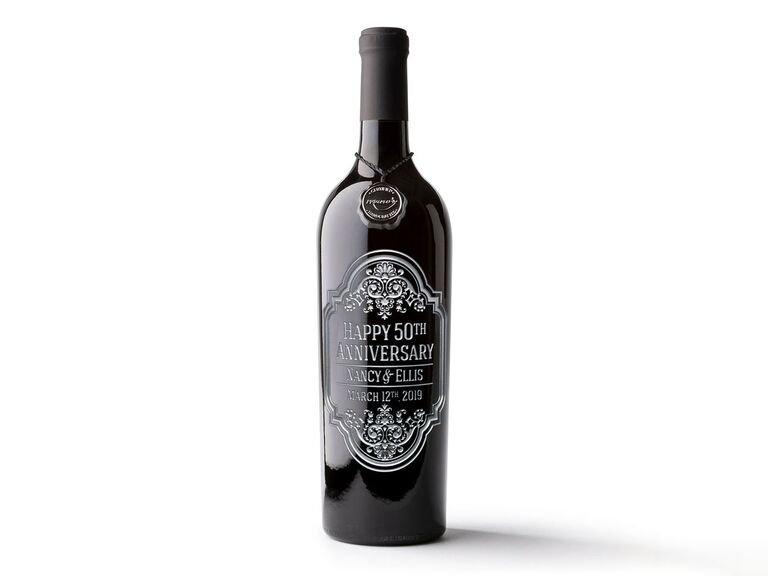 Looking for more thoughtful anniversary gifts for parents? This custom wine bottle holds a California Cabernet Sauvignon—a lovely red wine—and serves as a treasured keepsake. The hand-painted bottle is etched with their anniversary year, names and wedding date. They'll display this pretty present for years to come.
10. Family Story Book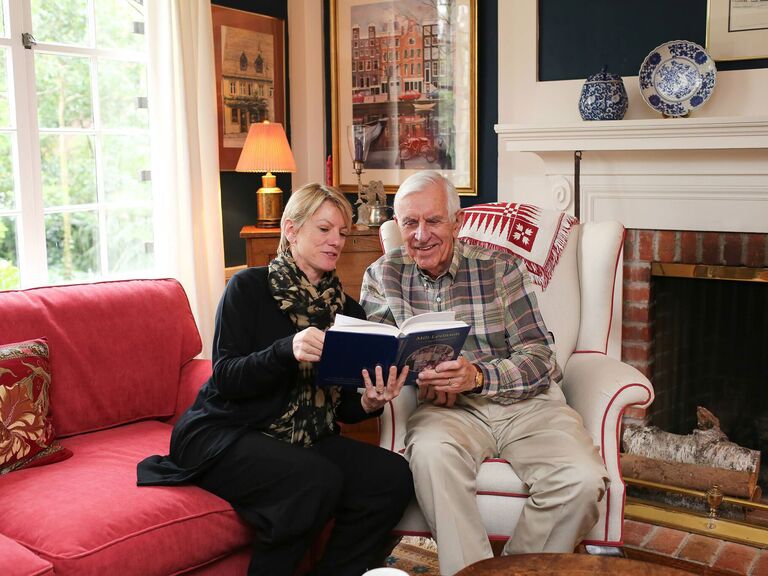 Show them how much you cherish their wisdom—especially when it comes to love. Storyworth sends gift recipients a question to answer every week for a year. From there, the answers get compiled into a custom keepsake book. Choose from a list of existing prompts or write your own from scratch, then invite your parents to respond individually or as a couple. This year, they'll appreciate the chance to reflect on their relationship. Next year, they'll enjoy their finished, printed book.
11. Italian Cookie Assortment
For parents that are big on sweets, they'll appreciate this mouthwatering anniversary gift that pulls out all the stops: an assortment of Italian cookies. They'll get overwhelmed by the sheer variety of biscotti, including pignoli, jelly-filled butter cookies, rainbow cookies and more.
12. Custom Record Art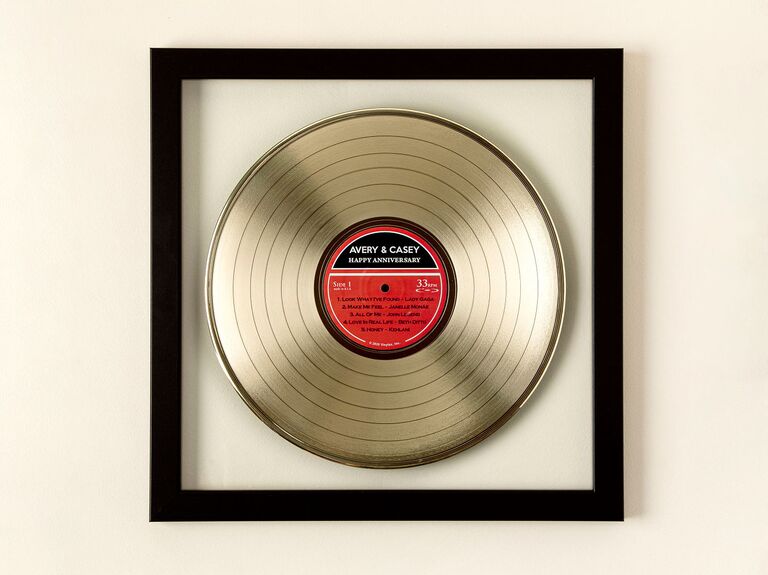 Shopping for a pair of major music lovers? Help them put out their very own record. Customize this upcycled vinyl with a special anniversary message, plus up to five of their go-to jams. FYI: The gold option is extra special for the 50th anniversary.
13. Deluxe Cocktail Set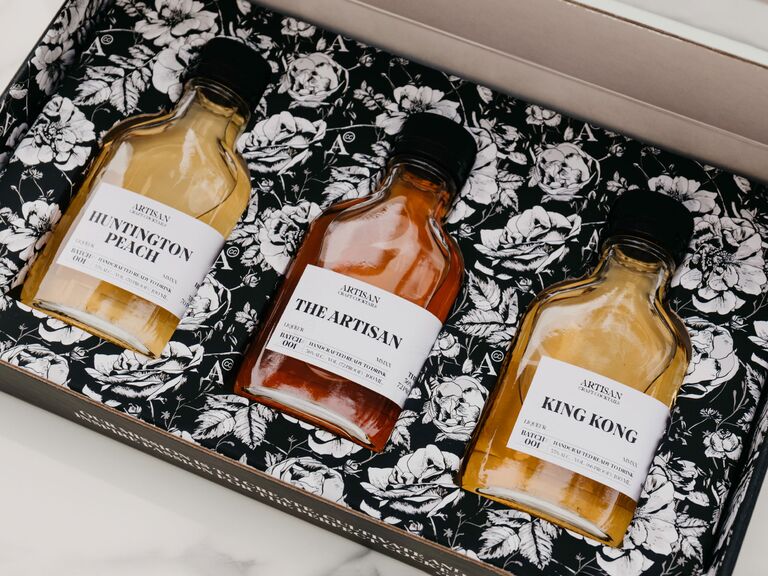 Treat your parents to a deluxe cocktail set they can enjoy together or with friends. The three-piece gift box features a trio of delicious premade cocktails—The Artisan, King Kong and Huntington Peach. All they have to do is pour them over ice to create fancy mixed drinks—no bartender needed.
14. Sweet "Congratulations" Card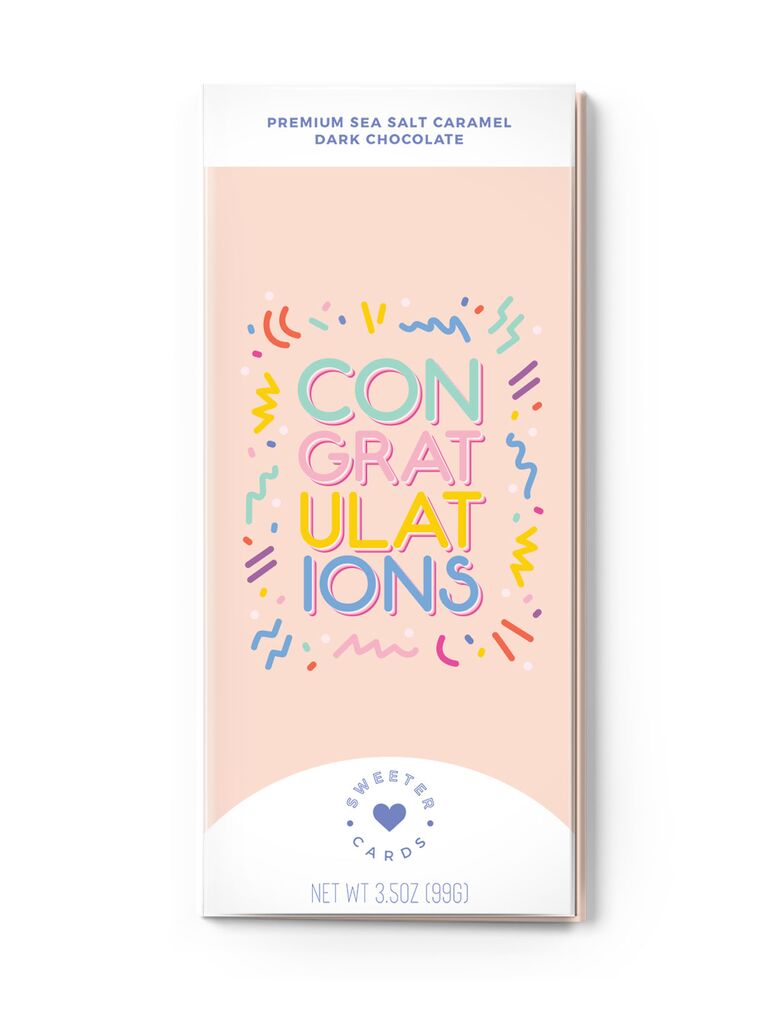 Celebrate their everlasting marriage with a cute card that doubles as a candy bar. Upon opening the "Congratulations" card, your parents will be met with a sweet surprise: a handmade caramel-dark chocolate bar topped with sea salt! Inscribe a sentimental message to go with the tasty treat.
15. Romantic Mug Set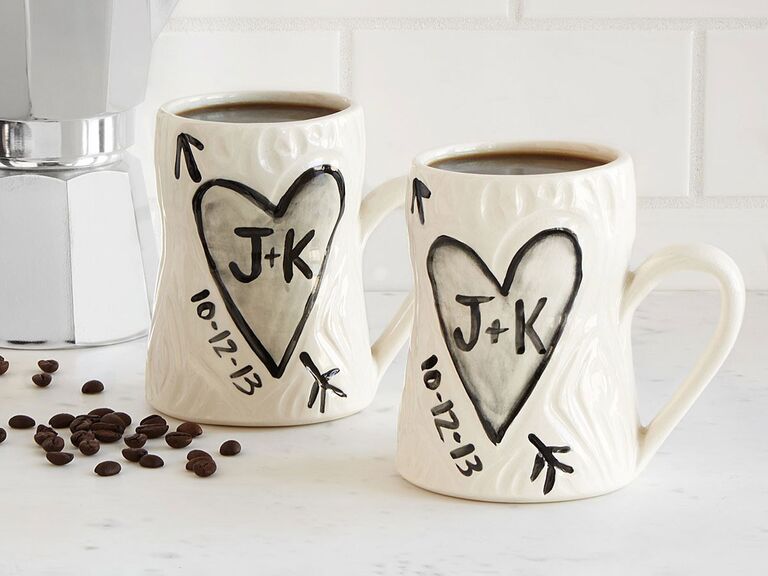 Upgrade breakfast in bed with these nostalgic faux-bois couple's mugs. Each cup declares their love with a tree carving-inspired design featuring their first initials and a special date. And because mugs are always useful, it's a practical anniversary gift your parents will reach for often.
16. Snuggly Soft Blanket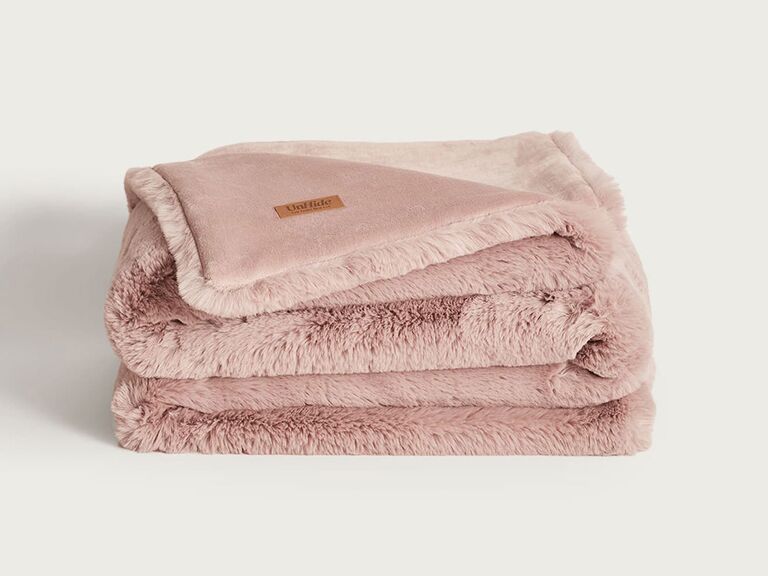 In our opinion, a couple can never have too many cuddly blankets. But this blanket isn't your ordinary throw—it's made with 90% recycled materials to produce the softest faux fur. Choose from five stylish colorways, including Rosy Baby and Beige Bear, and get ready to hear lots of bragging from your parents about how cozy it is.
17. Self-Care Daycation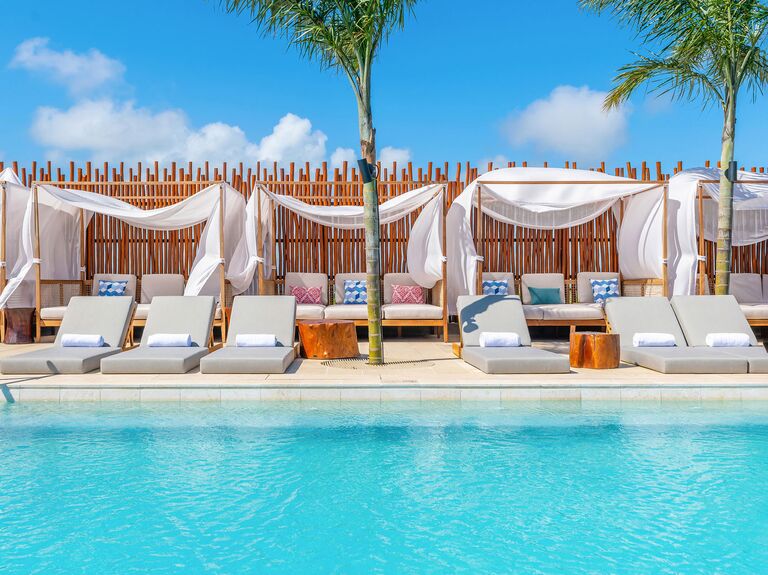 What if your parents could enjoy all the amenities of a luxury hotel—including the spa, sauna and swimming pool—without having to stay overnight? ResortPass partners with hotels in the US and overseas to provide one-day passes for access that's usually limited to hotel guests. It's the ultimate self-care parents anniversary gift.
18. Custom Family Illustration
Searching for an adorable family-centric idea? This personalized "hobby" art celebrates the things they love about each other and their children. You can customize the print with each person's hobby, skin tone, hair color, clothing and name. It's a foolproof anniversary gift for parents from their kids.
19. Colorful Bouquet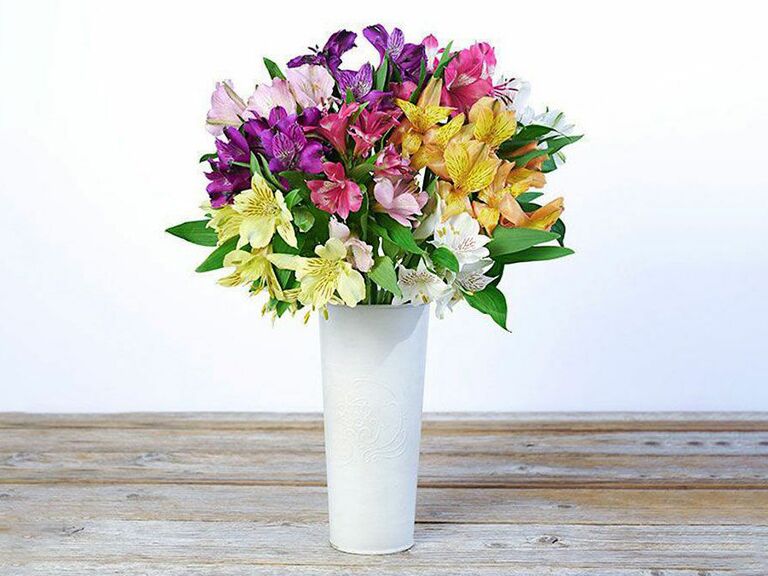 Need help finding an anniversary bouquet? Check out one of our favorite online flower delivery services. Send this delightful "congratulations" arrangement straight to your parents' home. It's made of the most cheerful array of rainbow Peruvian lilies—how celebratory!
20. Crystal Champagne Flutes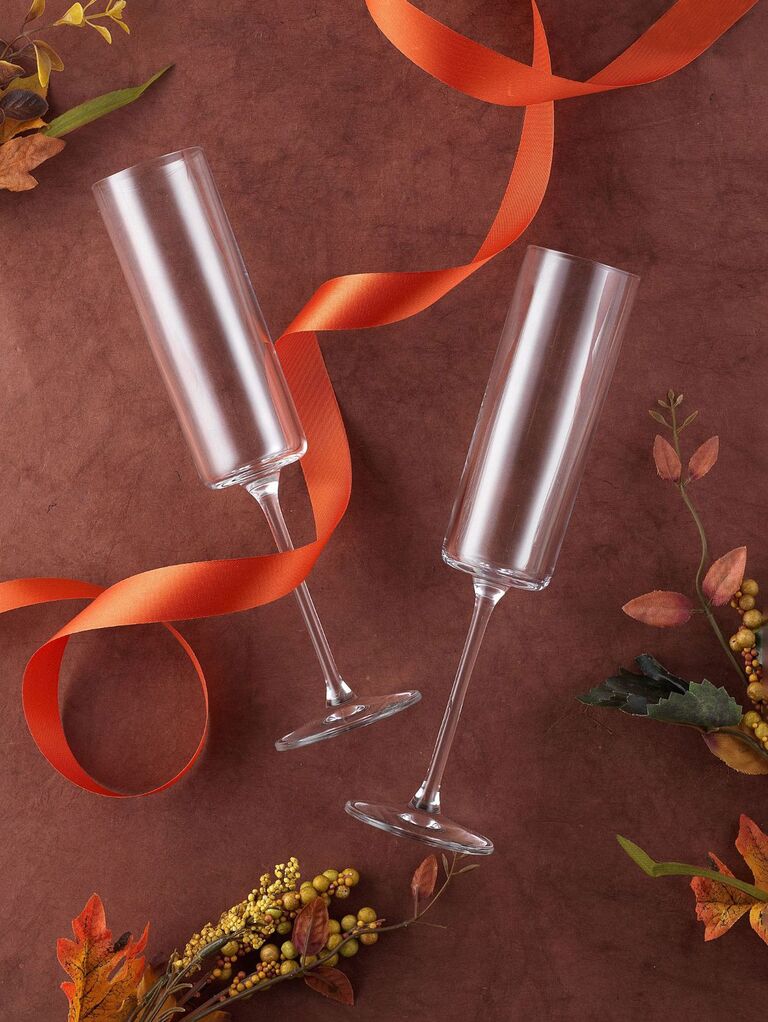 When in doubt, elegant glassware is a popular last-minute anniversary gift for parents—after all, they need something to toast with! We love the contemporary and sleek design of these high-quality glasses, which they can pair with their finest bubbly.
21. Hardcover Photo Book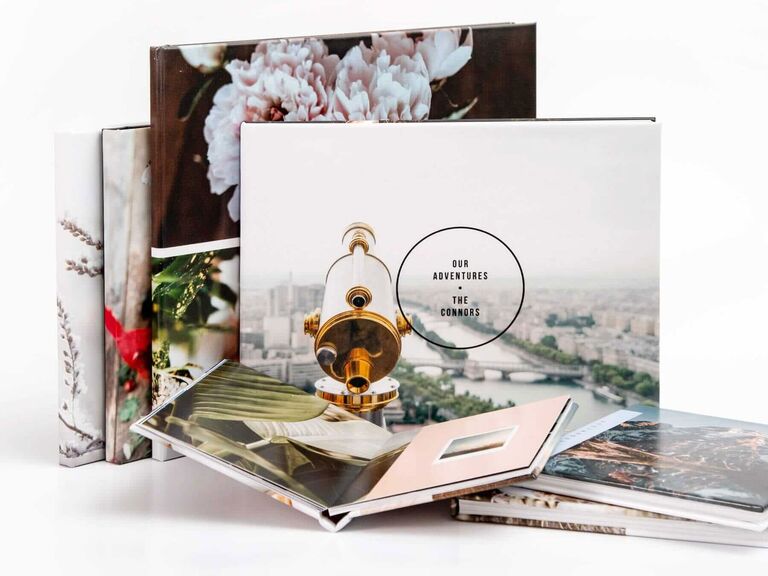 Put together a meaningful anniversary photo book for your parents to treasure forever. First, choose the shape, size and paper, then get started on the album. You can customize this durable hardback with more than 80 text styles and multiple cover options. They'll appreciate the thought behind this unique anniversary gift for parents.
22. Gourmet Coffee Subscription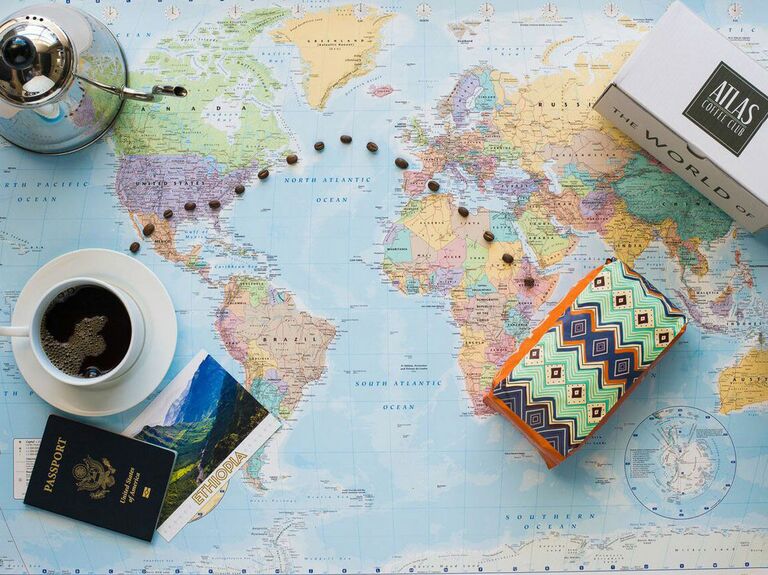 Now here's an extremely good anniversary gift for parents: a gourmet coffee subscription they can enjoy together. Each month, they'll receive flavorful blends from different countries across the world. Customize the grind (whole or ground) and roast (light or dark) depending on your parents' tastes.
23. Condiment Gift Set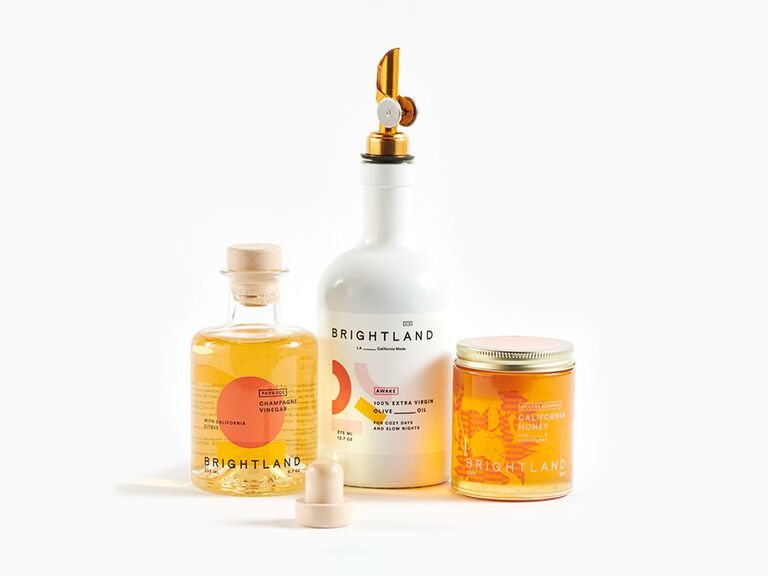 Culinary connoisseurs will rave over this trio of premium Extra Virgin Olive Oil, Champagne Vinegar and California Orange Blossom Honey. The set is housed in aesthetically pleasing bottles your parents will want to leave out on their countertop. Plus, it comes with a brushed-gold spout for easy pouring—so fancy!
24. On-Theme Sundial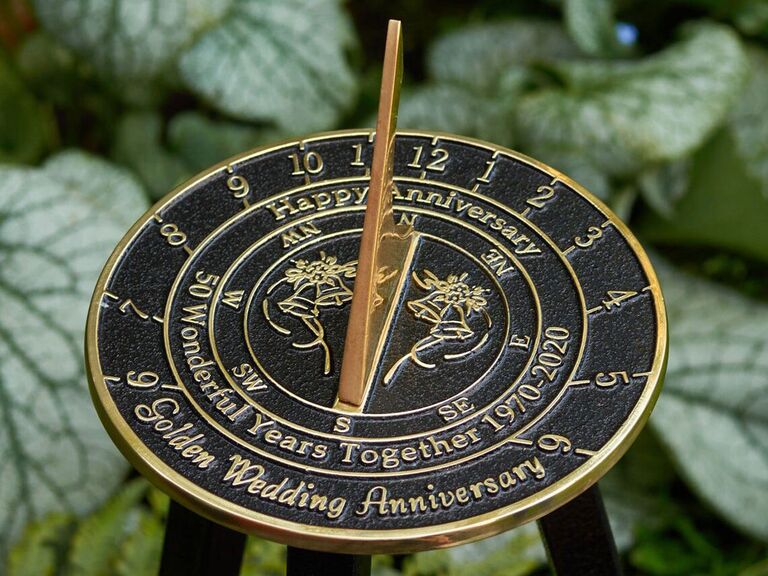 If their garden is their pride and joy, consider this elegant sundial gift for your parents' anniversary. There's an on-theme color for every decade of marriage.
25. Monthly Plant Subscription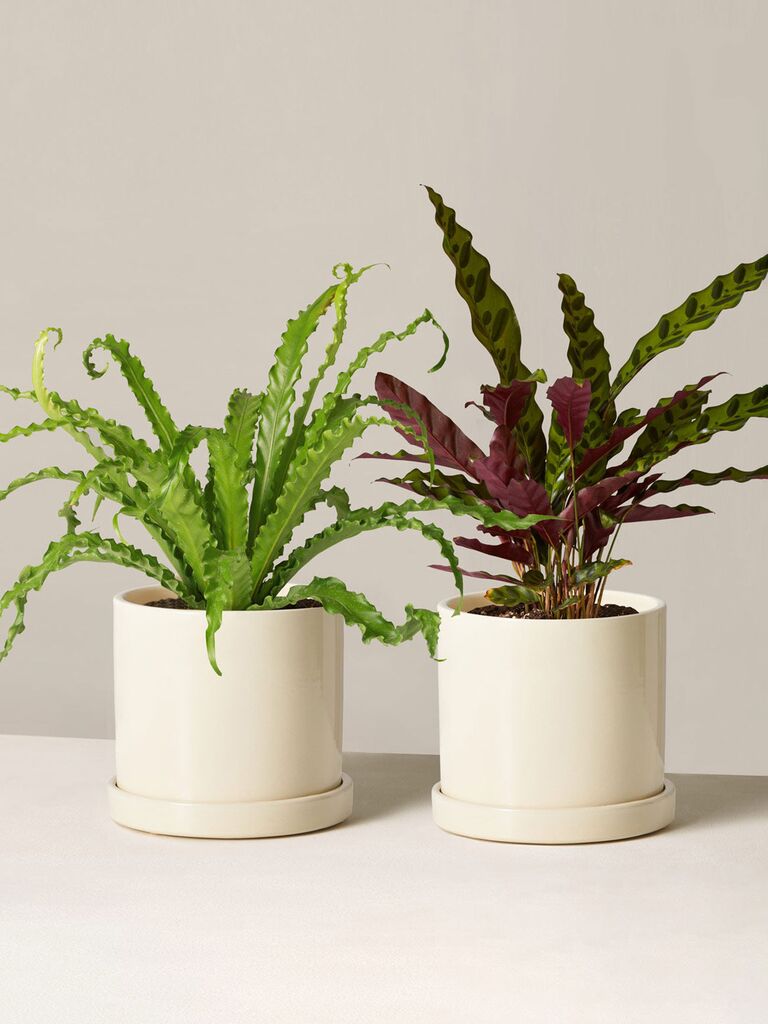 This monthly plant subscription is an airtight anniversary gift for your plant-loving parents. Each month, they'll receive an easy-to-care-for plant in a cute ceramic planter delivered straight to their door. Whether they're new plant parents or avid collectors, they'll look forward to receiving plant babies on the regular. (And for parents with animals, check out this pet-friendly plant subscription.)
26. Matching Picture Frames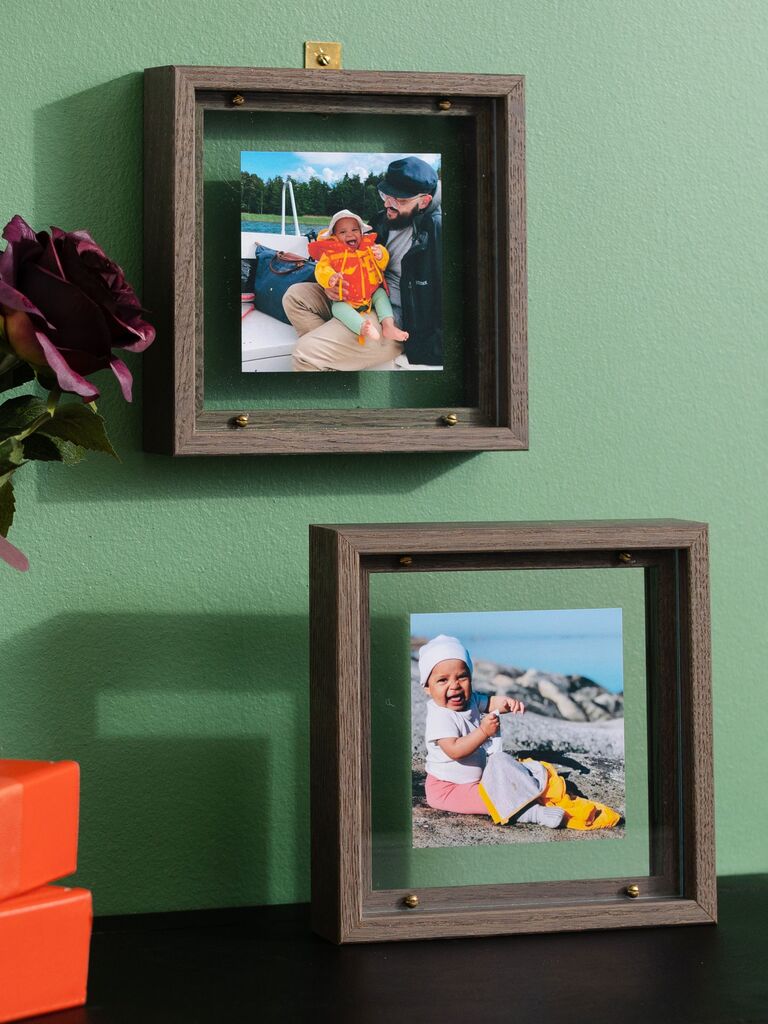 Framed photos will never go out of style, and neither will your parents. Get them coordinating desk frames for a simply adorable matching couple's gift. These ones come in a beautiful Gray Oak material and are totally chic—perfect for the style-savvy duo.
27. Brunch Gift Basket
We're thoroughly impressed with this beautifully crafted anniversary food gift for parents. The basket is filled with eight flavorsome brunch necessities, including Mimosa and Bellini Jams, Farmhouse Pancake and Waffle Mix and best of all, a Blood Mary Mixer to toast to the couple's many years together.
28. Anniversary Table Clock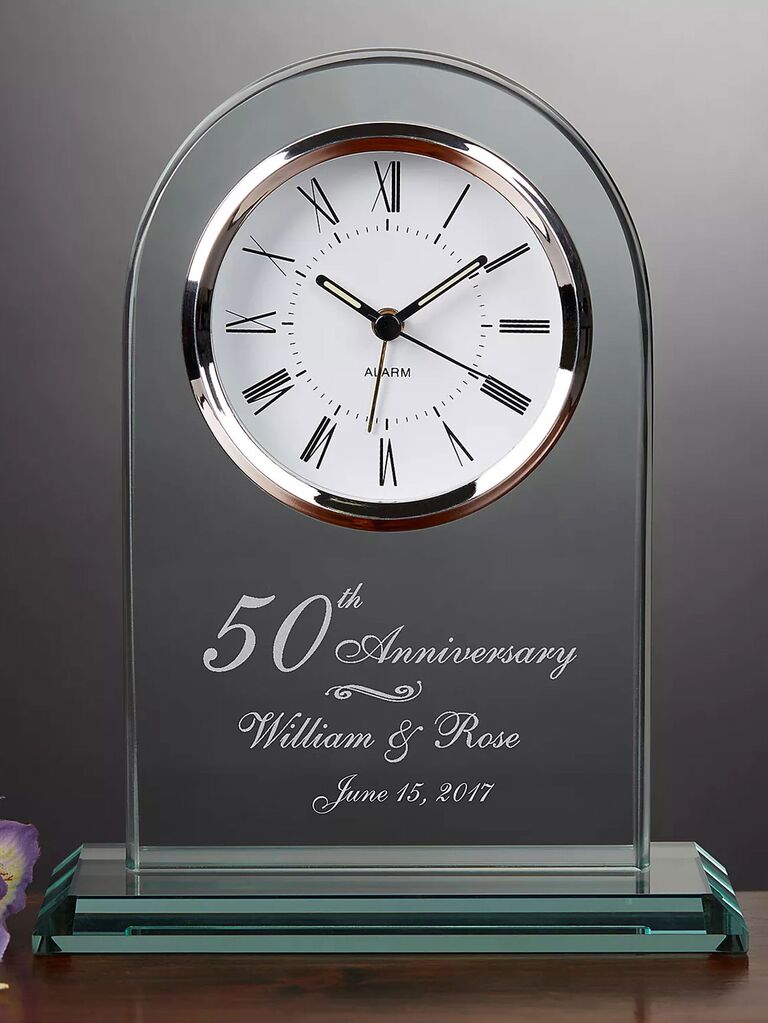 Pay tribute to their timeless love with a personalized anniversary clock. This fancy timekeeper—featuring beveled glass and Roman numerals—can be customized with their anniversary year and up to two lines of additional text.
29. Matching T-Shirts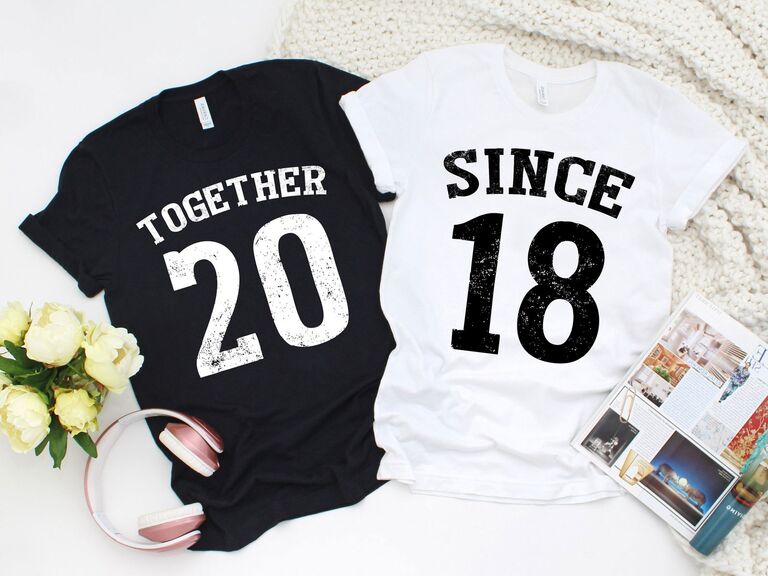 Let them wear their hearts on their sleeves with the help of this adorable anniversary gift idea for parents. The matching tees read "together since [insert year]." They're awesome for any family outing (or a super-sweet anniversary photo shoot).