The 35 Best Anniversary Gifts for Him at Every Price Point
Celebrate another year together with a thoughtful present just for him.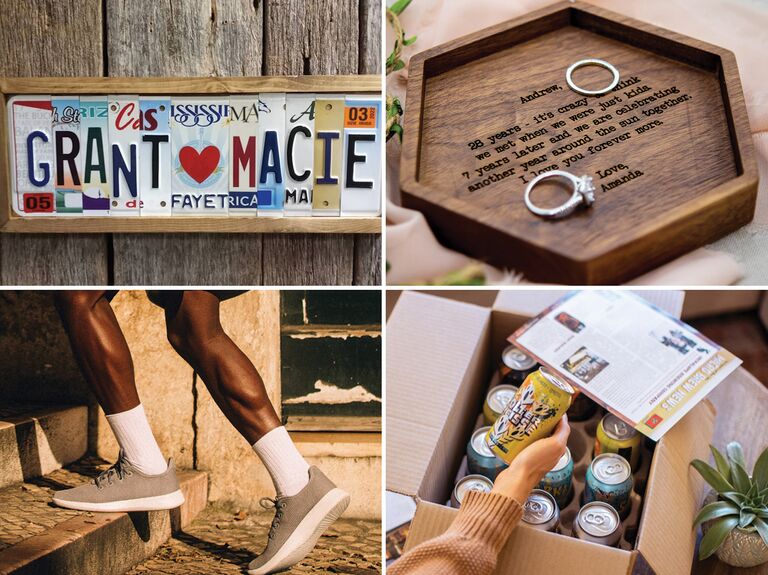 We have included third party products to help you navigate and enjoy life's biggest moments. Purchases made through links on this page may earn us a commission.
So you're celebrating another wonderful year around the sun with your man and you're looking for a way to make him feel special. We can help with that! An anniversary gift for him is a great way to show how much you care. Whether you're looking for an anniversary gift for your boyfriend or a gift for your husband, there's an idea on our list that he'll obsess over. From new barware, sports paraphernalia and outdoor gear to meaningful keepsakes that celebrate your relationship, these are the best anniversary gifts for him that you can buy right now.
In this article:
How We Chose These Gifts
Whether you've been together one year or 50 years, it can be hard to think of a great anniversary gift for him. What could possibly express all your love, care and admiration? Good news: When it comes to anniversary gifts for him, it's really the thought that counts. It's common to give gifts that celebrate your specific anniversary milestone (think traditional or modern anniversary themes) or your relationship (like photo gifts). It's also totally acceptable to give him something he's been wanting, like the latest tech gadget since it can show how much you really listen to him. (We just suggest pairing it with a romantic card.)
With all this in mind, we've researched the top anniversary gifts for him—keeping in mind different interests and relationship dynamics. We've definitely got our finger on the pulse to know what's trendy on the gifting front, but we also triple-check items to see if they're worth it based on reviews and other intel, so you know you're giving him the highest quality gifts.
The Best Anniversary Gifts for Him
Time to start shopping! From least to most expensive, here are romantic, funny and cool anniversary gifts for him.
1. Custom Calendar Key Ring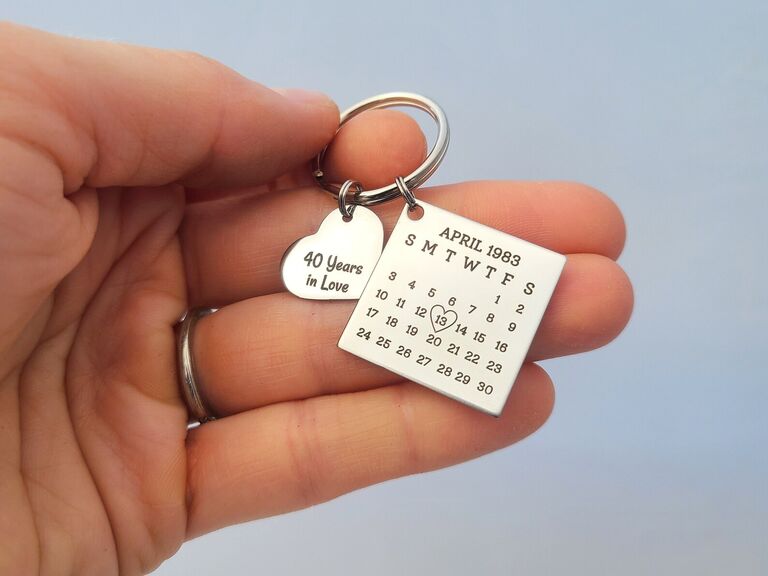 If you're looking for a small and simple anniversary gift for him, this key ring is just the thing. It comes with up to two charms, one is a monthly calendar with a heart around your first date or wedding day and the other is a heart personalized with your names or a short message like "happy anniversary!"
2. Moon Lamp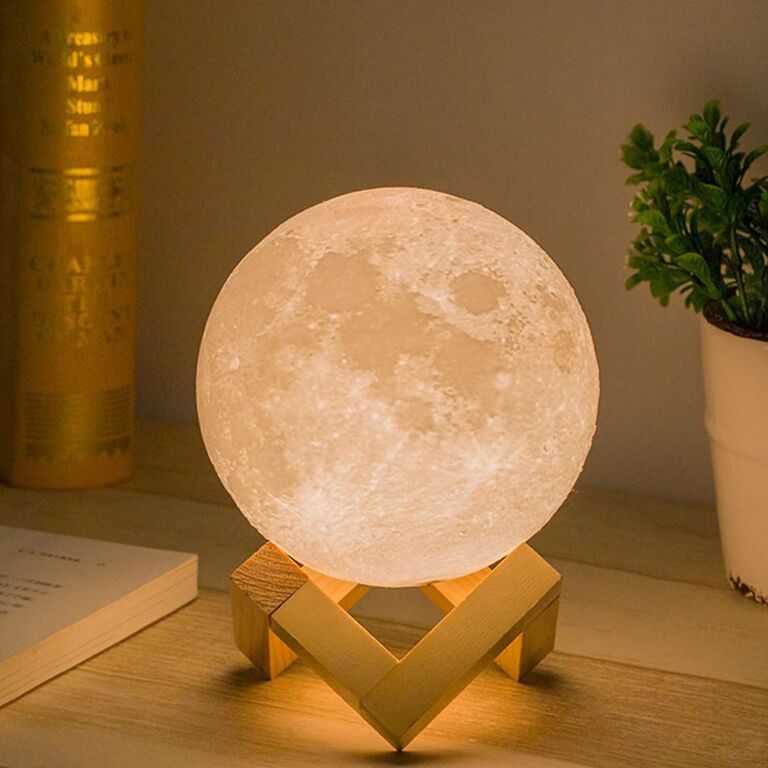 Say: "I love you to the moon and back," with this unique anniversary gift for him. It's a rechargeable, touch-activated lamp designed to look like the moon that can change its brightness and even color. It comes with a small wooden stand, so it can rest easily on his desk or bedside table.
3. Conversation Card Deck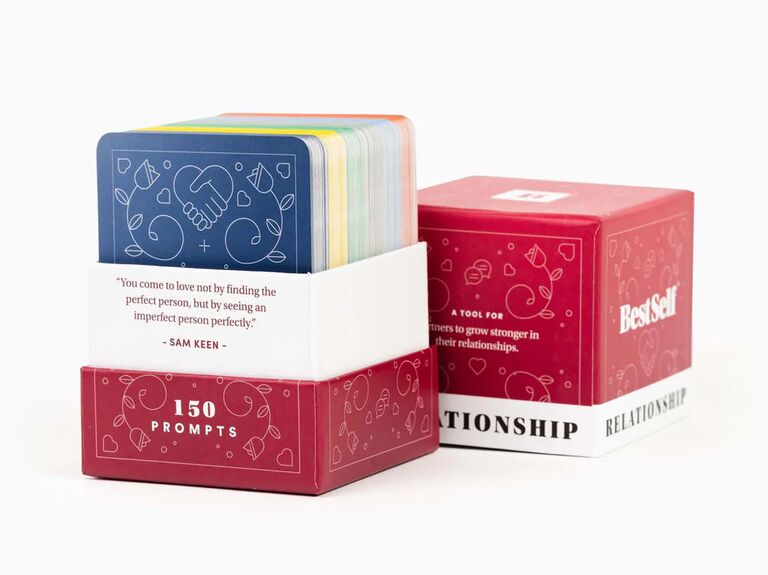 No matter how long you've been together, there is always more to learn about each other. Insert: Best Self Co. conversation decks. Each card has different prompts to help you strengthen your relationship and spark conversation. It's an easy game to break out at dinner after you go through how each of your days were. Once you finish the Relationship Deck, you can also try out the Date Deck and Intimacy Deck for more talking points.
4. Whiskey Cocktail-Making Class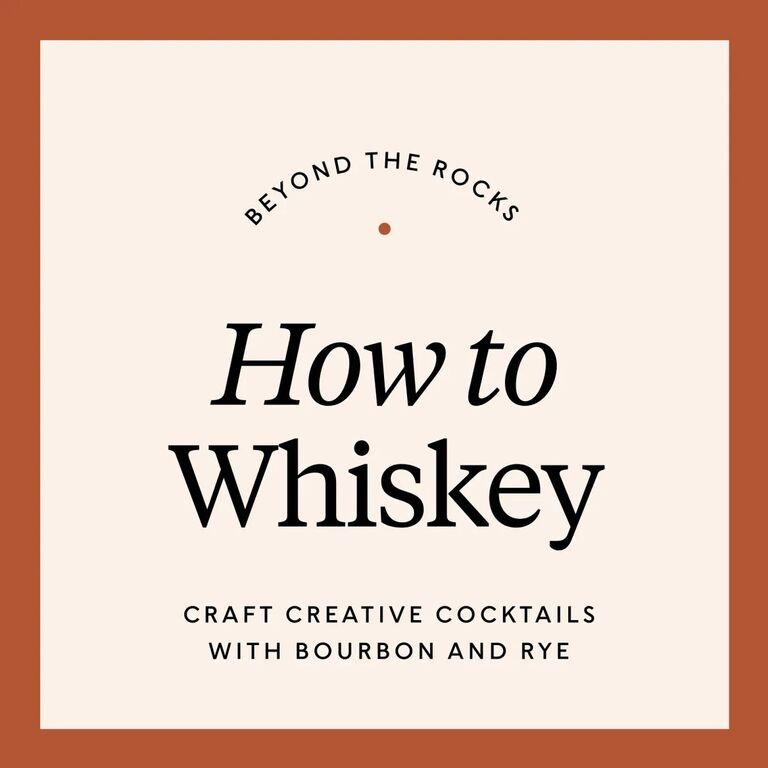 If you agreed on no presents, just a date night this year, explore Uncommon Goods Experiences. They have art, cooking and mixology classes you can watch live from the comfort of your home. Try this cocktail-making class together to learn how to make a classic Old Fashioned, Paper Plane and Sazerac—all with rye whiskey. This pick is definitely a favorite on our list of great anniversary gifts—er, experiences, for him.
5. Personalized Photo Calendar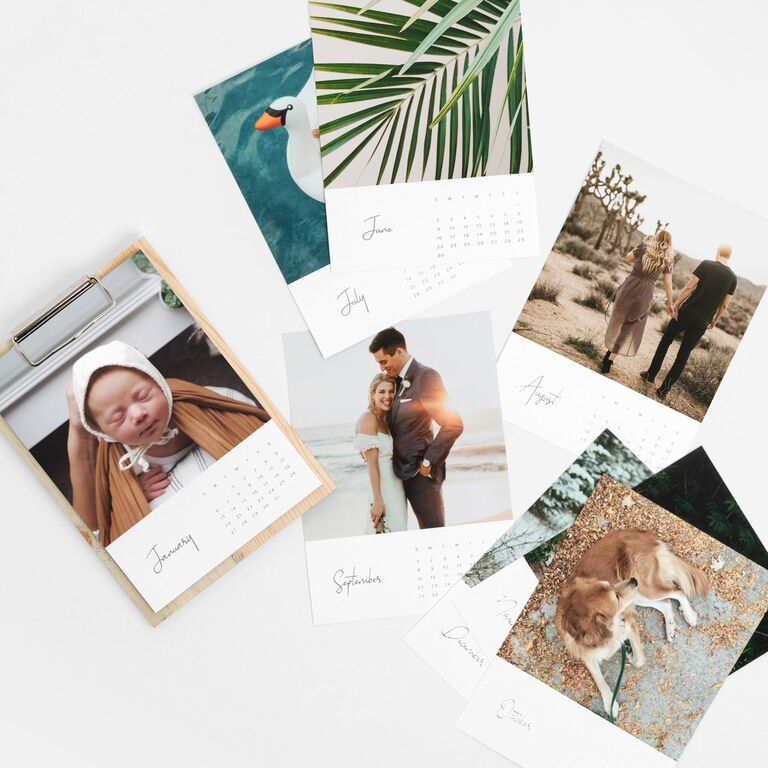 Make sure he never misses you while he's at work again. This desk calendar—which can start on any month of the year—is personalized with 12 different photos of memories you two have shared together. It's designed like a clipboard and made of reclaimed pine with a silver-coated clip and peg stand.
6. Wooden Ring Dish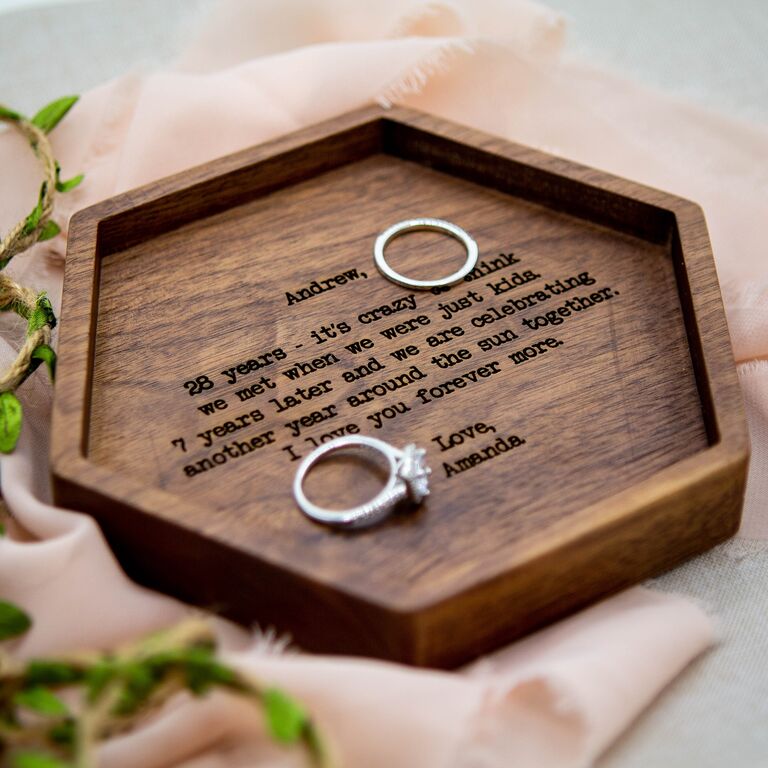 If you're shopping for wedding anniversary gifts for him, a ring dish is a classic idea. A small catchall, like this hexagon-shaped wooden tray, ensures he has a safe place to keep his wedding ring (or other daily essentials like a watch, earbuds or keys). This one is extra special because it can be custom engraved with a short message.
7. Create Your Own Reel Viewer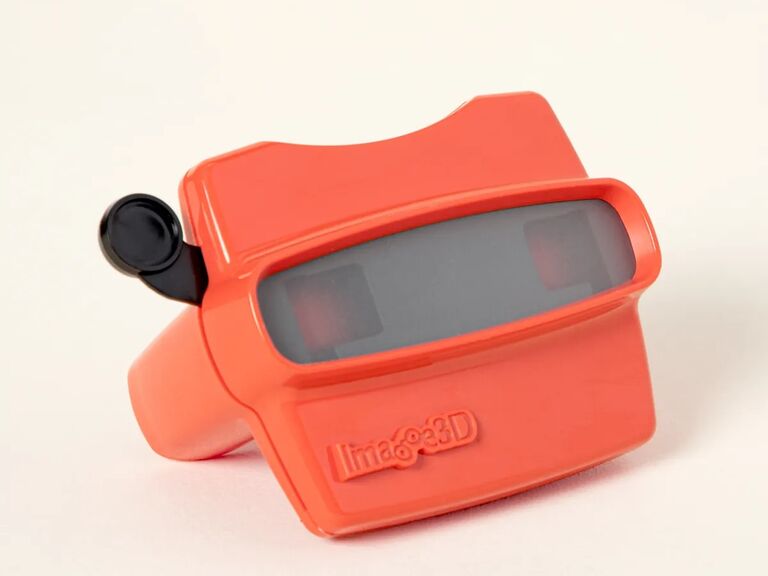 Photos are another traditional anniversary gift for him. Instead of a standard picture frame, gift him a nostalgic reel viewer filled with snapshots from your relationship. Each year, you can get him new reels with all the additional memories you made together. It's one of the best small anniversary gifts for him that still feels special.
8. Insulated Travel Mug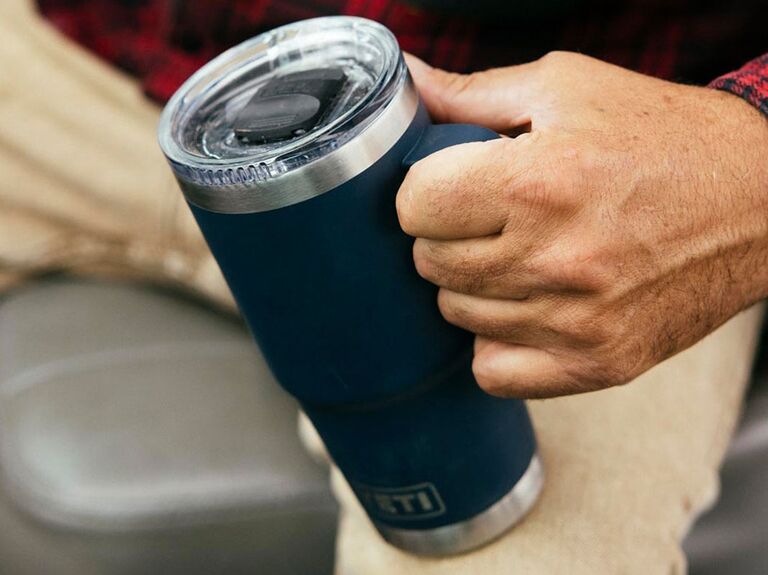 A must-have for commuters: an insulated travel mug. Ensure his tea or coffee stays at the perfect temperature on the way to work with this YETI Rambler. It's made with kitchen-grade stainless steel, so it's puncture and rust-resistant, and has double-walled vacuum insulation to keep drinks hot or cold. Plus, it has a leak-proof lid, so it won't spill if he hits a pothole. Better still, you can customize it with his monogram—and you really can't go wrong with practical and personalized anniversary gifts for him.
9. Personalized License Plate Sign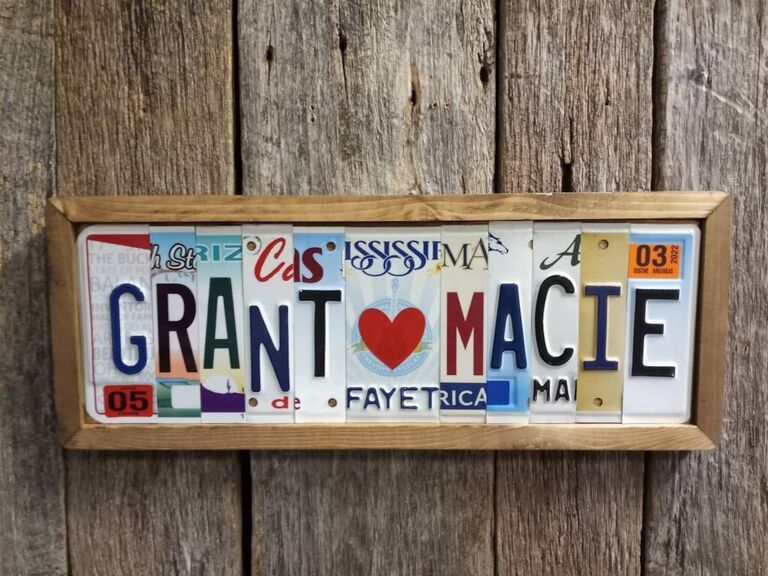 Creative wall art is a great idea when it comes to cute anniversary gifts for him, especially this option. Have both your names written out of old pieces of license plates with a heart in-between. Just note, the more letters, the more it costs. It's all framed with wood in four different stain options.
10. Craft Beer Subscription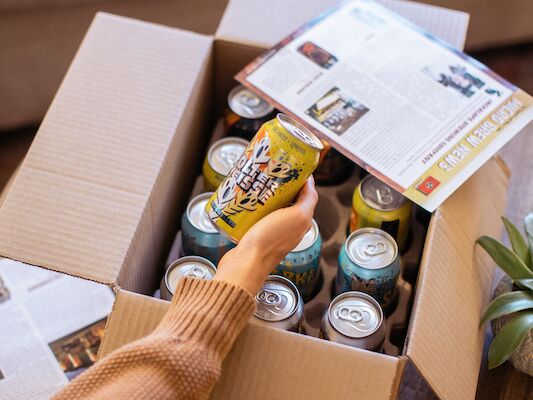 If he's a zythophile, subscribe him to Craft Beer Club. They'll send him 12 or 24 beers from the country's best small, independent brewers on a monthly, bimonthly or quarterly basis. Each delivery will also come with background information about the breweries, tasting notes and pairing recipes. Choose a subscription length of anywhere from one to 12 months—and then renew his membership at your next anniversary. It's a good idea if you're looking for anniversary delivery gifts for him since it's a present that keeps on giving every month with no extra work on your part.
11. Beer History Pint Glasses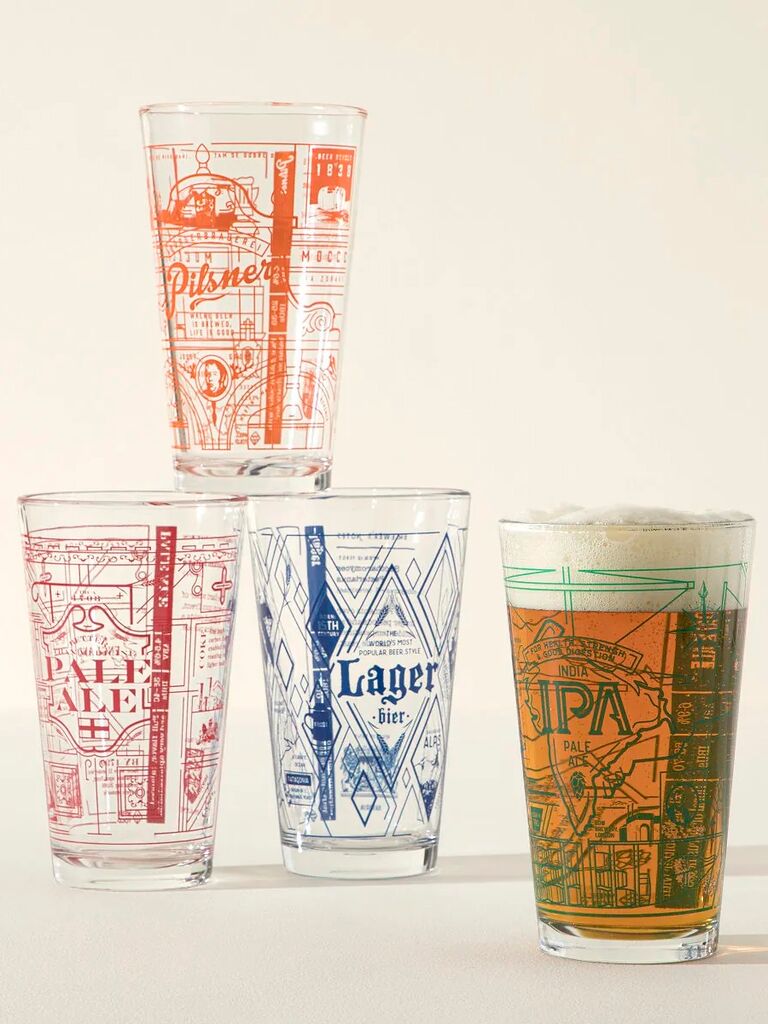 Speaking of gifts for beer lovers, he'll be really impressed by these pint glasses. Each glass features facts about IPAs, pale ales, pilsners or lagers. You can get him a pint about his favorite beer or—our suggestion—a set of all four.
12. Engravable Cuff Links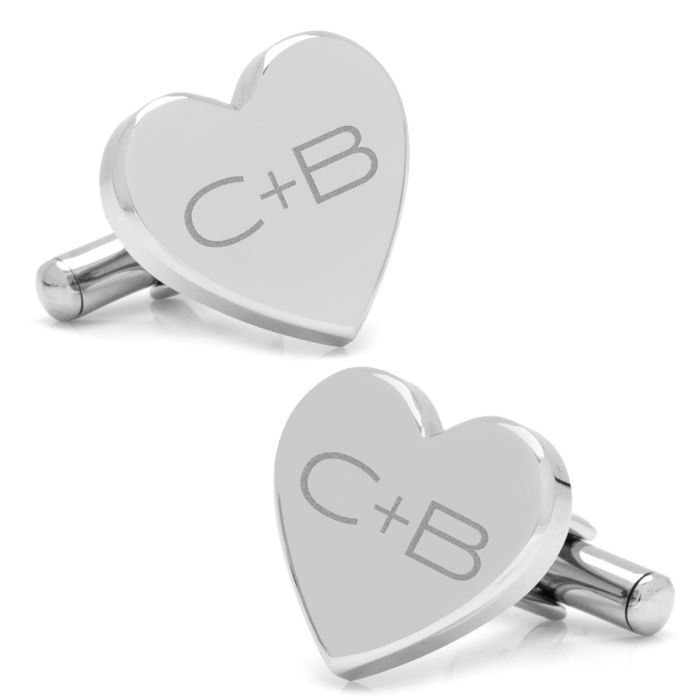 Cuff links are meaningful anniversary gifts for him if he's getting all dressed up for your anniversary. These stainless steel cuff links are shaped like hearts to really symbolize your love. They're even engravable, so you could add your initials or anniversary date.
13. Smartphone-Controlled Paper Airplane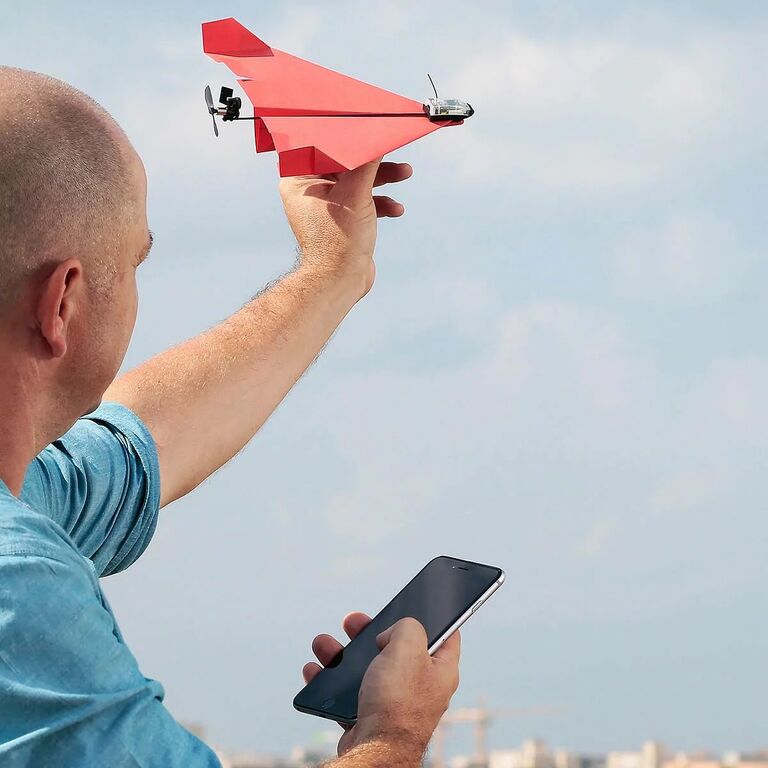 Does he make you feel like a kid in love? Plan an afternoon at the park then surprise him with this smartphone-controlled paper airplane. You'll both have fun flying it around. Just fold the "paper" (aka crash-proof carbon fiber), attach the Bluetooth-enabled device, download the app then commence takeoff. He can control every move and trick at up to 25 mph—it'll be hard to top this unique anniversary gift for him next year.
14. Cozy Sweatpants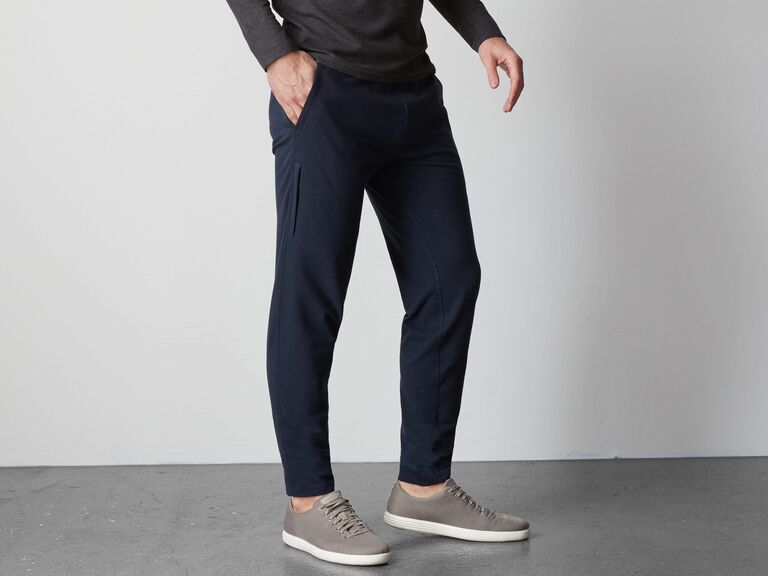 There's no better feeling than being comfortable with your partner, emotionally and physically. And that starts with some nice loungewear. These sweatpants will become a post-work (or WFH) staple. They're made from an ultra-soft French terry fabric and have a stylish tailored fit, so he can totally wear them on Target runs, too.
15. Personalized Cutting Board
If you're happy you met him and part of that reason is because he's a grill master, this will be a funny anniversary gift for him (and practical). This personalized cutting board—which includes juice wells and grip handles—is labeled with his name and a custom line of text. We suggest: "Kiss the cook."
16. Premium Leather Smart Wallet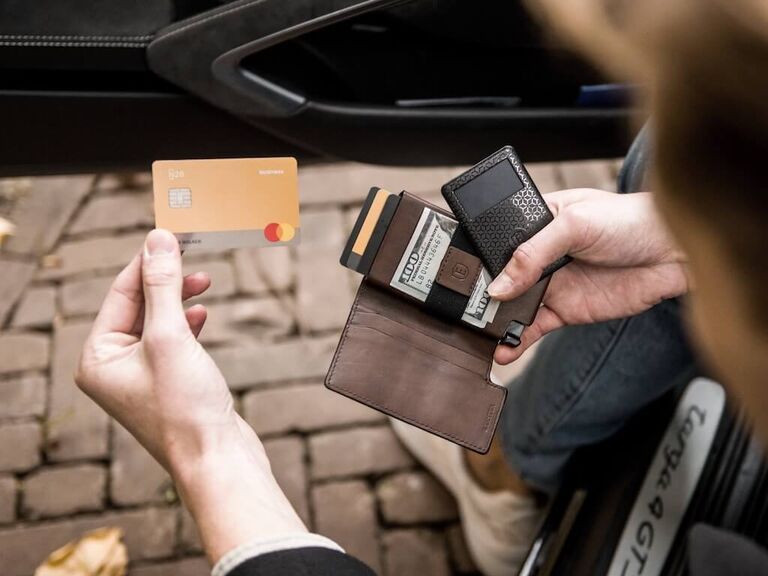 Is it his time for a wallet upgrade? This is just the one to get him. Ekster's smart wallet is made from environmentally-friendly certified leather with a built-in aluminum card holder that fans out his cards at just the click of a button and even protects them against skimming. Pair it with the add-on wallet tracker so he can find his wallet, even when he's misplaced it and neither of you knows where it is.
17. "The New York Times" Anniversary Edition Book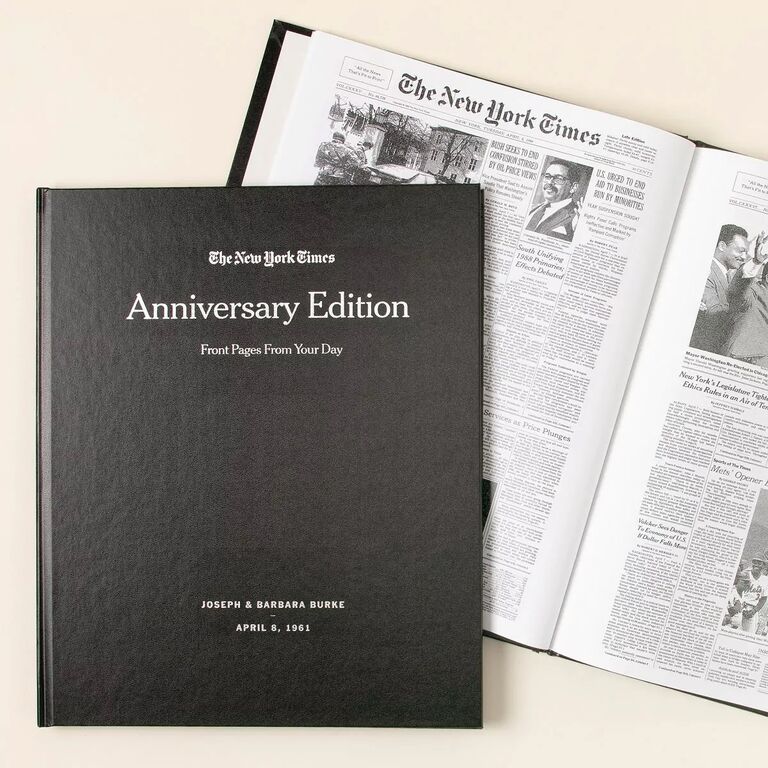 Is he the ultimate history buff? This book is filled with the front page of The New York Times from your wedding day every year. So, the longer you've been married, the thicker the book. Don't worry about the small font. You can add a magnifying glass. It'll keep him entertained for hours. And for a personalized anniversary gift for him, have your names put on the cover.
18. Spontaneous Date Ideas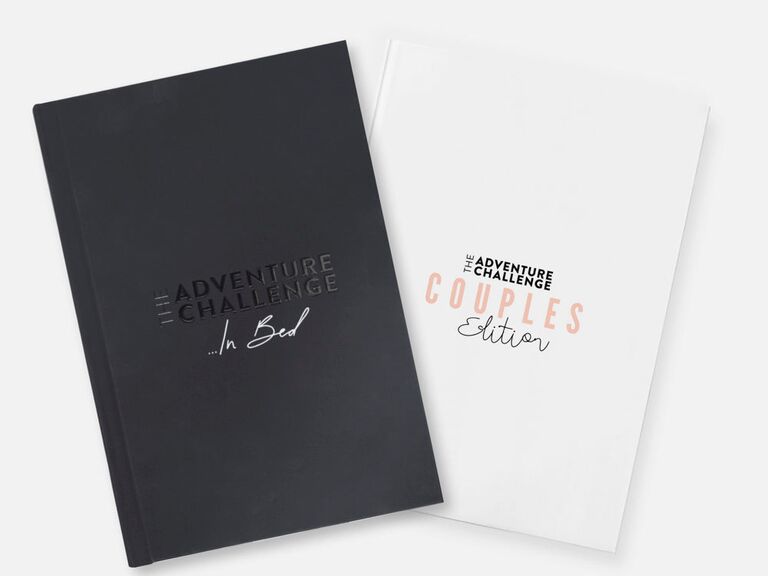 The Adventure Challenge is one of our all-time favorite creative anniversary gifts for him. These two scratch-off books are filled with unique date ideas like cooking an apple pie blindfolded or an intimate bedroom challenge. There's a catch though, once you scratch off a square, you have to do the date. (Don't worry, there's a time and money guide over each box to help you decide which to reveal.) Use code THEKNOT10 for 10% off your purchase.
19. Custom Bracelet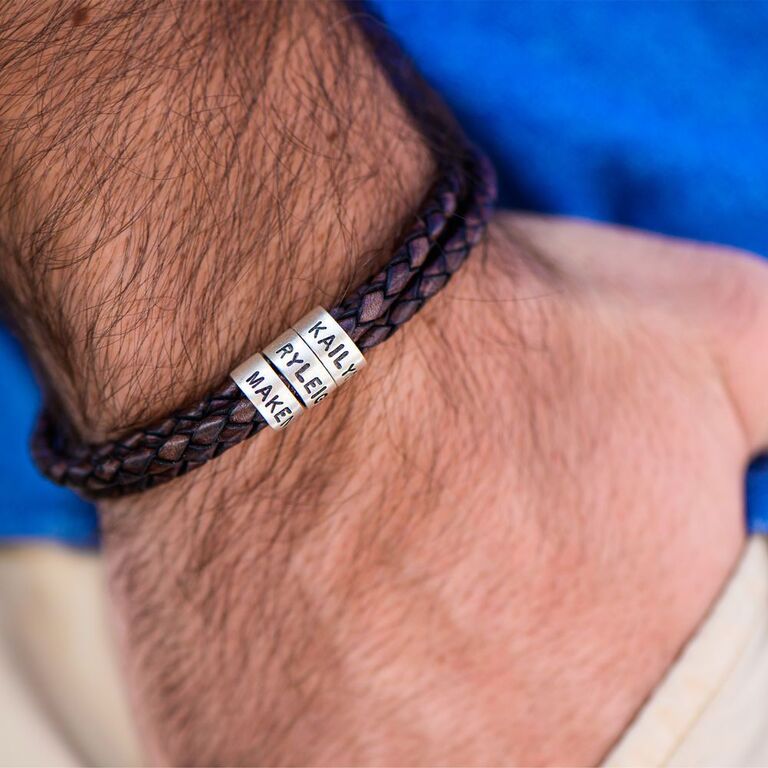 He's never going to want to take off this meaningful anniversary gift. The braided brown leather bracelet is adorned with either sterling silver, 18K gold-plated or 18K gold vermeil beads that are custom engraved with the names of his loved ones. Think: yourself, kids, pets or his parents or siblings.
20. Sustainable Everyday Sneakers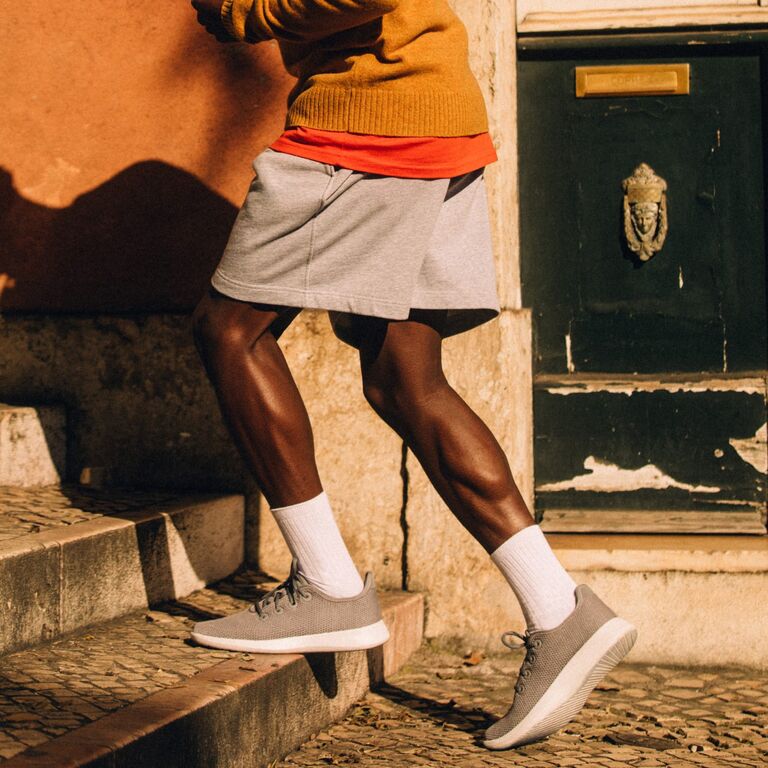 Does your guy like useful gifts? A new pair of kicks will be a good anniversary gift for him, especially if you're in the habit of morning walks together. Allbirds aren't just stylish, they're also designed with sustainability in mind. They're made from a silky-smooth fabric sourced from eucalyptus tree fibers that are lightweight and breathable.
21. Topographic Decanter and Whiskey Glasses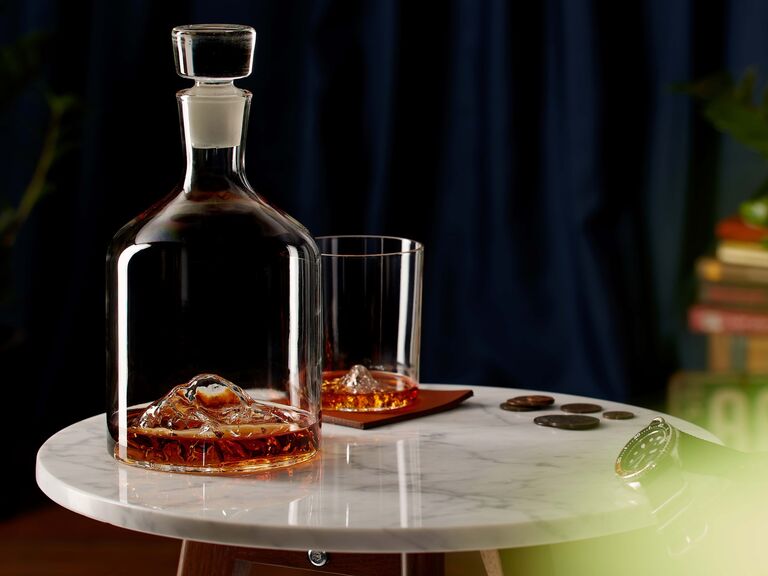 If he loves the outdoors and whiskey, this unique bar set is right up his alley. The handblown glass decanter and matching tumblers feature raised topographic impressions of four national mountains (Half Dome, Mount Whitney, Mount Rainier and Denali) to inspire his—or both of yours—next hike.
22. MLB Baseball Bottle Opener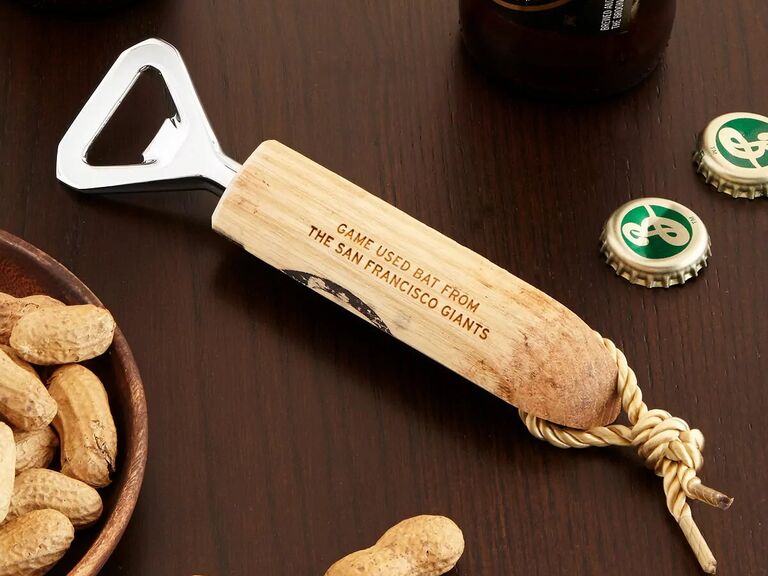 Don't judge a bottle opener by its picture. This isn't just any bar key. It's made from a game-used MLB bat. Each keepsake comes with its own story card that tells about its history on the diamond. Now that's a winner amongst wedding or dating anniversary gifts for him if he's a baseball fan.
23. Monogrammed Toiletry Bag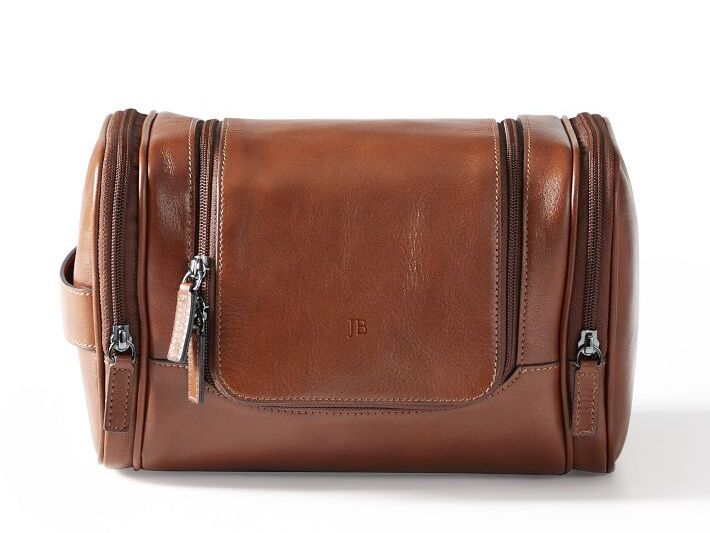 If his bathroom counter could use a little bit more organization, this bag will clean it right up. It's made from two-toned leather with a zipper closure that can hang for easy access to his toiletries at home or away. It can even be monogrammed with gold foil or blind embossed.
24. Portable Campfire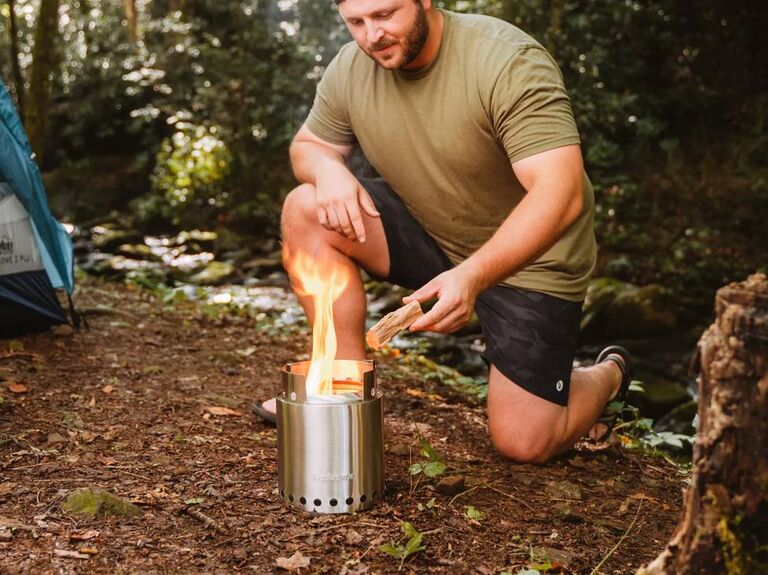 Meet the must-have backyard gadget of the summer. This low-smoke fire pit will instantly upgrade his backyard or next car-camping trip. Solo Stove's Campfire is designed for quick and easy startup and is lightweight, thus completely portable. We suggest gifting it with marshmallows, chocolate and graham crackers for an anniversary dessert.
25. Our Adventure Map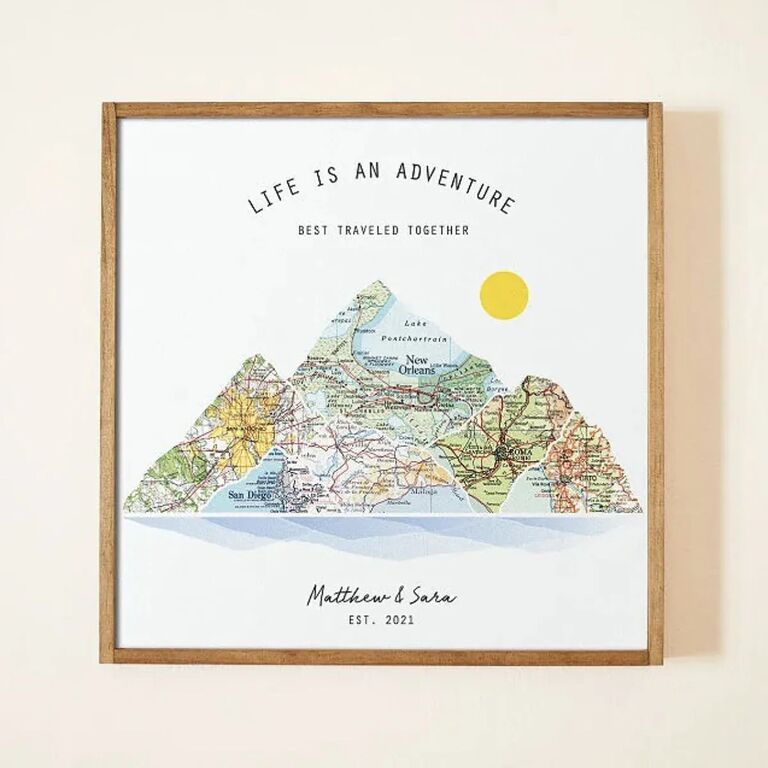 Commemorate all of your adventures together with this unique mountain artwork. Simply provide up to 10 addresses—like your first date spot, wedding venue and first home—then the artists John and Rachel Stewart will turn each location's maps into mountain peaks. The landscape is between a custom message and your names and anniversary date. It's all then printed directly onto the wood. We love the note on this one: "My favorite adventures always include you."
26. A Bucket List Adventure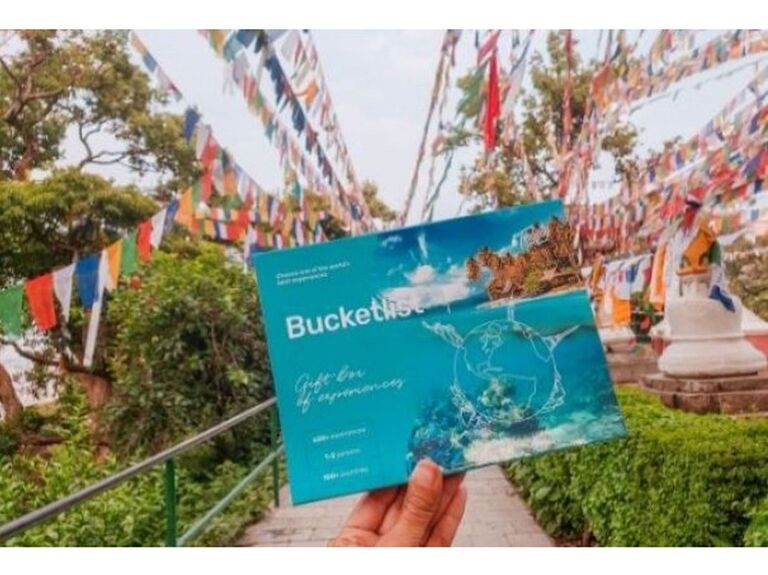 How about an anniversary trip as a wedding anniversary gift for him (and you too)? Cross off a bucket-list item together with a Tinggly experience voucher. You choose the theme, then he gets to choose the specific adventure—with options worldwide! The Bucketlist box gives him a choice of over 1,400 experiences in over 100 countries. This is a great and thoughtful option if you need a last-minute anniversary gift for him. Simply send him the gift over email the day of!
27. Smart Home Gym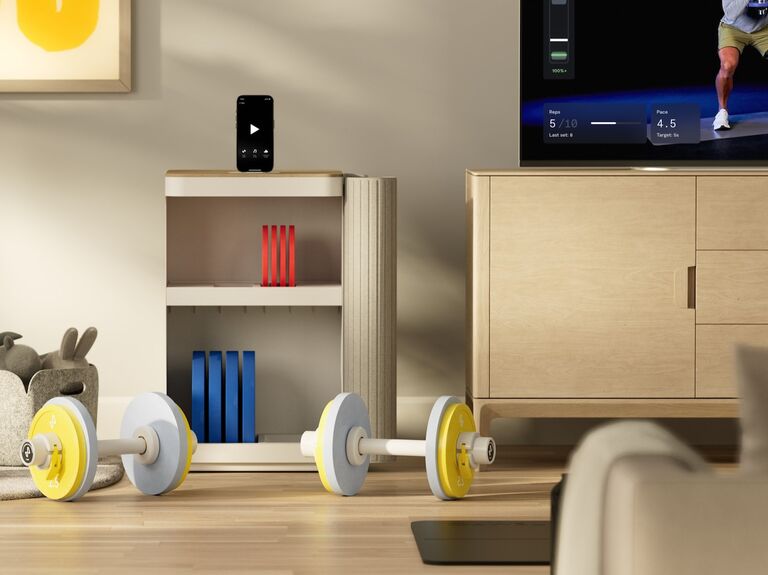 Has he always wanted a home gym, but just doesn't have the space for one? Tempo is just the solution. Using special tech technology, The Core connects to his iPhone and TV to power a personal training experience. Classes are streamed on the TV screen while the phone's camera tracks his movement in order to provide real-time feedback. There are even AI-censored weights that allow the device to count reps and correct form. He'll want to work out every day.
28. Flannel-Lined Wax Trucker Jacket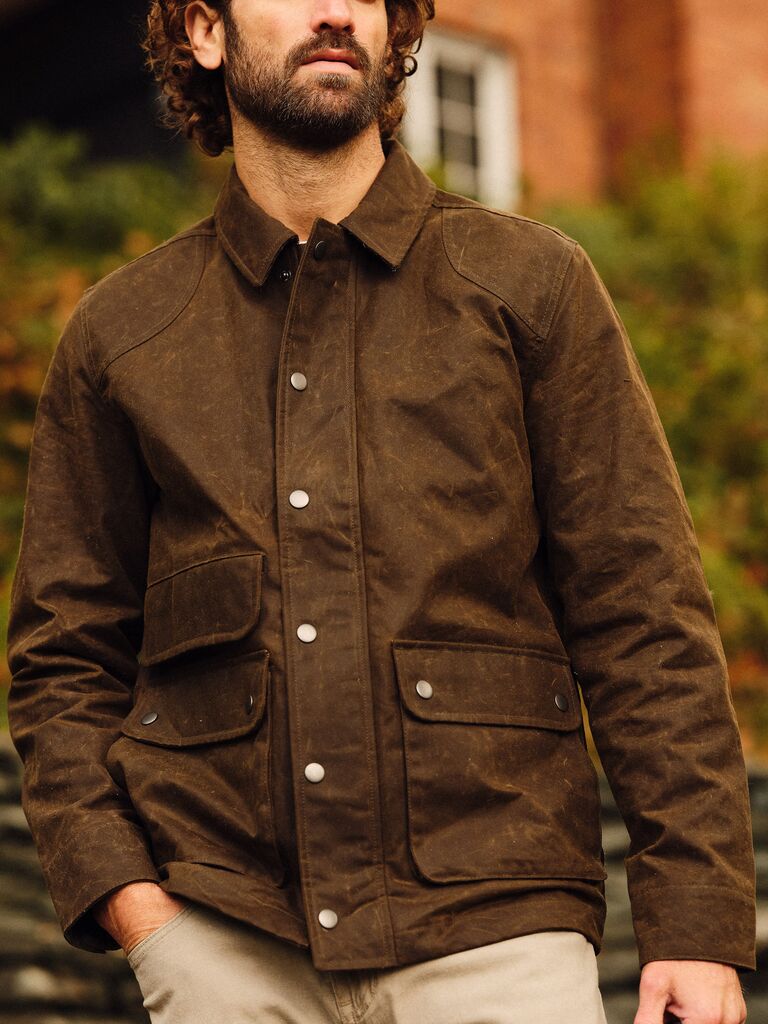 This trucker jacket is a bestseller for a reason (which also makes it one of the best anniversary gifts for him too). It's made from weather-resistant waxed sailcloth and is fully lined with soft flannel for warmth and comfort. Plus, the waxy exterior is designed to be soft right out of the box and lighten over time. The creases created by the wearer make it a truly personal piece. We bet he'll wear it to every future date night.
29. Washable Silk Pajamas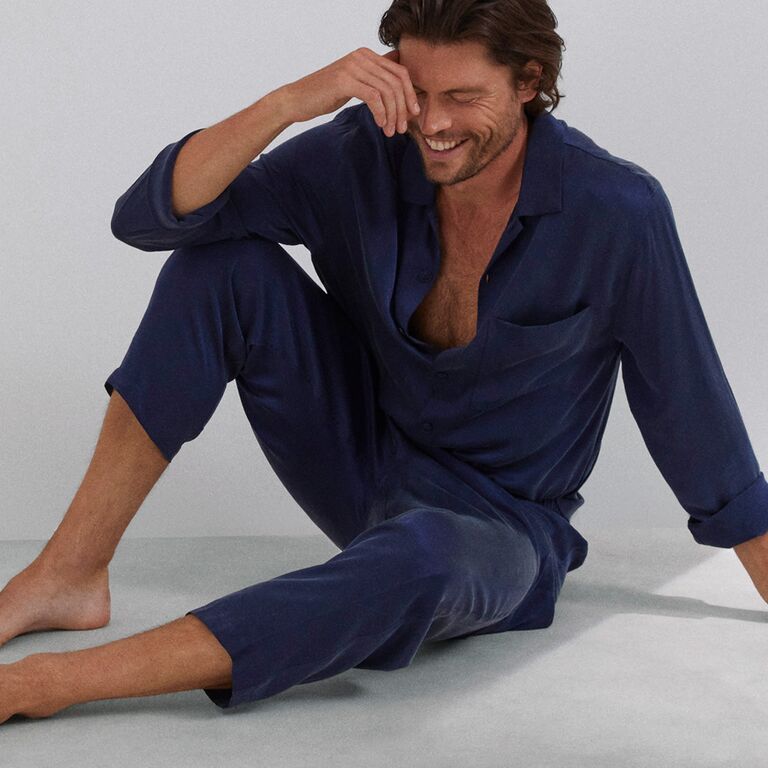 He'll look forward to bedtime even more than he already does knowing he gets to slip into this luxurious pair of silk pajamas. They're not just soft, though, they're also thermoregulating and washable for low-maintenance, high-reward wearing. Plus, new Lunya customers can receive $20 off their first order of $100 or more with the code FOR-TK20.
30. At-Home Steak Dinner
Ever wish you could eat a fancy steak dinner in your pajamas? Stay in and cook such a feast with Omaha Steaks. This edible gift set comes with filet mignon, chicken fried steaks, boneless pork chops, burgers, potatoes au gratin and caramel apple tartlets. You'll have enough food to celebrate your milestone all week long.
31. Backyard Wood-Fired Pizza Oven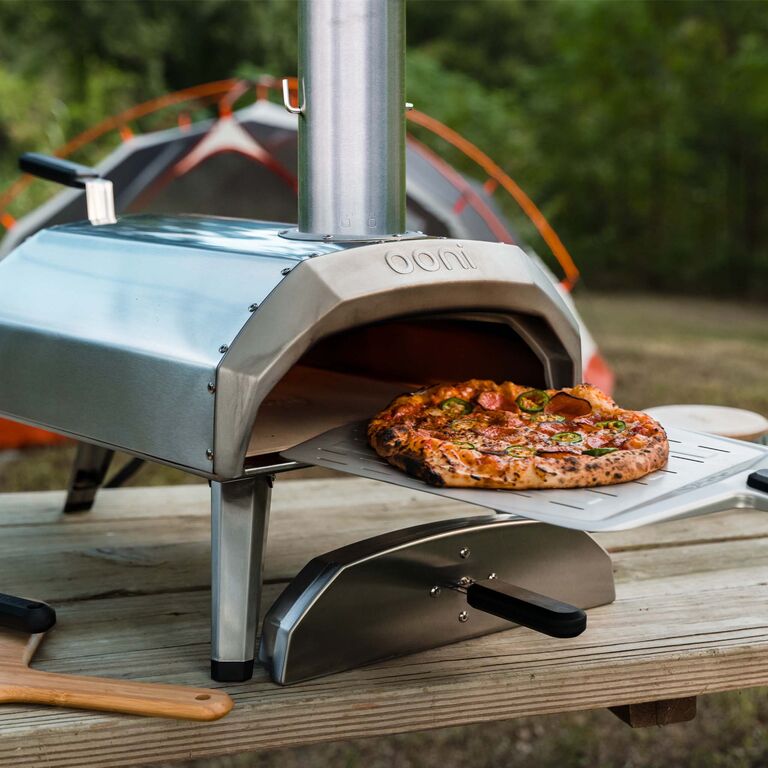 If Friday night dinner is nearly always pizza, you'll both thoroughly enjoy this anniversary gift for him. An Ooni portable pizza oven lets you make delicious pizza right at home. This one can be fueled by wood, charcoal or gas for convenient and authentic home cooking.
32. Anniversary Ring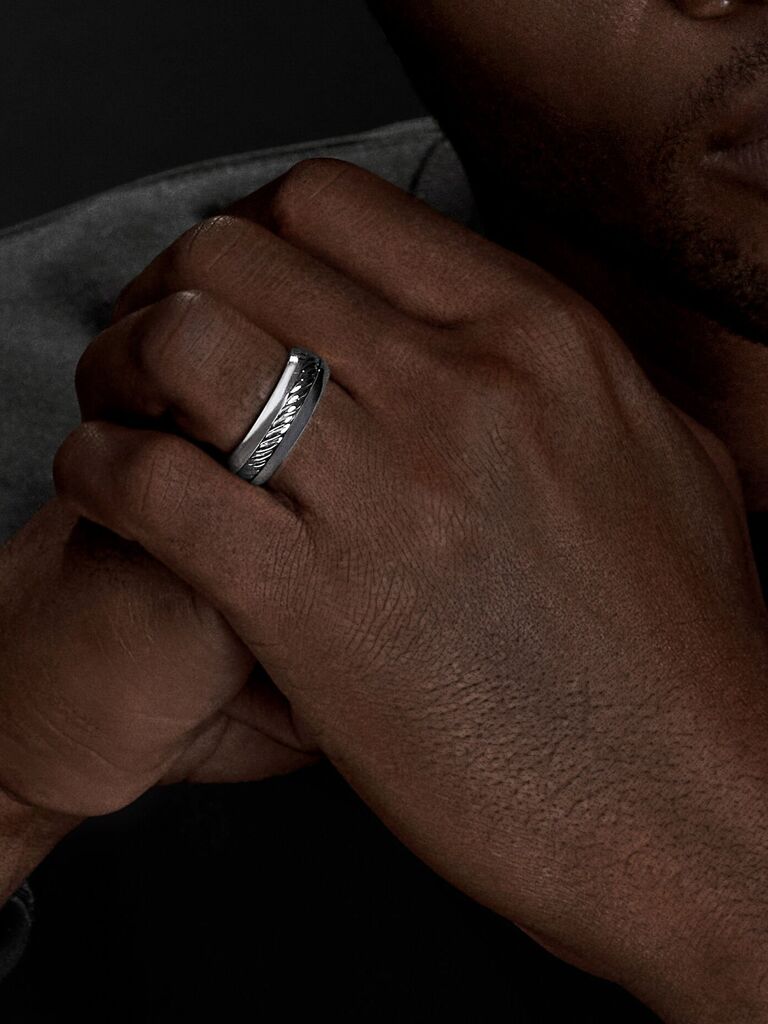 If you've been married for a couple of decades (or more), it might be time for a ring refresh. Slip a new band on his fingers to reaffirm your commitment. This stylish ring is made from sterling silver with a cable inset for a bit of detail. It comes in either sterling silver or 18K yellow gold.
33. Massage Gun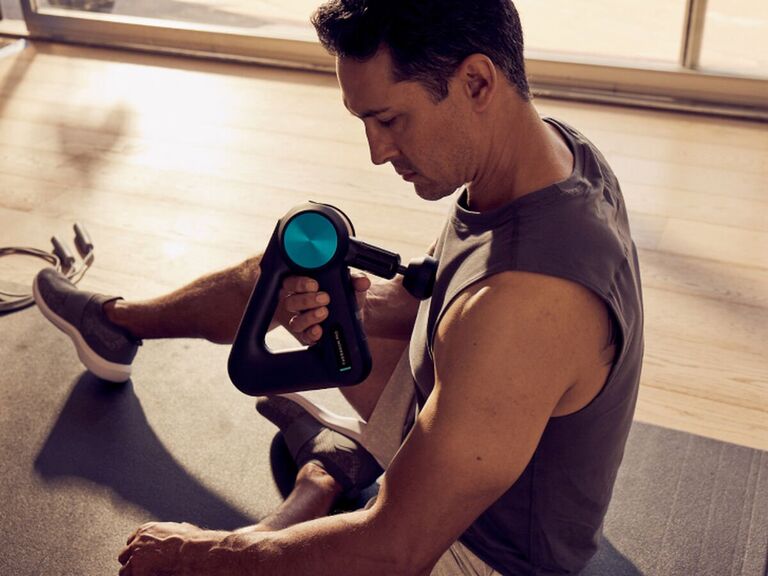 No more swapping amateur back massages. This anniversary gift will treat him to a full-body, at-home massage at any time. A Theragun provides what's called a "percussive massage," which relieves a whole bunch of pesky aches and pains. Whether he's sore from working out or sitting at his desk, this anniversary present for him will be met with a lot of gratitude—which hopefully takes shape as getting to use the Theragun yourself, too.
34. Box Chain Necklace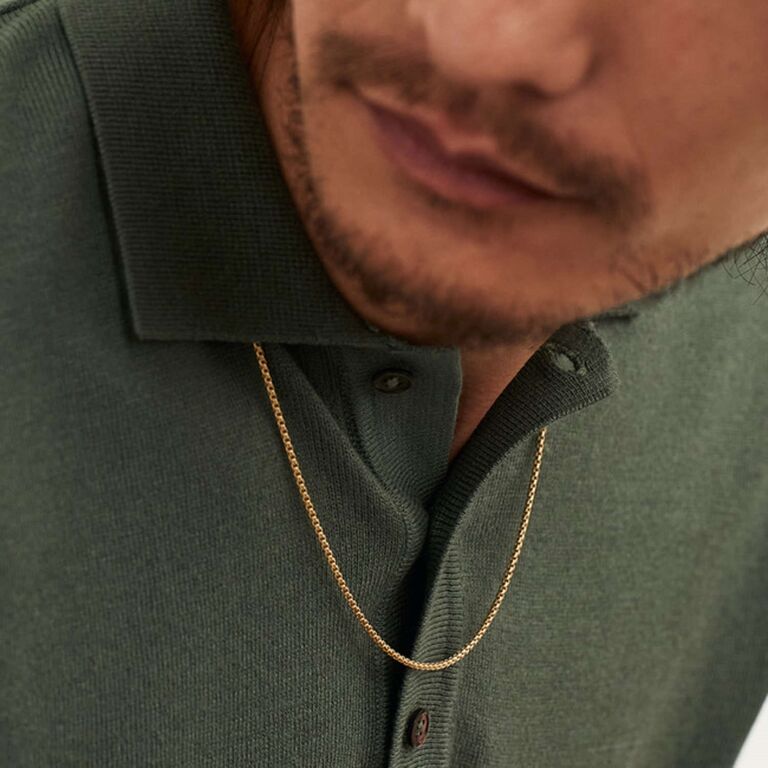 Even if he isn't that into jewelry, this simple gold round box chain will quickly become an everyday staple for him. It's easy to add to any casual or formal outfit and won't overpower the look. Plus, it's made of 14K yellow gold, so it won't oxidize or discolor throughout the years.
35. Sleek Solar Powered Watch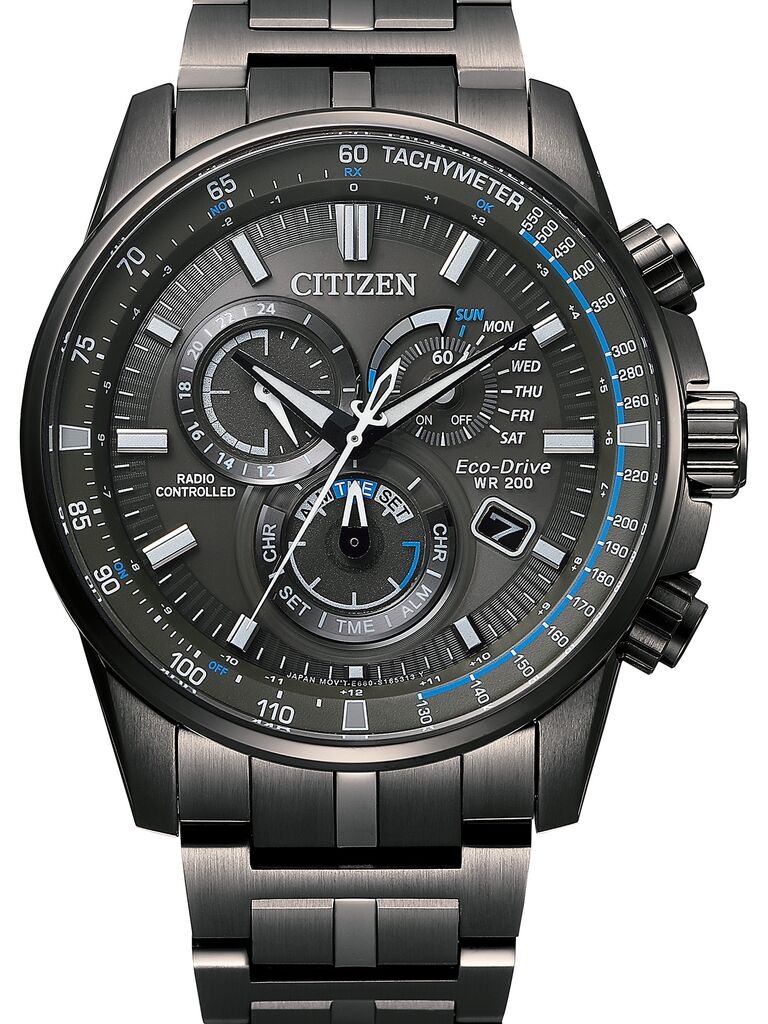 A watch is always a welcome new accessory and, when gifted for an anniversary, it really commemorates all of your cherished time together. This cutting-edge timepiece features a sleek, black stainless steel band and dials and a chronograph, perpetual calendar as well as a power reserve indicator. Best of all, though, it'll never run out of power or need a battery replaced, thanks to its solar-powered technology.