40th Anniversary Gifts Your Spouse (or Favorite Couple) Will Love
Congrats—you've made it to your 40 year wedding anniversary! As you reminisce on all the wonderful years that have passed, celebrate your long-term love (or that of your loved ones) with these 40th anniversary gifts.
by Jessica Tzikas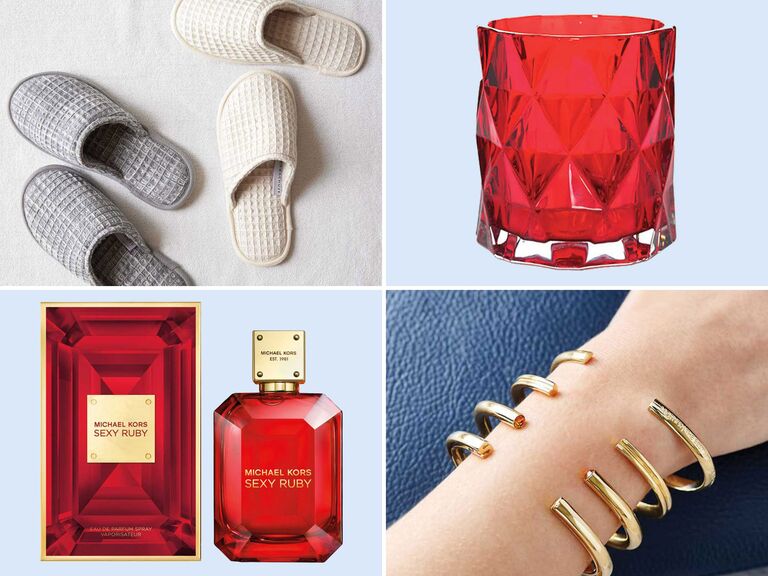 A 40 year wedding anniversary is no small feat, so it's likely everyone from the best friend to the sister-in-law will be looking to gift the long-term couple something extra special. Whether you're the spouse looking to keep things traditional for the 40th anniversary or the friends who want to do something a bit different to commemorate this big celebration, here are some great items to gift each other or the special couple.
What Is the 40 Year Anniversary Gift?
Traditional: Ruby
The 40th wedding anniversary has always been synonymous with the ruby. With the stone's bright red hue, it's only fitting that rubies symbolize the strong love that's lasted for 40 years. A piece of jewelry with a ruby stone is a great way to keep things traditional, but sticking to the color red also works well here.
Modern: Ruby
Yes, it's true: The traditional gift for the 40th anniversary has, in fact, not changed at all. If you want to keep things a bit more modern, consider gift ideas that incorporate the ruby, or the color of a ruby, but are modern in their own right. Or stray from tradition completely and get your loved one a gift they'll truly enjoy.
In this article:
40 Year Anniversary Gift Ideas for Her
She's celebrated many anniversaries in the past, so it may be difficult to find a gift that she'll not only love, but that's different from gifts given at previous wedding anniversaries. If she isn't a fan of rubies, don't try too hard to make the traditional gift item stick. Instead, look for something she'll uniquely love, like a cozy bathrobe or some classic home décor.