20 Genuine Cotton Anniversary Gifts to Surprise Your Partner
They're creative and—sometimes—cozy.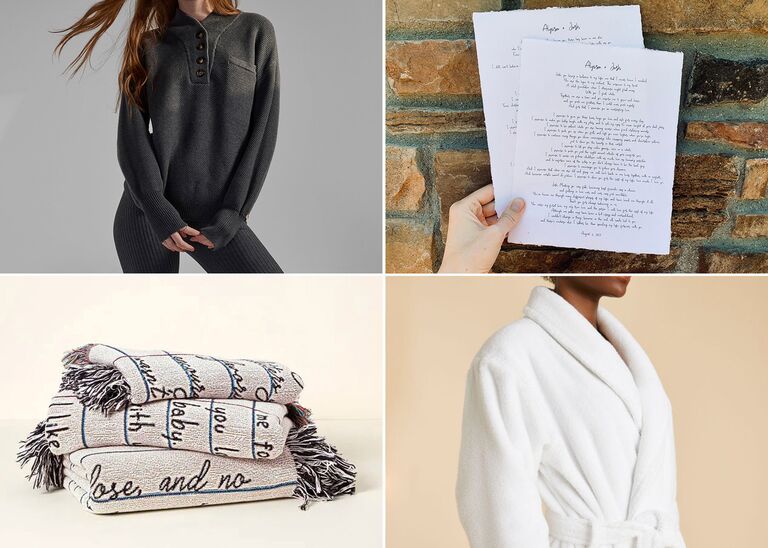 We have included third party products to help you navigate and enjoy life's biggest moments. Purchases made through links on this page may earn us a commission.
There's no better way to ring in another year spent with your spouse than with a thoughtful gift that pulls at their heart strings. Whether it's been two years or 10 years, a cotton anniversary gift is a soft surprise that'll have them praising you for your good taste. If you're in the market for two-year anniversary gifts or are just trying to think outside the box, there are plenty of unique, yet special options to pick from. If you're not sure where to start, take into account your partner's interests and hobbies before heading to the internet. This will help narrow down what you look for. Now, if you still need some inspiration, we've discovered everything from comfy apparel to personalized canvases, making the perfect cotton anniversary gift just a scroll away. Check below to see our picks for the best cotton anniversary gifts and learn more about the material's significance.
In this article:
Cotton Anniversary Gift Meaning
This fabric is more than just the main material of your favorite sweatshirt. In fact, if you follow the traditional anniversary gift themes, you'll notice that each year has a different meaning. You may think it's all about cozy and soft gifts, but the material has a significance behind it, which we'll dive into below.
The Best Cotton Anniversary Gifts
It's time to celebrate with something cute, cozy or creative. Find our picks for our very favorite cotton anniversary gifts below.
1. Custom Story Cotton Print
Every relationship has its own love story, so why not document yours? This personalized print can feature the dates and graphics of your choice, chronicling how you met to where you are now. The two of you can reminisce on memories of your past while celebrating your future.
2. Plush Cotton Robe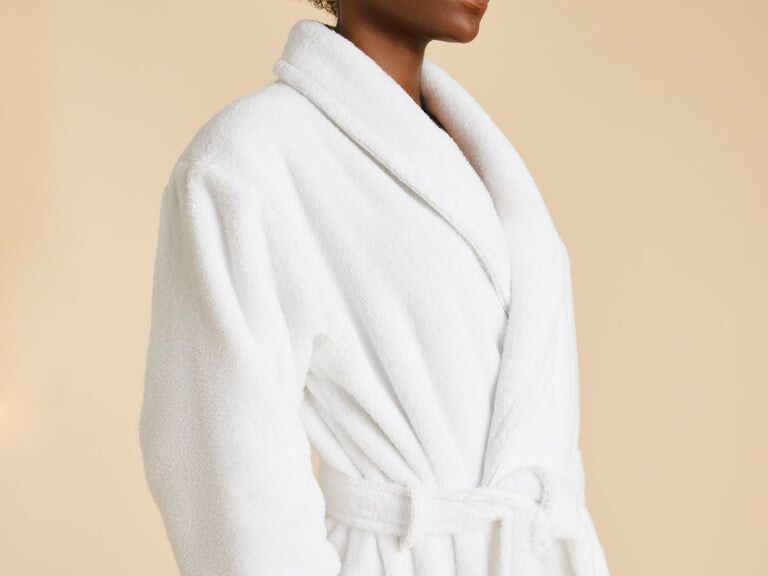 If cozy is their aesthetic, then give them the embodiment of coziness: a soft robe. This luxury cotton anniversary gift features a plush collar with soft sleeves to feel as though the wearer is getting a comfy hug with every use. They can sport this after work when they want to decompress and even when they're just lounging around the house on weekends.
3. Handmade Cotton-Adorned Card
It doesn't get better than a heartfelt letter to express how much your partner means to you. Use the blank interior space to muse on your favorite memories together or the qualities that make them such an amazing partner. They can keep it on display and read it whenever they need a reminder of your love.
4. Handwritten Letter Blanket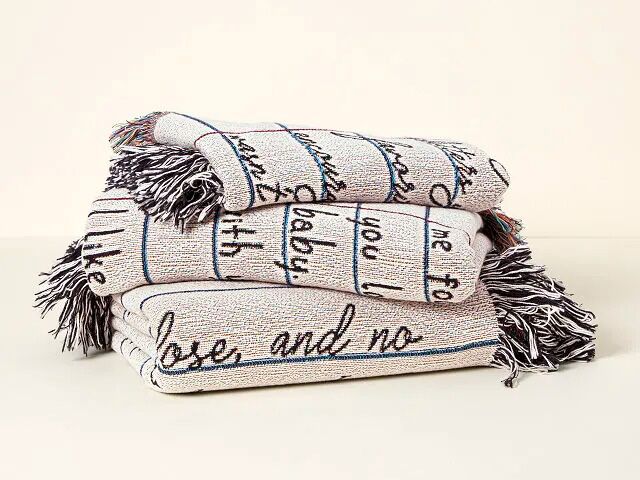 If you want to go a step further, supersize your card and turn it into a blanket they can snuggle up with. This custom cotton throw blanket can feature a personalized handwritten letter. Now they can read you heartfelt words as they get cozy for a wine night at home.
5. Elegant Sheet Set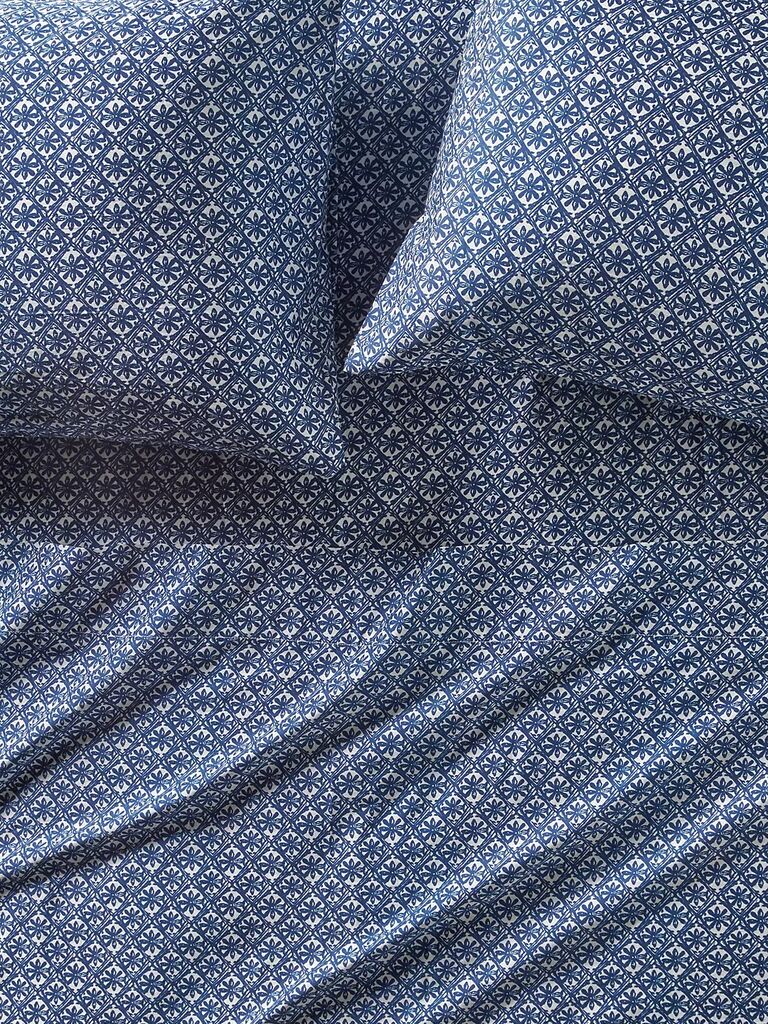 For the partners who appreciate beauty rest, this sheet set will ensure they get the best possible sleep every night. Not only does it come in two mesmerizing shades, but it's made from a soft cotton-sateen material that'll swaddle them in complete coziness every night. It's also a gift you can enjoy, too, as the two of you cuddle up for bed.
6. Weighted Sleep Mask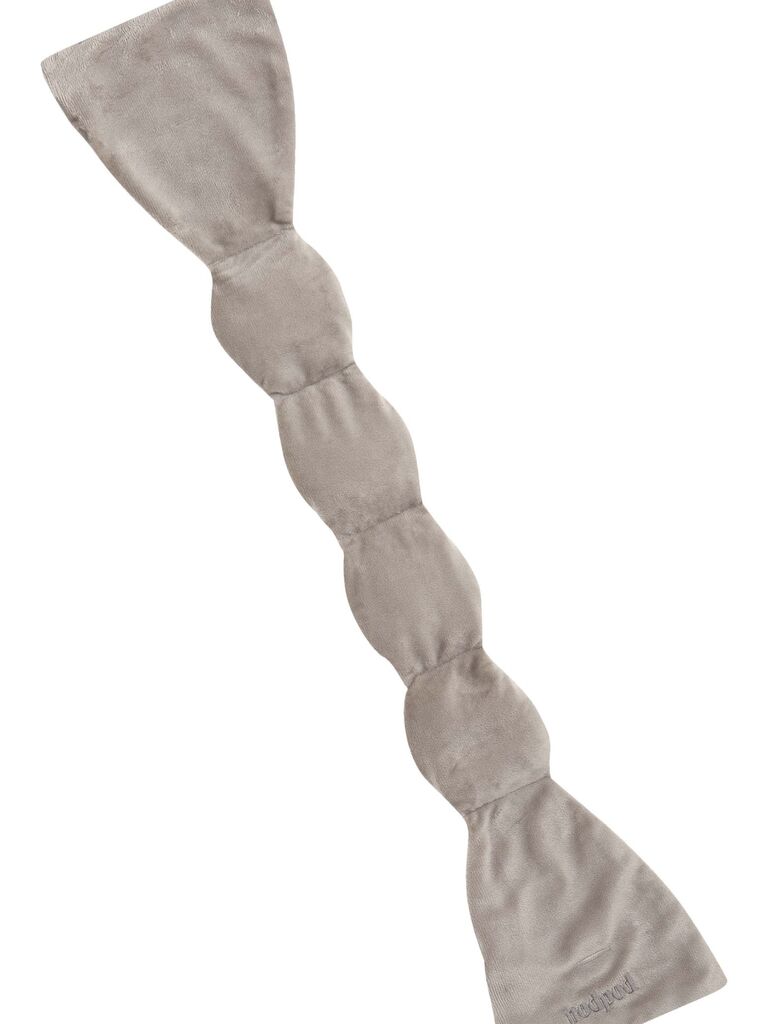 Encourage some self-care with this weighted eye mask that'll help them (and their eyes) destress. The cotton material will gently lay across their eyes, while the included weights help to relieve tension from their peepers. It'll be like an at-home spa treatment—no appointment needed.
7. Cozy Slippers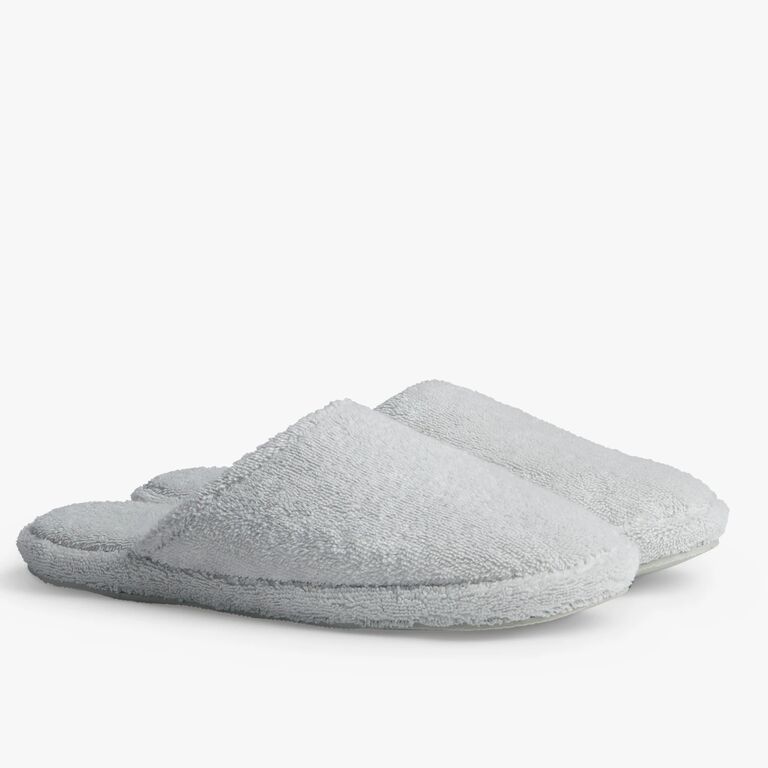 Even your spouse's feet deserve a little TLC, so why not give them the royal treatment they deserve. Treat them to a luxurious pair of slippers that'll keep their feet comfortable, even when they're doing the dishes. The material is made from a plush cotton fabric that'll envelop them in total comfort, keeping them and their feet happy.
8. Sound Wave Print on Cotton Canvas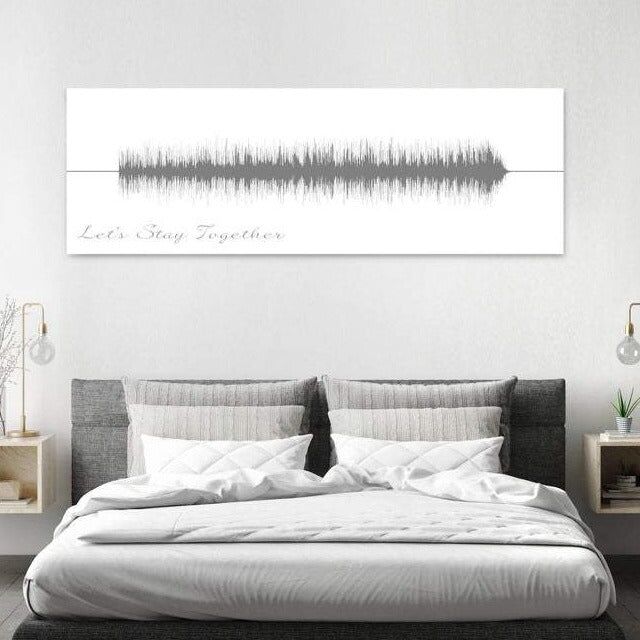 Let them see your voice or your wedding song with this custom canvas. The sound wave can be personalized to anything you want, whether it's a personal message from you, you reading your vows or even your wedding song. Simply send in a recording and add the text you want to put at the bottom.
9. Comfy Cotton Sweatshirt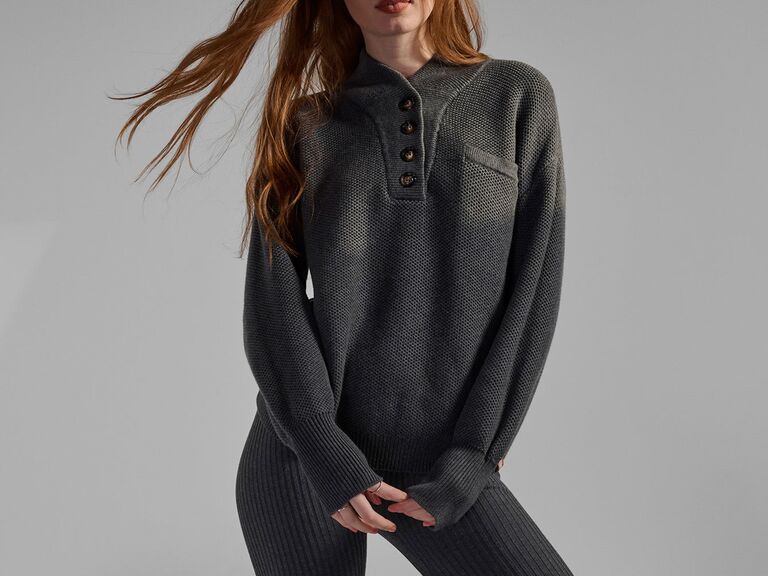 Combine style and comfort with a versatile henley sweatshirt they can wear, whenever. Whether they're running errands or grabbing lunch with friends, this soft top can be dressed up or down to fit your spouse's ever-changing needs. It's also made in a variety of colors—though we adore the dark charcoal gray—if you want to snag one for yourself, too.
10. Cotton Face Towels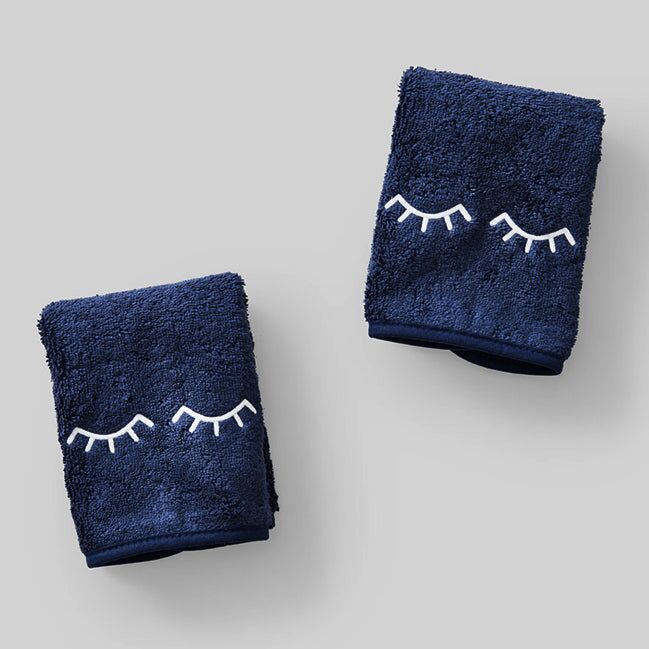 Give their face the spa-worthy treatment with these personalizable face towels. After they've washed their face or removed their makeup, their skin can feel the soft, absorbent material of these cotton towels. You can also add whatever text you want to make it just as special as them.
11. Perfect Cotton T-Shirt
This top is anything but basic, thanks to its organic cotton material that's sustainable and soft. It comes in a mix of simple shades to customize to your partner's favorite color. Plus, you can easily dress it up or down—it's that versatile.
12. Cotton Cuff Links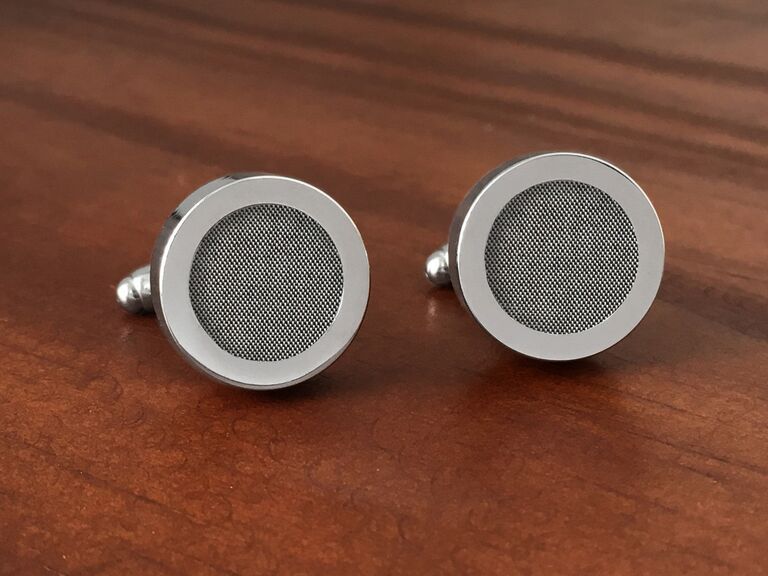 Snazz up their work outfits and dressy attire with these sleek cuff links. It's a classic gift with a twist, as the center features a cotton center made from men's shirting fabric that's different from the typical metal or enamel adornment. Then, whenever they're at a fancier event, it'll be like carrying a piece of you with them.
13. Personalized Throw Pillow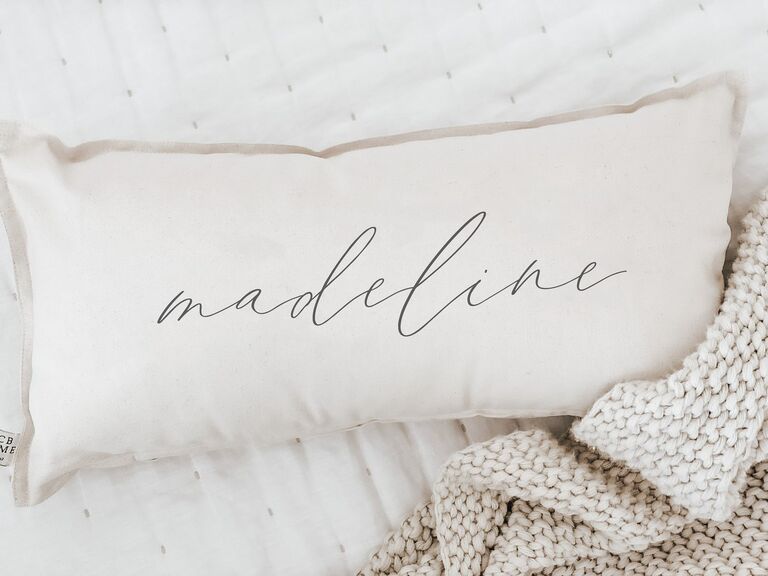 How sweet is this personalized cotton throw pillow? Whether it's jazzing up their work from home space or your living room, it'll make a sweet statement. Bonus points if you get one with each of your names on it to decorate your couch.
14. Custom Canvas Tote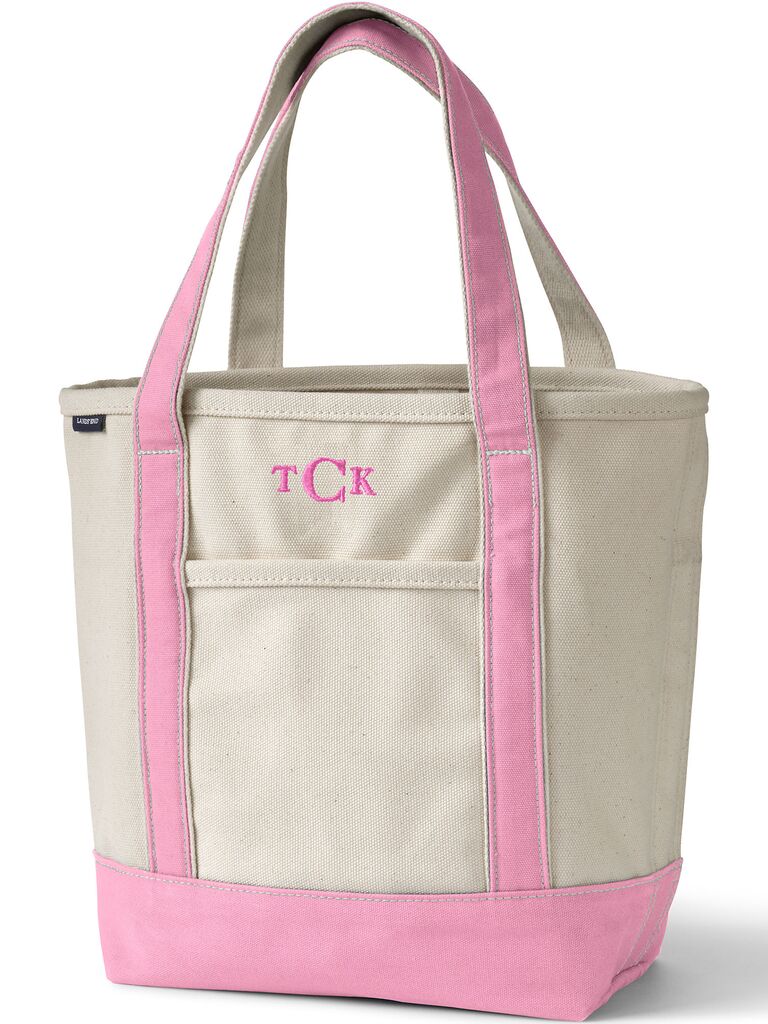 Your partner can tote around everything they need with this spacious bag made just for them. It comes with a main compartment and side pockets for storing all of their essentials. You can even choose from a mix of colors and add their initials or name to make it more unique.
15. Organic Cotton Heart Socks
You can never have too many pairs of socks and these will ensure their feet look absolutely fun. The pack includes three sets of love-themed socks that'll have them sporting your heart on their feet—but in a cute and stylish way. Whether they pair them with a sundress or trousers, there's no doubt all eyes will be on their toes.
16. Cotton Quilt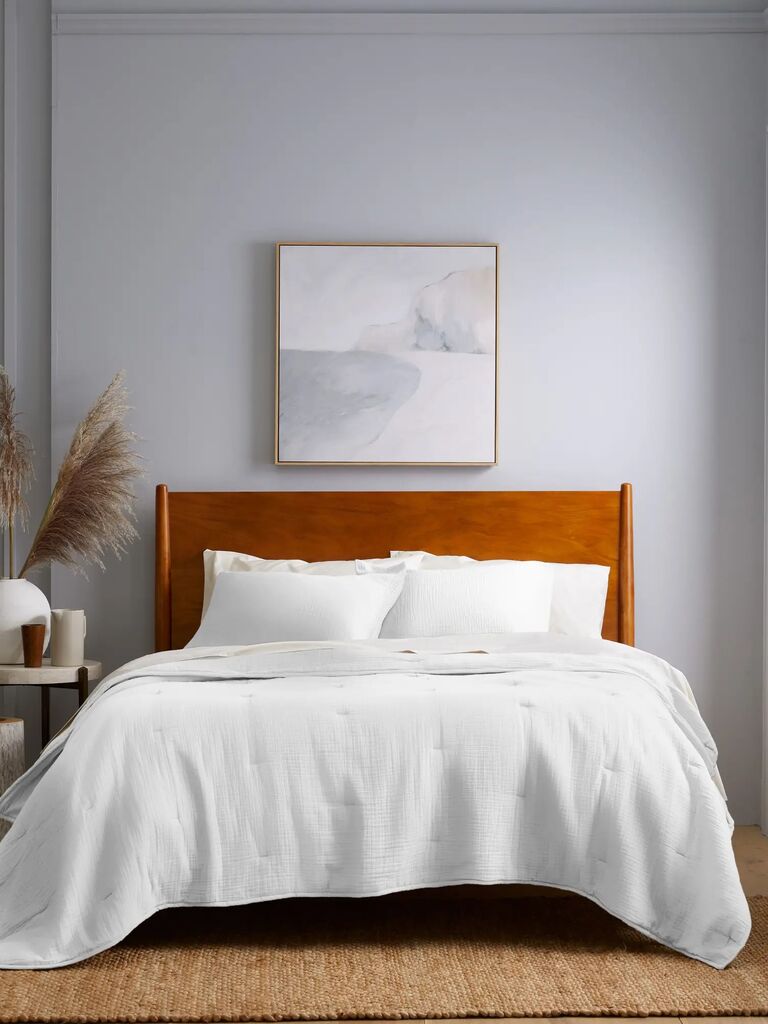 If the weather is warming up where you are, it's time to retire your cozy winter throw blanket. That's where this airy 100-percent-cotton quilt comes in. It's perfect for couch cuddling and giving your shared bed a breezy upgrade. How's that for a "cool" cotton anniversary gift?
17. Personalized Toiletry Bag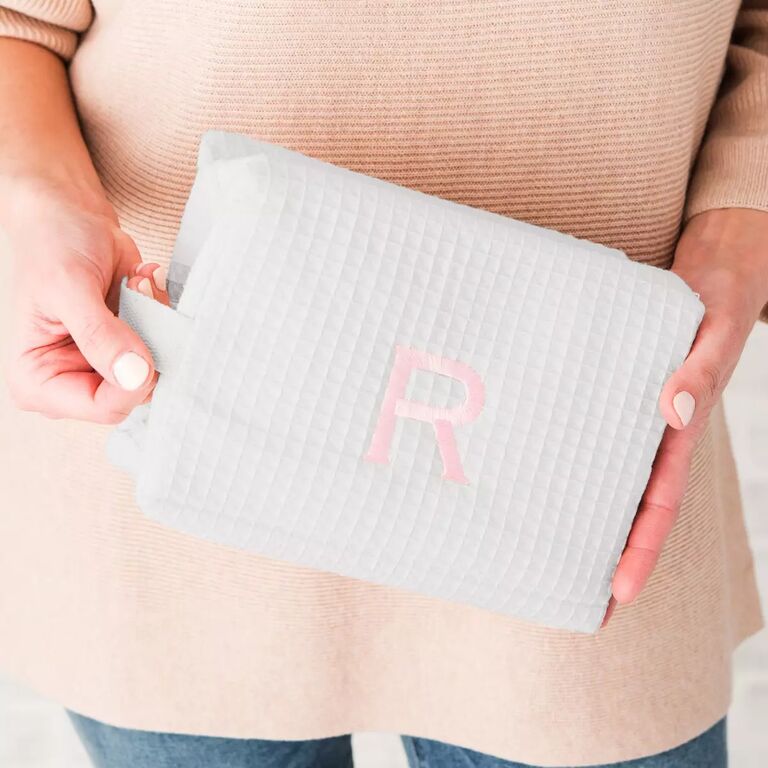 Traveling spouses will be praising you for this thoughtful essential that'll keep them organized in a trendy way. The simple cotton bag can be customized with their name or initials to make a unique cotton anniversary gift and it contains a main pocket for holding makeup, grooming supplies and more. Whether they store it in their carry-on or full-sizes luggage, you'll be on their mind every time they use it.
18. Fun Beach Towel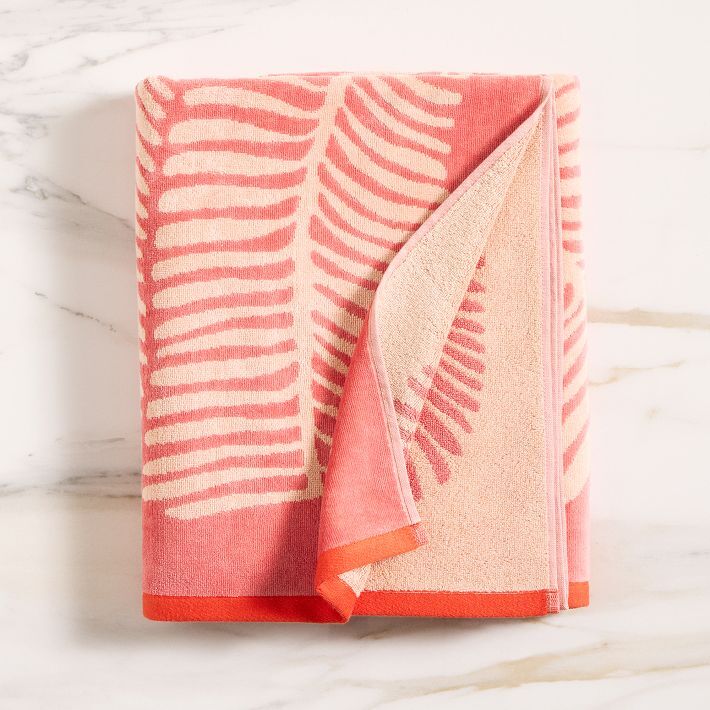 For the spouse who loves summer beach days, treat them to some lounge-ready accessories. This beach towel is made from a soft cottony fabric that'll keep them dry and cozy as they sprawl on the sand. Plus, with a variety of fun colors to choose from, you'll want to snag one of each.
19. Cotton Wedding Vows Print
Turn your handwritten vows into a keepsake treasure. Paper can easily get crumpled and fade overtime, but this cotton material will keep your special words to one another fresh and intact for years to come. When they catch a peek of it, they'll always be reminded of your big day.
20. Monogrammed Baseball Cap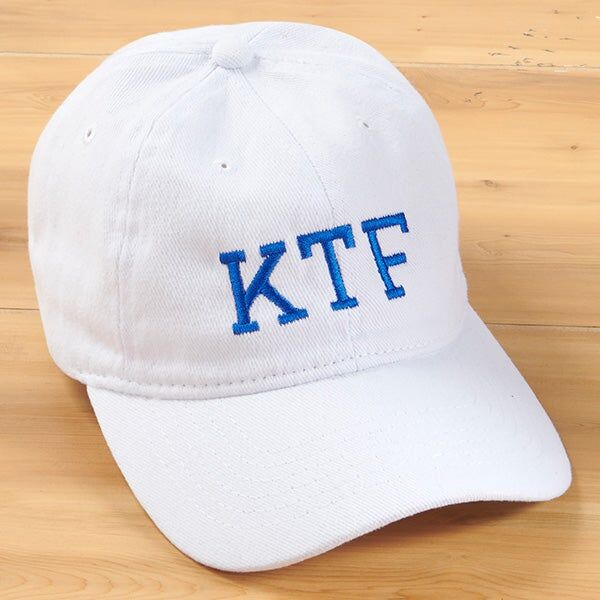 Not only does this baseball cap exude style, but the cotton material means it's packed with comfort. Add some customization to the design by having your partner's initials or name embroidered on the front. You can even choose the colors you want to make it even more unique.