60 Romantic Gifts for Your Wife
What's the perfect way to say "I love you?" Spoil your wife with amazing gifts.
by Emily Platt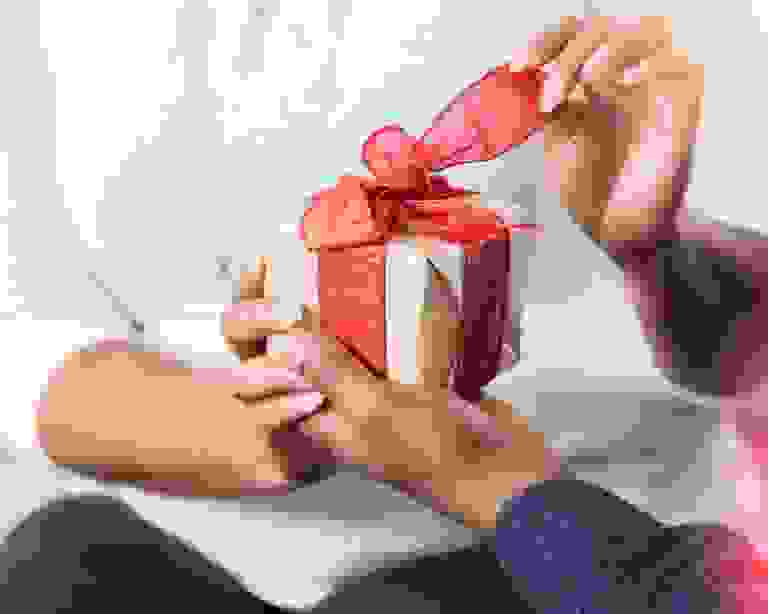 Still need gift ideas for your wife before her birthday, your anniversary, the holiday season or another gift-giving event? Coming up with thoughtful, romantic gifts for your wife (or girlfriend, or fianceé) isn't always a breeze, especially when she deserves a palace on a private island. But don't worry, we've got you. To jump-start your imagination, think about what your wife loves and values. Is she a homebody or an adventurer, sentimental or practical, trendy or traditional? Then think about what's going on in her life. Are you decorating your home, planning a trip, celebrating a milestone, or starting new jobs? Now you're getting the idea.
Another great way to find the perfect gift for your wife is to simply start perusing lists of ideas to see what piques your interest and makes you think, "Wow, that's so 'her.'" In other words: Trust your instincts and have fun with it! Here, check out 60 fun and romantic gift ideas your wife will love. (And psst: tons of these work for other loved ones, like besties and moms, too.)
A Map of the Stars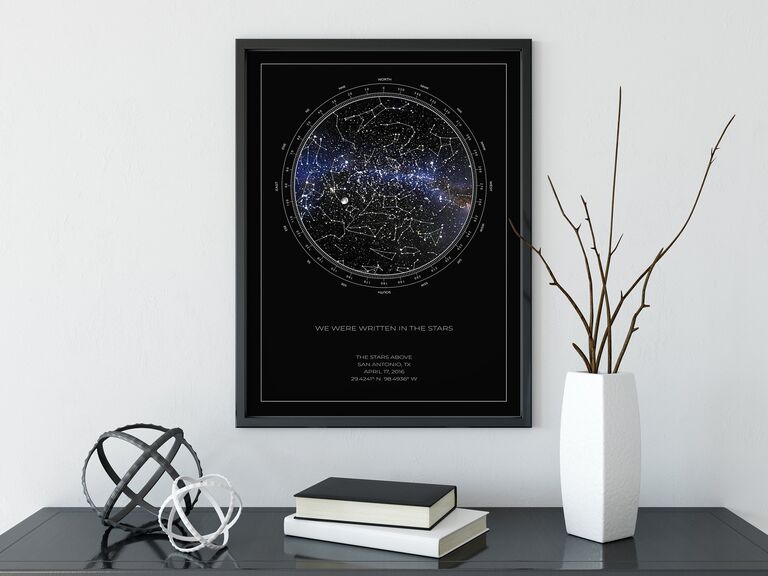 Whether it was the night you met, the moment you first said "I love you" or the day you said "I do," a map of the stars during one of your most memorable relationship milestones will move your wife more than you know.
The Stars Above Co custom star map, from $50, Etsy.com
Eternity Roses
The only thing better than a beautiful bouquet of roses is one that lasts up to a year—yes, you read that correctly. A box of eternity roses from Venus ET Fleur is the romantic gift for your wife that keeps on giving (and giving).
 
Venus ET Fleur roses with "I Love You" lid message, $419, VenusETFleur.com
Specialty Cookie Delivery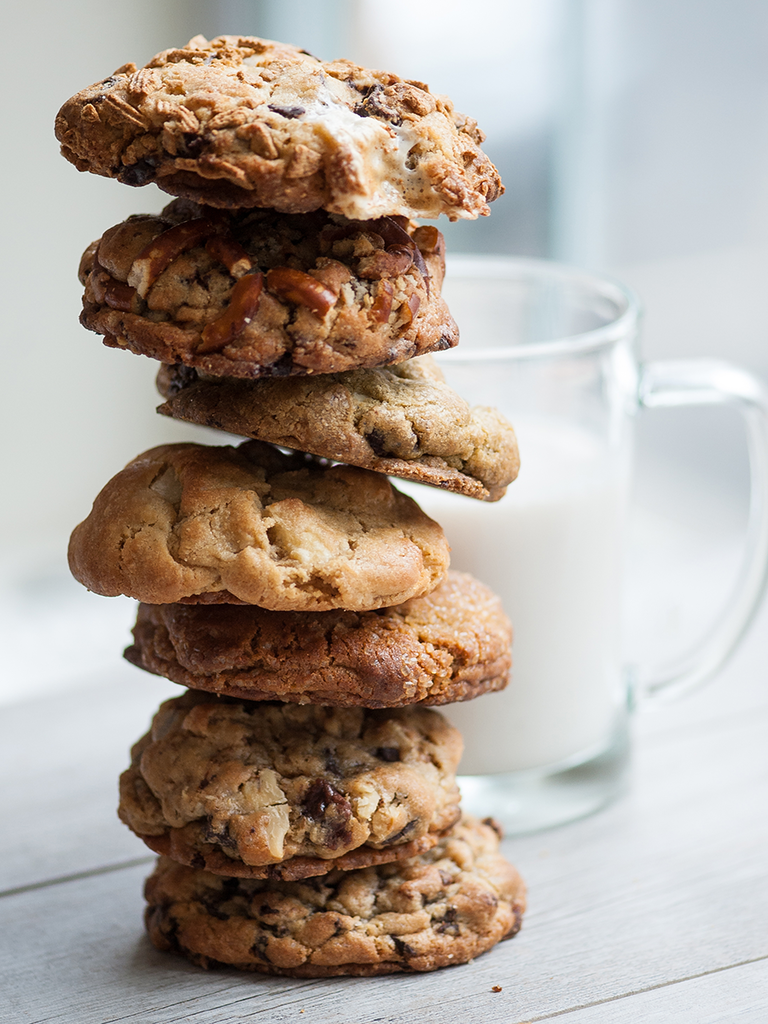 For your leading lady with a major sweet tooth, it's time to think outside the box. We're talking about Bang Cookies. These decadent treats are made with only the finest organic ingredients, baked to order and available to ship in all 50 states.
 
Bang Cookies cookies, from $5 each, BangCookies.com
Calligraphed Wedding Vows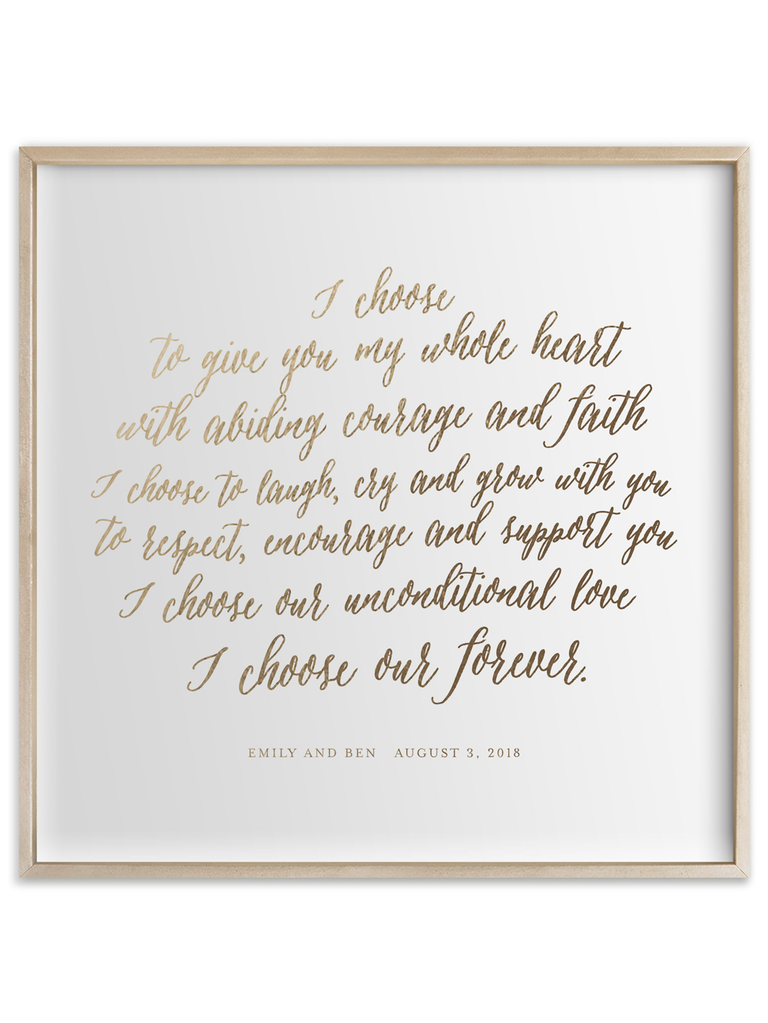 Preserve your wedding vows in the form of a beautiful, romantic piece of art as a constant reminder of your wedding day and your lasting love. You'll never forget your vows with this hanging in a special place.
 
Minted Your Vows as a Foil Art Print, from $115, Minted.com
A Flower Bouquet Subscription
A bouquet of flowers is one romantic gift for your wife that'll never go out of style. Give your wife fresh, farm-to-vase blooms with a subscription to flower delivery service The Bouqs.
 
The Bouqs Co. flower subscription, from $45 a bouquet, Bouqs.com
A Silk Pajama Set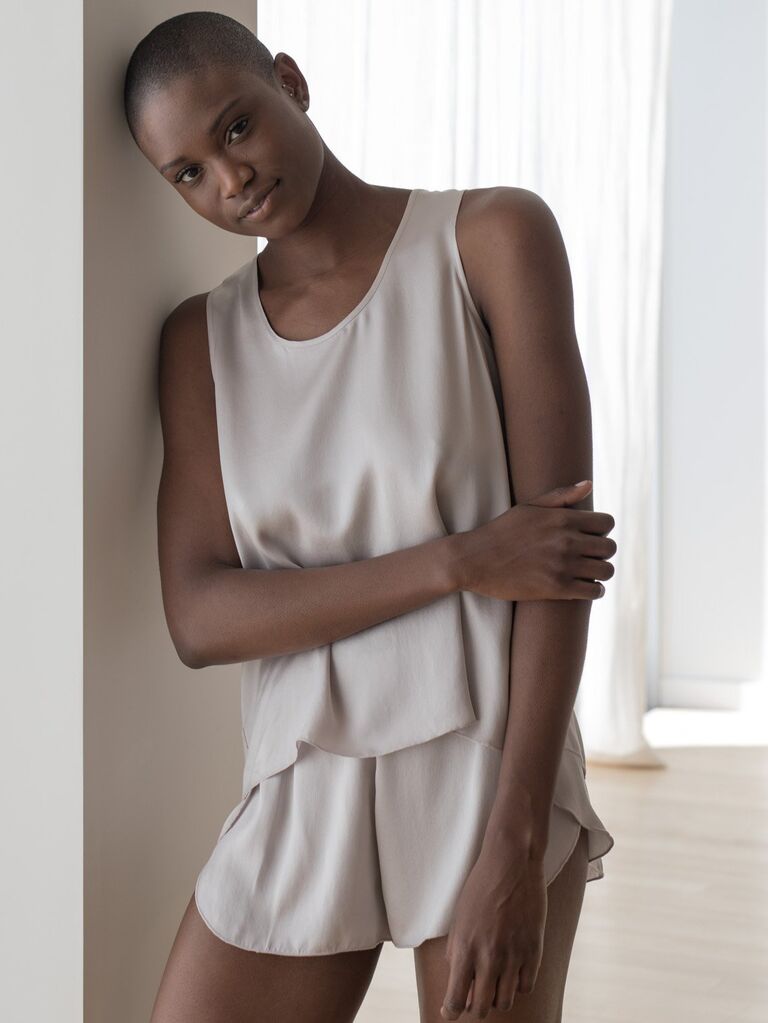 A luxe set of silk pajamas, like these pretty ones from Lunya, are comfy enough to sleep in, but cute enough to answer the door in. Bonus: This set is machine-washable—can you believe it?
 
Lunya washable silk set, $178, Lunya.co
A New Winter Beanie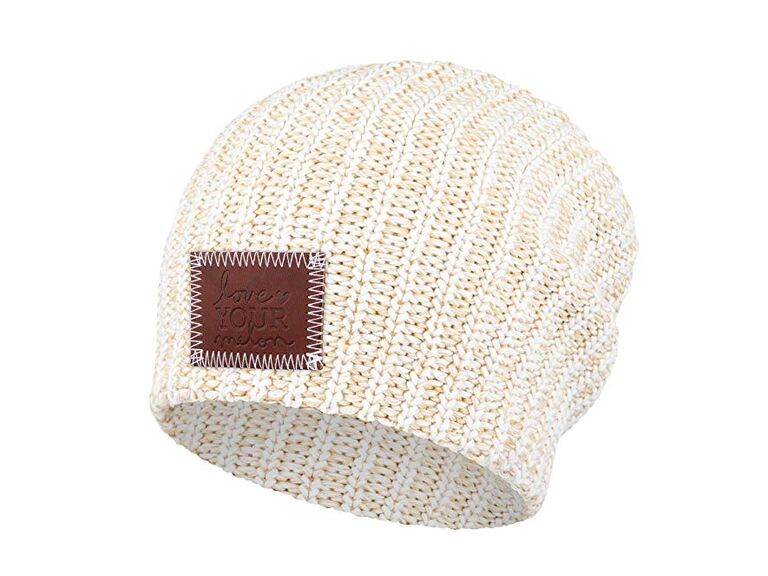 This Christmas gift for your wife supports a good cause—proceeds go toward fighting cancer. It'll also keep her toasty.
 
Love Your Melon beanie, $30, Amazon.com
A Beautiful Watch
A nice watch is simply timeless (sorry, we had to). Sure, worthwhile watches can be a splurge, but this is the love of your life we're talking about here. Just think, whenever she checks the time she'll automatically think of you. And this one is gorgeously minimalist.
 
MVMT Bloom leather strap watch, $140, Nordstrom.com
A French Coffee Press
If you married a coffee obsessee, a classic, luxurious French press coffee press is just what your wife needs to start her day off right. Le Creuset French press pots come in a variety of colors to match your kitchen aesthetic.
 
Le Creuset Stoneware french press, $75, Amazon.com
Statement Earrings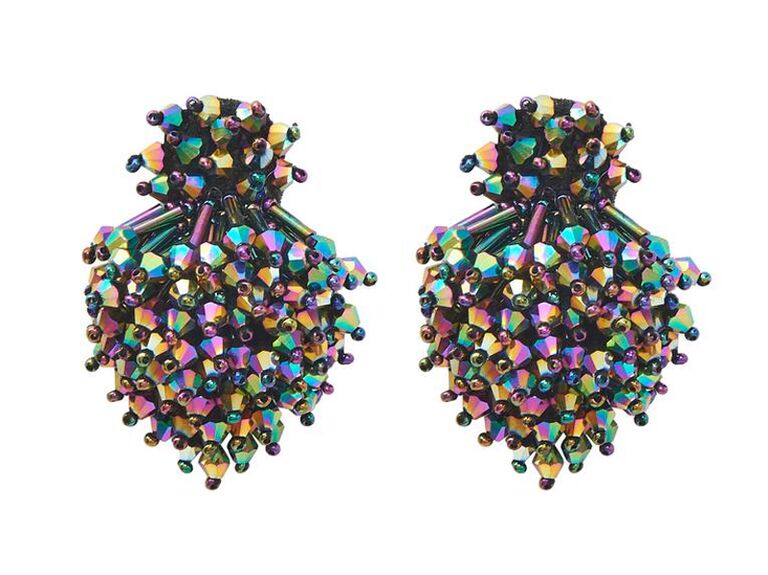 For the fashionista, a pair of fun, statement earrings will hit the nail on the head. She'll be seriously impressed with your exquisite taste in accessories.
 
Mignonne Gavigan Burst earrings, $195, MignonneGavigan.com
A Heavenly Scented Candle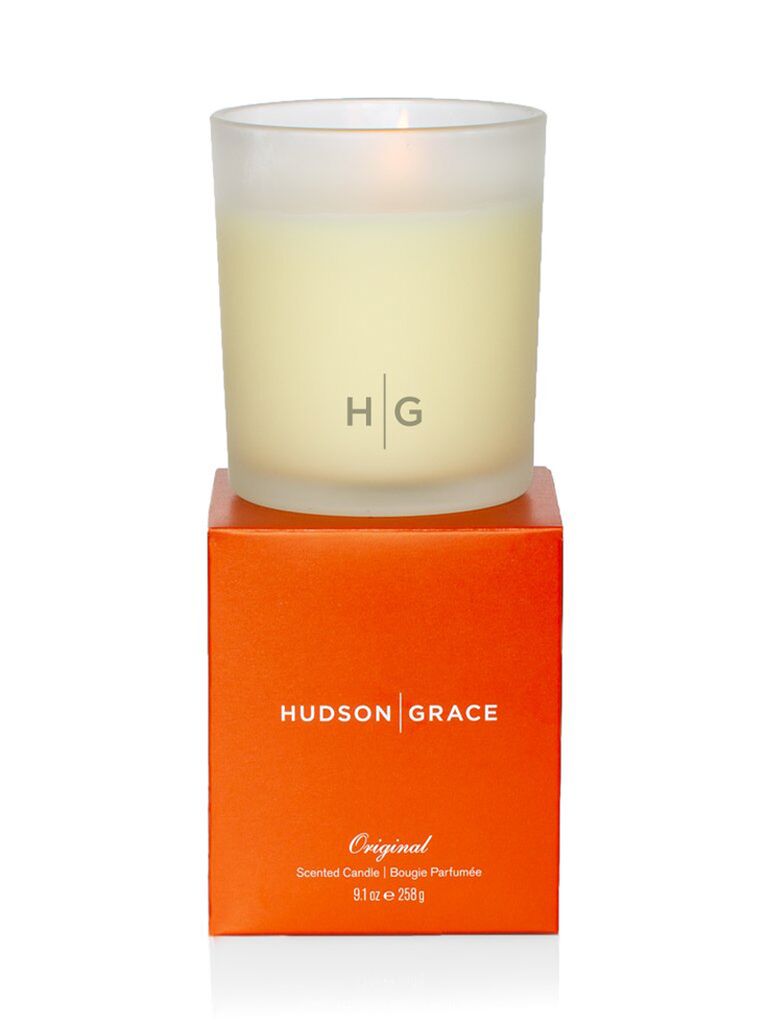 Whether you're short on romantic gift ideas or your wife just loves scented candles, never underestimate the power of this sweet-smelling present. We can't stop talking about how delightful this particular one is. It'll keep her favorite room smelling like a garden for months.
 
Hudson Grace HG Original candle, $65, HudsonGraceSF.com
A Frame for Something Meaningful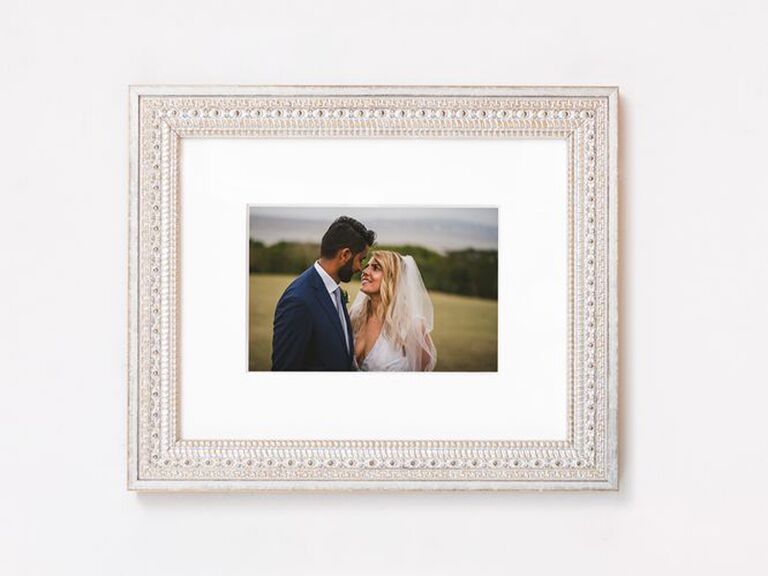 Obsessed with that adorable first look photo where you're both happy crying? Or maybe there's a certain love poem that makes you both sentimental. Now's your chance to frame it and hang it for everyone to see.
 
Framebridge The Fancy Wide frame, $95, Framebridge.com
A Weekend Bag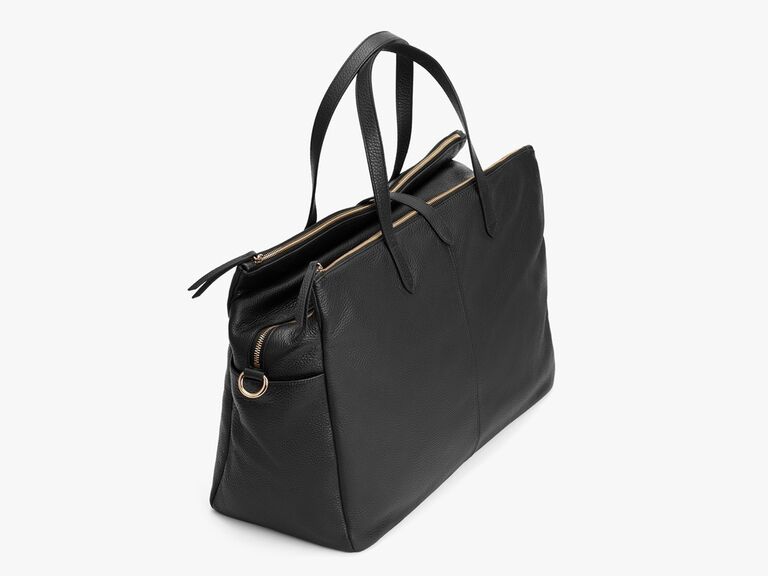 A sleek and sophisticated leather duffle is something everyone should have—just in case you spontaneously decide to sneak away somewhere romantic for the weekend.
 
Cuyana leather triple zipper weekender, $395, Cuyana.com
A Sheepskin Throw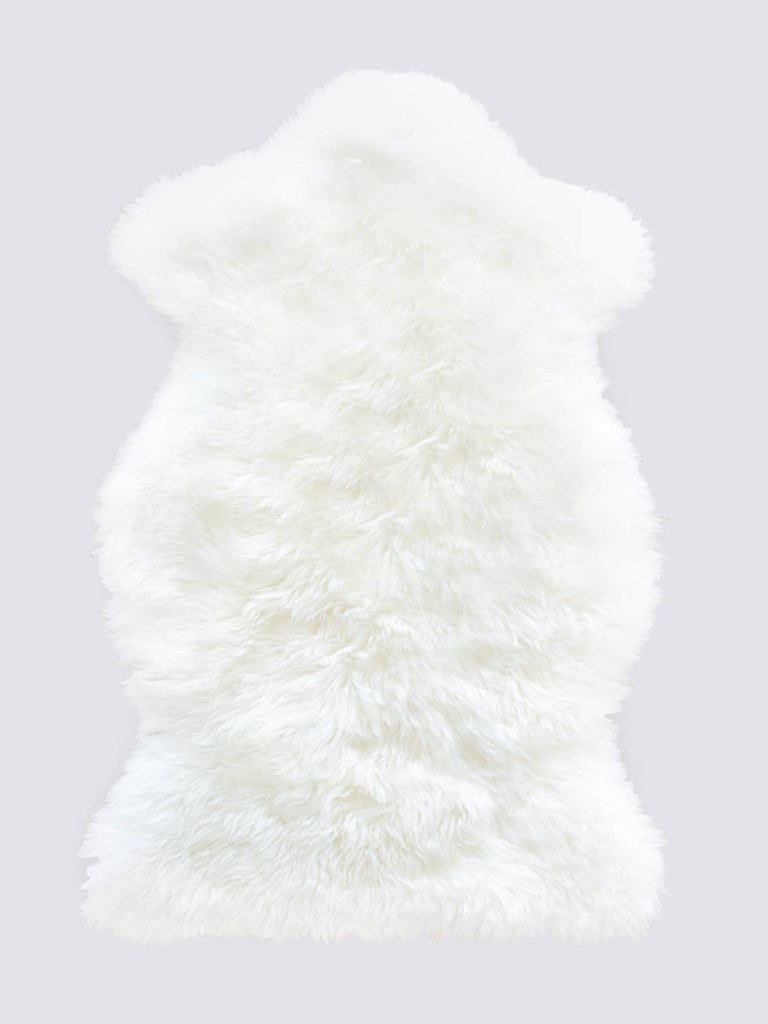 Ethically sourced from Patagonia and Ireland, these natural and ultra-luxe sheepskin throws add depth and warmth to any room. Who could say no to a gift that's equally cozy and romantic?
 
The Citizenry sheepskin throw, from $95, The-Citizenry.com
A Skyline Pillow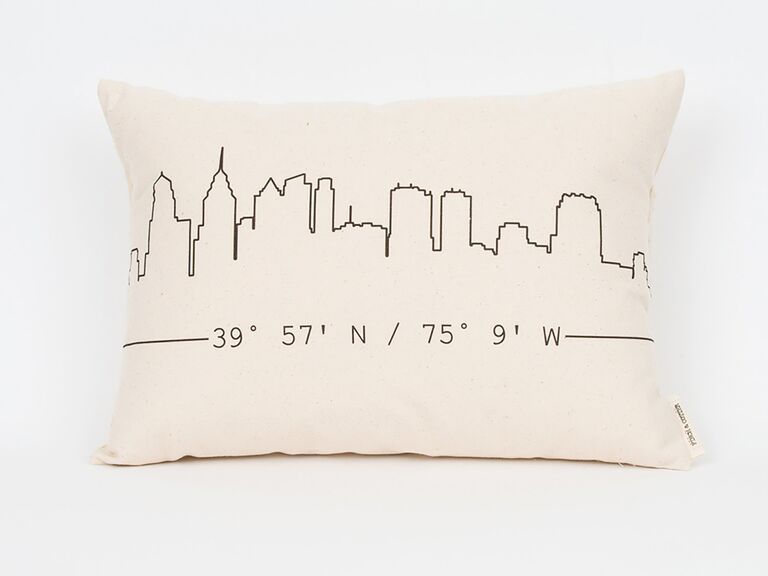 A gift that speaks to your partner's hometown pride is always thoughtful, like this customizable city skyline pillow.
 
Finch and Cotter personalized city skyline pillow, from $46, Etsy.com
A Stackable Diamond Band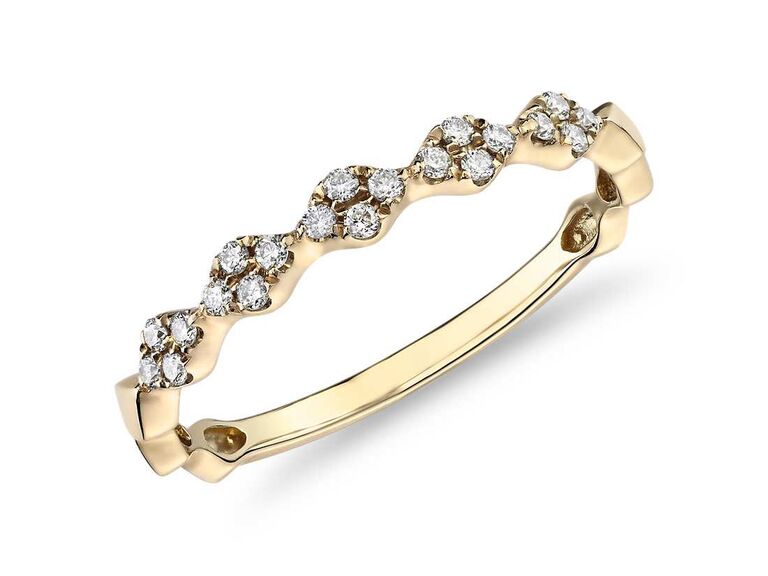 She'll love a trendy and versatile diamond band to stack on her wedding and engagement rings or wear alone on a separate finger.
 
Blue Nile diamond zig-zag stackable fashion ring, $475, BlueNile.com
A Versatile Robe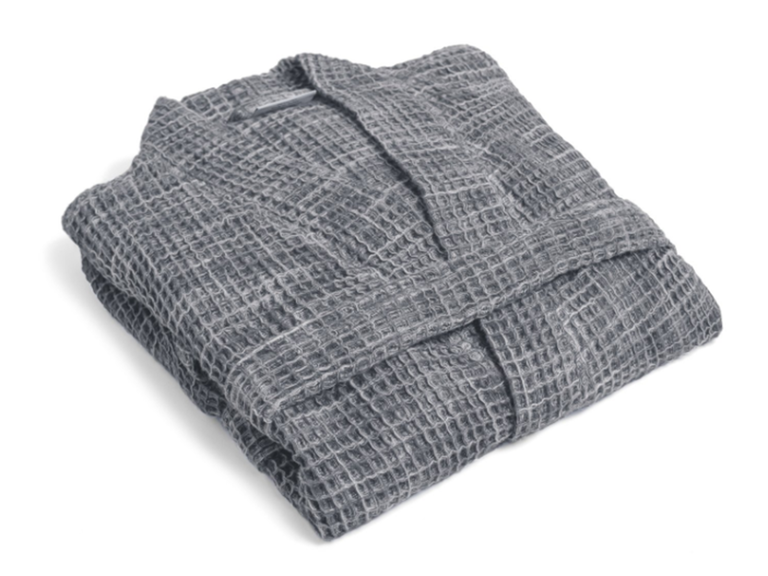 This supersoft, textured robe is made of 100 percent Turkish cotton and inspired by the luxury of a spa experience. Bonus: It's lightweight enough to pack in her suitcase (because she'll never want to travel without it).
 
Parachute waffle robe, $119, Parachute.com
A Lingerie Romper
Pretty lingerie is a great romantic gift idea for your partner—as long as you know what she likes. If this is your first time gifting on the sultry side, maybe shoot for something a little safer, like this delicate sleep romper that's both sexy and comfortable.
 
Eberjey Iona Enchanted blouson romper, $97, Nordstrom.com
A Chic Bathing Suit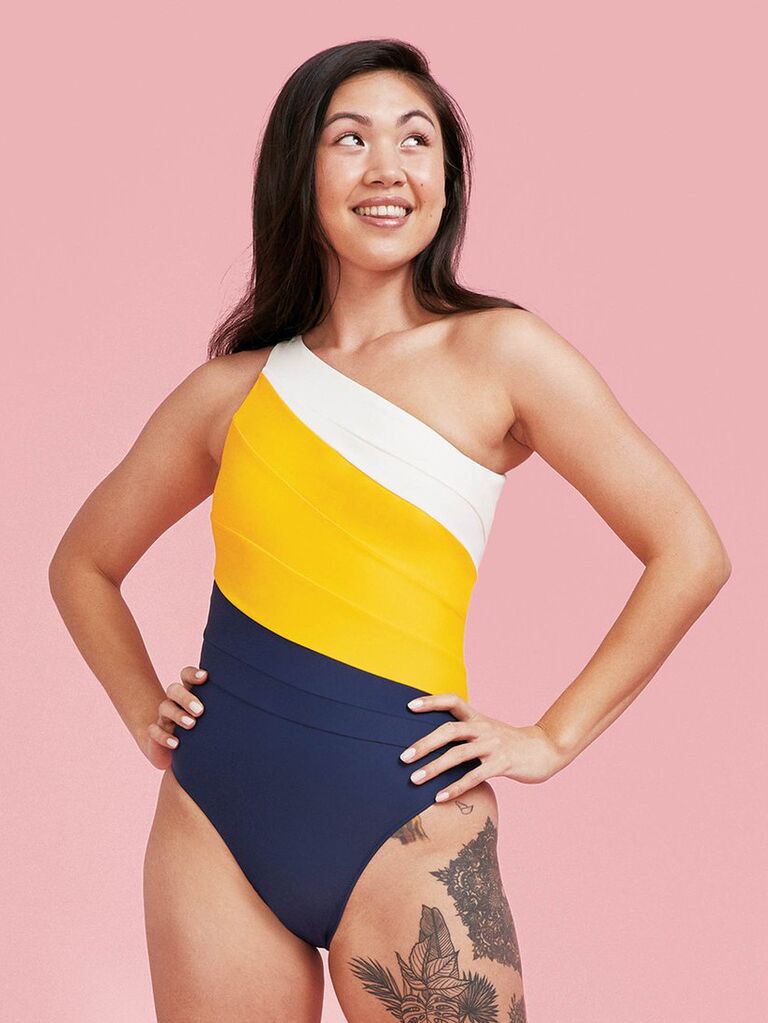 This is an awesome gift for the warm months ahead, whether your wife saves it for summertime or packs it for your next hot-weather vacation (hint: your honeymoon or anniversary trip). Not only are these bathing suits chic and flattering, they're also made from durable, eco-friendly material so they'll last her several seasons.
 
Summersalt The Sidestroke swimsuit, $95, Summersalt.com
Everyday Sneakers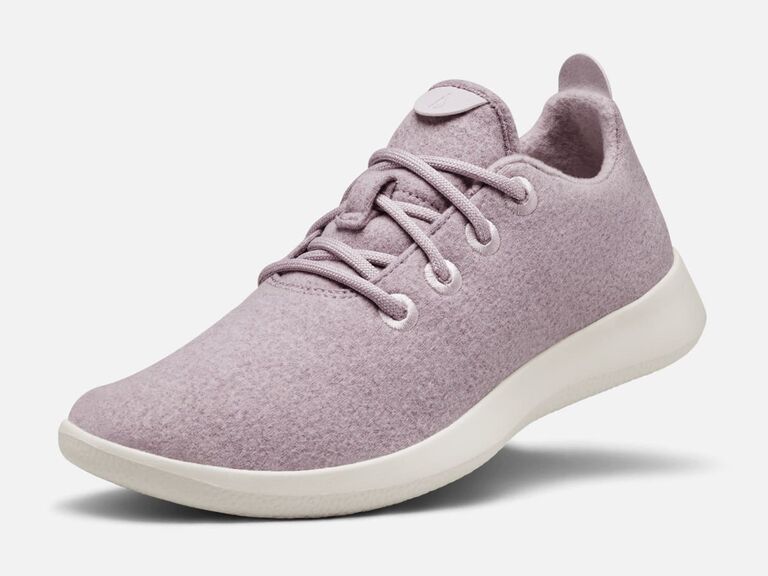 Give your wife the hottest footwear right now—a fashionable and comfortable pair of Allbird runners in her favorite color. Ideal for her long commute, running errands or a weekend stroll through the neighborhood, a pair of no-fuss sneakers is the way to go.
 
Allbirds women's wool runners, $95, Allbirds.com
A Pillowcase Built for Beauty Sleep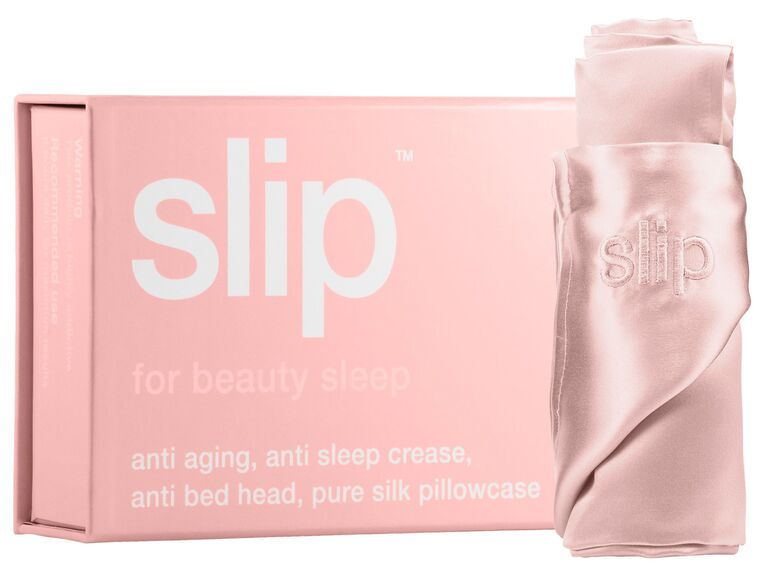 Give your wife the gift of an amazing night's sleep—in style. Cotton pillowcases can damage hair and cause premature wrinkling. This silk one, however, is beauty expert-approved. It'll also make her feel like she lives in a hotel.  
 
SLIP Silk pillowcase, $85, Sephora.com
A Wood Cutting Board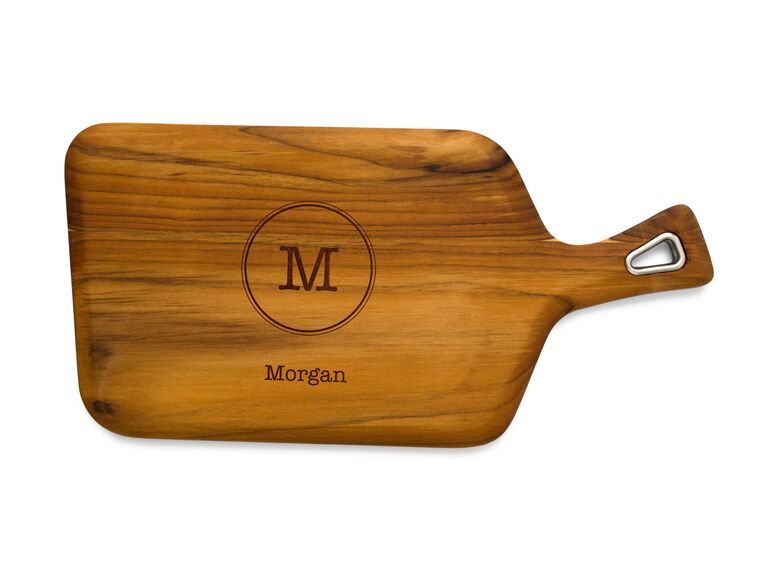 Complete your kitchen with a classic, monogrammed cutting board. Whether you're constantly entertaining or munching from it just the two of you during the week, your wife will love this new addition.
 
The Knot Wedding Shop personalized natural teak wood cutting and serving board with handle, $28, TheKnotShop.com
Wireless Headphones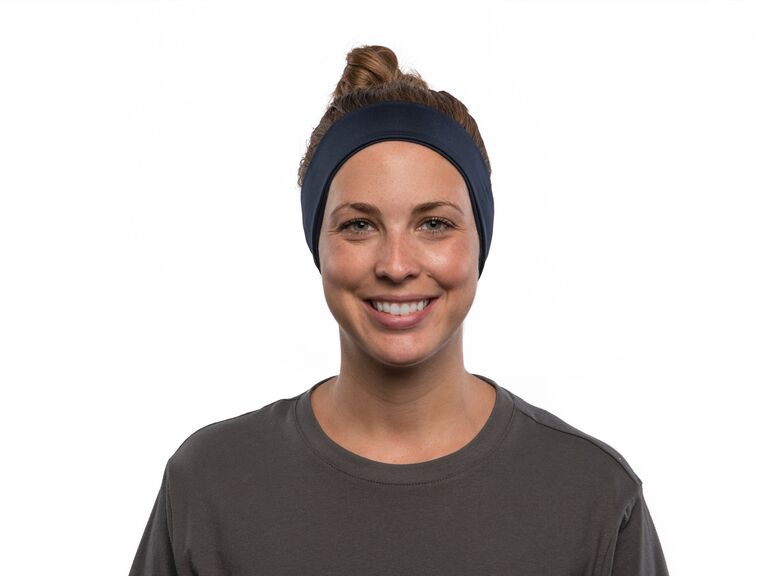 Does your wife need new headphones? Go cordless—she'll be obsessed. These genius headband-style ones are ideal for travel, falling asleep or just lounging around at home. They're wireless, ultra-comfortable, and she can even pull them down over her eyes to double as a nap mask.
 
SleepPhones wireless headphones, $100, SleepPhones.com 
A Cashmere Sweater
Give your wife a chic, warm sweater to polish off her fall and winter wardrobe. There's nothing that says "treat yourself" quite like cashmere, and styles from this sustainable brand are less expensive than from other cashmere retailers. 
 
Naked Cashmere Cora sweater, $225, NakedCashmere.com
An Echo Dot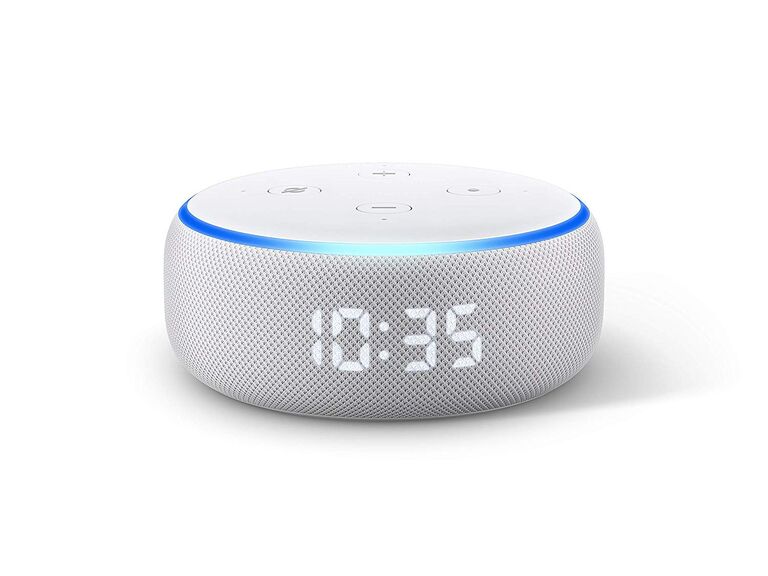 We can't all have a live-in butler, but a voice-controlled Echo Dot will use Alexa to answer your wife's every beck and call (think: music requests, phone calls, alarms and internet searches), which comes pretty darn close.
 
Amazon all-new Echo Dot, $60, Amazon.com
A Personalized Necklace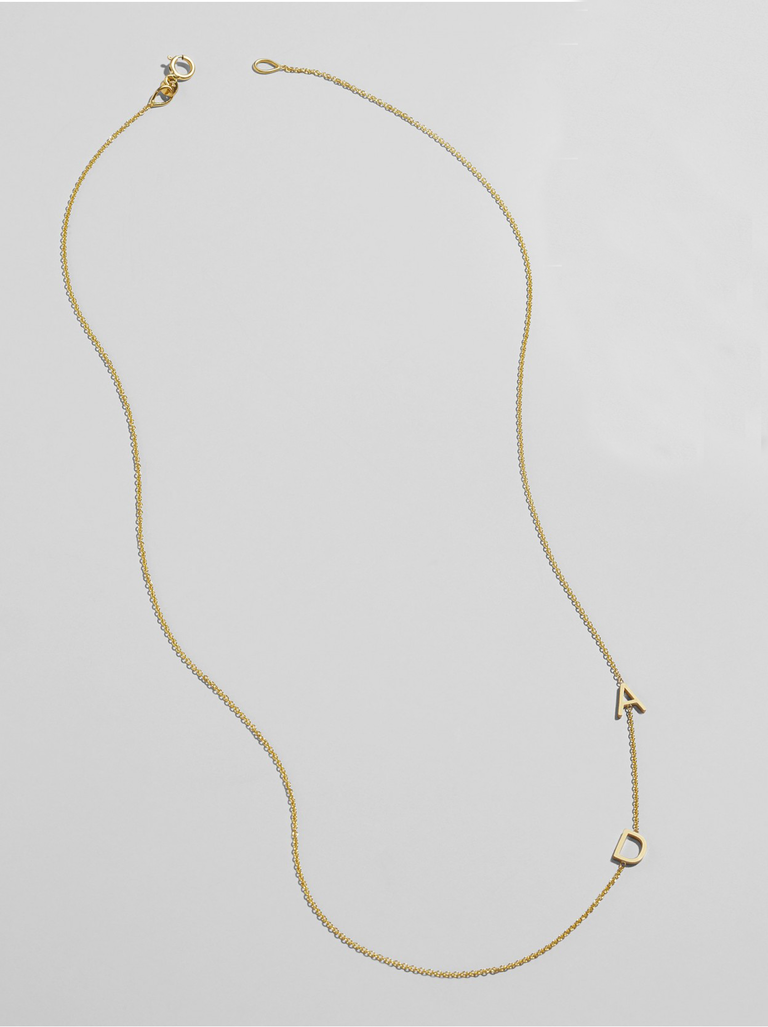 If your wife is a fan of all things Meghan Markle—or simply loves subtle, meaningful jewelry—she'll cherish this sweet, romantic gift. Personalize the understated gold chain with both her and your initials so she can wear your love story with her always.
 
Maya Brenner asymmetrical character necklace, from $240, BaubleBar.com
A Bar Cart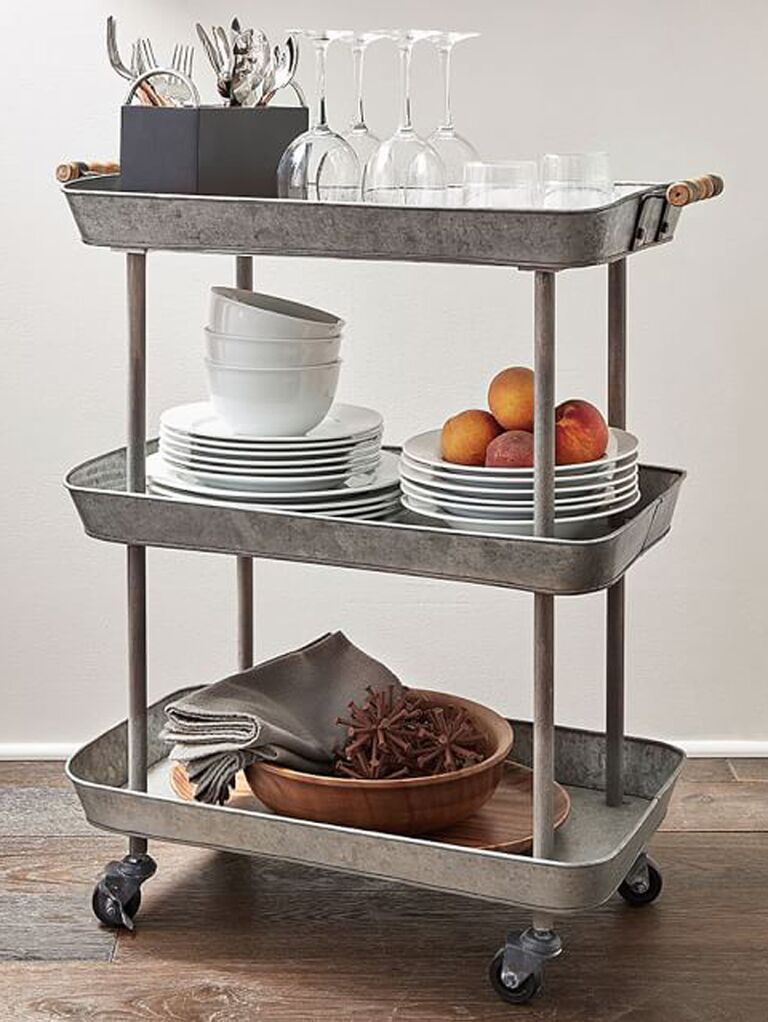 A bar cart is the home amenity your wife never knew she needed (plus, you'll enjoy it too). Storing cocktail accoutrements and hosting friends will be a total breeze with this rustic-chic bar on wheels we think would be Joanna Gaines-approved.
Pottery Barn Rainier galvanized storage cart, $99, PotteryBarn.com
A Patterned Tote Bag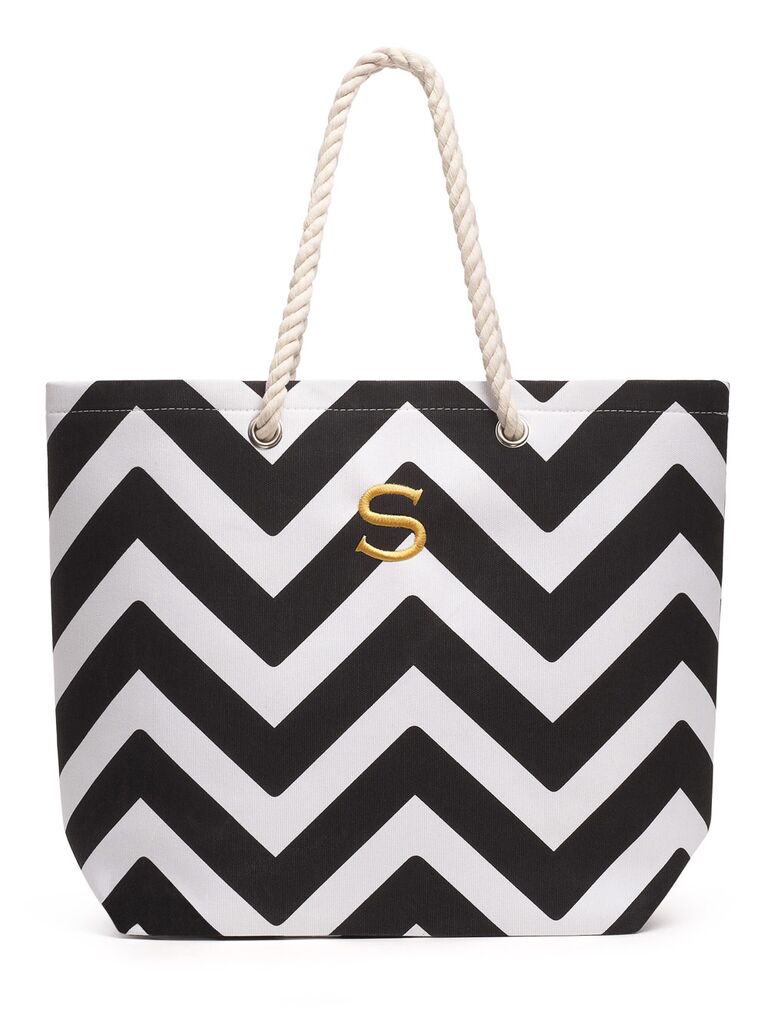 From yoga class to overnight trips, a stylish and versatile tote always comes in handy, especially one with her name or initials embroidered on it.
 
The Knot Wedding Shop personalized extra-large Cabana canvas fabric tote bag, $15, TheKnotShop.com
A Cool Phone Case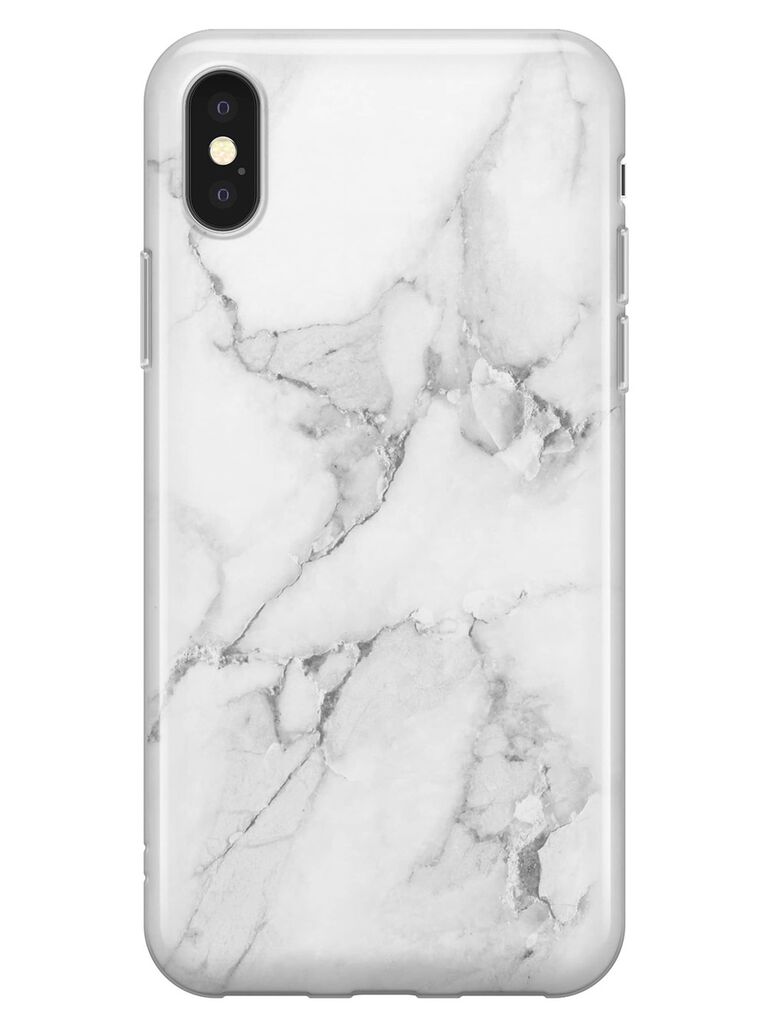 This marbled phone case will protect your wife's precious device and make it her chicest accessory—pretty impressive for one gift.
 
Recover white marble iPhone case, $20, Nordstrom.com
A Meaningful Candle Holder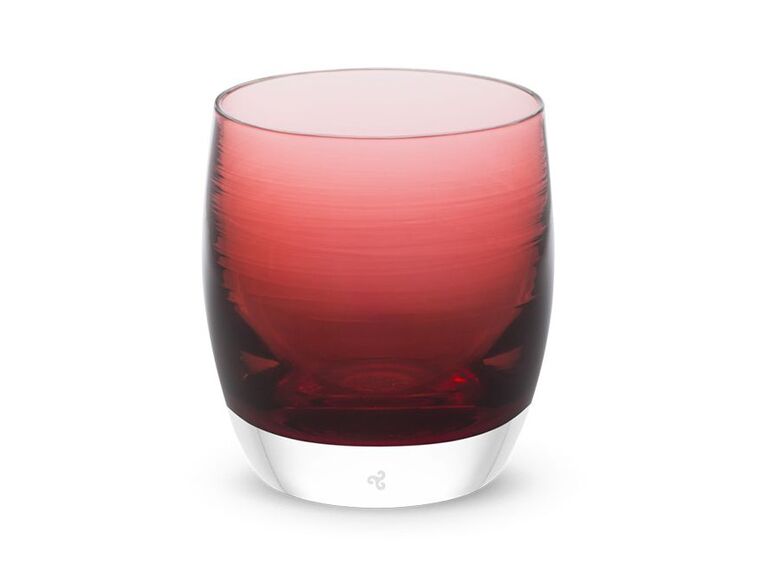 We're totally obsessed with GlassyBaby, purveyor of gorgeous hand-blown glass votives. Each jar is named after something special, like a feeling or sentiment. Choose from "true love," "warm and fuzzy" and dozens of others—pick whatever best represents your relationship. 
GlassyBaby candle holder, $50, GlassyBaby.com
A Cute Pair of Leggings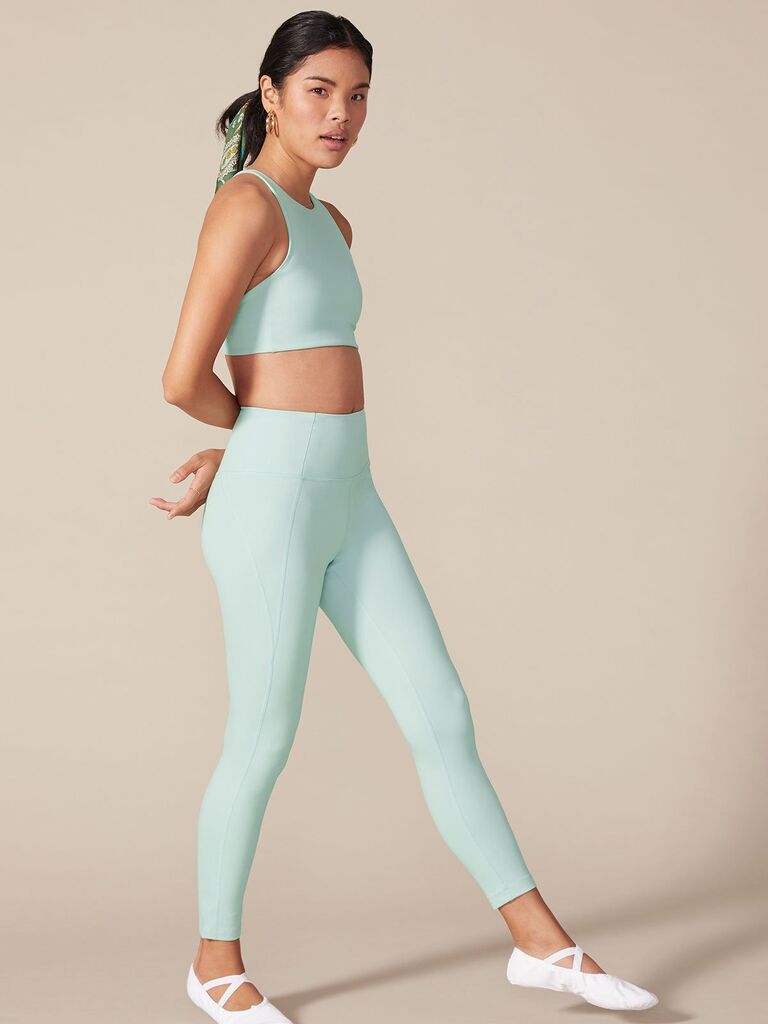 Give your wife a pair of fashionable and functional leggings equally fit for lounging around the house or a hard spin class. Girlfriend Collective makes some of the most trendy, colorful activewear in the game, and believe it or not, these flattering high-rise leggings are made from recycled water bottles.
 
Girlfriend Collective Daybreak compressive high-rise legging, $68, GirlfriendCollective.com
A Monthly Book Subscription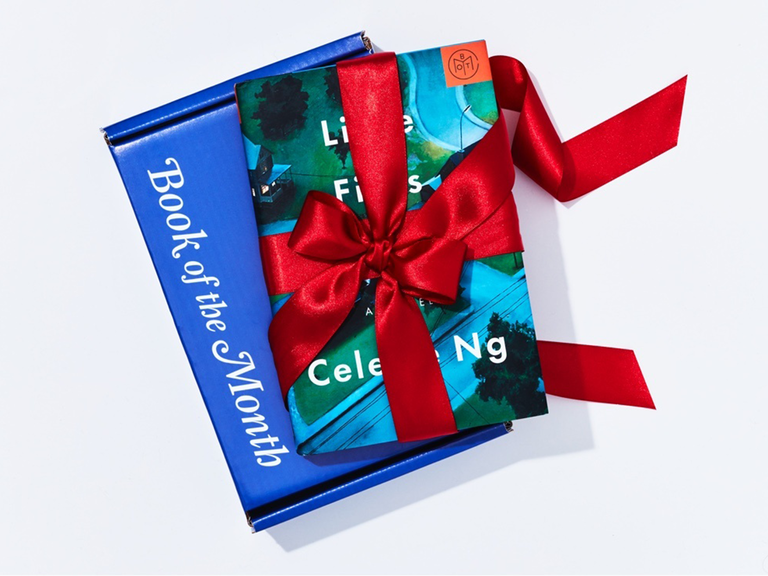 If your wife's an avid reader, you might have trouble keeping up with what she has and hasn't finished—hence, gifting your wife books can be a gamble. Instead, try a Book of the Month subscription so she can choose what she reads.
 
Book of the Month subscription, $50 for 3 months, BookoftheMonth.com
Personalized Stationery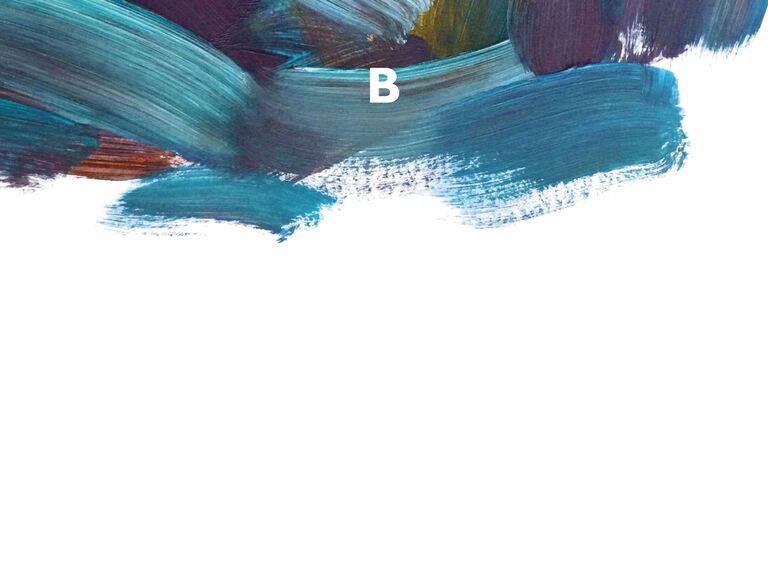 Everyone could use a set of formal, personalized stationery. This monogram design is the perfect combination of modern and timeless (just like your wife).
 
Hello Tenfold Gleeful Monogram personal stationery, $278 for 100 cards, Shutterfly.com
A Relaxing Bubble Bath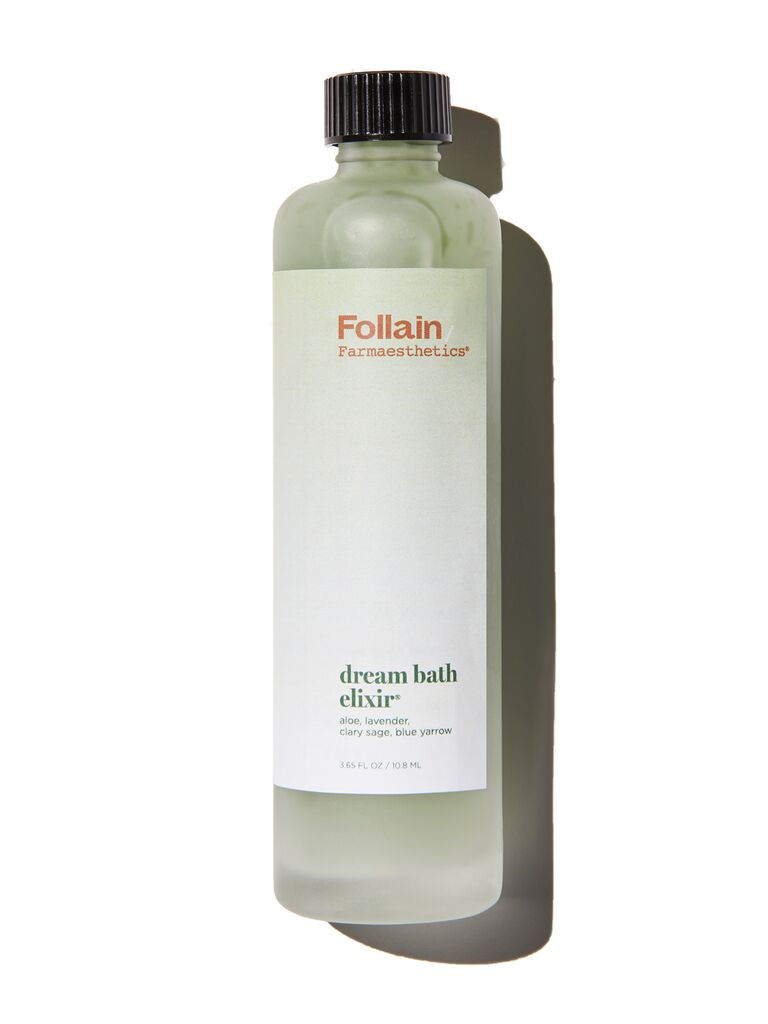 It's time for your wife to indulge in a sweet-smelling bubble bath. This one's herby and floral thanks to lavender and clary sage essential oils to leave her feeling clean and calm the minute she steps out of the tub.
 
Follain Dream bath elixir, $36, Follain.com
A Succulent Subscription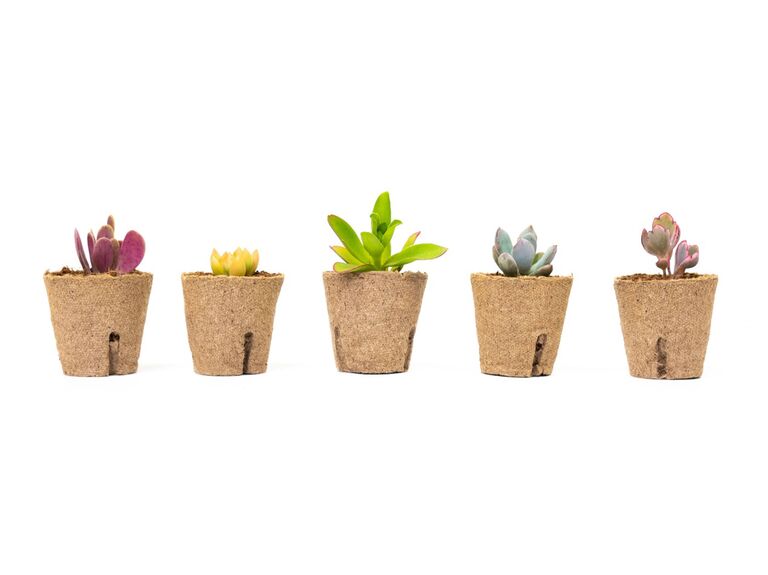 If she has a green thumb (and loves to use it), a succulent subscription is even more fun than a bouquet subscription. She'll enjoy tending to each and every little plant that comes her way.
Succulent Studios succulent gift box, $10 a month, SucculentStudios.com
A Futuristic Hair Dryer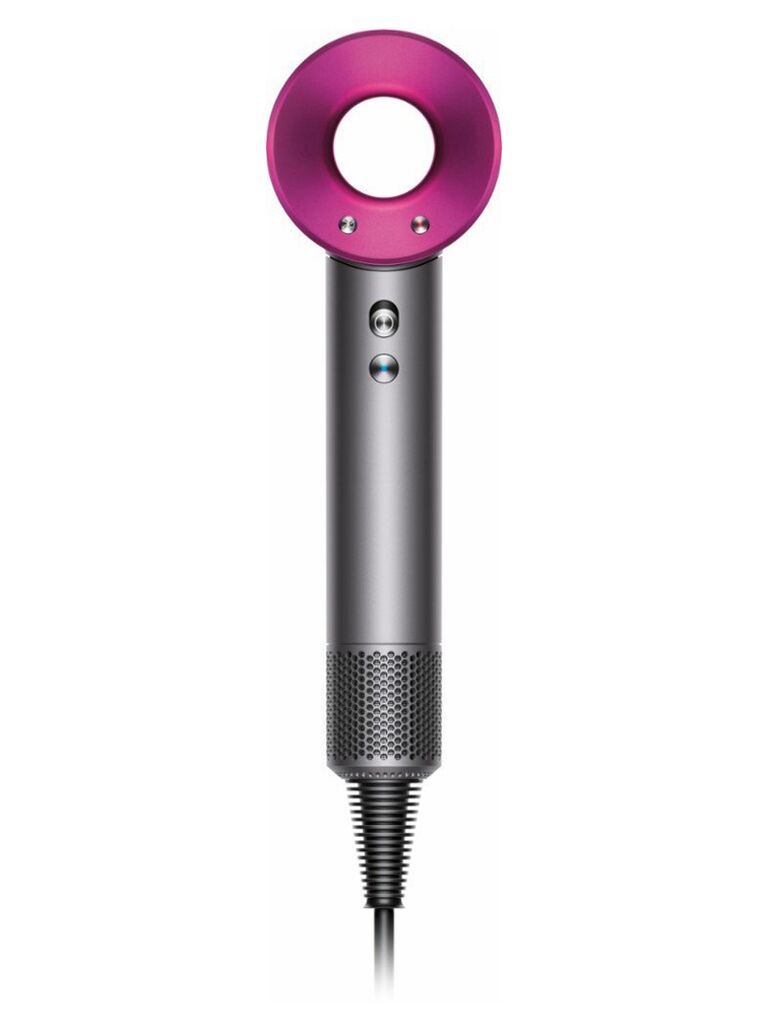 A hair dryer? As a gift? And a hair dryer this expensive? It may look wacky, but it's the device every influencer is raving about. It's not all hype, either—it's truly a dream come true for women who style their hair every morning. She'll feel like a celeb whenever she gets ready, which is a pretty sweet way to start her day.
Dyson Supersonic hair dryer, $400, Amazon.com
A Customizable Ornament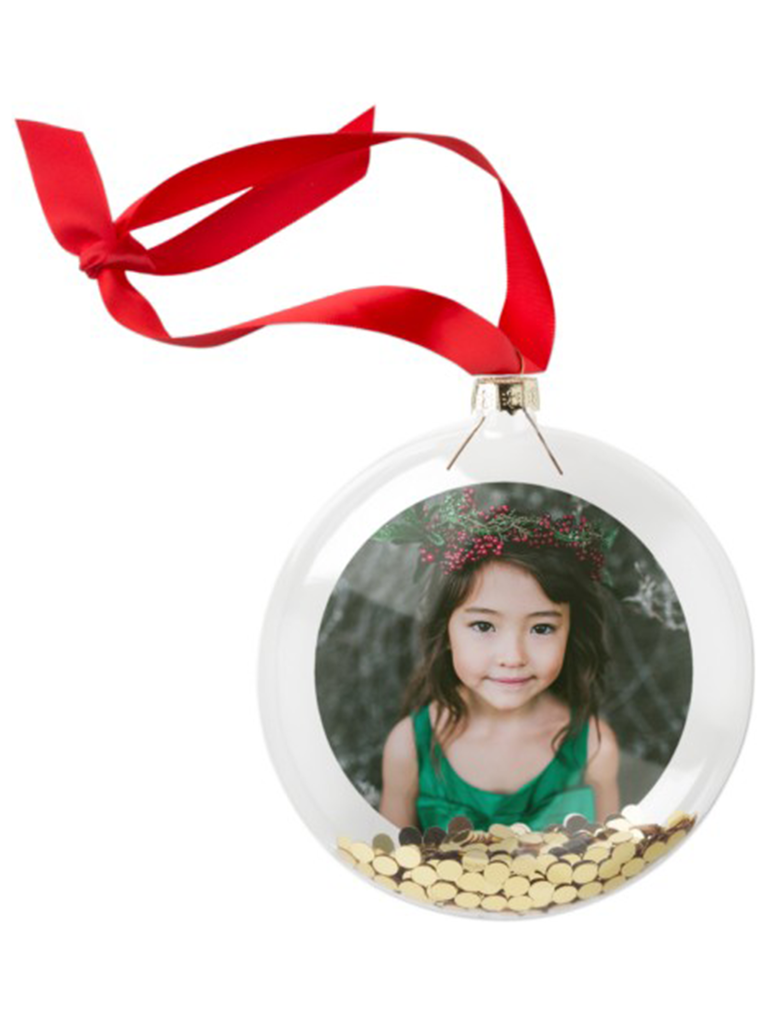 Get in the holiday spirit with a personalized tree ornament your wife will love. Customize a glitter-filled ornament with your favorite wedding or engagement shoot photo as a sweet reminder every year.
 
Shutterfly photo gallery glitter ornament, $30, Shutterfly.com
Signature Scents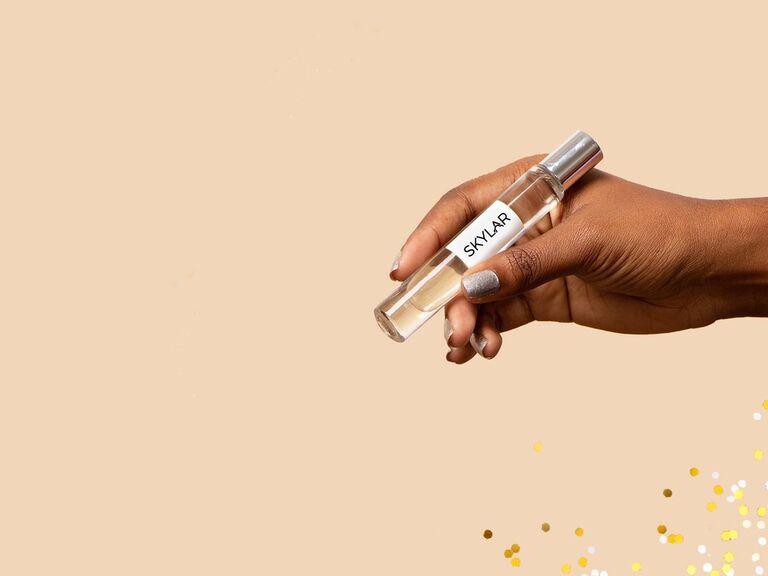 Perfume is a little different from other gifts because it's a bit more personal. That's why Skylar is so cool—the brand makes the loveliest scents, many of which she can mix and match for a custom fragrance. It also offers a fun subscription service if she's still searching for her signature scent. 
 
Skylar Scent Club, from $50 for 3 months, Skylar.com
Monogram Coasters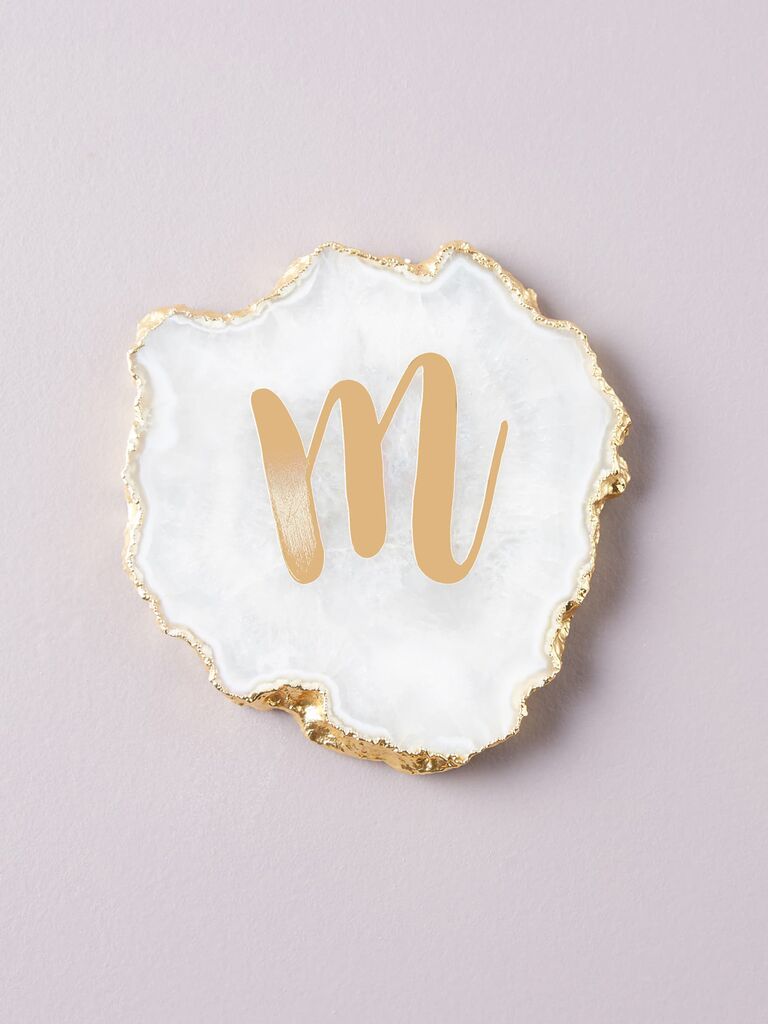 Liven up the living room with a set of agate coasters that look way more expensive than they are. Bonus: You can customize them with her first initial or your shared initial. Maybe these will actually help you remember to use coasters.
 
Anthropologie monogram agate coaster, $16, Nordstrom.com
A Zodiac Pendant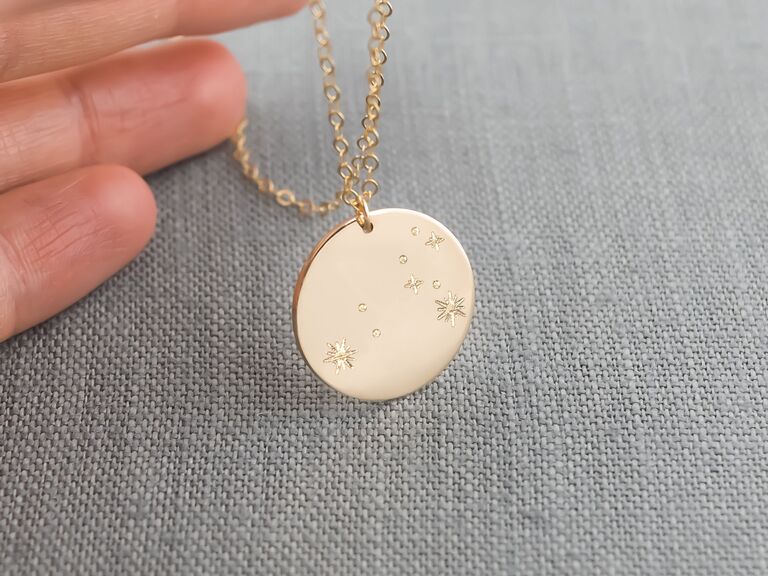 Give your wife an elegant necklace she can wear alone or layer with other pieces. This gold bauble pays tribute to her zodiac sign in the prettiest, understated way. If she's always reading her horoscope, you know she'll like this gift—especially for her birthday.
 
Abbey Park zodiac constellation necklace, from $34, Etsy.com
A Meal Service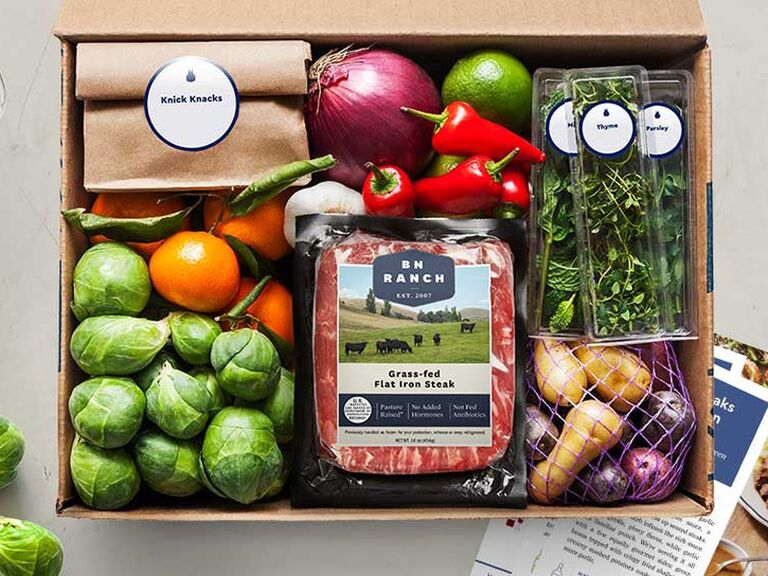 If she loves trying new recipes (but doesn't love all the research and prep), get everything she needs for delicious, pre-planned dinners delivered to her door. Bonus points if you cook them with or for her. 
 
Blue Apron gift, from $60 for a 1-week delivery of 3 meals for 2, BlueApron.com
Monogram Champagne Flutes
Gift your partner a set of festive champagne flutes with your new monogram. Whether you're just engaged, celebrating an anniversary or just getting in the holiday spirit, there's always a good reason to pop some bubbly.
 
Shutterfly circle monogram champagne flutes, $30 for 2 flutes, Shutterfly.com
A Nice Notebook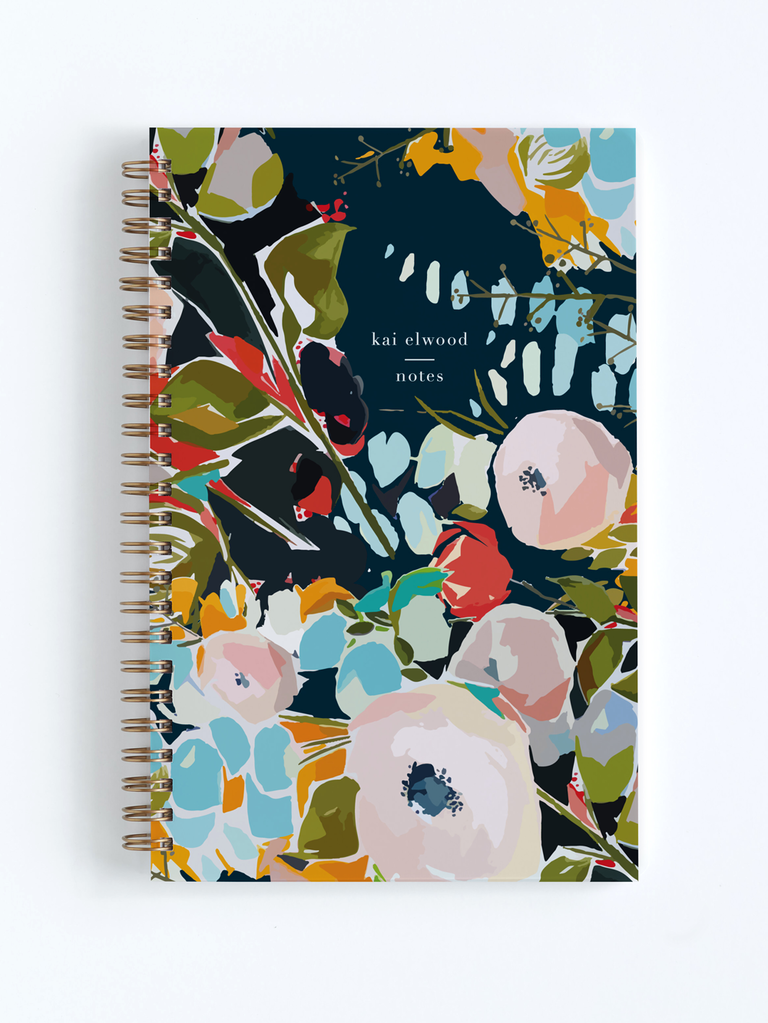 A good notebook (with a gorgeous cover, of course) is always a welcome gift for the ultra-organized wife. Better yet, this floral one is customizable.
 
Jess Franks Thrive journal, $16, Minted.com
A Sleek Sweatshirt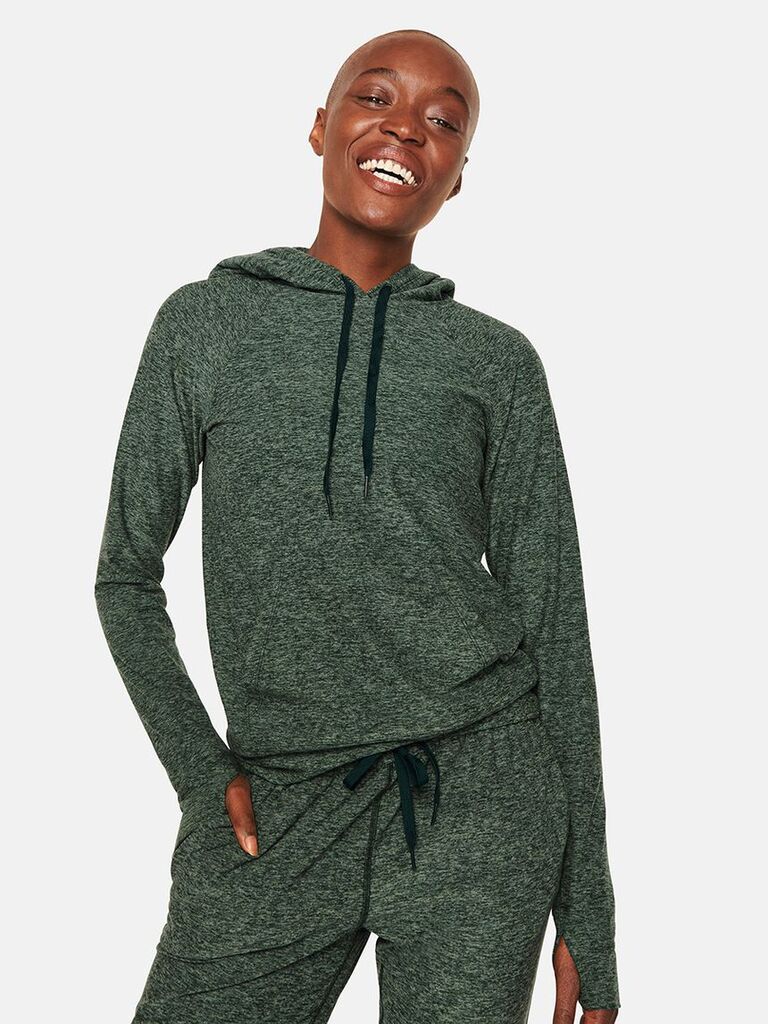 The warmest woman in your life deserves the coziest hoodie on the market. She's always on the go, even when it's chilly, so this modern, lightweight pullover is exactly what she needs. It's made from the softest fabric we've ever felt—seriously.
 
Outdoor Voices CloudKnit hoodie, $85, OutdoorVoices.com
A Personalized Mug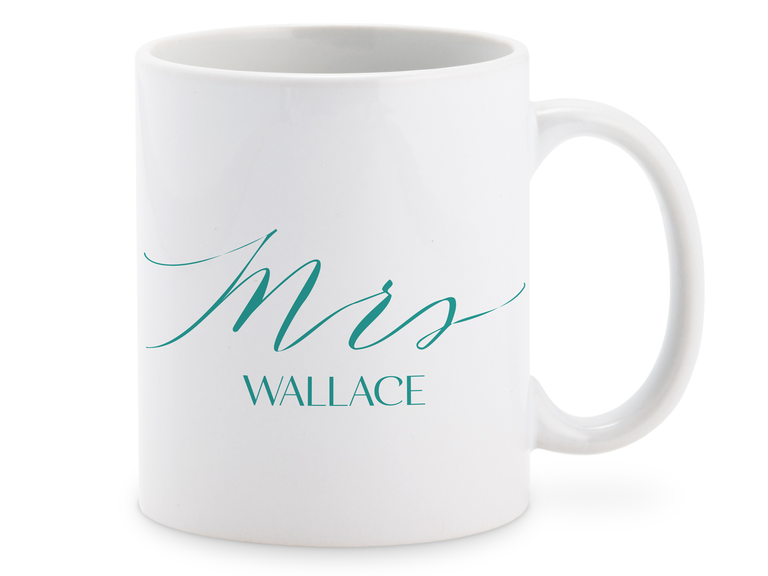 Let your wife know you're proud to call her your "Mrs." Say hello to her new weekend morning mug.
 
The Knot Wedding Shop custom white ceramic"Mrs." coffee mug, $13, TheKnotShop.com
A Bracelet (That's Secretly a Phone Charger)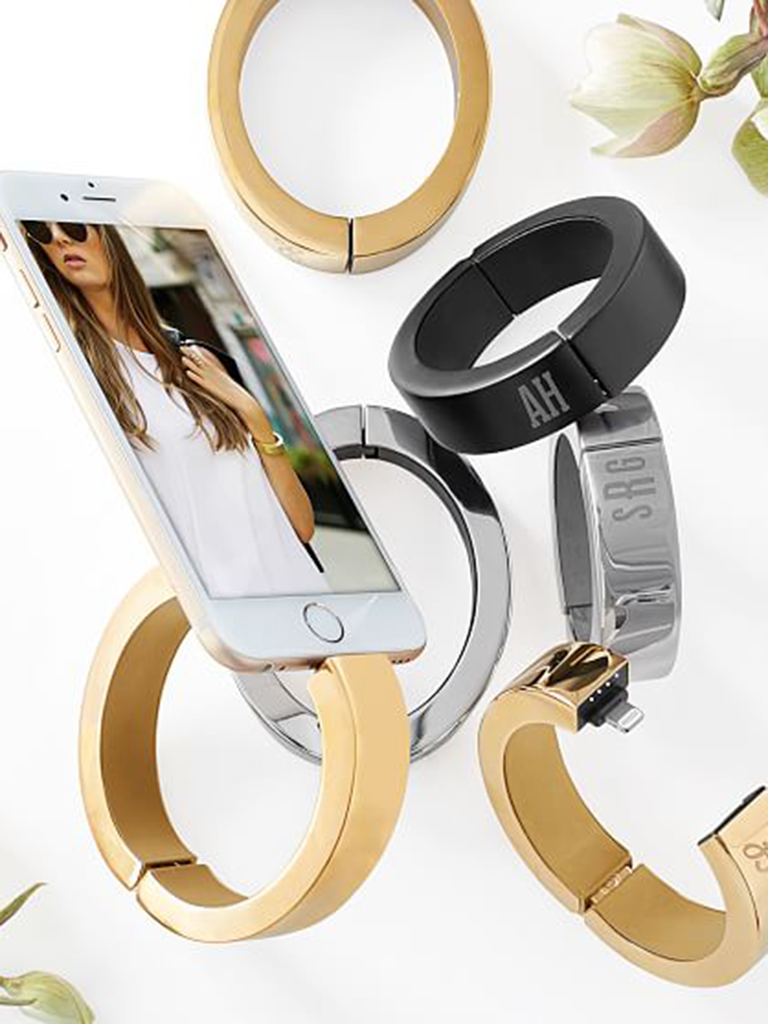 Okay, this might be one of the most genius gift ideas we've seen. This statement bracelet is not only beautiful and customizable, but also a phone charger.
 
Mark & Graham charging bracelet, from $149, MarkandGraham.com
High-Tech Luggage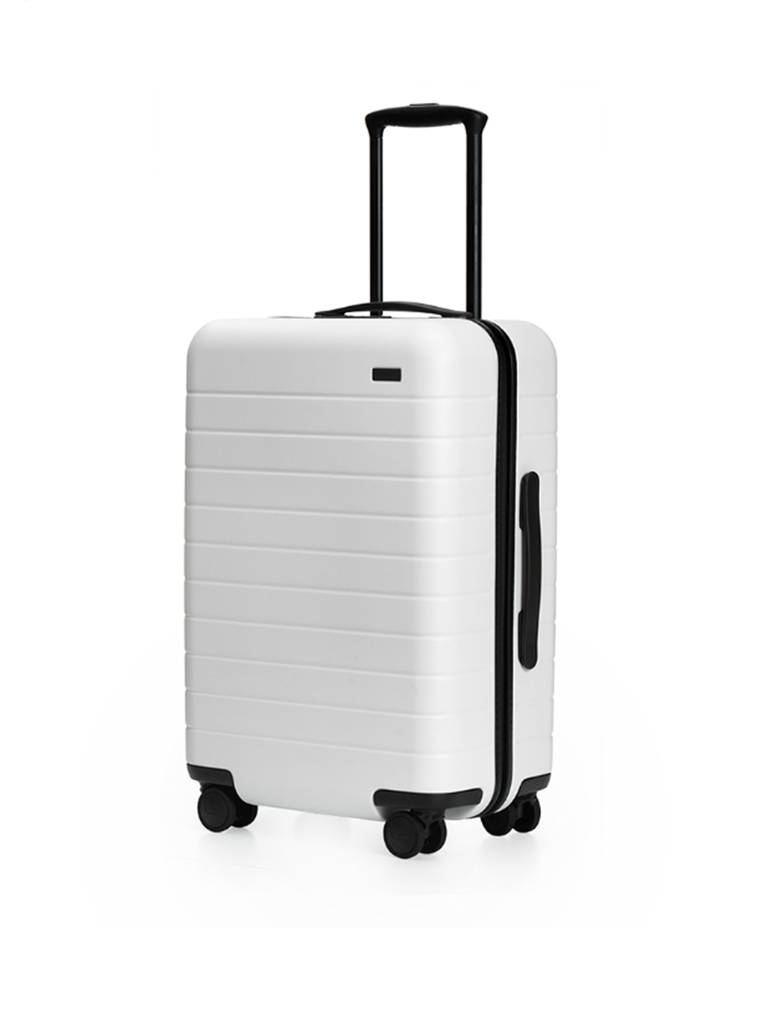 Another great gift idea for your wife that just so happens to be a phone charger is rolling luggage from Away. She can travel in style without stressing about losing power mid-journey. Because who needs more stress at the airport?
 
Away The Bigger Carry-On suitcase, $245, AwayTravel.com
The Nicest Slippers We've Seen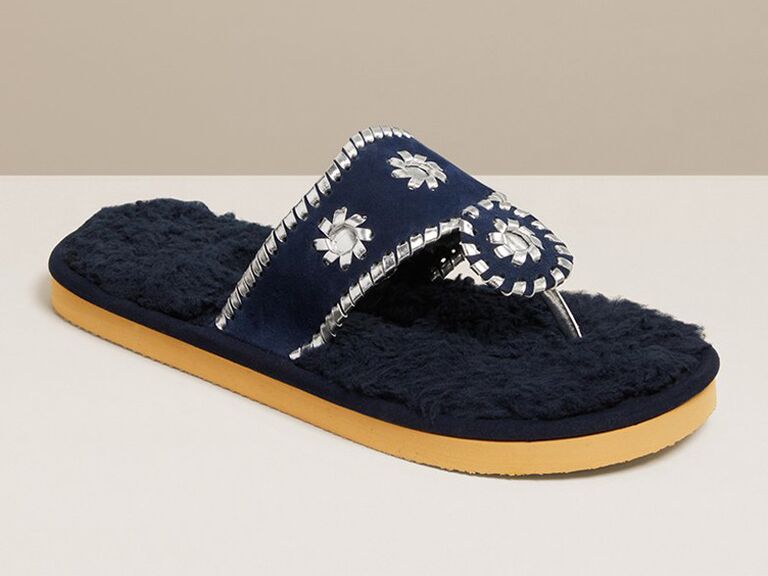 If her Jack Rogers sandals are her favorite footwear, put some extra prep in her step with these fuzzy slippers designed to look just like the iconic shoes. They're amazingly cozy and super-cute too.
Jack Rogers Jacks slipper, $88, JackRogers.com
Sound Wave Art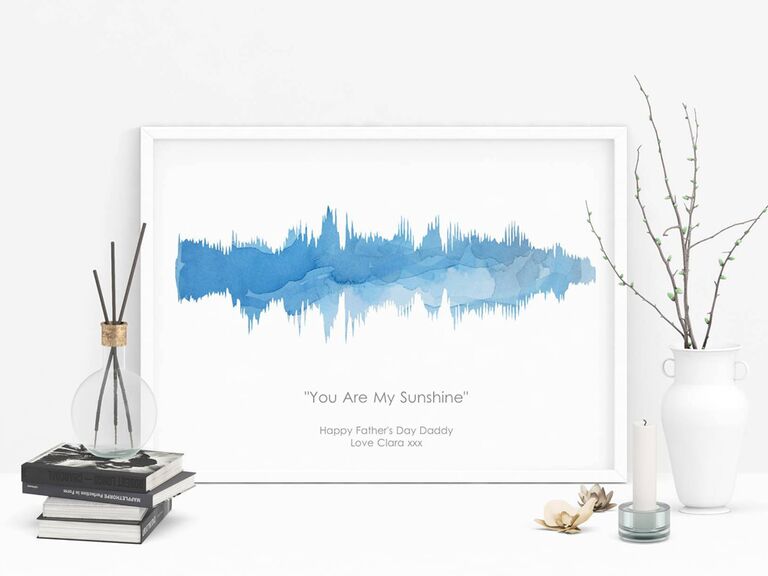 If you're hoping to truly wow your wife with a romantic gift, this one is The One. This Etsy shop will turn any sound bite into a work of art. Send in a recording—it could be one of you saying "I love you" or a snippet of your first dance song—and they'll do the rest.
 
Aimee Rose Design sound wave art, from $33, Etsy.com
A Set of Cheese Knives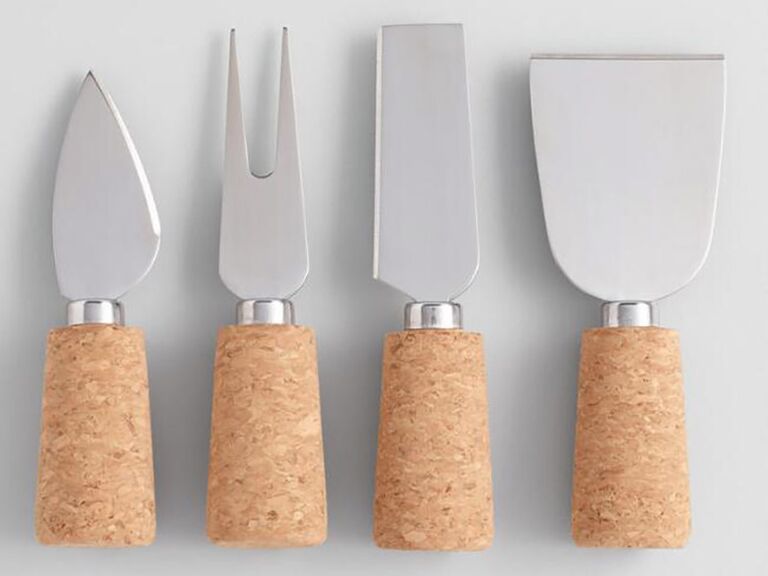 Your wife will need some cheese knives to go along with that wood serving board. These cork ones playfully nod to her favorite type of get-together: wine and cheese nights.
 
World Market stainless steel and cork 4-piece cheese knife set, $15, WorldMarket.com
A Milk Frother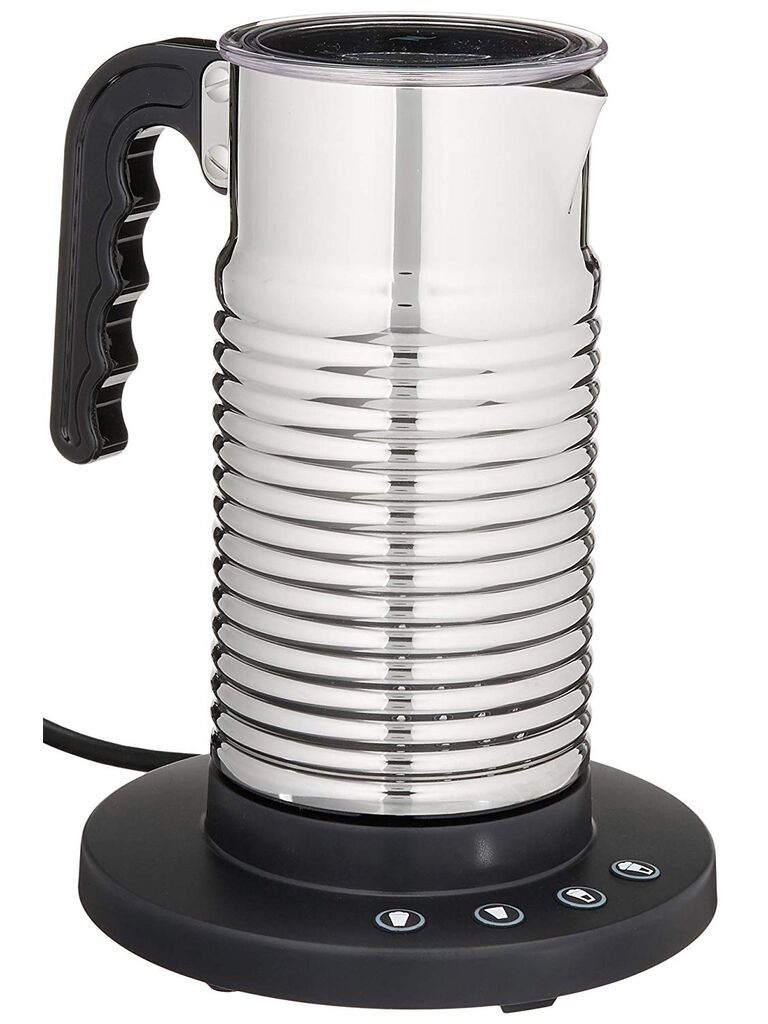 Your wife can kiss her usual, bland cup of coffee goodbye—this Nespresso milk frother will instantly transform it into a velvety smooth cafe au lait in one minute (literally).
 
Nestle Nespresso Aerocinno4 milk frother, $119, Amazon.com
A DIY Gift Box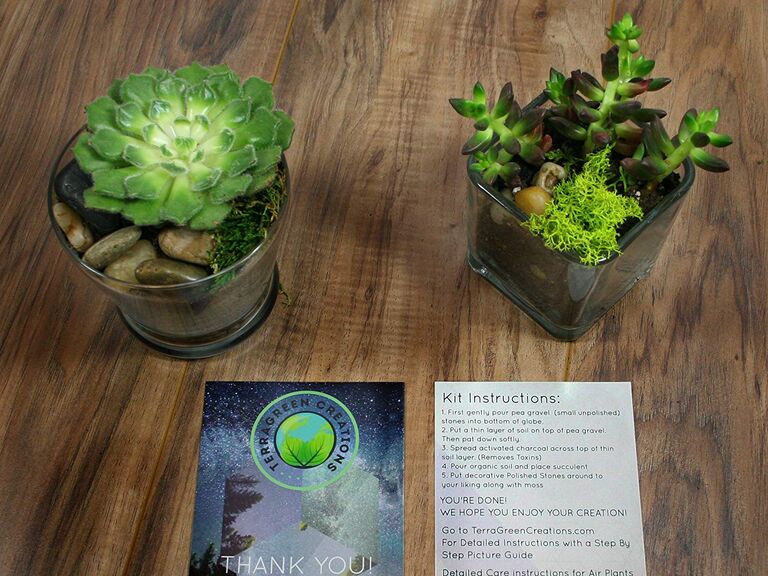 Is your wife a crafter? Then she'll adore this sweet kit filled with everything she needs to build her own terrarium at home. DIY never looked so lovely.
 
TerraGreen Creations complete terrarium kit, $19, Amazon.com
A Fitness Tracker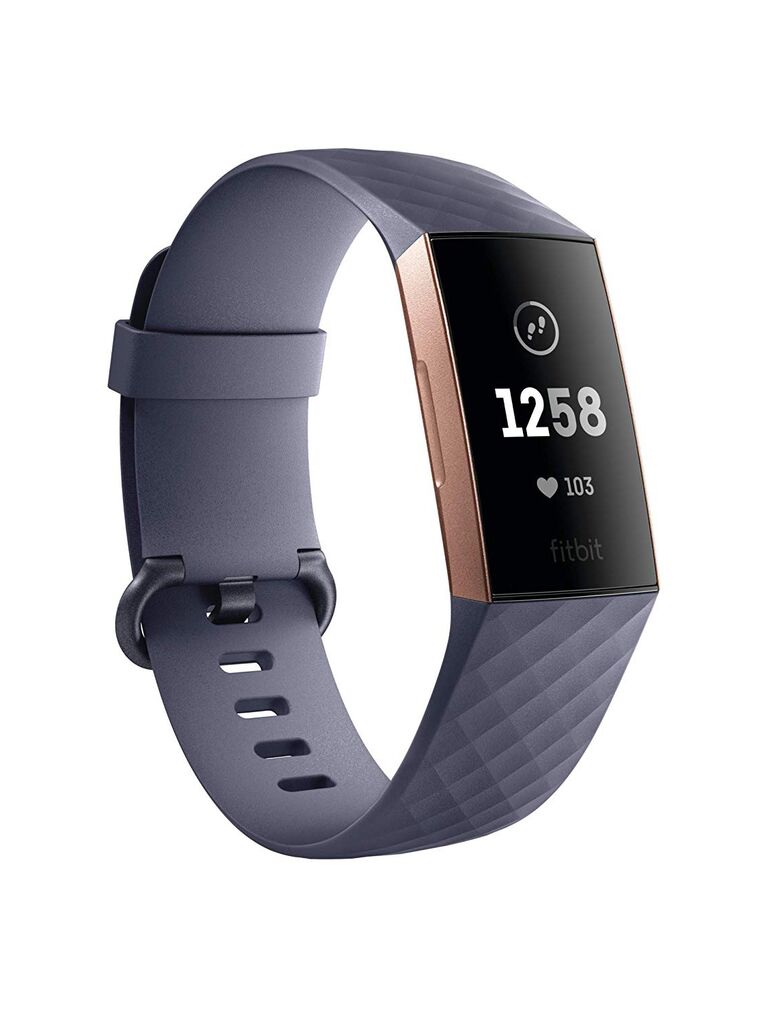 If your wife (and you) like to work out, a fitness tracker is the perfect gift idea. But it's not only great for exercise—it also tracks sleep habits to help maintain a balanced lifestyle. Better yet, this one isn't bulky.
 
Fitbit Charge 3 fitness activity tracker, $150, Amazon.com
A Colorful Water Bottle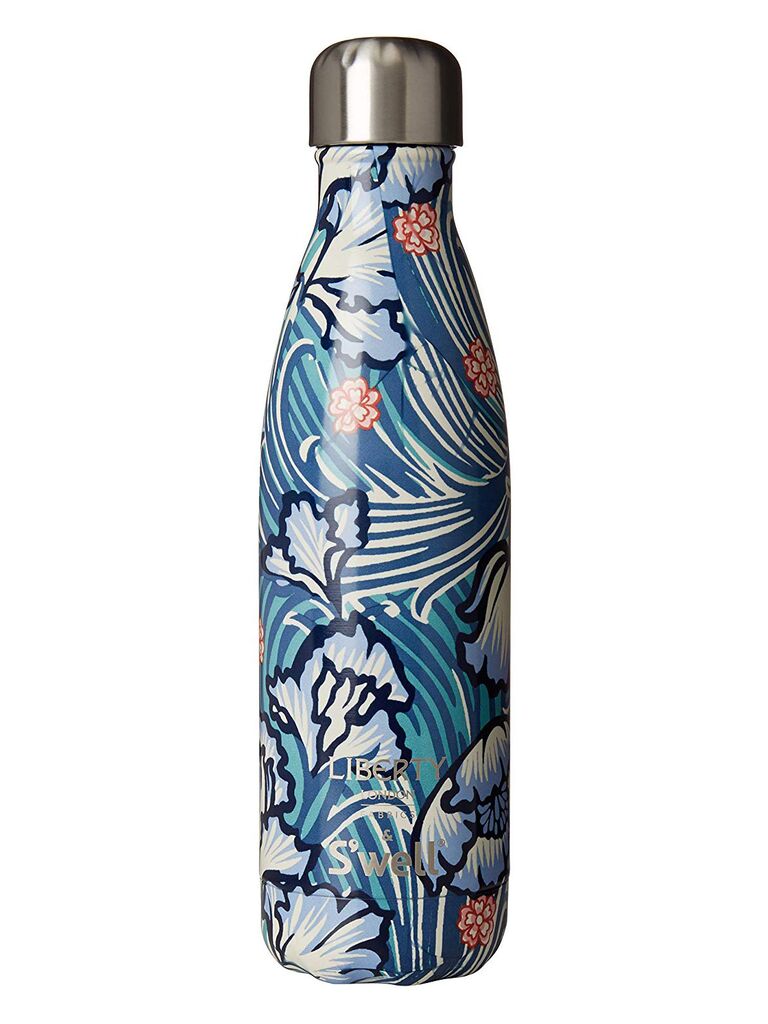 Do you really love your wife if you don't help her stay hydrated? (Kidding.) S'well bottles make it easy to remember to get those sips in since they're basically the coolest accessory these days. Bonus: This special design features a unique floral print from famous fabric company Liberty.
 
Liberty Fabrics x S'well Kyoto water bottle, $35, Amazon.com
A Photo Album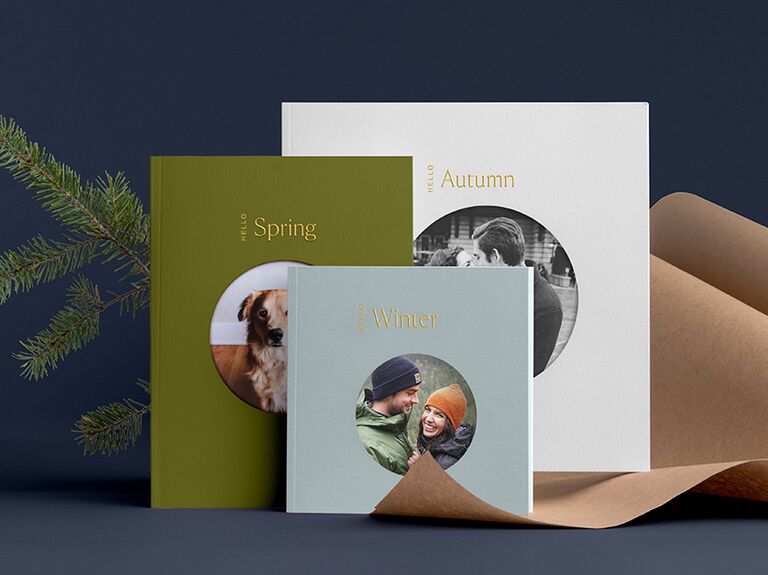 A wife who's the sentimental type may just shed a tear when she opens up a custom photo book curated by you. Fill it with snapshots she hasn't seen to really surprise her.
Artifact Uprising Color Series photo book, from $20, ArtifactUprising.com
Made-to-Measure Flats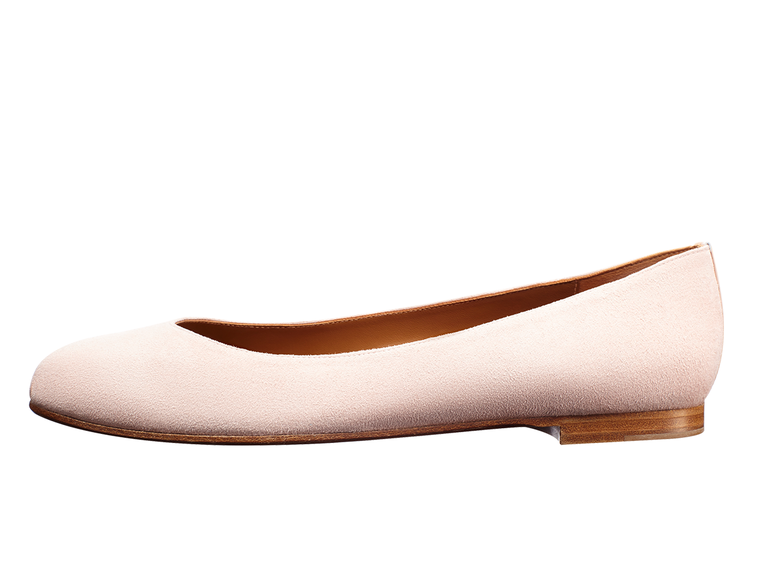 Your wife will fall in love with these made-to-measure ballerina flats by Margaux, which are fancy enough for work but still insanely comfy. That's because she'll be able to send in her exact foot measurements, choose her color and receive a completely personalized, exquisitely crafted pair of shoes.
 
Margaux The Perfect Gift custom flats, $285, Margaux.com
A Wine Subscription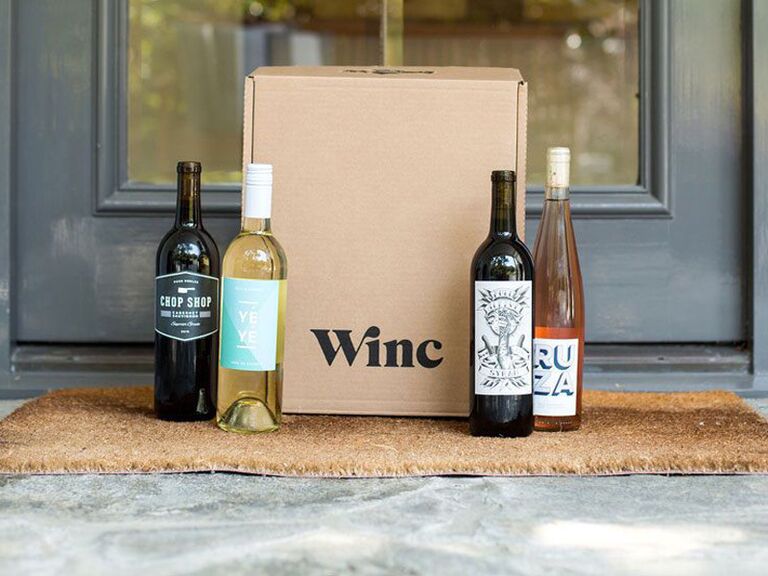 You might be one of those couples who wants to be total winos, but you're not really sure where to start. A subscription to Winc is an awesome gift for your wife that you'll obviously benefit from too. She'll get four bottles of wine (choose from their wide selection or customize to taste) delivered right to her every month.
 
Winc box of 4 wines, prices vary, Winc.com
Stylish Candy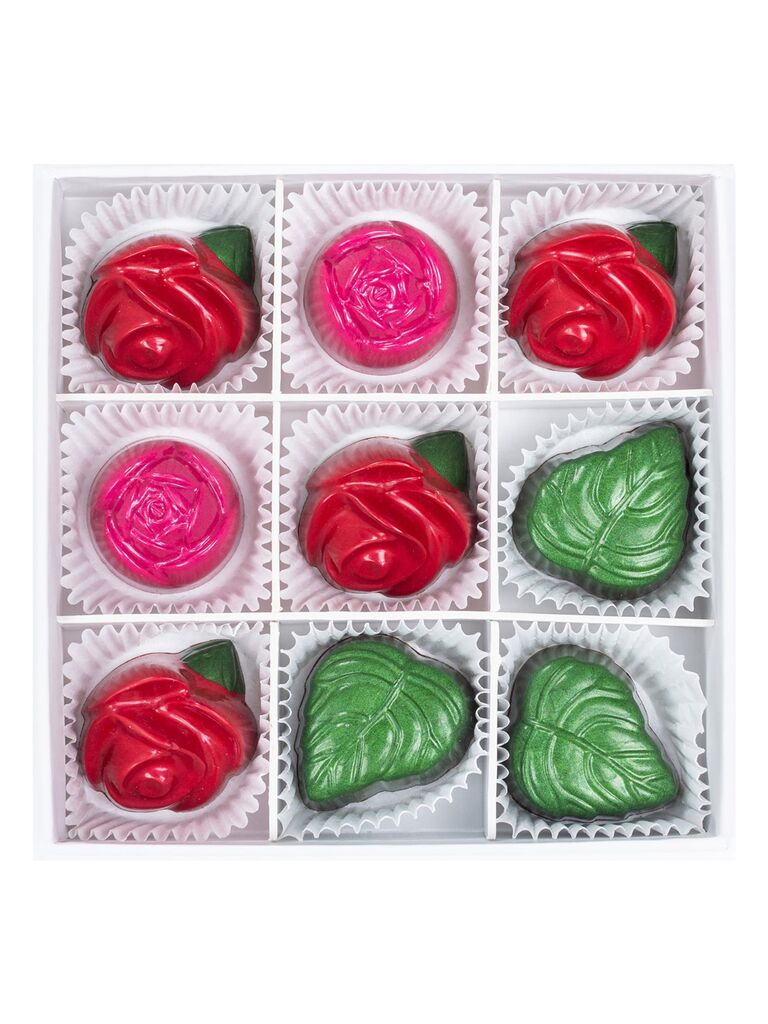 Shopping for Valentine's Day? Swap the standard bouquet for this stylish set of unique candy. We bet she hasn't seen chocolates like these before!
 
Maggie Louise Confections Rose Garden 9-piece chocolates, $48, Nordstrom.com
A Chic Crossbody Bag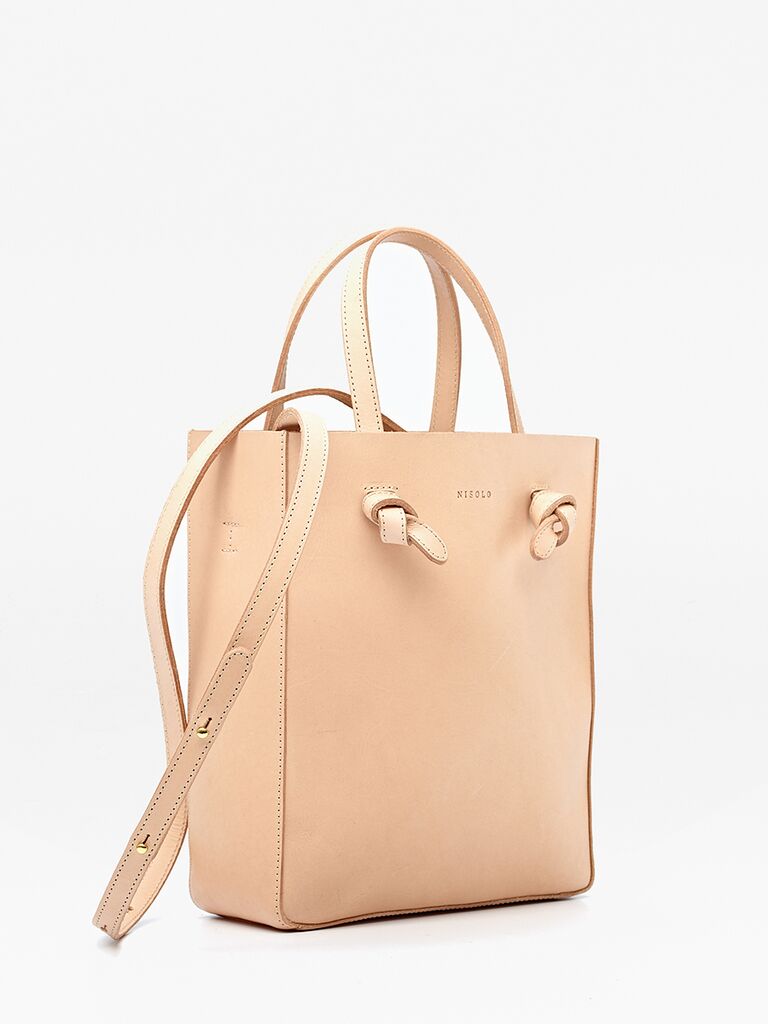 Not only will this stylish, structured crossbody go with most outfits, but it's also the perfect size to hold all your wife's necessities. 
Nisolo Simone crossbody shopper, $158, Nisolo.com
A Memorable Bracelet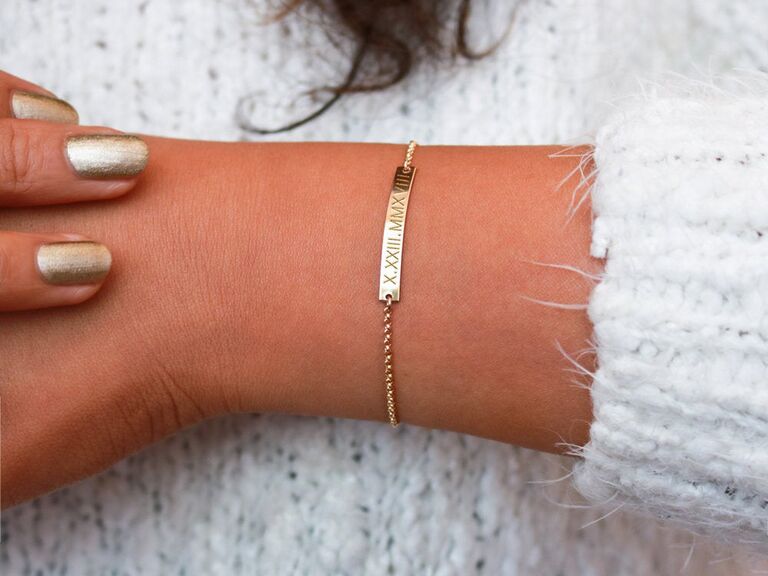 There's no way your wife would ever forget your anniversary date (right?), but just so she can display it proudly, gift her this dainty bracelet. (It proves you know it too!) 
GIGIMEY dainty custom roman numeral bar bracelet, from $36, Etsy.com
Disclosure: This post contains affiliate links, some of which may be sponsored by paying vendors.
Updated February 2020