65 Romantic and Unique Gifts for Your Wife
One way to say "I love you?" Spoil your wife with a special present.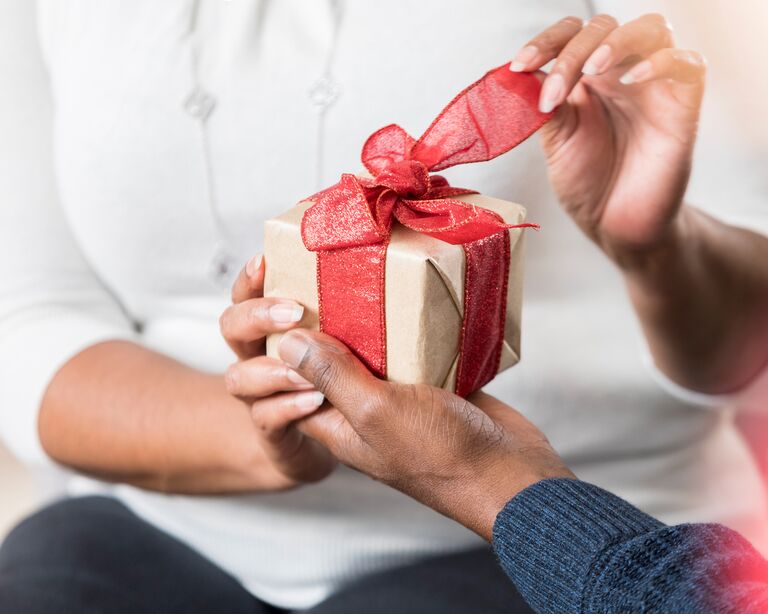 We have included third party products to help you navigate and enjoy life's biggest moments. Purchases made through links on this page may earn us a commission.
Running out of gift ideas for your wife? Whether you're shopping for her birthday, your anniversary, the holiday season or another gift-giving event, we get it—the struggle is real. Coming up with surprising and romantic gifts for your wife (or girlfriend or fianceé) isn't always easy. But that's why we're here to help. It's time to cross "find gifts for wife" off of the top of your to-do list. 

Any time you're stuck wondering what to buy your wife—for Christmas, her birthday, Mother's Day, Valentine's Day—go back to the basics. What does she like to do? What does she value? What would make her life easier, or just a lot more joyful? It sounds simple, but you know her best, so trust your gut and don't overthink it. 
Feeling sentimental? Give her something that honors a special moment in your relationship. There are lots of cute gifts for your wife that celebrate meaningful places and dates. If you'd rather go the practical route, think about what she needs right now. Cozy clothes for the season? Fresh decor for a new space? You get the idea. And when it comes to the wife who has everything, opt for an experience gift, like a cool subscription service.
Another great way to find the best gift for your wife? Start perusing lists of ideas to see what piques your interest and makes you think, "Wow, that's so her." In other words, you're in the right place. Here, check out dozens of unique and thoughtful presents that your wife will actually adore. 
1. Silk Loungewear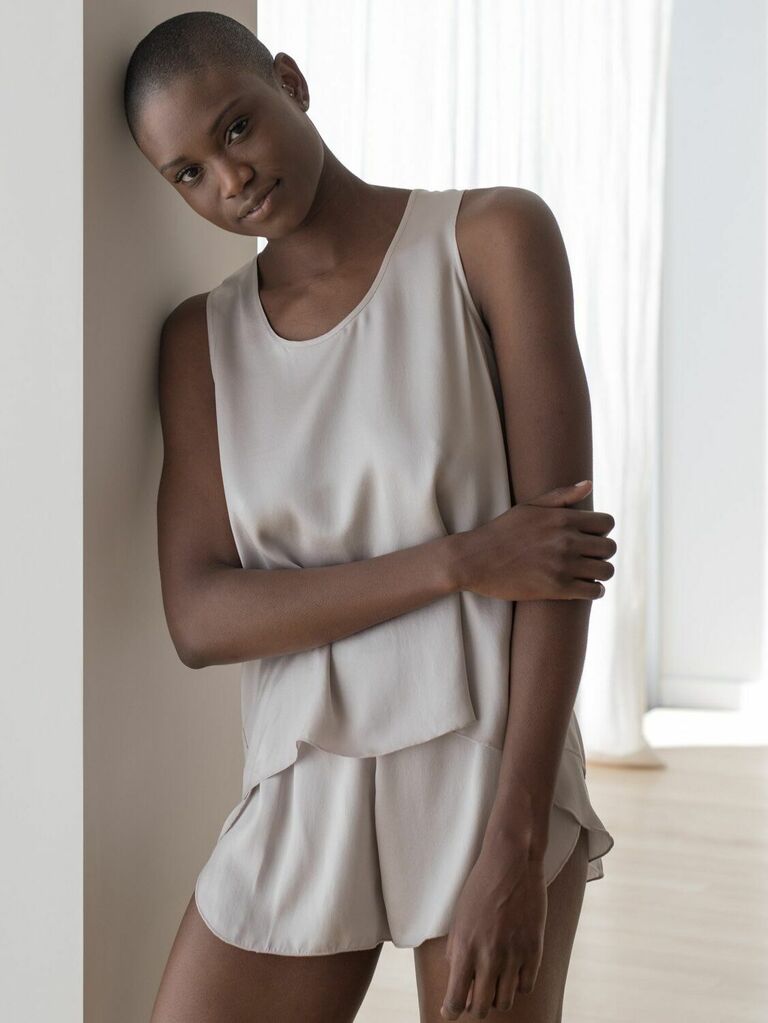 A super-luxe set of silk pajamas, like this pretty one from Lunya, is comfy enough to sleep in, but cute enough to answer the door in. Better yet, this specific set is safe to throw in the wash. Machine-washable silk is a very big deal.

Lunya washable silk set, $178, Lunya.co
2. A Theragun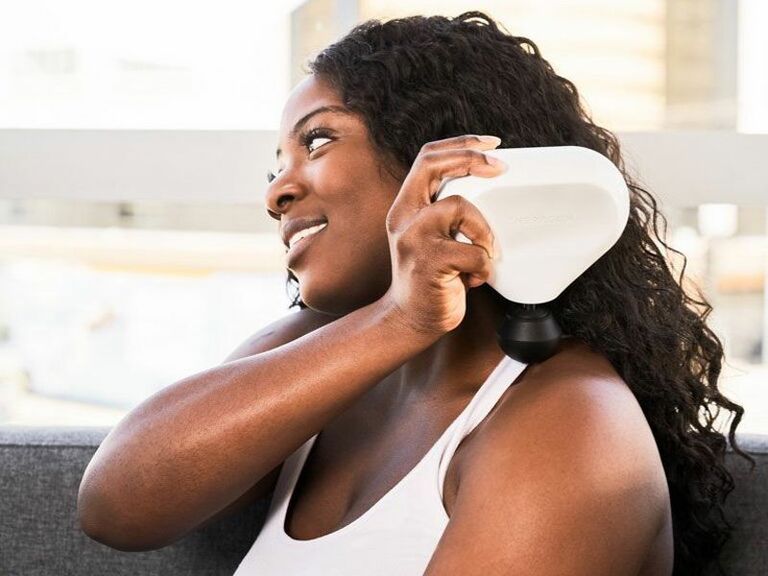 Whether she's been cramped at a desk all day or she's recovering from an intense workout, she'll be grateful for a Theragun. This compact, powerful device was built to massage aches and pains away. Yes, it's pricey, but trust us when we say that you'll use it all the time too.

Therabody Theragun mini, $199, Theragun.com
3. An Indoor Garden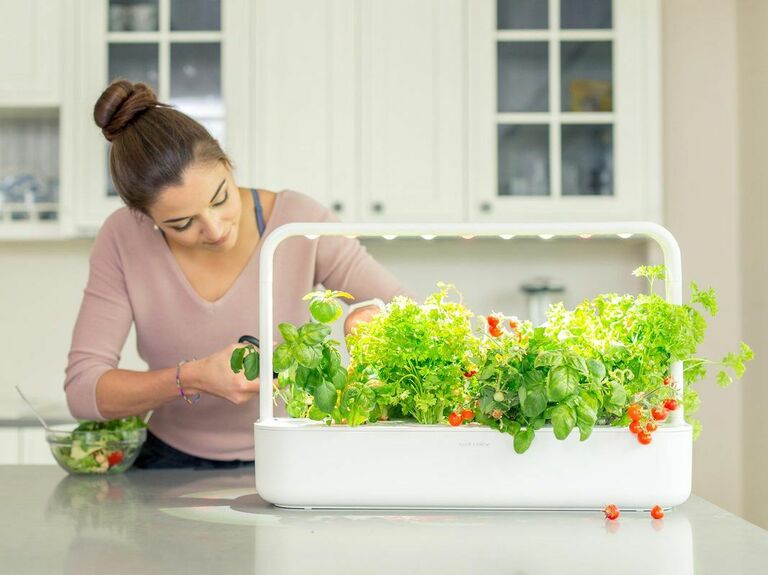 Gardening is a fun activity that you two can enjoy together, and you'll save some money on groceries too! This app-controlled smart garden grows everything from herbs to fruit—indoors. No wonder it's such a popular gift idea for your wife.

Click & Grow The Smart Garden 9 PRO, $260, ClickandGrow.com
4. The Softest Athleisure Ever
The warmest woman in your life deserves the coziest hoodie on the market. It's made from the softest fabric we've ever felt—seriously. (Oh, and you can also get her matching sweatpants.)

Outdoor Voices All Day hoodie, $88, OutdoorVoices.com 
5. A Cashmere Shawl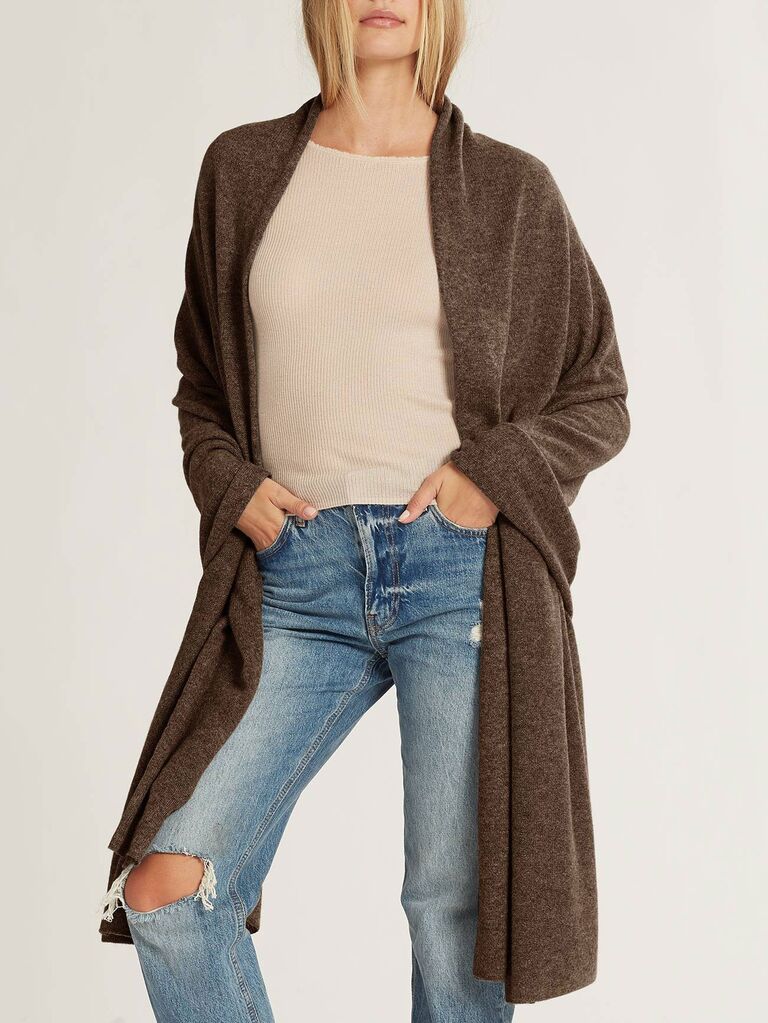 There's nothing that says "treat yourself" quite like cashmere, and styles from this sustainable brand are less expensive than from other cashmere retailers. This luxury wrap is effortlessly glamorous and exceptionally versatile—she'll never want to leave home without it.
NakedCashmere Karlie wrap, $175, NakedCashmere.com 
6. A Mini Fire Pit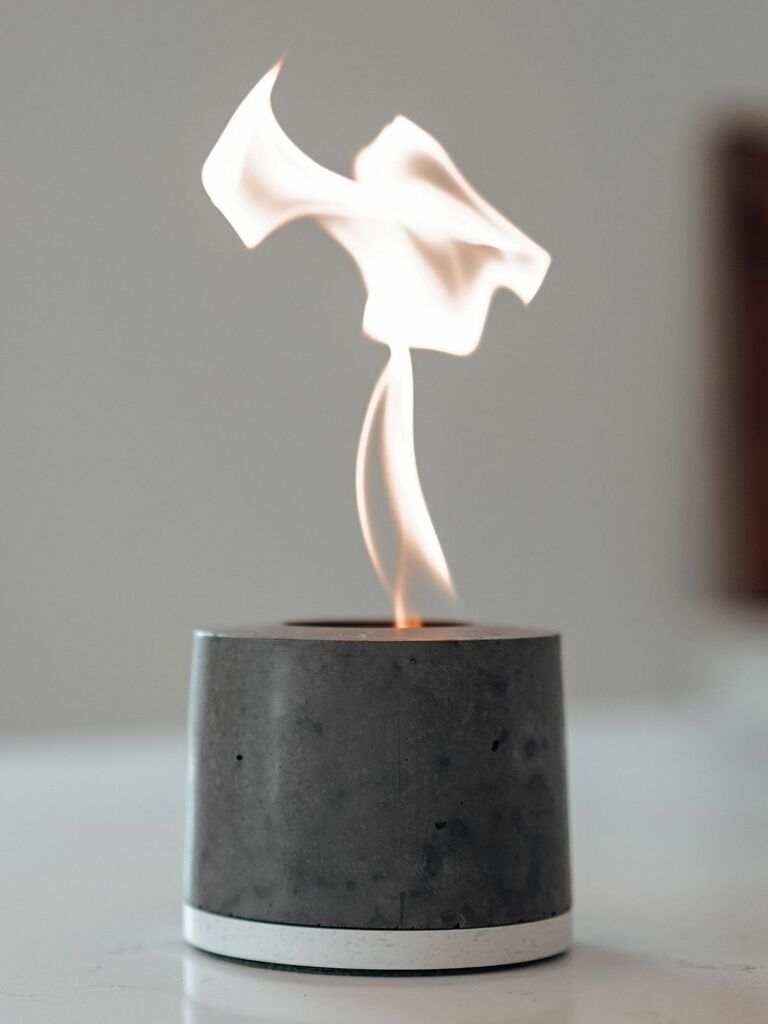 This has to be one of the coolest gifts for your wife this year: a personal fire pit. She can use it to set the mood for a cozy night at home—and to roast s'mores indoors.

FLÎKR Fire personal concrete fireplace, $95, Food52.com
7. Hardworking Sneakers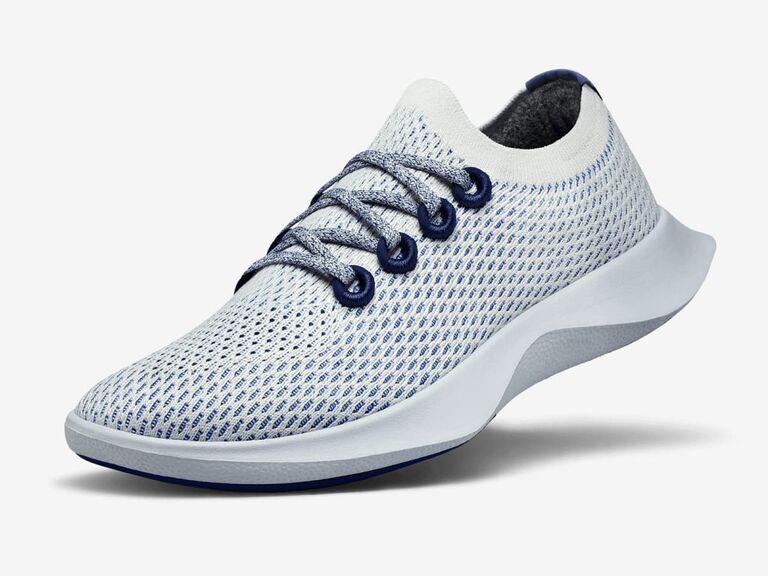 Give your wife the hottest footwear right now—a fashionable and comfortable pair of Allbirds runners in her favorite color. Ideal for her long commute, a mood-boosting workout or a weekend stroll through the neighborhood, this pair of eco-friendly sneakers is the way to go.

Allbirds women's Tree Dashers, $125, Allbirds.com 
8. A Phone Sanitizer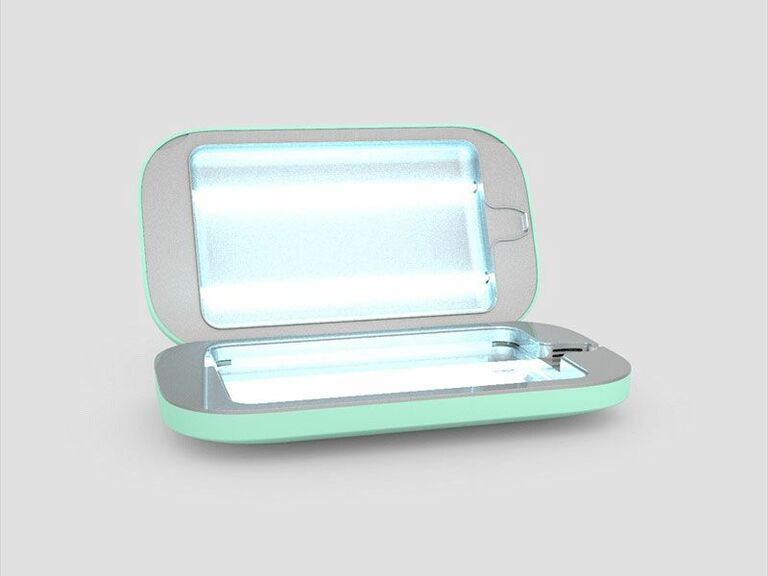 For the woman who takes sanitization seriously, there's the PhoneSoap. This UV-powered disinfecting device can kill bacteria on her phone, credit cards and even her jewelry. It's the gadget that she never knew she needed, but one that she'll definitely appreciate having. How's that for a gift for the wife who has everything?

PhoneSoap Pro, $120, PhoneSoap.com 
9. A Spa-Worthy Robe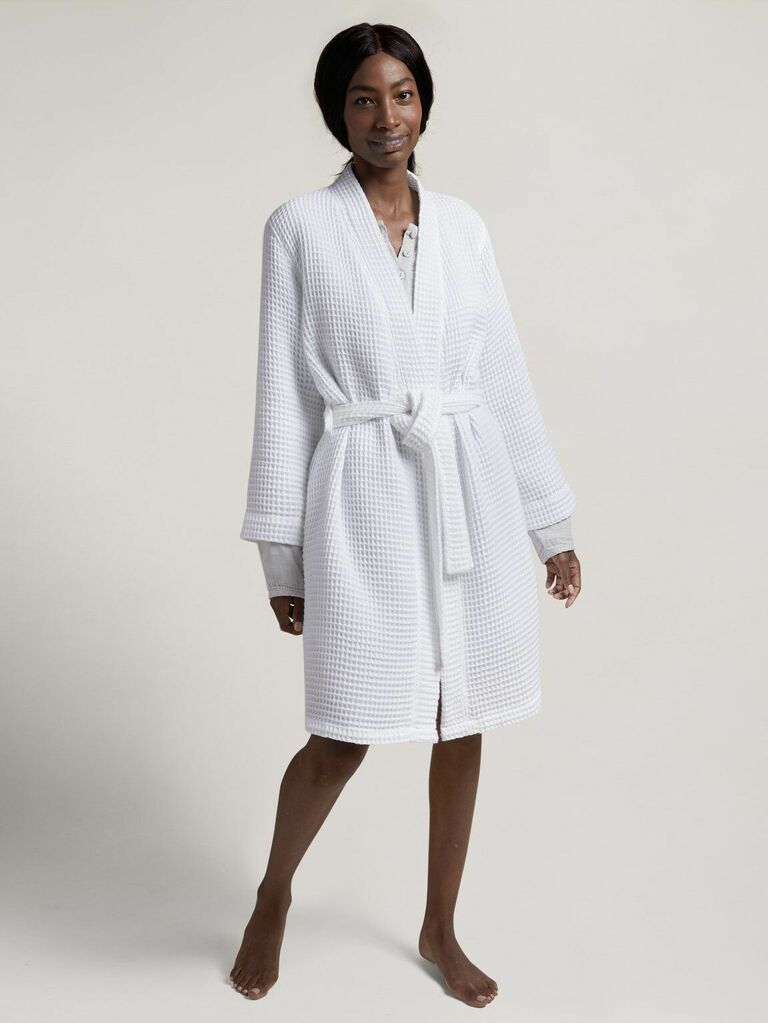 This supersoft, textured robe is made of 100% Turkish cotton and inspired by the fanciest spas. If she can't travel, bring the luxury hotel experience home.

Parachute waffle robe, $119, ParachuteHome.com 
10. Sound Wave Art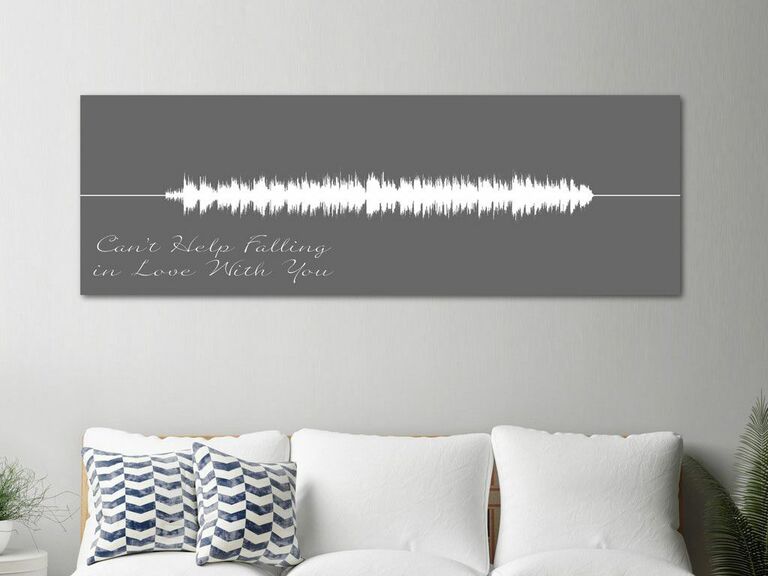 If you're hoping to truly wow your wife with a romantic gift, this one is The One. This shop will turn a special song into a work of art. Talk about a sweet and super-sentimental present.

CanvasVows song sound wave art, from $49, CanvasVows.com
11. A Fill-in-the-Blank Book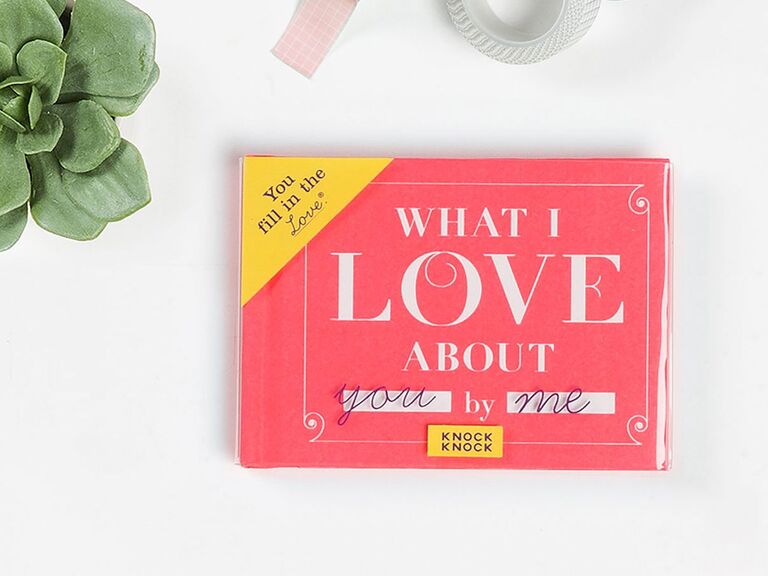 The smallest gifts can be the ones that mean the most. Fill this book with all of the reasons why you love your wife. She'll cherish your handwritten words even more than you realize. It's a super-cute Mother's Day gift, Christmas stocking stuffer or anniversary gift idea. 

Knock Knock What I Love About You By Me, $10, KnockKnockStuff.com 
12. A Map of the Stars
Commemorate a relationship milestone with a map of the stars from that night. It could be when you met, the moment you first said "I love you" or the day that you said "I do." No matter what, the special gesture may just move your wife to tears. That's why it's at the top of our list of cool gifts for your wife.

The Stars Above Co custom star map, from $50, Etsy.com 
13. Preserved Roses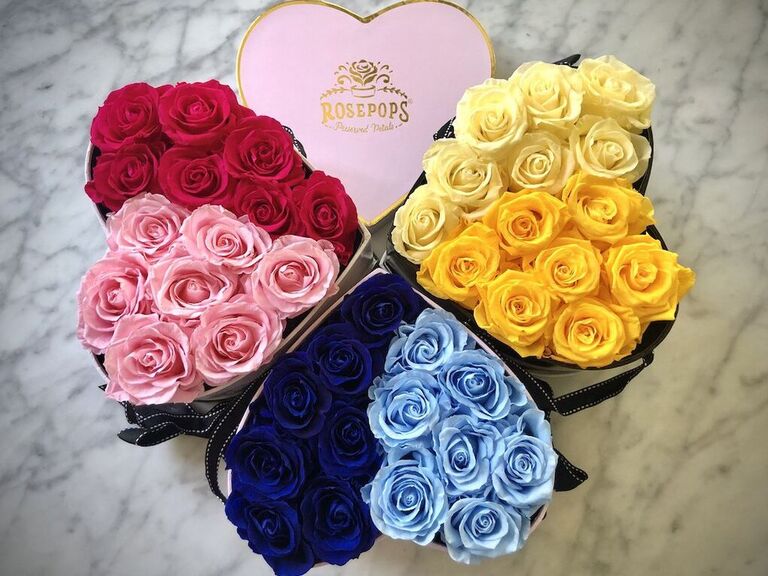 The only thing better than a beautiful bouquet of roses is one that lasts up to a year—yes, you read that correctly. This heart-shaped arrangement from Rosepops is the romantic gift for your wife that keeps on giving (and giving).

Rosepops The Half-Hearted, from $210, Rosepops.com 
14. Calligraphed Wedding Vows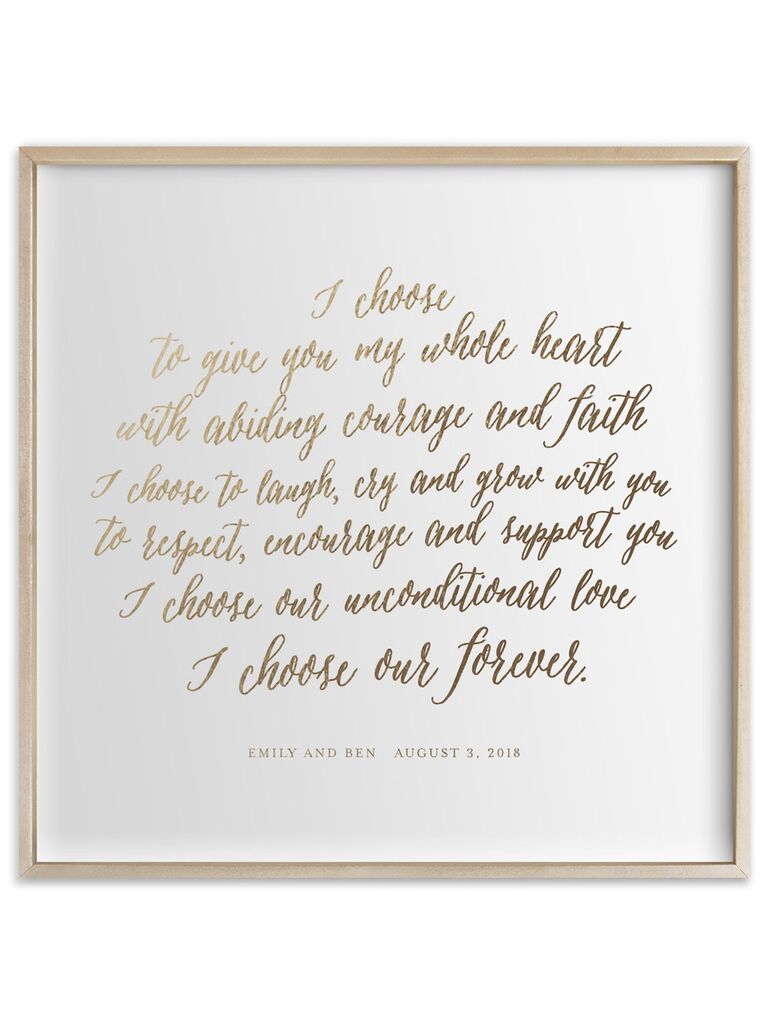 Preserve your wedding vows in the form of a beautiful, romantic piece of art. It's a constant reminder of your wedding day and your lasting love. You'll never forget your vows with this hanging in a special place.

Minted Your Vows as a Foil Art Print, from $158, Minted.com
15. A Symbolic Necklace
Jewelry is a go-to gift idea for your wife. But this symbolic necklace is anything but ordinary. Pair her birth flower with yours for a beautifully romantic gesture.
Made By Mary birth flower stacker necklace, $48, MadeByMary.com
16. A Weekend Bag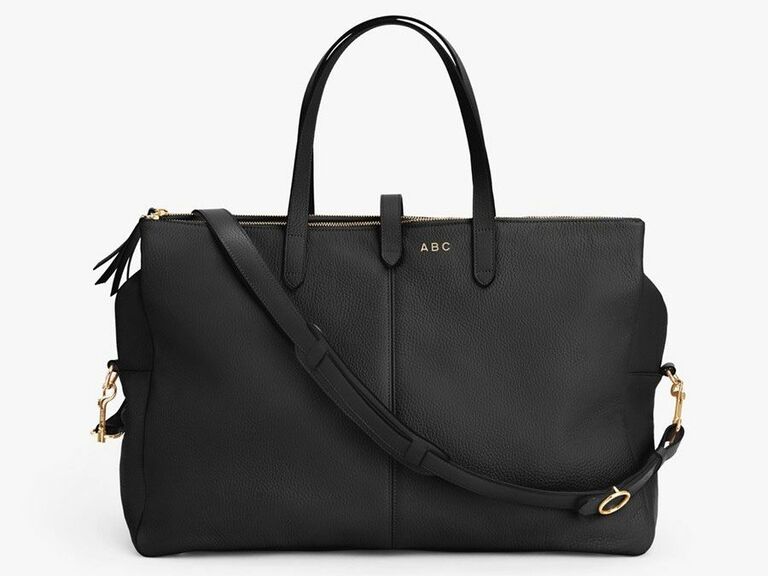 A sleek and sophisticated leather duffel is something everyone should have. Get it monogrammed to make this good gift for your wife a really great one.

Cuyana leather triple zipper weekender, from $395, Cuyana.com 
17. A Keepsake Blanket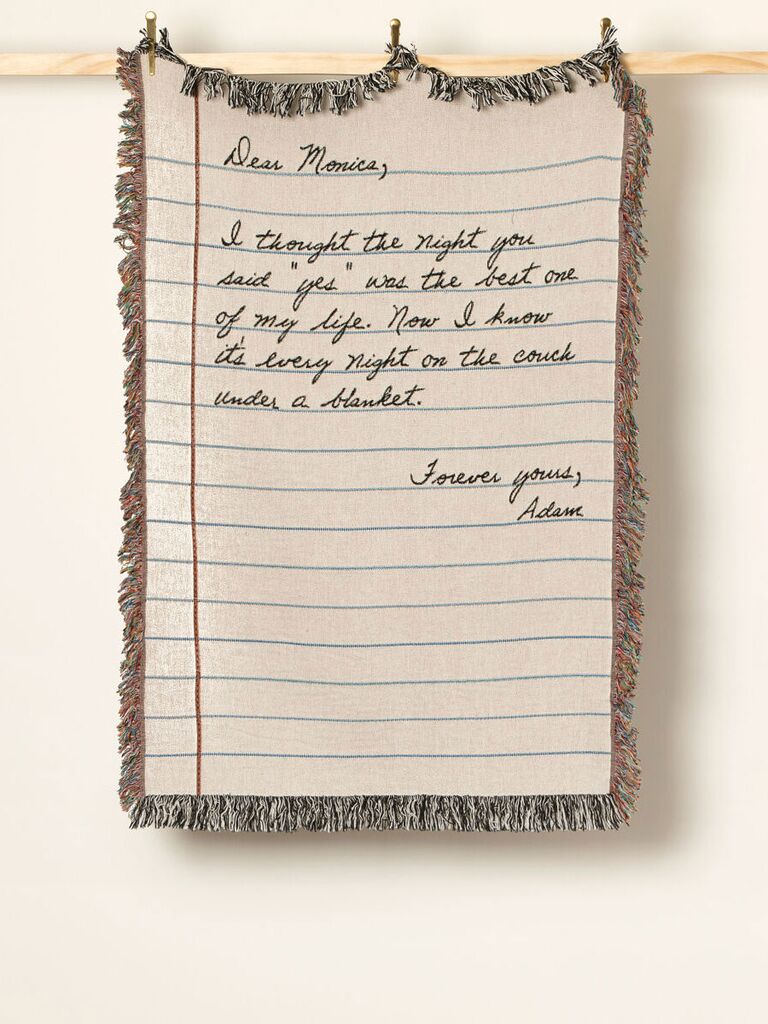 This incredibly sweet gift will give her the warm and fuzzies in more ways than one. The cozy blanket comes printed with your custom note.

Diane Scaman personalized hand-written letter blanket, $160, UncommonGoods.com
18. Dried Flowers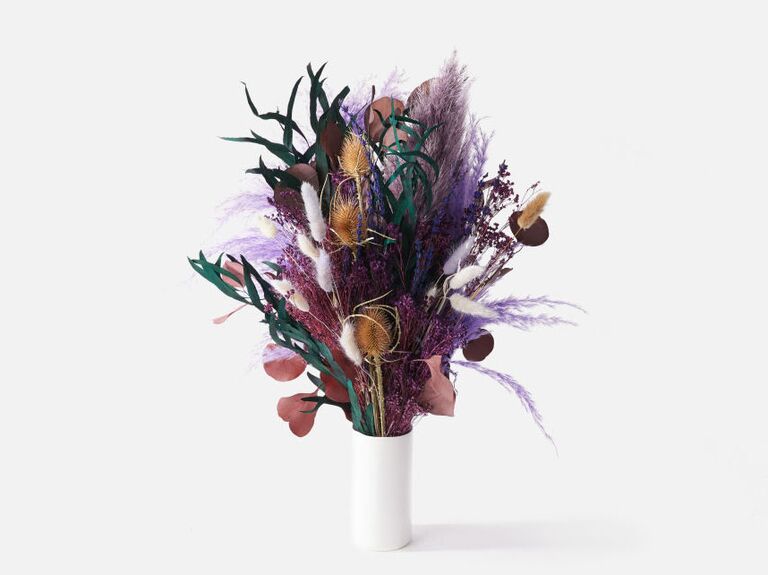 You can't go wrong with a fresh bouquet, but this dried bouquet will last way longer. Plus, the color palette is simply gorgeous.

UrbanStems The Juneau, $95, UrbanStems.com
19. A Beautiful Watch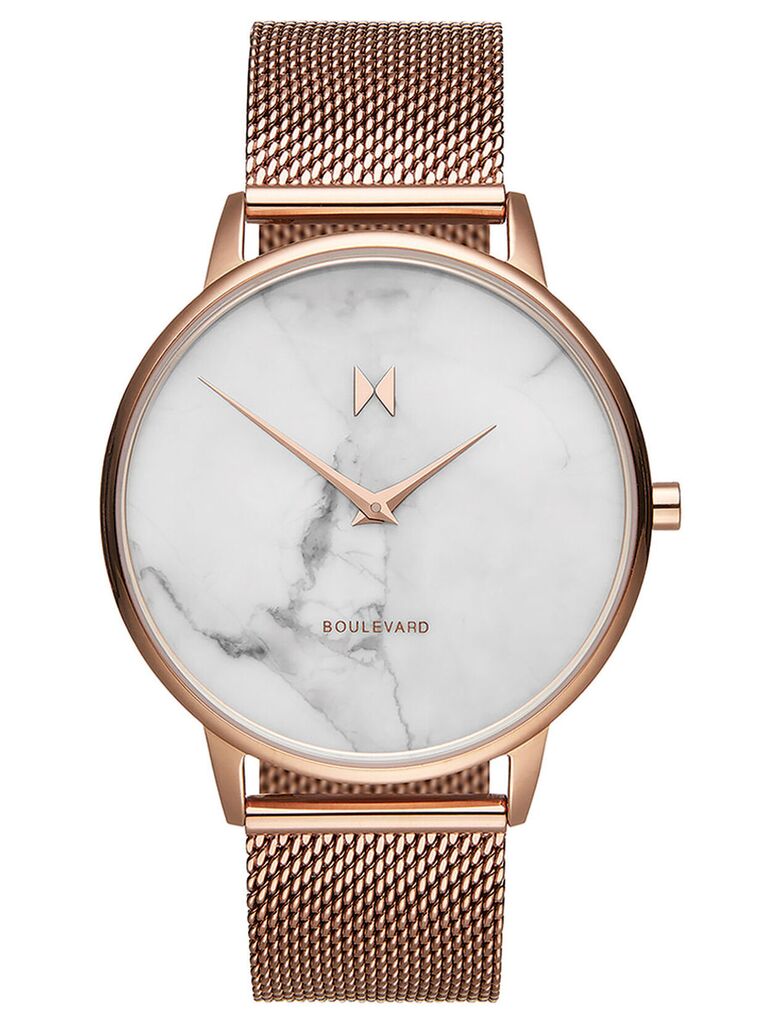 A nice watch is simply timeless. Sure, worthwhile watches can be a splurge, but it's a practical gift for your wife that she can wear every day. Just think: Whenever she checks the time, she'll instantly think of you. 

MVMT Boulevard Malibu Marble watch, $160, MVMT.com 
20. A New Take on Tea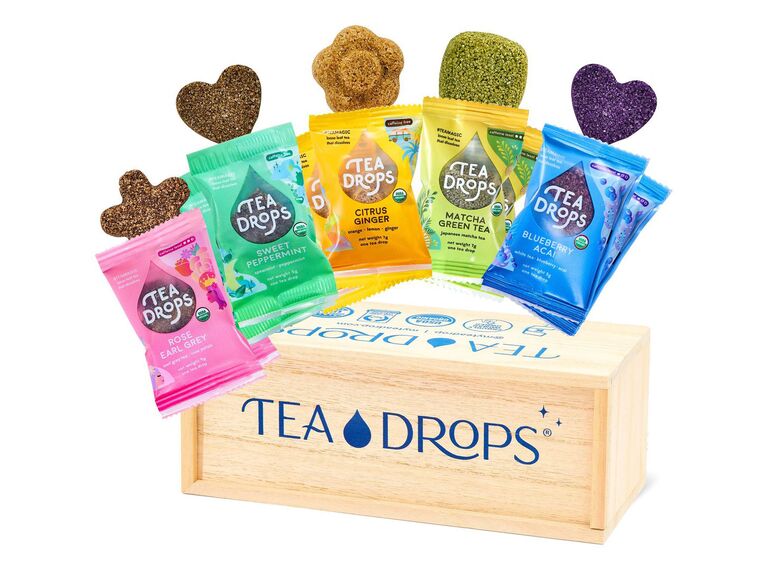 Take a soothing ritual to the next level. These tea drops are cute, delicious and organic. What more could you ask for?

Tea Drops Deluxe tea assortment sampler, $35, MyTeaDrop.com
21. A Fun Class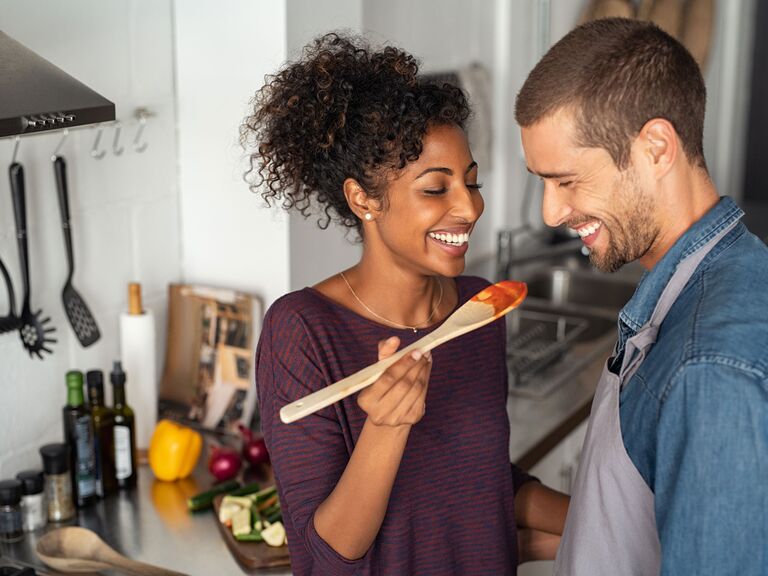 If your wife loves to learn, a virtual class is a great gift idea. Sur La Table offers an extensive array of cooking classes for any passionate home chef. And because they're priced per household, you're free to join in on the fun.

Sur La Table online cooking class, from $29, SurLaTable.com
22. A Love Letter Necklace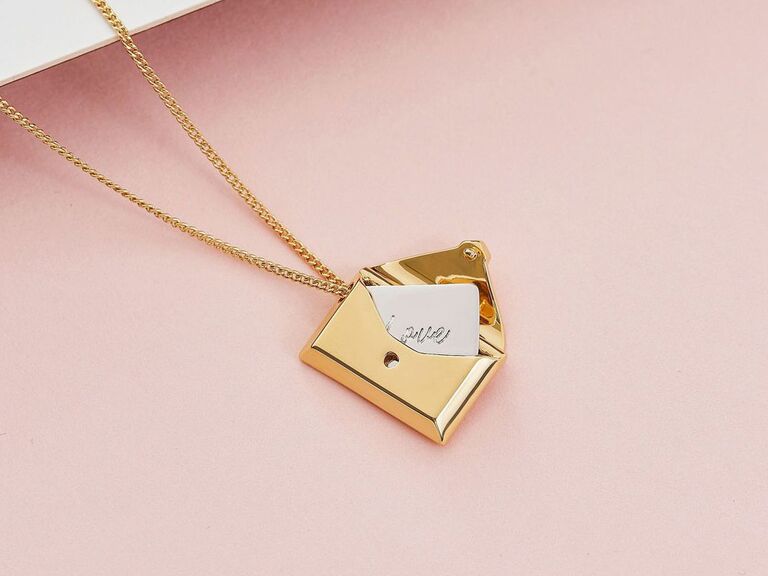 If your wife loves meaningful jewelry, she'll cherish this romantic gift. A pull-out love letter is stashed inside of the envelope-shaped locket.
Capsul Jewelry custom envelope locket necklace, from $170, CapsulJewelry.com
23. Statement Earrings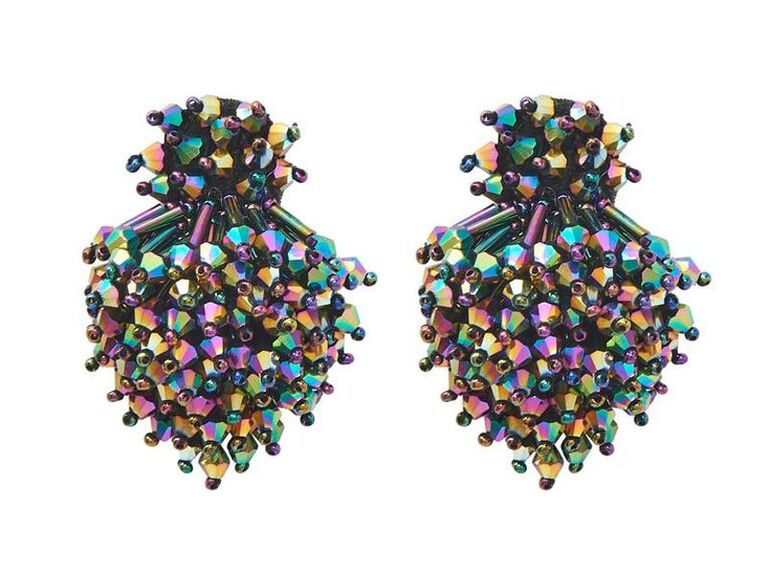 For the fashionista, a pair of fun, statement earrings will hit the nail on the head. She'll be seriously impressed with your taste in accessories when you give her this gift.

Mignonne Gavigan Burst earrings, $195, MignonneGavigan.com 
24. Wireless Headphones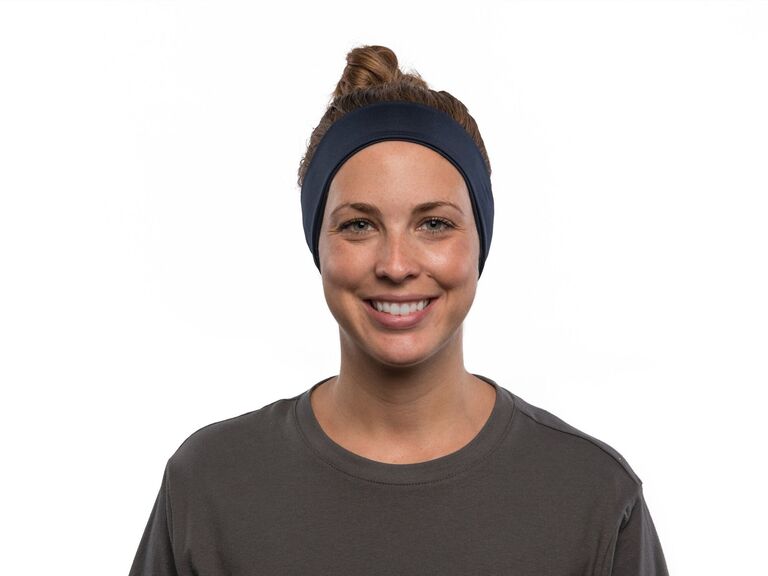 Does your wife need new headphones? Go cordless—she'll be obsessed. This genius audio headband is great for travel, falling asleep or just kicking back. It's wireless and ultra comfortable, and she can even pull it down over her eyes to double as a nap mask.

SleepPhones wireless headphones, $100, SleepPhones.com 
25. A DNA Kit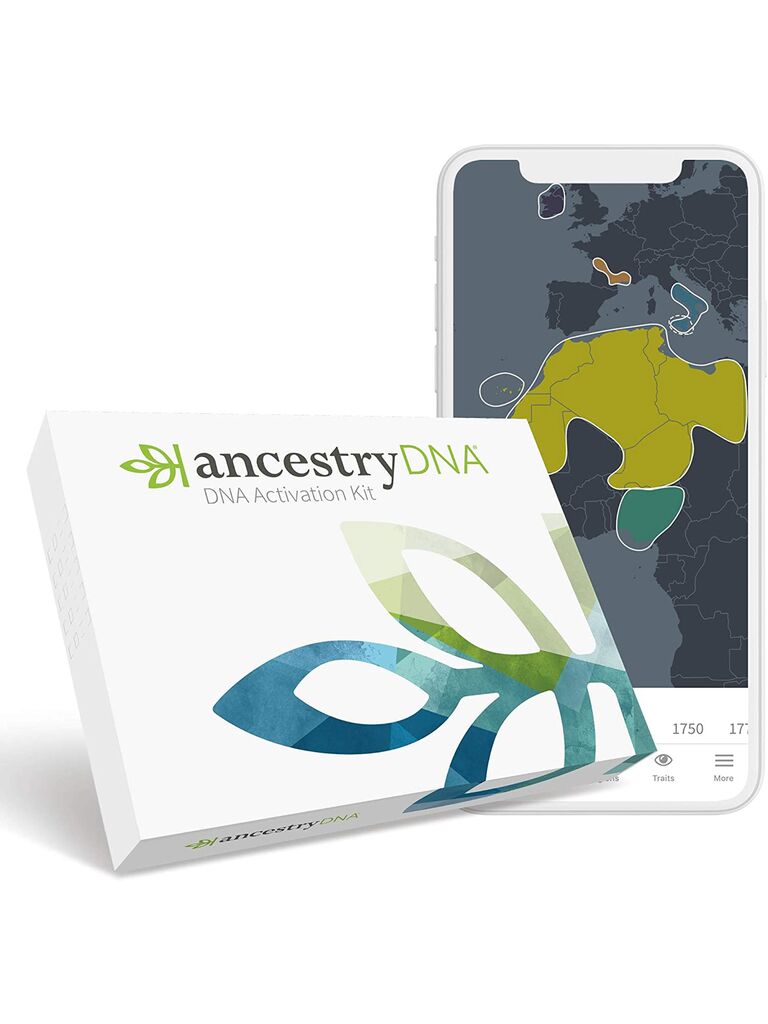 Help your wife connect to her roots with this really cool (and really meaningful) gift. AncestryDNA will help her unlock her family's history.

Ancestry AncestryDNA kit, from $99, Ancestry.com
26. Tried-and-True Slippers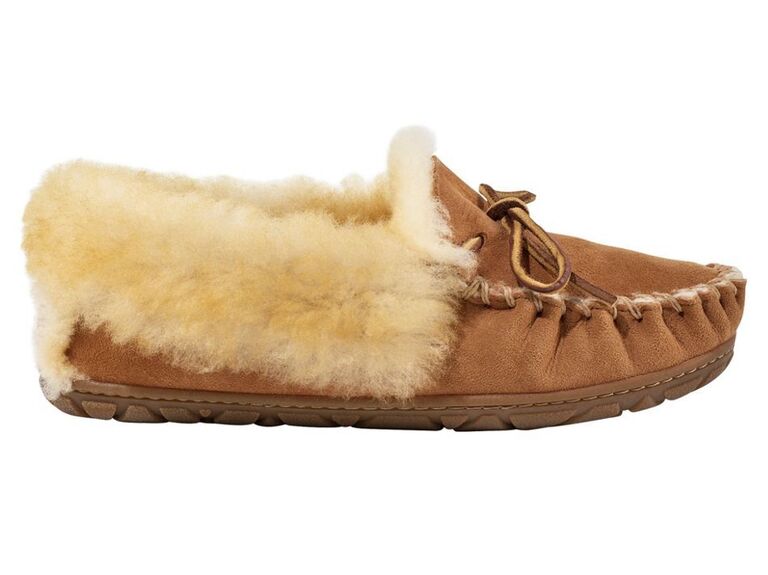 You've probably seen these slippers everywhere. But if you haven't seen them on your wife's feet, it's time to change that, stat. L.L.Bean's Wicked Good moccasins are cushiony, cute and last forever.

L.L.Bean women's Wicked Good moccasins, $79, LLBean.com
27. A Flower Bouquet Subscription

Flowers are one romantic gift for your wife that'll never go out of style. Give your wife fresh, farm-to-vase blooms with a subscription to flower delivery service BloomsyBox. Now she can have a beautiful bouquet on her birthday and every month after.
BloomsyBox flower subscription, from $44 per month, BloomsyBox.com
28. A Wine Subscription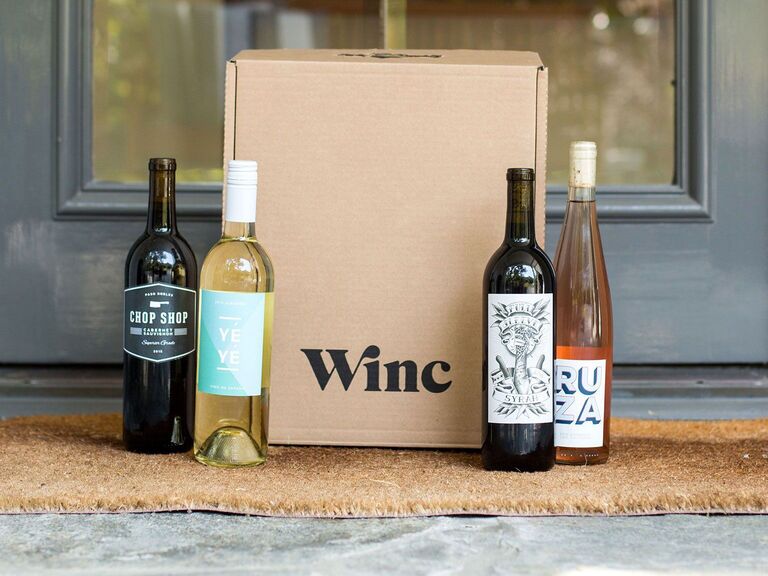 You might be one of those couples who wants to be total winos, but you're not really sure where to start. A subscription to Winc is an awesome gift for your wife that you'll obviously benefit from too. She'll get four bottles of thoughtfully crafted wine delivered to her every month. 

Winc wine club membership, wine prices vary, Winc.com 
29. An Irresistible Perfume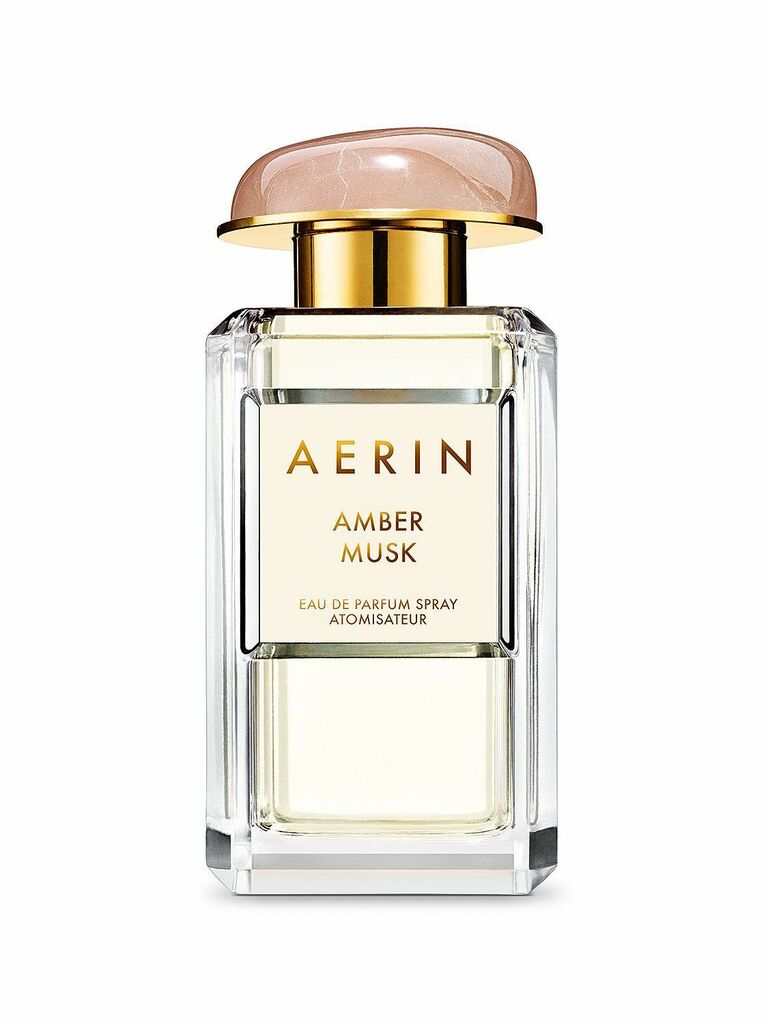 Our staff adores this all-season fragrance. It's wonderfully inviting, but not overpowering. Plus, the bottle looks like a piece of art. All this adds up to a special birthday or holiday gift for your wife.

AERIN Amber Musk eau de parfum, from $135, Bloomingdales.com 
30. A Cabin Retreat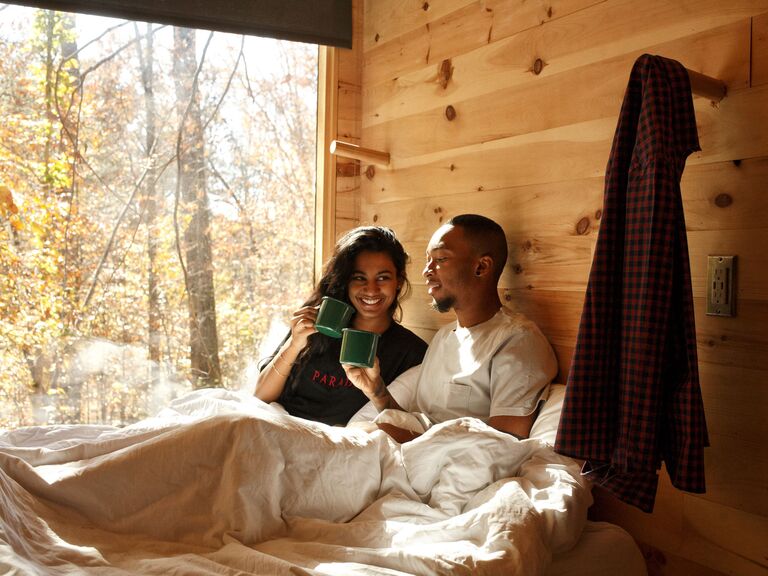 Sometimes the best gift for your wife is a one-on-one getaway. And Getaway delivers. These unique and unplugged cabin retreats offer peace, quiet and soul-soothing scenery. Choose from a range of remote destinations nearby major cities.

Getaway cabin escape, price varies, Getaway.House
31. A Unique Ring Dish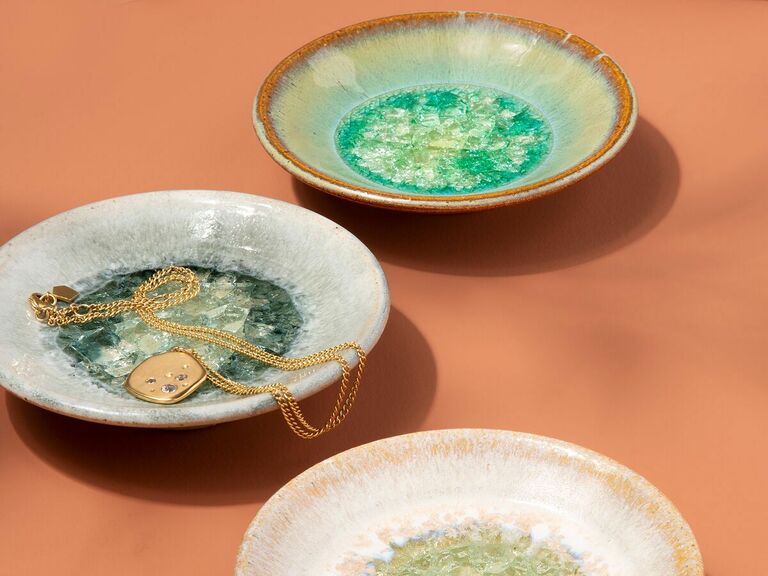 There are lots of thoughtful birthday present ideas for your wife. What about something that represents her birthstone? This unusual ring dish beautifully celebrates the month that she was born. 

Kerry Brooks jewel-tone birth month dish, $24, UncommonGoods.com
32. An XOXO Ring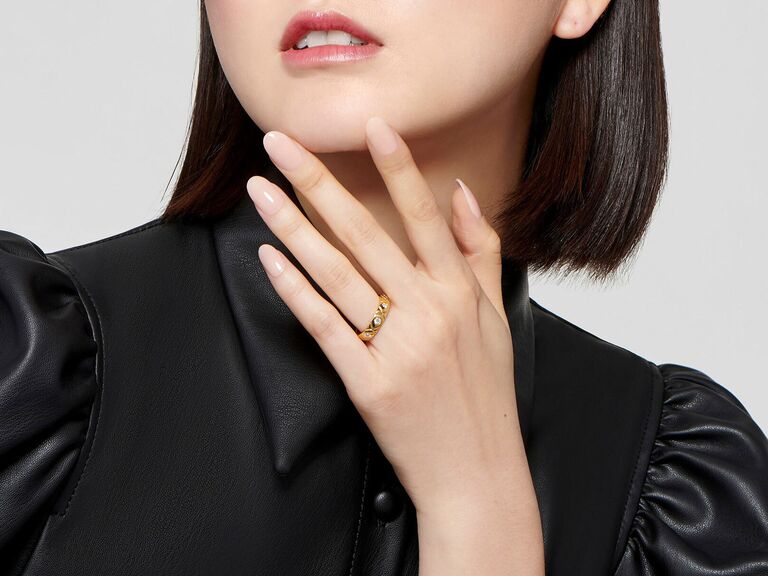 What better way to celebrate love than with a ring that represents hugs and kisses? This luxe gold band features diamonds alternating with X motifs.

Auvere XOXO diamond band, $1,500, Auvere.com
33. Matching Sweats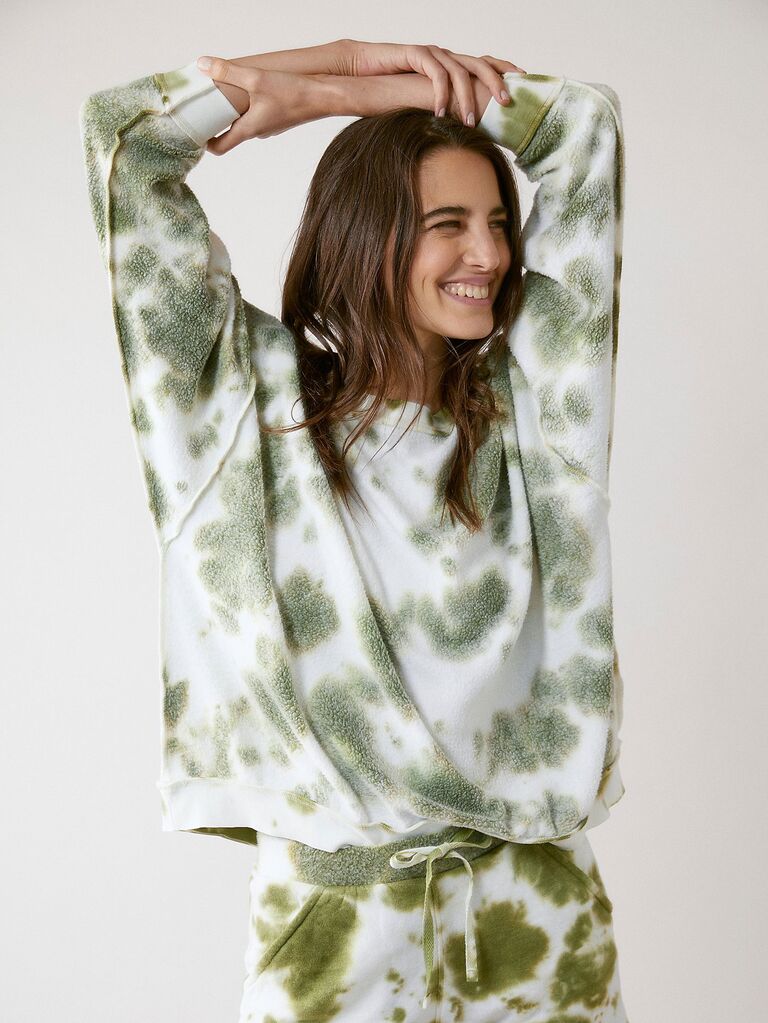 Matching loungewear is all the rage right now, and it's obvious why. Who doesn't want to feel comfy and cute? Your wife can rock this fuzzy set while she's chilling out on the couch.

Free People Intimately Kelly washed set, $168, FreePeople.com
34. A Specialty Cookie Delivery
For your leading lady with a major sweet tooth, it's time to think outside of the box. These rainbow cookies are gorgeous, unique and absolutely delicious. Looking for more decadent treats that you can get shipped? Check out the rest of Goldbelly's selection.
Zola Bakes rainbow cookies with assorted fillings, from $49 for a pack of 20, Goldbelly.com
35. A Decorative Diffuser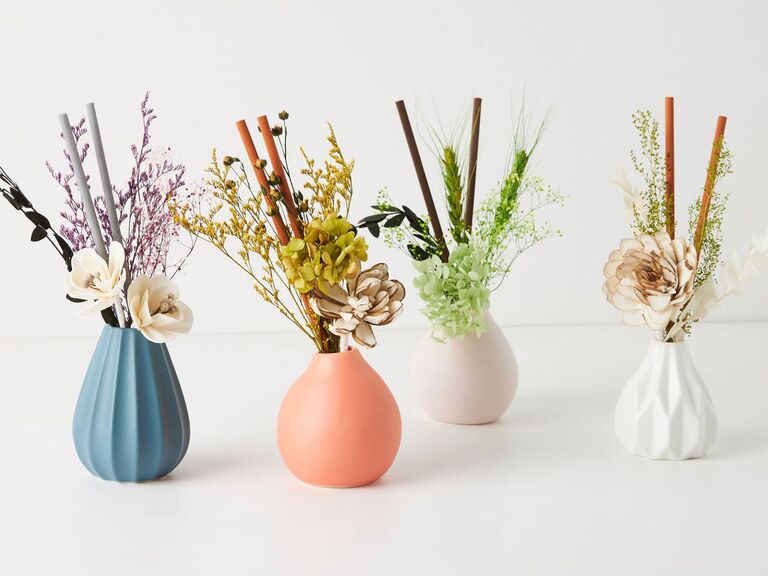 This thoughtful gift for your wife is as useful as it is pretty. Each decorative bouquet doubles as a fragrance oil diffuser. Pair the present with her favorite blend for a small but special token of your love.

Anthropologie floral bouquet ceramic diffuser, $28, Anthropologie.com
36. A Versatile Throw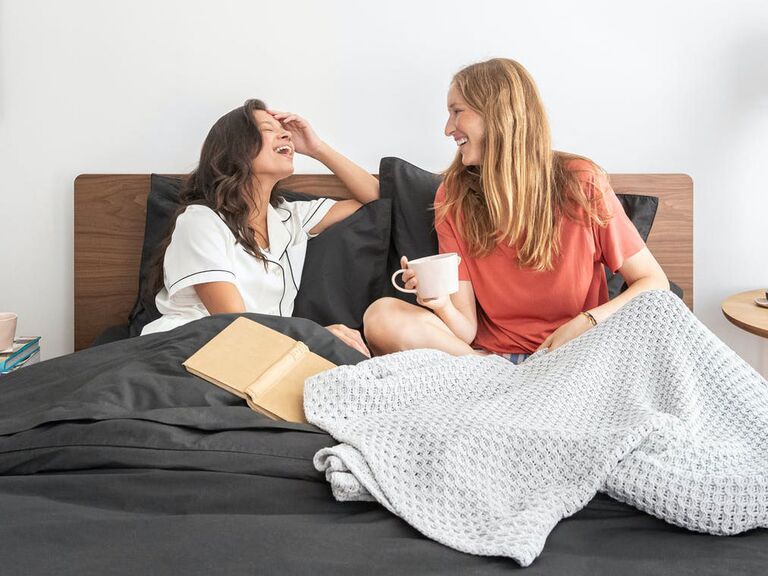 Throw blankets are excellent romantic gifts for wives. Why? Because they encourage snuggles. We like this one because it goes with everything—and because it's made from recycled yarn. 
Tuft & Needle throw blanket, $95, TuftandNeedle.com
37. A Cute Pair of Leggings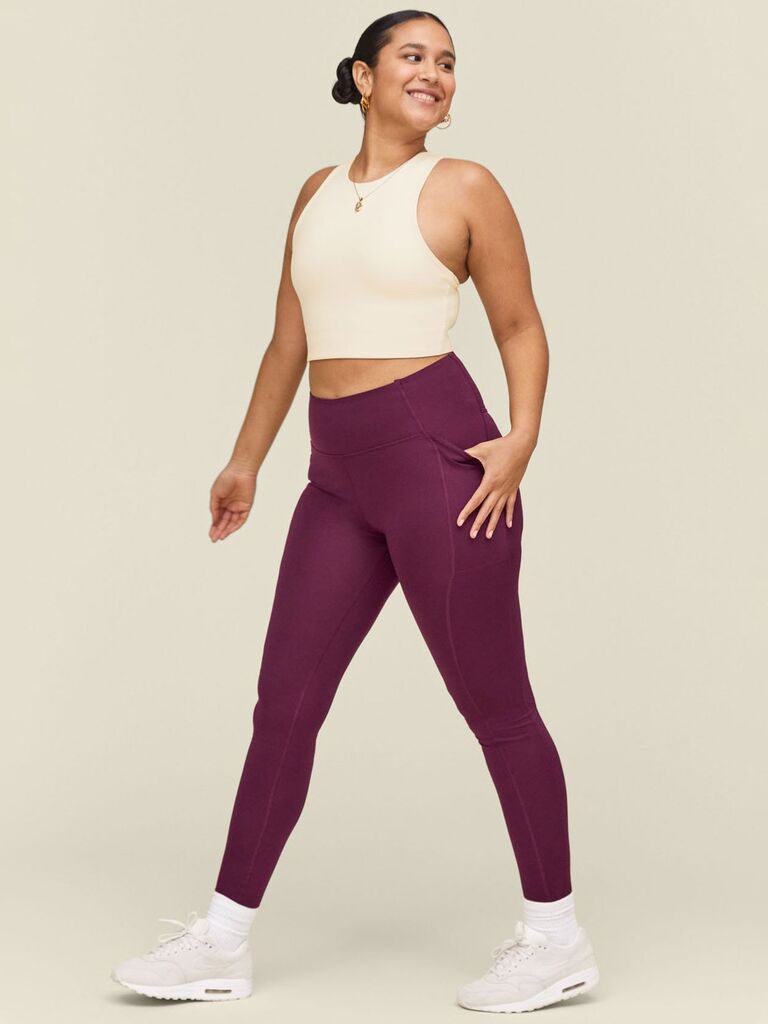 Give your wife a pair of fashionable and functional leggings. Girlfriend Collective makes some of the trendiest, most colorful activewear in the game. And believe it or not, these flattering high-rise leggings are made from recycled water bottles. They'll get her through everything from grocery store runs to hard spin classes in style. But be warned: They've been known to sell out. Plan ahead for the holidays!

Girlfriend Collective high-rise pocket legging, $78, Girlfriend.com 
38. A Frame for Something Meaningful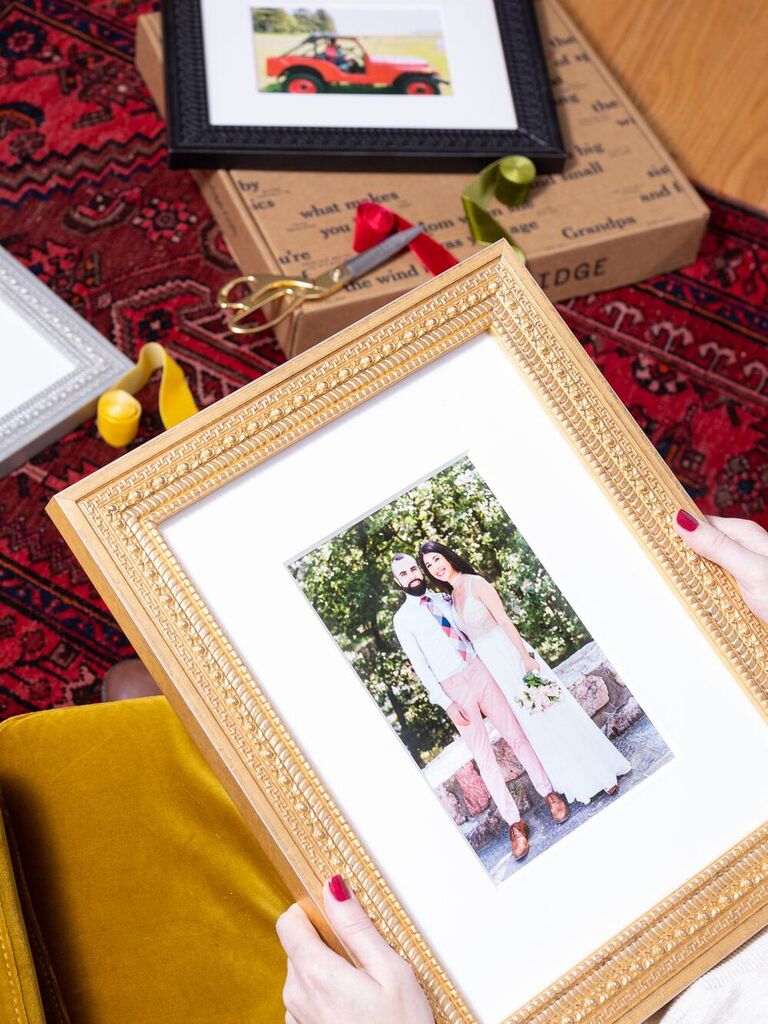 Obsessed with that adorable first look photo where you're both happy crying? Or maybe there's a certain love poem that makes you two sentimental. Now's your chance to frame it and hang it for everyone to see. The best gifts for your wife are the ones that you really put your heart into.

Framebridge The Fancy Wide frame, $95, Framebridge.com
39. A Zodiac Pendant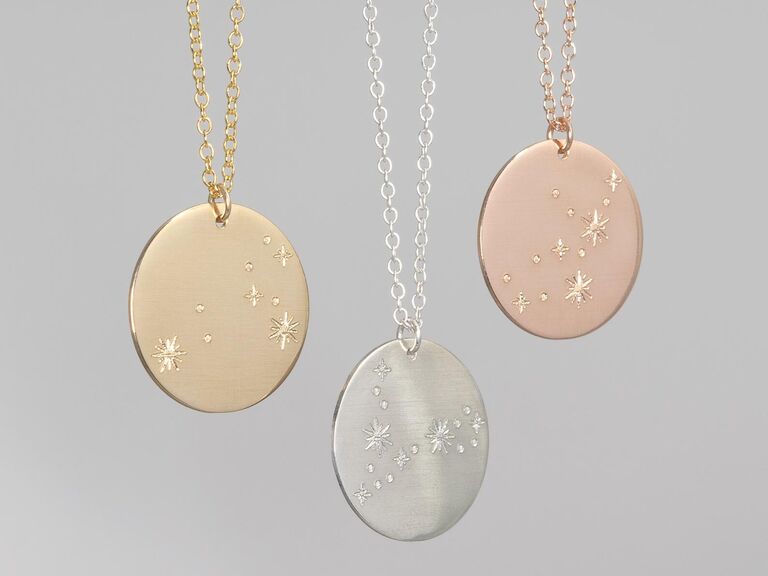 Give your wife an elegant necklace that she can wear alone or layer with other pieces. This bauble pays tribute to her zodiac sign in the prettiest, understated way. If she's always reading her horoscope, you know she'll like this gift idea—especially on her birthday.

Abbey Park zodiac constellation necklace, from $57, Etsy.com
40. A Meal Delivery Service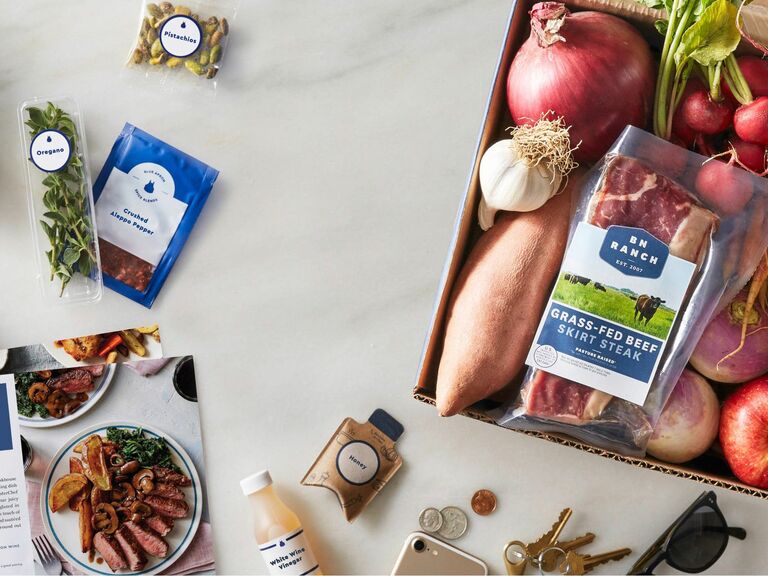 If she loves trying new recipes (but doesn't love all the research and prep), get everything she needs for delicious, pre-planned dinners delivered to her door. Bonus: This gift is sent as an e-gift card, so it's a good last-minute gift for your wife.

Blue Apron gift, from $60, BlueApron.com
41. A Pushpin Map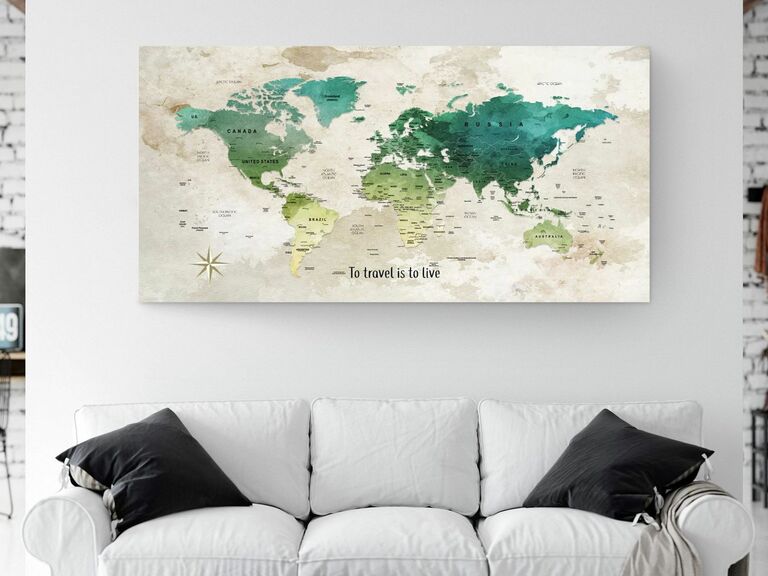 Oh, the places you've been! A pushpin map helps you and your wife keep track of all of your wonderful travels. Bonus: You can personalize this one with anything that you'd like. What a cute surprise gift!

CanvasVows push pin travel map, from $159, CanvasVows.com 
42. Dessert Cocktails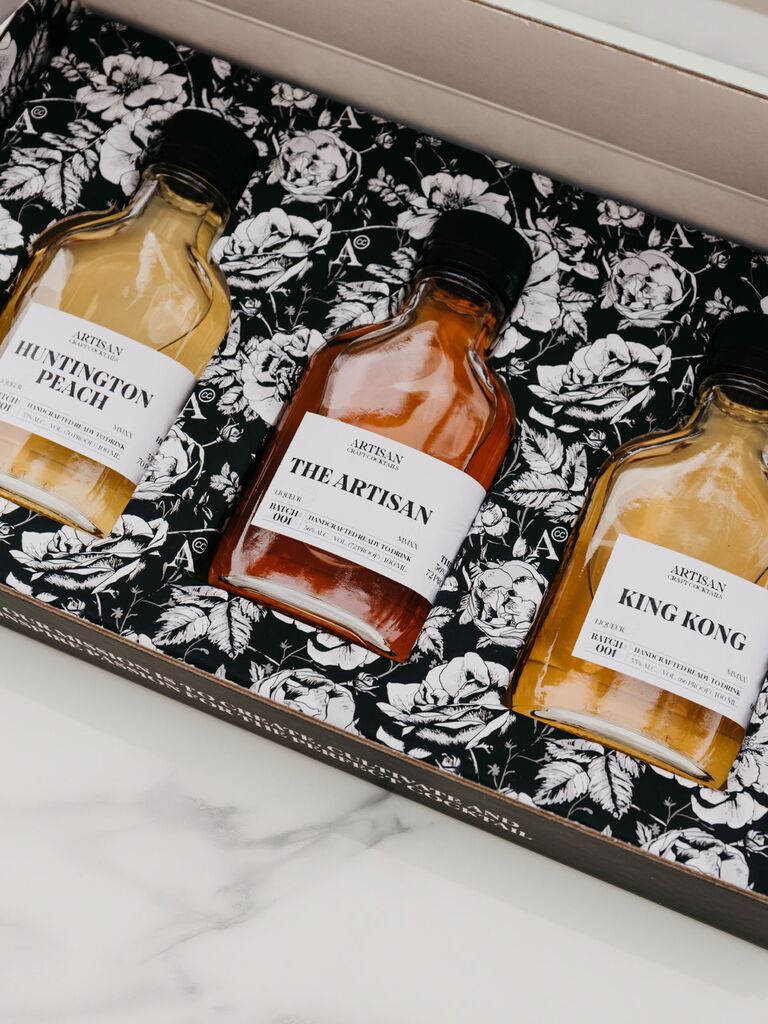 If your wife has a sweet tooth, she'll savour these decadent dessert cocktails. Plus, they come in the chicest packaging.

Artisan Craft Cocktails Trio gift box, $50, ArtisanCraftCocktails.com
43. Edible Flowers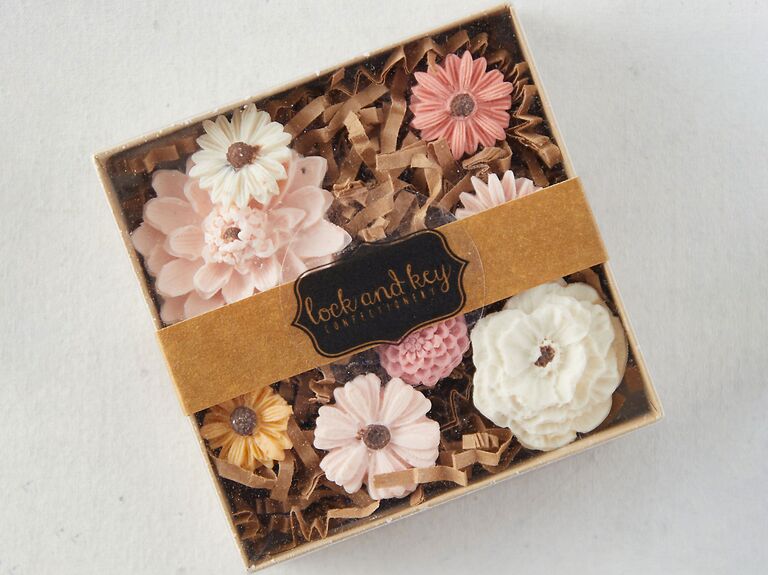 This unique and budget-friendly present combines two tried-and-true gift ideas: flowers and chocolates. The floral treats are almost too gorgeous to eat—good thing that she can immortalize them on Instagram!

Lock and Key Confectionery wildflower chocolates, $18, ShopTerrain.com
44. A Recipe Plate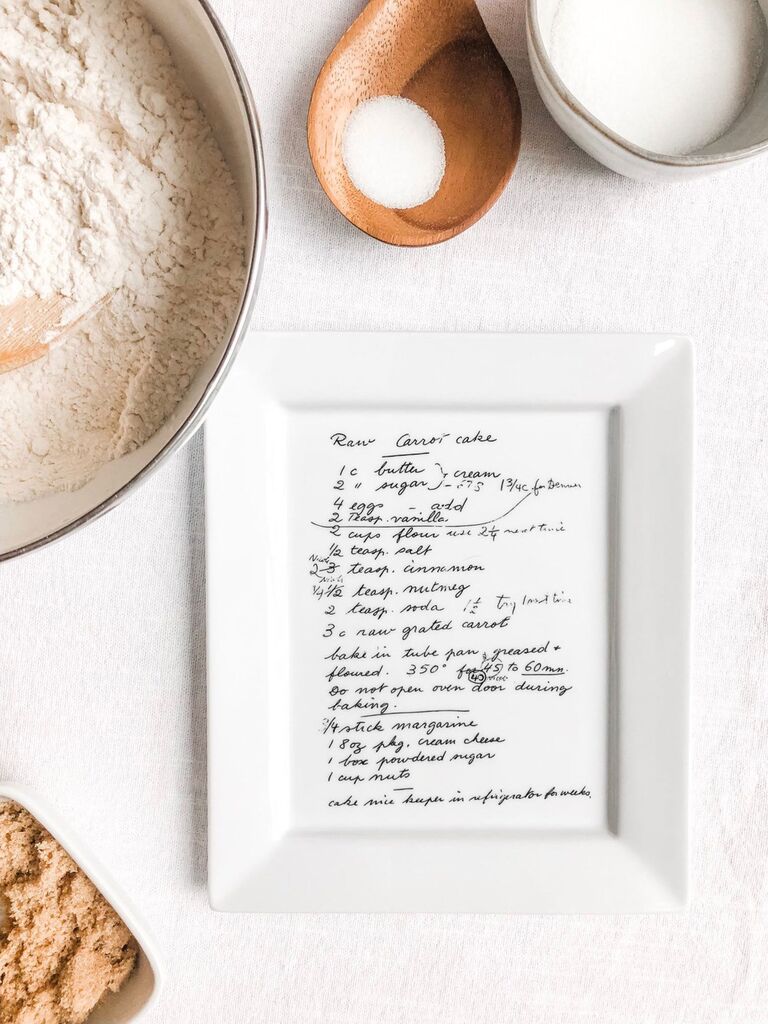 This personalized plate is the kind of gift that she'd never expect. Showcase her most prized family recipe on a display-worthy platter. Everyone who visits will ask her where she got it.

Zehr Design Co handwritten recipe plate, $83, Etsy.com
45. A Video Montage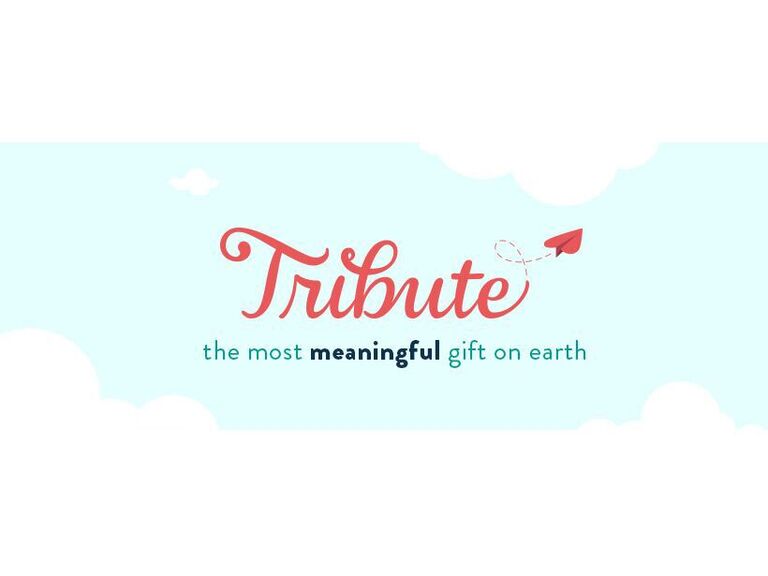 Tribute lets you do just that: pay tribute to your amazing spouse. With the help of friends and family, you can create a collaborative video montage full of heartfelt messages for your wife. It's the kind of sentimental, special gift that she'll never forget, and the perfect way to show your appreciation.

Tribute video montage, from $25, Tribute.co
46. A Nice Lunch Box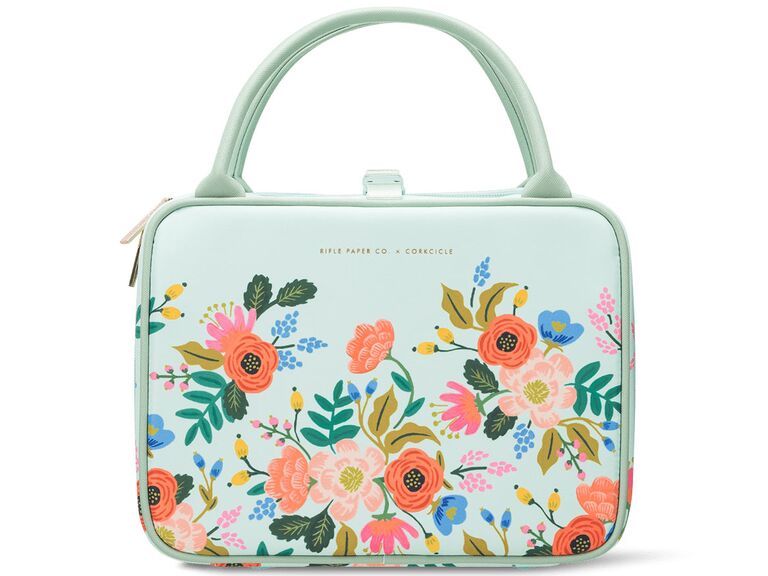 The best useful gifts are the gifts that'll make her everyday tasks more delightful. This cheery, insulated bag will put a smile on her face whenever she goes to pack—or grab—her lunch.

Rifle Paper Co. x CORKCICLE Baldwin Boxer lunch box, $60, CORKCICLE.com
47. A Photo Album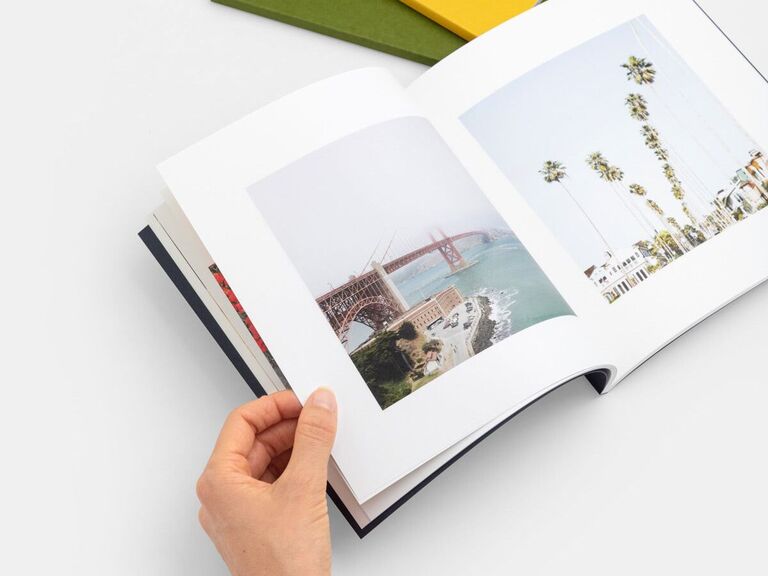 Searching for great photo gifts? Celebrate the sentimental wife with a custom, personalized photo book curated by you. Fill it with snapshots that she hasn't seen before to really surprise her.

Artifact Uprising Color Series photo book, from $20, ArtifactUprising.com
48. Biodegradable Sunglasses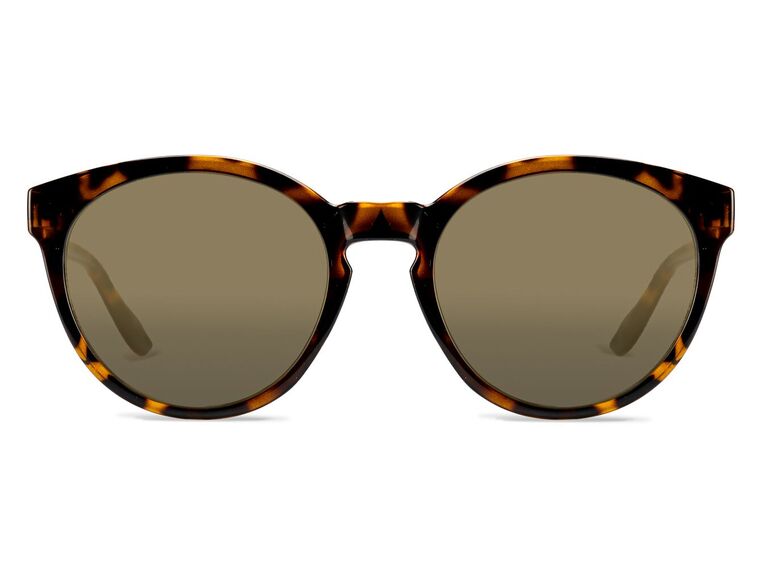 Okay, this might be one of the most useful and unique gift ideas that we've seen. These sunglasses transform into blue light glasses so she can wear them during work and play. But the coolest part has to be the fact that they're fully biodegradable. Buh-bye, plastic waste! 

Pela Vision Sulu eco-friendly sunglasses, $80 with swappable lenses, PelaVision.com
49. A Custom Song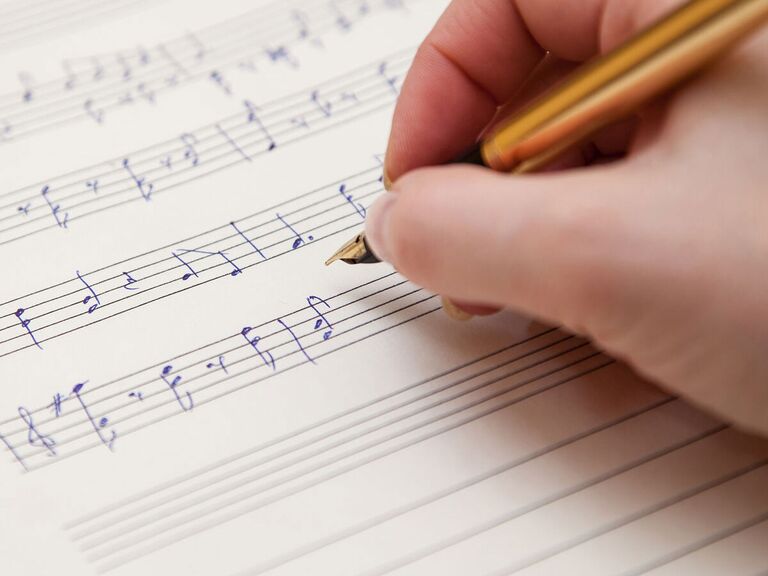 If you really want to pull out all of the stops, you can stop scrolling. This professional musician will turn your love story into a one-of-a-kind song. If that's not romantic, we don't know what is.

David Morgan made-to-order personalized song, from $100, UncommonGoods.com
50. A Cool Phone Charger
Here's yet another useful gift for your wife that's also easy on the eyes. This leather valet tray will charge her phone while storing the rest of her essentials. Oh, and you can monogram it for a personalized touch.

Courant CATCH:3 wireless charging and accessory tray, from $175, StayCourant.com
51. Wear-Everywhere Flats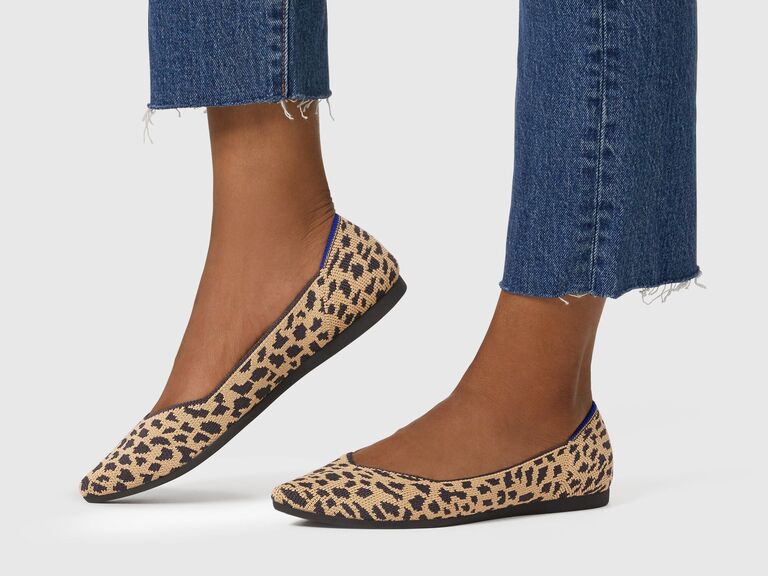 Rothy's flats are the best thing to happen to overworked feet. They're stylish and professional, but so much better than her old, uncomfortable flats or heels. She'll be amazed that shoes this great are made from recycled materials. Don't blame us if she asks you for another pair next year. 

Rothy's The Point, $145, Rothys.com 
52. An Upgraded Blender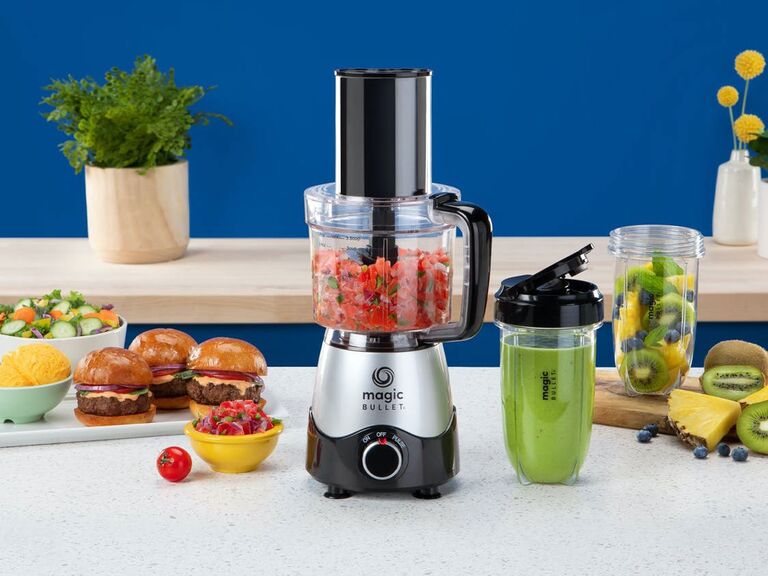 Okay, so a blender may not sound romantic, but the best gifts for your wife make her life easier. This countertop hero can do so much, from making her morning smoothie to chopping vegetables for dinner. Better yet, it's small enough to suit kitchens of any size. If you're on the hunt for a practical present, this gadget is sure to get a lot of use.

Magic Bullet Kitchen Express blender and food processor combo, $70, NutriBullet.com 
53. A Memorable Candle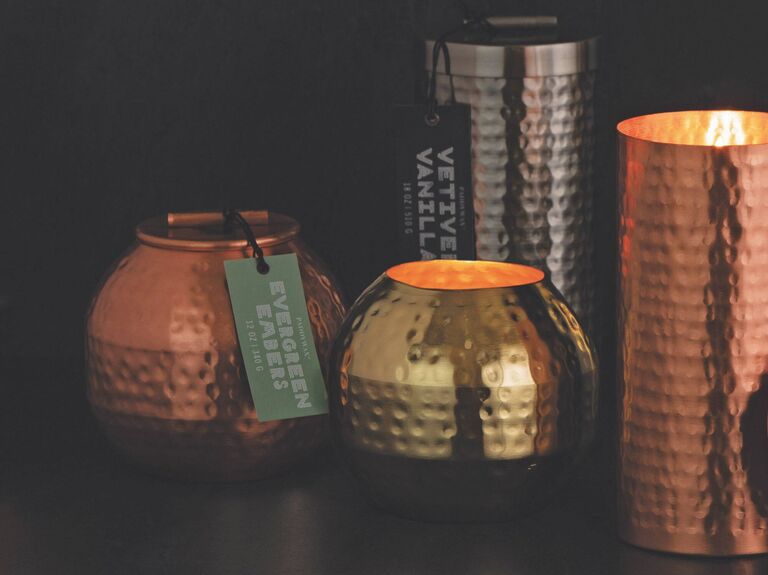 Whether you're short on romantic gift ideas or your wife just loves scented candles, never underestimate the power of this sweet-smelling present. We can't get enough of Paddywax's wide range of themed collections. The fragrances are all divine, and the pretty packaging is next-level unique. 

Paddywax candles, from $20 each, Paddywax.com
54. Personalized Stationery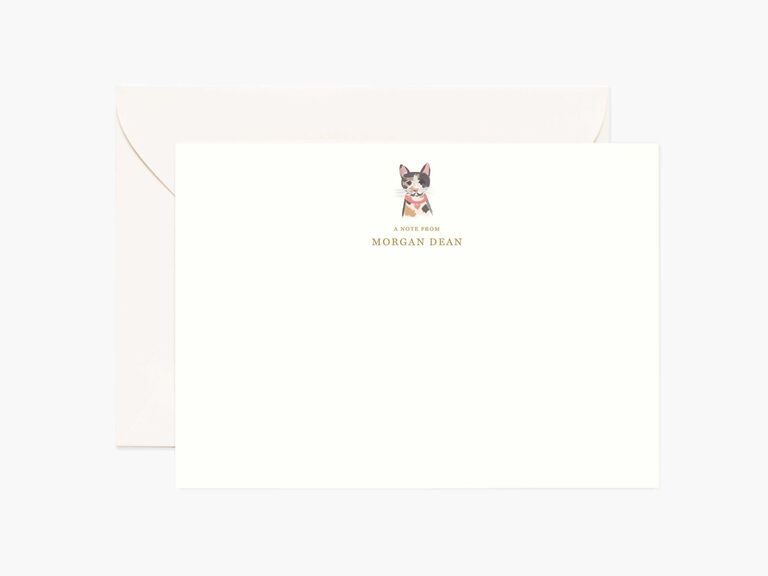 Everybody could use a set of personalized stationery. And with these cute cards, which come custom-printed with a portrait of her pet, your wife will be looking for reasons to send her loved ones some mail.

Rifle Paper Co. personalized flat notes, from $65, RiflePaperCo.com
55. A Pillowcase Built for Beauty Sleep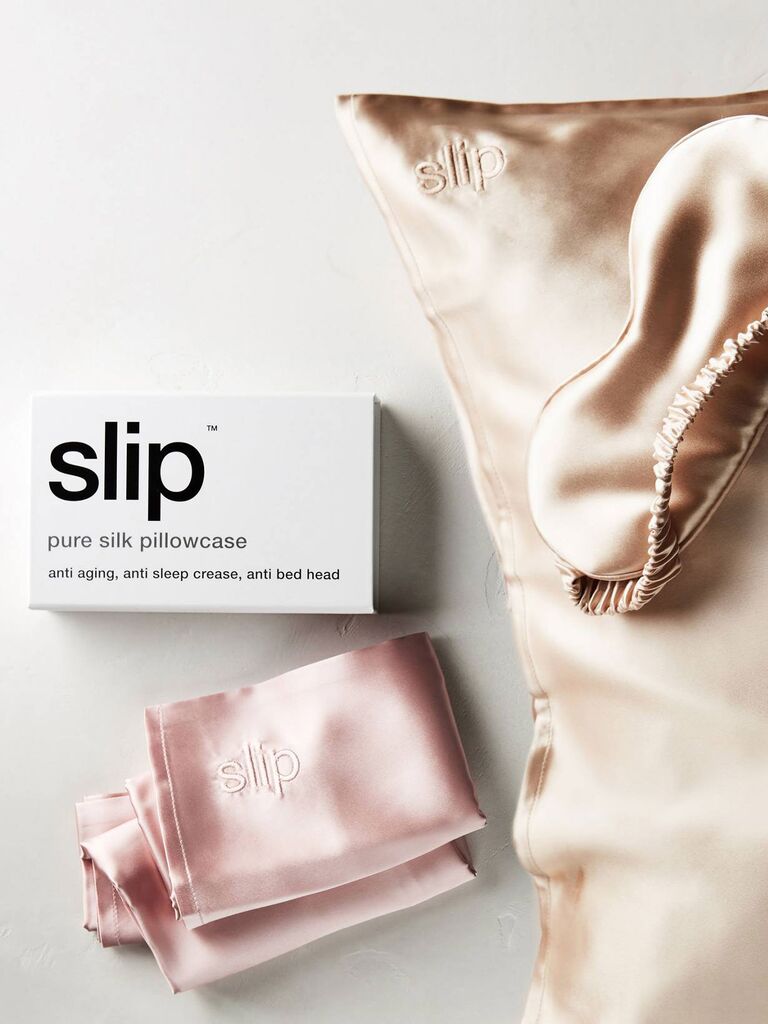 Give your wife the gift of an amazing night's sleep—in style. Cotton pillowcases can damage hair and cause premature wrinkling. This silk one, however, is beauty expert-approved. It'll also make her feel like she lives in a hotel. Now that's a luxury gift for your wife.

Slip silk pillowcase, $89, Anthropologie.com
56. A Handy Phone Case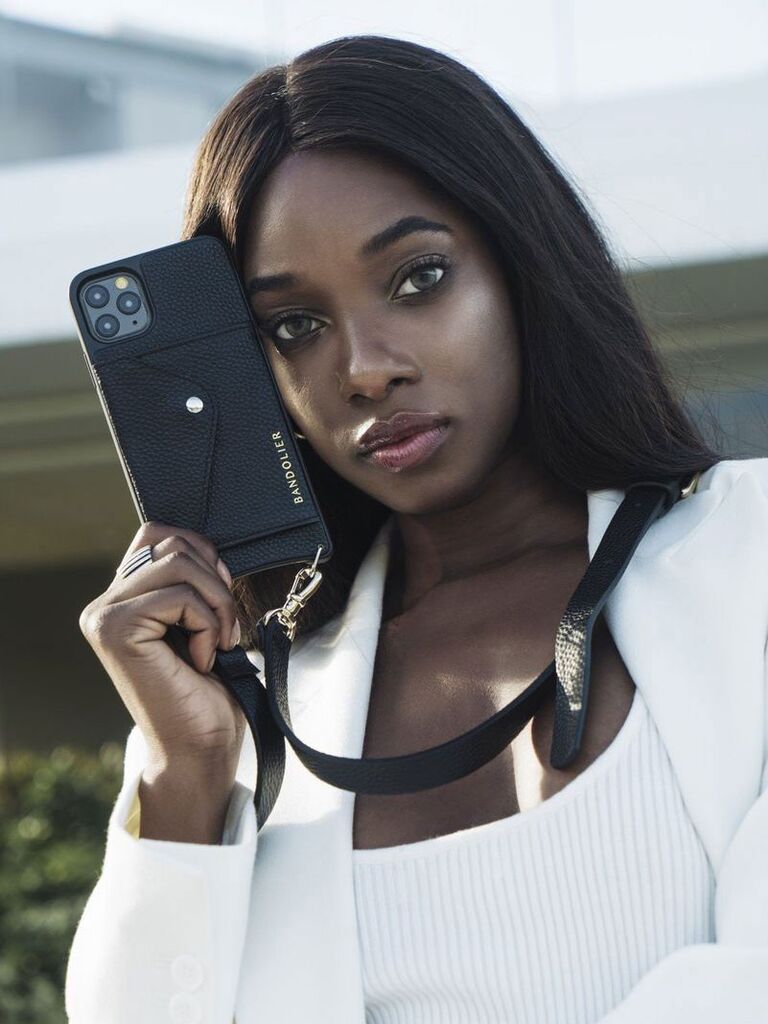 Is your wife never without her phone? This trendy crossbody case will make sure it's always at hand, even when her clothes don't have pockets (bummer). She'll love the comfort of the adjustable strap and the convenience of the open-screen design.

Bandolier Hailey side slot leather crossbody bandolier, $105, BandolierStyle.com
57. A Heated Pillow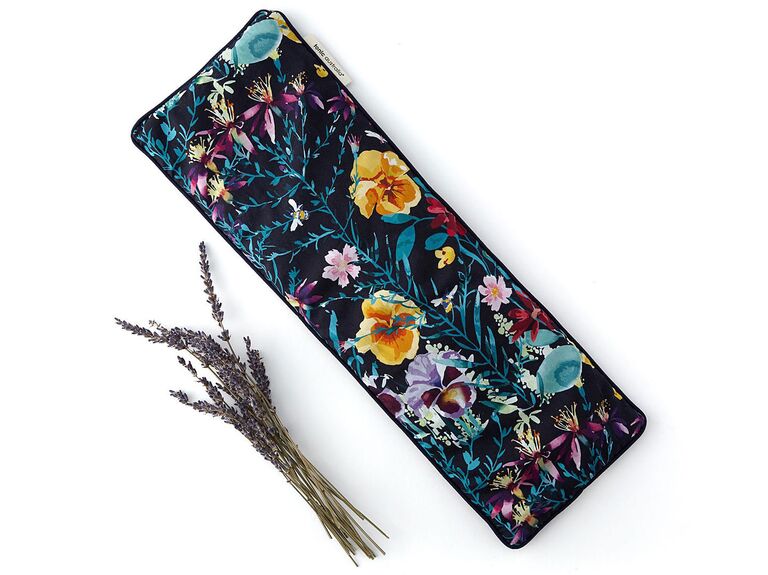 A scented heat pillow is one of those little things that can really transform a tiring day. This comforting gift is great for any pampering holiday—be it Mother's Day or Christmas.

Tonic Australia calming lavender heat pillow, $35, UncommonGoods.com
58. A Mrs. Mug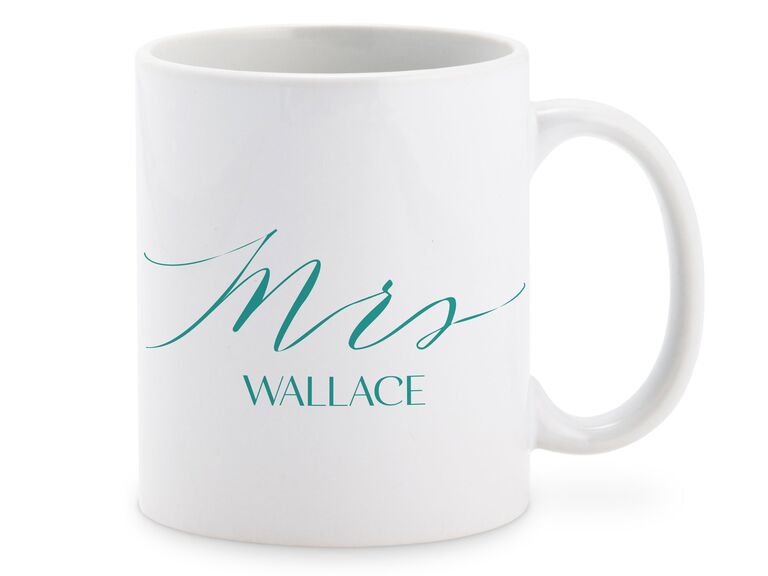 Let your wife know you're proud to call her your "Mrs." Say hello to her new morning mug. It's another small but meaningful gift.

The Knot Shop custom white ceramic Mrs. coffee mug, $14, TheKnotShop.com 
59. A DIY Jewelry Kit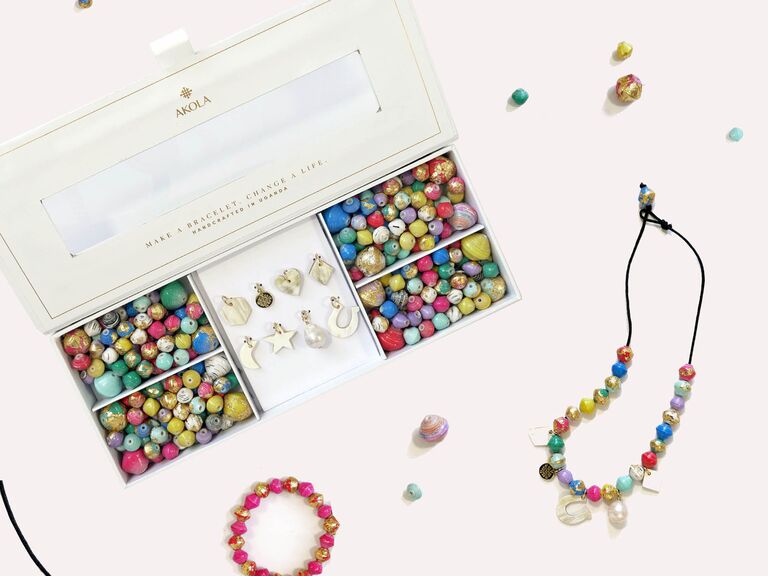 Give the crafty wife a hands-on gift. This DIY jewelry kit is filled with stunning beads inspired by the Ugandan landscape. It's a totally unique gift for your wife, because she'll wind up with custom necklaces and bracelets. And, it'll help her take some well-deserved "me time." 

Akola Anasa DIY necklace and bracelet kit, $98, Akola.co
60. An Anniversary Bracelet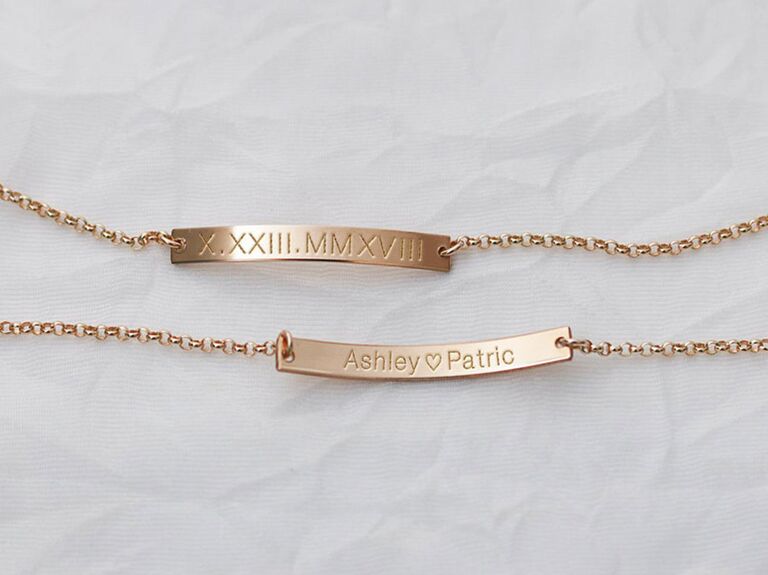 There's no way that your wife would ever forget your anniversary date, but just so she can display it proudly, give her this dainty bracelet. It's a thoughtful anniversary gift for the wife who cherishes meaningful mementos. 

GIGIMEY dainty custom roman numeral bar bracelet, from $60, Etsy.com 
61. A Crystal Bracelet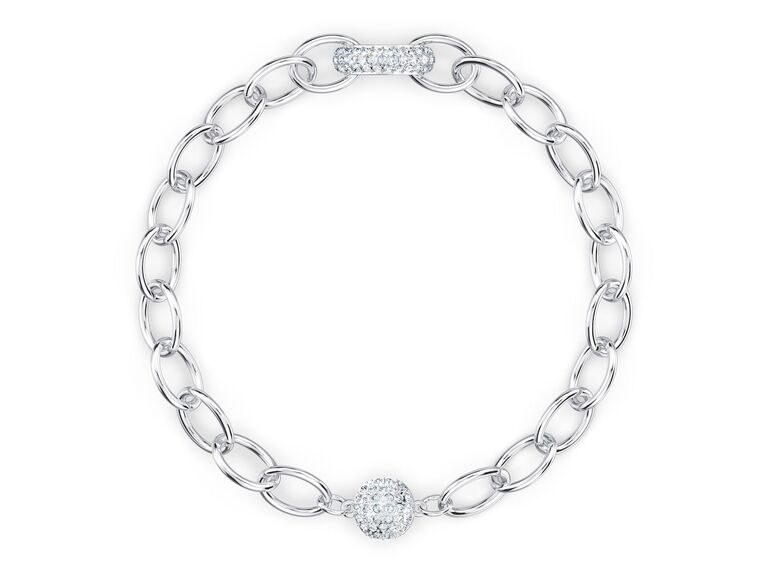 If bling is her thing, you can't go wrong with a timeless, glitzy bracelet. This crystal jewelry will put a sparkle in her eye just like she puts a sparkle in yours.
Swarovski The Elements chain bracelet, $79, Swarovski.com
62. A Casual Jumpsuit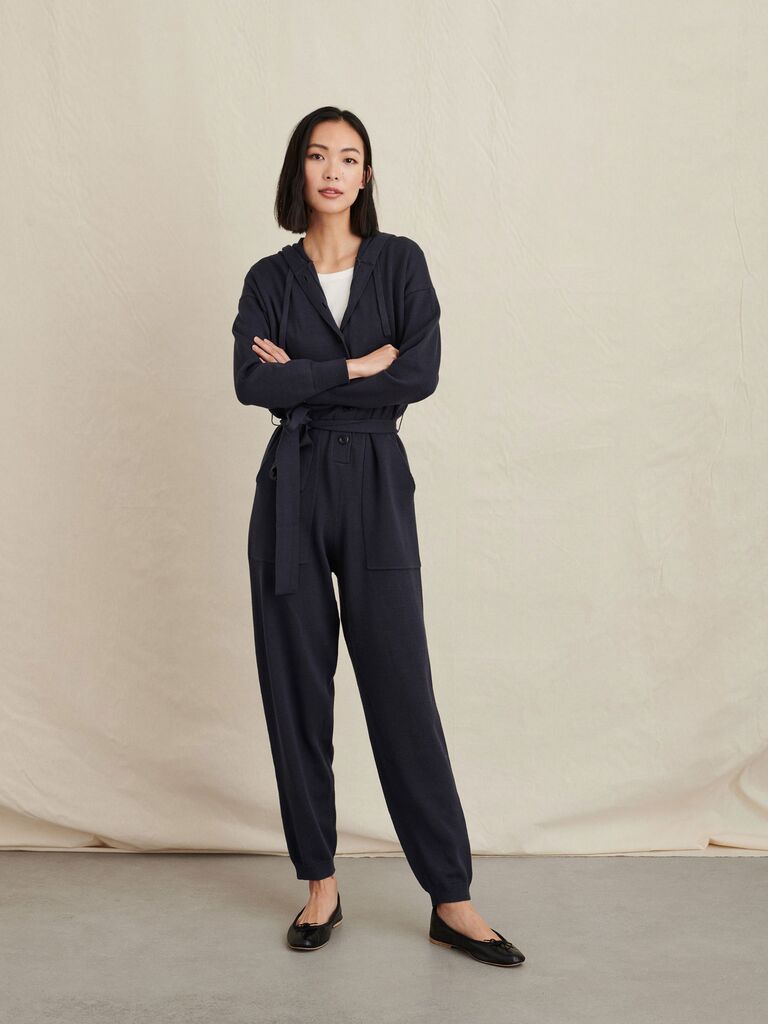 Does she need a hooded sweater jumpsuit? No. Is this one irresistibly cozy? Yes. Comfortable loungewear is here to stay (as it should be!) and we bet that she hasn't added something like this to her collection yet.
Alex Mill hooded sweatshirt jumpsuit, $175, AlexMill.com
63. A Kitchen Staple
Every serious home chef needs a Dutch oven. If you left one off of your registry, surprise your favorite cook with this cast iron beauty. Le Creuset Dutch ovens are the cream of the crop, and this specific color isn't just gorgeous—it was also designed for a good cause. A portion of each sale goes toward ending child marriage, in collaboration with a charity close to our hearts: VOW. 

Le Creuset signature Dutch oven in Fig, from $360, CrateandBarrel.com 
64. A Patterned Tote Bag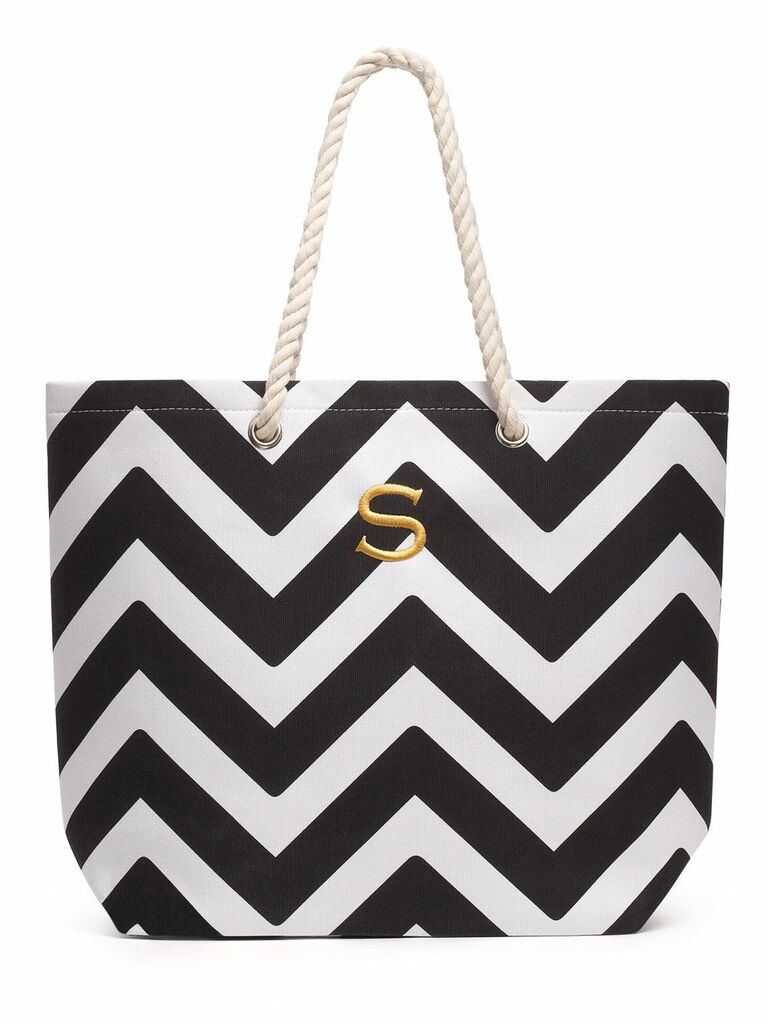 A stylish and versatile tote always comes in handy, whether she's headed off to yoga class or an overnight trip. Get this one embroidered with your wife's name or initials so everyone knows it's hers. Voilà! You've just found the perfect personalized birthday or Mother's Day gift for your wife.  

The Knot Shop personalized extra-large Cabana canvas fabric tote bag, $15, TheKnotShop.com
65. Couple's Christmas Ornaments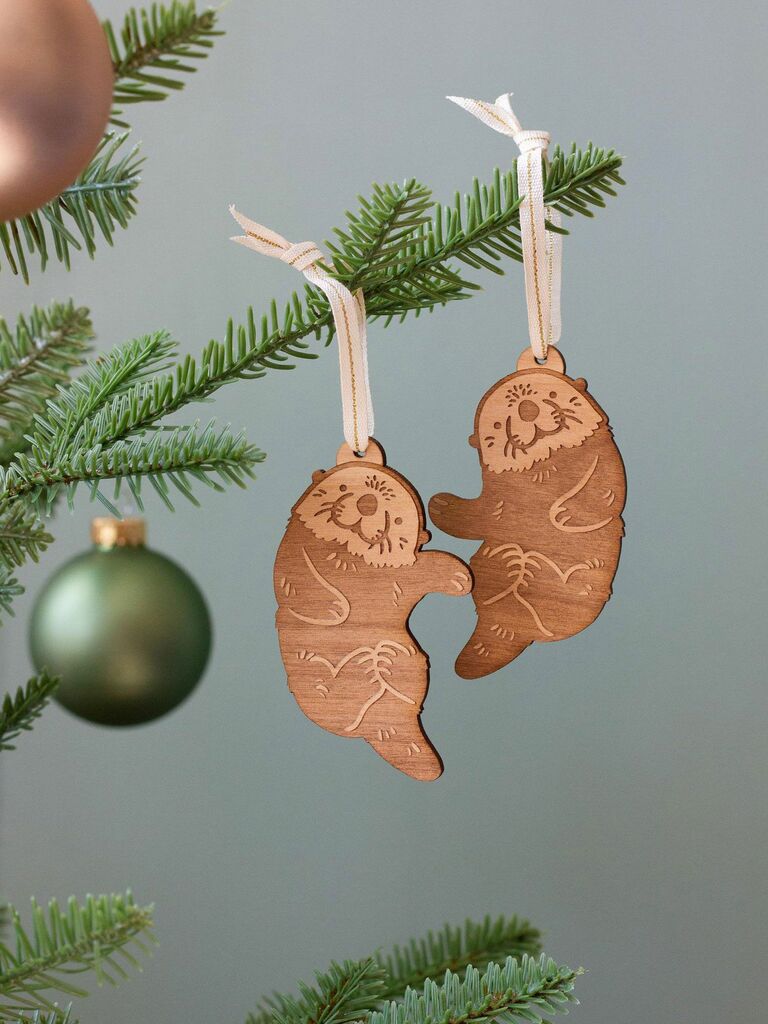 Get in the holiday spirit with a romantic set of ornaments that screams "great Christmas gift for wife." These adorable wooden otters come as a pair and will add extra cheer to your Christmas tree.

Hereafter LA otter pair wood ornament set, from $20, Etsy.com