The Best 20th Anniversary Gifts for Celebrating Two Decades
These thoughtful 20-year anniversary gift ideas won't disappoint.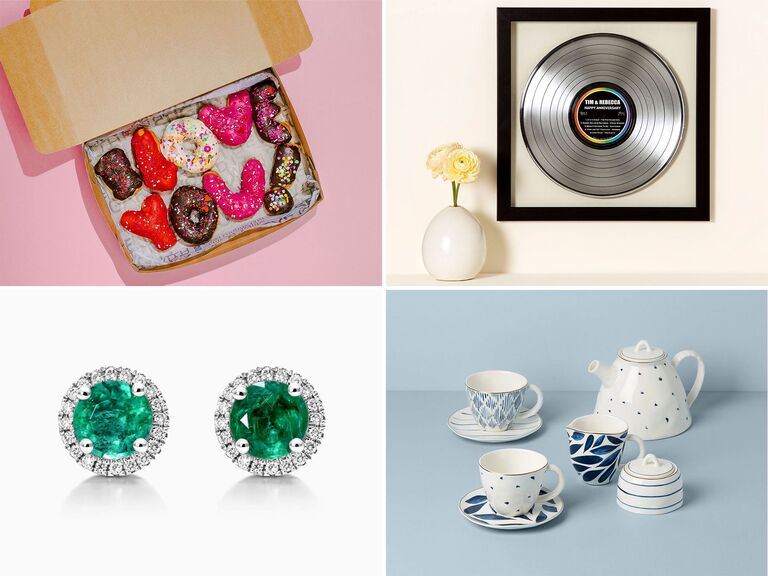 We have included third party products to help you navigate and enjoy life's biggest moments. Purchases made through links on this page may earn us a commission.
If 20 years of marriage isn't something to celebrate, we don't know what is! And if you and your spouse are about to hit this incredible milestone (or you know a couple who is), you might be on the hunt for a meaningful 20th anniversary gift. There are lots of reasons to pick up a thoughtful present to celebrate this special occasion. If you're shopping for married friends or relatives, it's a lovely way to let them know you're proud of everything they've achieved together. On the flipside, buying a romantic gift for your spouse is a sweet way of saying you still love them just as much as the day you said "I do."
By now, you probably already know that there are specific symbols for each year of marriage, from paper for the first anniversary to aluminum for the 10th. Discover all you need to know about the traditional 20-year anniversary gift below (along with some of our top ideas for both on-theme and alternative presents).
In this article:
What Is the 20-Year Anniversary Gift?
Traditional: China
The traditional 20th wedding anniversary gift is fine china or porcelain, which is a beautiful representation of the delicate balance a couple's mastered in their relationship after 20 years together. The traditional material for this milestone is most commonly associated with dishes, but there are lots of cool and unique china-themed presents that go beyond dinnerware.
Modern: Platinum
If you don't think china will be their cup of tea, don't worry. Each anniversary year is also associated with a modern gift material. This time around, it's platinum. Strong and enduring (just like a 20-year marriage), platinum offers some great gifting opportunities (think: shiny jewelry and elegant picture frames).
More 20th Anniversary Symbols
If you want some more inspiration before you dive headfirst into shopping, look to the 20th anniversary color, flower or stone. The color and gemstone are both emerald, representing love and loyalty. The flower is the day lily. As an anniversary symbol, day lilies represent desire and success.
China Anniversary Gift Ideas
If you want to stick to the traditional 20-year anniversary gift, china, there are plenty of unique options to choose from. Below, check out our top picks for your spouse or favorite lovebirds to celebrate the big 2-0.
Emerald and Gold Dinnerware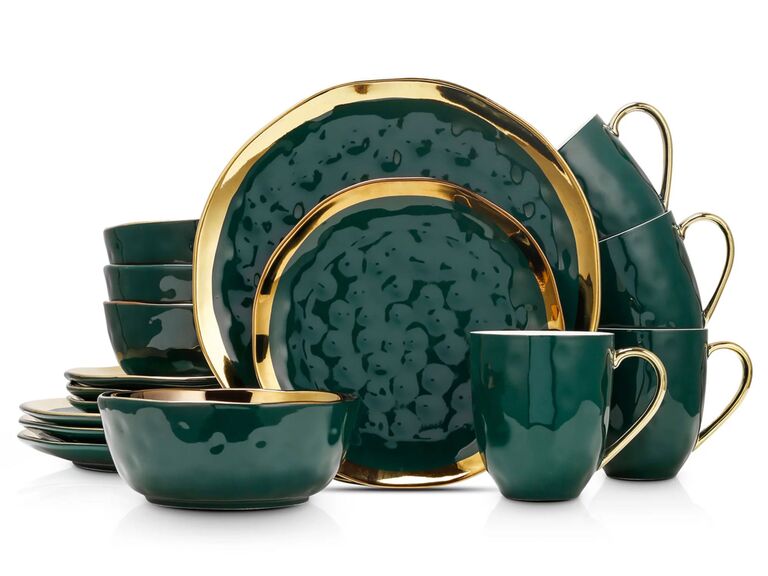 When you first think of china-themed gifts, you probably think of elegant porcelain tableware—like this stunning set of green and gold dinnerware. It comes with four dinner plates, four salad plates, four deep bowls and four mugs. Even better, it checks off two of the 20th anniversary themes: china and emerald.
Dinner Date Gift Set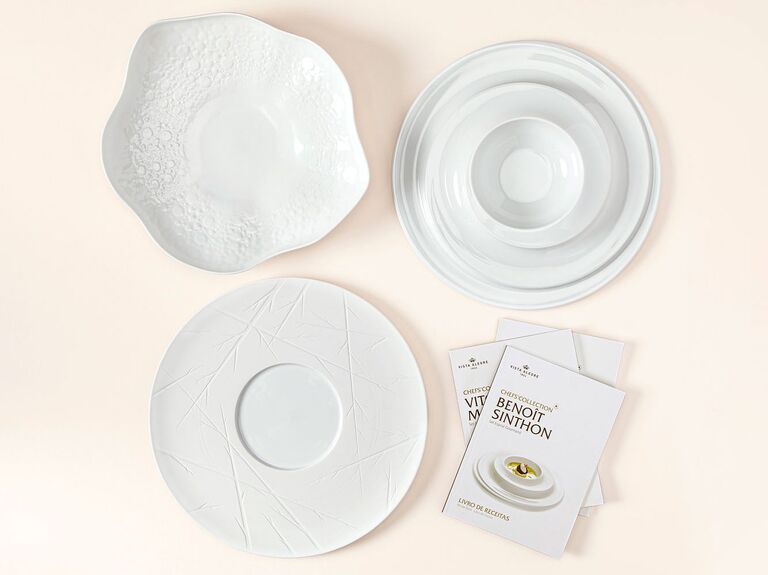 Celebrate your 20th wedding anniversary with a fancy dinner-for-two dishware set. It comes with your choice of high-quality porcelain plates and a recipe book from a world-renowned chef. The book even tells you how to artfully plate the food to make at-home date night extra special.
Engraved Porcelain Coffee Mugs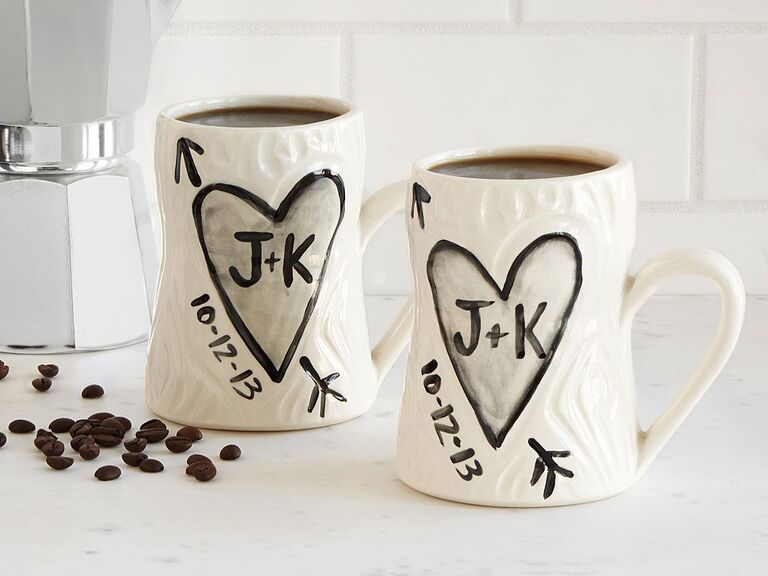 Shopping for morning people? Swap fine dinnerware with a pair of fun coffee mugs. We're obsessed with these handmade porcelain mugs made to look like heart-carved trees. They're painted with the couple's initials and wedding date on a cute faux bois design.
Vintage China Necklace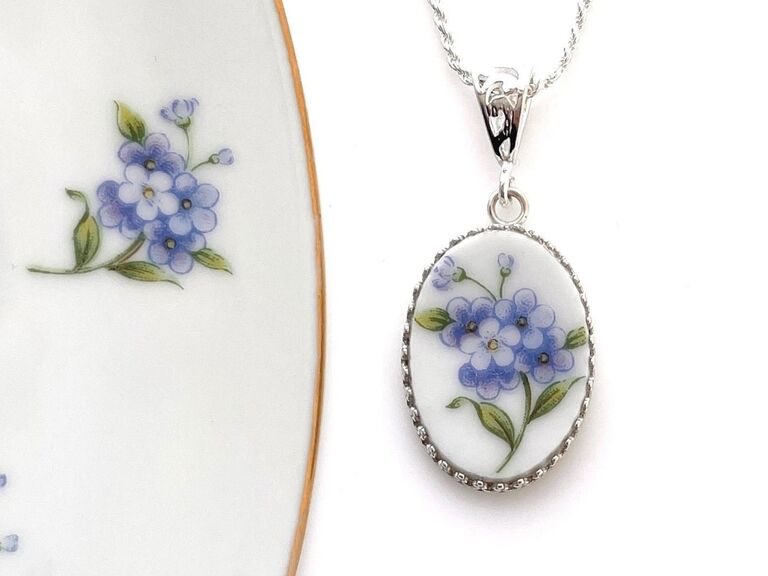 Some of the best china gifts go beyond the kitchen table. Jewelry made with upcycled china is an ultra-unique and totally on-theme 20-year wedding anniversary gift. This pendant necklace is crafted from a repurposed vintage tea saucer. It features a beautiful forget-me-not flower which symbolizes true love and respect. Check out the Etsy seller's page for even more broken china jewelry options, including bracelets and earrings.
Green Porcelain Ring Box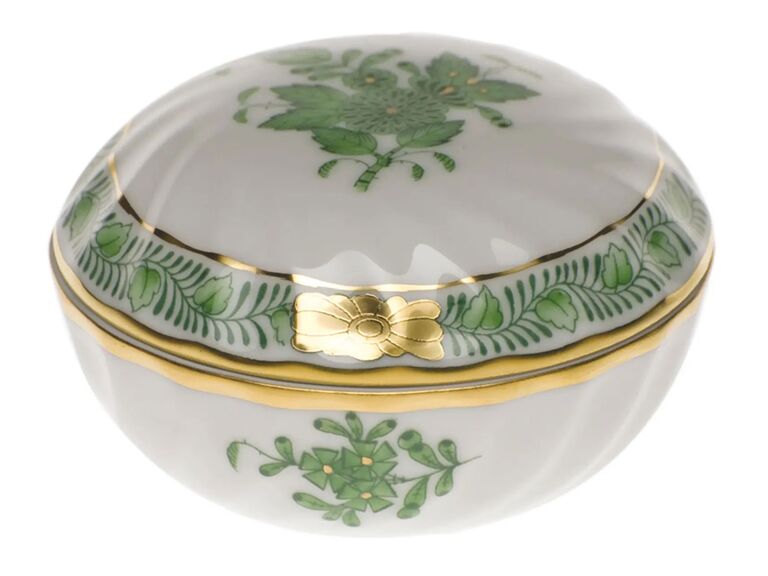 It's just as important to keep your rings safe after 20 years of marriage as it was on the wedding day. After all, they're a symbol of the promises you made to each other at the very beginning of your journey. If your other half doesn't already have a nice trinket dish, this heirloom-worthy ring box makes an excellent anniversary gift. It's decorated with green and gold floral designs for a gorgeous addition to their nightstand or vanity, as well as a nod to the 20th anniversary color.
Premium Porcelain Vase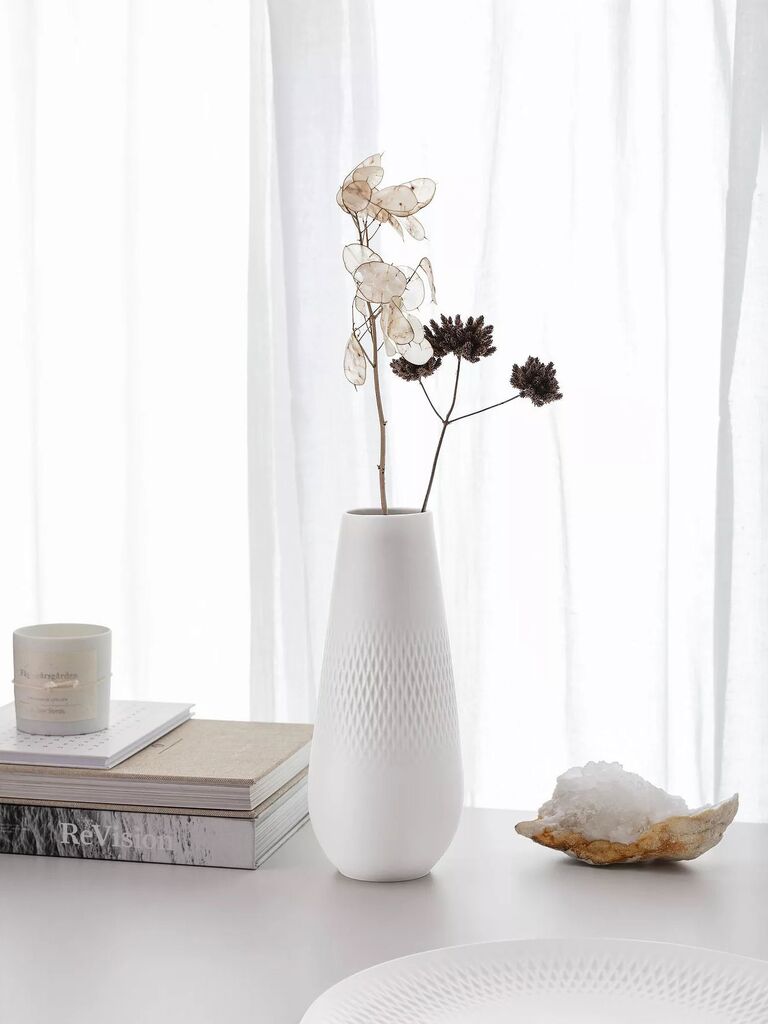 You can't go wrong with a flower vase—especially one that's filled with beautiful blooms. If your other half has a modern sense of style, they'll love this matte beige vase with a chic diamond texture. It's made from premium porcelain for a romantic and thematic 20-year anniversary gift. Add a few daylilies to honor the 20th anniversary flower too.
Custom Keepsake Plate
It's okay to be a little flexible with the 20th anniversary's traditional material. Ceramic can be an easier-to-find alternative to fine china. This commemorative ceramic plate is a great 20th anniversary gift for him, her or your favorite couple. It's painted with a sweet sentiment ("and they lived happily ever after"), along with two names, a wedding date and a cute illustration of a married couple.
Porcelain Pie Dish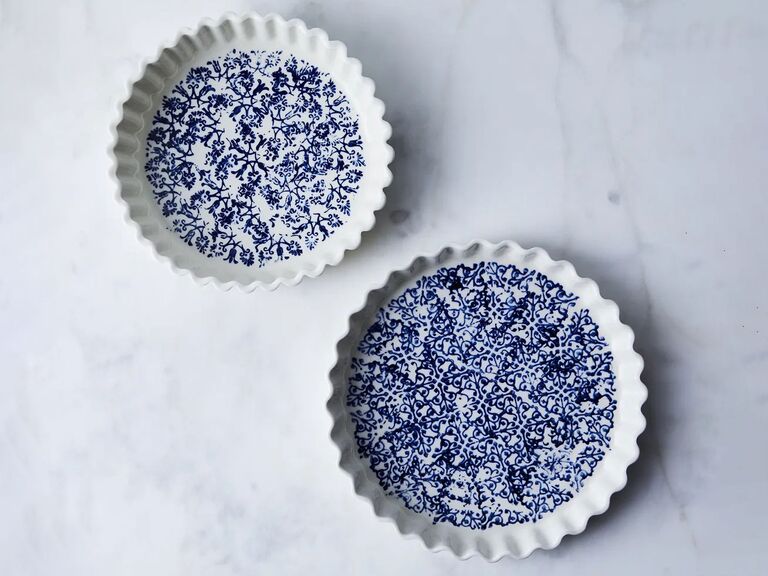 Married to a baker? Pick up a brand new pie dish to add to their bakeware collection. This beautiful porcelain stoneware is hand-stamped with an intricate blue pattern for a surprise reveal with every bite. It's the kind of gift that'll make baking—and entertaining—even more joyful.
Patterned Tea Set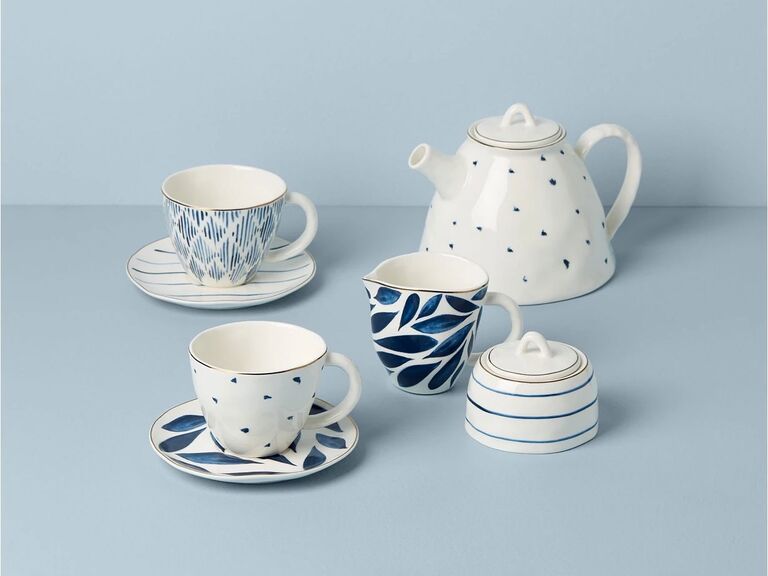 Enjoy an afternoon tea for two with this charming nine-piece tea set. It comes with a teapot, sugar bowl, creamer and two cups with saucers decorated with an assortment of blue stripes, dots, leaves and ikats. This porcelain set is microwaveable and dishwasher safe, making it a practical 20th anniversary gift for everyday use by your tea lover.
Handcrafted Cuff Links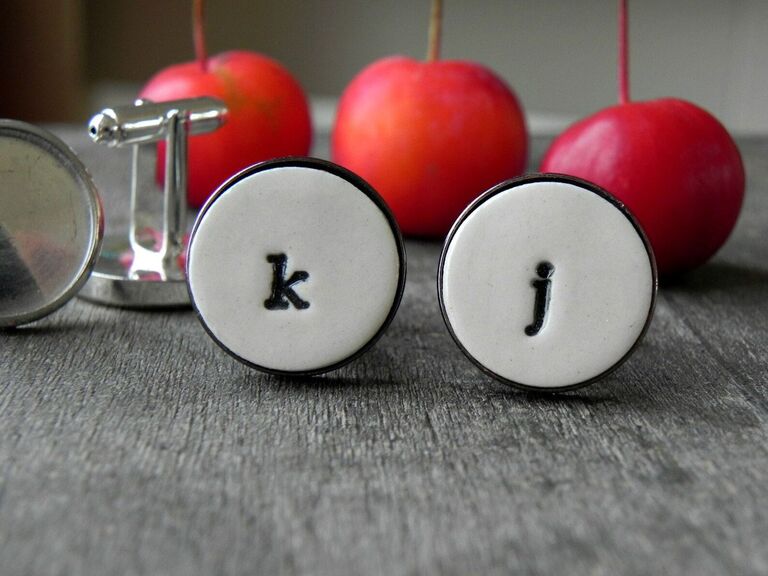 Here's another cool porcelain present we bet they won't expect: a pair of handmade cuff links engraved with their initials. Choose green lettering for a gift that features the anniversary's traditional material and color. Now, your partner just needs something to get dressed up for—perhaps a nice dinner out to celebrate the milestone!
White Doves Figurine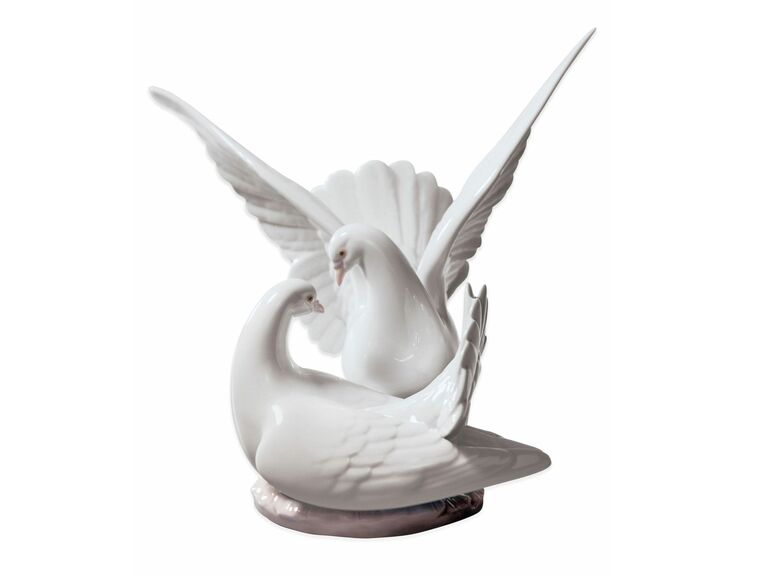 How about lovebirds for the lovebirds? Gift your other half or favorite couple this delicate figurine. Beautiful white doves are handcrafted from fine porcelain as the ultimate symbol of true love. It's a sweet collectible they can cherish for the next 20 years.
Platinum Anniversary Gift Ideas
Whether you need a 20th wedding anniversary gift for your wife, husband or favorite duo, you'll find the perfect platinum present on this list. From sleek accessories to sentimental keepsakes, we've got something for everyone.
Personalized Platinum Record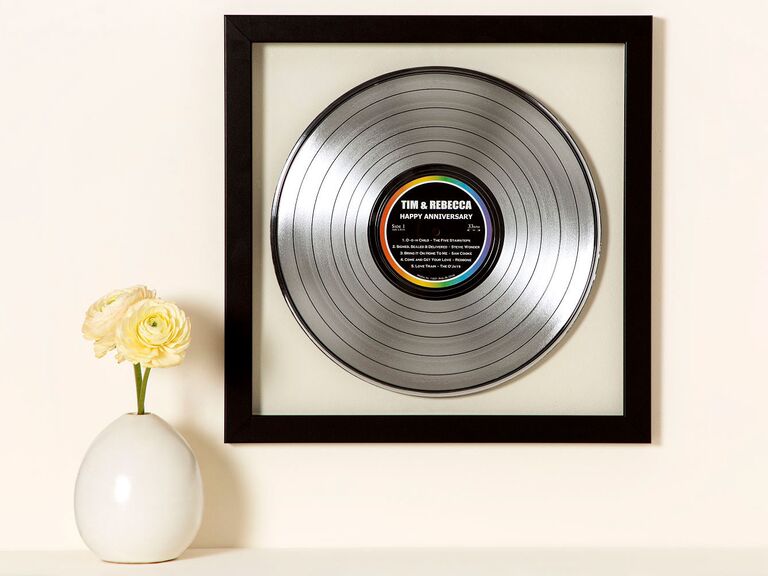 The relationship has finally gone platinum! Mark the occasion with an upcycled vinyl in the metal's shimmering hue. The label is personalized with the couple's name, a custom message (like "Happy Anniversary'') and a list of five special songs (from the wedding playlist, perhaps?). It's one of the coolest 20th anniversary gift ideas we've seen.
Preserved Platinum-Dipped Rose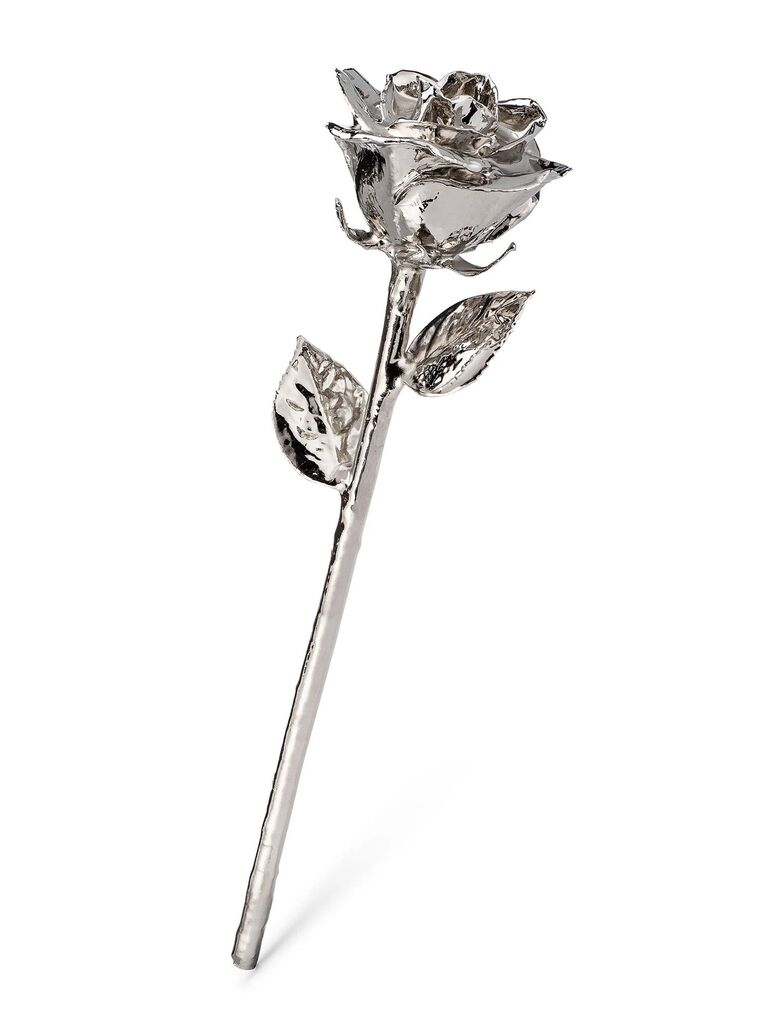 A single rose is a super-romantic gesture, but for two decades, we totally get it if you want to take things up a notch! The Forever Rose preserves real roses in durable lacquer for a permanent symbol of your love. Due to the rarity and hardness of the metal, this platinum-dipped rose is a meaningful symbol of purity, true love and strength. You can also find platinum-trimmed roses which have colorful petals and leaves rimmed with shine.
Platinum and Diamond Ring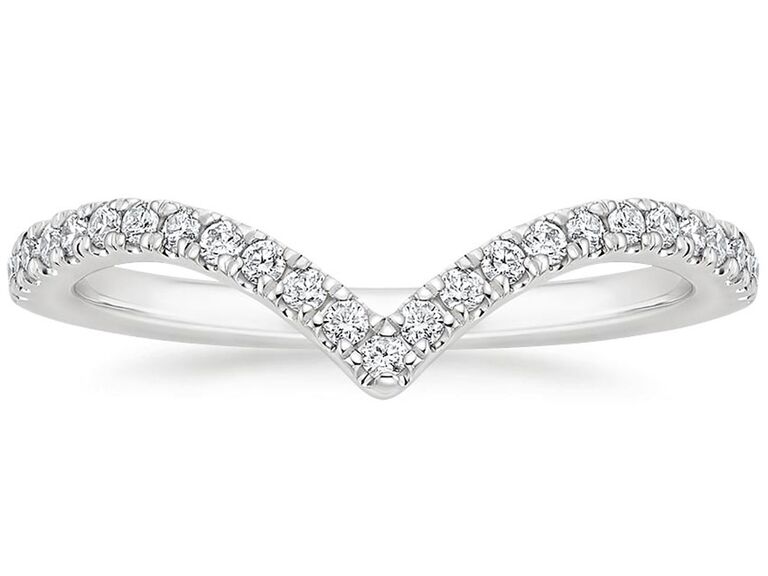 Jewelry is an easy platinum anniversary gift because the metal's incredible durabilty makes it perfect for fine accessories. Twenty years of marriage is the ideal occasion to add another band to your partner's hand. This platinum anniversary ring with pavé diamonds bends into a chevron shape to elegantly stack with any ring they already wear.
Sleek Platinum Band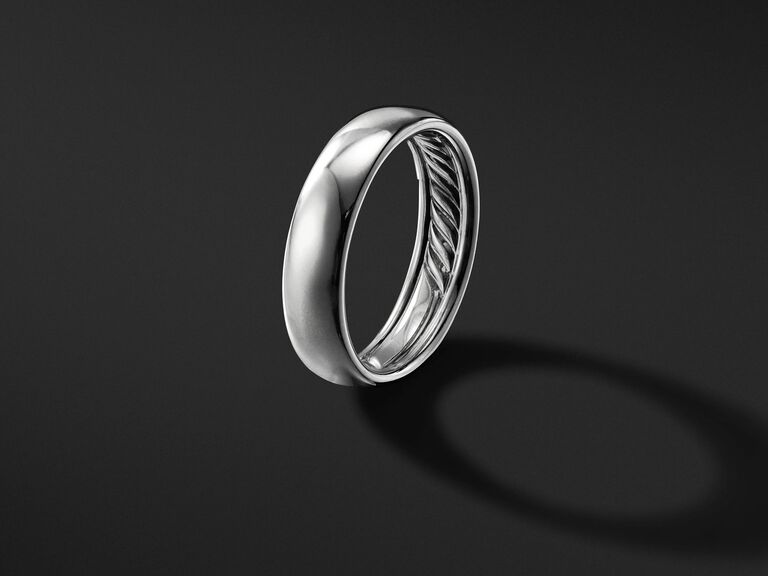 If you've been looking for an opportunity to upgrade your spouse's wedding ring, what better time than the 20-year milestone? This classic platinum band with interior cable engraving and a high-polish finish is a great ring choice. Make things personal by presenting it to your partner over a romantic dinner or plan an elaborate vow renewal in front of your nearest and dearest.
Personalized Platinum-Framed Artwork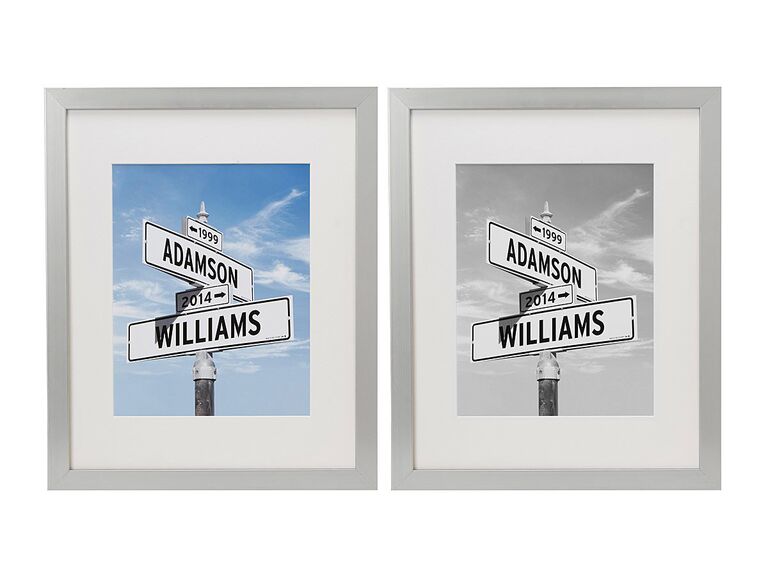 This custom photo print is an adorable platinum anniversary gift. The street signs are personalized with the couple's names, the year they first crossed paths and the year they got married. Have the print finished with a platinum frame to represent 20 years together.
Platinum-Rimmed Champagne Flutes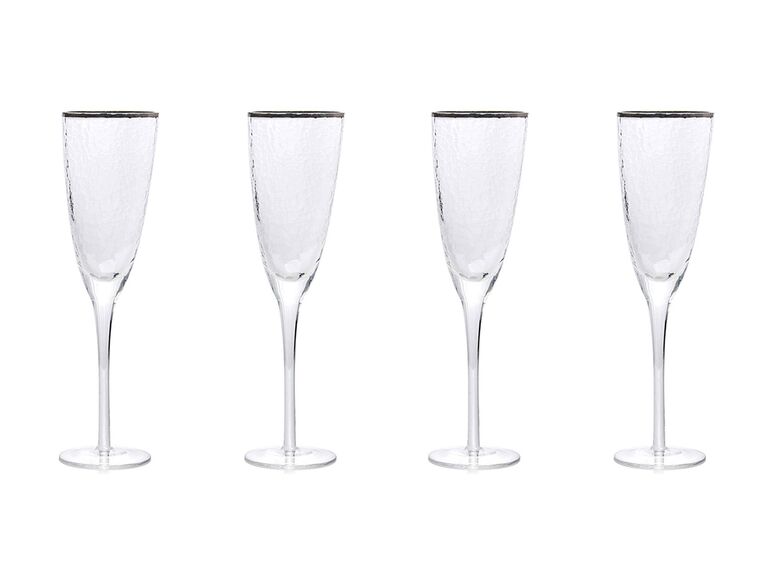 Twenty years together is really something to toast about. Elevate the cheers with new champagne flutes. This set of four has a unique hammered effect and sleek platinum rims for thematic anniversary glassware.
Platinum-Coated Ballpoint Pen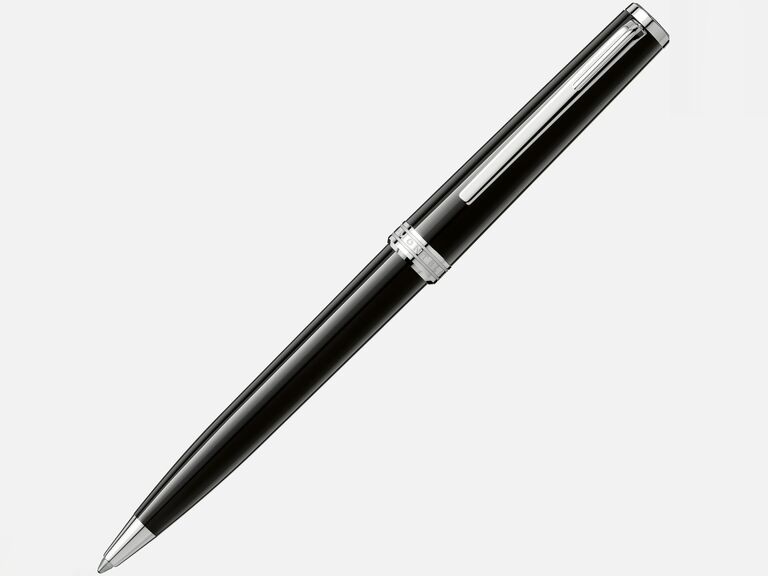 Looking for 20-year anniversary gift ideas for a writer? A sleek ballpoint pen personalized with both of your initials, a sweet message or the date you tied the knot is a meaningful token of your love. Better yet, this stylish gift comes coated in platinum.
Platinum Picture Frame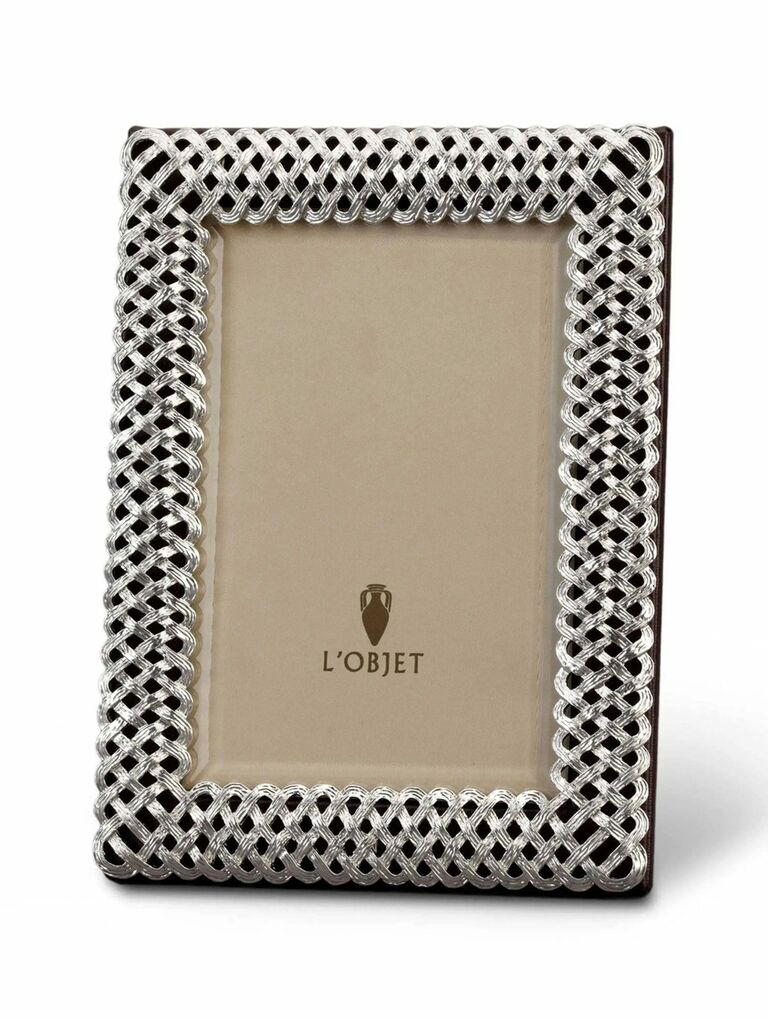 You can't go wrong with a sweet photo gift. This eye-catching frame has a unique braid motif with a platinum-plated finish that'll look uh-mazing on the mantel. Fill it with a sweet snap of you and your spouse and you've got a sentimental 20-year anniversary gift for him or her.
Platinum Heart Necklace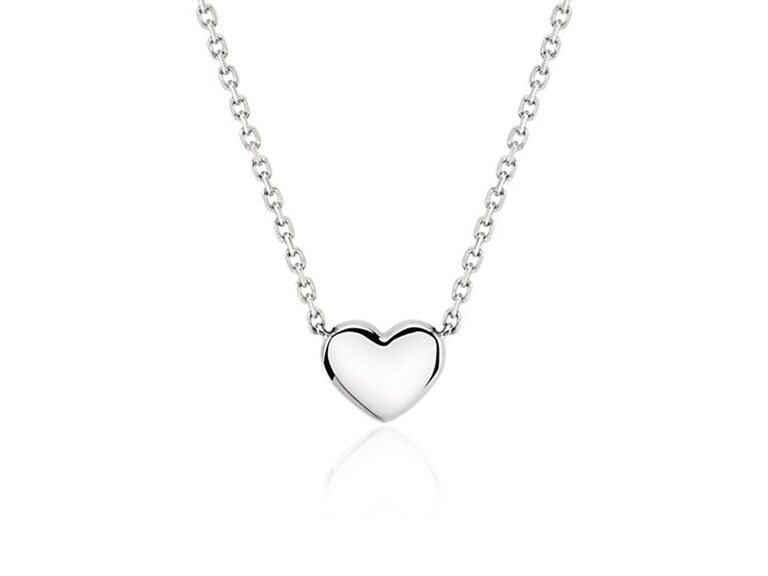 Give your heart away all over again with this cute necklace. It features a petite heart pendant made from platinum metal suspended from a matching cable chain. Every time they wear it, they'll think of you and all the love you've shared over the past 20 years.
Platinum Sound Wave Art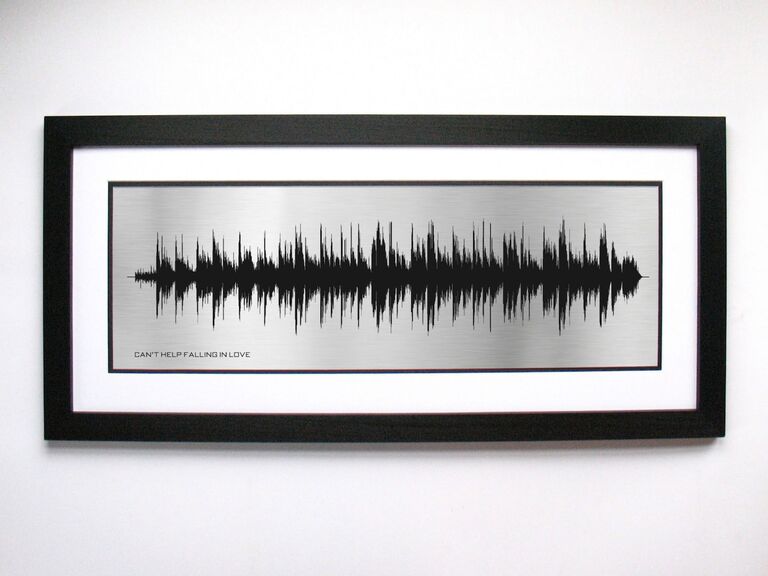 Celebrate your 20th anniversary with an artful recreation of one of your wedding songs. This wall art displays your chosen song as soundwaves for a unique and sentimental piece of home decor. Print the song on platinum-colored aluminum metal or fine paper with a platinum acrylic finish.
Alternative 20th Anniversary Gift Ideas
You don't have to pick a present associated with the traditional or modern 20th anniversary theme. If you don't think china or platinum are the right fit, go with something you know your loved one(s) will appreciate, such as a meaningful art print or some stylish new loungewear. Check out our top alternative gifts for the 20th wedding anniversary.
Custom Canvas Map Art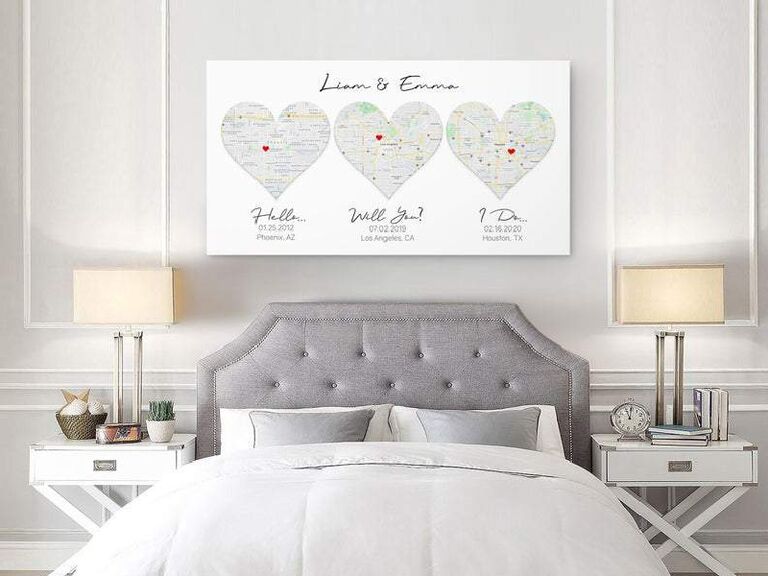 Who wouldn't want their home decor to double as a sweet souvenir? This canvas art commemorates a couple's most cherished moments: the day they met, the day they got engaged and the day they said "I do." It uses three hearts to display the date and location of these milestones—all in celebration of their new milestone: 20 years of marriage. Don't be surprised if there are happy tears.
Washable Silk Loungewear
If there's one thing everyone has learned over the past few years, it's the importance of comfortable and stylish loungewear. Upgrade your partner's PJs with a luxe silk set. This tank top and matching shorts set is thermoregulating, machine washable and effortlessly chic. Plus, first-time customers get $20 off a purchase of $100 or more with the code FOR-TK20.
Smart Indoor Garden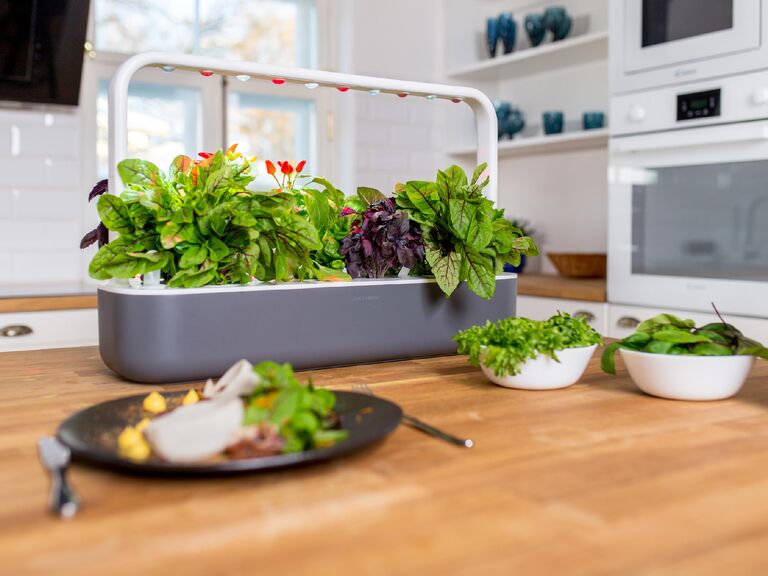 Whether you're shopping for a home chef or an avid gardener, everyone will love a no-fuss indoor garden. Click and Grow smart gardens automate plant care—from watering to light—to make growing herbs, veggies or even flowers easy peasy. It's an anniversary gift that keeps on giving.
Anniversary Newspaper Puzzle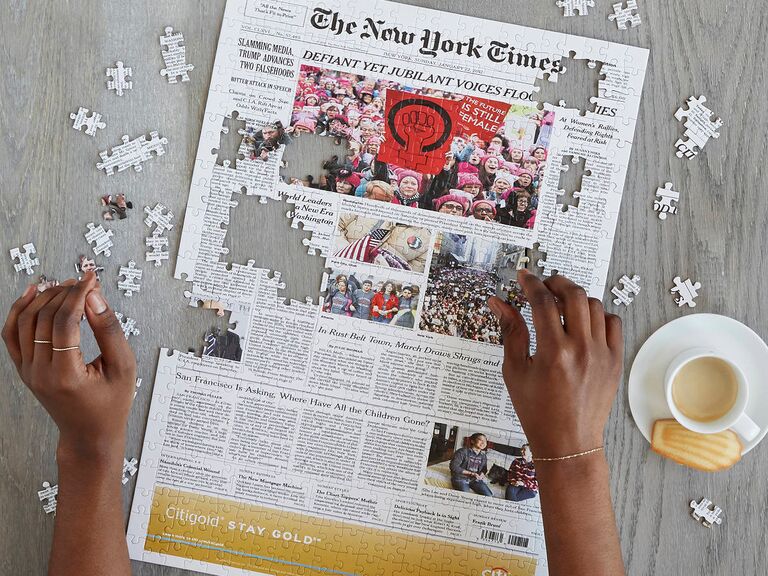 Extra, extra! Celebrate 20 years of marriage with a little time travel. This puzzle isn't just a fun, leisurely activity; once built, it'll show the front page of The New York Times from the day you or the couple got married. Choose between a 500- or 1000-piece challenge.
Vintage Day Lily Print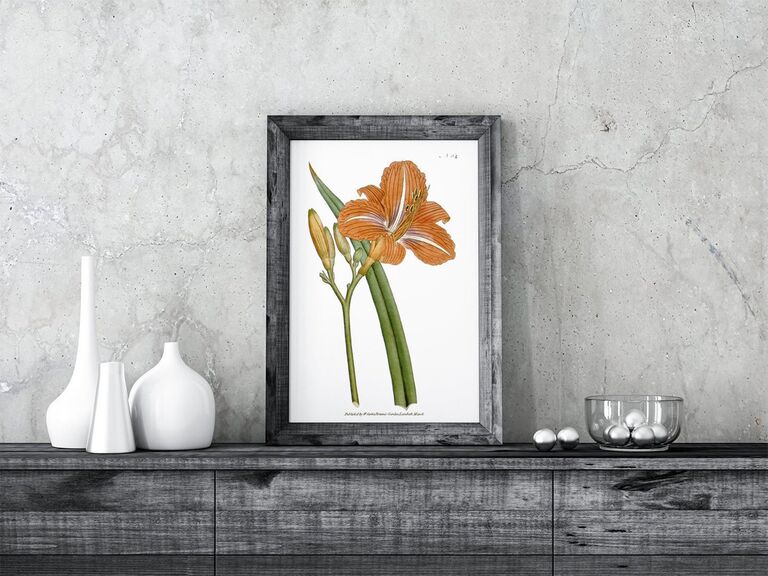 The day lily is the 20-year anniversary's flower and symbolizes love and success. It's another motif to help with your search for the perfect gift. We're obsessed with this antique-style art print showing a tawny day lily. The illustration was originally published in 1788 in The Botanical Magazine, but you can get a copy printed for your home. For a display-ready present, have it framed before handing it over. It'll add a vintage element to your spouse's desk or dresser.
Emerald and Diamond Earrings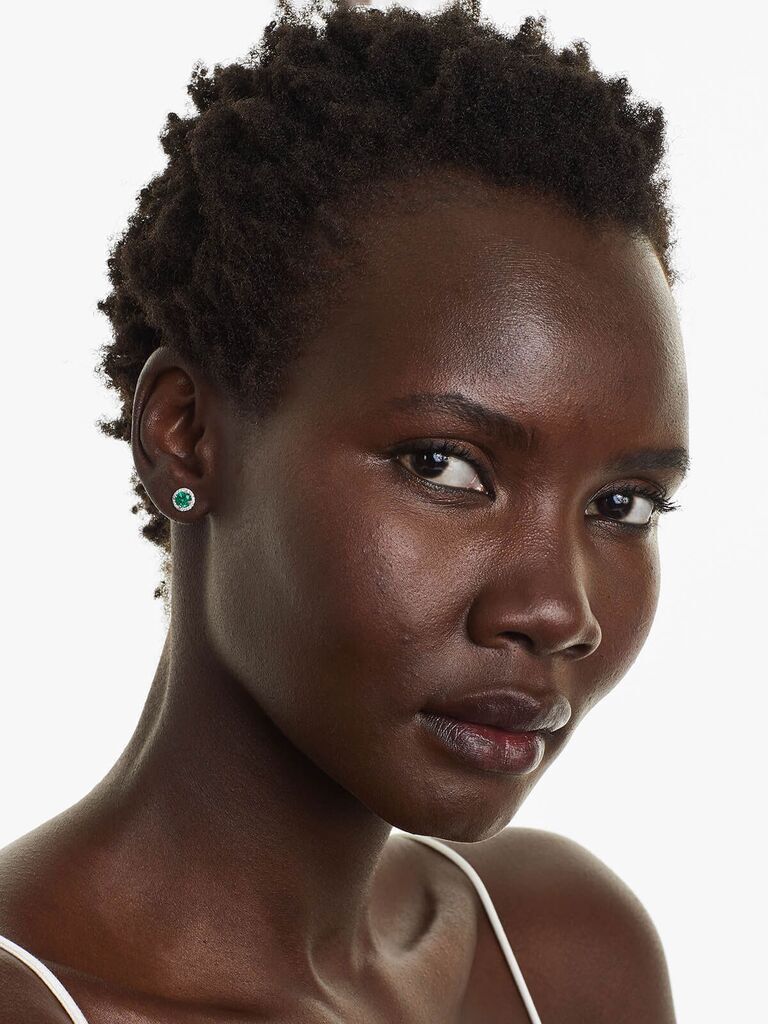 If you want to nod to one of the milestone's unique symbols, don't forget the 20-year anniversary gemstone: emerald. This gorgeous pair of earrings has emerald studs encircled in pavé diamonds and set in 18K white gold. They're classic accessories that'll really wow your partner.
Portable Pizza Oven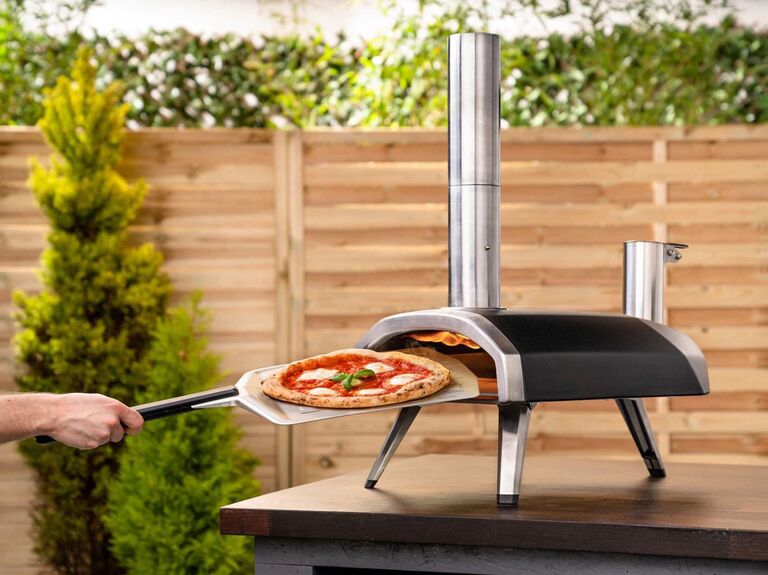 If you're looking for a trendy product anyone will love, look no further than the Ooni pizza oven. This portable wood-fired pizza oven uses hardwood pellets and an innovative gravity-fed pellet hopper for effortless and authentic cooking. It's the perfect anniversary gift and party idea.
One-of-a-Kind Cutting Board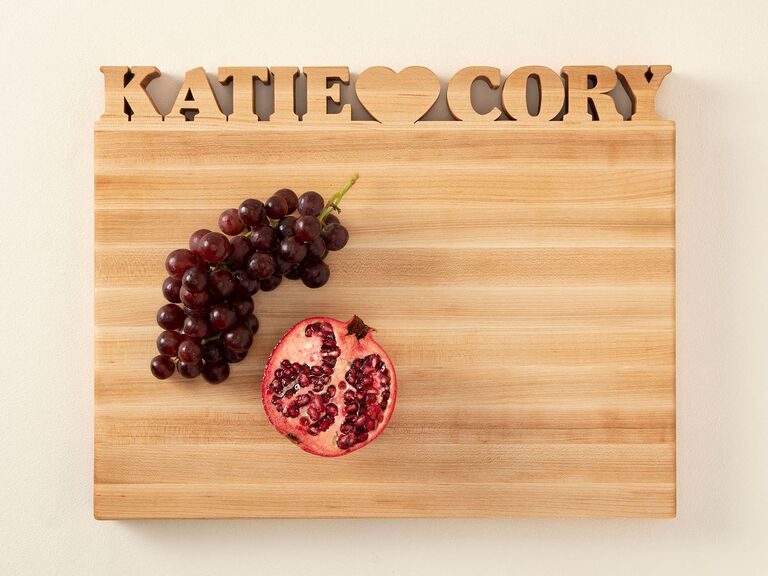 When it comes to wedding anniversary gift ideas for a couple, you can't go wrong with unique serveware. This sturdy wooden cutting board displays their names joined with a heart carved into the top. It's a present that's equal parts personal and practical—they'll love to leave it out for display and use it as a food tray at dinner parties.
Rustic Couples Sign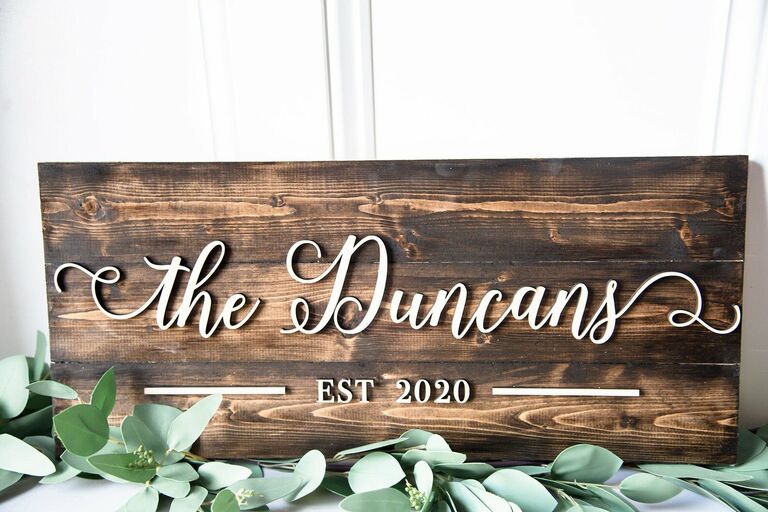 If they're two decades in and still radiating with pride in their relationship, they'll love this rustic family sign. The stained wooden slab features the couple's shared last name (if they have one) and "established" date. It's great for welcoming guests into their home.
Cozy Wool Sweatshirt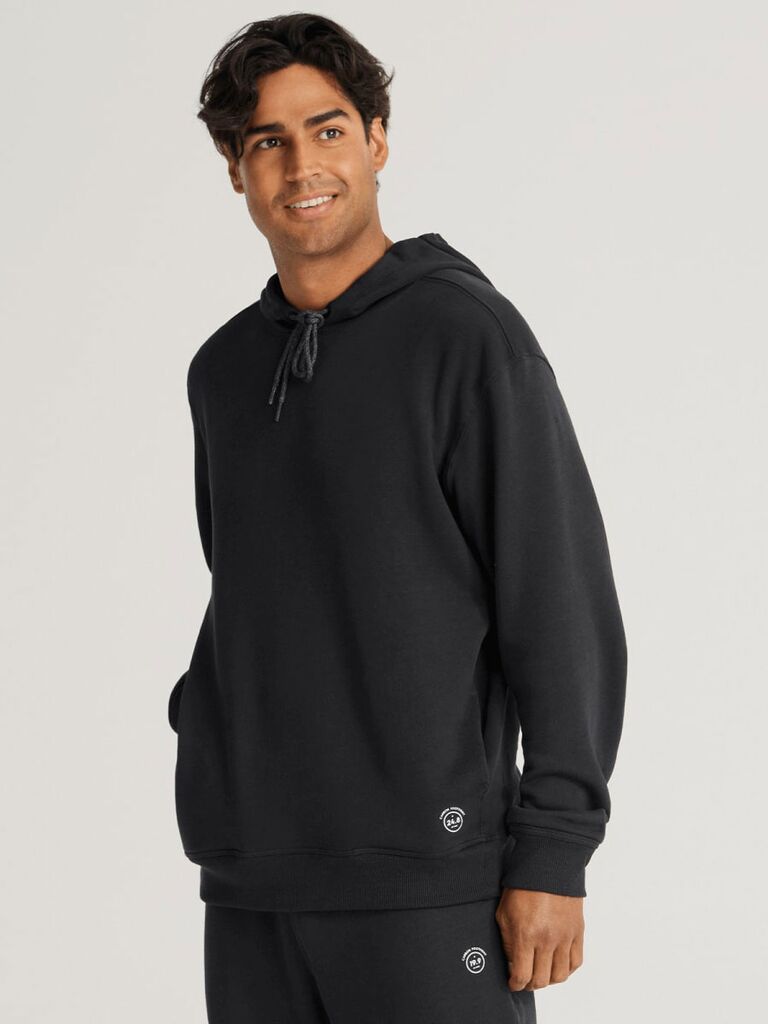 Who doesn't love athleisure? Upgrade your spouse's wardrobe with this elevated merino wool hoodie. The textured finish feels slightly more dressy than a regular hoodie, making it a chic addition to your partner's everyday attire while still feeling ultra soft. There are even matching sweatpants.
I Love You Donuts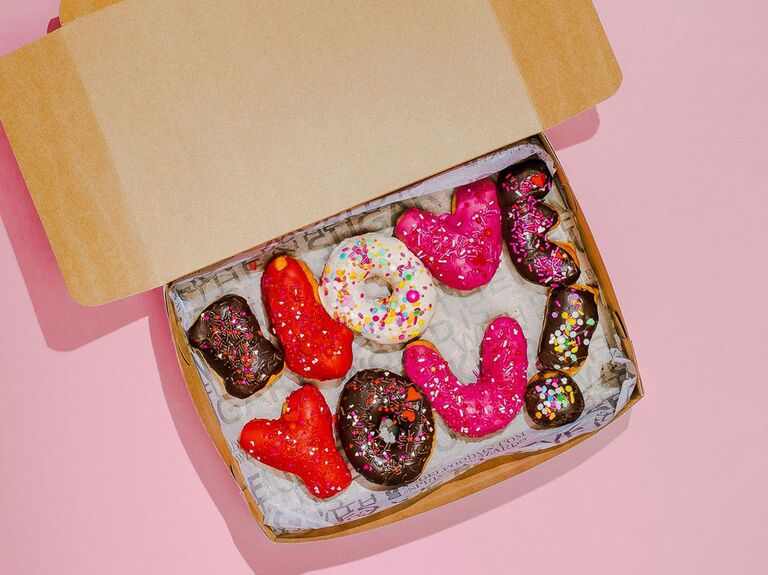 On the hunt for a unique 20th anniversary gift for your husband or wife with a sweet tooth? Nothing says "I love you" like these donuts—literally! Angel Food Bakery ships nationwide in the US, so you can wake up your spouse with a box of delicious donuts. Not into breakfast sweets? Goldbelly has tons of delicious desserts from some of the nation's top culinary talent to choose from.
Custom Key Chain Keepsake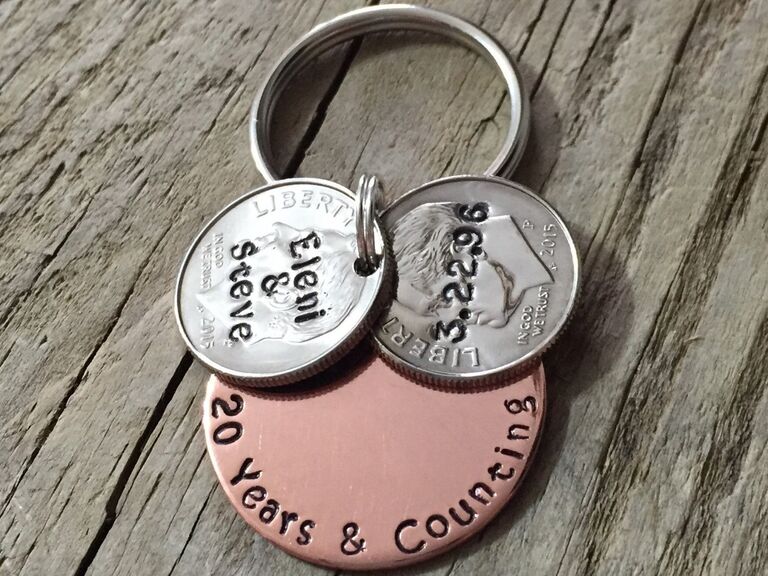 Looking for a really unique and sentimental gift for this milestone anniversary? Consider this key chain adorned with two dimes—which represents a total of 20 years—and a sentimental disc that reads: "20 years and counting." The best part? You can have the dimes hand-stamped with your names and wedding date.