20th Anniversary Gift Ideas Your Spouse (or Favorite Couple) Will Love
Looking for the perfect 20-year anniversary gift for your wife, husband or favorite spouses? Shop the best presents here.
by The Knot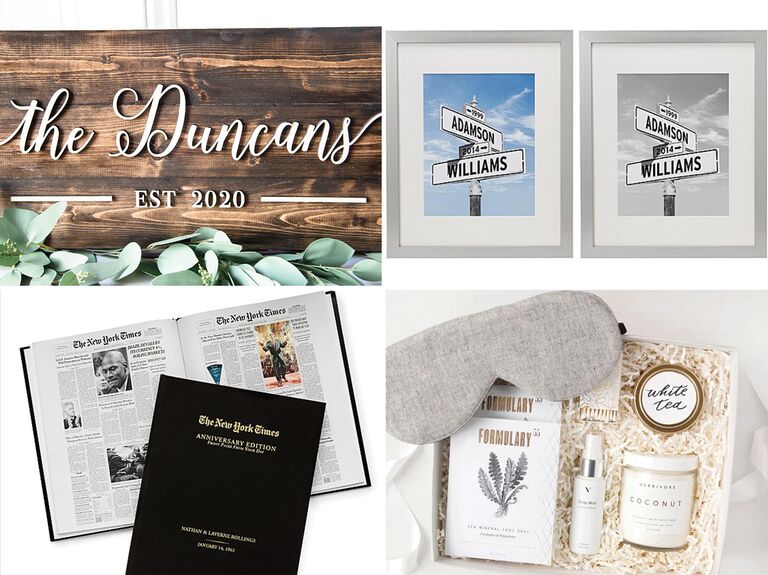 Congrats! You've made it to a milestone 20 years with your spouse (or have a loved one who has), and now comes the hard part: picking out that perfect 20th anniversary gift.
You might be familiar with the traditional "anniversary materials," whether it's paper for your first anniversary or aluminum for your 10th. Every year signifies a new landmark and a new symbol of your love. The 20-year anniversary gift material is china from a classic perspective, while its modern counterpart is platinum (but you also have free range to get whatever you see fit). Read more about buying a 20th wedding anniversary gift below, plus get plenty of awesome shoppable gift-spiration.
What is the gift for the 20-year anniversary?
Traditional: China
Traditionally speaking, the material that represents the 20th anniversary gift is china. It brings meaning to the delicate, beautiful and elegant relationship you've built after 20 years together. And china gifts don't just mean formal dinner plates (although those work too)—there are plenty of other 20-year anniversary gift ideas that work outside the dining room.
Modern: Platinum
A more modern option for a 20th anniversary gift? Platinum, which is strong and enduring, just like your 20-year-long marriage.
In this article:
20th Anniversary Gift Ideas for Her
When it comes to picking out a 20-year anniversary gift for your wife, you're certainly not relegated to china or platinum if that's not what she's into. It's totally okay to think outside the box (or stick to classic gifts you know she'll love) when looking for the perfect 20-year anniversary gift for her. On that note, here are some awesome presents that aren't based on traditional materials. And while we've broken our inspiration out by gender for your convenience, these presents honestly work for anyone!