Understanding Traditional Wedding Flower Meanings
Fill your wedding designs with blooms that are meaningful as they are beautiful.
We have included third party products to help you navigate and enjoy life's biggest moments. Purchases made through links on this page may earn us a commission.
Flowers are an integral part of the decor of a wedding day, but you may not have realized that they can also play a big part in the storytelling of the day. Many flowers have certain symbolic meanings ascribed to them. So beyond just thinking about what flowers will be in season on your big day and what colors you're focusing on, consider designing your wedding floral arrangements with their meanings as a deciding factor.
In this story:
The Importance of Flower Meanings
The idea of flower meanings isn't anything new, but as you're in the midst of wedding planning and creating an event that's uniquely your own, you may want to take the tradition and adapt it slightly to fit within your overall vision and wedding theme. In order to do so, it's important to know a bit about the study of flower meanings, how to research meanings, and even if there are certain blooms to avoid in your wedding decorations, bouquets and centerpieces.
The History of Flower Meanings
Floriography, or the language of flowers, is the study of communication through flower arrangements. For centuries and across multiple cultures, symbolism has been tied to certain flowers. Even Williams Shakespeare made use of floriography in many of his works, such as Henry VI when Englishmen picked red or white roses as symbols of their allegiance.
Victorian England in the 19th century played a critical role is the mass popularization of the language of flowers. During this time, people began using flower arrangements to send coded messages to the recipients to convey things they felt couldn't be said aloud at the time. To this day, many of the symbols we associate with certain flowers as in line with the meanings they were given during Victorian times. "There can be several and sometimes opposing meanings to certain flowers, but much of what was defined in the Victorian era is still considered relevant for today," explains floral expert Yumiko Fletcher of Hana Floral Design.
How to Research Flower Meanings
Beyond the in-depth wedding flower meaning guide we've curated below, many florists cite Kate Greenaway's book The Language of Flowers as a must-read resource on the topic. Though it was first printed in 1884, the content continues to be seen as relevant and noteworthy by the floral modern community. Another great resource is a 2011 novel by the same name from Vanessa Diffenbaugh.
Flowers to Avoid at Weddings
Not every symbolic meaning attached to a flower is a positive one. Some flowers represent mourning or other generally negative emotions and virtues that don't quite align with wedding celebrations. Fletcher explains how peonies, now a beloved wedding flower, "were once used to declare 'anger,' yet in Japan, the peony is known for bravery, courage and good fortune. So flowers can have multiple meanings depending on the country."
Petunias are sometimes said to embody a soothing presence, but they also represent resentment and anger which many couples wouldn't want to include in their wedding. Similarly, daffodils represent respect, however, they also represent unrequited love, which isn't a theme most would opt to include in a wedding. Much like daffodil's unrequited love, lotus flowers are said to symbolize estranged love. Ultimately, it's important to understand the many varied meanings a flower could have and see whether they align with your wedding vision.
The Importance of Color in Flower Meanings
For flowers that come in a variety of colors, the meaning may change depending on which hue you've selected. Fletched explains that this is especially true of roses. "For example, roses are still very much a symbol of love, especially the red rose. A white rose is still known as a symbol of purity. However, a yellow rose, which can be viewed as a sign of friendship, also carries the meaning of jealousy or even, infidelity." Additionally, with chrysanthemums, red ones mean 'I love you,' but yellow ones are said to represent slighted love.
Because of the way that color can change the language of flowers, you may want to think beyond just which flower varieties you utilize and allow floriography to inform your color palette as well.
Incorporating Personal Meaning into Flower Arrangements
Beyond the commonly accepted meanings for flowers, couples should think about any personal sentimental attachments they may have to certain blooms. You should feel empowered to bring the symbolism you associate with specific flowers into your own wedding bouquets, boutonnieres and centerpieces.
"Many engaged couples wish to have specific flowers that are either sentimental to them personally, or as a beautiful homage to a dearly departed family member," says Fletcher. "It's a lovely way of adding meaning behind the types of flowers used for one's wedding." Did your grandmother always fill her house with hydrangeas? Then consider decorating the ceremony aisle with lush hydrangeas as a nod to her. Did your partner give you a bouquet of wildflowers they picked during an especially memorable road trip early on in your relationship? Let that fond memory serve as inspiration for your wedding flowers.
Popular Flowers to Use at Weddings and Their Meanings
As you're working with your floral designer to plan out the details of your wedding floral arrangements, consider incorporating the following popular flowers whose symbolism befits a wedding day beautifully. Even if you don't plan to use a certain flower throughout your entire wedding, thoughtfully incorporating a meaningful bloom in certain aspects of your wedding can do wonders in conveying emotion on your big day.
Alstroemeria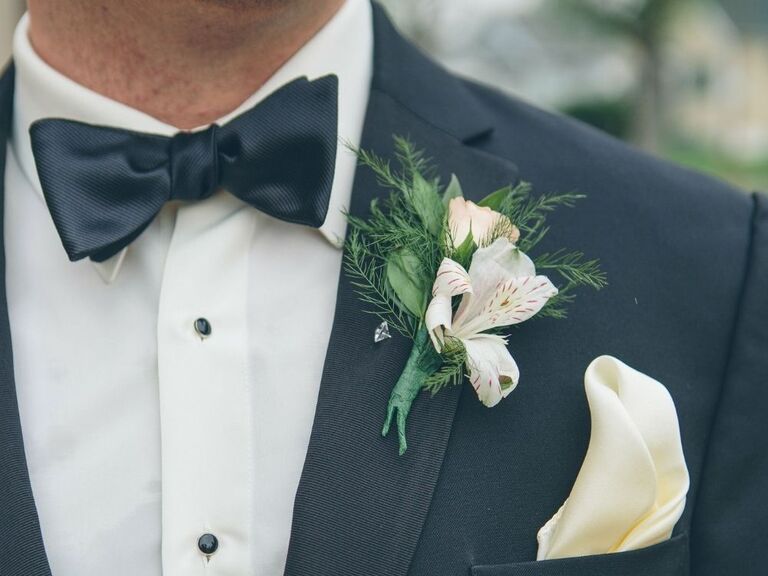 Alstroemeria symbolizes devotion, wealth, prosperity and fortune—all good things to wish upon your new life as a married couple.
Amaranthus
Amaranthus symbolizes unfading love.
Baby's Breath
Baby's breath generally symbolizes innocence and purity of heart. However, Fletcher adds that it can also stand for everlasting love.
Birds of Paradise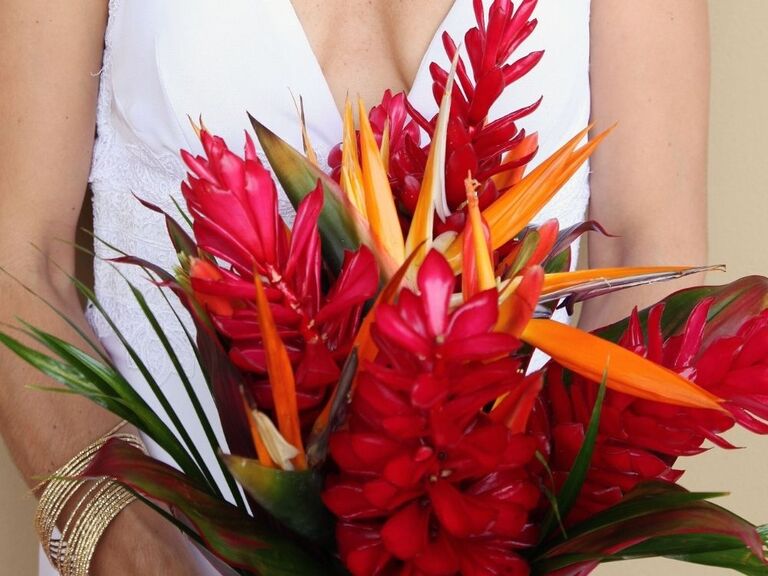 Often spotted at tropical weddings, birds of paradise represent faithfulness.
Cactus
It's no surprise that endurance is associated with cactus plants as the botanical is used to enduring harsh circumstances in the desert.
Camellia
Camellias, which come in a variety of colorways, are a bloom whose meaning changes depending on the color. In general, all camellias symbolize gratitude and perfection. Additionally, red ones stand for unpretending excellence and the feeling that "you're a flame in my heart." Meanwhile, white camellias communicate perfected loveliness and "you're adorable," in the language of flowers. Lastly, pink camellias convey longing.
Carnation
Carnations are another flower whose meaning changes from color to color. White carnations symbolize pure love and adoration. Pink carnations say "I'll never forget you." However, couples may wish to avoid yellow carnations as they're said to convey disappointment and rejection.
Chrysanthemum
Chrysanthemums, or mums, stand for hope.
Dahlia
Lush dahlias, much beloved in the wedding world, stand for dignity and elegance.
Daisy
Daisies symbolize loyal love, gentleness and innocence.
Eucalyptus
Eucalyptus is often used as filler throughout wedding designs which is great since it brings with it a sense of protection.
Fern
Ferns stand for fascination, sincerity and magic.
Gardenia
Gardenias represent purity, sweet love and communicate the sentiment that "you're lovely."
Ivy
Ivy is a symbol of fidelity, wedded love, affection and friendship—all wonderful virtues to include on a wedding day.
Jasmine
The meaning of Jasmine changes depending on which color you select, but each shade brings with it beautiful symbolism. White jasmine is for amiability while yellow for modesty, grace and elegance.
Lavender
Lavender is a great fit for weddings as it symbolizes loyalty, love and devotion.
Lilac
White lilacs represent youthful innocence and purity. Meanwhile, purple lilacs represent the first emotion of live.
Lily of the Valley
Fletcher explains that "another popular flower for springtime is the ever so dainty lily of the valley. A sweet little bouquet of these means the 'return of happiness.' What a lovely sentiment for the couple!"
Lily
Based on color and variety, the meaning associated with lilies can vary greatly. Calla lilies are generally associated with a sense of magnificent beauty. Meanwhile, tiger lilies are a symbol of wealth and pride.
Olive Branch
Within the language of flowers and plants, the meaning tied to olive branches is one of the most commonly recognized—they stand for peace.
Orchid
Orchids are a beacon of refined beauty.
Passion Flower
When thinking through incorporating the language of flowers into your wedding day, don't limit yourself to the use of only fresh flowers. Even imagery of flowers and floral motifs can nod to the symbolism tied to a particular flower. Passion flowers, seen illustrated here, represent faith.
Peony
Peonies are generally said to represent a happy marriage, properity and bashfulness.
Ranunculus
Fletcher explains one flower whose meaning she particularly likes is the ranunculus. "We love ranunculus and use them in most weddings and their actual meaning is 'little frogs' derived from the Latin 'rana' and 'unculus.' Likely because they grew in the springtime and were plentiful near streams and such, much like a spring frog! They symbolize attraction, charm or radiating with charm."
Rose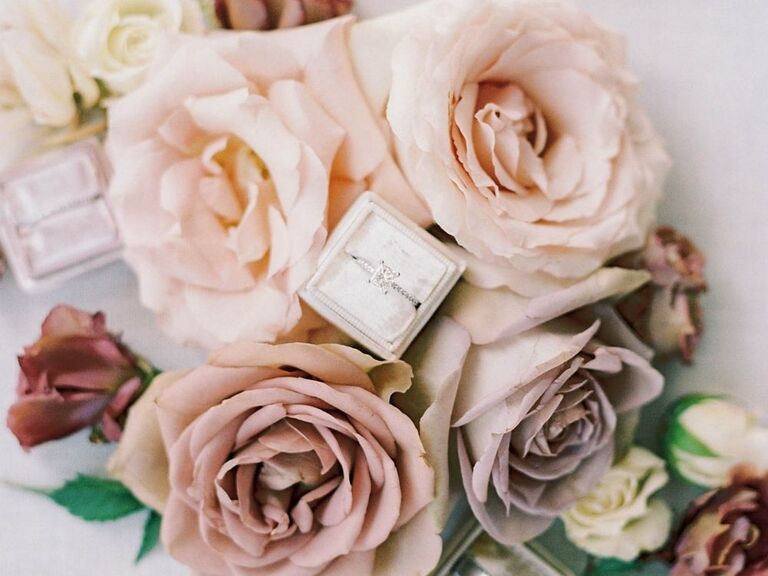 Roses come in a variety of colors and, as such, have many different meanings. Red roses mean love and design. White roses symbolize charm and innocence. Pink roses are for perfect happiness and orange roses mean fascination. Additionally, yellow roses stand for friendship, joy and gladness.
Rosemary
Rosemary is a symbol of remembrance. If you plan to have a table of photos honoring loved ones who've passed and aren't in attendance at the wedding, decorating that space with rosemary would be an especially meaningful touch.
Smilax
Smilax, a commonly used leafy vine, is a symbol of loveliness.
Stephanotis
Stephanotis stands for marital happiness.
Stock
Stock communicates a sense of affection, lasting beauty and the sentiment that "you'll always be beautiful to me."
Tulip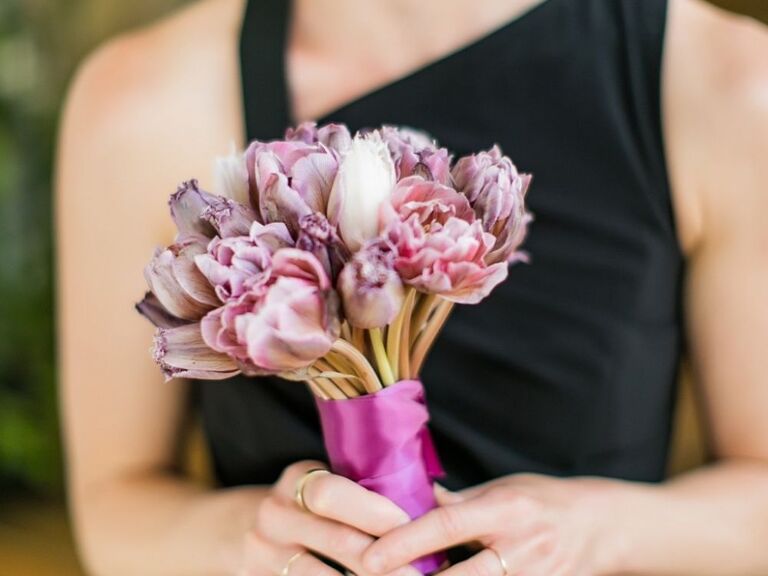 Overall, tulips are a symbol of love and passion. Specifically, red tulips are a declaration of love, white tulips stand for worthiness in love and yellow tulips convey the feeling that "there's sunshine in your smile."
Wisteria
Wisteria is a hospitable plant that means welcome.
Additional Meaningful Flowers to Consider for Your Wedding
Ambrosia Your love is reciprocated

Aster Symbol of Love, Daintiness

Bells of Ireland Good luck

Celosia Unfading love

Cornflower Delicacy, Refinement

Forget Me Not True love, Faithfulness, Remembrance

Forsythia Anticipation, Innocence

Freesia Innocence, Trust, Friendship

Gladiolus Strength of character, Generosity

Hibiscus Delicate beauty

Honeysuckle Generosity

Iris Faith, Valour, Wisdom, Friendship

Lemon Blossom Fidelity in love

Magnolia Nobility, perseverance, and love of nature

Morning Glory Affection

Orange Blossom Innocence, Purity, Eternal love, Marriage

Pansy Thoughtful reflection, Merriment

Phlox "Our souls are united"

Queen Anne's Lace Haven, Fantasy

Spider Flower Elope with me

Statice Remembrance

Veronica Fidelity
Sources:
Diffenbaugh, V. (2012). The language of Flowers: A novel. Ballantine Books.
Greenaway, Kate, and Edmund Evans (2010). Language of Flowers. Pook Press.