Toast the Groom-to-Be With These 20 Bachelor Party Invitations
Whether you're planning a wild night out or a chill weekend camping, there's an invitation to fit your event.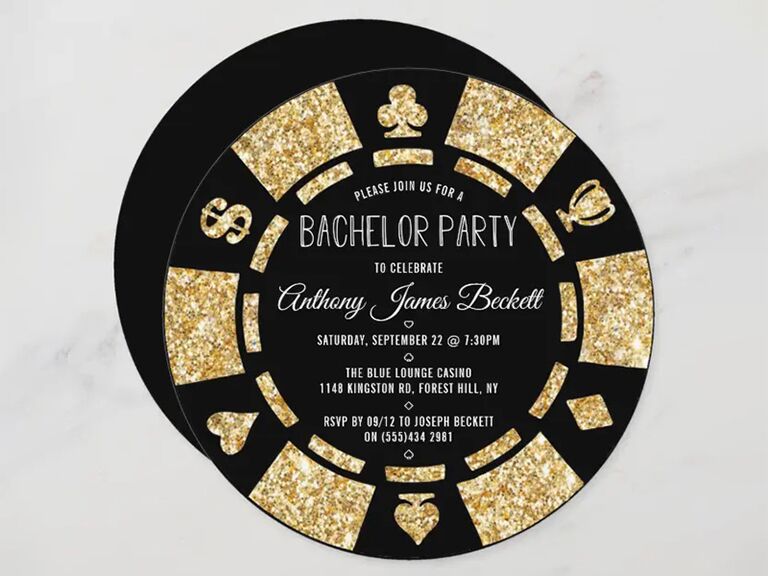 We have included third party products to help you navigate and enjoy life's biggest moments. Purchases made through links on this page may earn us a commission.
From simple backyard barbecues to all-out bashes in Las Vegas, every bachelor party is legendary in its own right. Get the party started with bachelor party invitations that hint at what's to come on the groom-to-be's big night.
We did some serious digging to unearth the best bachelor party invites out there that work with all sorts of party planners. We're talking about the guy who can only do things on his phone—forget traditional invitations. Or, the one who doesn't know what RSVP stands for—we see you. Some of these invitations work hard for the money while others simply look amazing. It's up to you to decide which is right for your guest list.
Charmalot Las Vegas Marquee Bachelor Party Invitation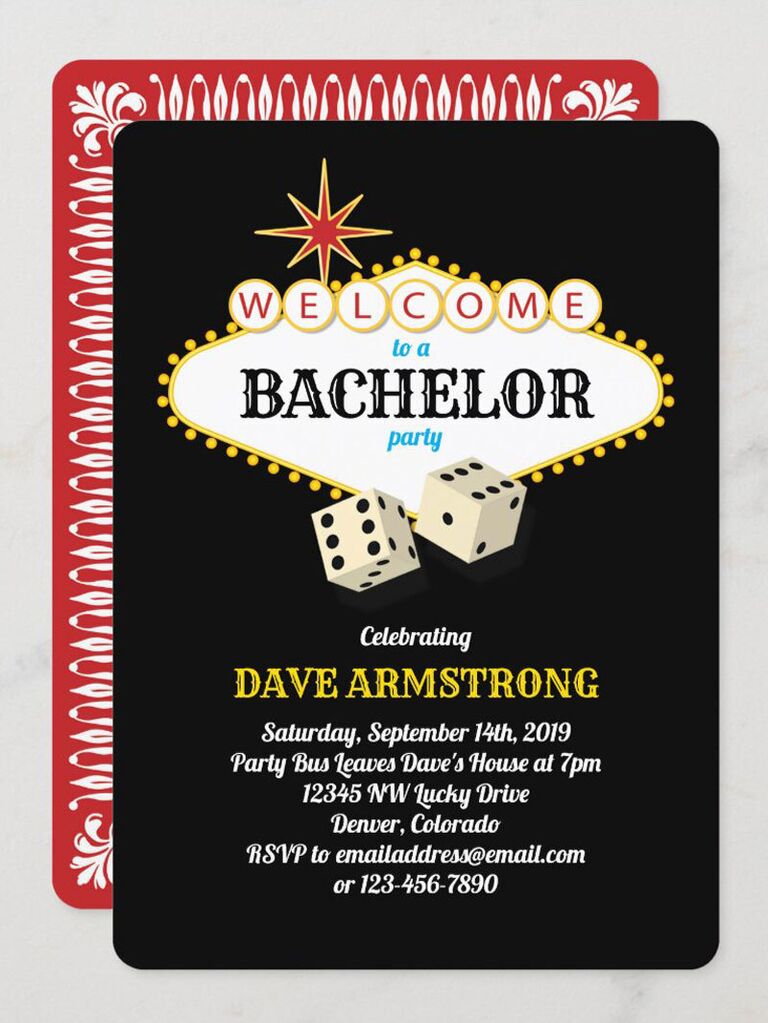 If Las Vegas is calling, then you can't beat this bachelor party invitation template that has all of that unmistakable retro Vegas style. Choose your paper type and customize it with the details of the event.
Cecelia Jane Fly Fishing Bachelor Party Invitations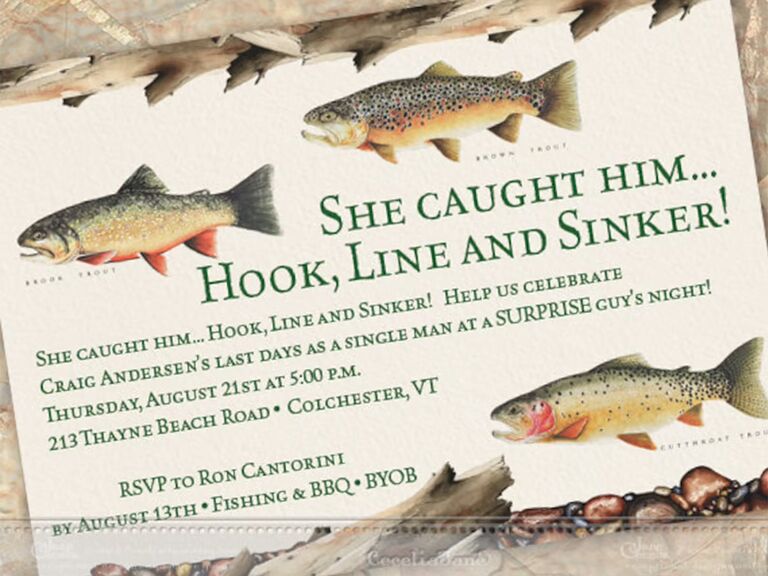 Maybe a low-key fishing weekend is what's in store. In that case, these invitations are exactly what you need. Seemingly endless pricing upgrades like water bottle wraps and matching thank-you cards mean you can make this event look put together without much effort.
IYHTV Designs Weekend in the Woods Bachelor Party Invitation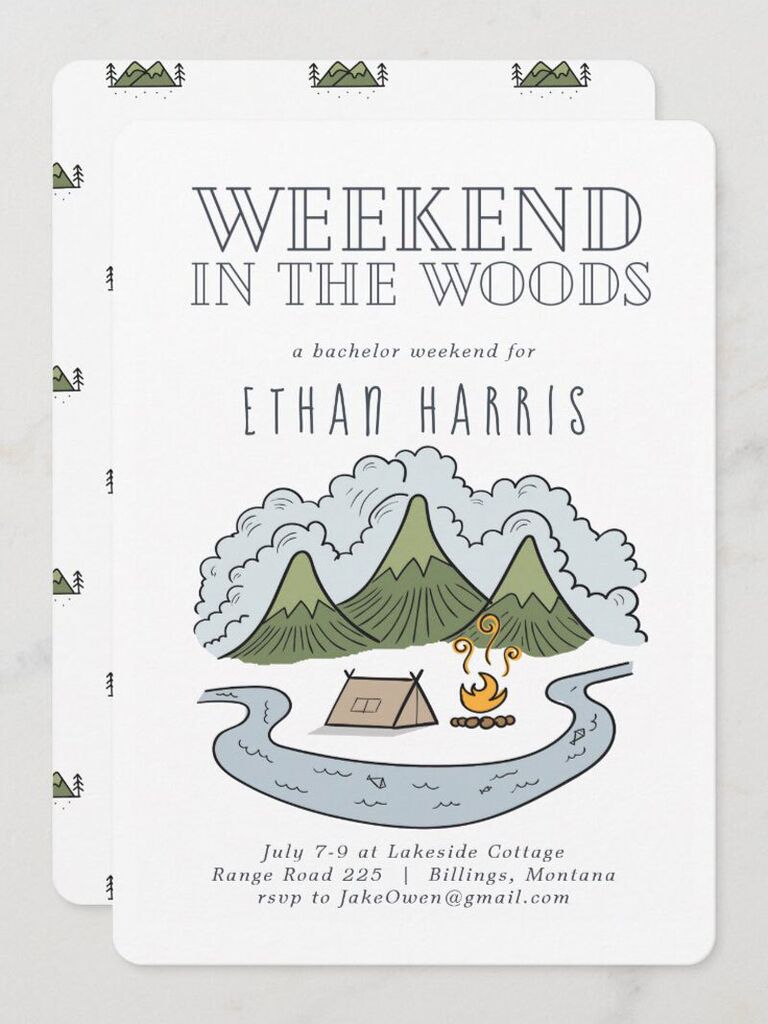 A casual, classic weekend in the woods needs no further introduction than these neatly designed and customizable bachelor party invites. There are a bunch of paper options to choose from, and there's just enough room for the most important details like the date, location and RSVP contact information.
Purple Sphynx Bachelor Party Electronic Invitation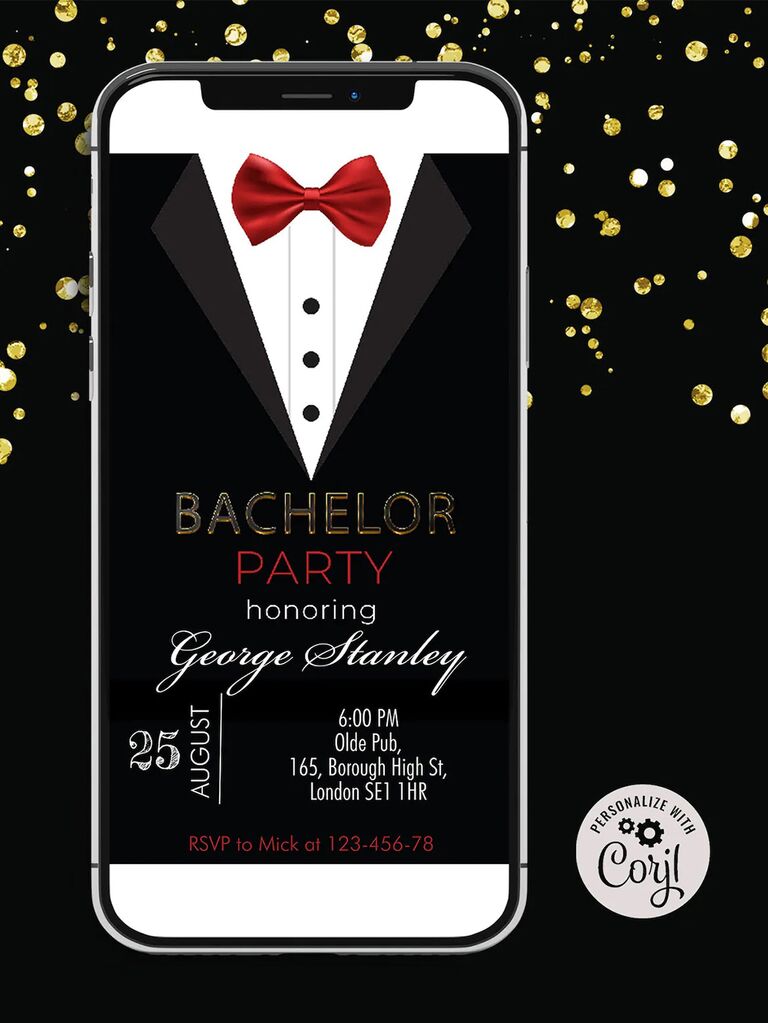 Welcome to 2021, where you can purchase editable digital bachelor party invitation templates like this classy tuxedo number. Just open the template, fill in your details, download your invitation and share it via text message, social media or email.
Premier Printables 2 Print Your Own Digital Bachelor Party Invitation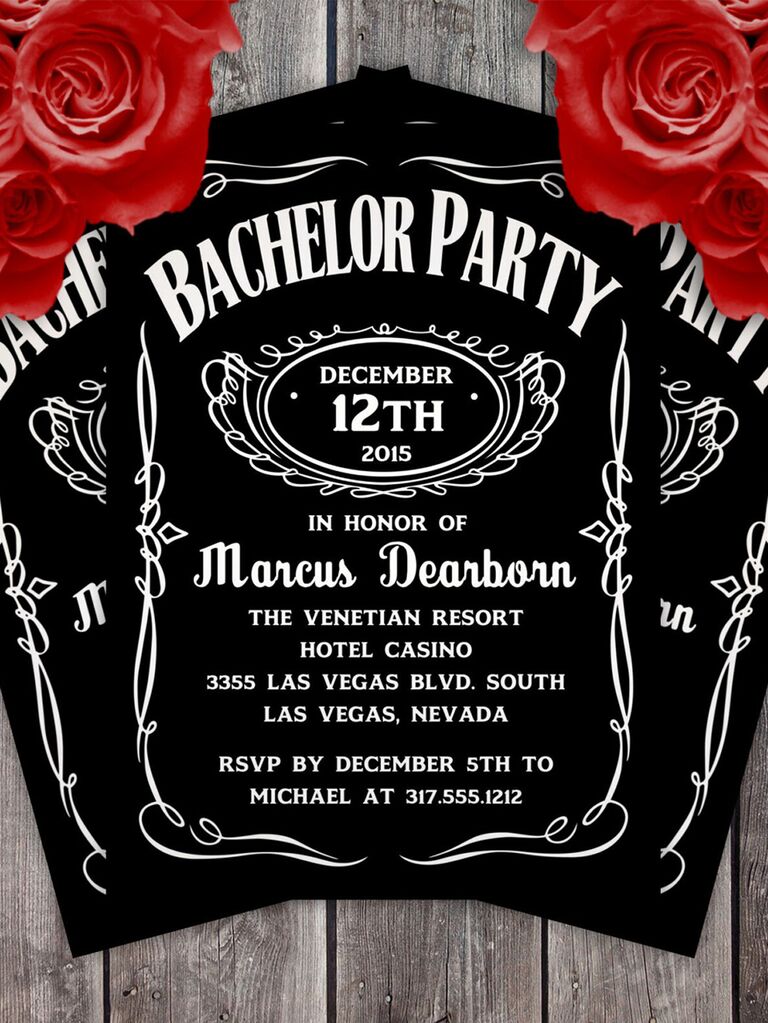 Honor the groom-to-be with his very own whiskey-label invite. Customize the template with the bachelor's name, the event location, the date and time, and RSVP information. This comes as a printable JPG file that can be printed at home or at a professional print shop.
Invitation Republic Gold Glitter Poker Chip Las Vegas Bachelor Party Invitation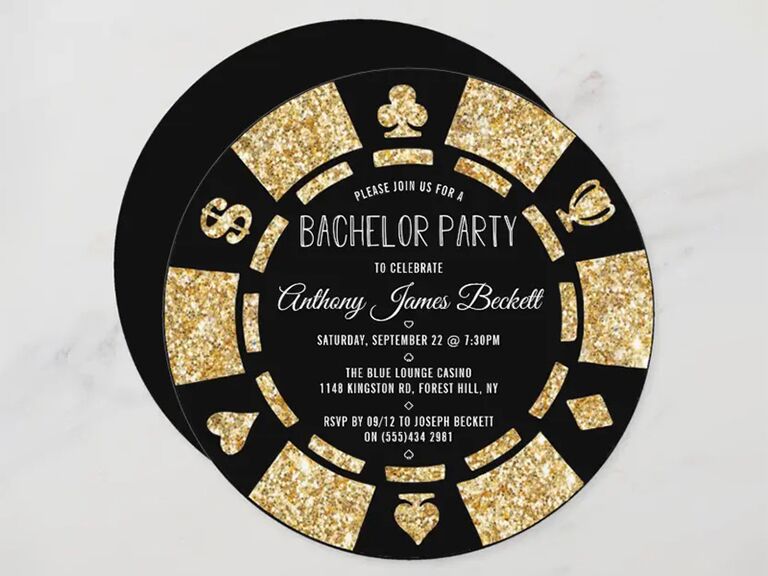 Send the groom off to married life with a flashy night at a casino—or just recreate a casino night somewhere nearby—with these blinged-out, glittery poker chip invitations that you can fully customize.
Lyon's Prints VIP Pass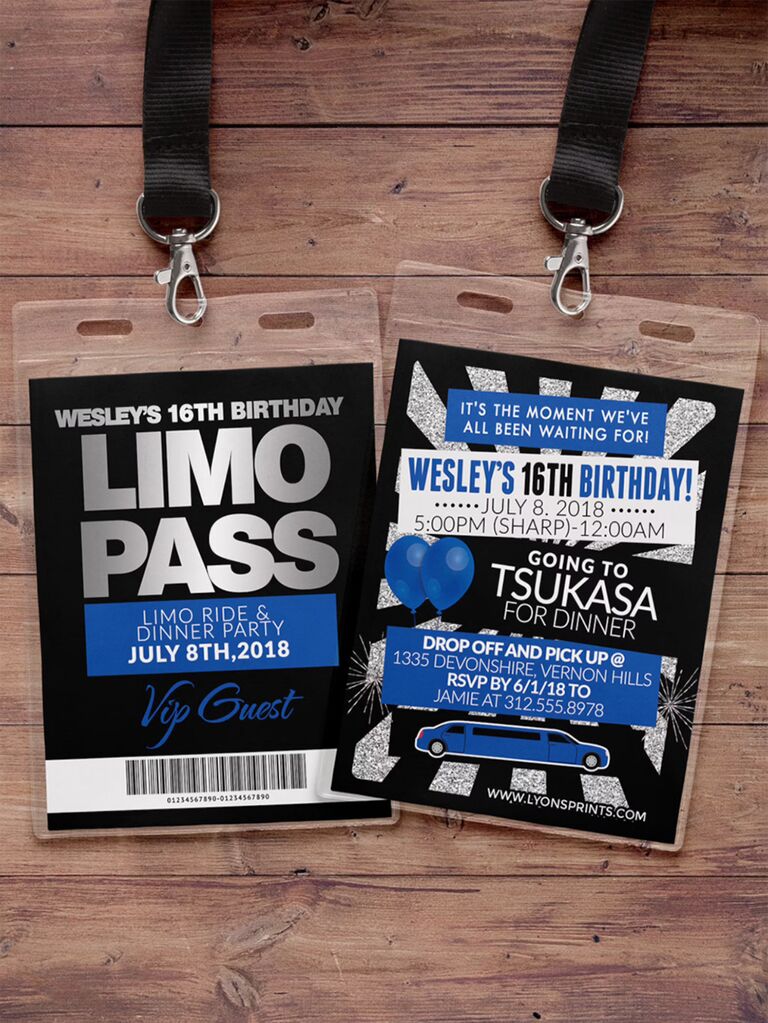 Partying in style for his last night as an unmarried man means ditching the tuxedo, hopping in a limo and hitting the town. This limo pass is customizable and arrives in your inbox as a digital file that's ready to print. Be sure to purchase lanyards to pop them in before handing them out. You can even add a photo for additional pricing.
Heartfelt Club Tropical Climate Bachelor Party Invitation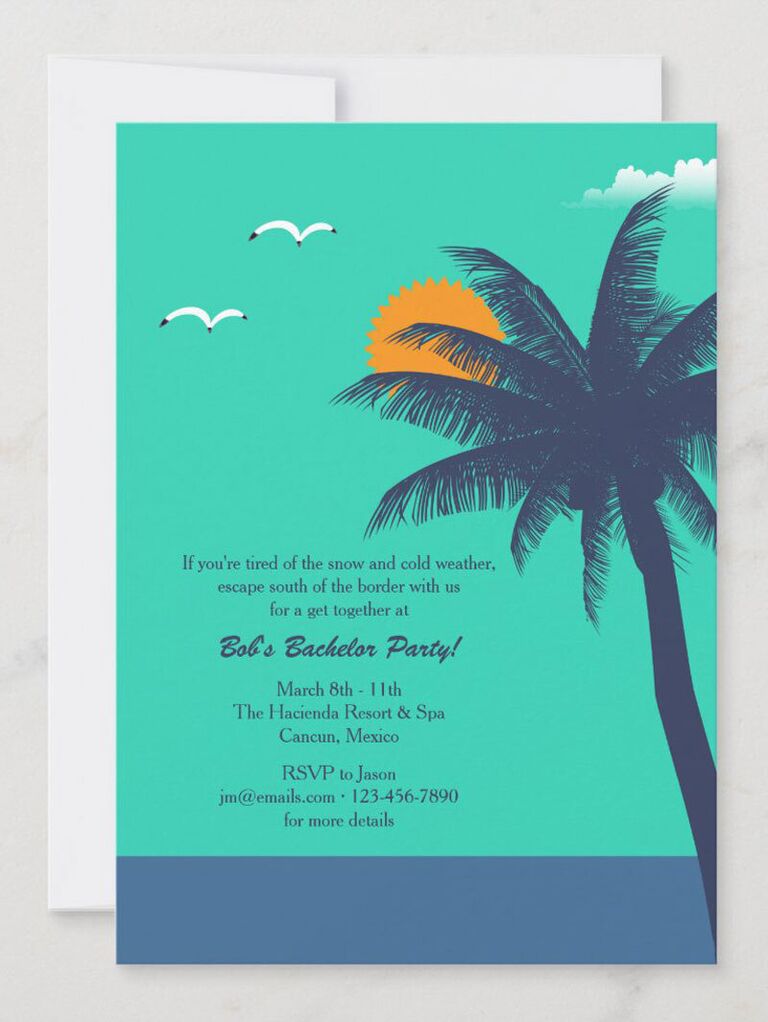 Tropical destinations are almost always a solid choice for celebrating a milestone event. Don't be afraid to have some fun when you customize these invites.
Paperless Post Tee Time Invitation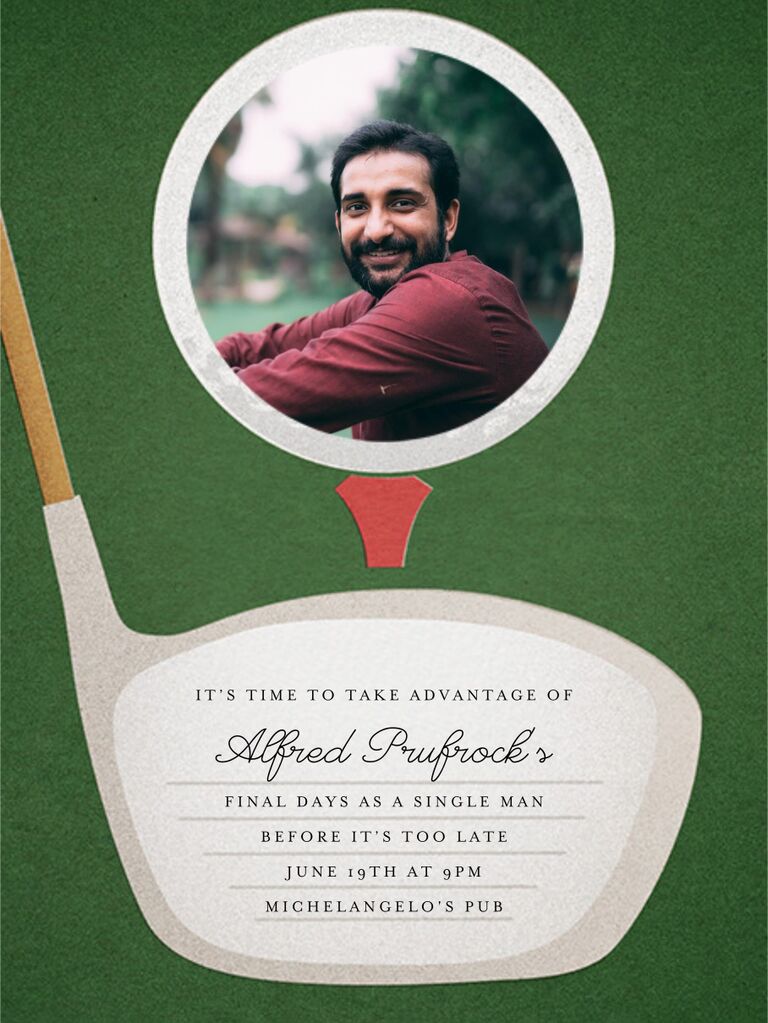 Digital invitations are no longer seen as a cop out, but rather a modern approach to hosting events. This golf-themed invitation design from Paperless Post can be easily customized with as much detail as necessary, including a photo of the groom-to-be. Import email addresses from the guest list, and invite everyone with just a click. RSVP tracking makes following up with details even easier.
Celebrations Store Cigar and Whiskey Bachelor Party Invitation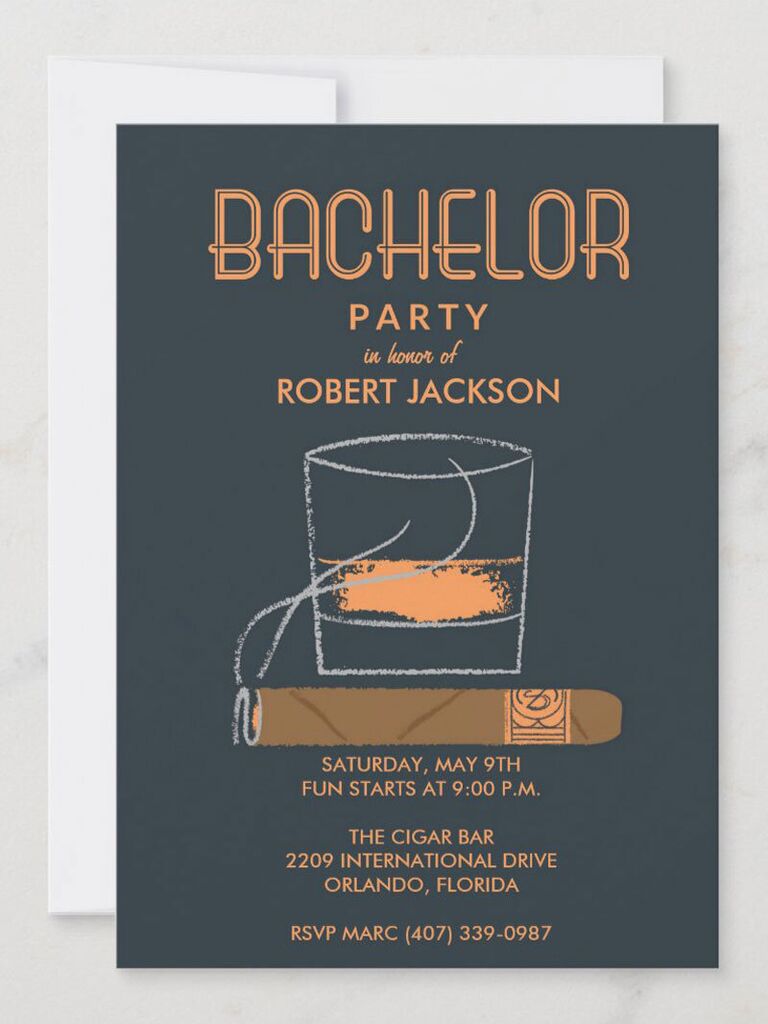 Scotch neat and a fine cigar are enough to show a classy bachelor a taste of the good life before his wedding day. This flat-card invitation features both, and can be personalized with all of the important details—no more, no less.
Rias Outline Golden Bachelor Party Invitation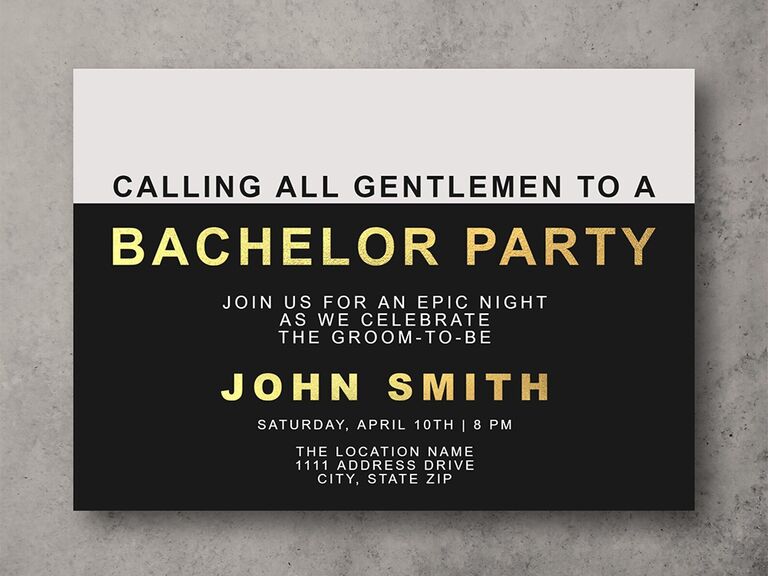 Printable invitations don't get any simpler than this. Personalize the name, date, time, location and address of the party, and receive a digital download that's ready to print, share online or text to the wedding party. (Keep in mind that if you print this digital file yourself, the gold will not come out as foil.)
Paperless Post Gray Malin Champagne Float Invitation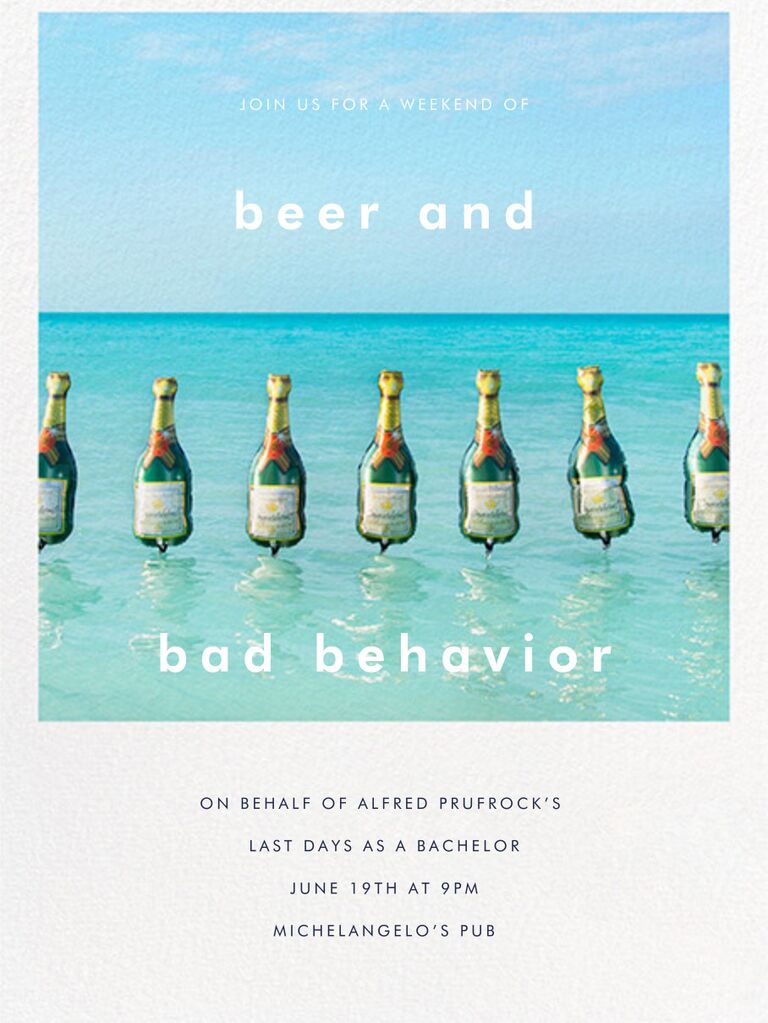 Another digital gem from Paperless Post, this bachelor party invitation is fun for a beachy and boozy brunch or BBQ. The text on the front can be customized to fit any personality or theme. Communicate with guests seamlessly, and dash off an easy digital thank-you card when the party's over with just a click.
Creative Union Design Guys Weekend Itinerary Template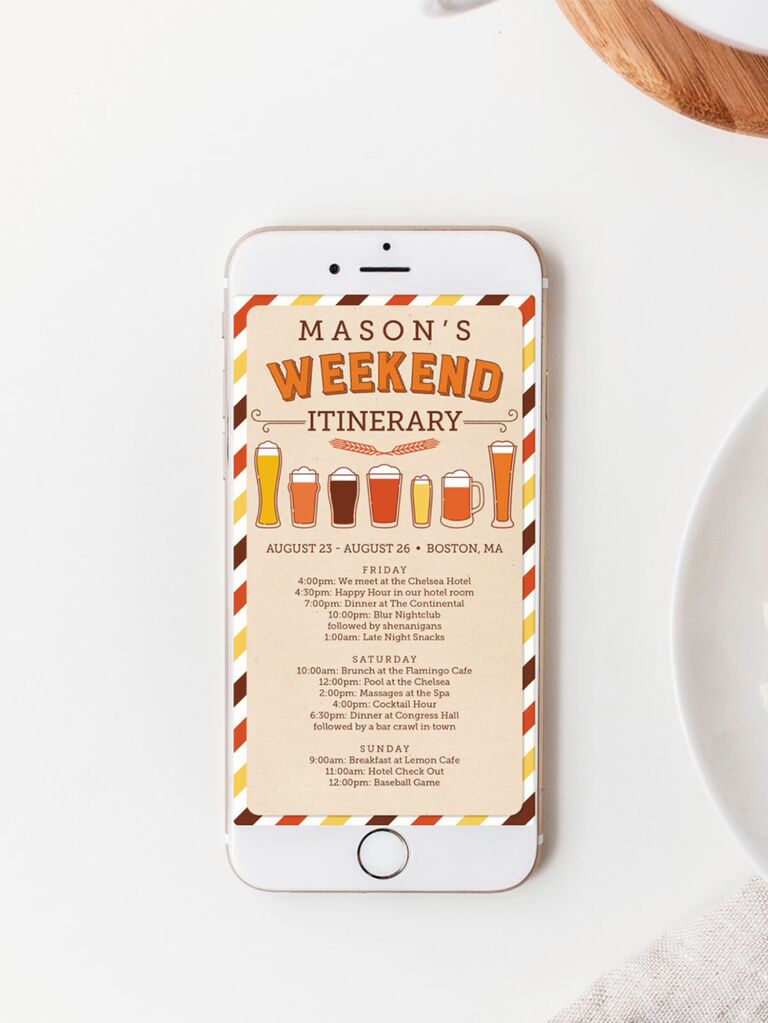 Texting an invitation might not be acceptable for the most traditional folks, but you really can't beat a digital itinerary for the plugged-in posse—or an unorganized best man. Customize this template with all of the details for the weekend's events, download the file and share away on social media, WhatsApp or wherever makes sense.
SET Tickets Bachelor Party Ticket Invitations
For an event to remember, go old school with a custom, authentic ticket to the big show (aka the stag party). Printed on real ticket stock, you can choose from nine ticket colors and eight envelope shades, and personalize every bit of black text you see.
IYHTV Designs Bachelor Party Weekend Ski Trip Invitation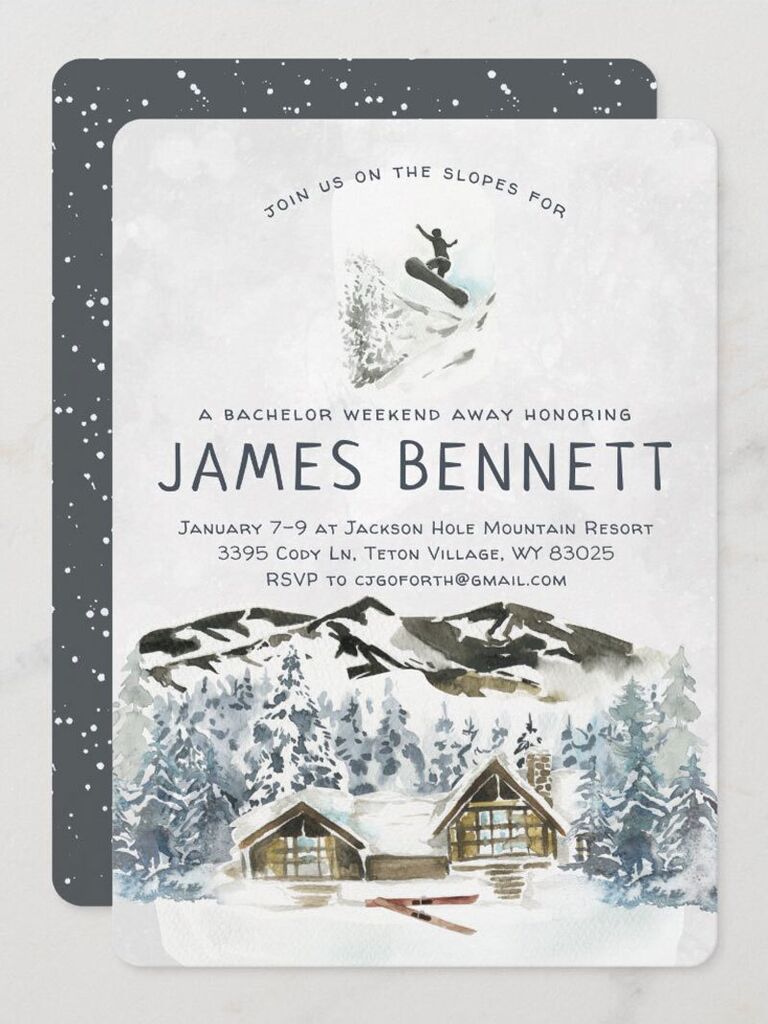 Prepare the group for hitting the slopes with this trendy watercolor invitation. Choose your cardstock, size and shape, and customize the text with basic details. Be sure to give guests time to prep for longer weekend events like this that require bookings, rentals or purchasing gear.
Invitation Republic Modern Game Over Photo Bachelor Party Invitations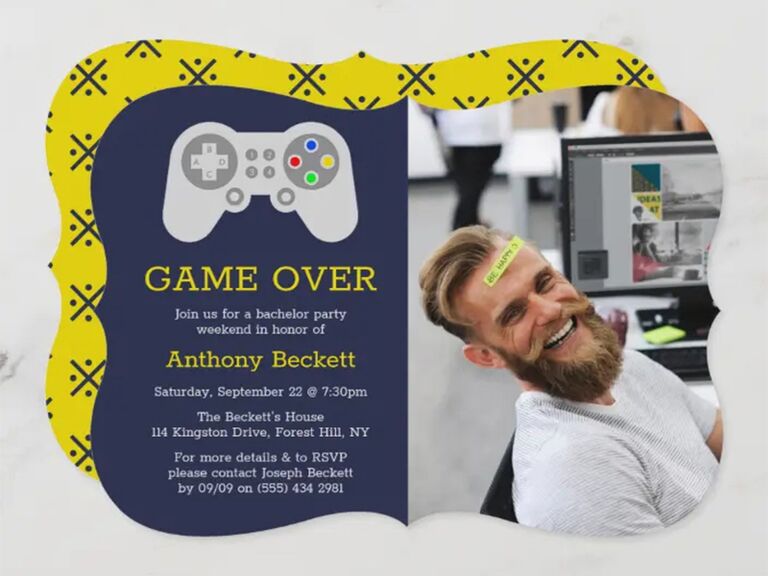 Whether he's a serious gamer or just gets the joke, this bachelor party invitation template is a classic. Add your favorite photo of the lucky guy, choose from a black or green background, select the paper shape and type to make it feel more custom, and fill in all of the important details.
Jennifer Lew Dance Floor Party Invitations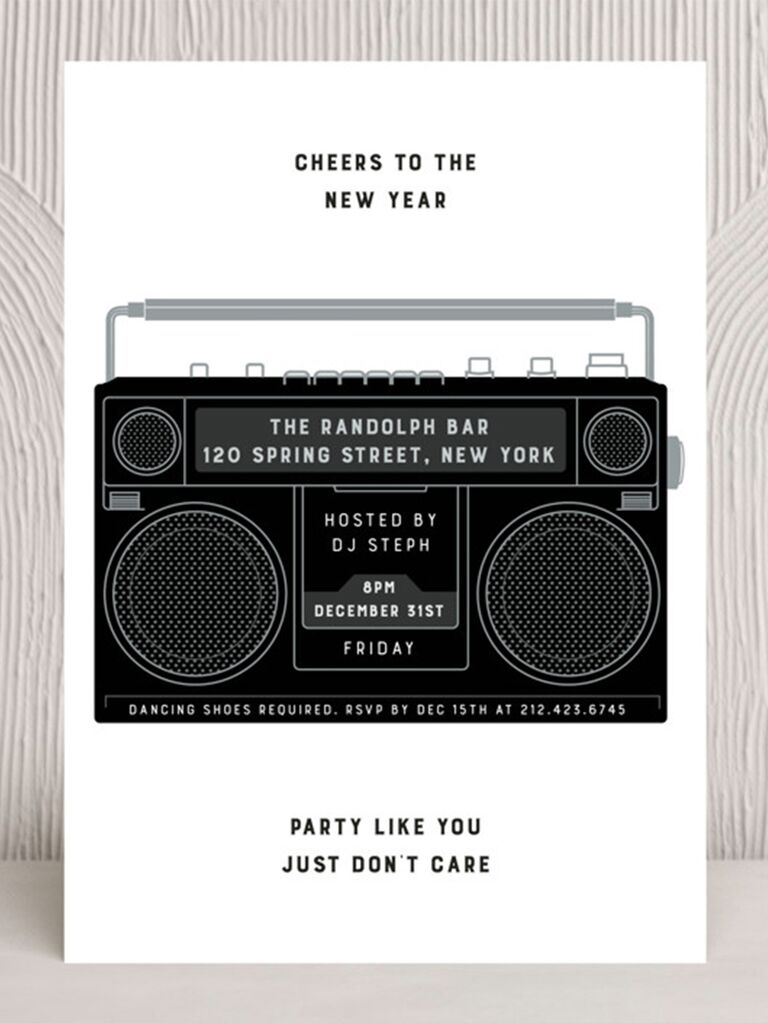 Snag a set of these fully customizable retro boombox invitations to get the party started right. Choose from several color themes, paper types and shapes. You can also upgrade the back of this flat card with a photo and text for an added cost.
Dizzy Debbie Skull in Top Hat Bachelor Party Invitation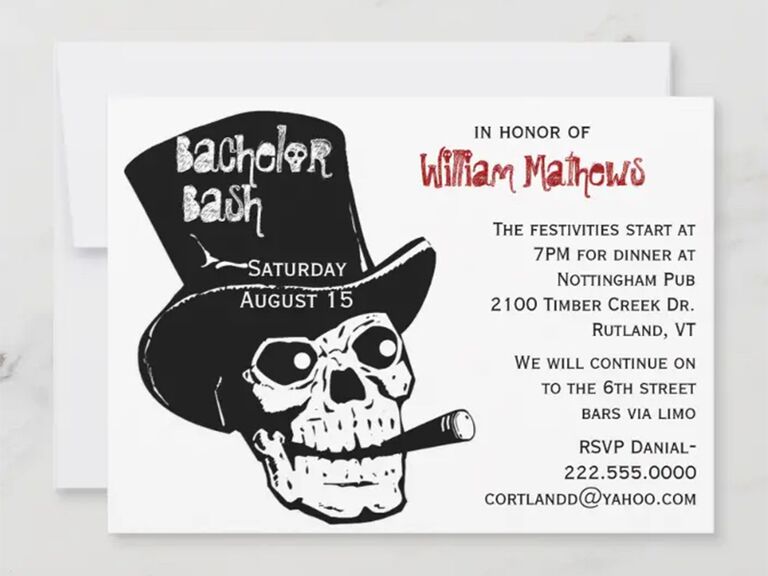 Bachelor party invites don't have to look like wedding invitations. Let the groom's one-of-a-kind personality shine through with this theme. Customize these flat cards with the details of the event, RSVP information and your choice of ink color, paper and a few other options for a pricing upgrade.
Artifact Uprising Design Your Own Flat Card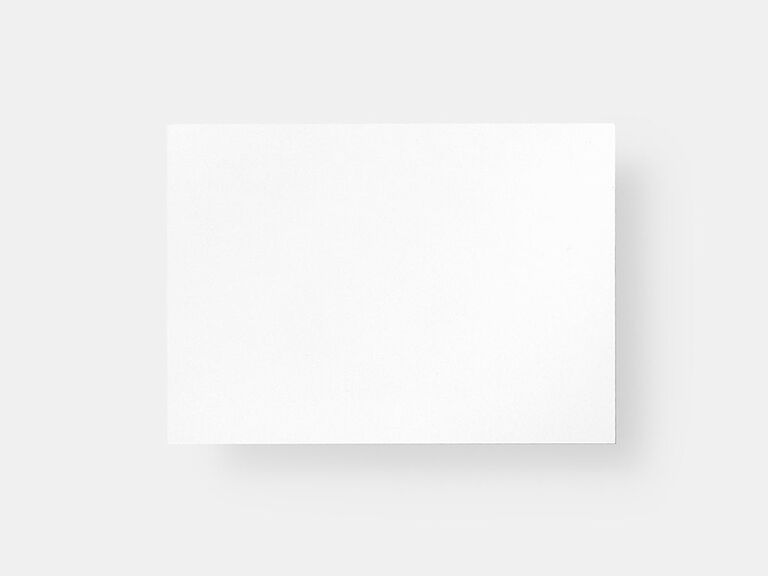 Don't let this plain white invitation design fool you. This "upload your own design" card is perfect for the best man who's super creative and Photoshop-savvy. Artifact Uprising will also address the envelopes for your entire guest list at an additional cost.
Claudia Owen Mugshot Board Bachelor Party Invitation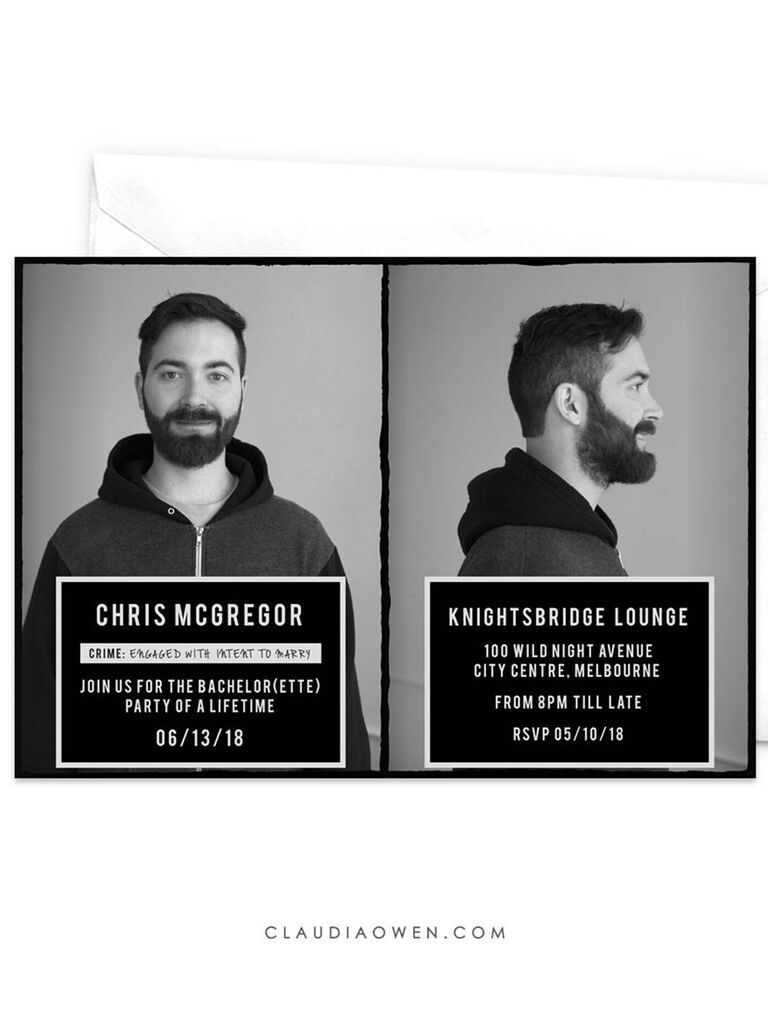 This is the ultimate bachelor party invitation because Claudia Owen can also create matching, well... everything. Thank-you cards, RSVP cards, stickers, signs, mugs, magnets, save-the-dates—you name it, and she can make it. She'll even print the addresses on the envelopes for you.