20 Beach Bachelorette Party Favors to Make a Splash at Your Bash
Kitschy beach koozies or it didn't happen.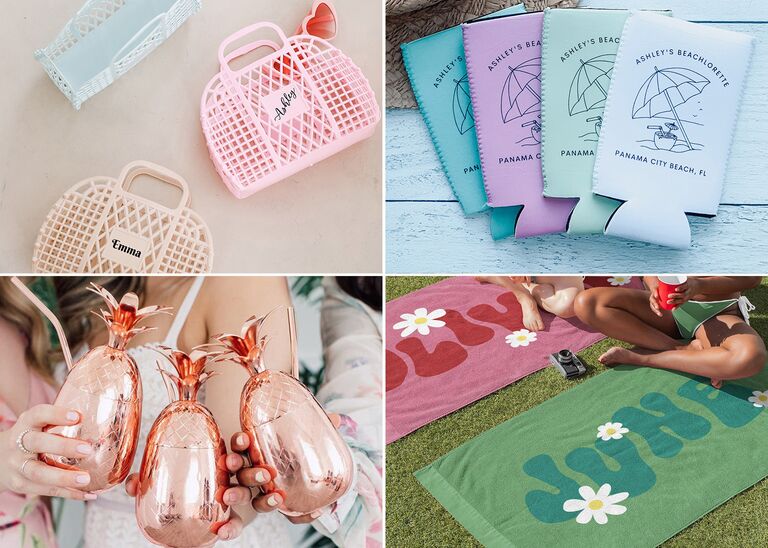 We have included third party products to help you navigate and enjoy life's biggest moments. Purchases made through links on this page may earn us a commission.
You have endless destinations to consider when you're planning a bachelorette, but for a party that won't have anyone feeling [sea] salty, we say have a bash at the beach. Fun in the sun and soaks in the surf followed by coastal cuisine, tropical cocktails and beach bachelorette party favors? Truly, what could be better?
Now, when it comes to the favors themselves, you can go a few ways: You can do some end-of-trip souvenir shopping for the squad in whatever beachy hotspot you've booked a getaway to—which can get expensive. Or, you can gift the group with useful beach bag essentials to get them through the weekend (think: a cute tote, sunglasses, sunscreen, lip balm, flip flops and a beach towel). You can also send everyone home with a picture frame-driftwood-inspired or not—to display the core memories made on your epic friends trip.
We've rounded up a bunch of beach bachelorette-worthy parting gifts, including several standouts from The Knot Shop. So, whether you're the bride-to-be curating the best bachelorette party swag for your friends and family or you're the second-in-command in charge of the beach-themed goodie bags, you'll want to take a peek at our list. We have a feeling everything will float your boat.
1. Audible Gift Card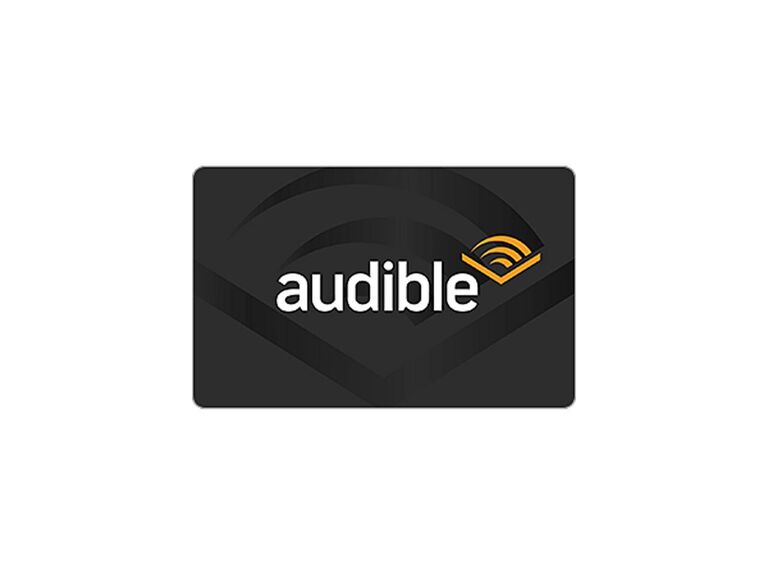 Sometimes the best bachelorette party favors come before the bachelorette even happens. For a beach bachelorette party, we think one of the best ideas to get everyone excited is an Audible subscription gift card (because everyone loves lounging around and enjoying a beach read). It's a great option for the plane rides to and from and long after, since the lowest subscription option is for one month.
2. Shoott Photo Session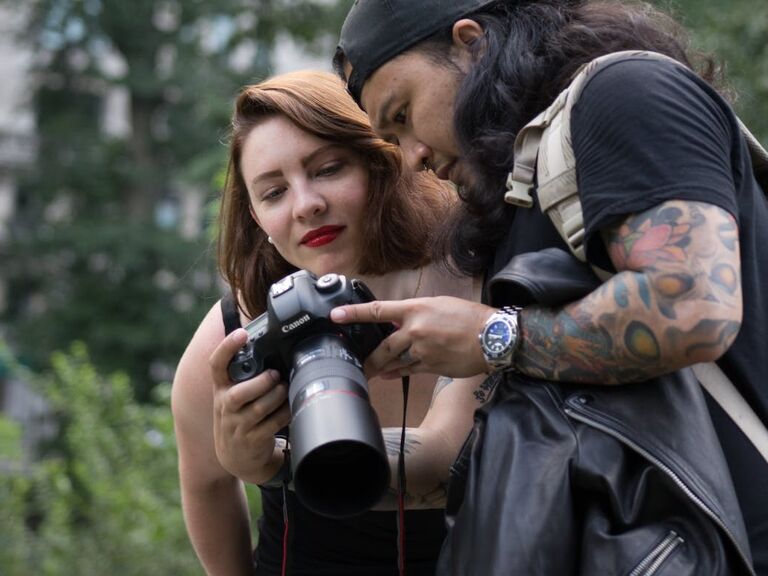 How's this for a creative bachelorette wedding favor: Organize a beach photoshoot or choose an available time with a Shoott photographer while you're on vacay. Not every beach-adjacent city has representation, but it certainly doesn't hurt to look! Your bride-to-be and all the important invitees will have so much fun during the creative snap session, but the best part comes when your bride can choose some fave photos and then send out a link to the hi-res, influencer-level curated shot.
3. Bride Tribe Women's Floppy Straw Sun Hat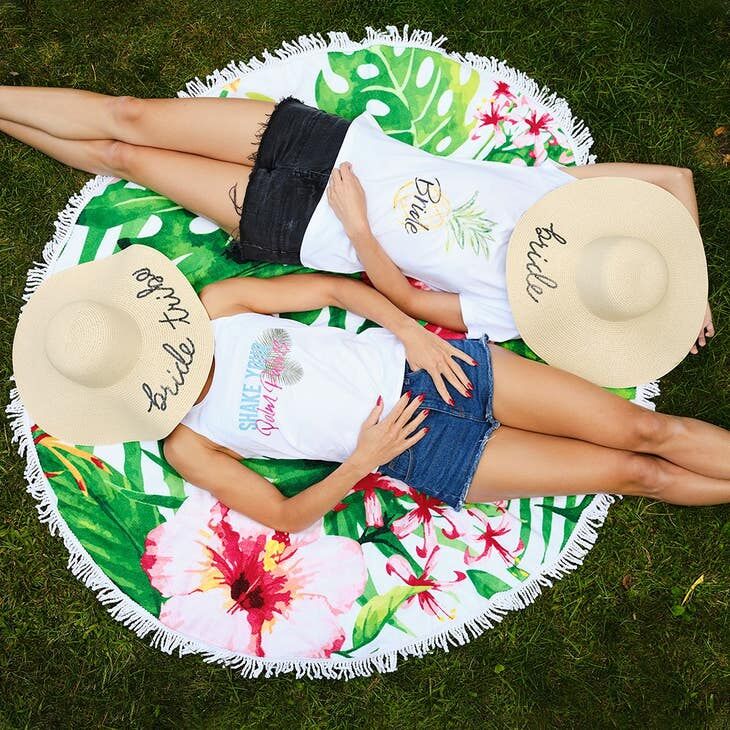 If you can't wear a floppy straw sun hat on a beach bachelorette weekend, then when can you? These woven toppers feature a wide brim embroidered with "bride tribe" in a flirty script font. Get the "bride" one for the Mrs. of the moment and, if you just so happen to have a drone with you on the beach, make sure you don't leave without an obligatory aerial shot of the whole crew in your hats.
4. Unique Shaped Bachelorette Party Sunglasses - Pineapples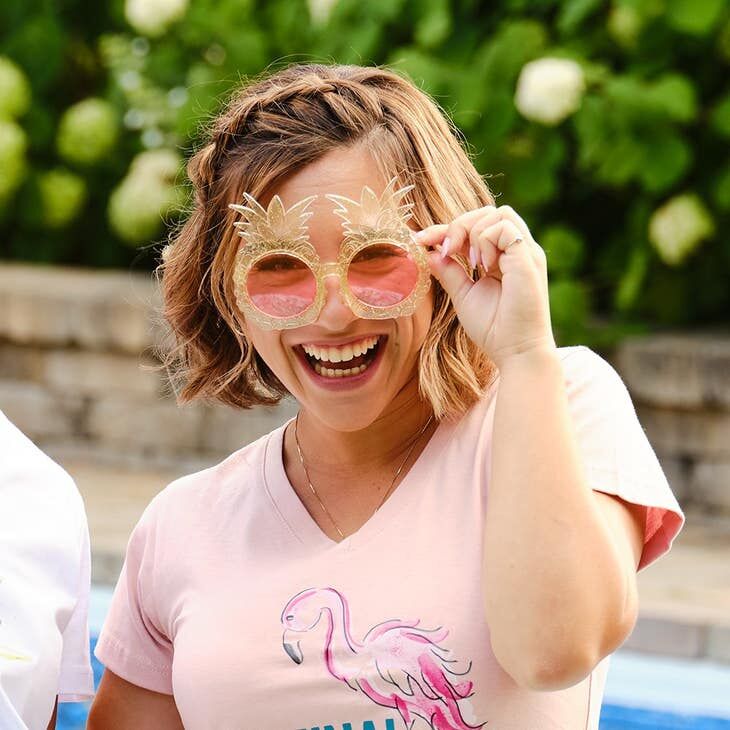 In a sea of goodie bag baubles, we'd be willing to bet these novelty sunglasses will be the [pine]apple of your guests' eyes. Gold shimmer pineapple frames are perfectly on-theme for a destination bachelorette and the cotton candy pink lenses lend a nice retro look, too. We're all for a pair of high-end sunnies, but affordable accessories like these, when you have a whole group to consider, make a lot more sense.
5. Kenny Flowers The Charleston Pearled Ruffle One Piece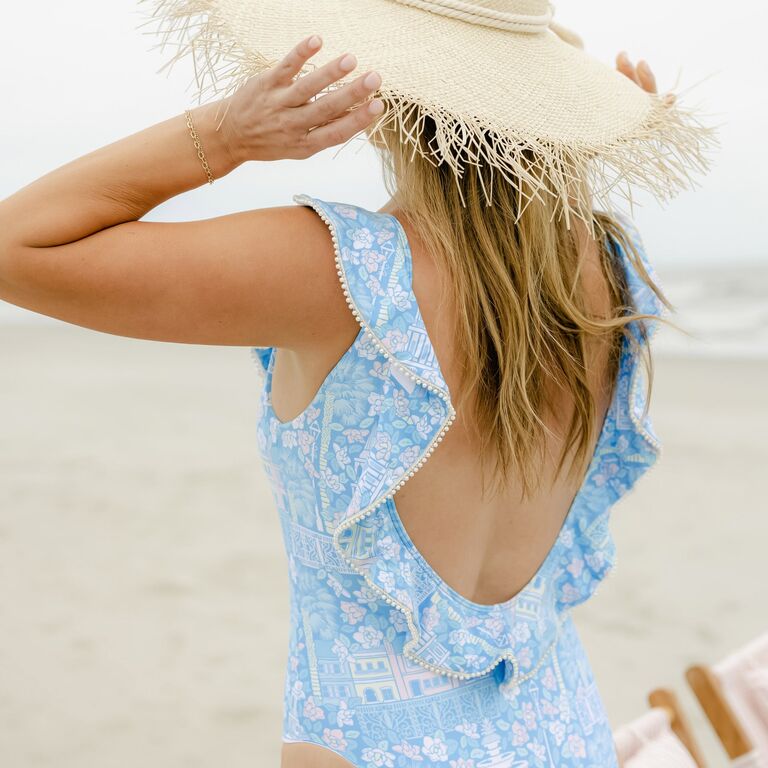 You can definitely do bride-and-maids matching swimsuits for your beach bachelorette celebration, but what about a more-elevated look? With pearl detailing and a soft powder blue floral print, your girl gang will be turning heads the whole time you're there. A well-made, well-designed swimsuit never goes out of style, so we love this option if you're okay to splurge on your beach-themed bachelorette party favors.
6. Waterproof Wet Bikini And Swimsuit Bag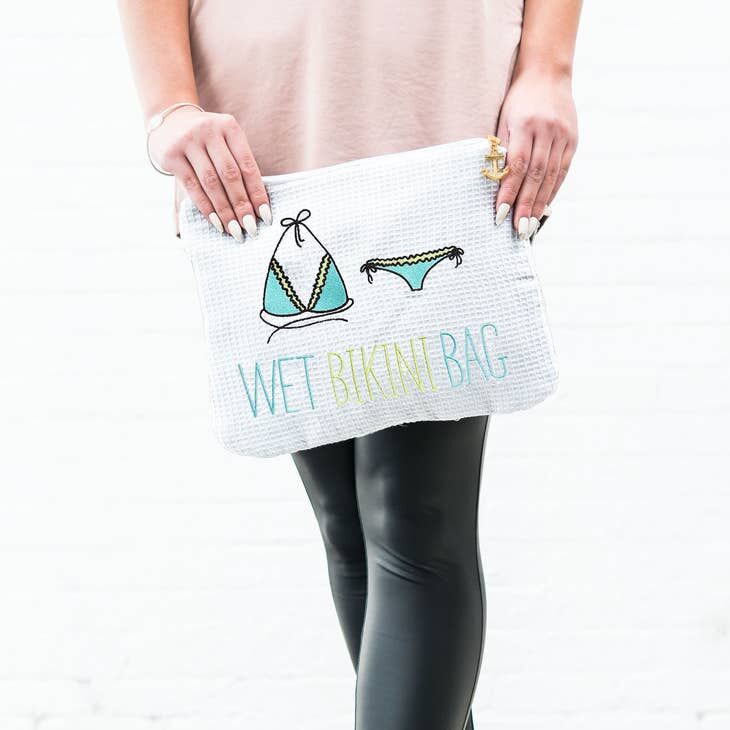 What's a beach bachelorette party without some time spent in the water? But when you need to slip out of your cute matching swimsuits and head to lunch or dinner, it's nice to be able to throw your damp tops and bottoms into a dedicated wet bikini travel bag. The waterproof lining and adorable zipper pulls make them must-haves for your entire bachelorette trip. And if you want to make them even more special, we suggest adding each guest's monogrammed initial or name on the back.
7. Paddle Fan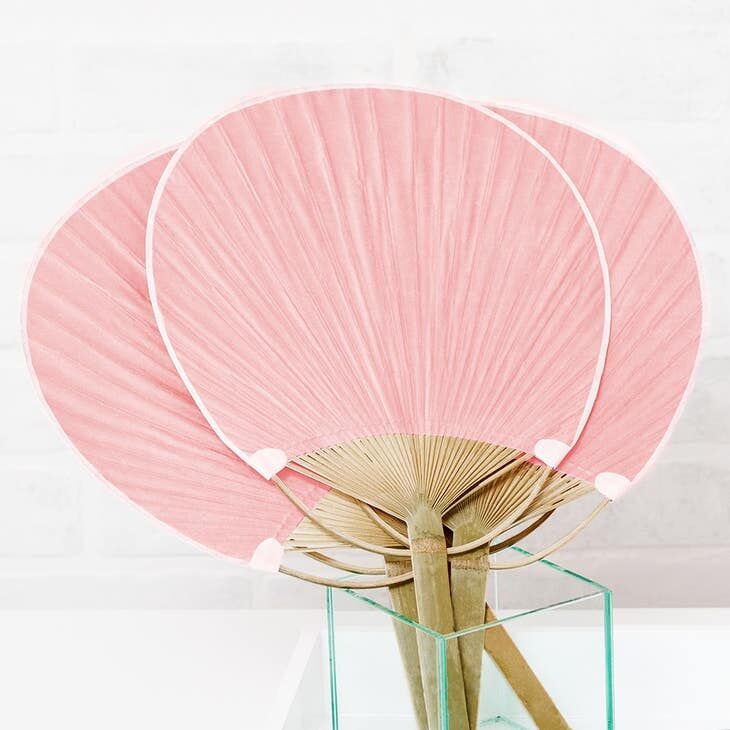 Think about classing up your cool down with paper paddle fan favors like these. The bamboo handle is beachy-bohemian and the pink hue is right on point for a tropical soiree. Look cool and stay cool.
8. Kenny Flowers The Malibu Sarong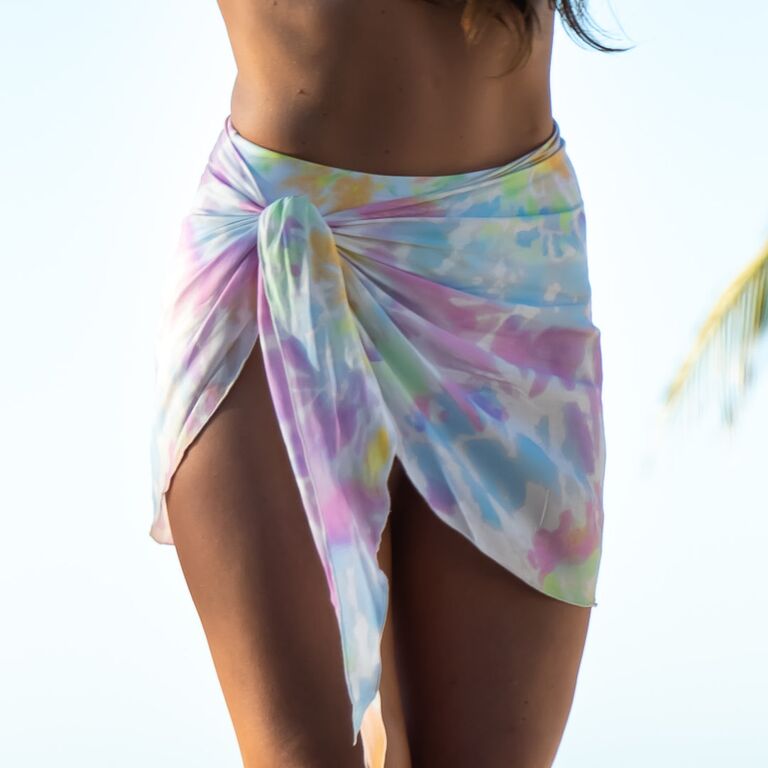 Knit ponchos and gauzy beach cover-ups are nice, but have you thought about a so-cool sarong? We're big fans of Kenny Flowers for all their destination-inspired swim and resort wear, including the brand's signature sarongs. This one channels Malibu beach breeziness with pastel tie-dye and easy-to-wrap ends. Whether your guests want to don it as a cover up, a headscarf or a 1970s-style hippie top, they'll be making a statement all the same.
9. Personalized Bridal Party Wedding Sweatshirt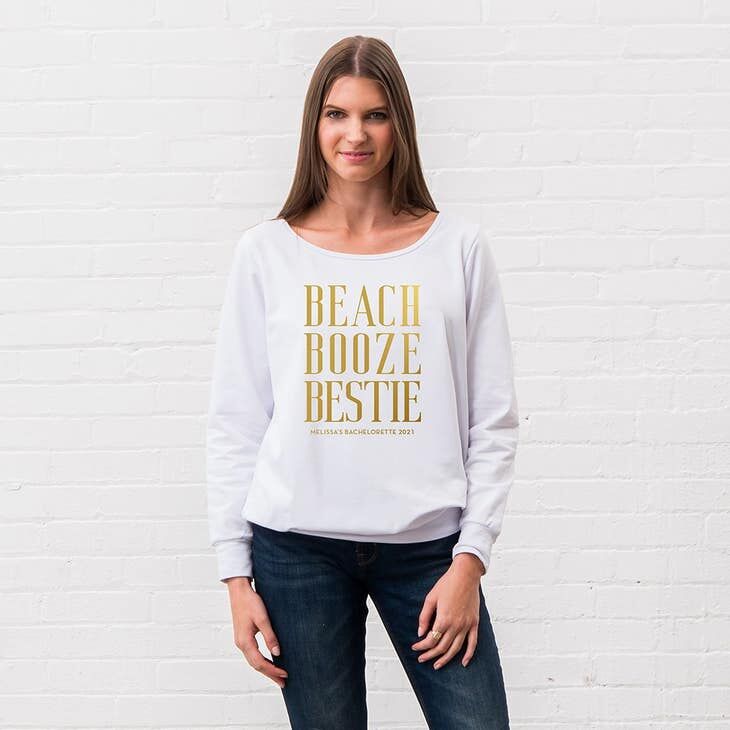 Once the sun goes down for the day, it gets cold on the beach. So plan ahead and give guests this long-sleeve cotton sweatshirt for the breezy mornings and chilly nights. Choose from black, white or blush pink for the shirt and 12 different colors for the printed personalization (whether you highlight each bridesmaid's name, the creative hashtag for the weekend's events or the classic "X's Bachelorette" and the date).
10. Pineapple Copper Drink Cup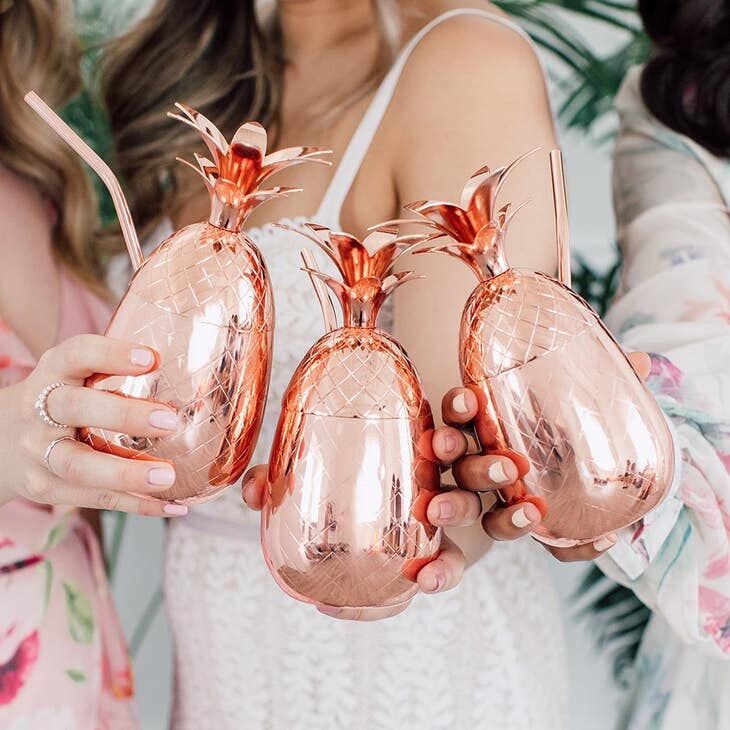 Any drinks, from mocktails to cocktails, are destined to be festive when they're sipped out of copper pineapples. We love this party favor paired with a couple mini bottles of your favorite spirits. Or, the mix-ins that make up the bachelorette weekend's signature drink—be it a pretty pink paloma or a sassy seabreeze.
11. Bachelorette Pool Party Tattoos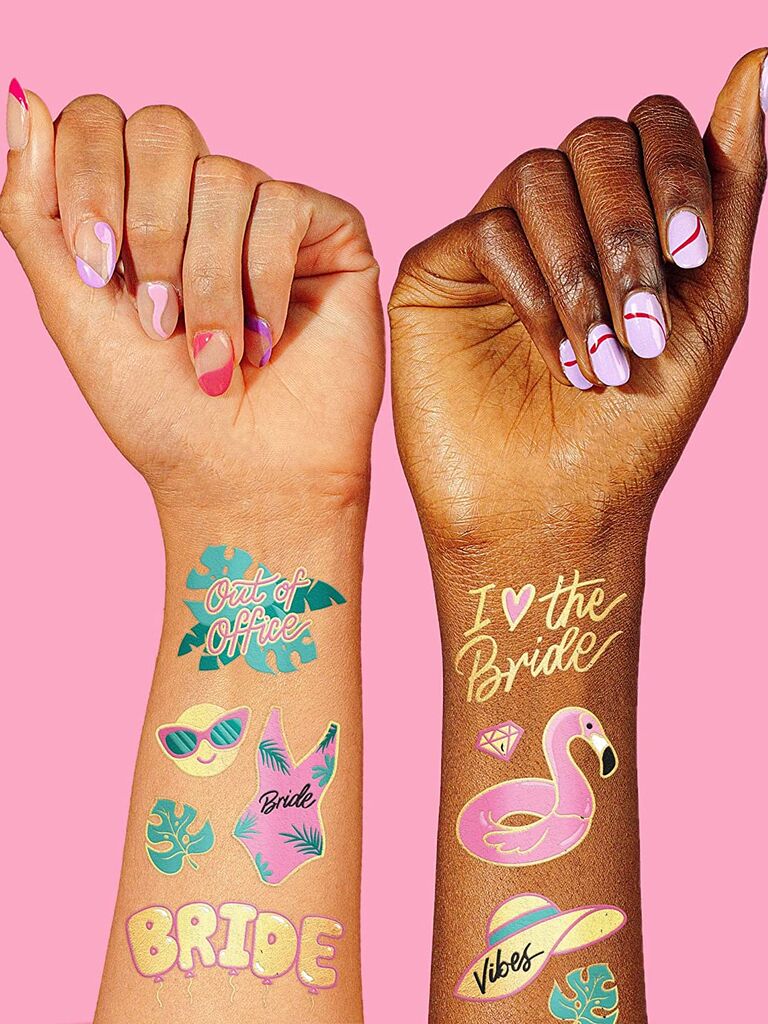 Temporary tattoos are a great little bachelorette party favor to play up the fun vibes of a last-fling-before-the-ring celebration. Whether you're laying out under the sun, grabbing a tropical cocktail at the beach bar or having late-night bites at a cool tapas place, you'll add a stitch of sparkle to your 'fit with these gorgeous gold metallic tattoos featuring beachy motifs like monstera leaves, flamingo floats and palm trees as well as fitting phrases like "I <3 the Bride," "Vibes" and "Out of Office."
12. Beaded Bridal Party Pouch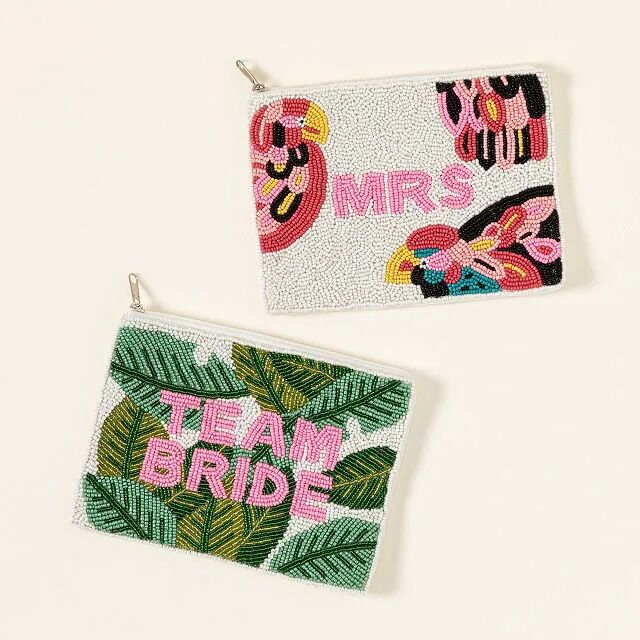 Just as vacations call for traveling light, so do bachelorette getaways at the beach. With a bachelorette favor like this beautiful hand-beaded party pouch, guests can toss in their phone, ID and a money clip and use it as a cute clutch for nights out. Everyone can twin with the fun accessory—just make sure someone takes a pic. The pink "Team Bride" and bright green palm leaves are sure to make anyone who had to miss the fun smile from afar.
13. Los Angeles Party Personalized Jelly Beach Bag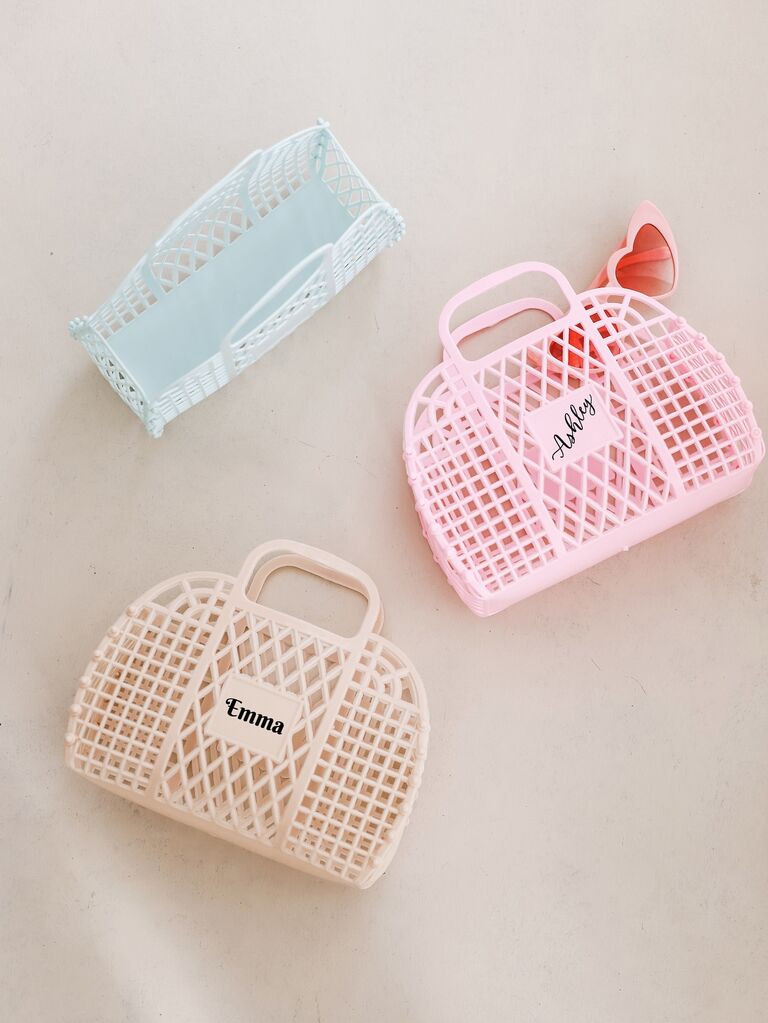 You've heard of jelly shoes, but a jelly beach bag? Well, it's even better. Get one for each member of your group and have their name personalized (in white or black) on your choice of pink, blue or beige bag. And filling it up with a luxe towel and a few magazines, crossword puzzles or word search books for the beach is a touch sure to be appreciated.
14. Gift By Rana Retro Style Custom Name Beach Towel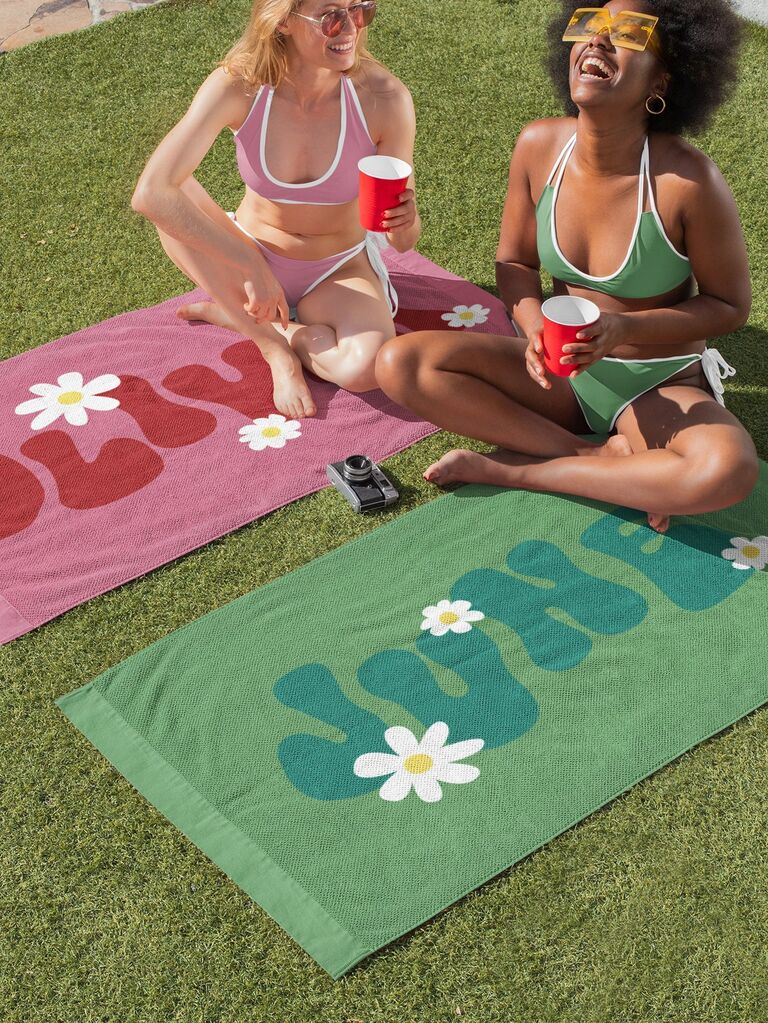 We're all wrapped up in these personalized flower power pool and beach towels, especially if there's a retro-style wedding on the horizon. The fast-drying design features each guest's name dotted with groovy daisy decals. Far out!
15. Recovery Shower Steamers Set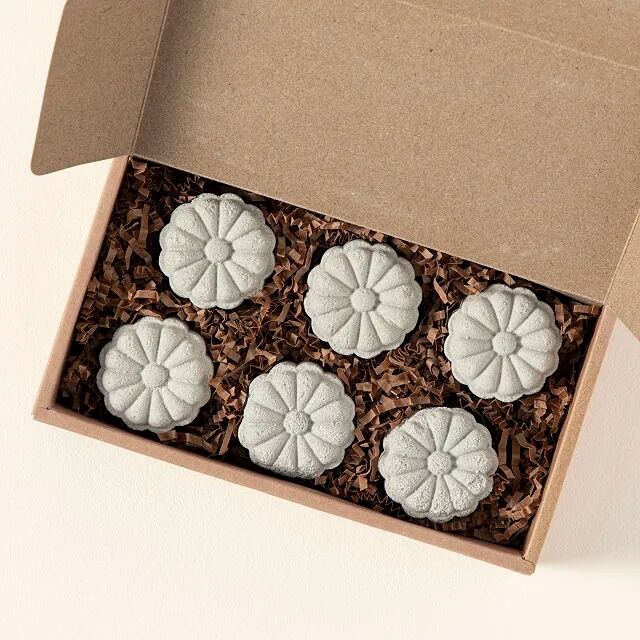 If you really want to thank your VIPs for coming to your bachelorette party, gift them something to refresh them after the fun night before. Packed with essential oils known for their revitalizing properties—peppermint, ginger, orange, grapefruit and lemon—this set of six shower steamers will intoxicate them in a much healthier way. It's a great favor to give out during breakfast on the day you leave, especially if a plane ride awaits you.
16. Picture This Parties Last Splash Beach Bachelorette Shirts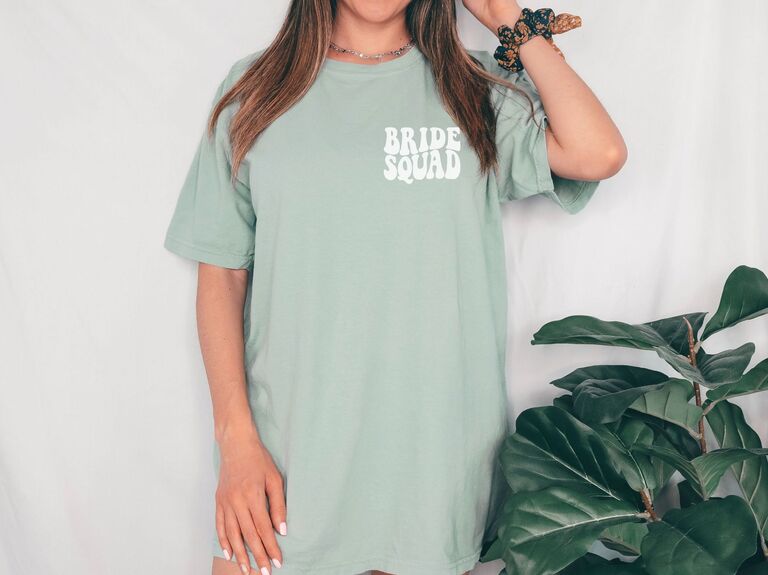 We're all for bachelorette party themes, so the beachy lingo on these oversized T-shirt dresses will make waves with your BFFs in the best way. Grab white for the bride-to-be and bay (a kind of seafoam green) for the bridesmaids, with "My Last Splash" and "I Washed Up Like This" on the back and "Bride" and "Bride Squad" in retro-inspired font on the front, respectively. Pretty sure these shirts will be faves forever.
17. Mod Party Personalized Drink Pouches With Straw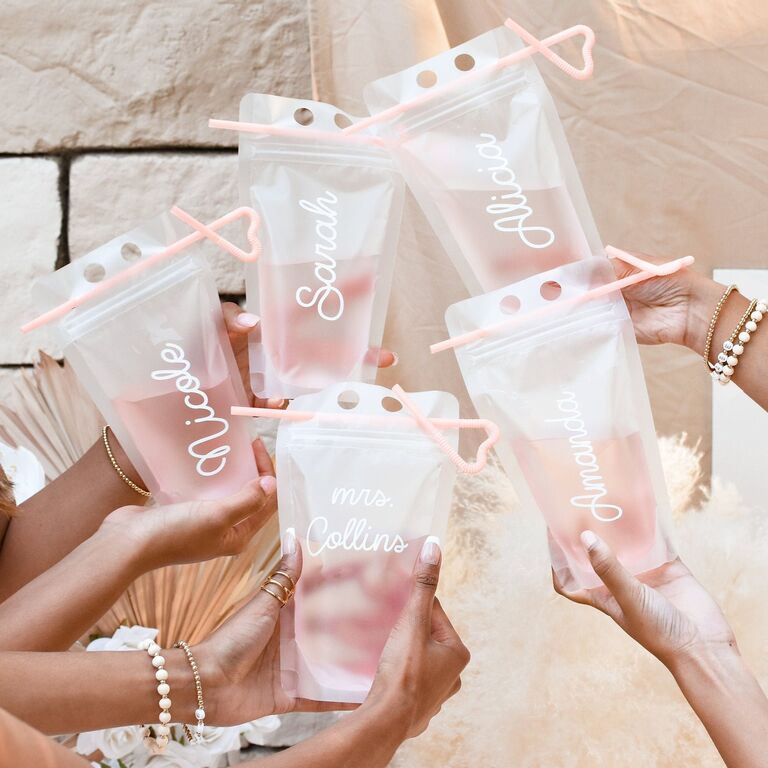 Personalized drink pouches (with a bendy straw, of course) are at the otp of our list for beach bachelorette favors. We love these resealable zip-top ones from Etsy, with their frosted facade and each bachelorette guest's first name scripted in white ink. You can fill them up with rosé for a light refreshment at the resort pool or pair each pouch with a sachet of hydrating electrolyte mix, because #TheBachHangoverStruggleIsReal.
18. Plum Polka Dot Girls Just Wanna Have Sun Hair Scrunchies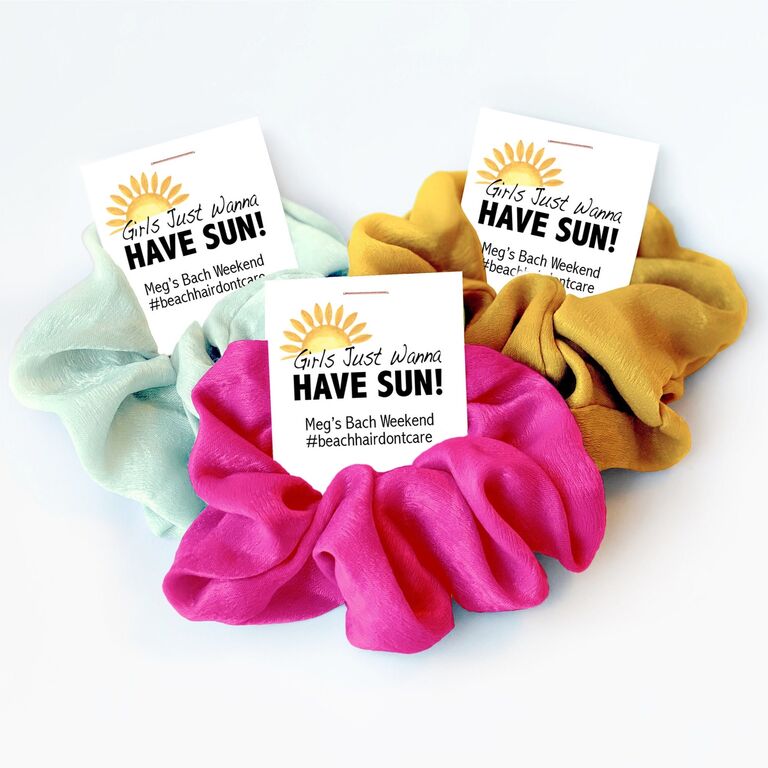 Salty waves for days: It's what's on tap for every beach bachelorette party. So, if you want to up your friends' ponytail game, drop one or two of these in their welcome bags. The silky velvet scrunchies are branded with a "Girls Just Wanna Have Sun!" hang tag that's so appropriate for the setting and the bright colors they come in give Barbiecore bachelorette energy.
19. The Makers Nest Tropical Bachelorette Party Custom Can Cooler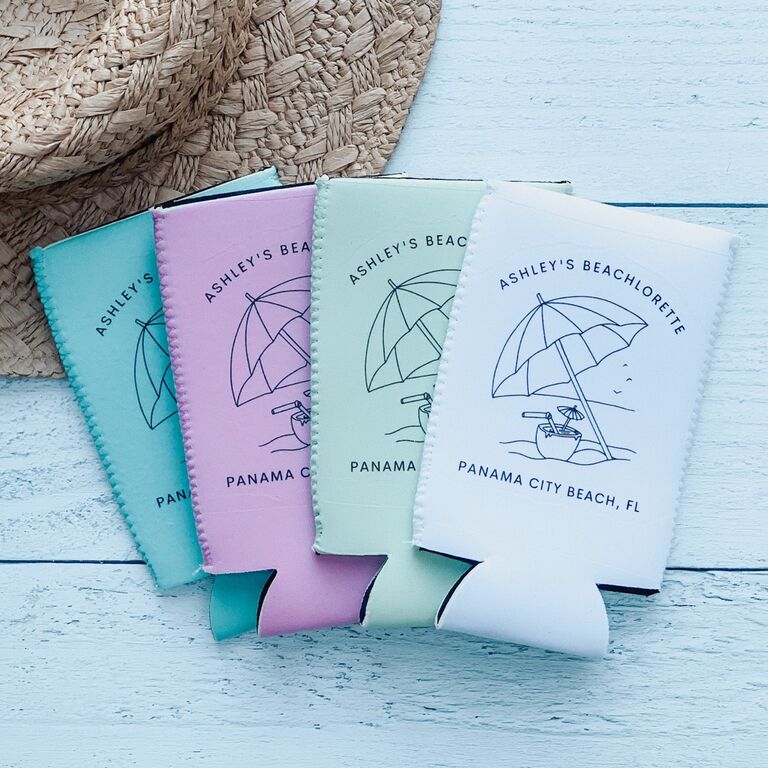 These thick, thermal-insulated can coolers fit around standard or slim 12-ounce cans, so your hard seltzer will keep cold even when it's super hot on the shore. Commemorate the moment with the bride-to-be's name and coastal occasion up top and the shell-covered locale on the bottom. Seriously, how inviting does that umbrella drink in a coconut look? Take us there!
20. Springbrook Engraving Bachelorette Frame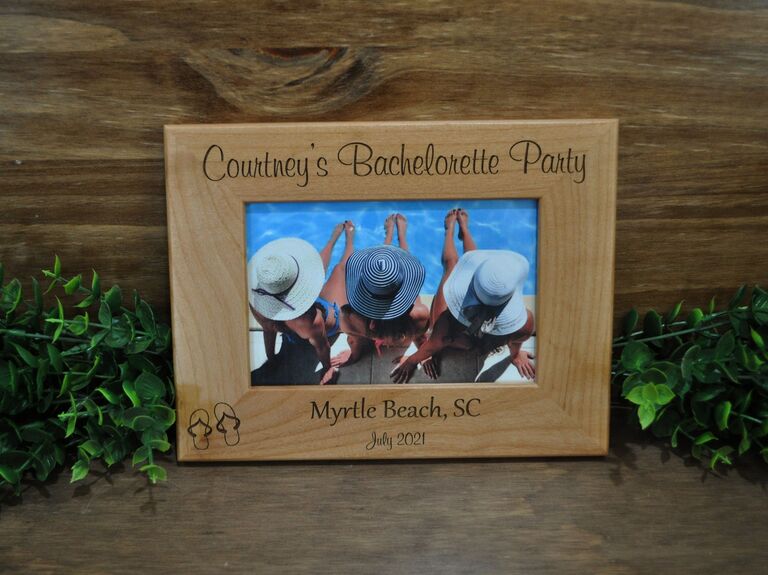 Remember that photoshoot on the beach with the bride and besties? Well, this girls-trip-themed photo frame is the perfect gift to send everyone home with. Just mention that the professional photos are forthcoming *big smile.*