9 Glorious Times Bacon Made an Appearance at Weddings
We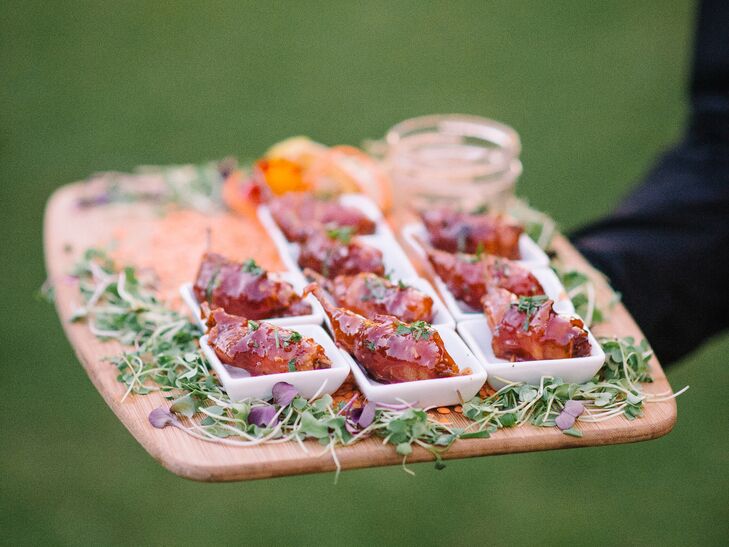 Aaron and Jillian Photography
You serve pulled pork sliders and pigs-in-a-blanket at your wedding, so why not bacon? It's the ultimate crowd pleaser and doesn't always have to bring up memories of the closest Waffle House. You can even get creative with it, like having a pile of maple bacon doughnuts alongside your wedding cake. See some of the most creative ways bacon was served at weddings below -- with not a pancake or egg in sight.
Maple Bacon Doughnut Dessert Bar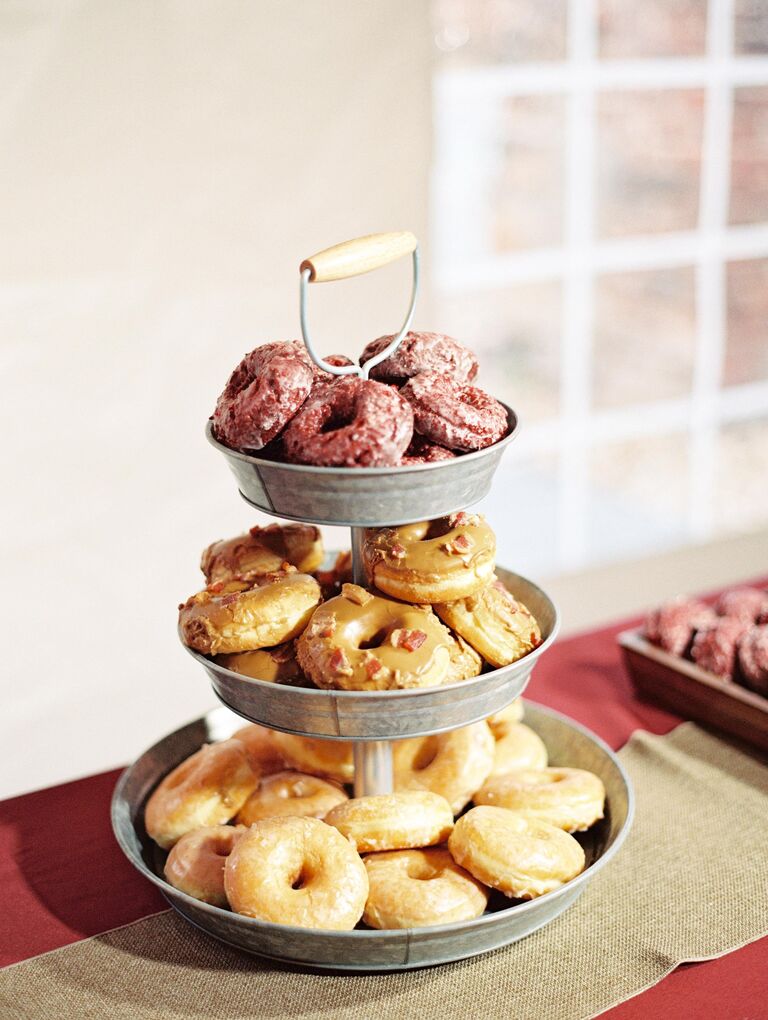 Alexandria and Jonathan treated their guests to maple bacon, red velvet and cinnamon sugar doughnuts from their favorite local shop.
From the album: A Classy, Minimalist Wedding at Historic Tredegar in Richmond, Virginia
Bacon Pimiento Cheese Bites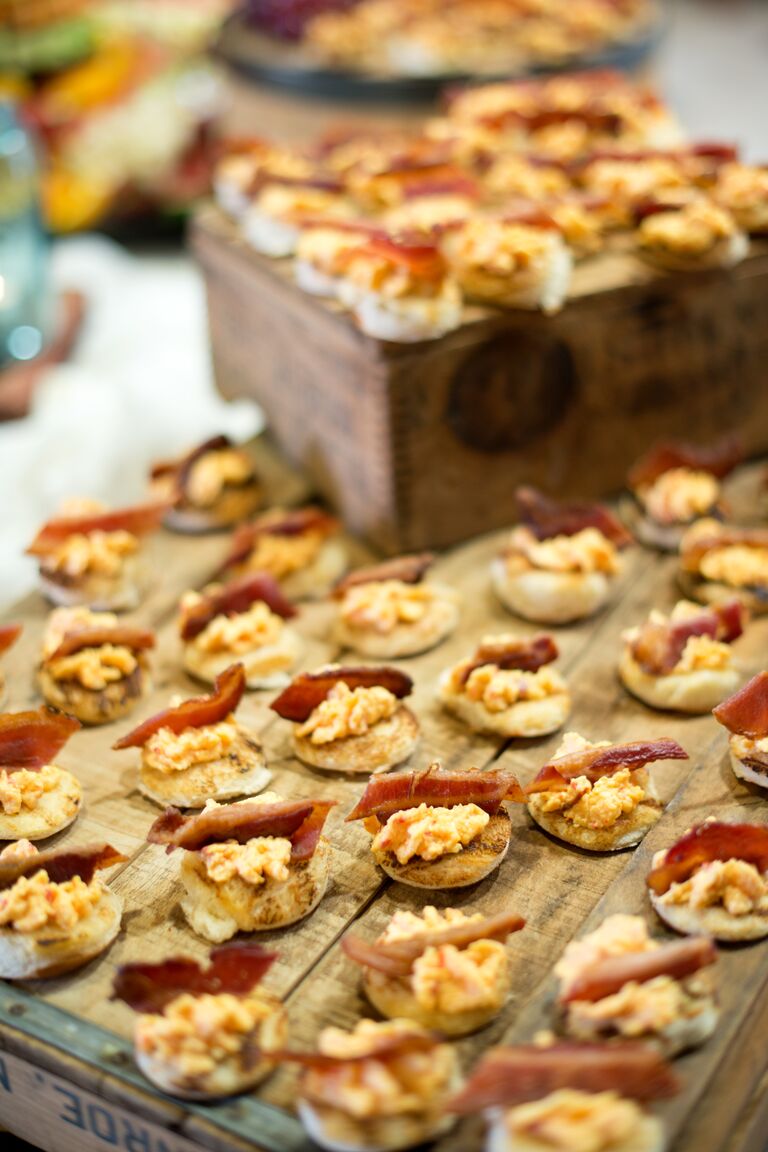 One of David's favorite foods is bacon pimiento sandwiches. So when it came time for him and Kaitlin to pick their wedding menu, he knew they had to be included. And their guests absolutely loved them. "Everything was delicious, but the food that all our guests could not stop talking about were the bacon pimiento cheese bites!" says Kaitlin.
From the album: A Romantic Spring Wedding at Lexington Municipal Center in Lexington, South Carolina
Bacon Tomato Soup Shooters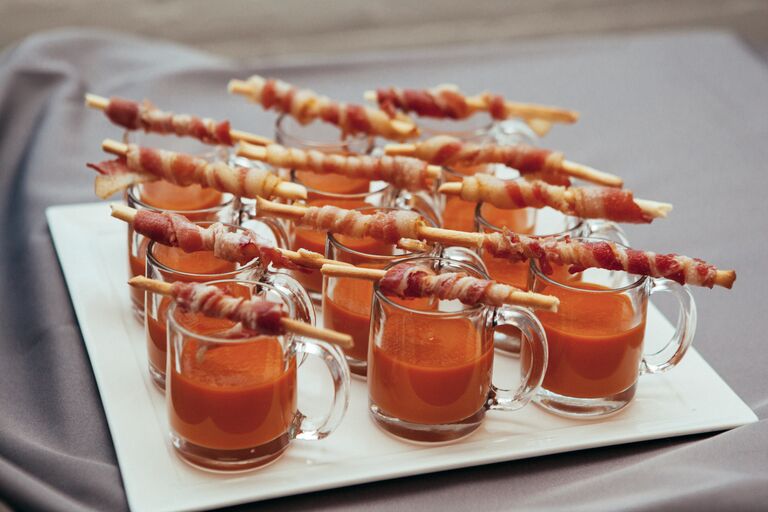 Of course bacon had to appear somewhere at Mark and Sarah's wedding -- their first date was at Chicago's Baconfest.
From the album: A Modern Spring Wedding at Room 1520 in Chicago, Illinois
Chipotle Chocolate Drizzled Bacon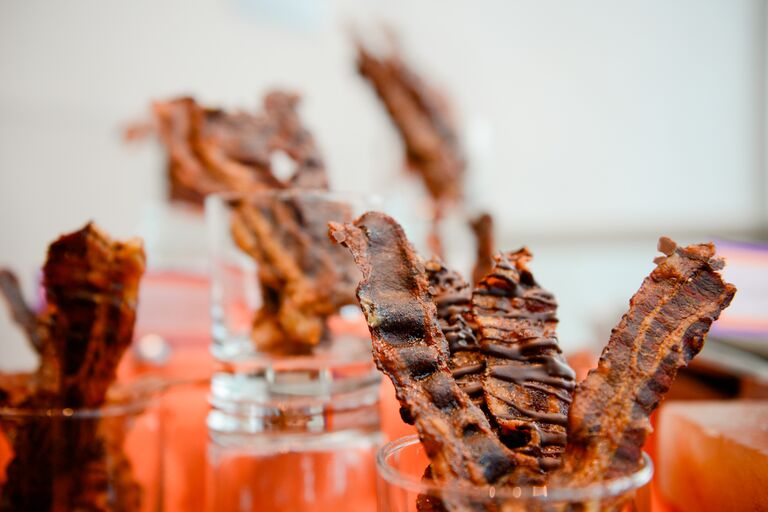 "Tripper is mildly obsessed with everything bacon, so it had to be a star at the wedding," Maddie says. They served these bacon snacks and other crazy combos, like bacon wrapped pork belly, in their bacon bar.
From the album: A Bold Purple and Orange Wedding at The Cable Center in Denver, Colorado
Bacon-Wrapped Quail Bites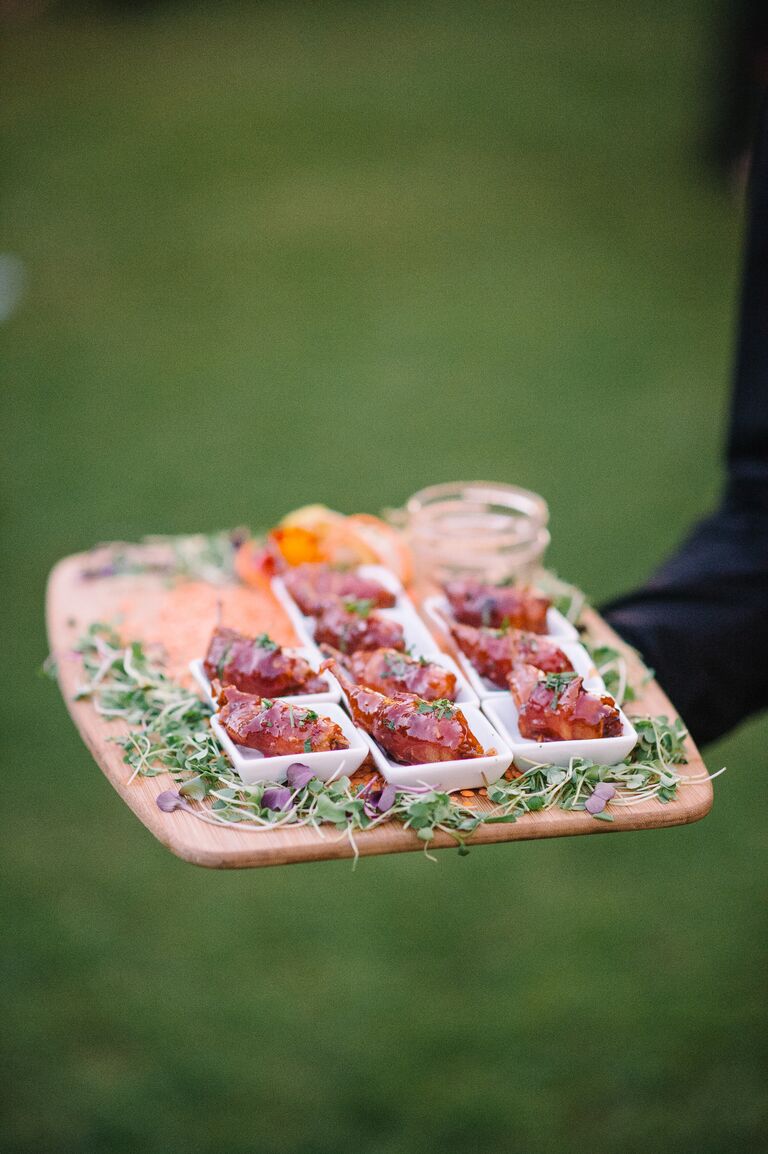 The menu at Jaci and Kyle's classic wedding featured tons of delicious Lowcountry fare. These crispy applewood smoked bacon-wrapped quail bites, along with fried green tomatoes and mini shrimp and grits were served during cocktail hour.
From the album: A Classic, Southern Wedding at Legare Waring House in Charleston, South Carolina
Chocolate Dipped Bacon Cupcakes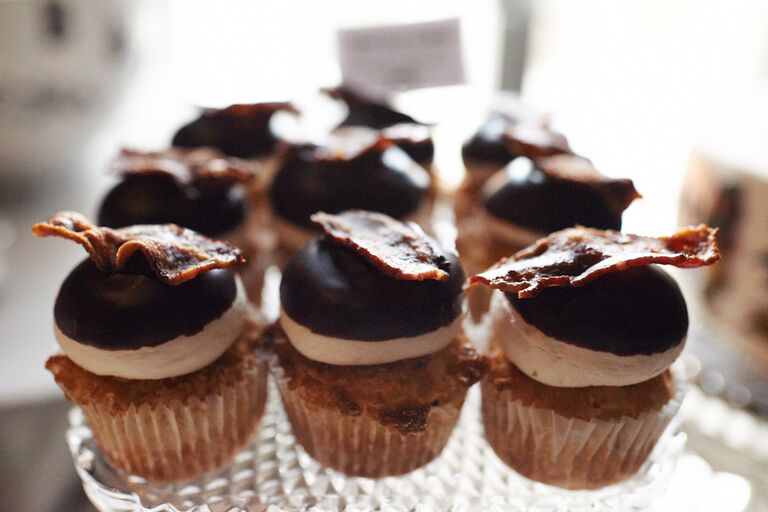 These chocolate maple bacon cupcakes were among the 17 different flavors that were served at Mike and Brittany's wedding.
From the album: An Eclectic Rose Gold Wedding at The Varsity Theater in Minneapolis, Minnesota
Radicchio Salad With Candied Bacon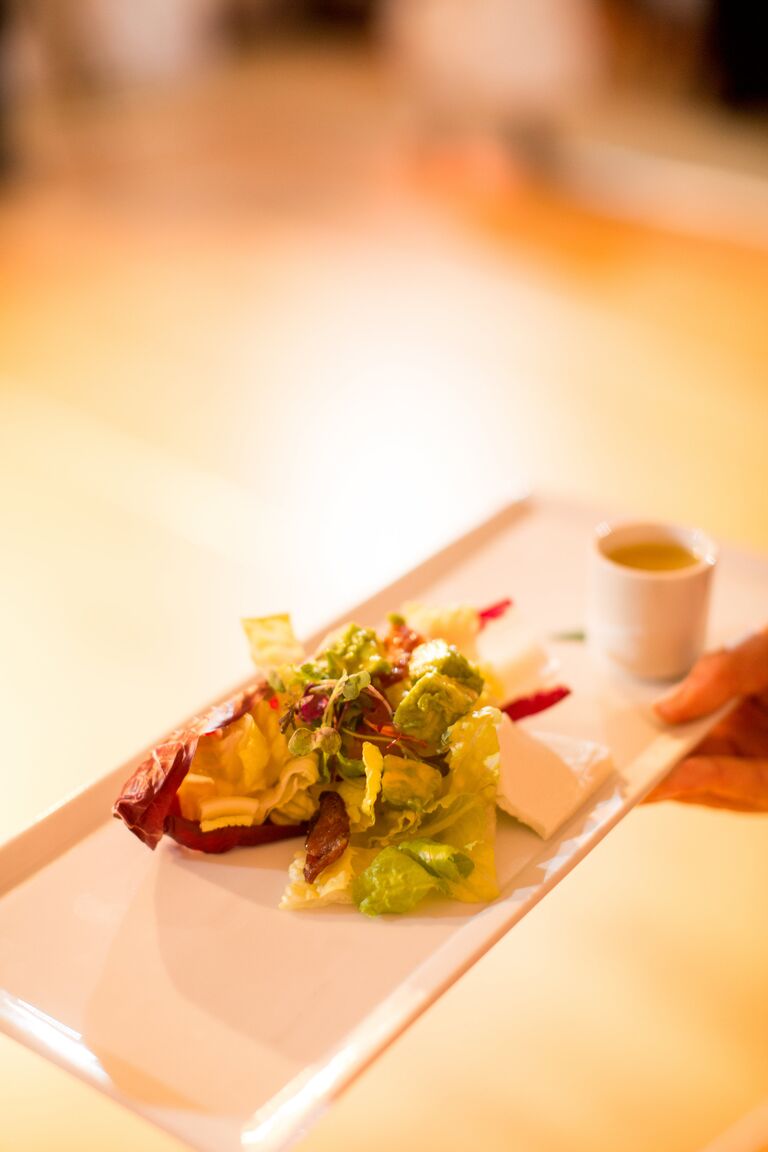 A candied bacon topping perfected the romaine and radicchio dinner salad Julia and Michael served at their beachside nuptials.
From the album: A Refined Beach Wedding at Terranea Resort in Rancho Palos Verdes, California
Bacon-Wrapped Scallops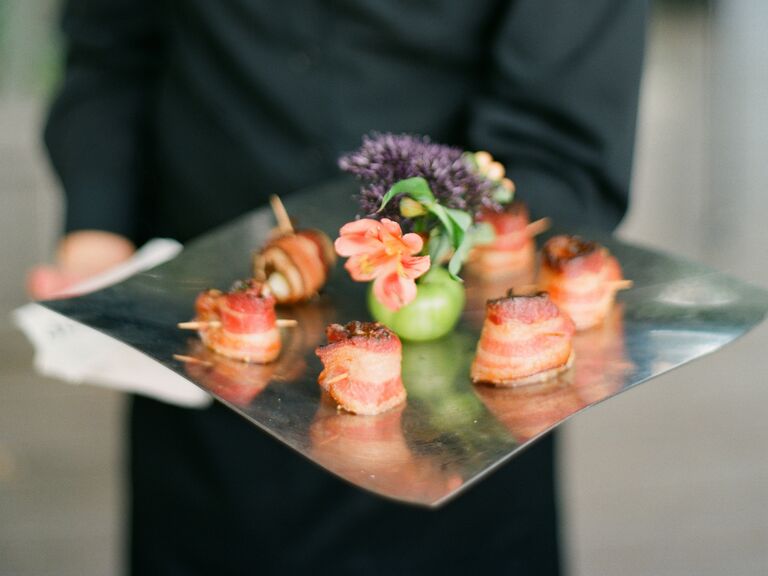 Jenna and Daniel served bacon-wrapped scallops as an appetizer at their intimate garden wedding.
From the album: A Fresh Romantic Wedding in Denver, CO
Bacon Socks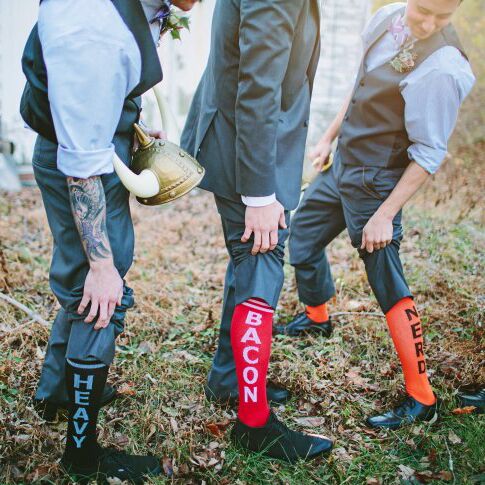 Who says all the fun has to start at dinnertime? Shaun's playful bacon socks added a funny twist to his formal three piece groom's suit.
From the album: A Lakeside Romantic Wedding in Montville, NJ