The Best Bedding and Bath Items To Add To Your Wedding Registry
The best bedding and bath items to add to your wedding registry, chosen by the pros at The Knot for our 2019 Registry Awards.
We have included third party products to help you navigate and enjoy life's biggest moments. Purchases made through links on this page may earn us a commission.
Your bedroom should be your sanctuary—especially during the high-stress months surrounding wedding planning. And what better way to ensure that it remains peaceful, serene and luxe well into your marriage than by registering for the best bedding (and bath) items out there. We've rounded up our favorite cozy, comfy pieces that may just tempt you to spend the whole day in bed.
In this article:
Best Sheets and Comforters
Your wedding registry is a great opportunity to upgrade from your old, torn or mismatched sheets to a new set that feels fresh and luxurious. There's a lot to unpack when it comes to sheets—from thread count and fabric type, to size and color—so we're breaking down the best options out there for your registry, below.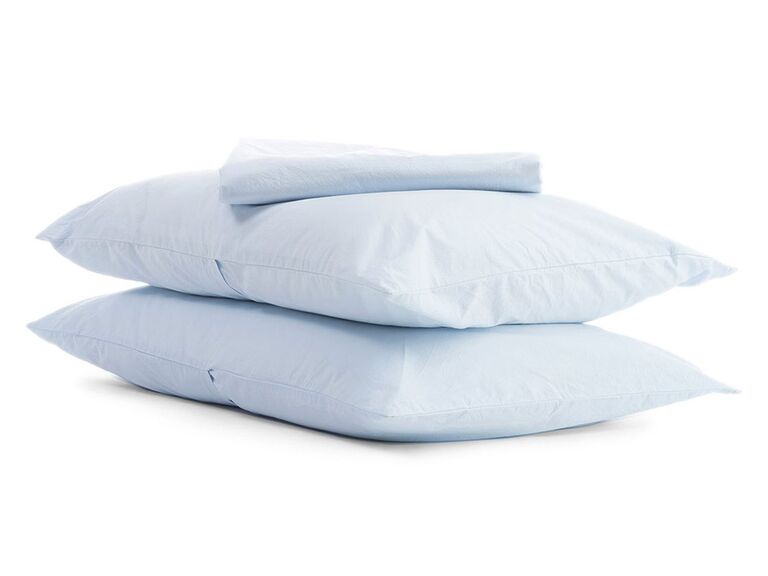 Editor's Pick: Parachute Percale Sheet Set, from $129, ParachuteHome.com
We promise you this—these sheets from Parachute home will be among the best you'll ever have. And we should know—our editor has four sets of her own. Made in Portugal from 100% premium cotton, they're lightweight and soft and only get better each time you use them. Add this sheet set to your wishlist with our Universal Registry tool.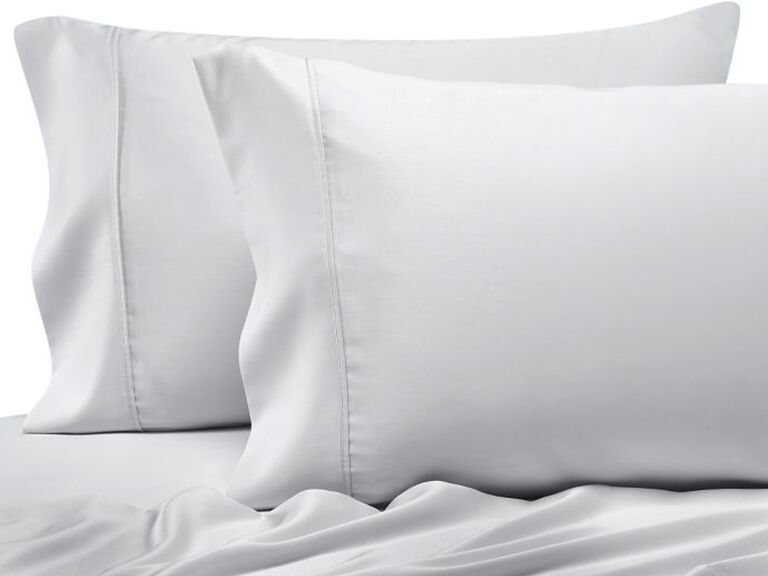 Couple's Pick: Pure Beech 100% Modal Sateen Sheet Set, from $90, BedBathAndBeyond.com
You'll love these sheets from Pure Beech for several reasons. First off, they come in at a great price point, making it totally ok to add two or even three sets to your registry. Second, they're made with 100% modal fibers, which lends a silk-like feel and gorgeous sateen finish. And with several chic colors to choose from, there's sure to be a set that matches your decor perfectly.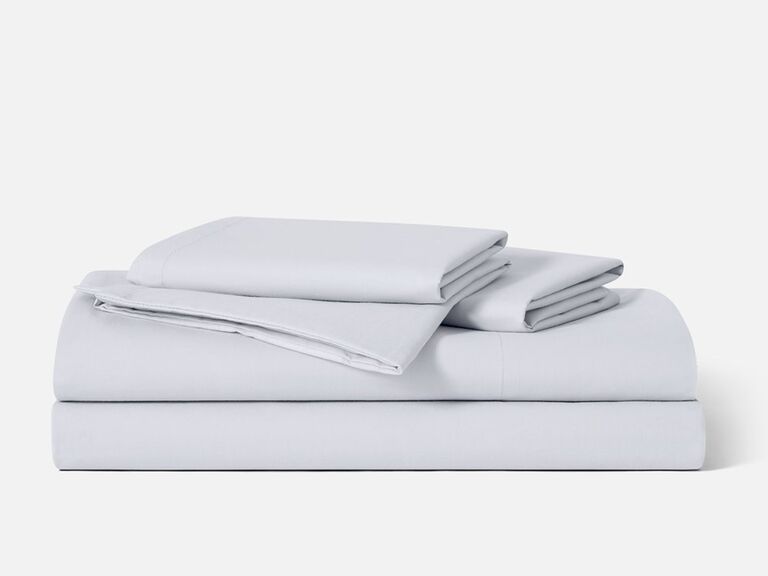 Best Basic Sheet Set: Brooklinen Luxe Core Sheet Set, from $129, Brooklinen.com
If you're unfamiliar, Brooklinen is a fresh bedding brand doing bedroom basics really well at an affordable price point. We love their luxe core sheet set (they seriously feel like butter), which come in a slew of very-now colors and patterns—and even better, a sign on the fitted sheet to tell you which way to put it on your bed. Hallelujah. Add this sheet set to your wishlist with our Universal Registry tool.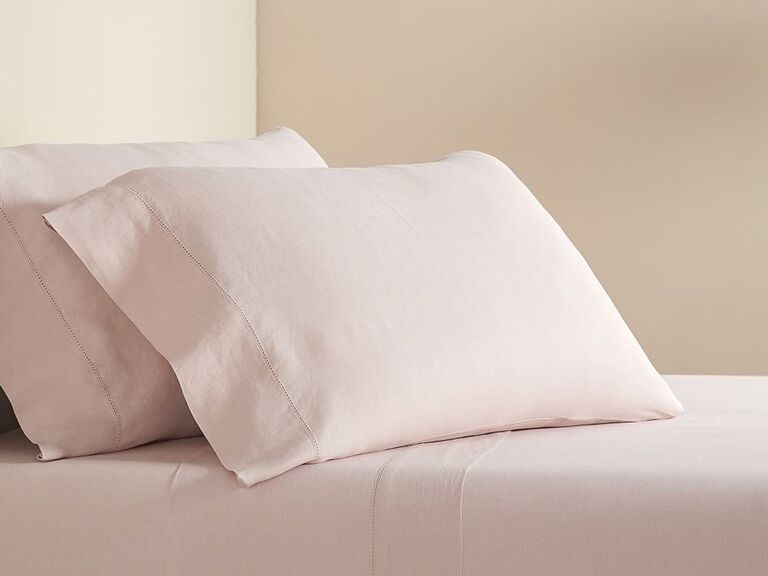 Best Linen Sheet Set: Pottery Barn Belgian Flax Linen Sheet Set, from $236, PotteryBarn.com
If you or your partner tend to get hot when you sleep, you should treat yourselves to a set of linen sheets. The lightweight, cool-to-the-touch fabric will keep you from overheating and allow you to sleep more soundly. We love this set from Pottery Barn, which pairs 100% Belgain flax linen with serene color options for a dreamy, cloud-like bed you'll want to dive right into.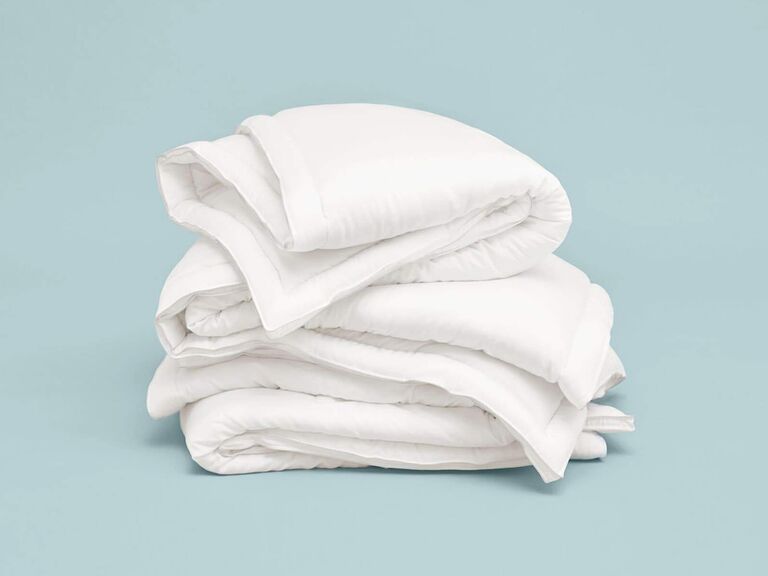 Best Comforter: Buffy Cloud Comforter, $150, Buffy.com
You guys, we love Buffy—and so do tons of other sleep fans, according to the thousands of five-star reviews. The ball of fluff is packed with hypoallergenic fiber that is resistant to microbes, mites and allergens, so you'll get a sneeze-free sleep all year round. The coolest part? It's totally eco-friendly. The exterior shell is 100% eucalyptus fiber, while the inside is made from—get this—recycled water bottles. Add this comforter to your wishlist with our Universal Registry tool.
Best Mattress
You could buy the best bedding on the market, but unless you have a quality mattress beneath those sheets, you're still going to feel uncomfortable. Build a great bed from the ground up with our picks for the best mattress.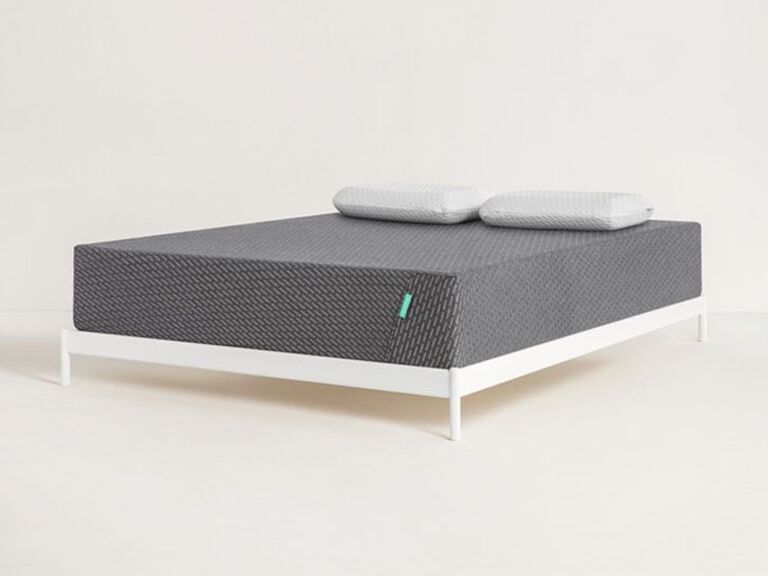 Editor's Pick: Tuft & Needle Mint Mattress, from $695, TuftAndNeedle.com
Buying a mattress online may feel risky—after all, how are you supposed to know if you'll like it if you've never felt it in person? But with Tuft & Needle's 100-night trail, you don't need to worry about taking it for a test drive before you officially commit. Not that you have to worry with this mattress,. It's packed with high-tech features (think: a graphite-infused layer to maximize cool, layers that increase in firmness for added support and a cozy-thick knit cover for an added dose of plushness. Add this mattress to your wishlist with our Universal Registry tool.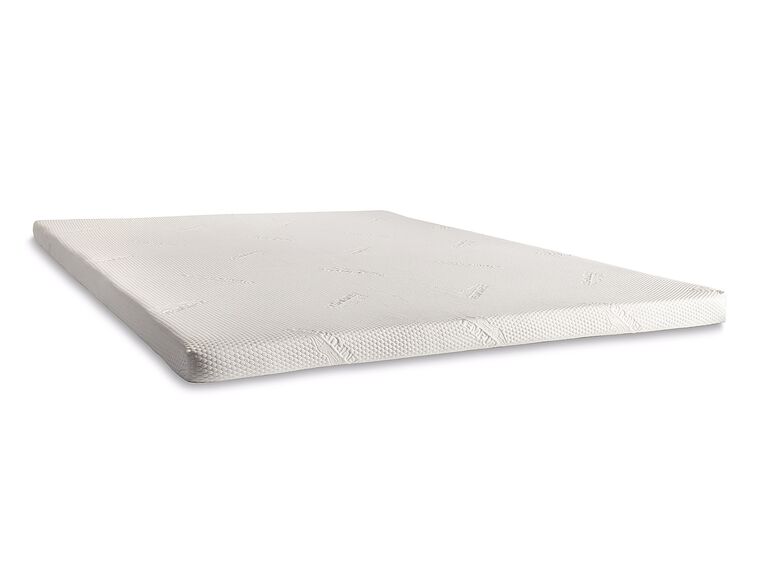 Couple's Pick: Tempur-Pedic TEMPUR-Topper Supreme 3-inch Mattress, from $350, BedBathAndBeyond.com
Give any mattress an upgrade with this Tempur-Pedic topper, a favorite of our real couples. Filled with 100% TEMPUR material, it's an easy way to add a bit more plushness to your sleep surface without springing for a pricier Tempur-Pedic mattress.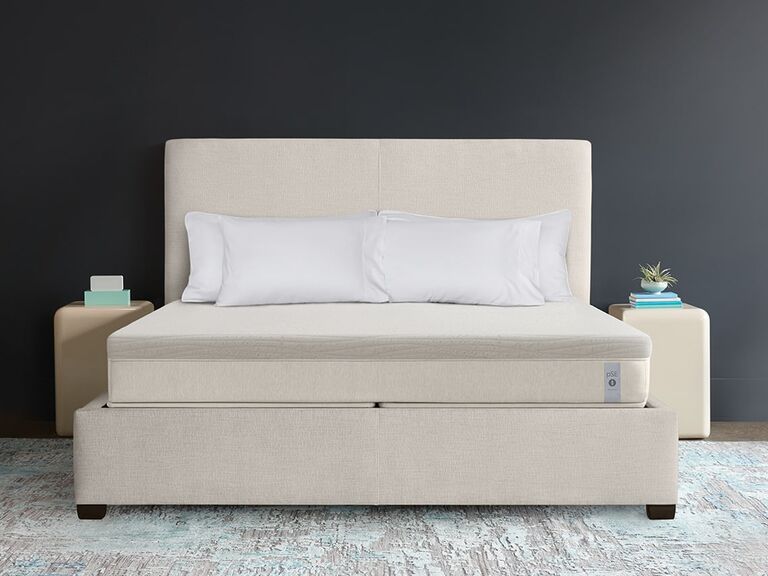 Best Adjustable Mattress: Sleep Number 360 pSE Mattress, from $2,599, SleepNumber.com
Find a middle ground in your marriage with help from this Sleep Number best mattress pick. Sure it's on the pricier side, but it packs all the bells and whistles you could ever possibly need, like adjustable firmness and comfort on both side and providing cooling temperature control. The coolest part? It has built-in SleepiQ technology, which tracks how you're sleeping so you can monitor the nights you need to head to bed early to catch up on your zzzz's. Add this mattress to your wishlist with our Universal Registry tool.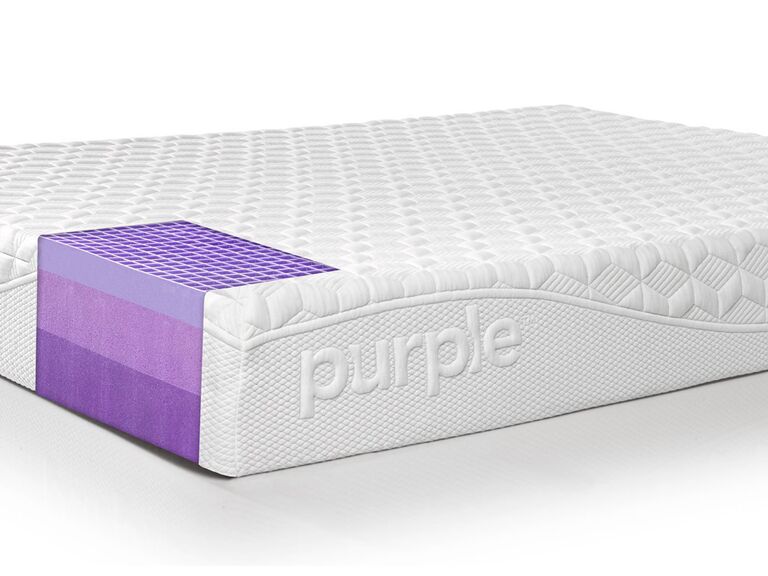 Best Cooling Mattress: Purple Mattress, from $899, Amazon.com
Just so we're clear, this mattress isn't just about cooling you down. But temperature control is one of the things Purple does best, thanks to an open grid design internally that promotes airflow and whisks away body heat to prevent you from sweating through the night. On top of that, Purple also works to isolate motion, so you're not woken up by your new spouse's tossing and turning throughout the night.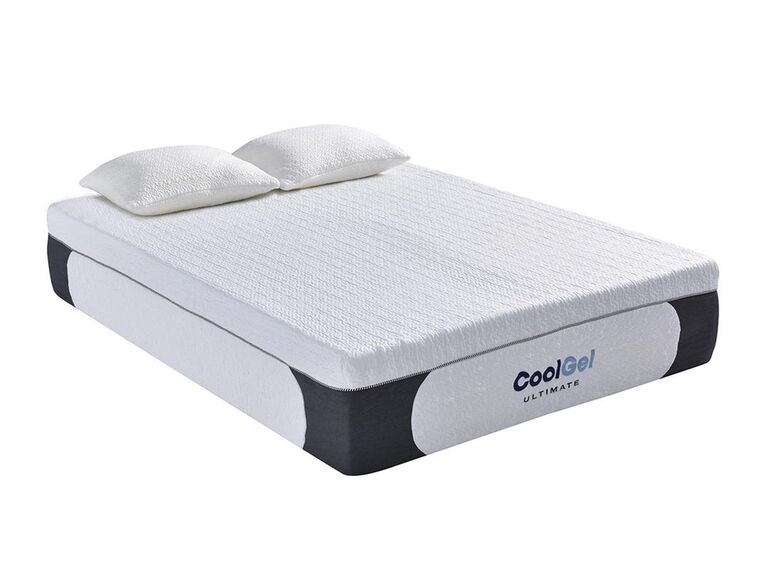 Best Budget Mattress: Cool Gel Ultimate Memory Foam Mattress, from $308, HomeDepot.com
Add this foam mattress to your registry and you'll score yourselves a comfy sleep surface at a great price point. Gel-infused memory foam helps to keep you cool while alleviating pressure on your joints for more long-term comfort. It comes compressed, so give it a few to spring to life then get ready to snooze. Add this mattress to your wishlist with our Universal Registry tool.
Best Pillows
Whether you're trying to get in your eight hours or sneak in a mid-planning siesta, you're going to want the best pillow (in addition to the best bedding) to lay your head on. But in a world of firm vs. down and side-sleep vs. back sleep, where do you even start? Right here, with our comprehensive list of the best balls of fluff out there.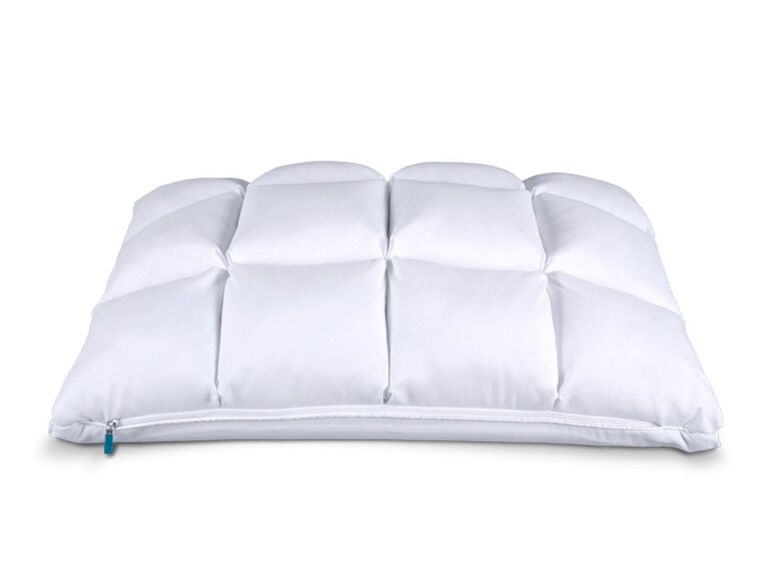 Editor's Pick: Leesa Hybrid Pillow, $99, Leesa.com
Our editor loves this pillow for its best-of-both-worlds appeal. It'll satisfy everyone, thanks to its down-like quilted pockets, cooling gel side and perfectly-firm insert. Bonus: the whole thing is machine washable, so you can wash off your makeup (or drool) every so often. Add this pillow to your wishlist with our Universal Registry tool.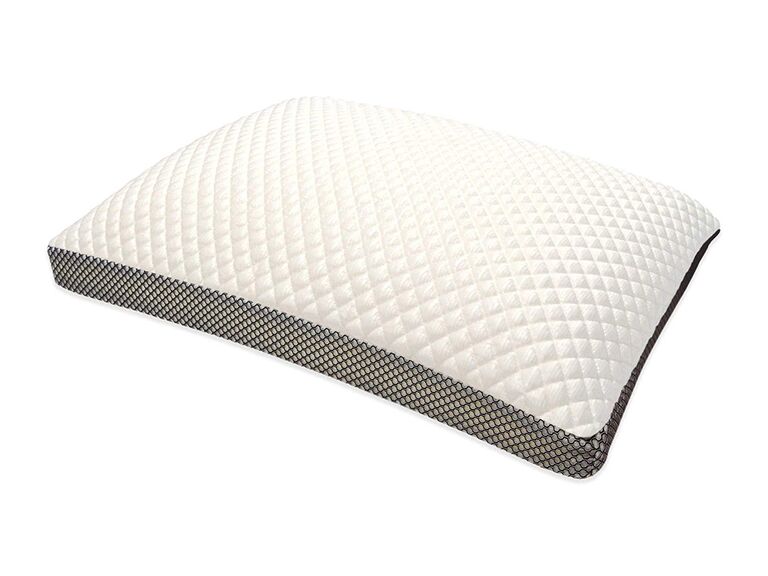 Couple's Pick: Therapedic TruCool Memory Foam Side Sleeper Pillow, from $70, BedBathAndBeyond.com
Our couples must have a thing for foam, because they picked this Therapedic memory foam pillow as their fave. It also features TruCool technology, which is essentially just fancy speak for increased airflow within the pillow for a cooler night's sleep.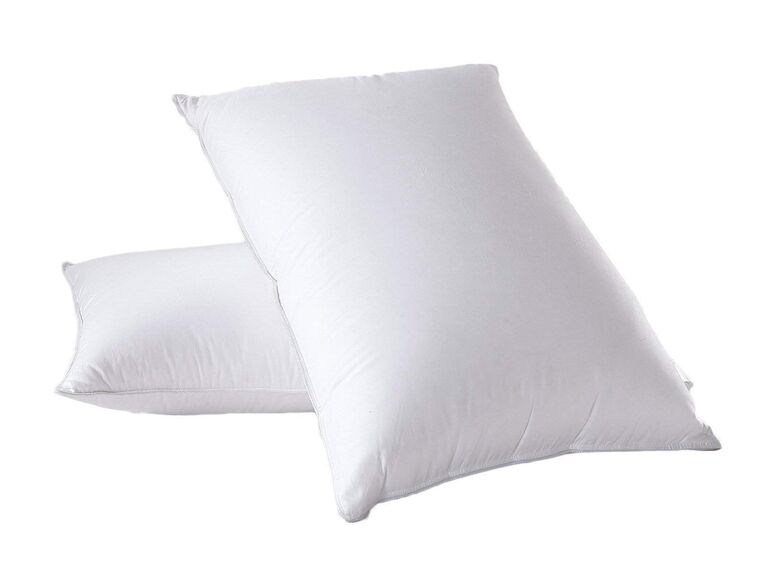 Best Down Pillow: Royal Hotel Down Pillow, from $150 for two, Amazon.com
These 100% goose down pillows are so, so plush. Covered in a 500 thread count exterior, they're a great option for sleepers who want something luxurious but don't need a ton of specialized support. Plus, at $150 for two, they're a great price-point for your registry..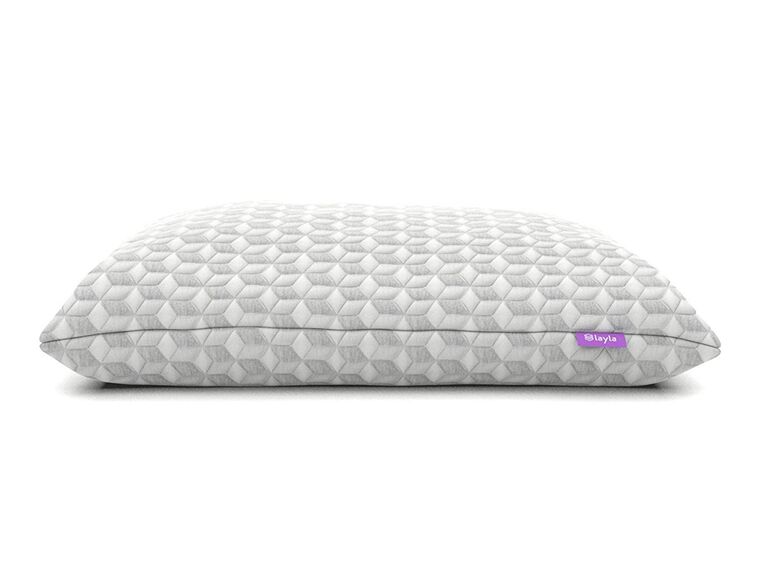 Best Memory Foam Pillow: Layla Copper-Infused Pillow, from $99, LaylaSleep.com
A unique combination of fiber and memory foam, this pillow from Layla is ideal for those who want a super plush place to rest their head that still lends a ton of neck support. The coolest part? The cover is infused with copper yarn, which is often used in performance fabrics and can help reduce odor and improve hygiene. Win! Add this pillow to your wishlist with our Universal Registry tool.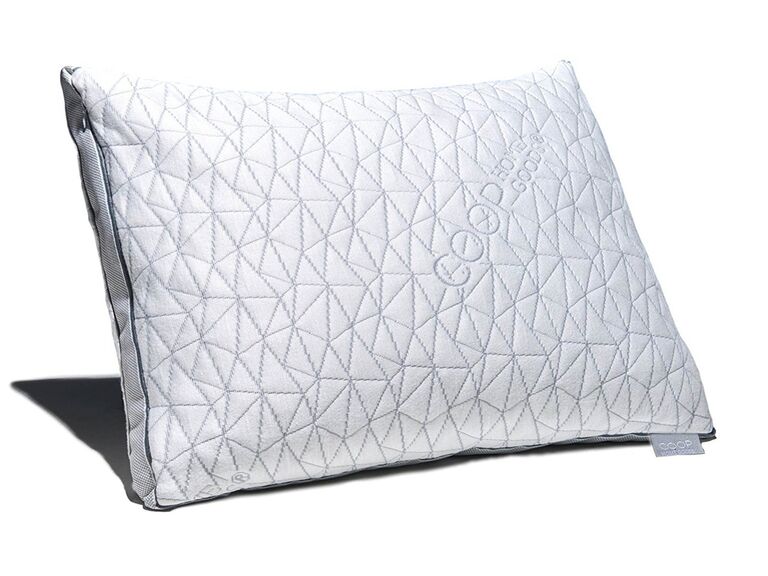 Best Cooling Pillow: Coop Home Goods Memory Foam Pillow, from $70, Amazon.com
Sure this pillow is memory foam, but that's not what makes it the most special (but it does make it great). The major key in this Coop Home Goods pillow is that said memory foam is infused with gel to help draw out heat as you sleep to keep you at a comfortable temperature.
Best Towels
Bath time should be luxurious—but it can only feel that way if you have the right accessories and linens. Enter our selects for best bath towels. These cozy, plush picks are high on the comfort factor and absorbency. And with a style to suit any home, we can pretty much guarantee you'll find a set you love enough to add to your registry.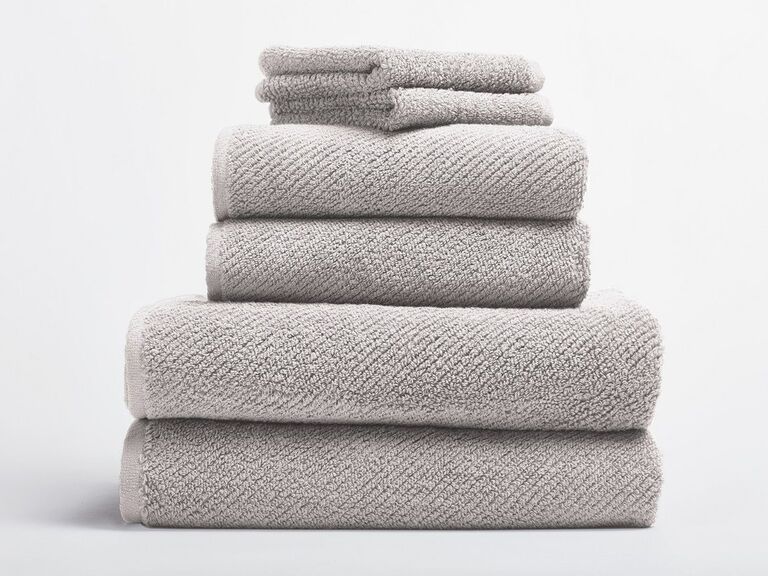 Editor's Pick: Coyuchi Air Weight Organic Towels (6 piece set), $128, Coyuchi.com
Our love for these towels goes far beyond how comfy and cozy they are. Most importantly, they're made with GOTS Fair Trade certified organic cotton, making them great for your home and the environment. They're also quick to soak up water and even quicker to dry, eliminating the risk that they'll get all musty post-shower. Add these towels to your wishlist with our Universal Registry tool.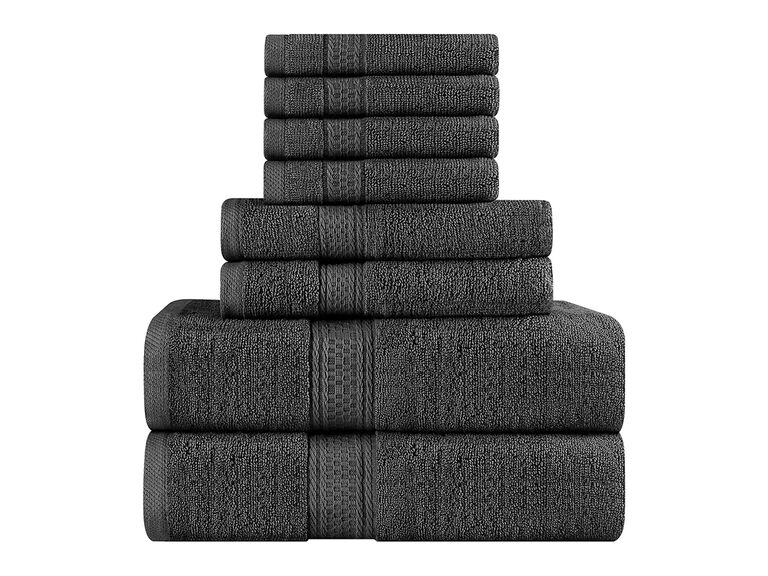 Couple's Pick: Utopia Towels 8-piece towel set, $22, Amazon.com
This set is such a bargain, which explains why our couples love it so much. For just $22, you'll get two bath towels, two hand towels and four washcloths, allowing you to stock your entire home with new linens for under $50. With tons of hues to choose from, you're sure to find a shade that matches your decor, too.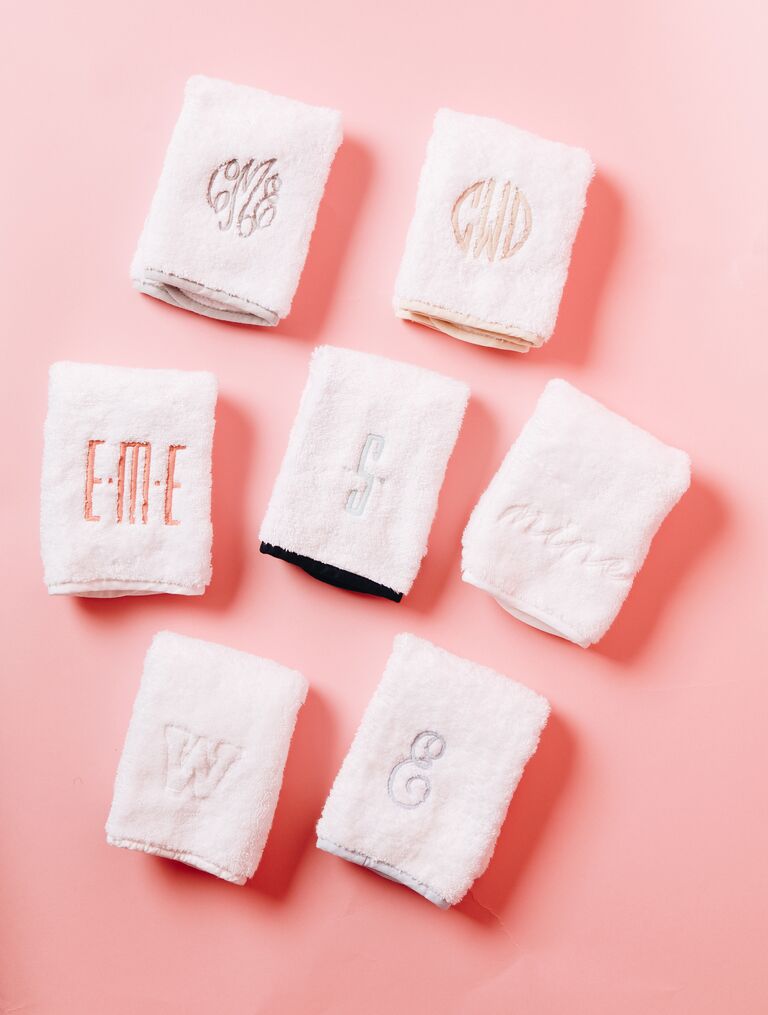 Best Personalized Towels: Weezie Towels, from $30, WeezieTowels.com
You guys, these towels are everything. Typically when you have the option to get things monogrammed, you can choose from only a few thread colors and maybe one or two monogram styles. Not with Weezie. The fresh company makes monogramming an endlessly creative process, with chic shades and modern styles to choose from. You can even embroider with cheeky phrases instead of your new couple initials if that's not your style. Add these towels to your wishlist with our Universal Registry tool.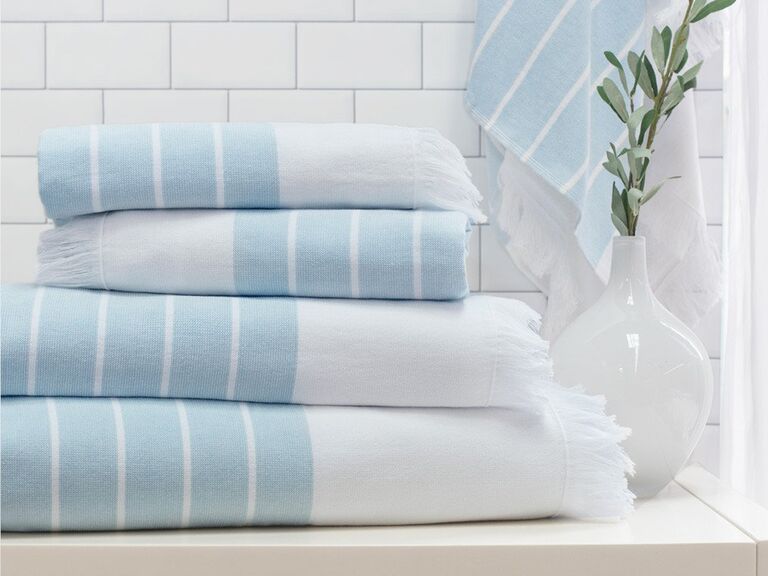 Best Turkish Towels: Crane and Canopy Blue Stripe Fouta Towels, from $4, CraneAndCanopy.com
If you prefer your towels a little more decorative and lightweight, you'll probably love this next award winner. Turkish towels are iconic for their beachy aesthetic and thin-yet-absorbent material. Made from 100% Turkish cotton, these towels from Crane and Canopy are charming and function and easy to pack away for your next adventure. Add these towels to your wishlist with our Universal Registry tool.
Best Bathroom Accessories
We've given you the best bedding and best bath linens you need to help you get your zen on, but what about everything else? Add these pretty, relaxing and functional picks to your registry for a home that feels like a true escape from the everyday.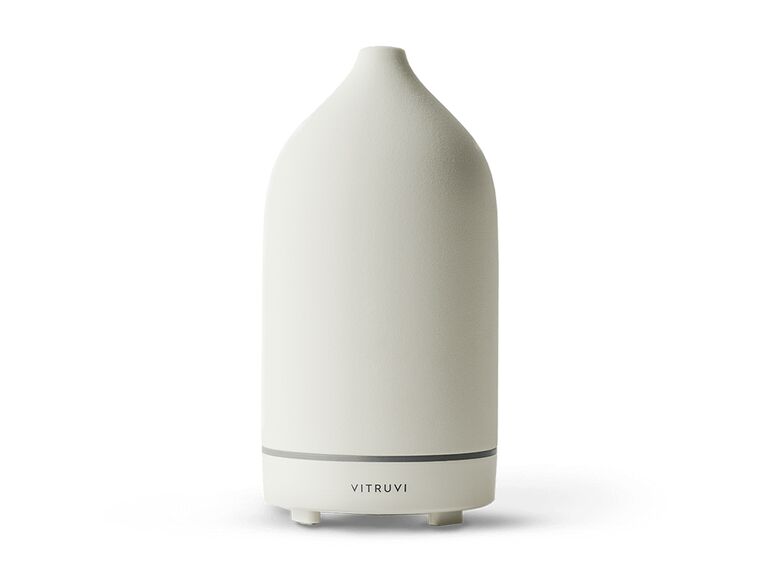 Editor's Pick: Vitruvi Stone Diffuser, $119, Vitruvi.com
If you've never tried out essential oils when looking to unwind, you are seriously missing out. They've been proven to alleviate everything from stress and anxiety (hello, wedding planning!) to germs and colds. Have we caught your attention yet? Good. Then all that's left is for you to do is register for this gorgeous stone diffuser from Vitruvi, which works as good as it looks. Add this difuser to your wishlist with our Universal Registry tool and cue bliss in 3, 2, 1...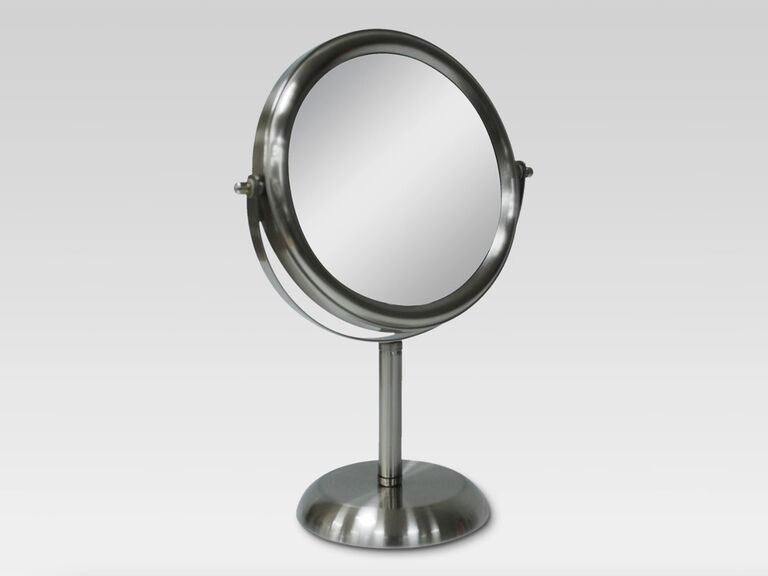 Couple's Pick: Threshold Bathroom Mirror, $20, Target.com
Prep your makeup or work on your skincare game with help from this countertop mirror. Beloved by our couples, it's a great inexpensive registry item that would also come in handy on your wedding day—be sure to pack it to get a quick look at your glam or outfit before the big moment!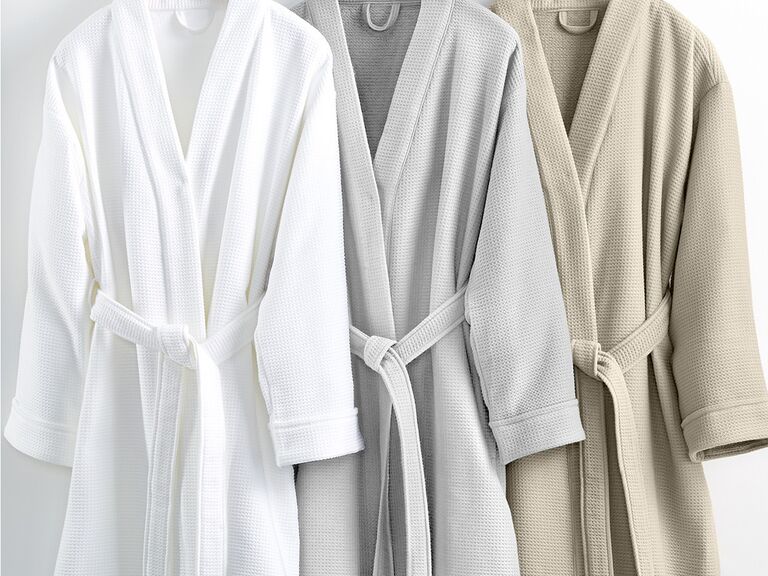 Best Bathrobe: Hotel Collection Waffle Weave Robe, $160, Macys.com
Score that classic newlywed matching robe moment with this Hotel Collection waffle weave style from Macy's. They combine everything you love about true hotel robes into a gift you can actually take home without getting in trouble.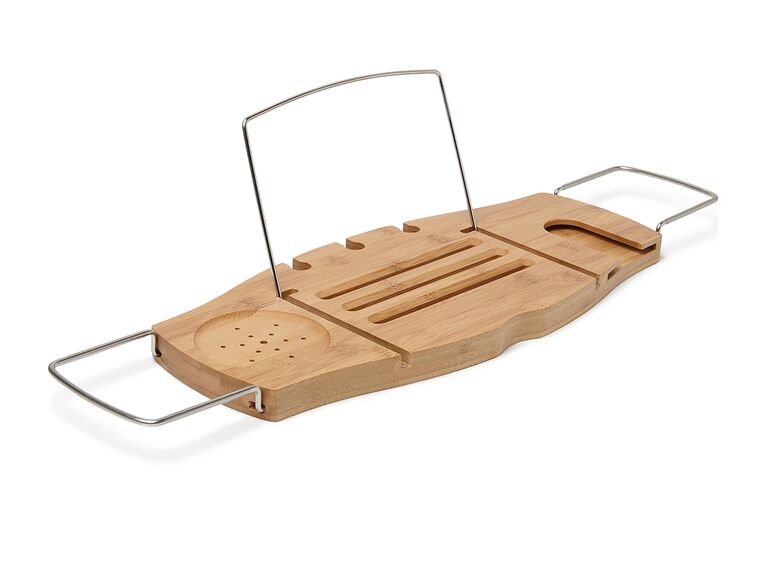 Best Bath Accessory: Umbra Aquala Bath Caddy, $50, BedBathAndBeyond.com
Netflix and chill from your bathtub with this genius bath caddy from Umbra. It rests on the edges of almost any tub, and has room for a book, Kindle, glass of wine or anything else that truly helps you get your zen on.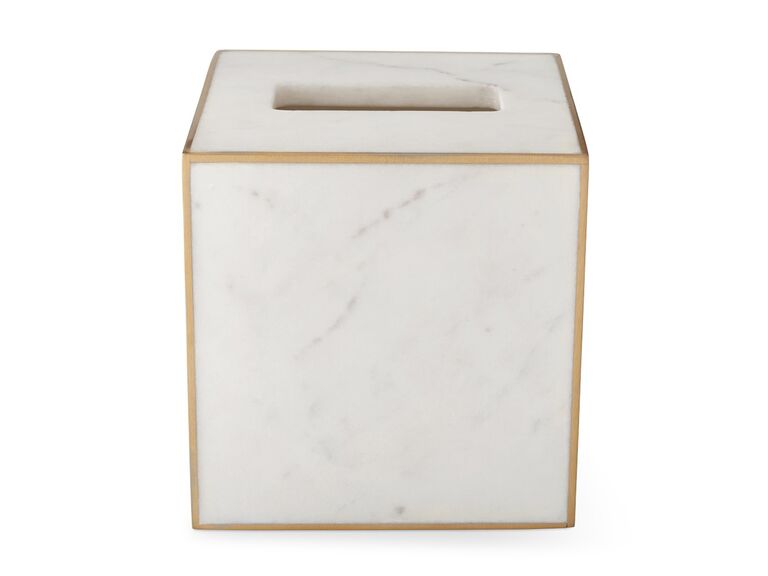 Best Bathroom Accessories: Williams-Sonoma Marble and Brass Bath Accessories, from $30, Williams-Sonoma.com
Deck out your bathroom in chic finishes for a space that truly feels worthy of the spa title. We love these marble and brass accessories from Williams-Sonoma—the collection features everything from a tissue box cover, to a tray and toothbrush holder, all in a luxurious and timeless aesthetic.
Bed and Bath Cash Fund Ideas
One of the best things about getting married in 2019 is the ability to register for anything (and we mean anything!) you want. Here at The Knot, we want to make that as easy for you as possible, which is why we offer Cash Funds. They're a simple way to add the things you really want to your registry and allow your guests to contribute any amount they desire towards your goals. Want to keep those relaxation vibes going? Here are some of our favorite cash fund ideas to get you started:
Editor's Pick: A cash fund for a weekend wellness retreat
Enter newlywed life as relaxed as can be with help from a wellness retreat. You can ask your friends and family to contribute to a cash fund to put towards a weekend away focusing on everything holistic and zen, like yoga, meditation and spa appointments. Come on, who doesn't want that?!
Couple's Pick: A cash fund for couple's massages
Your honeymoon should be an absolute dream—and in this dream, we're imagining you guys are going to want some massages. Make that dream a reality by starting a cash fund for couples massages your guests can contribute to. Who knows—you may even want to make them a regular indulgence!
The Knot Gifts Back: American Cancer Society
Give back on your big day! The Knot Gifts Back is a seamless way to support a charitable organization every time you receive a wedding gift—at no cost to you or your guests. Once you select your choice of 100+ participating organizations, The Knot will donate a percentage of the purchase price of every gift bought off your participating registry to that organization.
Did you know The Knot Gifts Back supports the American Cancer Society? The American Cancer Society is on a mission to free the world from cancer. Donations from couple's registires help to make breakthrough research, free places to stay near hospitals, and other critical patient services all possible.