6 Bejeweled Wedding Cakes You've Got to See
Jewelry isn't just for wearing! Add accessories to your cake for a spin on sweet style.
by Carrie Anton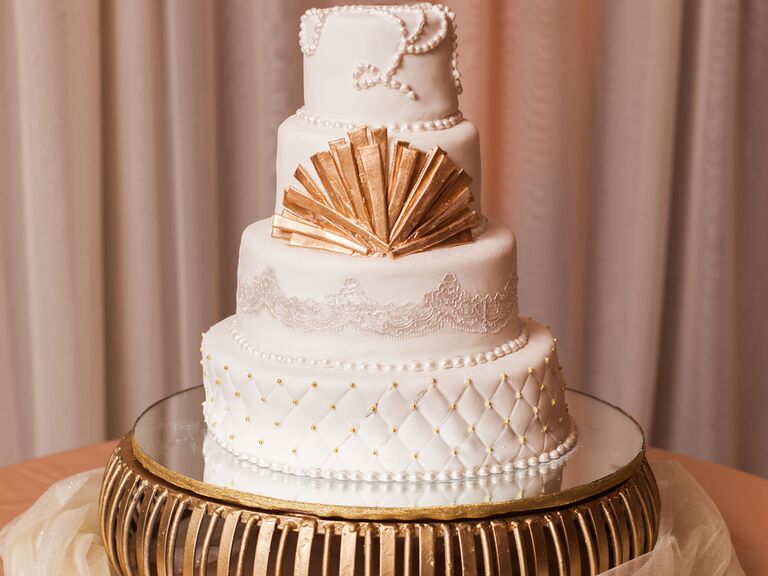 Landon Hendrick Photography
Rhinestones, diamonds and pearls may seem like just something a bride and her bridesmaids wear down the aisle. But when applied directly to the wedding cake, or recreated in frosting, the bejeweled accessories have an amazing way of adding fashion appeal to the confection. Get inspired by the cakes we've rounded up from Instagram to find ways to add sparkle to your signature dessert.

1. Dazzling Silver
Shimmering metal jewelry adorned with pretty pearls turn a tiered square-shaped cake into a showstopper.
2. Belted Beauty
Wrap each layer of a fondant-covered cake with a colored sash to match your bridal palette, and finish off the style with a Swarovski crystal embellishment.
Give your cake a luxurious look with pearls and gorgeous gold-toned touches.
4. Sweet Pearls
Sugar pearls and silver dragées (hard-shelled, bite-sized confections) might be the best kind of embellishments—pretty to the eye, and sweet enough to eat.
5. Wrapped in Rhinestones
Less is more with this two-tiered cake with glimmering rhinestones wrapped around each base.
6. Elegant Embellishments
While you could add fresh flowers to your wedding cake and call it a day, why not elevate the look for a high fashion feel by adding rhinestone and pearl-embellished flowers and brooches?