The 20 Best Violin Wedding Songs
From the "Wedding March" to "Ave Maria", these are the top violin wedding songs.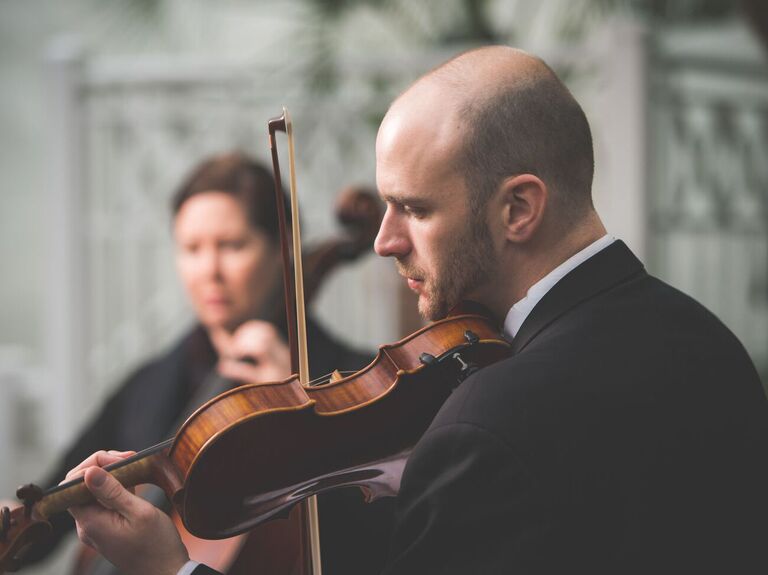 Seth and Beth Wedding Photography
While some couples like to take a modern approach to everything in their wedding music, others value and adore tradition. And still others want to keep it classy for their wedding ceremony and then get the party going at the reception. As a duo, you get to decide what matters the most to you—and what will set the right ambiance when you exchange vows. If you want to lean classical, consider choosing a handful of violin wedding songs for your processional and recessional.
We love violin wedding music because not only can ceremony musicians play classical music, they can also give an old-school twist to modern-day hits (think Bridgerton vibes). Here, we selected the top 20 violin wedding songs. (Go ahead and make your playlist, now!)
"Canon in D," Johann Pachelbel
For a quintessential song to walk down the aisle to, there is nothing more recognizable than Pachelbel's "Canon in D." While historians don't know exactly when this violin classic was written, they guess somewhere between the late 1600s and early 1700s. However, it didn't start to gain popularity for weddings until the 1900s.
"Wedding March," Felix Mendelssohn-Bartholdy
Did you know this was originally created for Shakespeare's, A Midsummer Night's Dream? It's one of the first love songs that we can find! It's become a famous wedding processional song, particularly when played by a violin.
"Ave Maria," Franz Schubert
While this song isn't as upbeat as other violin wedding songs, "Ave Maria" remains a go-to for a traditional approach. Not only is it dramatic and elegant, but it's romantic and a unique way to begin your wedding day. Plus, if you have German roots, "Ave Maria" holds even more meaning.
"A Thousand Years," Christina Perri
Romantic, ethereal and from the cult book and film series Twilight, Christina Perri nails it on how long you'll love your soon-to-be spouse: a thousand years. Even without her beautiful singing voice, this is a dreamy song to walk down the aisle to, guided by your violinist or string ensemble.
"All of Me," John Legend
This romantic ballad from one of the top crooners of our time, John Legend, was written about his wife, Chrissy Teigen. It became one of his biggest hits and one that's often selected as a first dance song. However, it's also fitting to play as your wedding march—or your recessional.
"Can't Help Falling In Love," Elvis Presley
If you're into Elvis Presley, you can't skip this tune on your wedding song playlist. Whether sung by Elvis Presley or covered by another artist, on the harp or the violin, there's a reason this ballad is a mainstay at weddings. Ideal for your processional and creating a dramatic entrance, it's both loving and powerful.
Find your kind of venue
From barns to ballrooms, discover reception venues that feel like you.
"Thinking Out Loud," Ed Sheeran
Though many people select this Ed Sheeran song as a processional in piano form, it's also an excellent choice for a violin wedding song. It will have the same recognizable melody and send the message that no matter what life throws at you two, you'll weather every storm.
"So This Is Love," Emile Pandolfi
Disney fans will recognize this classic from the first Cinderella film. It's poetic, sweet and subtle, and when played on the violin, it creates an airy, dreamy start to your wedding day. If you don't want to walk down the aisle to this violin wedding song but still want to use it, consider choosing it for your wedding party entrance music.
"Claire de Lune," Claude Debussy
If you want an entrance or exit song that bubbles over with emotion, this is the one to select. It goes high, then low, goes fast, and then slow—sort of like love. Ask your violinist to play this for your wedding processional or as a prelude to your ceremony.
"Can You Feel the Love Tonight," Elton John
Originally recorded by Elton John for the 1994 Disney movie The Lion King, this song may tell the stories of two lions, but it's still a beautiful wedding song choice. Opt for the violin version, which has sweeping octaves to dazzle your guests. We love it for your wedding ceremony or reception.
"Perfect," Ed Sheeran
This has been the most popular first dance song for quite a few years now, but it also makes an excellent choice for your ceremony playlist. We love it as a processional or recessional song as well as a prelude or interlude.
"La Vie En Rose," Ella Fitzgerald
No, you might not be able to exchange vows underneath the Eiffel Tower or walk along the Seine hand-in-hand, but you can pretend you're in France with this romantic tune. It's often played in the background of many films and TV shows (and has a shining spot on the TV hit How I Met Your Mother) and makes for a great wedding party processional song.
"Jesu, Joy of Man's Desiring," Johann Sebastian Bach
If your grandmother is insistent on you having a traditional processional song, choose this one. It was composed by Bach in the early 1700s, and remains a classic, simple and profound wedding song.
"Make You Feel My Love," Adele
While the lyrics of this song aren't exactly about two people in love and you might not think of it as part of a playlist of wedding ceremony songs, the violin and instrumental version speak a different language. It could be one of those songs you have your wedding party walk down the aisle to, or perhaps a recessional tune.
"Beauty and the Beast," Alan Menken
It's a tale as old as time, and your love will withstand the test. This beautiful melody speaks volumes without uttering a single lyric as your violinist gracefully plays it. We appreciate the sweet sentiment of this wedding song choice.
"Love Story," Taylor Swift
If you want to go modern with your processional or recessional, and ahem, pay tribute to your favorite singer, choose something from Taylor Swift. It also makes for fun cocktail hour music!
"I Will Always Love You," Whitney Houston
The legendary Whitney Houston sings her heart out in this 1990s ballad. But even if you don't have her undeniably powerful vocals, it's still a gorgeous song for a wedding ceremony. Your guests will be swept up in the emotions as your violinist plays.
"Somewhere Over the Rainbow," Israel Kamakawiwo'ole
For modern classical music, ask your violinist to take this Hawaiian-inspired song and turn it into poetic magic. We love the idea of this as a processional song for a beach wedding.
"What a Wonderful World," Louis Armstrong
Is there anything more eye-opening than seeing the world through the eyes of the person you love? Everything becomes more colorful and happier, and choosing this classic song is a way to pay tribute to how you feel. Even without the words, this violin wedding song feels instantly sweet and romantic.
"Love Me Like You Do," Ellie Goulding
Ellie Goulding released this for the Fifty Shades of Grey movie in 2015. And while it has a more saucy approach in the film, it's still a romantic wedding song for modern couples.