The 15 Best Netflix Movies to Watch Together on Halloween
Prepare the popcorn and candy.
by Maggie Seaver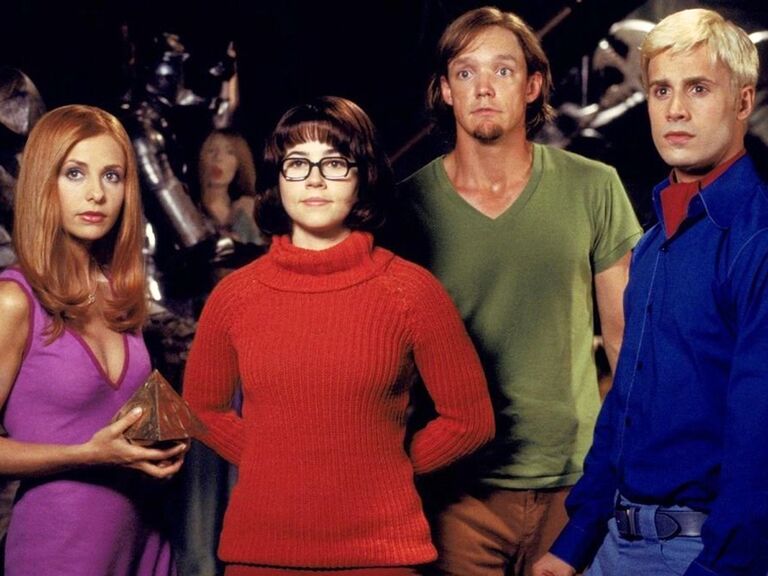 Warner Brothers Entertainment
Once October hits and the leaves start to change, it's time to indulge in Halloween movies all month long. If your ideal Halloween night includes a combination of your partner, Netflix, wine and a bowl of your favorite candy (not for the trick-or-treaters), we've got your back. This Halloween, spend the spookiest night of the year huddled under a blanket with your boo watching the best Halloween movies on Netflix (because everyone knows you need someone to cling to when things get scary). From iconic horror movies and classic dark comedies to creepy indie titles just waiting to freak you out, these Netflix Halloween movies will be the cherry on top of an epic Halloween date night.
1. Children of the Corn (1984)
Age isn't just a number in this creepy, remote town, where a religious cult of murderous children hunt anyone over the age of 18. Children of the Corn is based on Stephen King's novel of the same name, so you know it has to be one of the best Halloween movies on Netflix.
2.  Heathers (1989)
If you think Heathers is just another flick about petty high school cliques, you're dead wrong. Evil popular girls, murderous boyfriends and few too many Heathers make this dark teen comedy a Halloween winner and cult classic.
3. Interview with a Vampire (1994)
Brad Pitt, Tom Cruise and Kirsten Dunst star in this epic vampire story about love, betrayal and immortality. We hope you're hungry for this gothic tale.
4. Seven (1995)
This movie's got Brad Pitt in it too, but he's no vampire. He's a homicide detective on the hunt for a vicious serial killer whose MO is connected to the seven deadly sins. He and his partner (played by Morgan Freeman) are in for a very scary investigation.
5. The Sixth Sense (1999)
If you've never seen this iconic psychological thriller about the little boy who can see dead people, this Halloween is the perfect time to watch it. Trust us, it'll leave you reeling through Thanksgiving, at least.
6. Scooby-Doo (2002)
The Mystery Inc. gang's back together, and this time they're headed to Spooky Island, a hot Spring Break destination experiencing some not-so-chill paranormal hauntings. Who doesn't love a seeing some Shaggy and Scooby-Doo shenanigans on Halloween?
7. Van Helsing (2004)
What happens when Dracula and Frankenstein's monster get together to wreak havoc in Transylvania? You call on Gabriel Van Helsing, vampire slayer, to take care of it—or at least try to.
8. The Village (2004)
For the isolated villagers of Covington, Pennsylvania, unspeakable evil lives just beyond the forest's edge. Prepare to be scared as heck and thrown for a serious loop at the end—a trademark move for director M. Night Shyamalan.
9. Coraline (2009)
You might consider this animated adaptation a kid's story—but don't be surprised if Coraline's unsettling journey into an alternate universe creeps you out way more than anticipated.
10. The Conjuring (2013)
The Perron family thought they moved into a quaint New England farmhouse. How sweet. After terrifying encounters with a supernatural presence, the family calls on the pros—paranormal investigating duo Ed and Lorraine Warren—to help them uncover the property's deadly curse. The scariest part about this movie? It's based on true events (help!).
11. The Witch (2015)
If you're a sucker for atmospheric flicks, this is the Halloween movie for you. Set in the early 1600s, a pilgrim family sets up camp in New England far away from civilization—but close to the woods and the horror within.
12. I am the Pretty Thing That Lives in the House (2016)
This one's a Netflix Original production and it's the perfect haunted house flick for Halloween date night. When a young nurse moves in to care for a retired horror novelist, she learns the house plays host to some gruesome secrets.
13. Hush (2016)
What's scarier than being home alone with a masked killer stalking your every move? Being unable to hear a thing. Yep, when a deaf writer gets a visit from an uninvited guest, she'll have to fight him off in silence.
14.  Little Evil (2017)
Part horror movie and part comedy (thank goodness for Adam Scott's impeccable comedic timing), Little Evil follows newlywed Gary, whose 5-year-old stepson starts acting creepier and creepier by the minute.
15. 1922 (2017)
Stephen King is at it again. Netflix adapted one of King's novellas into a slow-burning period thriller about a troubled farmer in rural Nebraska whose wicked deeds return to haunt him and his son.