The Absolute Best Mattresses for Couples (And How to Choose the Right One)
You'll never go to bed angry with one of these comfy beds.
ViDI Studio / Shutterstock
We have included third party products to help you navigate and enjoy life's biggest moments. Purchases made through links on this page may earn us a commission.
Every couple is different. That said, there are a few key things that contribute to any healthy relationship—one of those being a good night's sleep. If you can't remember the last time you both slept soundly together, you've come to the right place. We've found the best mattresses specifically for couples that'll instantly up your sleep score.
Why a Good Mattress Is Important for Couples
Better sleep may play a role in responding to—and avoiding—conflict. In a 2017 study published by Psychoneuroendocrinology, couples were monitored while discussing issues in their relationship. When both partners were lacking sleep, they communicated with each other in a more hostile way. (Sound familiar?) Plus, thanks to the love hormone oxytocin, spending extra time in bed together could boost your romantic life. Fondly known as the cuddle chemical, it causes that warm and fuzzy feeling you get when you're all cozied up with your S.O.
What Couples Need to Know Before Buying a New Bed
Now that you know the importance of a good night's rest, it's time to look for a mattress that'll benefit you both. Here are a few key things to consider before you start shopping:
What's your go-to sleeping position? To choose the right mattress for you, figure out how you personally like to sleep. If you're a side sleeper, you'll want a mattress that responds to the different areas of pressure. Stomach sleepers, on the other hand, should opt for a slightly firmer mattress—no one wants to feel like they're sinking. (Pro tip: Many mattresses are advertised based on which sleep styles they work best for.)

FEATURED VIDEO FROM THE KNOT

What's your partner's favorite sleep position? The most important part of mattress shopping as a couple is finding one that works for both of you. But don't worry if you don't like the same sleeping positions! There are lots of mattresses out there for combination sleepers and couples with different preferences.

Hard or soft? We've all heard the tale of Goldilocks and the Three Bears. Now it's your turn to decide: innerspring or memory foam? Again, if you and your partner have different preferences, don't sweat it! We've thought of you too.

What's your budget? One thing to remember when shopping for a new mattress is that it's an investment. While it may seem pricey, think of the years of good sleep (and relationship health) ahead. That said, there are some really great budget-friendly options available, and most retailers offer payment plans. Holiday sales also come in clutch, including Presidents' Day, Labor Day, Black Friday and Cyber Monday deals.
The Best Mattresses for Couples in 2022
What is the best mattress for couples? Well, it depends on the couple. If you or your partner are prone to moving around a lot in your sleep, consider a mattress with good motion isolation. Or, if you find yourselves slowly sinking into place as the hours go by, maybe try something a little sturdier that won't swallow you up. Of course, chances are, you and your S.O. both have different sleeping habits. In that case, we suggest going for something that'll accommodate both of your unique preferences (it's out there, we promise). Ready to shop? Check out our favorite mattresses of 2022 for any kind of couple.
In this article:
Best Mattress for Minimal Partner Disturbance: Layla Hybrid Mattress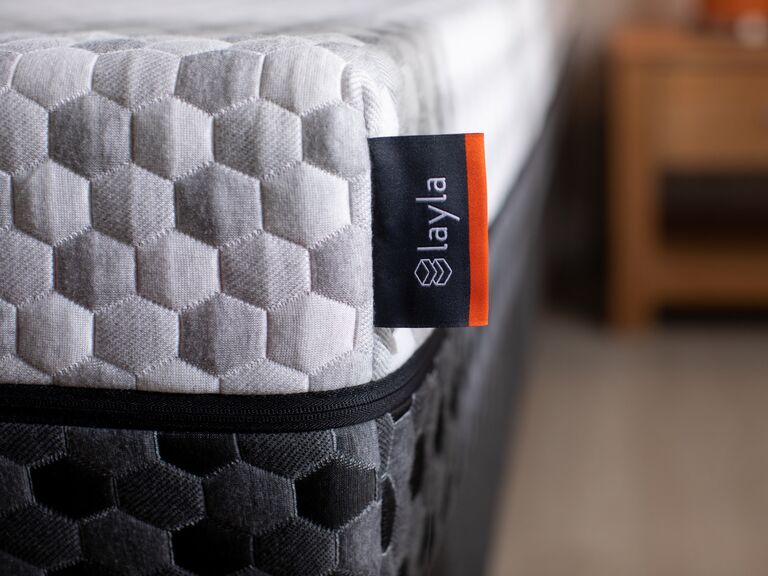 What you'll love about it: The Layla Hybrid Mattress has a ton of awesome features thanks to its innovative design. It's a mix of memory foam and coil springs, designed to provide the perfect balance of softness and firmness. Of course, it's impossible to provide just the right balance for every couple—or is it? Layla's flippable mattress offers different levels of firmness on either side, so you and your partner can switch to a firmer or softer mattress whenever you like! Layla's unique combination of coil springs and memory foam makes it one of the best hybrid mattresses for couples. Unlike other hybrids, it features copper-infused memory foam and a pocketed coil system. The result? A mattress with the plush comfort of traditional foam that offers a firm response to any and all movement. In other words, no more waking up to your other half's tossing and turning in the middle of the night. Bonus: Copper-infused memory foam has antimicrobial properties and promotes temperature regulation for uninterrupted sleep.
Potential downsides: While the Layla Hybrid is one of the best mattresses for motion isolation, it may not go down so well with someone who prefers a really soft mattress. If you're on the hunt for that "sleeping on a cloud" feeling, your best bet is traditional memory foam or air foam.
Standout reviews: "Neither my spouse or I are waking each other rolling over or getting out of bed. Additionally, my spouse and I are both super hot sleepers. We were worried from previous experience that a foam mattress would make us very hot at night, but this bed keeps you at the perfect temperature all night long." - Michael C. via Layla Sleep
Best Mattress for Couples With Back Pain: The WinkBed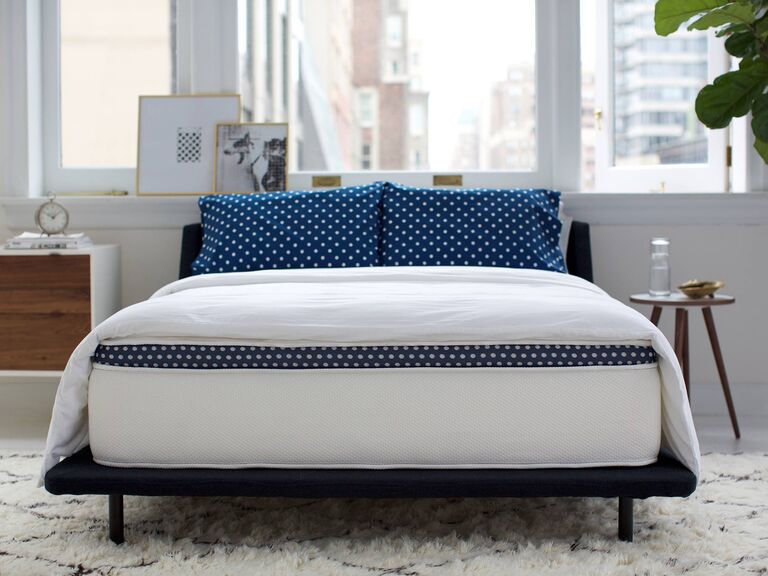 What you'll love about it: Cozy nights together shouldn't have to end in back pain. The award-winning WinkBed offers couples comfort and support with its clever three-step relief system. This foam-and-coil hybrid eases muscle tension and aids proper spinal alignment, all while offering excellent lumbar support. So, if you or your partner ever wake up grumbling of a sore back, it might be time to try the WinkBed. Another great perk of this pain-relieving mattress is its stabilizing layer of gel foam, which prevents motion transfer for minimal partner disturbance. We also love that there's a firmness option specifically for plus-size sleepers, making it a surefire runner up when it comes to the best mattresses for heavier couples. Additionally, this ultra-durable mattress has three other firmness levels to choose from: softer, luxury firm and firmer. Simply select your preferred firmness and add to cart.
Potential downsides: From cooling technology to top-notch motion isolation and edge support, this mattress ticks all the boxes. But if you and your partner have very different preferences when it comes to catching some Zs, you might find it hard to agree on one level of firmness.
Standout reviews: "It's been years since I have woken up pain free! I never knew how much of a difference a great mattress would make until now." - Megan J. via WinkBeds
"Wife and I love this mattress! It is the perfect blend between the things we like about a spring mattress, and the things we like about a memory foam mattress." - Paul S. via WinkBeds
Best Memory Foam Mattress for Couples: Puffy Mattress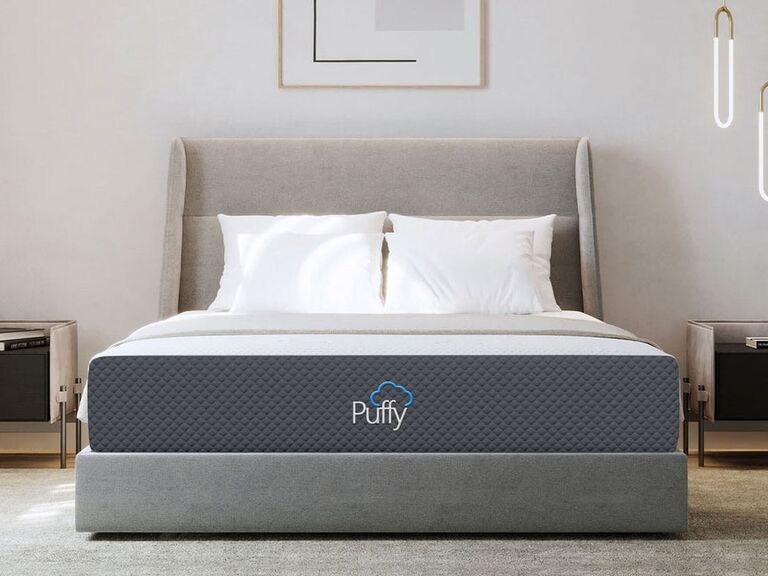 What you'll love about it: The Puffy mattress has shot its way to the top in 2022, and it's no surprise when you consider the bed's innovative features (which are backed up by thousands of reviews, by the way). So why exactly are we crowning Puffy the best memory foam mattress for couples? First of all, the bed contours to the body so that you can drift off in optimal comfort no matter your position. Side, back and stomach sleepers will get their money's worth out of this mattress. But what's going on underneath the cozy, contouring top layer? Puffy has a five-layer sleep system, including a grip base cover, supportive high-density foam, pressure-relieving foam, cooling gel-infused foam and a stain-resistant, hypoallergenic cover. Together, the layers make up a medium-firm mattress that's supportive, cooling and motion isolating.
Potential downsides: There aren't many downsides to the Puffy mattress. In fact, it even comes with free shipping, a 101-night trial period and a lifetime warranty. That said, there are some drawbacks to sleeping on a memory foam mattress in general. If you and your partner like a bed with a bit more bounce, you'll likely prefer an innerspring or hybrid mattress.
Standout reviews: "My husband and I have searched high and low for a mattress that met both of our needs. Not too firm, not too soft. Comfortable and provides a great night sleep. We finally found it with Puffy." - Krystal W. via Puffy
"We have used other foam mattresses for some time and this product is far and away the best we have ever slept on." - Rod J. via Puffy
Best Mattress for Couples With Different Preferences: Helix Midnight Luxe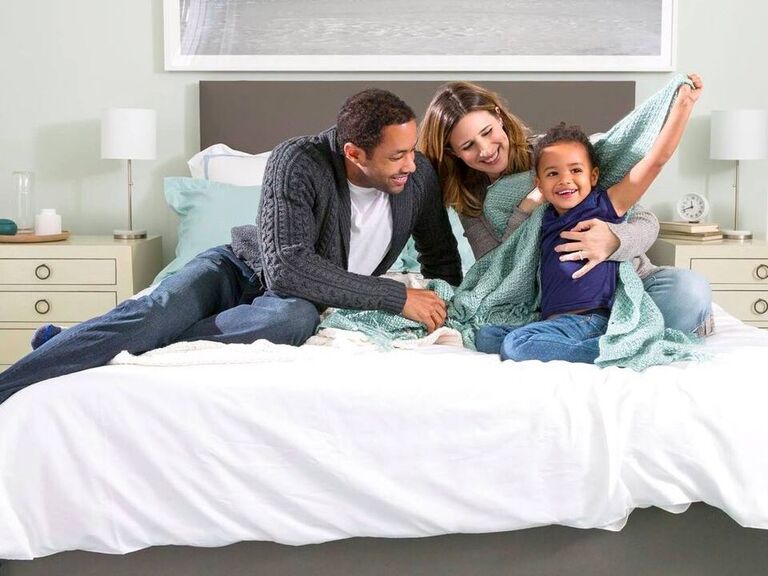 What you'll love about it: If you're having trouble agreeing on the best mattress for you as a couple, meet the Helix Midnight Luxe. Another hybrid mattress, it boasts six unique layers to achieve maximum comfort. A breathable quilted top helps to regulate the temperature, while underlayers of foam, gel and wrapped coils provide softness and stability. It's designed to contour to the body, offering a bespoke experience for both you and your other half. If that's not enough, this luxurious mattress provides excellent pressure relief for side sleepers—perfect for spooning. Not sure if the Midnight Luxe is the one for you? Feel free to check out the Helix "find my match" feature, which will quiz you and your partner on your preferences and offer the best mattress for both of you.
Potential downsides: The Midnight Luxe offers a medium feel that's not too hard and not too soft (and one of the best mattresses on our list for side-sleeping couples). That said, if you or your partner prefer the plusher or firmer ends of the spectrum, this might not be for you.
Standout reviews: "This mattress will save and strengthen your relationship." - Matthew via Helix Sleep
"We love this bed!! I prefer soft beds, and my husband prefers firm beds—this bed gave my husband enough firm support, while the pillow top gave me the plush softness I was looking for. The bed doesn't trap heat either, so it's been great for us since we both sleep hot, and the material feels so luxurious. We would definitely recommend to anyone trying to find a bed for two different types of sleepers!" - Rohan M. via Helix Sleep
Best Cooling Mattress for Couples: GhostBed Luxe Mattress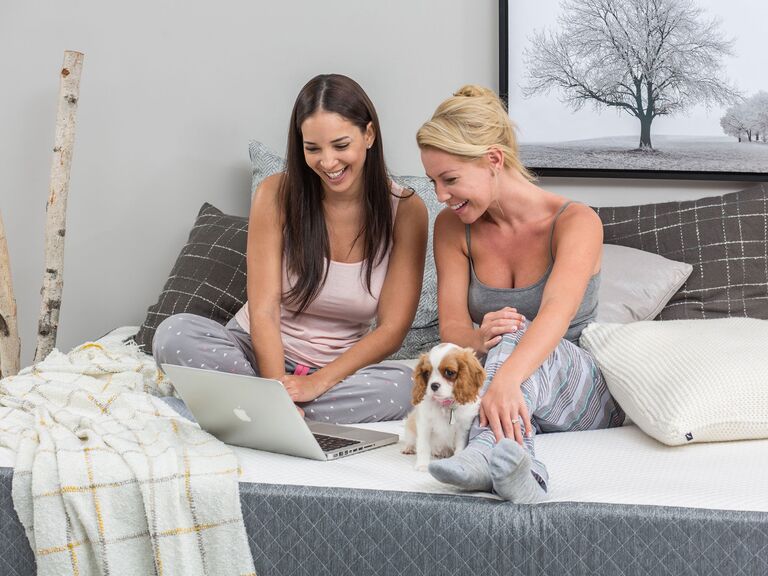 What you'll love about it: We get it, sleeping next to each other can get hot (and not in a good way). If waking up in a sweat is keeping you from cuddling up to your other half, it's time for a new mattress. Enter: the GhostBed Luxe. This impressive option claims to be "the coolest bed in the world," but what exactly makes it the king of cooling mattresses? The GhostBed Luxe has cooling technology in almost every layer, including gel memory foam, airflow-enhancing fiber and patent-pending Ghost Ice fabric that's cool to the touch. It's hands down one of the best mattresses for couples who sleep hot. Additionally, the high-density and Ghost Bounce layers at the bottom create a durable and supportive base that combines the best features of memory foam and latex. If you like a softer mattress and your S.O. prefers medium firmness (or vice versa), it should equally please both of you.
Potential downsides: While the GhostBed Luxe is recommended for both side and back sleepers, stomach sleepers might have a harder time getting the support they need from this plush bed.
Standout reviews: "We've had our mattress for a few weeks now and it is a keeper! It prevents overheating and is cool to the touch initially. The endless cycle of kicking off the covers, waking up cold, pulling up the covers, repeat, repeat, repeat, is over." - Ronda E. via GhostBed
Best Mattress for Plus-Size Couples: Helix Plus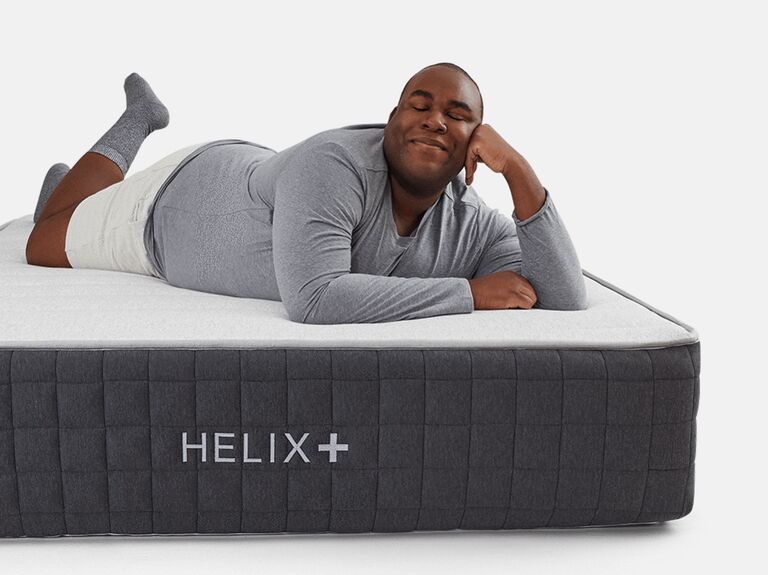 What you'll love about it: Make sure you're both getting the support you deserve. The Helix Plus was designed specifically for plus-size sleepers. It boasts a delicate combination of balance and bounciness, making it a great option for couples who like their mattress to have a little give and take. But it also offers promising results when it comes to motion isolation thanks to an ultra-firm transition layer. Another great feature of the Helix Plus? Edge support. We get it, not every couple wants to cuddle all through the night. Sometimes you just want to stretch out on your own side of the bed. Because this mattress is on the firmer side, it offers excellent support from edge to edge. It's also CertiPUR-US and OEKO-TEX Standard 100 certified, meaning you won't have to worry about any harmful chemicals or emissions. Finally, the Helix Plus boasts cooling technology to make sleeping with your S.O. easy breezy.
Potential downsides: While denser-than-usual memory foam makes this pick extra-durable, it might not be the best mattress for plus-size couples who prefer a softer sleeping experience.
Standout reviews: "Wife and I had back pains and rarely slept a full night. Upgraded to the Helix Plus and love everything about it. We sleep better, our pains have subsided and it's extremely comfortable." - Ben S. via Helix Sleep
Best Mattress for Couples With Different Weights: Tuft & Needle Mint Mattress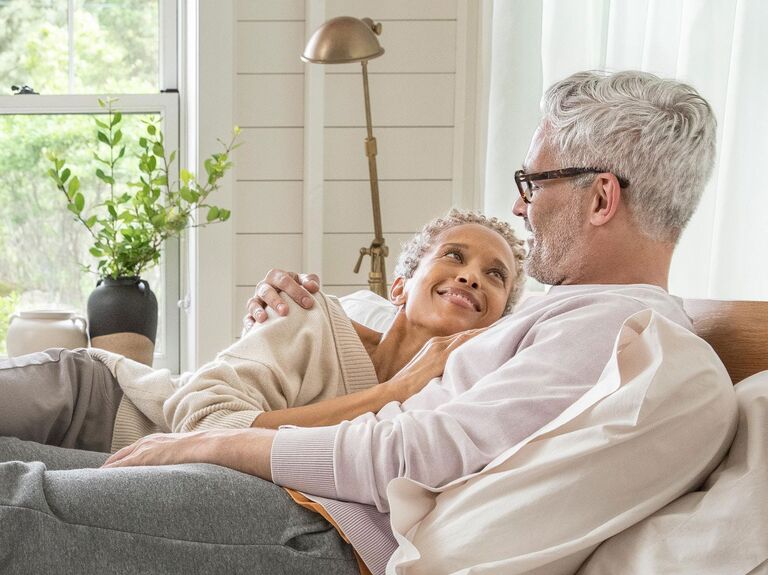 What you'll love about it: The Tuft & Needle Mint mattress is designed with two sleepers in mind, making it one of the best beds for couples, period. The mattress has a three-inch top layer of patented T&N Adaptive foam technology, which decreases motion transfer and promotes pressure relief. If your other half is notorious for tossing and turning in their sleep, prepare to forget all about it. Ceramic cooling gel beads and body heat-wicking graphite help to maintain the perfect temperature for sleep, and reinforced edge support means you can stretch out right to the edge of the bed. A capacity of 500 pounds per sleeper combined with even edge-to-edge support means this comfy mattress is a good fit for couples with different weights or body types.
Potential downsides: If you and your partner both prefer a mattress with medium firmness, you're in luck. But if you have different preferences (or you both like a softer/firmer bed), the Tuft & Needle Mint mattress probably isn't for you.
Standout reviews: "My hubby and I bought our Mint mattress five or six years ago. There has been no sagging at all. Every night when I get in bed I lie down in ultimate comfort." - Shonks via Tuft & Needle
Best Eco-Friendly Mattress for Couples: Avocado Green Mattress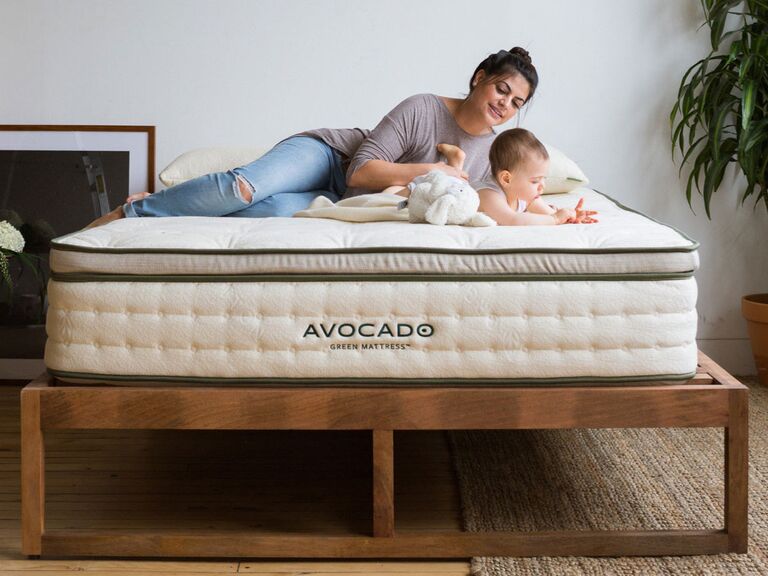 What you'll love about it: Want to go greener in the bedroom? Try the Avocado Green mattress. This comfy bed is ideal for couples who want to make an environmentally-friendly investment in their home. It's made from eco-conscious latex, wool and cotton, making it 100% certified organic. Plus, it's good for couples seeking a little extra support with back pain or other aches. Over 1,400 tempered steel coils in five ergonomic zones provide support, isolate motion, promote correct alignment of the spine (bye-bye back pain) and ensure even weight distribution. It's no wonder the Avocado Green mattress is endorsed by the American Chiropractic Association. Finally, the bed's layers are bound by traditional hand-tufted rosettes—a marker of quality and a durable alternative to unnatural solvents and adhesives. One last thing: Avocado is currently the only Climate Neutral Certified mattress and bedding brand in the world. If that doesn't make it one of the best beds for two people who love doing their bit for the environment, we don't know what does.
Potential downsides: This medium-firm mattress is a little softer if you spring for the pillow-top version, but ultimately couples who prefer a harder or softer mattress (or who have different preferences) should choose a bed that's a little more versatile. If you're on the fence about it, the company offers a one-year sleep trial.
Standout reviews: "We've had our mattress about a month or more now and we love it. My husband and I were struggling with back pain in the morning, and we both wake up back pain free. We've also noticed that it does seem to sleep cooler." - Kimberly R. via Avocado
Best Mattress for Couples Who Are Active in Bed: Leesa Legend Mattress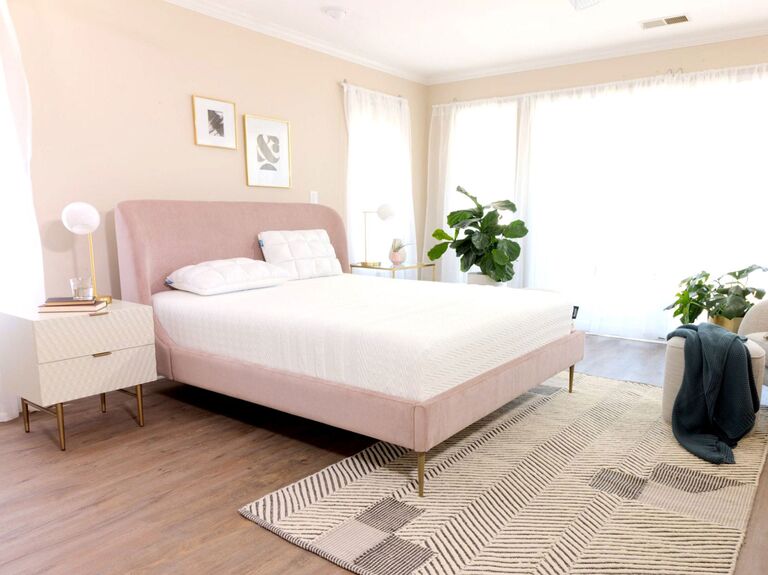 What you'll love about it: When it came to finding the best mattress for active couples, we knew one thing for sure: It had to be a hybrid. The Leesa Legend mattress is just that (and so much more!). It features not one but two layers of springs, so you can be sure you'll get enough bounce for your buck. The first layer of pocket springs provides edge-to-edge support, while the second layer of microcoils provides targeted support to the hips and shoulders—common pain points for anyone whose work requires a lot of sitting down. Plus, if you're looking for a mattress that doesn't move when your partner moves, the supportive spring layers also provide effective motion isolation. A memory foam layer contours to the body to relieve pressure in the back, hips and shoulders, and a breathable foam layer promotes airflow. Finally, the top layer of Leesa-exclusive foam delivers the perfect balance of hug and bounce, so the bed is just right for all kinds of activities between the sheets—including sleeping.
Potential downsides: The Leesa Legend has a medium-firm feel that may not be ideal for those who prefer a softer mattress. If you and your S.O. enjoy the feeling of sinking into a giant, bed-shaped cloud after a long day, an all-foam mattress will better suit your needs.
Standout reviews: "So comfortable, even the dog sleeps in! We've had a great experience." - Matt L. via Leesa
"We love our Leesa Legend! Feels firm but when you lay on it, it conforms to all the right places. We truly are sleeping better than ever." - Chelita M. via Leesa
Best Cuddle-Friendly Mattress for Couples: The DreamCloud Luxury Hybrid Mattress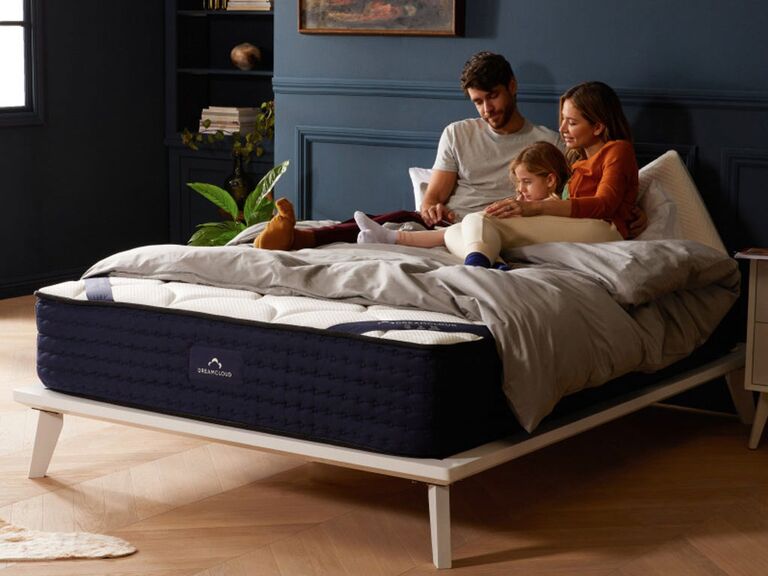 What you'll love about it: Looking for a bed you'll never want to get out of? The DreamCloud Luxury Hybrid is practically made for cuddling. So what makes this the perfect mattress for snuggling up with your spouse? For starters, it's a hybrid. A memory or air foam bed is great for those who like a soft sleeping experience, but can feel a little too sink-y if you're sitting up (or if you've been in it for a long time). On the flipside, an innerspring mattress might start to aggravate pressure points if you stay on it long after waking up. DreamCloud combines memory foam and innerspring for a mattress that adapts to support and contour to the body. Top that with a high-quality quilted foam and cashmere cover, and you've got one seriously luxurious cuddling setup. The harmonious balance of contouring comfort and pushback support also makes it another great mattress for couples who like different firmness levels—score!
Potential downsides: While it's definitely one of the best hybrid mattresses for couples, the DreamCloud Luxury Hybrid mattress may not be the one if you don't like too much thickness. The bed is 14 inches high, which could pose a problem, particularly if you already have a tall bed frame.
Standout reviews: "I have two DreadCloud mattresses in my home and always receive compliments from guests. Perfect firmness and softness for me!" - Lillian S. via DreamCloud Sleep
"We love our DreamCloud mattress. We chose the firm style as it was recommended for those of a heavier weight. We wake up with no aches and pains like we did with our last mattress. We're very pleased with our choice." - Vickie S. via DreamCloud Sleep
Some reviews have been condensed.