52 Fairytale Wedding Ideas That'll Make You Believe in Magic
You'll love this enchanting wedding theme.
Once upon a time, you got engaged. Now, it's time to plan your nuptials. And if you have a specific fairytale wedding in mind, make a vision board and work with your planner to bring your fairytale to life. But if you've been dreaming of a fairytale affair and don't know where to start, we're here to help. Whether you want to create a totally magical atmosphere or simply add a few dreamy touches, your guests will feel like they've been transported to their favorite storybook while celebrating your happily ever after. Check out 52 of the most fantastical and romantic ideas for a fairytale wedding theme below.
In this article:
Fairytale Wedding Ideas:
Colors | Decor | Cake | Bouquet | Editor's Favorites
What Is a Fairytale Wedding?
A fairytale wedding theme is based on your favorite childhood stories. To achieve this wedding idea, you'll want to create a magical and romantic atmosphere. There are numerous ways you can make this theme unique. From a mystical woodland vibe to a Cinderella-inspired affair thrown at a castle, the fairytale options are endless.
Ideal Fairytale Wedding Venues
One of the most important things you'll have to do is research fairytale wedding luxury wedding venues to set the mood. If you're going for a whimsical and enchanting feel, gardens, greenhouses, forests or backyards are great venues. For a dramatic and romantic atmosphere straight from a storybook, pick a castle, estate, mansion or villa venue. Find all of these venues and more on The Knot Vendor Marketplace.
Fairytale Wedding Budget Priorities
Every couple's wedding budget is different because it depends on what aspects of their special day they want to highlight. For a fairytale wedding theme, we suggest focusing a lot on your venue because it will set the tone for your magical day. Decoration details like lush blooms, greenery, string lights and grandiose reception furniture are also key to the look, so hiring the right wedding planner to help is crucial. You'll also need to invite your guests to the celebration with mesmerizing wedding invitations complete with calligraphy, which means a top-notch stationery expert should be on your vendor list. And you'll need a wedding photographer that fits your photo style to capture your gorgeous fairytale wedding. Those are only a few details you and your partner may want to focus on, so use our handy budget tool to help guide your important wedding decisions.
Fairytale Wedding Colors
Finding the right wedding color palette can be tough when there are so many beautiful options. But by having a theme in mind, you can narrow down your wedding color choices and have fun picking out fairytale wedding decorations that suit it the best. Below are five fairytale wedding colors you can use for your big day.
"Beauty and the Beast"-Inspired Fairytale Wedding Colors
If "Beauty and Beast" is one of your favorite fairytales, jewel tones are definitely needed at your wedding. Moody colors like maroon, deep green, gold, navy blue and white will have you singing "Be Our Guest" throughout the entire wedding planning process.
Winter Fairytale Wedding Colors
For a winter fairytale wedding, glittery gold or silver dance beautifully on dark red and light blue hues. Feel like you're in "Frozen," or like you've created your own winter wonderland.
Spring Fairytale Wedding Colors
Fairytale weddings in the spring favor soothing light pastels and gold. Think light pink, baby blue, lilac and mint green. You can mix all these colors or choose one star to pair with a deep gold.
Summer Fairytale Wedding Colors
Summer fairytale colors are similar to the "Beauty and the Beast"-inspired palette because of its moody vibe. Black, dark green and off-white work for this season. Couples can also go on the opposite end of the spectrum and do bold rainbow colors that stand out against greenery-heavy backdrops.
Fall Fairytale Wedding Colors
At a fall fairytale wedding, sultry maroon, muted pink, gold, dark green and light brown are great additions. These colors will make your guests feel cozy and accent an outdoor woodland venue perfectly.
Fairytale Wedding Decor Ideas
Having the right decorations is one of the most important elements for any fairytale wedding because it helps guests understand the theme. Keep reading to see 16 fantasy-inspired ceremony and reception decorations that'll take your breath away.
Enchanted Fairytale Wedding Garden Reception
This patio was transformed into a whimsical reception area with spring fairytale wedding colors, textured table clothes, multicolored rose centerpieces and vintage pink glassware. The string lights and chandeliers hanging from the tree, emerging through the patio's floor, really take this fairytale scene to the next level.
Lush Fairytale Wedding Arch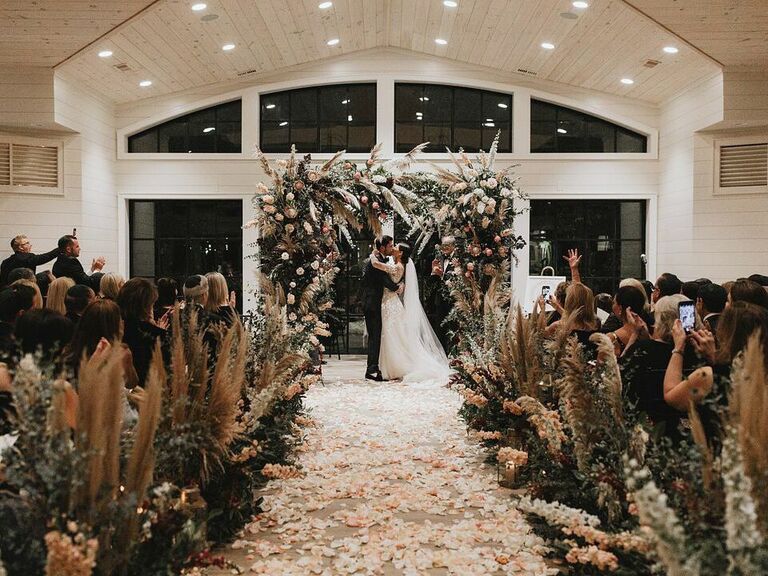 Create your own secret garden within your indoor wedding venue with an oversized wedding arch filled with greenery and flowers. The scattered petals on the floor and the foliage along the aisle add to the outdoor mystical feel.
Romantic Fairytale String Lights Canopy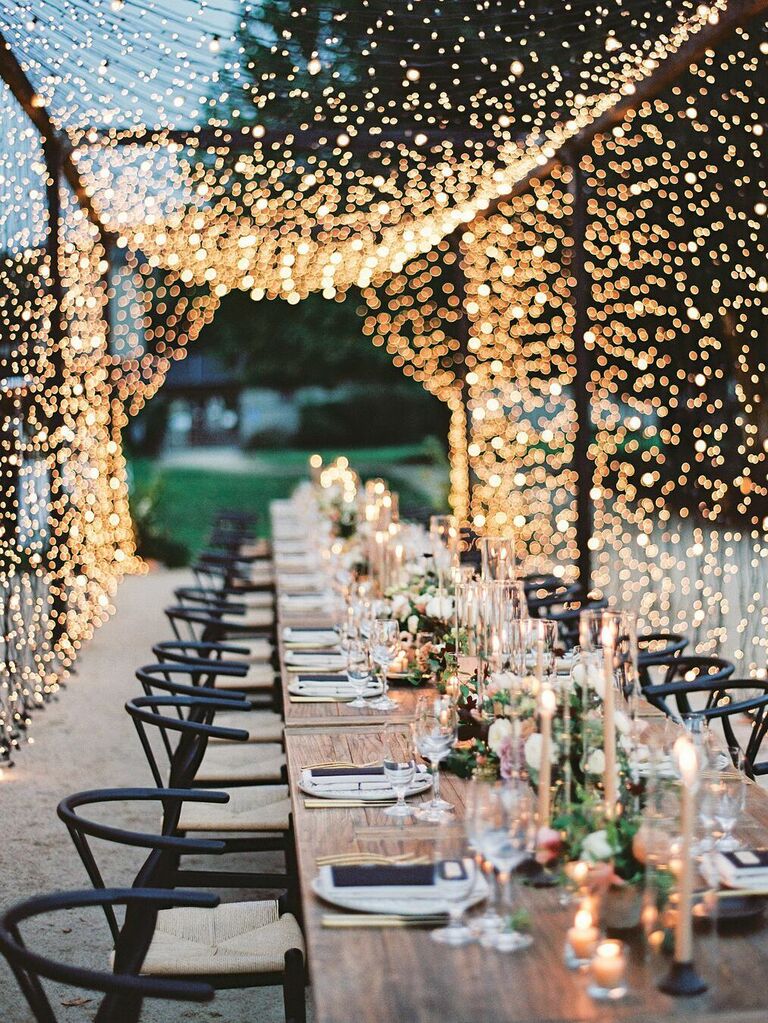 String lights create instant magic at any wedding ceremony or reception. They add a warm glow to the venue, and they're reminiscent of stars.
Whimsical Fairytale Wedding Gift Area
Transform any furniture piece in your wedding venue into fairytale-inspired decor by adding untamed greenery. This is an easy DIY project for to-be-weds who have a little extra time on their hands.
Dramatic Infinity Fairytale Wedding Arch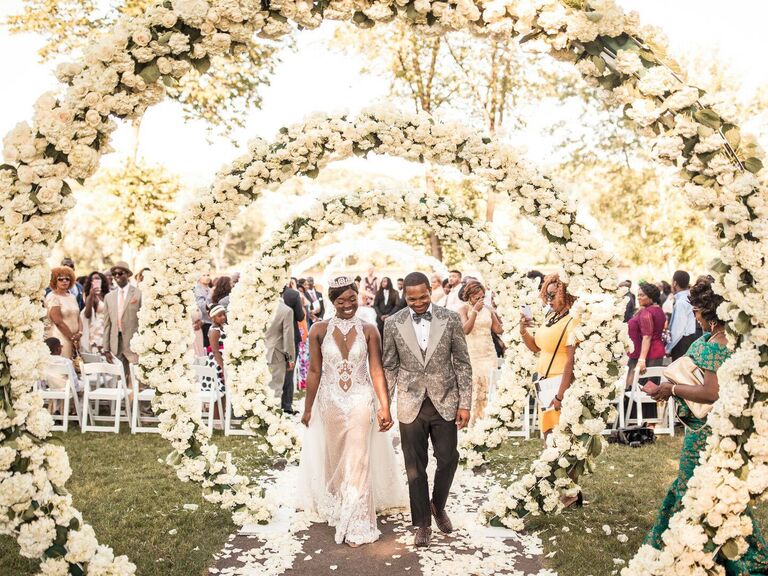 This fairytale wedding idea is spectacular because it looks straight out of a romance novel. Only someone with magical fairy dust (read: your florist) could put together something so beautiful.
Hanging Fairytale Wedding Floral Decor
This fairytale white and gold wedding theme included more than 14,000 white wisteria blooms in the outdoor reception area. You won't be able to stop your guests from constantly looking up at the beautiful blooms.
White Rose Fairytale Wedding Aisle Runner
Your wedding aisle runner doesn't need to be made of fabric. Swirl your favorite colored roses down the aisle for the most romantic processional.
Whimsical Fairytale Wedding Sweetheart Table
The bride wanted a "muted theme" of Alice's Adventures in Wonderland for the wedding. Her wedding planner and florist accomplished this request perfectly with moss accents on the sweetheart table, a greenery backdrop with fresh flowers, vintage chairs and spiral topiaries.
Mystical Fairytale Wedding Stone Arch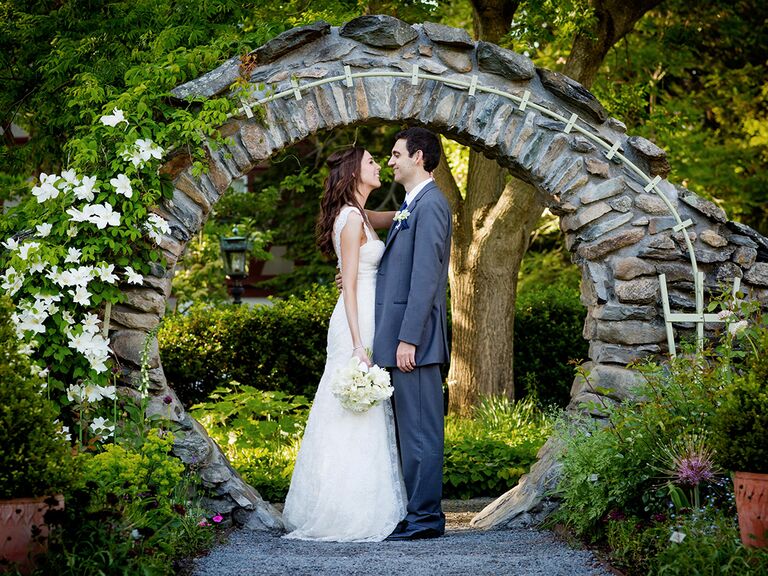 If you're having a garden fairytale wedding, use your venue's surroundings to elevate your desired look. Reminiscent of "The Hobbit" holes, this stone arch is a great photo op backdrop for saying "I do."
Fairytale Wedding Chandelier
Yes, chandeliers automatically add elegance and romance to a space but think outside the box by decorating it. This happy couple had garlands adorned with greenery and blue hydrangeas attached to the crystal chandeliers.
Lush Fairytale Wedding Ceremony Floral Decor
Stunning wedding outfits aside, the bride and groom dreamt up the most amazing fairytale enchanted garden ceremony. The white and pink floral decorations on the arch and aisle really pop against the green trees, bushes and vines in the background.
Fairytale Wedding Monogrammed Dance Floor
This couple got a custom wedding dance floor fit for fairytale royalty. The decal is of the bride and groom's initials and adds a touch of luxury to the room.
Fairytale Wedding Fantasy Photo Booth
Pose in front of a personalized photo booth background at your wedding, like these grooms. Just ensure you have a table near the photo booth covered in fun props for your guests.
Whimsical Outdoor Fairytale Wedding Decor
If you're having a woodland fairytale wedding, play with nature as much as you can for your decor. This altar has greenery, loose white drapery and fresh pink and white roses that'll capture any guest's eye. But our favorite part of this decor is the adorable rabbit lanterns and potted ferns lining the aisle.
Sweetheart Table Fairytale Wedding Backdrop
You really can't go wrong with a deconstructed sweetheart table wedding arch––it's modern while still being classic. But hands down our favorite aspect about this backdrop is the climbing vines––it makes the venue seem Romeo and Juliet-esque.
Garden Fairytale Wedding Fountain
Just because the fountain at your venue isn't functional doesn't mean you can't use it in your fairytale wedding decorations. Fill each fountain tier with your favorite blooms for an overgrown and gorgeous effect.
Fairytale Wedding Cake Ideas
Your fairytale wedding theme shouldn't stop at your decorations. Try one of these unique wedding cake ideas that'll take your confection to another level.
Cinderella Castle Fairytale Wedding Cake
For their main wedding sweet, the bride and groom had a three-tiered almond cake. The cake's filling was vanilla and chocolate cream mousse and nodded to their Disney-inspired wedding in two ways. There was a custom white chocolate Cinderella castle wedding cake topper and script on the cake that read, "And They Lived Happily Ever After."
Romantic Pink-and-Gold Fairytale Wedding Cake
This striking four-tier cake sat on a gold-trimmed acrylic cake stand, which complemented the gold accents on the dessert. Our favorite part of this mouthwatering cake is the adorning pink and white fondant flowers and pearls.
"Alice in Wonderland" Fairytale Wedding Cake
If you're having a fairytale wedding, you can either go subtle or over the top, and we love how this wedding cake achieves the latter. At this "Alice in Wonderland"-themed wedding, the couple had a five-tier wedding cake decorated with fondant playing cards, a teapot, clocks, mushrooms and, of course, the Mad Hatter's famous accessory.
Six-Tier Fairytale Wedding Cake
Who said you can't have a wedding cake that towers over you and your boo? This textured cake has ruffles similar to a dress, but the truly enchanting part is the flower cake stand making it seem like the cake is floating above the table.
Faux Butterfly Fairytale Wedding Cake
This classic white cake may seem simple, but the ombre cascade of white to turquoise butterflies makes this sweet treat magical. The couple admitted that they bought these faux butterflies online.
Happily Ever After Fairytale Wedding Cake Topper
Your wedding cake doesn't have to be tall and extravagant to fit the fairytale wedding aesthetic. This cannoli cake was graced with a happily ever after cake topper as a nod to the theme.
Mad Hatter-Inspired Fairytale Wedding Cake
Here's another take on the "Alice in Wonderland" theme, but a pretty in pink version. Instead of having the wedding cake sit on a table, the baker suspended it from a tree and sat it on a wooden slab.
Fairytale Wedding Cake With Crown Cake Topper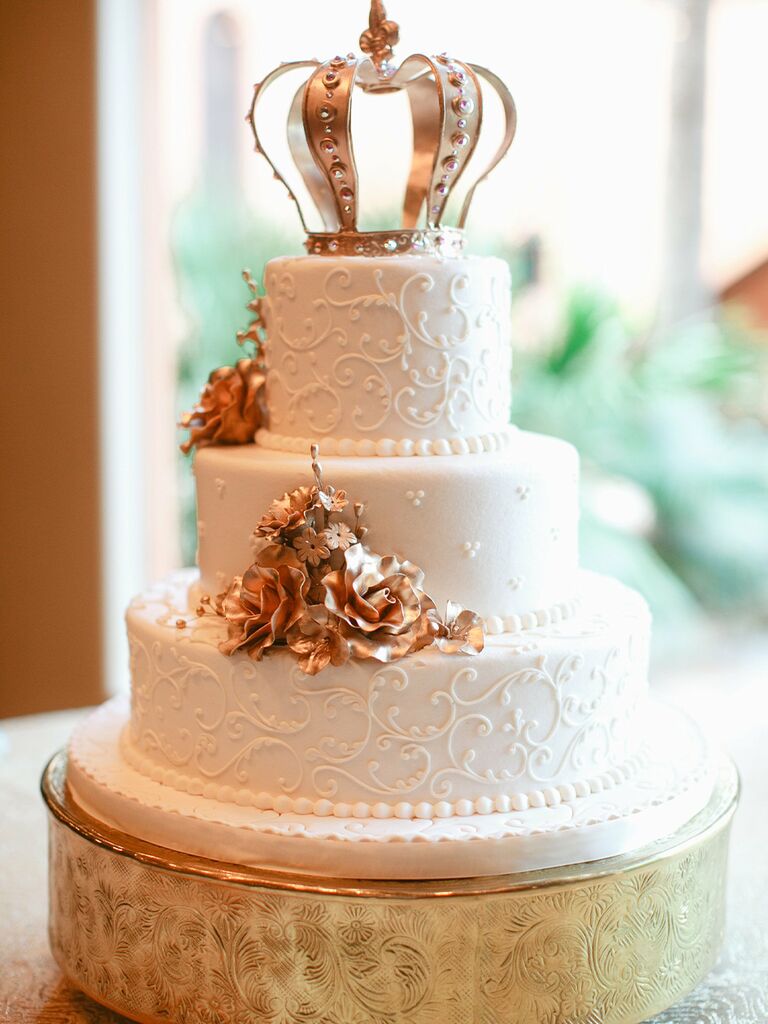 Become the princess, prince, queen or king of your dream fairytale wedding with a royal wedding cake topper. The metallic gold flower decor goes perfectly with the gold crown topper.
Fairytale Wedding Centerpiece Ideas
Beautify your wedding reception with fairytale wedding centerpieces your guests will be itching to take pictures of. From simple to elaborate, these centerpieces will make your tables stand out.
Romantic Fairytale Wedding Candelabras
Set the mood for romance with crystal candelabras. You can use tea lights or taper candles to give elegance to these fairytale wedding centerpieces.
Enchanted Fairytale Wedding Centerpiece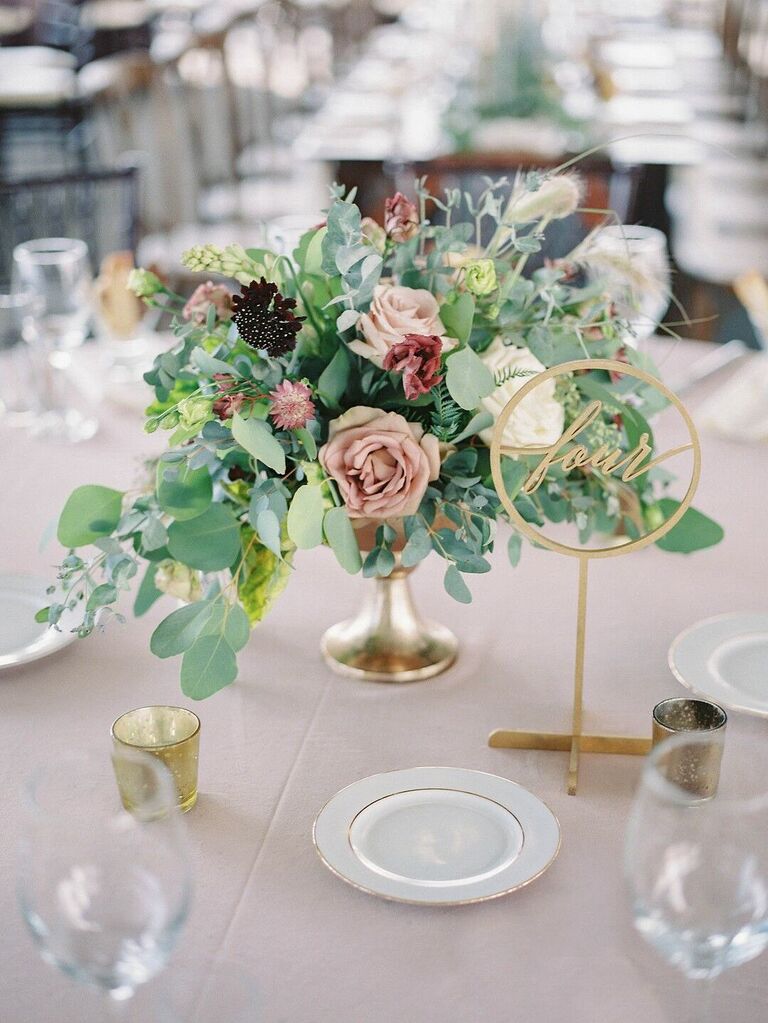 For an understated but elegant look, group together pretty pastel florals and place them in a gold metallic vase. The gold table number and candle holders will complete the look.
Cinderella-Inspired Fairytale Wedding Centerpiece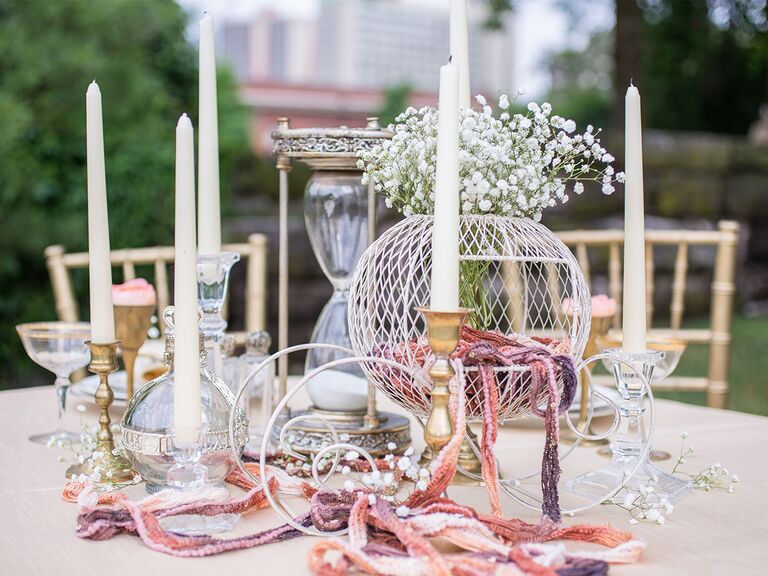 There are a lot of great pieces on this romantic Cinderella-style reception table, but we want to focus on the white carriage. The pumpkin carriage holds the baby's breath and pink ribbons, making it a fun and functional centerpiece.
"Alice in Wonderland"-Themed Fairytale Wedding Centerpiece
Each table at this wedding had a paisley-patterned Mad Hatter hat and a playing card tucked into it to signify the table number. To add to the look, the bride's mother found numerous "Alice in Wonderland"-themed tea sets.
Terrarium Fairytale Wedding Centerpiece
There are so many ways you can decorate your wedding for your woodland fairytale theme. At this celebration, the couple had a blush pink rose on a sea-glass cake stand enclosed by a glass terrarium with wildflowers, moss and more surrounding it. This also resembles the enchanted rose in "Beauty and the Beast."
Lavish Pink Fairytale Wedding Centerpiece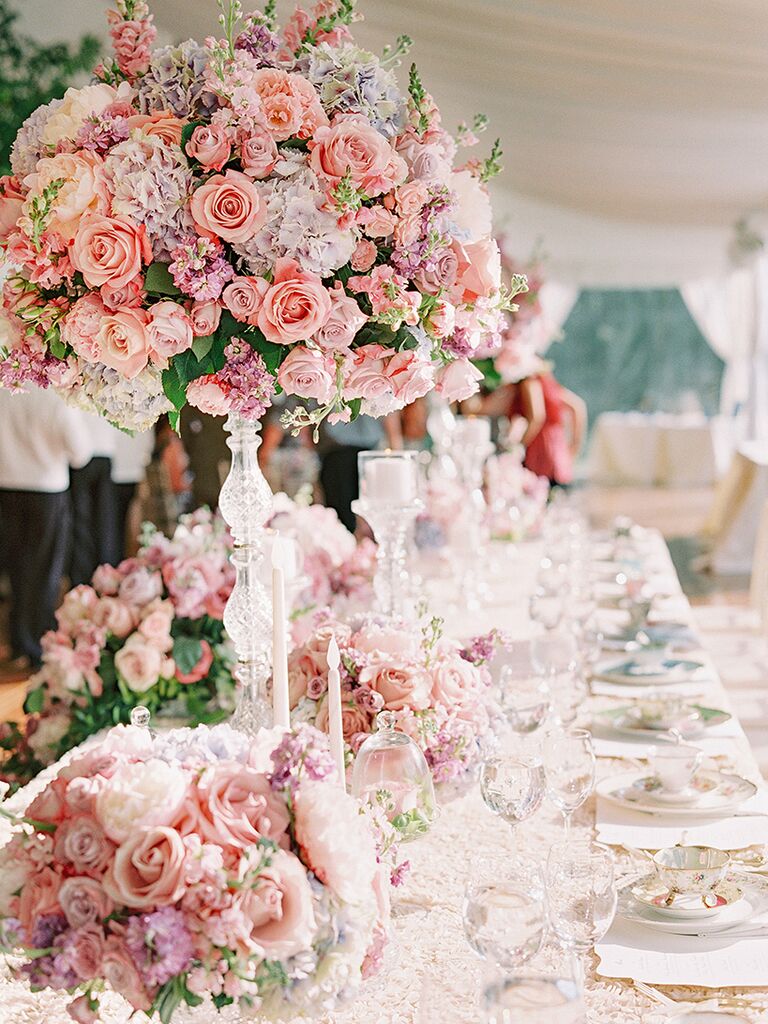 In short and tall vases, soft pink and purple hydrangeas, snapdragons, larkspur and much more were on full display at this outdoor wedding. The assorted candles add even more romance to the scene.
Fairytale Wedding Bouquet Ideas
You probably already know this, but wedding flowers aren't only for decorating your reception tables. Get inspiration for your big day by carrying one of these fairytale wedding bouquets done the aisle.
Wildflower Fairytale Wedding Bouquet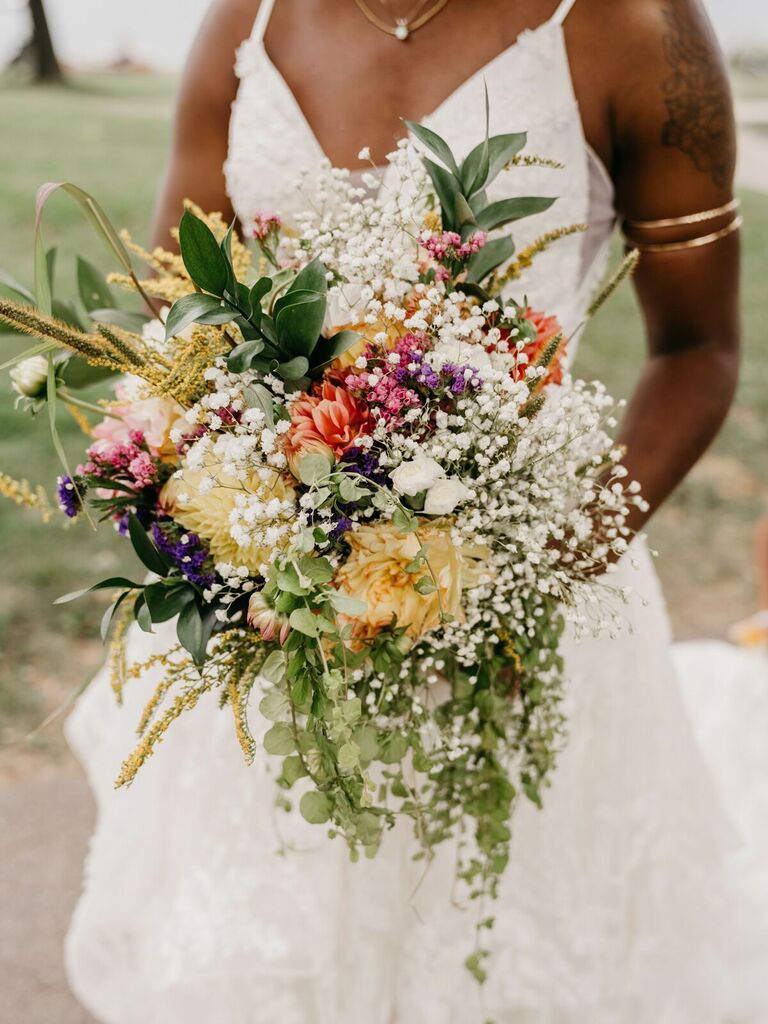 Channel the magic of a mystical forest with a wedding bouquet filled with colorful wildflowers. There's no need to choose just one of your favorite flowers with this fairytale wedding idea.
Gold Fairytale Wedding Bouquet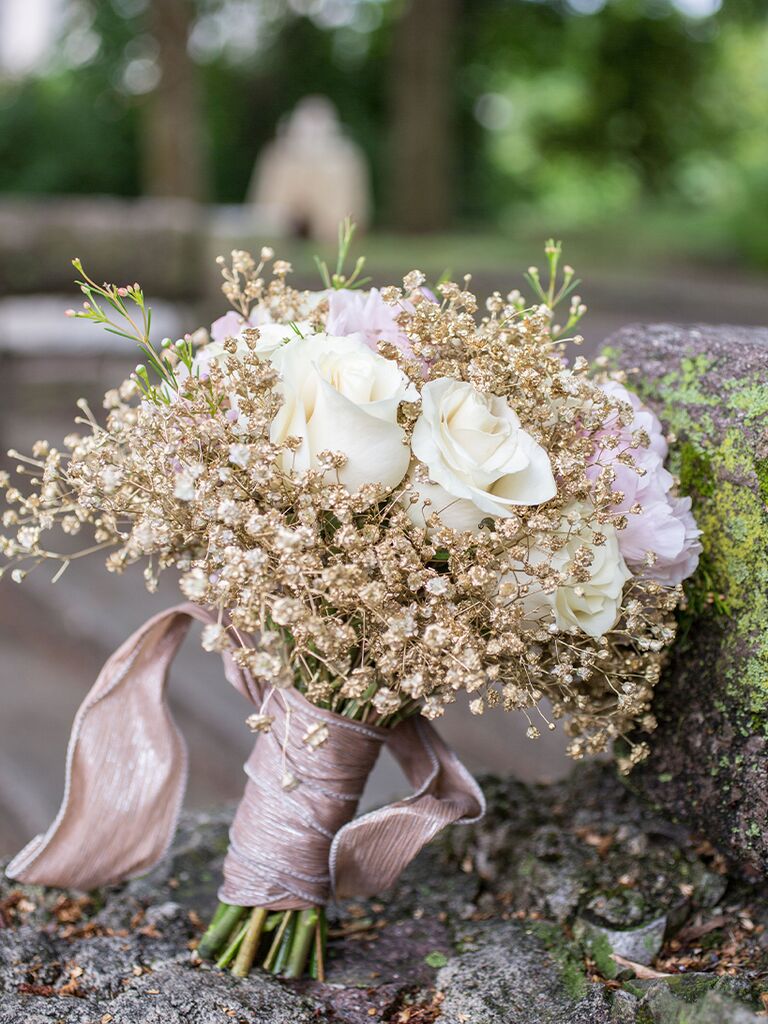 To pump up the drama, include gold baby's breath in your bouquet. Then add pastel or moody-colored blooms to complement the gold.
Cascading Fairytale Wedding Bouquet
Cascading wedding bouquets are one of our favorite floral styles. The star of this flower assortment is the sultry red amaranthuses that would be great for a fall fairytale wedding.
Fairytale Wedding Bouquets Wrapped in Ribbons
If you don't want to put ribbons in your hair, often seen in fairytale hairstyles, include them in your bouquet. The bride's and bridesmaid's bouquets had an assortment of ribbons of soft lavender, mint green, yellow and baby blue.
Editor's Fairytale Wedding Favorites
Even though all of the fairytale wedding ideas above are great, there are some standout ones we want to give special recognition. Here are 13 of my favorite fairytale wedding details.
Cinderella-Inspired Fairytale Wedding Shoes
The groom gave the bride "Cinderella" slippers as a wedding gift. The shoes are blinged out with rhinestones and faux crystals.
Fairytale Wedding Crystal Crown
Feel like royalty by buying a crystal crown like this beautiful bride. Personalize your accessory by adding your favorite gems to the crown.
Flower Girl Fairytale Wedding Princess Gown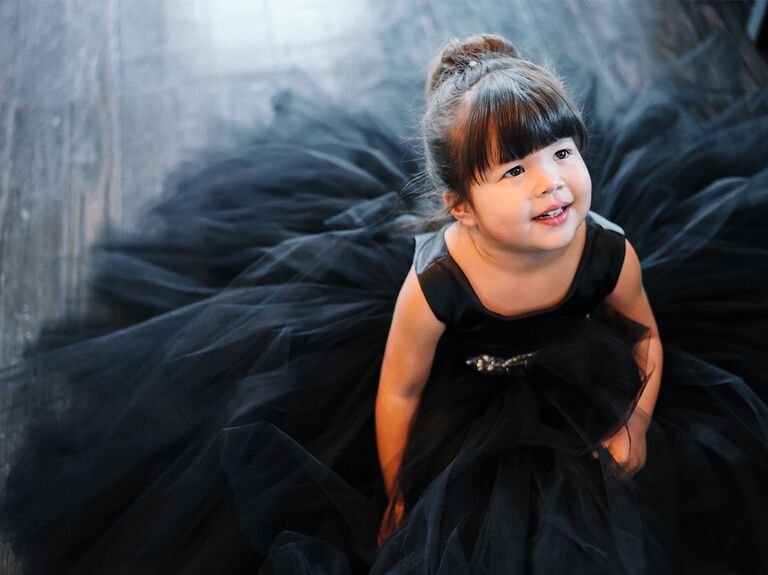 No, your flower girl doesn't have to wear white. Break tradition and let your little attendant wear a bold princess gown like this youngster.
Enchanting Fairytale Wedding Invitation Suite
This luxurious jewel-tone invitation suite is a dream. The burgundy and emerald colors with the gold accents and the expert calligraphy work make this suite look like it's for a grand royal ball.
Whimsical Fairytale Wedding Flower Boy Outfit
This is a striking photo we can't get enough of. The petite flower crown, green velvet cape and floral epaulets make this flower boy the star of the ceremony.
Wooden Fairytale Wedding Sign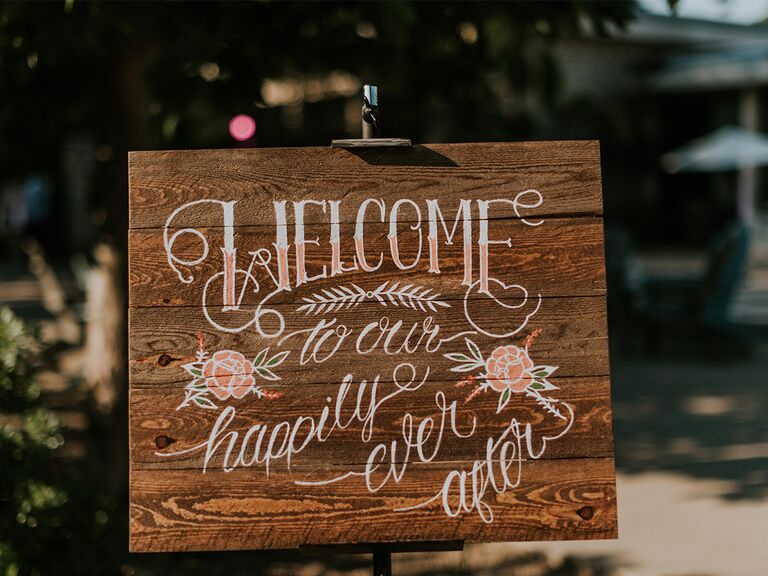 Wedding welcome signs are a simple and quick way to greet guests and incorporate the theme. At this fairytale wedding, the bride's sister hand-painted their welcome sign, which said, "Welcome to our happily ever after."
Magical Fairytale Wedding Horse-Drawn Carriage
You really can't have a fairytale wedding without a horse-drawn carriage, well you can, but you know what we mean. Use this vehicle as a unique take on a getaway car or grand entrance.
Fairytale Wedding Flower Girl Fairy Wings
We had to include something that involved fairies. At this vibrant wedding, the bride had the flower girls wear fairy wings with faux flowers to look like the famous outfit in Baz Luhrmann's "Romeo + Juliet."
Enchanted Fairytale Wedding Ceremony
If you want an enchanted forest feel but don't want to be in a forest to accomplish it, look for a venue with an oversized tree as the natural arch. It'll add a special touch to your fairytale wedding.
Glamorous Fairytale Wedding Dress
From head to toe, this beaming bride channeled the fairytale wedding theme. She wore a strapless beaded mermaid gown with lace and crystal embellishments and topped it off with a classic veil attached to her tiara.
Fantasy Fairytale Wedding Castle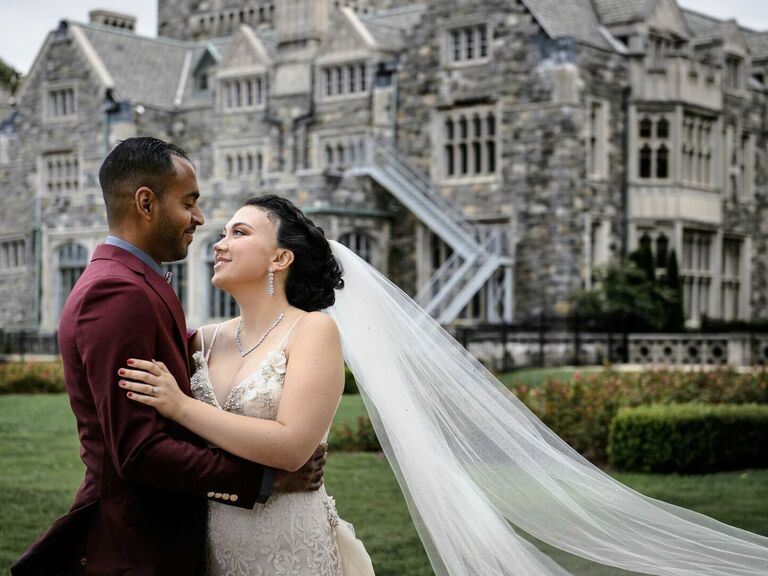 Nothing screams a fairytale wedding like a castle wedding venue. Your guests will appreciate your creativity and attention to detail.
Fairytale Wedding Firework Exit
You have to admit, it does seem like every fairytale ends with a grand firework display. Steal that commonly used movie credit starter and end the night with a big bang.
Custom Fairytale Wedding Cape
Who needs a veil when you can have a wedding cape instead? This fashion-conscious groom wore a Cathedral-length lavender tulle cape during his wedding.