The Best Tea Kettles for Your Wedding Registry
Looking for the best tea kettle? From electric to copper, read The Knot's reviews to find the best tea kettle you can buy now.
We have included third party products to help you navigate and enjoy life's biggest moments. Purchases made through links on this page may earn us a commission.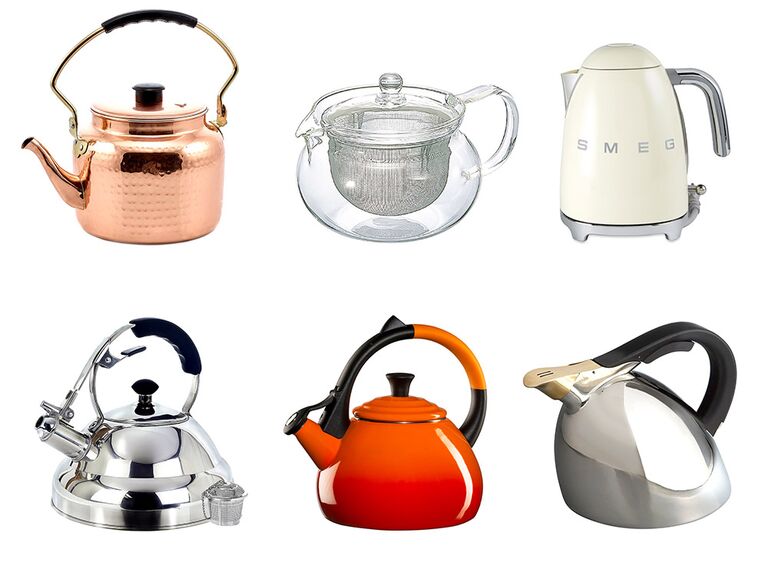 Can't imagine starting your day without a cup of tea? We feel you. That's why you (or your favorite tea drinkers) need the best tea kettle for your morning brew. Aside from the incredibly long list of health benefits, drinking tea brings about feelings of warmth and comfort. Really, what's better than curling up with a hot cup of tea and a great book, especially when you've probably spent most of your spare time wedding planning? Take your tea habit to the next level by adding a beautiful tea kettle to your wedding registry. It's the perfect time to splurge on a statement teapot or kettle that'll become a mainstay in your home for years to come. Here, our picks for the best tea kettles on the market for every budget and style.
In this Article:
Best All-Around Tea Kettle
The best tea kettle is both attractive (like jewelry for your kitchen) and functional. We found these standouts to be durable, drip-free and quick to heat up. Any of these would make a beautiful addition to your kitchen, but it's up to you to decide what's your cup of tea (sorry, we couldn't resist!).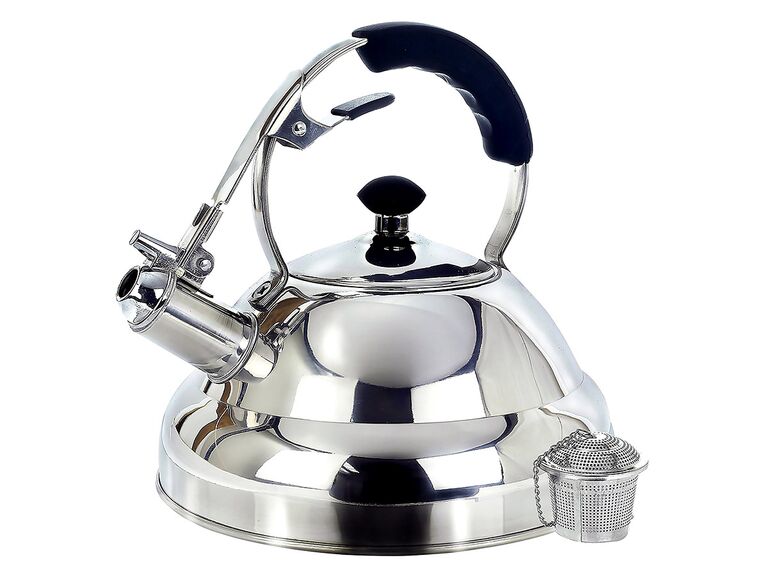 This top-rated tea kettle boasts more than 400 five-star reviews on Amazon. Made of beautiful, durable surgical stainless steel, this tea kettle isn't just a pretty face. A few of the Willow & Everett Tea Kettle's finest qualities: With a heat-safe handle and spring-loaded lever to ensure a tightly closed spout, this kettle is designed to heat up quickly and evenly. It also holds up to three liters, making it one of the larger kettles on the market. Beautiful, affordable, functional and durable, this tea kettle might just be the best tea kettle ever.
Willow & Everett Surgical Whistling teapot, $44, Amazon.com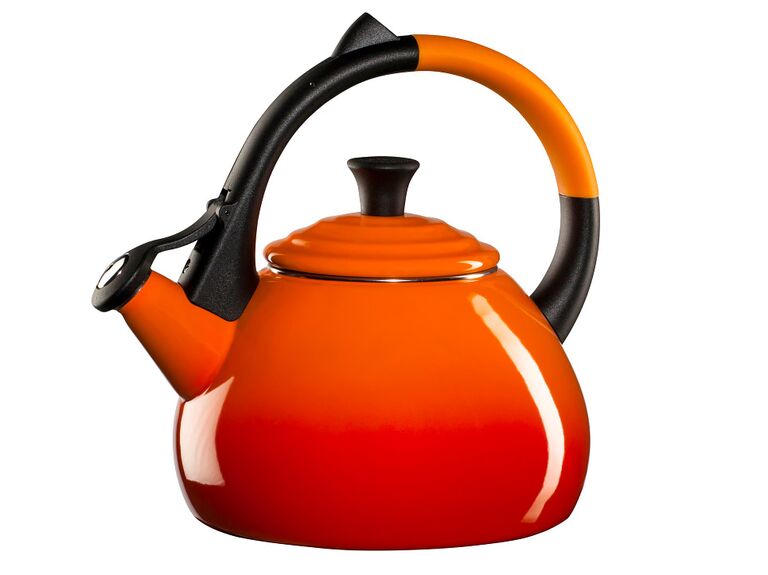 Another five-star rated tea kettle is the beautiful and classic Le Creuset kettle, one of the most popular tea kettles on the market today. With a sleek, beautiful design and heat-proof handle, Le Creuset's iconic carbon steel and porcelain tea kettle is certainly one of the best tea kettles to consider.
Le Creuset Oolong tea kettle, $85, SurLaTable.com
Best Whistling Tea Kettle
A hearty whistle coming from the stove can only mean one thing—tea's ready! (A whistling tea kettle's main function is to help you remember there's water boiling, but the old-school noise can be comforting too.) We've rounded up a few tea kettles that put a fun, modern spin on the whistling tea kettles of days gone by.
This cheerful, modern red tea kettle doesn't whistle like an ordinary tea kettle. Instead, it produces a pleasant chirping sound, which is surprising and delightful. This kettle heats quickly and evenly.
Nambé Meridian tea kettle, $75, Nambe.com
Best Stainless Steel Tea Kettle
These days, stainless steel is a popular choice for tea kettles since most kitchen appliances are stainless steel. Other benefits of stainless steel include easy cleanup and little to no flavor and odor transfer. This allows you to brew different types of tea, coffee, hot chocolate or even warm alcoholic beverages without everything tasting the same. We've tested out several stainless steel kettles that are as beautiful as they are functional, and we're confident that the best stainless steel tea kettle is on this list.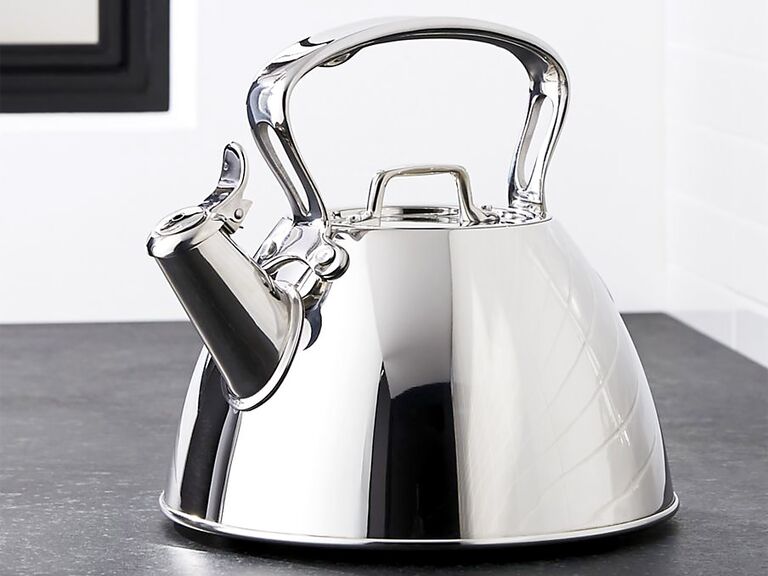 With five-star ratings all around, this gorgeous, ergonomic, mirror-finish tea kettle from All-Clad is the best stainless steel tea kettle on the market. Its unique shape allows for super-quick heating of up to two quarts of water, and the tight-fitting spout prevents against dripping. This tea kettle is dishwasher safe, but it's better to hand-wash it due to its shape.
All-Clad stainless steel tea kettle, $100, CrateandBarrel.com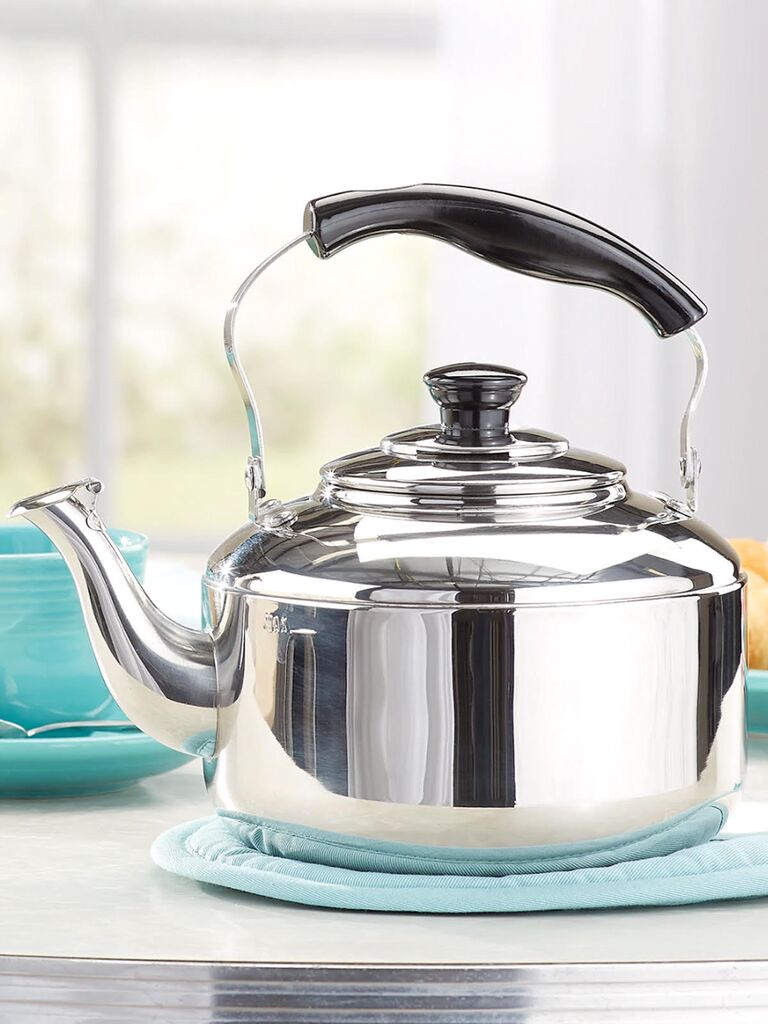 The stainless tea kettle from Vermont Country Store is offered at a reasonable price, and devotees insist that it'll last a lifetime. This rugged, durable tea kettle has a removable lid for easy cleaning and a heat-safe handle, and is offered in three different sizes. Aside from the fact that this tea kettle doesn't whistle and isn't dishwasher safe, we found this to be the best stainless steel tea kettle for the price.
Vermont Country Store Knapp Monarch stainless steel tea kettle, $35—$40, VermontCountryStore.com
Best Copper Tea Kettle
If you're searching for a copper tea kettle, we're guessing that it's not the only copper item on your registry, since copper is a classic, highly-effective and beautiful choice for your kitchen, not to mention it's very on trend right now. Popularity aside, copper tea kettles boast the fastest heating times at lower temperatures than any other type of kettle. Not to mention, they're gorgeous! Check out our list of copper tea kettles at several different price points.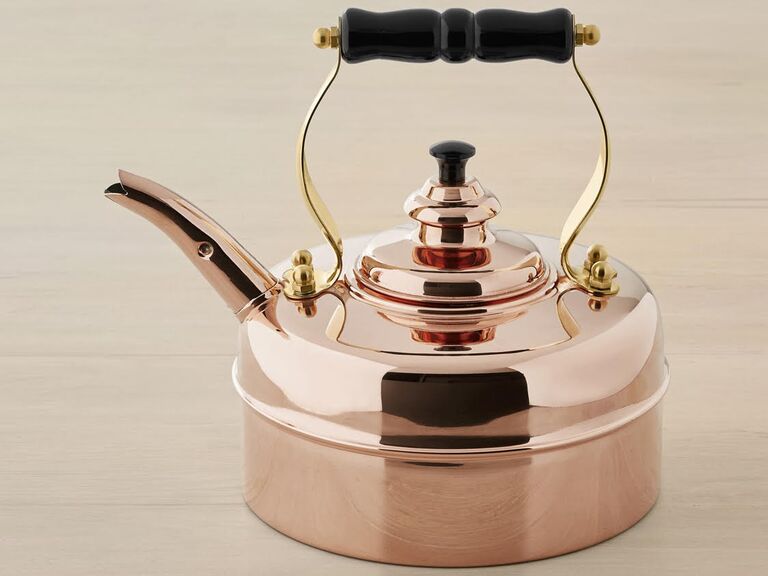 This heirloom-quality 100 percent copper tea kettle bills itself as the "kettle for the true tea connoisseur." Hand-crafted in England, the Simplex kettle could easily be the best tea kettle you give your child for their own wedding years from now. With the exception of its high price, the Simplex tea kettle is hands down the best copper tea kettle out there.
Simplex Kensington No 1 by Newey & Bloomer copper traditional tea kettle, $295, Williams-Sonoma.com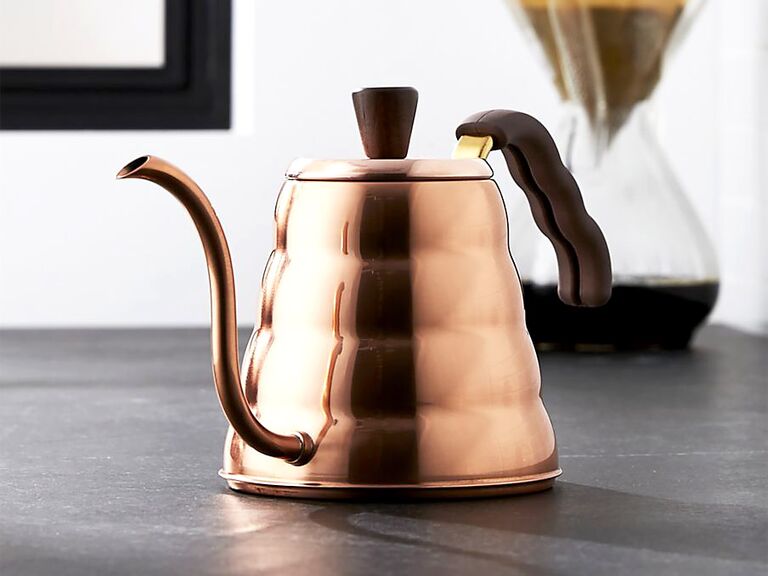 Crate and Barrel's unique copper tea kettle gives a rustic, minimalist vibe with its wooden handle and lid top. This certainly isn't the largest tea kettle you can buy, but its superior, drip-free pouring capability is second to none. We're in love with its gooseneck spout and simplistic style. The Hario Buono is our choice for best copper tea kettle to brighten up a rustic-style kitchen.
Hario Buono copper tea kettle, $125, CrateandBarrel.com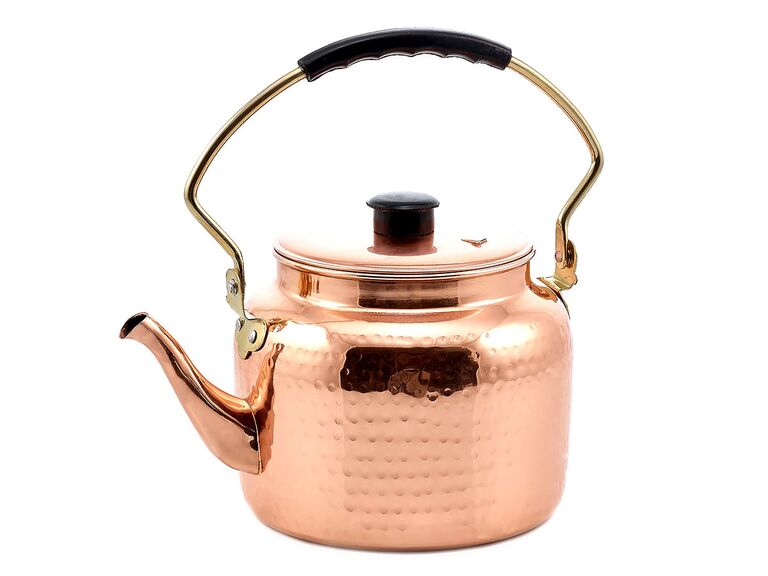 This dimpled copper tea kettle is offered at a fraction of the price of competing products. Its large size and superior heating capacity make the Old Dutch one of the best copper tea kettles you can buy. It's simply beautiful, and looks more like a vintage copper kettle than any of the others. However, this kettle doesn't whistle, and it scored lower marks in some reviews for durability due to some instances of leaking where the spout attaches to the pot.
Old Dutch 2-qt. tea kettle, $60, Wayfair.com
Best Glass Tea Kettle
Metal leaches, steel rusts and copper tarnishes, but glass is clean, simple and pure. Many couples are turning to glass tea kettles, despite the obvious drawbacks in the durability department. There are many advantages to glass tea kettles: they're super easy to clean, dishwasher- and microwave-safe and much more affordable than their more durable counterparts. Glass tea kettles also tend to be a particularly good choice for brewing loose teas. Here are our favorites.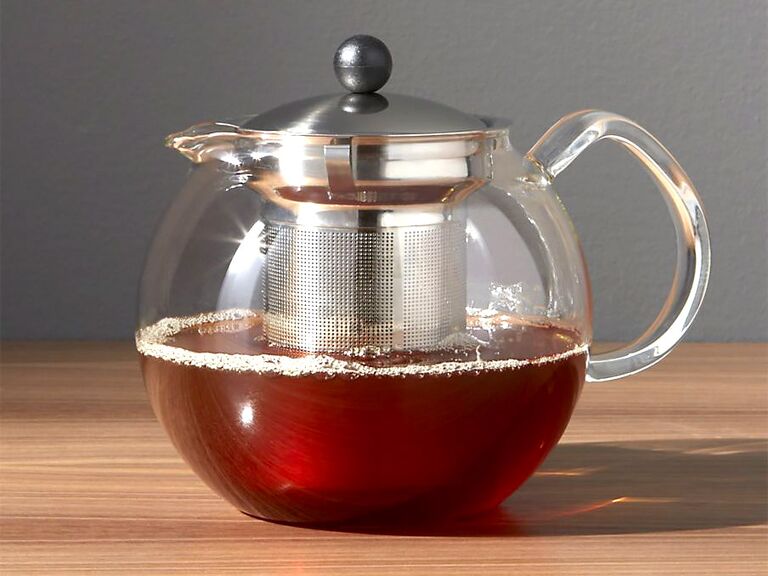 Instead of a traditional kettle, consider the Bodum Assam tea press, which holds loose tea leaves (considered to be healthier than tea bags) in a chamber as you pour boiling water over them. The press is unique in that it allows you to choose the strength of your tea. Made with heat-resistant borosilicate glass, the Bodum Assam scored higher marks in reviews for durability than other glass tea kettles, but there have been reports of issues with the plunger.
Bodum Assam tea press, $40, CrateandBarrel.com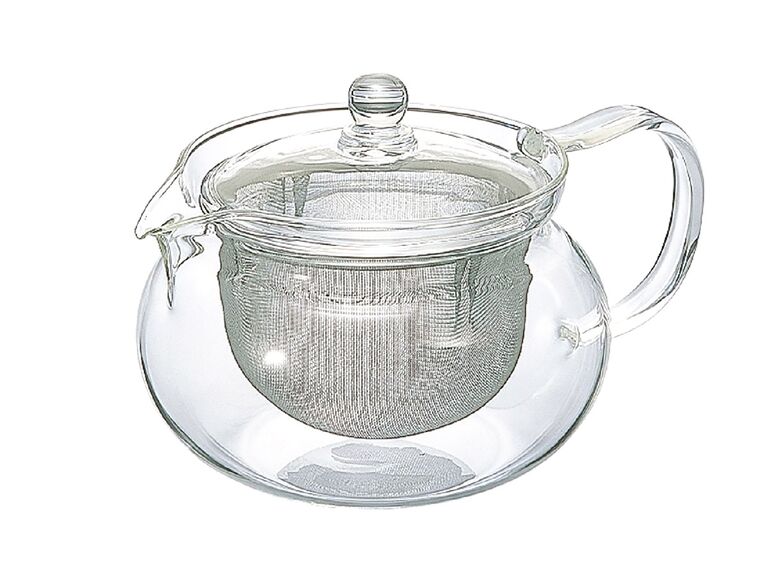 It's not often that you get a lot for a little, but that's the deal with the Hario Cha Cha Kyusu Maru glass tea pot, priced at only $20. With an astounding 1,500 4.5-star reviews on Amazon, this simple, inexpensive tea pot hailing from Tokyo, Japan, has developed quite a cult following among tea drinkers. This isn't a traditional tea kettle, and can't be heated on a stovetop, but you can pour boiling water into it or heat it in the microwave. Made especially for drinkers of loose tea, everyone seems to agree that the Hario is the best glass tea kettle you can find.
Hario Cha Cha Kyusu Maru tea pot, $20, Amazon.com
The Medelco glass tea kettle is among the best glass tea kettles, mainly due to its versatility and low price. It can be used on gas or electric stoves, and even on old-school electric range coils. As its name implies, this is a larger kettle, but it still heats up quickly and evenly. This glass tea kettle is dishwasher and microwave safe, but be aware that the handle and lid are not BPA free.
Medelco 12-cup glass stovetop whistling kettle, $24, Amazon.com
Best Stovetop Tea Kettle
The best stovetop tea kettle should be both functional and beautiful, since it'll most likely find its permanent home on your stovetop. The best stovetop tea kettles on our list function on a variety of stovetop surfaces, have high user ratings across the board, and of course, are a stylish addition to your kitchen.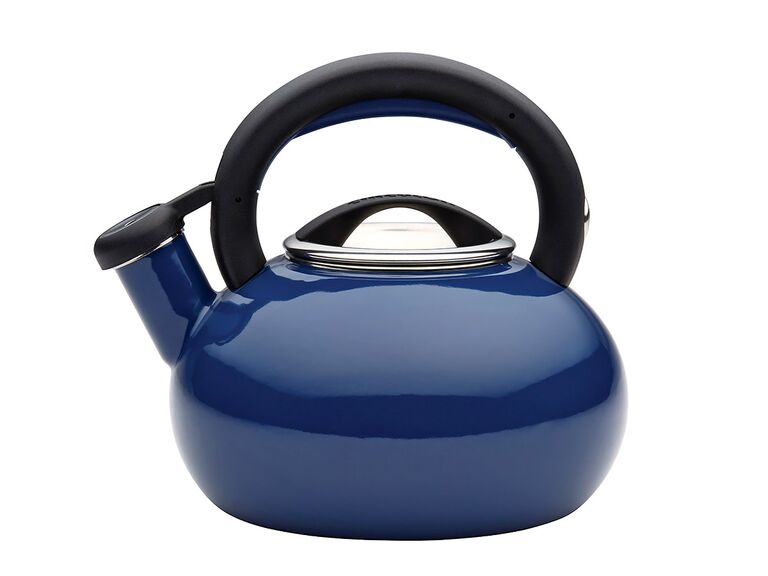 This adorable enamel tea kettle from Circulon comes in six bright, cheery colors to match just about any kitchen décor. Its large capacity, heat-safe handle and quick heating ability make this kettle a great choice. But the Circulon made our list of the best stovetop tea kettles because it's suitable for use on any stovetop you can think of, including induction, electric range coil, gas, ceramic and even halogen. And while there are very few drawbacks to this kettle, there have been some reports of rusting.
Circulon 1.5-quart Sunrise tea kettle, $40, Amazon.com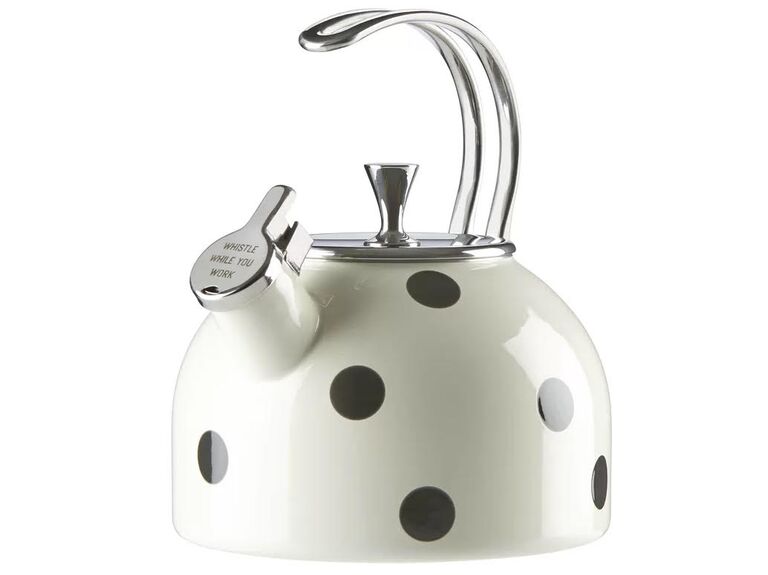 We found this pretty Kate Spade New York tea kettle to embody the whimsy of the brand with cute black polka dots on white enamel that'll instantly up the style game of your stovetop. Its small size makes it the perfect tea kettle for two, and even says "Whistle while you work" on the caption. We're completely sold.
Kate Spade New York All in Good Taste 2.5-qt stainless steel deco dot tea kettle, $72, Wayfair.com
Best Electric Tea Kettle
If function and convenience are important to you, you're in luck. Electric tea kettles are faster and more convenient than stovetop tea kettles. Not only that, they're virtually foolproof, since most come with an auto-off function to replace the whistle of stovetop tea kettles. But what you may not know is that many electric kettles can be pretty too. We've pulled together a list of the best electric tea kettles that are easy on the eyes and highly functional.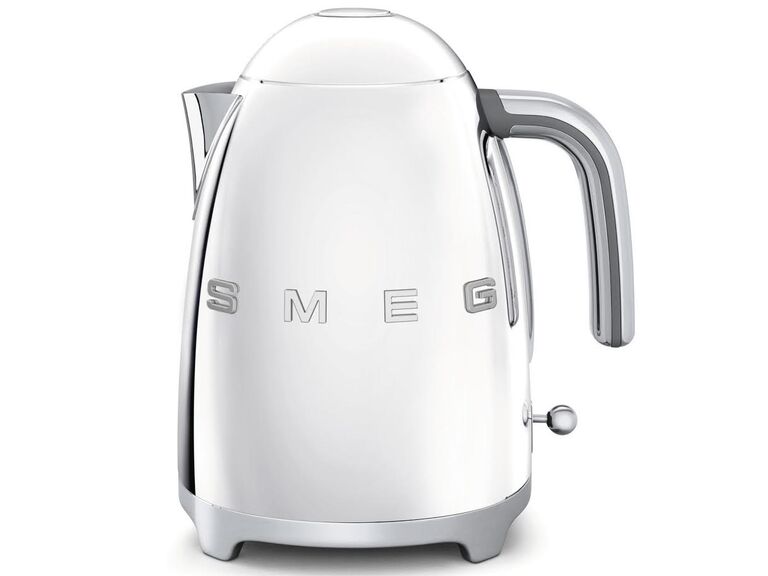 This midcentury-style SMEG electric tea kettle comes in eight fun colors that coordinate with other SMEG appliances. We found this to be one of the best electric tea kettles for its speedy boiling capability, ease of use, and its cute, retro vibe. However, some owners feel its removable filter is a bit high-maintenance when it comes to cleaning.
SMEG tea kettle, $180, Williams-Sonoma.com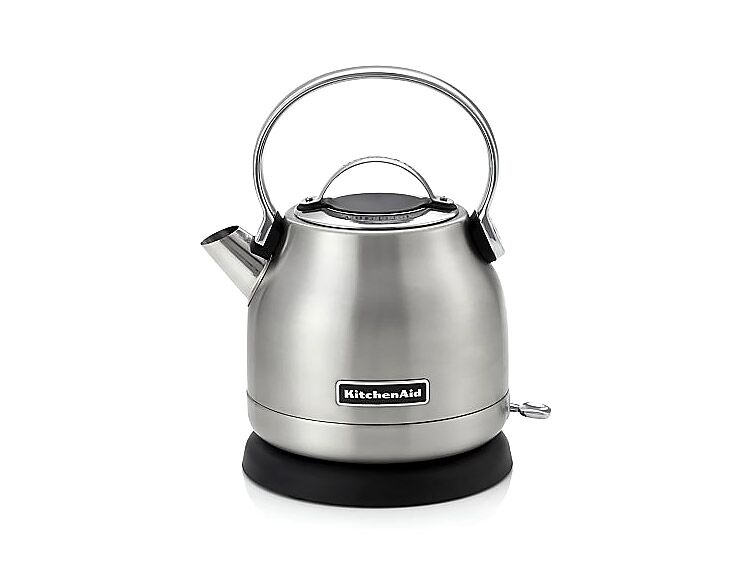 KitchenAid's five-star rated electric kettle heats quickly and shuts off automatically when it's finished. This is the best electric tea kettle for versatility; not only can you make tea, but soups, French press coffee, hot cereals and much more. Keep in mind this electric kettle is hand wash only, and some owners find it to be a bit loud while boiling.
KitchenAid silver electric kettle, $110, CrateandBarrel.com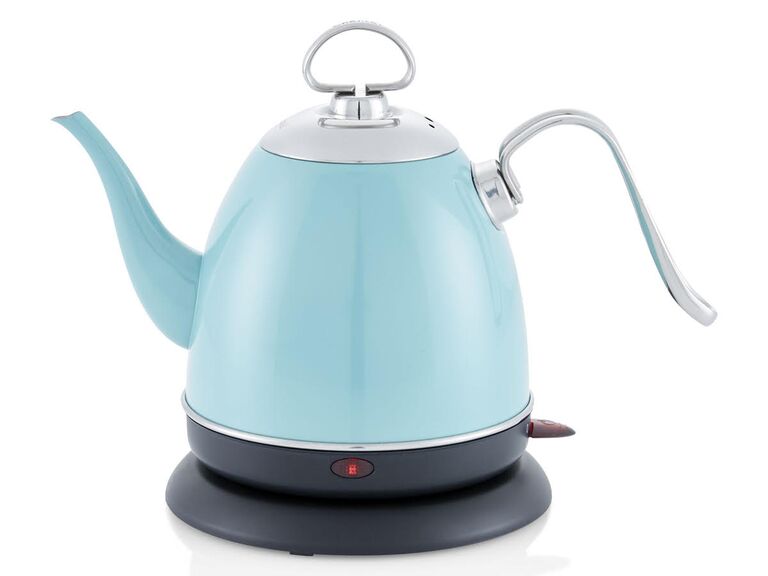 Chantal's charming, cheerful tea kettle is the best electric tea kettle for those who want the convenience of electric with the elegance of a traditional tea kettle. The kettle has a unique slow-pour spout, and although it's super speedy to heat up, it's a bit on the small side, which is great if you live in a tiny city apartment.
Chantal Mia electric tea kettle, $70, CrateandBarrel.com
Best Cordless Electric Tea Kettle
Cordless electric tea kettles provide all the advantages of electric tea kettles without, well, the cord. With greater portability, you can have hot water for tea or coffee pretty much anywhere without worrying about an outlet or tripping over a cord; just use the corded base to brew and you're on your way. Here are a couple of our favorite cordless electric tea kettles on the market.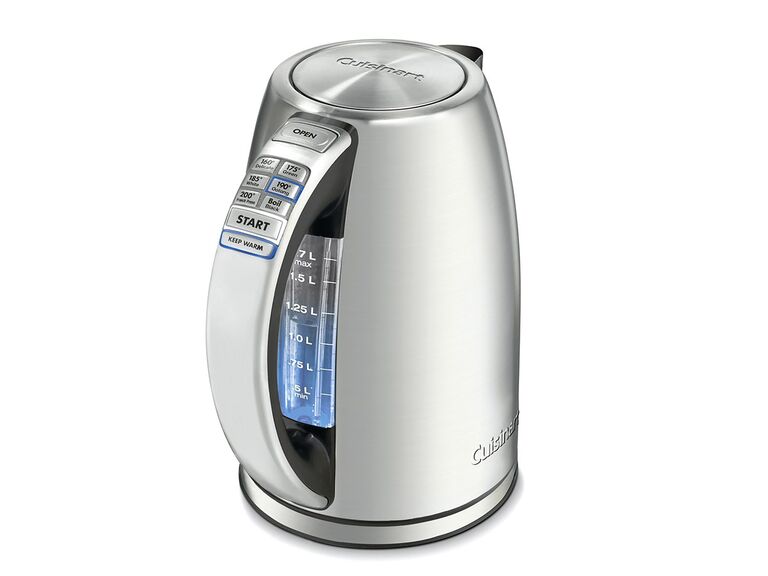 The Cuisinart electric tea kettle is made of stainless steel on both the outside and inside, which is a difficult feature to find. It heats up quickly with six temperature settings and has attractive blue lighting on the buttons and water level indicator. Despite some minor issues with rusting that tend to plague most stainless steel kettles, users feel that the Cuisinart is among the best cordless electric tea kettles.
Cuisinart CPK-17 stainless steel cordless tea kettle, $100, Amazon.com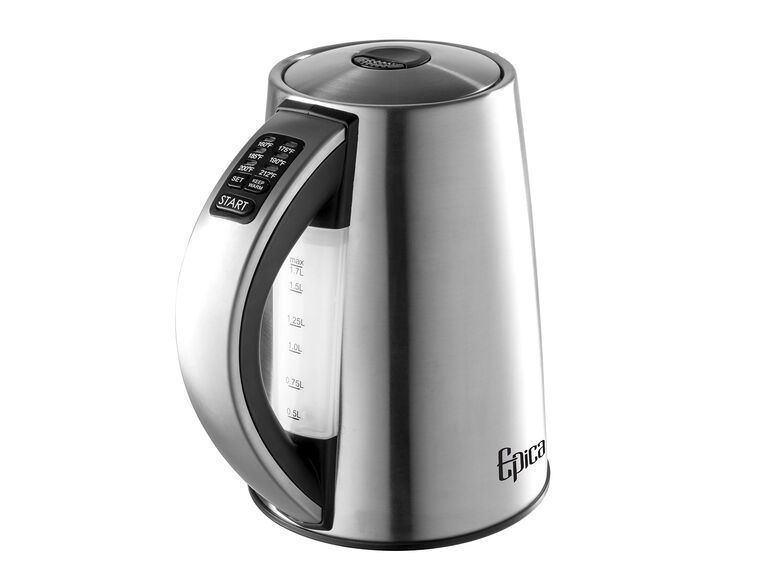 Similar to the Cuisinart model, the highly rated Epica cordless tea kettle comes with six pre-set temperatures and a keep warm function. With a sizable seven-cup capacity, super-fast heating and signature Cooltouch handle, the Epica may be the best cordless electric tea kettle on the market today.
Epica stainless steel cordless tea kettle, $95, Amazon.com