How to Book Your Wedding Night Hotel Room
After all that celebrating, you and your new spouse will need a comfy place to rest. Here's how to find the perfect accommodations.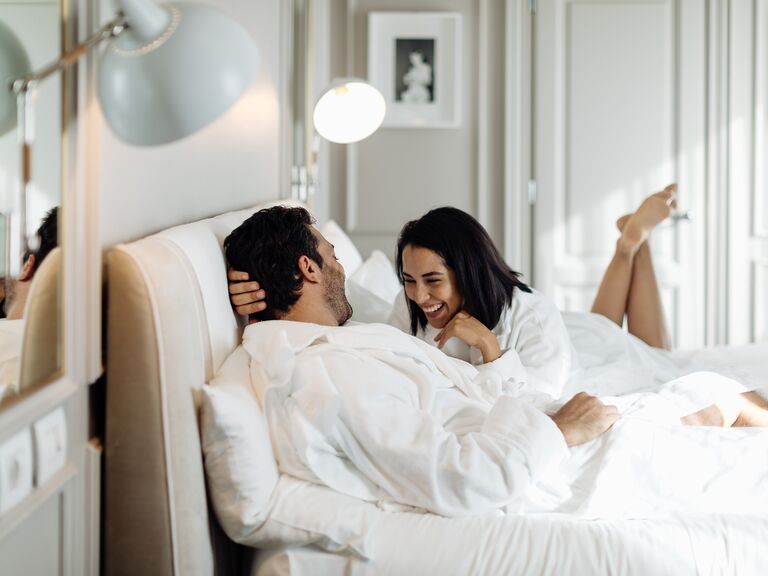 Sofie DeLauw/Getty Images
We have included third party products to help you navigate and enjoy life's biggest moments. Purchases made through links on this page may earn us a commission.
After months of planning and a full day of emotions, a luxurious hotel room is just what the doctor ordered for postnuptial R&R. Whether you're eyeing a wedding night nest at the hotel where your reception will be or a hideaway that's a bit more distant from family and friends, here are some booking tips to help you get what you're looking for.
When Should You Book Your Wedding Night Hotel?
Book a wedding night hotel room as soon as you've committed to a wedding venue (and if you're going to be staying at the hotel with room blocks for your guests, book your room then, too). It's not a matter of missing out on the mid-range rooms—those are often last to go—it's the swanky suites and deluxe rooms you have to lock down in advance (a year or more, in some cases). But consider booking a simple, inexpensive room for your wedding night if you plan on stumbling in at 3 a.m. so you don't waste money on amenities you won't have time to enjoy.
Who Pays for the Wedding Night Hotel?
When it comes to who pays for the wedding night accommodations, there really are no rules. The couple's parents may opt to pay for the hotel room, or another family member or friend might cover the cost as a wedding gift. The couple themselves can also pay for their wedding night room. However, if you're hosting your wedding ceremony and/or reception in a hotel, the honeymoon suite might be included as part of your event package (ask your wedding planner or venue coordinator for details on this).
Do You Book Your Wedding Night Hotel as Part of Your Guest Room Block?
There are many advantages to booking a guest room block at a hotel near your venue, including convenience and a discount on room rates (and Hotel Planner makes the whole process a breeze!). You can certainly book your wedding night hotel room as part of your block, and an upgraded room or honeymoon suite might be one of the special offers you'll receive when you book the block. However, you might not want to stay at the same hotel as the majority of your guests. It's convenient, sure, but if privacy is more important to you (and there are other hotel options near your venue), feel free to book your wedding night hotel room elsewhere.
How Many Nights Should We Book?
It really depends. Typically, couples book their wedding night hotel room for at least two nights—the night before the big day (one or both of the soon-to-be newlyweds would stay in the room pre-nuptials) and the night of. Remember that a hotel's check-in time is usually later in the afternoon, so if you want to get ready for your wedding in a hotel room (an all-day process), you'll need to reserve it for the night before.
How to Book the Wedding Night Hotel Room of Your Dreams
When you call to make a reservation, mention that you're booking the room for your wedding night, then remind the front desk clerk the day before you arrive. You may get a free upgrade.
If possible, call the hotel directly for this special occasion instead of using a toll-free reservations number. Customer service reps for an 800 number may never have even been to the hotel you're calling about, and may not be able to tell you which room has the best view or what promotions and packages are offered at a specific location.
Have you been using a credit card to charge wedding expenses? Now's the time to redeem membership points for the hotel room upgrade of your dreams. Call your credit card company and ask about hotel partnerships, allow plenty of time for the points to be transferred, and remember that blackout dates may apply.
If there's a possibility you'll arrive later than a hotel's check-in time—or don't want to be tied to arriving at a specific time—guarantee your room with a credit card. Get the name of the person who takes your reservation and confirmation number, in case there's a discrepancy when you arrive.
Questions to Ask a Wedding Night Hotel
Can I tour a hotel room?
If at all possible, it's nice to check out a hotel room before booking a room block. For guest rooms, consider the cleanliness and size. For your own wedding night room, take a look at the bed—for your first night together as a married couple, nothing but a king-size bed will do. Make sure you're not getting two twin-size beds pushed together to create a king. A few more things to look out for:
Tub (if desired)
Wi-Fi
Mini fridge/snacks
Noise (Can you hear traffic or other sounds from the room?)
Do you have a "romance" package?
An add-on package can enhance your night and spare you some stress. Not only does it pull together indulgences that you don't have to worry about organizing—like a chilled bottle of champagne and fresh flowers in your room when you arrive—but some also take care of headaches such as tips or airport transportation, should you require it. Evaluate a package based on whether it will save you money (how does the price compare if you'd paid for each item à la carte) and on your interest in what's included. Complimentary breakfast is a waste, for example, if you normally only have a cup of coffee in the morning or you have to leave for the airport before breakfast is served. Be sure to check on the quality of items included—a bottle of Andre may not be the "champagne" you envisioned, for instance. If a meal is included, ask if the menu is limited and which alcoholic beverages are covered, if any.
Can we host a rehearsal dinner and/or postwedding brunch here?
If the hotel where your staying has event space, you might consider hosting your rehearsal dinner and/or morning-after brunch there. It's certainly convenient to roll out of bed the morning after your wedding and head down to brunch, rather than having to travel to a different location.
Issues to Consider
Separate Rooms
Will you and your future spouse be staying in the same or separate rooms the night before your wedding? If you'll be staying separately, make sure you each have a place to stay—whether in the same hotel or elsewhere.
Getting Ready
If you'll be getting ready for the big day in your hotel room, make sure there's enough space for your wedding party to get ready and hang out. However, make sure your crew cleans out your wedding night hotel room of any belongings so they don't have to return to your room after the reception.
Proximity to Elevators
Do you want a serene place to relax after your wedding or after-party central? If the former, you'll want to request a room that's further away from the elevator or stairs for a quieter and more private experience.
Checkout Time
Ask about the checkout time and whether there's a late checkout option. You'll likely be exhausted the morning after your wedding, and if you're not having a morning-after brunch with your wedding guests, you'll want to sleep in as long as possible and then eat before you have to pack up. If your room isn't booked the following night, you may be able to negotiate a checkout as late as 4 p.m.
Room Service
Is it available? What are the hours? Even though you paid handsomely for that wedding reception caterer, you may be able to squeeze in just a bite here and there between greeting and dancing. Make sure room service is available late or, if you're not hungry, at least reserve breakfast for the next morning the night before.
What to Pack
If you're traveling to your honeymoon destination the day after the wedding, pack for your trip in advance and keep a change of clothes in your carry-on so that you can still have a great first day or night if your luggage disappears for a few hours. Don't forget a toothbrush, toothpaste, deodorant and swimsuit so you can take a dip and freshen up if your room isn't quite ready once you arrive at your hotel. And if you're just staying in the room for a night, don't forget regular toiletries, medications, pajamas, any special lingerie, a change of clothes for the morning, cell phone chargers and other basic items you'll need.