How to Reserve Hotel Room Blocks
Here's everything you need to know about reserving rooms for your guests.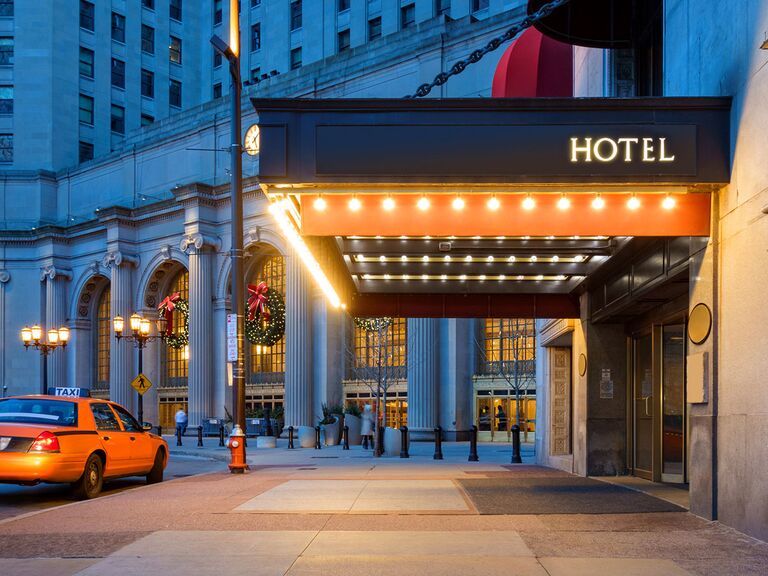 iStock
We have included third party products to help you navigate and enjoy life's biggest moments. Purchases made through links on this page may earn us a commission.
If you're having out-of-town guests at your wedding or planning a destination wedding, they'll need a place to stay, because you certainly don't want them crashing the bridal suite! Hotel room blocks for weddings allow guests to stay in the same hotel (or a couple of hotels), which makes things like wedding planning and transportation easier. And it's more fun for your guests, who may want to mingle and enjoy their own after-party.
Reserving hotel room blocks is the best way to ensure your guests have a place to stay near your reception. Plus, hotels often give you a discount on the room rate, which you can then pass along to your guests.
While it's not difficult, it can be time-consuming to book hotels and there are some important details to consider. There's a shortcut, though: You can make it easy on yourself and use a room block booking site like HotelPlanner.com, a brilliant and easy-to-use online booking tool.
Whether you contact the hotels yourself or use a booking platform, here's everything you need to know to make it happen.
In this article:
What is a hotel room block?
First off, let us provide some clarity on the definition of a hotel room block in the travel industry. A hotel room block is a group of hotel guest rooms that a hotel sets aside for an event at a pre-negotiated group rate to be booked and paid for by the attendees. Usually, a minimum of ten rooms and as many as 30 rooms can be blocked.
Local Hotels
For a wedding held locally, you'll want to reserve a room block at a local hotel with good access to your venue. Oftentimes, if you need 20 to 30 rooms, a room block will be reserved at two to three hotels to offer guests a choice of location and room rate.
If you've chosen a hotel wedding venue for your celebration, then a room block could be reserved at the same hotel and negotiated as part of your event. Although this doesn't have to be the case—you can reserve a room block at other local hotels.
Destination Wedding
When planning a destination wedding, the same principles apply. If you're hosting a wedding at a resort, part of the fun is spending more time with your guests and typically the guest list is smaller. Therefore, destination wedding packages usually include a room block to ensure all your guests have a place to stay.
If your destination wedding is in a city or region with many accommodations, then you may choose to offer your guests more selection, however, bear in mind that you'd have to have a large guest list to make this worthwhile.
Courtesy vs. Contracted
Your destination wedding resort or hotel wedding venue might include a courtesy room block in their packages as a sweetener to their offering. A courtesy room block means that you have no financial obligation for filling the rooms even if it's part of your contract.
A contracted room block, on the other hand, means that there are negotiated terms that must be met such as a deposit, cancellation policy, minimum bookings, etc. We get into all the nitty-gritty about a hotel room block contract below.
Group Booking Perks
In addition to a better room rate, reserving a room block can come with other perks. So be prepared to ask what's included and have your list of requests ready. Some of these upgrades include:
A complimentary room for the bride and groom
Early check-in time or late check-out
Free Wi-Fi
Turn down service
Welcome bag distribution to the rooms
A hospitality suite
Transportation (to and from the wedding venue or airport)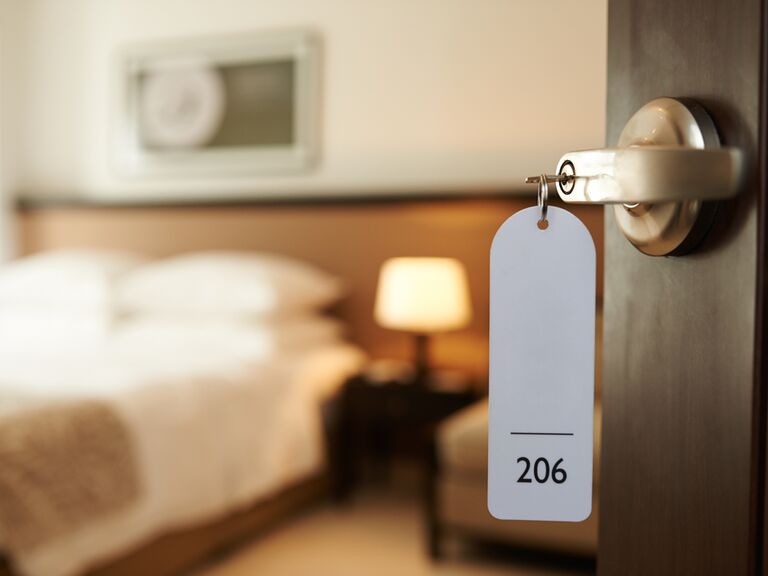 How Many Rooms to Block for a Wedding
In order to calculate how many rooms you'll need to reserve, answer these questions.
1) How many out-of-town guests are you expecting will need a room?
Estimate the number of households that will need accommodations by dividing the number of attending guests by two. Then make an estimate of what % of your out-of-town guests will book a room (e.g. 80% for a local wedding or 100% for a destination wedding).
E.g. 50 out-of-town guests divided by 2 equals 25 households.
80% of 25 households = 20 potential hotel rooms
2) How many nights are they likely to stay?
Depending on how far your guests are traveling and your wedding itinerary, determine the number of nights your guests will be staying.
3) Will your wedding party or immediate family members need a room?
Even if they live in town, sometimes wedding party and family members want to stay at the hotel for an enhanced wedding experience. Reach out to them early for a room commitment to ensure they're booked in.
4) Local wedding guests
The same holds true for local wedding guests that may not want to drive home after the festivities. This is certainly trickier to estimate, so we suggest that you hold off on reserving on their behalf and offering up any leftover rooms closer to the date in order to help meet your booking commitment.
When to Reserve a Hotel Room Block
Now that you've estimated the number of rooms, timing is your next key consideration. Given the post-pandemic wedding and travel boom, you'll want to reserve your hotel room block ASAP. Also, if your wedding date coincides with a seasonal holiday, local event or convention, you'll need to reserve your room blocks at least 10 to 12 months in advance. Having them booked before the save-the-dates go out is beneficial so that guests know where they can stay as they start thinking about travel arrangements.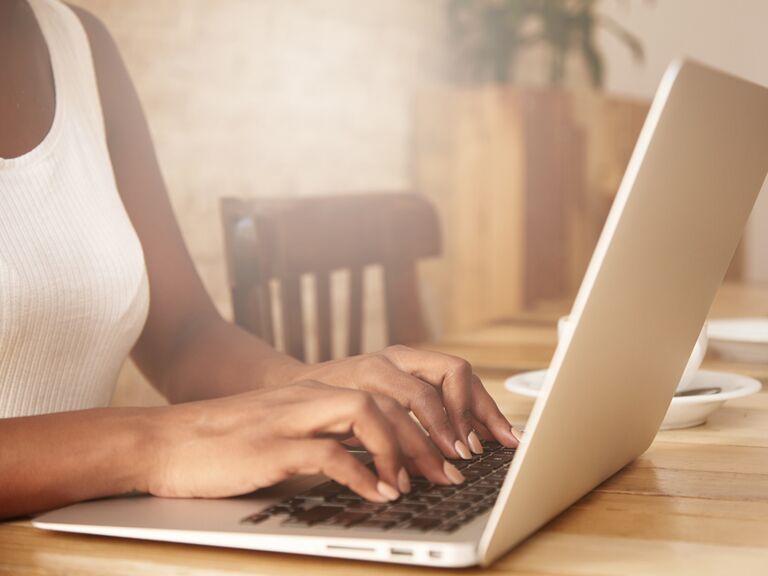 How to Block Hotel Rooms for a Wedding
There are a few key points you need to keep in mind before setting out to reserve hotel rooms for your wedding: number of rooms, proximity to your reception venue, room nights required, amenities and price point.
Number of Hotels
If you happen to be getting married at a venue that also has accommodations, start there. Ask the venue manager about room rates and a possible discount for your guests who reserve early. You should reserve hotel room blocks with at least two hotels under certain conditions:
1) you're having a destination wedding with a lot of out-of-town guests
2) you're getting married at a hotel with exceptionally pricey rooms
3) you have a larger-than-average guest list (more than 140)
4) you'd like to offer different price points for your guests to choose from
Contact Hotels Directly
To reserve a wedding room block for your guests, you'll want to narrow your search to two or three hotels and then give each a call. When you call to reserve, give the room block coordinator the dates you expect your guests to be there, plus any special requests you're hoping they'll help you fulfill (like dropping welcome bags at the door, or transportation to and from the airport).
Tip: Ask the hotel if they provide you with regular updates on room bookings by your guests so you can add more if needed.
Use HotelPlanner.com
Sound like a hassle? Save yourself a ton of time by using HotelPlanner, our premier hotel room block reservation service. With partnerships with major hotel chains and certified planners that boast decades of industry experience and collectively speak 28 different languages (hint, hint for destination wedding couples), HotelPlanner is your one-stop-shop for your group's hotel reservations.
HotelPlanner lets you search all the major hotels near your venue, recommends lodging, and helps you negotiate a great price and reserve all your room blocks in one place. All it takes is a simple informational questionnaire and you're matched with a local expert that can help you every step of the way.
How to Negotiate a Hotel Room Block Contract
Prefer to do it yourself? Once you've found a block of rooms that works for your wedding, you'll most likely need to sign a contract to finalize the booking. There is certain terminology you'll need to understand when reviewing the contract terms for a hotel block. Read the contract carefully before signing and be on the lookout for these clauses:
Cancellation Policy
What this means: The conditions under which you can cancel rooms and any financial penalties associated with your cancellation.
Deposit
What this means: The amount of money that you have to pay the hotel to reserve the room block (if any) and the terms to be met to get your deposit back.
Allowable Shrinkage Clause
What this means: This number refers to the percentage of unbooked rooms that's allowed.
Target Percentage: Between 10–20 percent. This means, that if you booked 20 rooms but 2–4 go unbooked, you will not be penalized with a fee.
Attrition Clause or Minimum Commitment

What this means: The attrition rate refers to the percentage of rooms that must be filled in order to avoid paying a penalty fee.
Target Percentage: Between 80–90 percent. Example: If the entire hotel room block is not used, you'll owe the hotel damages for all unused rooms based on a minimum commitment of 80 percent. This means that if you don't book the minimum amount of rooms agreed to, you'll owe the difference up to 80 percent of the room block.
Mitigation Clause or Resell Clause

What this means: The hotel must try to book unused rooms in your block so you're no longer responsible for them if they're later sold to other customers. In short: You shouldn't be paying for rooms other hotel guests are paying for.
How do wedding guests book rooms?
Once you set up a wedding room block, most hotels will give you a web link to share with your guests so they can book and pay for their individual hotel rooms. Alternatively, they'll provide contact info for the destination wedding planner or room block coordinator to make guests' reservations.
Bonus: HotelPlanner offers a free event website to send out to your group with all the hotel options listed in one place.
How to Let Guests Know Your Hotel Block Information
The best way to communicate your hotel block information is to include it on your wedding website. That way, all your guests will be well informed and can easily click to learn more about the accommodation options available. If you have guests coming from out of town, it's also a nice gesture to include additional information on how to get to the venue or if transportation from the hotel will be provided. Also, consider including contact information for either your wedding planner or a family member on your website so guests can reach out to them directly, should they have questions about directions or accommodations.
Hotel room block wording example:
A special message for our out-of-town-guests:
Thank you for making the journey to celebrate with us!
We're delighted to have family and friends from near and far coming to our wedding. To help you find accommodations, we have reserved a block of hotel rooms for [insert number] nights from [insert date] to [insert date] at the [insert hotel name(s)].
If you wish to book a room at a special group rate that we've negotiated on your behalf, visit this website [insert link] or call [xxx-xxxx-xxxx] before [insert a cut-off date] to ensure you have a place to stay as space is limited. [If required, provide a reference number]
9 Hotel Room Block Booking Tips:
To recap, here's a checklist of booking tips to help you with this important wedding planning task.
1) Number of Rooms
Focus on out-of-town guests, yourselves, the wedding party and immediate family. Only offer local guests a room as your fallback position (i.e. filling unbooked rooms) in order to avoid reserving too many rooms and paying financial penalties.
2) Number of Nights
As mentioned earlier, give some serious thought as to the number of nights your guests will be staying.
3) Number of Hotels
Reserve hotel rooms at two to three hotels to give your guests a choice and to secure enough rooms. Avoid more hotels than this because it takes too much time to coordinate and you'll run the risk of not meeting your booking threshold at each hotel.
4) Price Options
Not all wedding guests' budgets are equal, so choose hotels with different price ranges so that your guests feel comfortable with the hotel rate they're paying.
5) Hotel Location
Close proximity to your wedding venue is ideal as Ubers can add up fast if the hotel is far away—making the group rate you negotiated far less beneficial.
6) Booking Process for Guests
You'll want to make it easy for guests to book their rooms. Provide links on your wedding website or send out an email to VIPs. Don't be afraid to send a gentle reminder to out-of-town guests that have RSVP'd but may have forgotten to book accommodation.
7) Booking Updates
Ask your room block coordinator to provide regular updates on guest bookings so you can make sure there are enough rooms available or you can fill the remaining rooms.
8) Transportation
Give your guests tips on transportation to and from your wedding venue, airports, train stations, etc. Bonus points if your hotel offers a shuttle service.
9) Personal Touches
Discuss extra services like welcome bag distribution, turn down, signage, etc. with the hotel manager or your room block coordinator. Be sure to ask if there are any additional charges for these services.