Planning the Postwedding Brunch
Breakfast in bed is nice, but a brunch with the wedding bunch can be even better. Here are planning tips for your second meal as newlyweds.
by Amy Levin-Epstein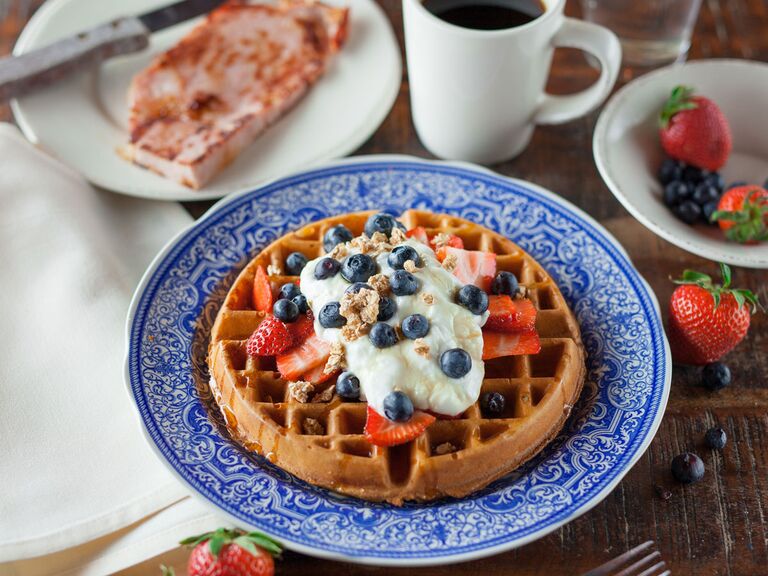 Joseph Gonzalez/ MiracleTwentyOne
So the big night is over and you're officially married. If you're not leaving for the honeymoon right away, a postwedding brunch can be a great way to wind down the weekend's festivities. Newlyweds can enjoy a final opportunity to thank their guests and spend a little more time with loved ones. Here are some tips to get you started.
Who's Invited?
The brunch is usually for the couples' families and any wedding guests still in town, particularly those that traveled a great distance to get there and will especially appreciate being included. Feel free to also include attendants, friends or even the family pet (depending on the location). Basically, anything goes. Of course, that depends on who's paying for it, which leads us to our next point.
Who Pays?
Traditionally, the bride's parents pay, but it's a nice gesture (if you have the funds) to pay for it yourselves. Show off as gracious newlyweds by playing the perfect hosts.
Where Should We Have It?
Generally, the brunch should be held near the wedding location so guests who traveled from out of town will not be inconvenienced. A landmark diner? A friend's backyard? Do you really love his parents' pad? Were you married in a hotel that has a restaurant or cozy lounge? Ask if you could hold the brunch there and see if you can arrange a special menu for the occasion.
Should We Send Invites?
Insert a card inside the wedding invitations of the guests you would like to attend the postwedding fete. Or you can send out a separate mailing entirely—it's really up to you. The cards can be as formal or as casual as the brunch itself. If very casual, invite your guests via email. You can also tailor the invitation to a theme to fit with the menu.
What Should We Serve?
Popular brunch items include Belgian waffles, eggs Benedict, pastries, fruit, mimosas, hash browns and other breakfast-related foods. But you can get creative with these classics. Food stations can be part of the entertainment, your guests can watch their crepes being made or have fun at a mimosa bar with an array of juices. Everyone loves adorable mini foods, like tiny chicken and waffles or yogurt parfaits in glass shooters. And let's not forget pairings, such as a cinnimon bun with a small mug of hot chocolate. But don't feel obligated to serve the standard brunch fare. A menu featuring your favorite type of cuisine is also an option, as is a barbecue or another casual dining choice—as long as the brunch is not held first thing in the morning.
See more ideas for your postwedding brunch here.