How to Plan the Ultimate Postwedding Brunch
Mimosas, anyone?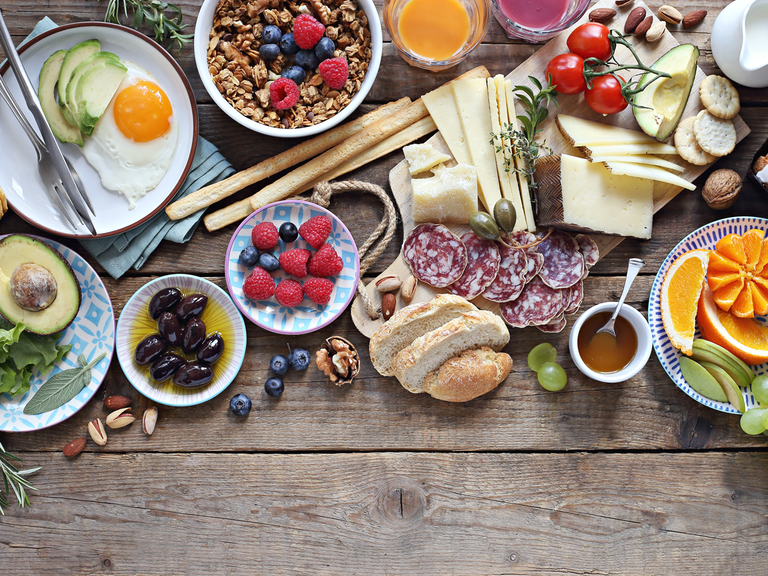 Losangela/Shutterstock.com
So the big day and all of the other prewedding parties are over and you're officially married. Congrats! Now what happens? If you're not leaving for your honeymoon right away, a postwedding brunch is a lovely way to wind down the weekend's festivities. Newlyweds can enjoy a final opportunity to thank their guests for joining them on their wedding day and spend a little more time with loved ones (especially those from out of town). But planning this wedding event can be more complicated than you think. Not to worry, though—we're here to help. Here's everything you need to know about planning a postwedding brunch.
What is a postwedding brunch?
A postwedding brunch is an event that typically happens the morning after the wedding at the end of the wedding weekend. It's a time for your guests to gather one final time before leaving. It's also a wonderful time for the newlyweds to spend more quality time with their guests. Since the reception has a lot going on, it's difficult to have meaningful conversations with everyone you invited. That's why we love the idea of hosting a postwedding brunch after the fact. Plus, who doesn't love brunch?
Is a postwedding brunch necessary?
Here's the deal: While a post brunch is a lovely gesture, it's definitely not necessary. There are so many other festivities associated with your wedding (think: engagement party, wedding shower, bach party, rehearsal dinner, ceremony and reception). We completely understand if you don't want to plan or host an additional event. However, it's a lovely way to connect with more of your guests and share your newlywed bliss.
Postwedding Brunch Etiquitte
If you have questions about the postwedding brunch, we're here to help. Here are answers to some of the most common questions around the event.
Who plans the postwedding brunch?
There aren't any rules around who hosts this event, so it's fair game for anyone. However, it's common for the couple or their families to host. Regardless of who takes on the responsibility of planning the postwedding brunch, we recommend speaking with the couple directly. That way, you know exactly who they want to invite, where they want to have it, what time they'd like to start and what kind of food they'd like.
Who pays for the postwedding brunch?
Typically, the host pays for the postwedding brunch. But the host could also others if they'd like to contribute. It's also not uncommon for the couple to pay for the postwedding brunch themselves if they've decided to host the event. As you begin wedding planning, make sure you budget for this event.
When should the postwedding brunch take place?
Given the farewell brunch takes place the morning after the wedding, we recommend giving your guests a little more time in the morning to wake up and get ready. (They'll definitely appreciate the extra cushion the next day after all that late-night dancing!) We suggest starting around 9 or 10 a.m. so that your wedding guests can get enough sleep but also have enough time to head home.
Where should the postwedding brunch take place?
We highly recommend hosting the brunch somewhere close to the venue. Everyone who attended the wedding is likely staying in a hotel block or rental space nearby, so this will make it easy for them to attend the event. Psst: You can check our nearby places over on The Knot.
Should your postwedding brunch have a dress code?
Your postwedding brunch doesn't have to have a dress code, but it helps your guests pack. Check with your chosen brunch venue first to see if they have a dress code. If they don't, decide on the guidelines for the event and communicate them to those invited ahead of time. That way, your guests have time to plan and pack their postwedding brunch outfit. (Psst: We suggest posting this information on the wedding website so it's easily accessible.)
Who gets invited to the postwedding brunch?
This is completely up to the host. You can extend the invitation to everyone who attended the wedding, or you can adjust. For example, inviting all out-of-town guests is a nice gesture considering the travel they've done to attend the nuptials. If you want to keep it small, you can invite just the wedding party or just family members.
Postwedding Brunch Food Ideas
See our favorite postwedding brunch food ideas (that aren't donut walls or bagels), below. Don't forget to include a mimosa bar or bloody mary station as well!
BBQ and Beer Flight
If you're hoping for a laid-back morning-after brunch, plan a barbecue. Serve your guests goodies from the grill (think: burgers, hot dogs and more) and offer an accompanying beer flight.
Chicken and Waffles
There's nothing more classic than chicken and waffles. The combination sounds like it wouldn't go together, but it's absolutely delicious.
Seasonal Scones
Hosting an elegant sit-down meal? Set out scones made with seasonal or local ingredients.
Miniature Pies
How sweet it is. Serve up some miniature pies at your postwedding brunch. Not only are they delicious, they're also totally Instagrammable.
Acai Bowls
Is there anything more refreshing than an acai bowl in the morning? We love that it's totally customizable by adding different toppings, so every single one of your guests will love their brunch.
Individual Charcuterie Boards
If you're charcuterie-obsessed, incorporate it into your postwedding brunch.Welcome each guest with a personalized board of goodies they can snack on while they mingle.
Fast Food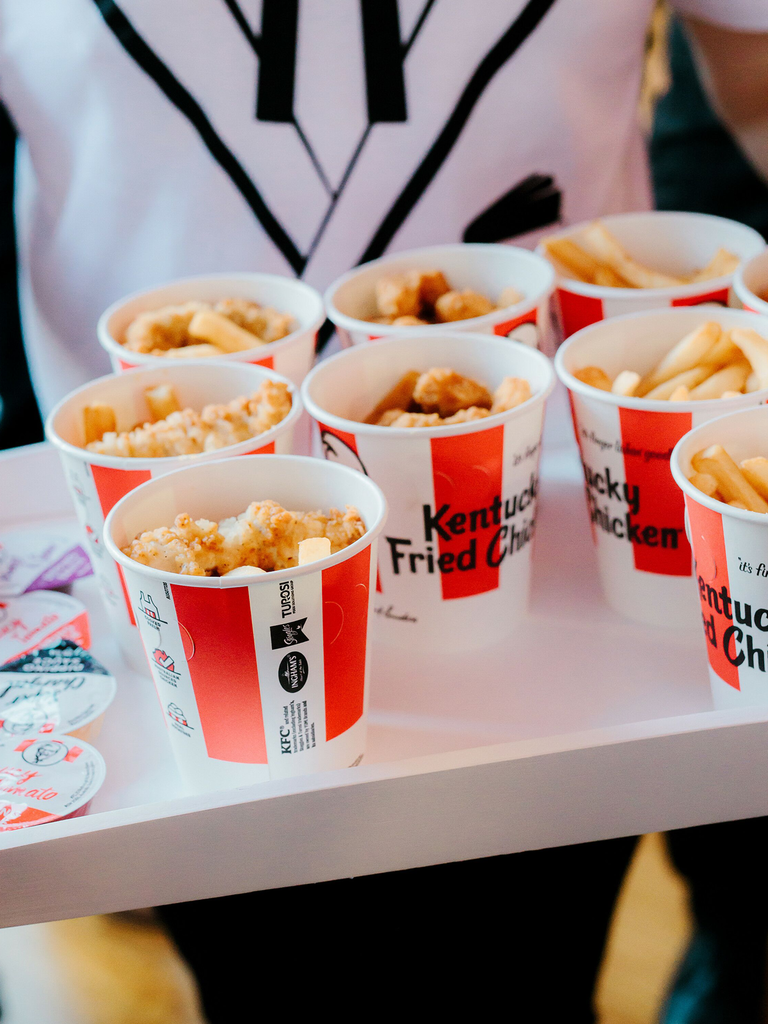 Let's be real: There's nothing quite like fast food the night after a big party. Serve your guests fast food from a nearby restaurant for a fun, laidback vibe.
Dim Sum Station
Give your guests the option of building their own brunch plate with a dim sum station. Add extra takeout favorites (think: fried rice and saucy noodles) for a special touch.
Individual Picnic Baskets
Keep things casual with a picnic in a park. Rent out an open space or simply head over to a nearby park and celebrate your new marriage with your loved ones.
Fresh Poke Bowls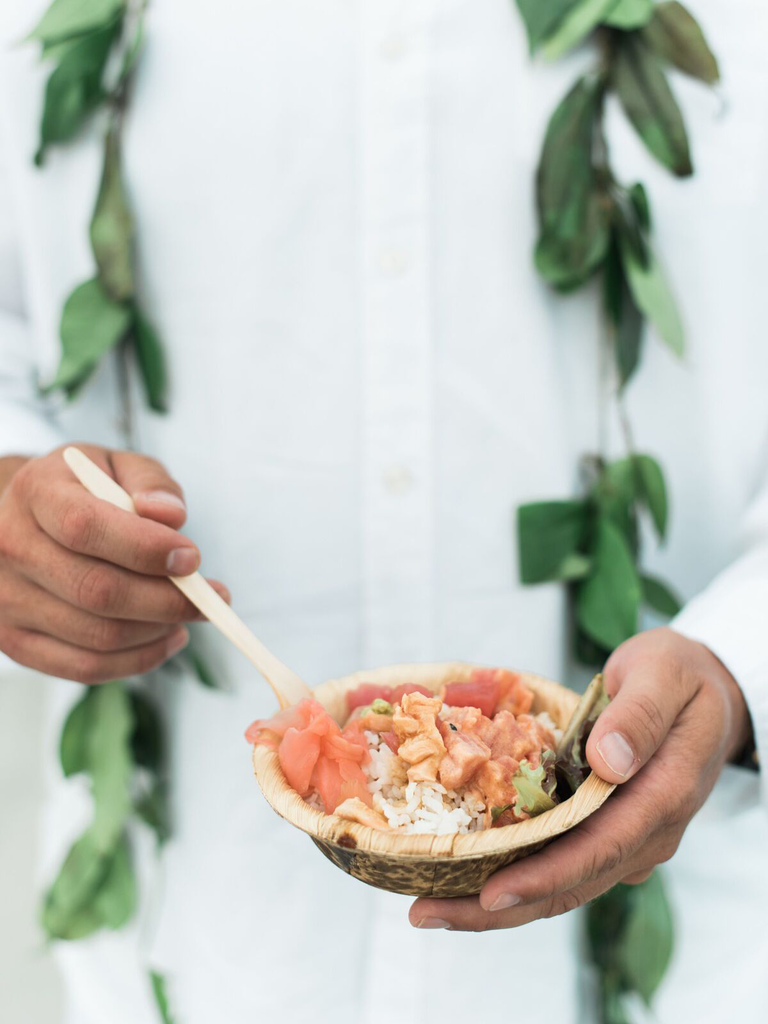 If you're hosting a summer wedding, your guests will love munching on refreshing poke bowls.
Wood-Fired Pizza
Pizza for brunch is always a good idea. Offer a few different options so there's something for everyone attending your postwedding event.
Postwedding Brunch Menus
Our best tip? Order your postwedding brunch menus along with your other wedding stationery. That way, all of your paper items are taken care of. Scroll down to see our favorite designs, which you can buy right now on The Knot Invitations.
Muted Floral Menus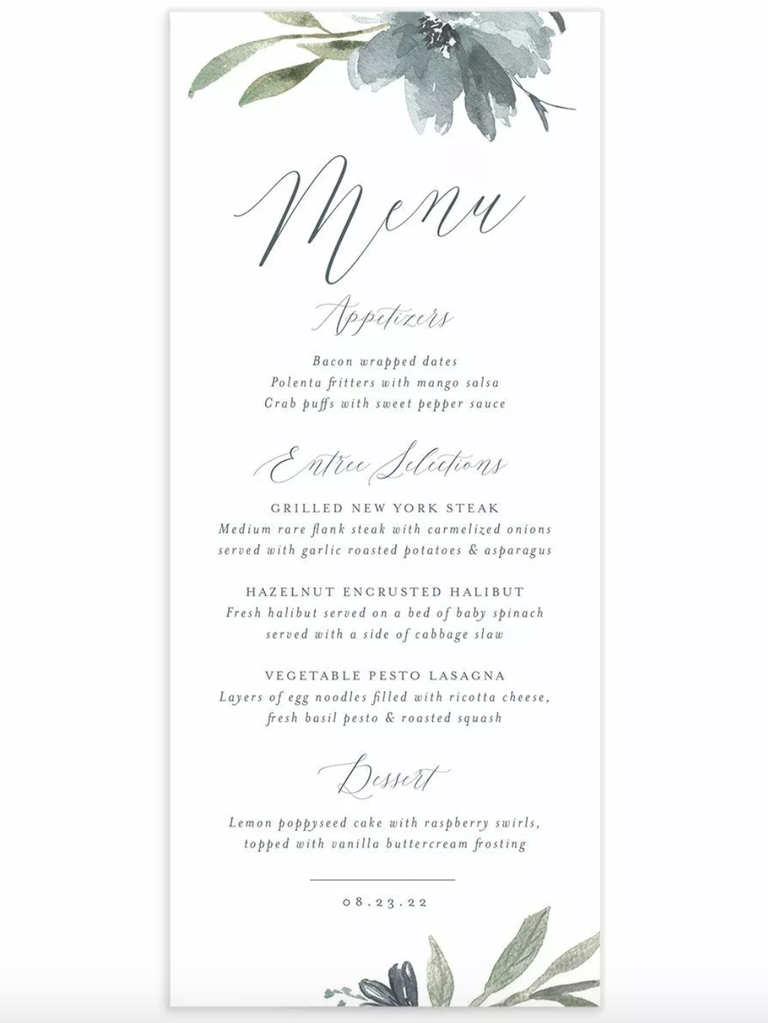 You can't go wrong with a classic. The pretty calligraphy script and watercolor floral design will match any wedding no matter the season or style.
Lush Greenery Menus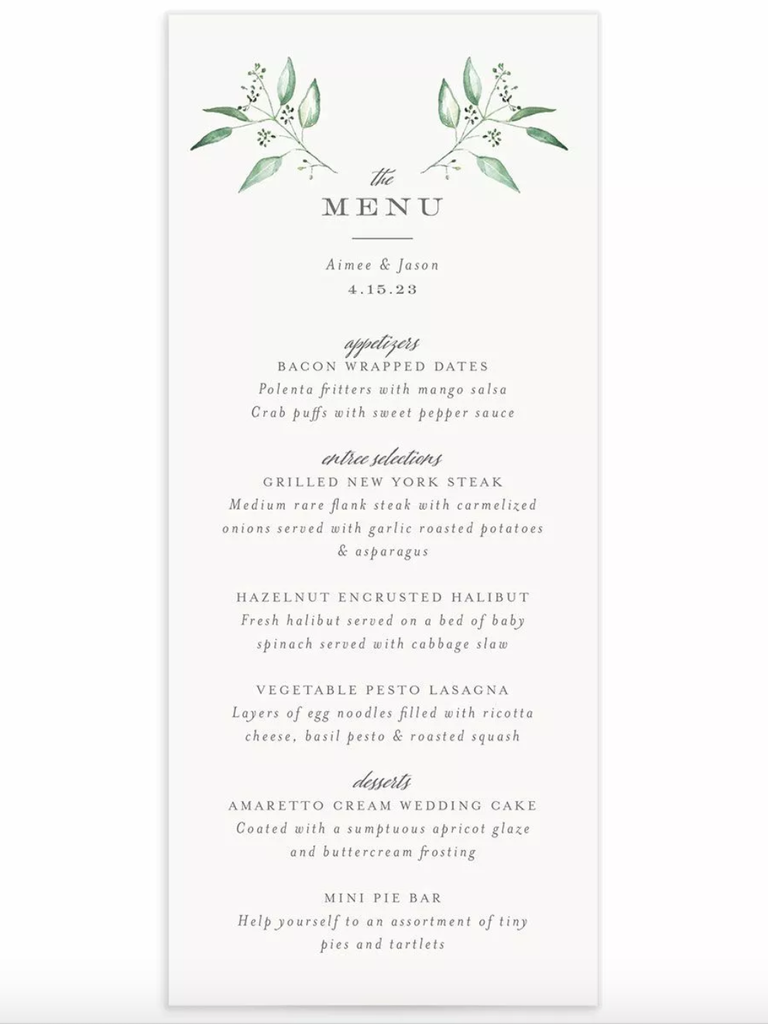 If you like a minimalist look, you'll love these beautiful menus. The script is simple and the small greenery design at the top adds just the right amount of color.
We Do Menus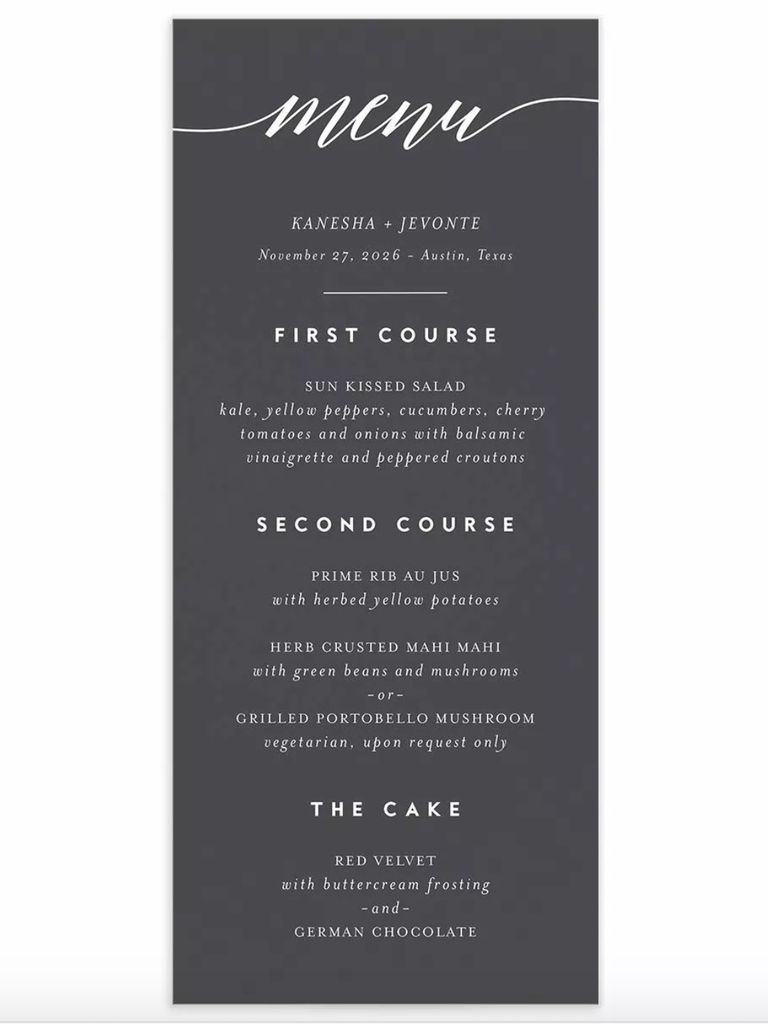 If you're searching for something that feels both classic and modern, these postwedding brunch menus are it. They're simple, sophisticated and style.
Modern Brushstroke Menus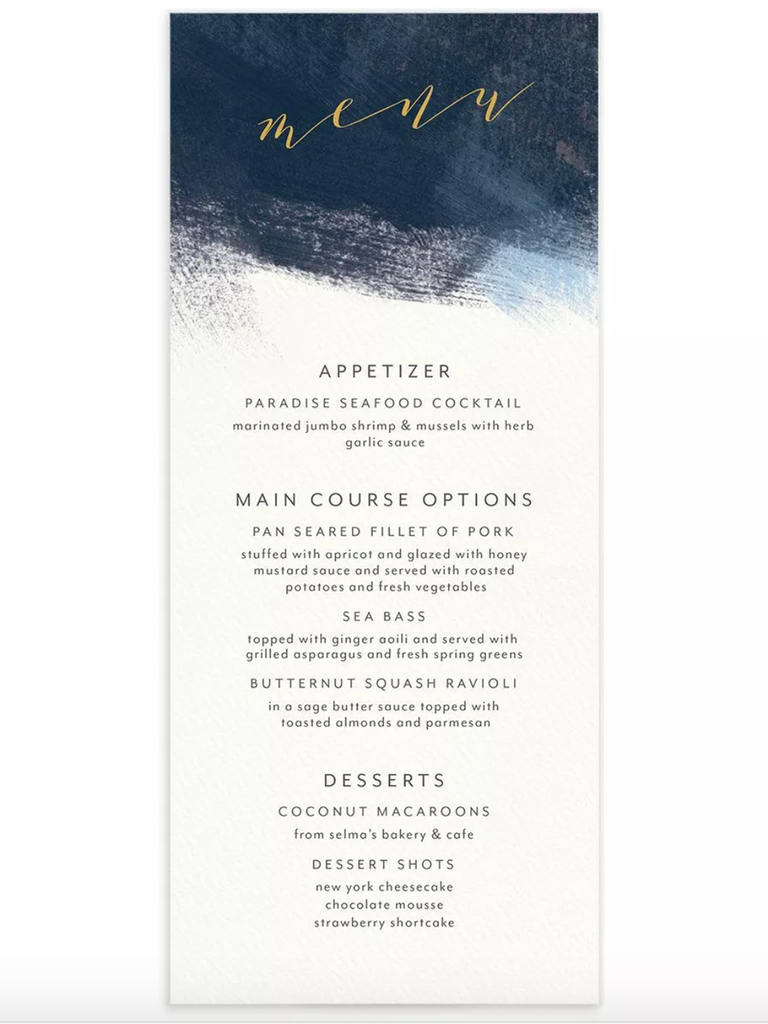 Are you a trendsetter? Pick up these contemporary menus. The brushstroke design is bold but still elegant to create an effortlessly cool vibe.
Palm and Protea Menus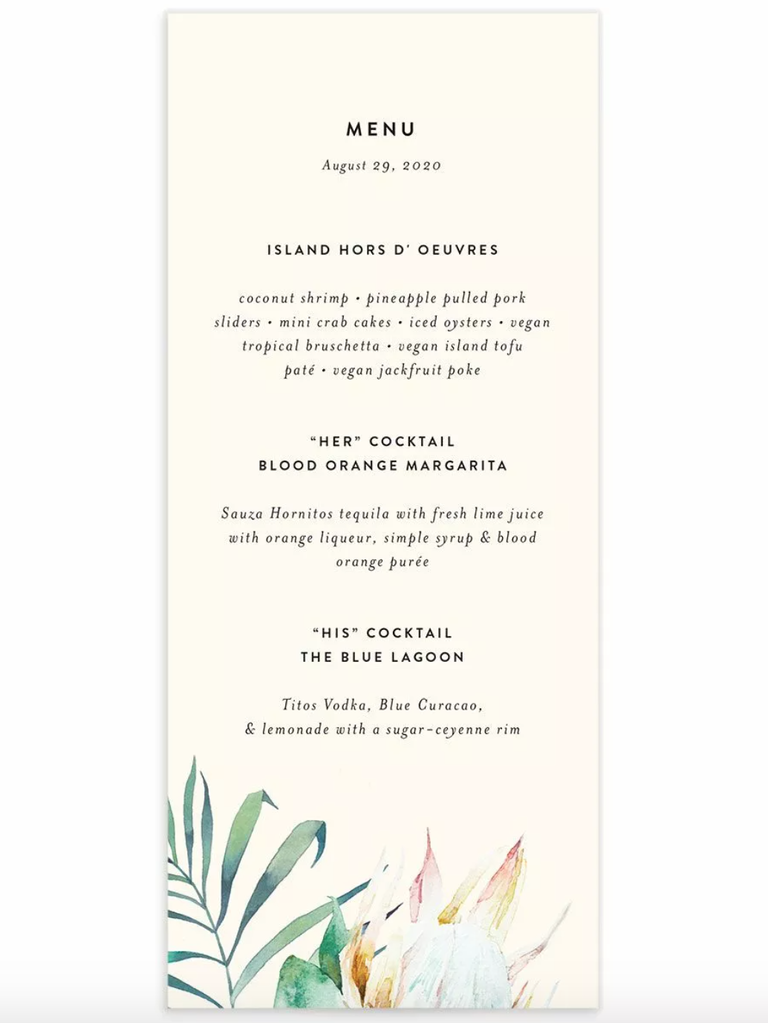 If you're hosting a destination wedding or a beach wedding, use these playful menus. They're a creative way to nod to your gorgeous wedding venue.