The 13 Best Spots for a Snorkeling-Focused Honeymoon
Dive into married life at these sunny and scenic honeymoon destinations.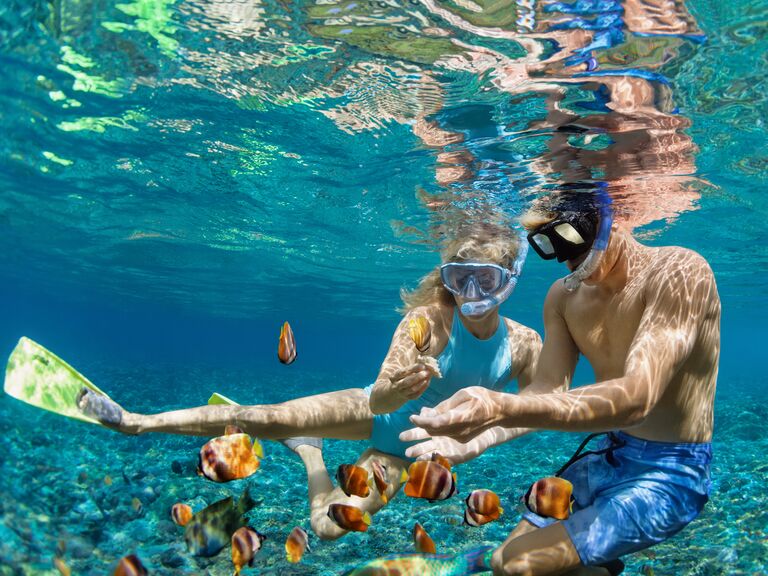 Denis Moskvinov / Shutterstock
You don't have to be an expert scuba diver to explore the planet's underwater world. Snorkeling is way more accessible, and it still allows you to get an unbelievable view of the most incredible marine ecosystems on the planet.
Whether you're swimming above shipwrecks or exploring coral reefs, your honeymoon snorkeling adventures can be as relaxed or adventurous as you'd like. Take a look.
1. Bonaire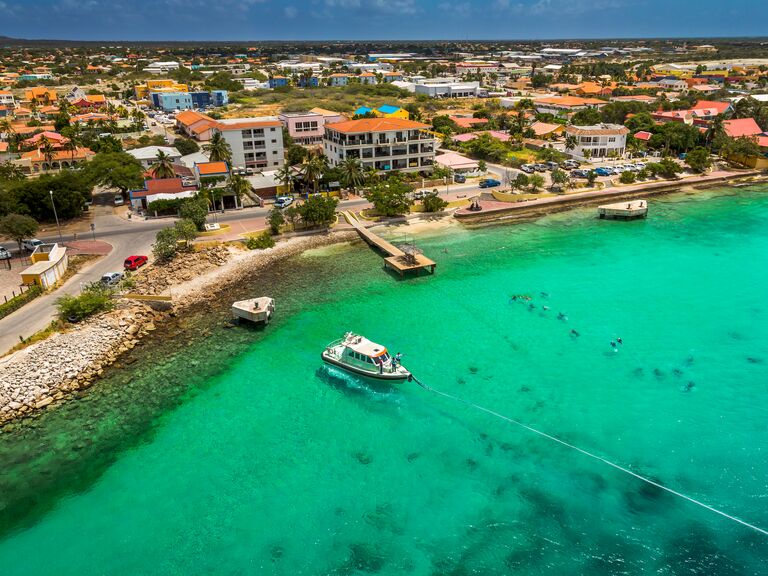 Bonaire is generally considered the world's best destination for both snorkeling and scuba diving. There are more than 70 sites across the island where you can snorkel on coral reefs, all of which are accessible from the beach. Simply book a beach hotel, pack your gear and take your rental car across the island wherever you want to snorkel.
The ocean around the island is part of the country's national marine park, so it's well-protected from fishing and pollution. With hundreds of fish species, no currents, healthy coral reefs and well-marked entry points with easy ocean access, it's the best spot for beginner snorkelers to celebrate their first week as a married couple.
2. Sharm el-Sheikh, Egypt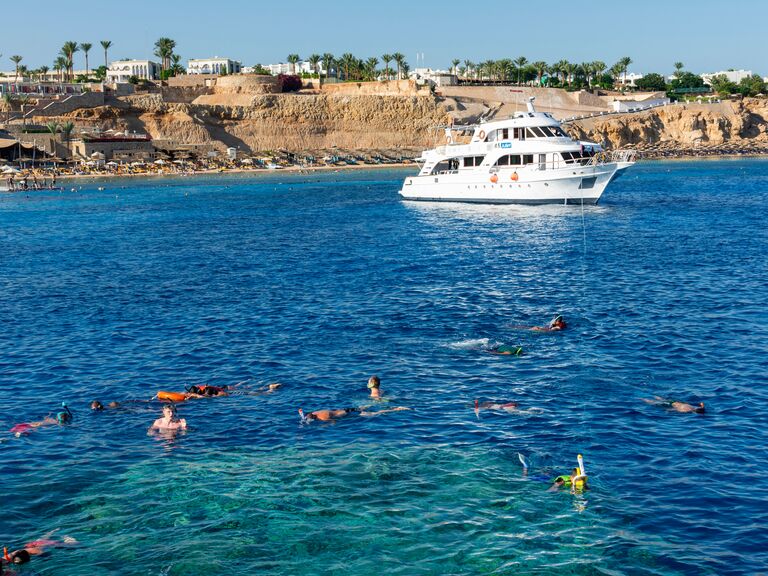 Egypt's Red Sea may seem like a surprising destination on a list of the world's best honeymoon destinations for snorkeling—that is until you go there. Ask anyone who's visited, and they'll start raving about the area's thriving marine life, incredibly healthy and colorful coral reefs, and calm water.
Nearly everywhere in the Red Sea is prime for snorkeling, but people typically base themselves at beachfront luxury hotels in Sharm el-Sheikh, most of which have snorkeling (plus kayak rentals, spas, gourmet restaurants and more) available on the property. You can also take boat trips on the Red Sea for the day if you'd rather snorkel in open water, where you're more likely to see slightly larger marine life.
3. French Polynesia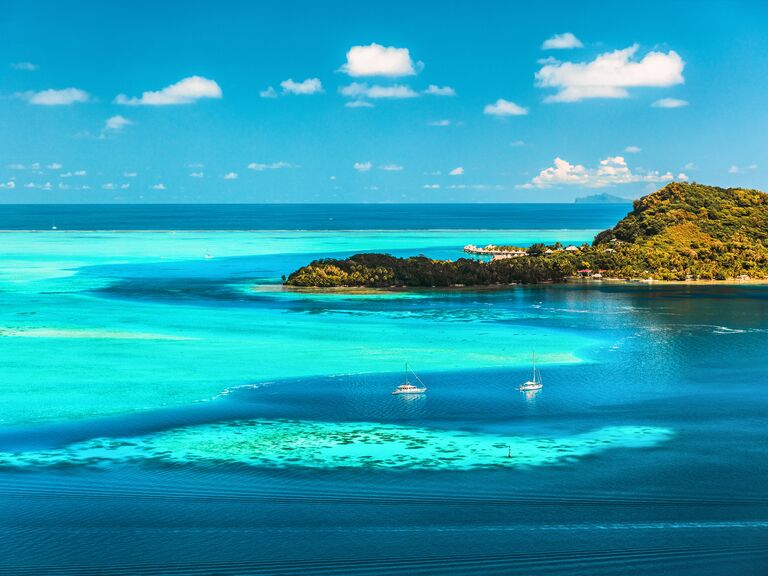 Plan your honeymoon for French Polynesia and you won't want to spend a minute out of the water. Most of the bucket-list-worthy honeymoon hotels are on atolls surrounding turquoise lagoons, creating fantastic snorkeling opportunities in the impossibly blue waters. On popular islands like Bora Bora and Moorea, you'll be able to find snorkeling tours that allow you to see everything from stingrays to reef sharks.
4. The Maldives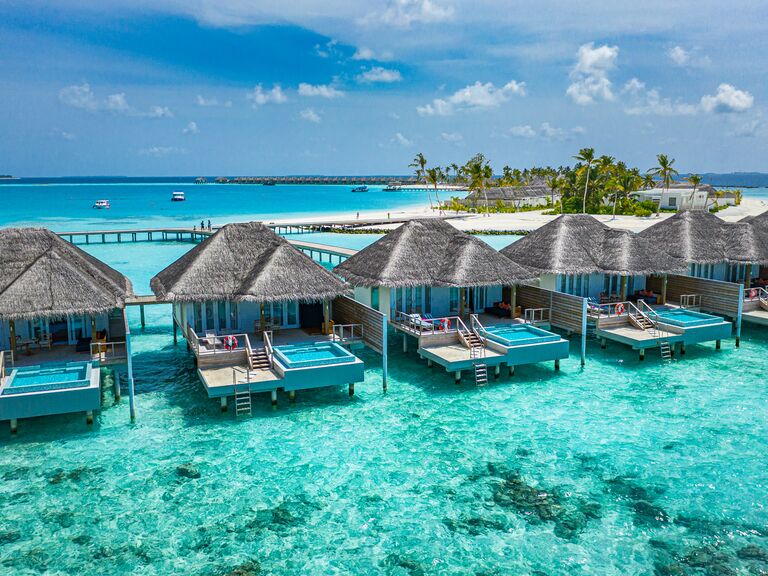 The Maldives isn't the only country to offer perfect beaches and impossibly luxurious resorts—but it gets a leg up over other popular snorkeling spots thanks to its over-the-water bungalows, which are the de rigueur lodging option throughout the island nation.
Since you'll be able to roll off your private deck directly into a lagoon, you can go for a couples' snorkel anytime you want. Jump in before your morning coffee, cool down in the heat of the day, or treat yourself to a midnight snorkel for two under the moonlight. Nearly every resort in the Maldives includes snorkel gear as a complimentary amenity, and many offer snorkel trips via boat, too.
5. Maui, Hawaii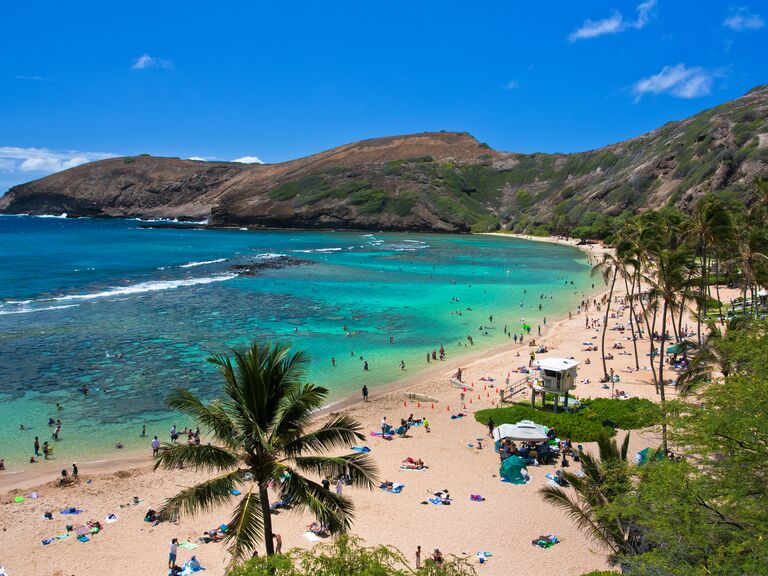 You can't go wrong planning a snorkeling honeymoon to any Hawaiian island, but Maui is the best choice if you only have time for one island. That's where you'll find the Molokai Crater, one of North America's best spots for snorkeling. It's about a 30-minute boat ride from Maui and has visibility upward of 150 feet. And since the water is only about 25 feet deep, you'll be able to see incredibly far. Most boat trips also include a stop at nearby Turtle Town, where you'll almost always see the country's famous green sea turtles near the rocky coastline.
You'll find excellent snorkeling on other islands, too, like Oahu's Hanauma Bay or Kauai's Waimea Bay Beach, where you may even see monk seals sunning themselves on the beautiful beaches. They're adorable, but give them a wide berth—especially if they have pups.
6. St. John, US Virgin Islands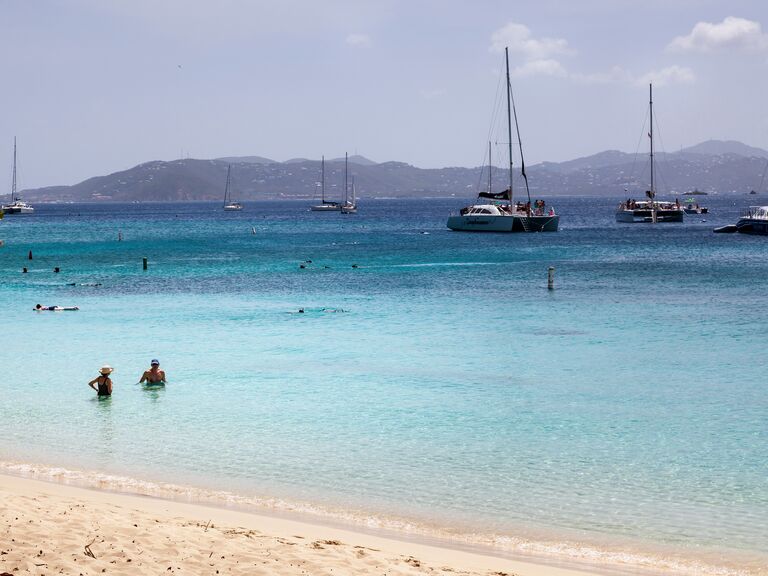 The US Virgin Islands, located in the Caribbean Sea, are a series of mountainous, lush islands. St. Thomas, St. Croix and St. John are the three most well-known. St. John has the best snorkeling, and since it also has an international airport, it makes for an excellent quick trip from the States.
There's a popular snorkeling spot in St. John called Honeymoon Beach—how perfect is that? You can buy a day pass to Honeymoon Beach and have unlimited use of snorkel gear, plus kayaks, paddle-boards, lockers, loungers and more.
Trunk Bay (located inside Virgin Islands National Park) has an underwater trail you can follow, with easy-to-read signage about the marine world posted underwater along the way. Waterlemon Cay is known for cushioned sea stars (the "fat" starfish), but make sure not to handle them (it stresses them out, even if they look fine). Maho Bay is known for frequent sea turtle sightings, both green and hawksbill.
7. Seychelles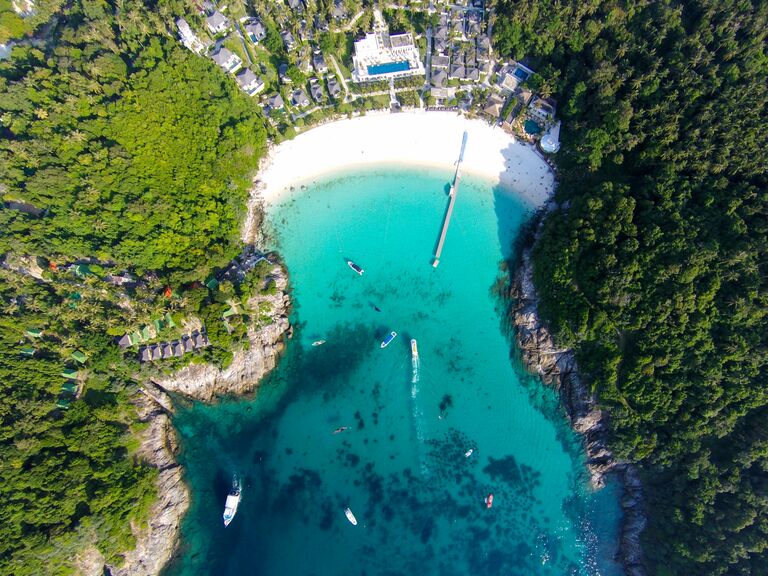 In the northwest section of the Indian Ocean, just north of Madagascar, is the island nation of Seychelles, known as an enclave for the rich and famous who are seeking a private-island vibe. There are actually more than 100 islands in Seychelles, the largest of which is Mahé, where you'll find most of the best hotels for newlyweds.
Head to Anse Soleil or Baie Lazare for easy snorkeling from shore with lots of marine life. Or, head north to Port Launay and Baie Ternay; both sites are part of the Morne Seychelles National Park (which also has excellent hiking). For the best mix of clear water and calm seas, visit in the spring or fall. If you have time for an overnight trip, La Digue's snorkel sites are known for rarer species like eagle rays and porcupine fish, though the island tends to have stronger currents.
8. Bali, Indonesia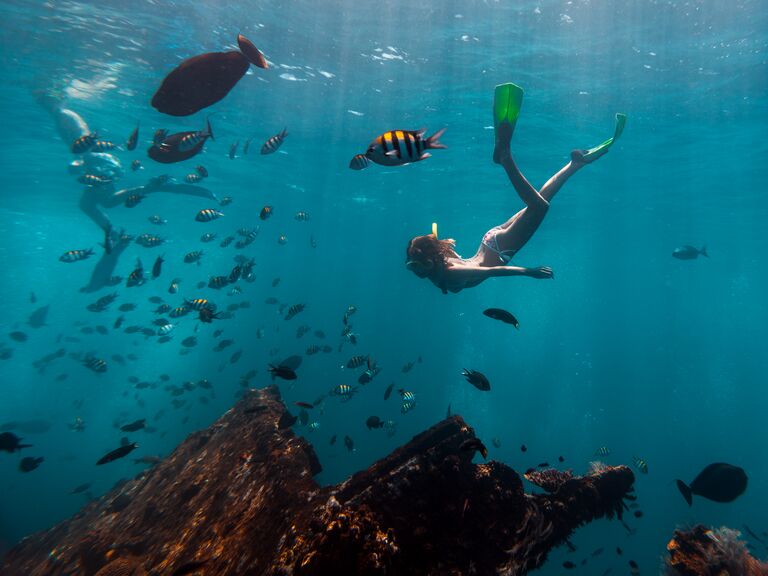 Two paragraphs are not enough to list what makes Bali so unique. Between beautiful temples, five-star lodges built deep into the sides of jungles, fantastic food, epic scuba diving and water sports, there's no reason not to go. If you're considering it for a snorkeling honeymoon, all those draws will pale in comparison to the country's incredible underwater world.
You'll definitely want to snorkel a few times on the USAT Liberty, a shipwreck that sits in water anywhere from 90 to 15 feet deep. The ship itself is more than 400 feet long, so you can do several snorkel sessions on it and not see the same part of the wreck twice. For some shallow-water diving, snorkel in one of the underwater sculpture gardens like the "Bask Nest" (located on the island of Gili Meno) or above the sunken treasure chests and Buddha statues at Jemeluk Bay.
9. Belize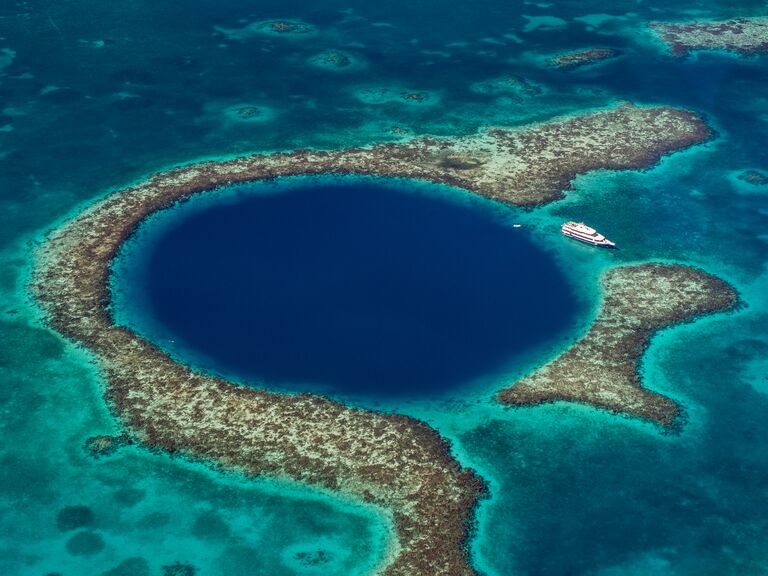 Hands down one of the most amazing underwater sites on Earth is the Great Blue Hole, which is located off the coast of Belize near the country's Lighthouse Reef. Scuba divers may be able to go deep into the Great Blue Hole, exploring caves around 130 feet deep, but snorkelers don't miss out on anything by staying near the surface. The coral reefs surrounding the steep drop-off are healthy as can be. The atoll is fairly remote and removed from most human activity, so you'll see everything from turtles and schooling fish to nurse sharks (which are harmless).
You can stay in one of the beachfront hotels on the islands of the Lighthouse Reef or stay on Belize's Caye Caulker and take a day trip to the Great Blue Hole.
10. Yucatán Peninsula, Mexico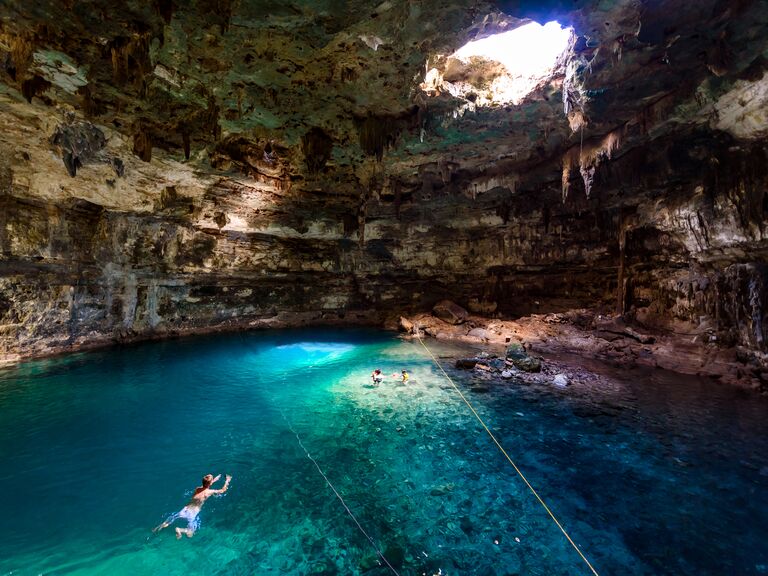 The Yucatán Peninsula is well-known for exceptional water sports, from scuba diving and sailing to more obscure activities like SNUBA, or tubing through jungle caves. But one activity continues to be extremely popular with tourists: snorkeling.
If you stay on the island of Cozumel, spend your honeymoon at a hotel near the southern tip to be in the Cozumel Marine Park. Book a boat tour to visit snorkeling sites like El Cielo (a very shallow spot known for starfish) or Columbia Reef, where reef sharks and manta rays are common. The visibility is usually much greater than the depth of the water. If you don't want to take a boat trip, head to Punta Sur Eco Beach Park or Playa Mia, two beach parks on the island with everything from swim-up pool bars to nature treks. Playa Mia is known for its underwater "Mayan City," which makes for excellent snorkeling and photo opportunities.
If you're on the mainland, you'll find excellent snorkeling at Tulum's Xel-Há Park or Xcaret Eco Archaeological Park in Cancun. If you want to snorkel with whale sharks, head north to Isla Mujeres (they're there from roughly May to August).
11. Fiji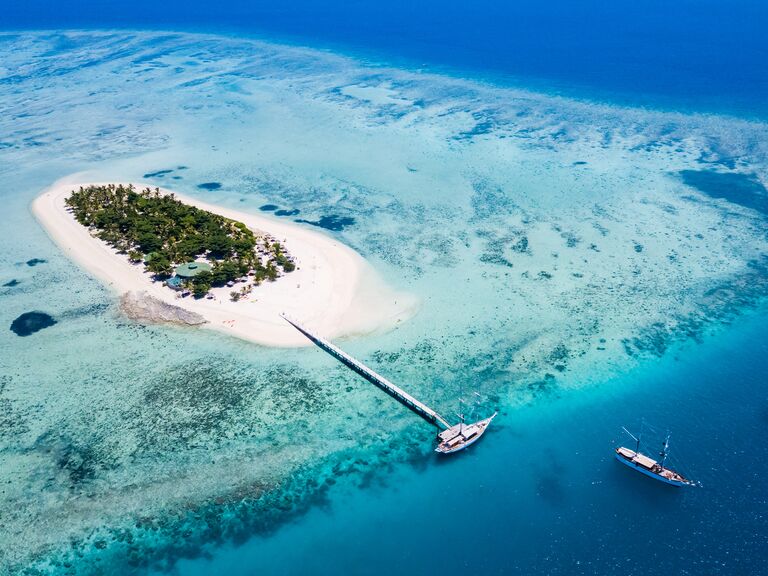 With more than 300 islands to choose from, you could take a honeymoon every year in Fiji and never set foot on the same island twice. The remote islands offer no shortage of coves and lagoons where you can snorkel, but the most famous site is the Great Astrolabe Reef, a coral reef that's more than 40 miles long.
On the country's main island (Viti Levu), popular snorkeling spots include Beqa Lagoon—where you may see non-reef sharks like bulls or tigers—and almost anywhere in the Namena Marine Reserve. Other islands known for world-class snorkeling include the Yasawa Islands, where you can snorkel with manta rays year-round, or anywhere around Taveuni, which is famous for its Rainbow Reef.
Fiji is also a great place to brush up on your marine identification skills: There are more than 390 species of soft coral and 1,200 species of fish in the country's waters.
12. Key West, Florida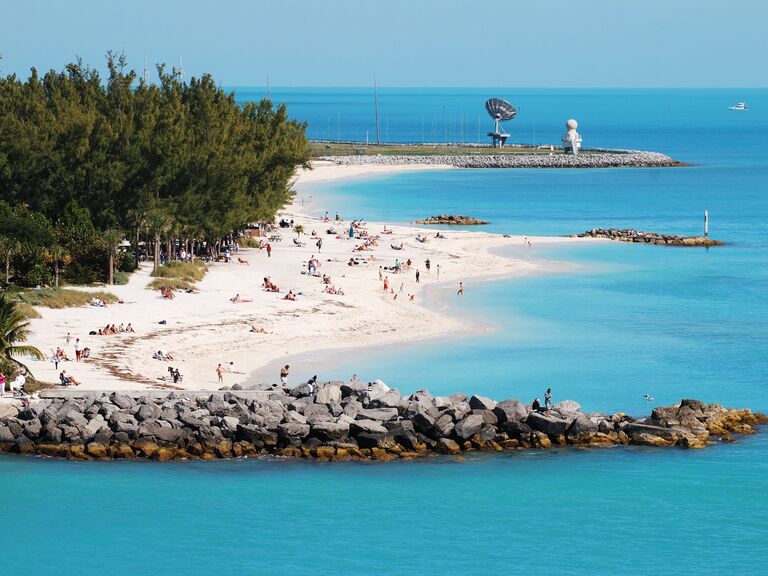 Key West is like no other place in the United States. It has the laid-back appeal of the Caribbean islands, but without the passport or long flight—in fact, the roughly three-hour drive from Miami to Key West is one of the most beautiful road trips in the US.
From Key West, you can take a day trip to Dry Tortugas National Park, the most remote and submerged national park in the country. More than 98 percent of the park is underwater, save for a visitors' center and a few campsites. In the park, you can snorkel over the Windjammer shipwreck (which hits a maximum depth of 20 feet) and the Texas Rock Coral Reef, which has so many types of coral that it's a growth research station for marine biologists.
Back on Key West, snorkel from beaches like Fort Zachary Taylor or Higgs Beach, from which you can walk directly from the sand into the Key West Marine Park. The park covers 40 acres and has designated snorkeling and swimming areas free of boat traffic and fishing.
13. Palawan, Philippines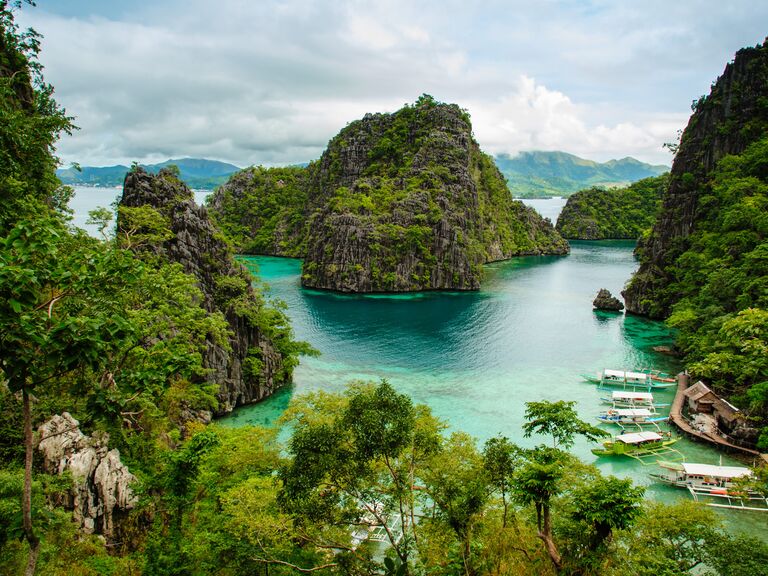 OK, Palawan is a bit hard to get to, as it requires at least one connecter flight from your point of entry on the country's mainland. But ask any snorkeler or scuba diver, and they'll tell you the coral reefs around Palawan are truly amazing. The island is one of the westernmost landmasses of the Philippines, which means the islands to the east shelter it from heavy wind, storms and waves that can damage reefs and reduce visibility.
Most of the snorkeling here is done from boats, but the rides are usually short, leaving plenty of time for a couples' massage on the beach later that afternoon. Try to book boat tours that go to sites like Lusong Island (which has a shipwreck starting about 15 feet below the surface), Twin Peaks Reef (a very shallow site beloved by sea turtles) or Matinloc Island. The experience of snorkeling at Matinloc is often compared to snorkeling in a massive tropical aquarium, except you'll have a palm tree-covered, white-sand beach just behind you.
Try to plan your trip during the dry season (roughly mid-December through April), when seas are calmest. The heavy rain from summer storms can greatly reduce visibility.