Why Waiting for the Wedding Was Worthwhile for This Influencer
"Prioritizing safety will still lead to a beautiful wedding."
Bria Jones and Andrew Nesbit knew of each other, but fate played an all-important role in facilitating the connection. Both moved to Kansas City in 2016 to work for the same company. At an orientation, Nesbit (who goes by 'AJ') stood out for his good humor. Jones, meanwhile, caught his eye from across the room. "It was months of us silently crushing on each other," Jones, an Instagram influencer, tells The Knot. "Then, a mutual friend introduced us… without knowing there was already an attraction there."
Two weeks later, they were officially dating; ultimately, it was their relocated city of choice that played a big role in the proposal and the wedding. "AJ [Andrew] told me we were taking holiday pictures for his mom. He booked a photographer," recalls the bride. "During the shoot, right at golden hour, he dropped to one knee and proposed with the Kansas City downtown skyline in the background."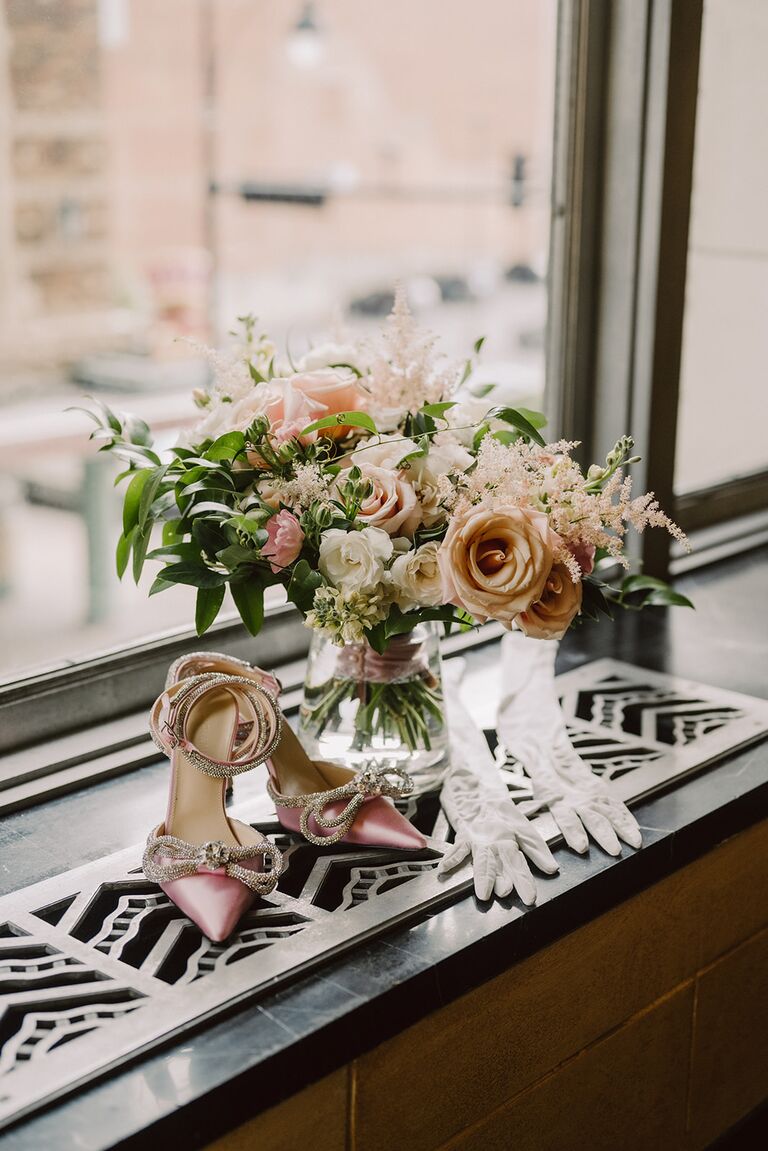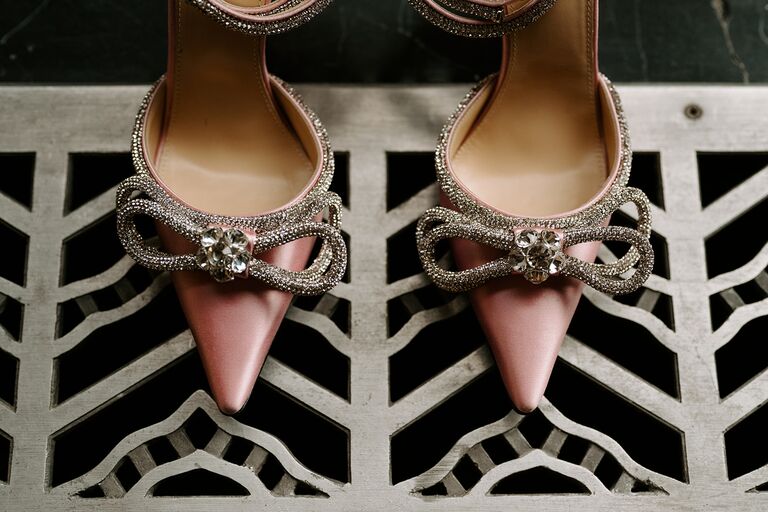 Bria Jones & AJ Nesbit's Wedding Photos
The couple decided their hometown of several years would be the best spot for their wedding location. "We chose Kansas City because most our friends and family are from out of town," explains Jones. "We thought it would be fair to have our wedding in the city where we met, opposed to having to choose a destination and plan a wedding over a long distance." Most of the details were set until their plans started to unravel.
For the very reasons why the pandemic stifled plans for millions of to-be-weds, Jones and Nesbit (who goes by 'AJ') had to postpone their wedding. But it was the fallout of having to actually plan a wedding during quarantine that made the process challenging. "In full transparency, it was a rollercoaster," reflects Jones. "It made planning very difficult and overwhelming at times… We [even] pushed our wedding once due to COVID."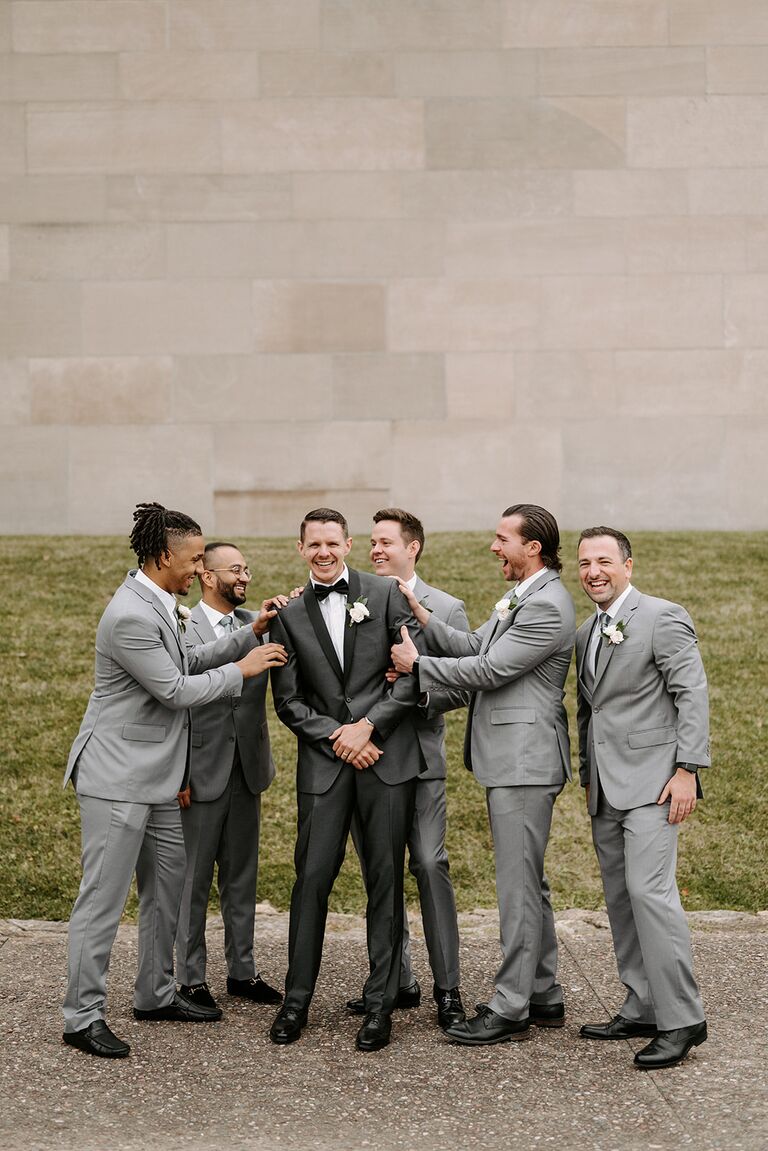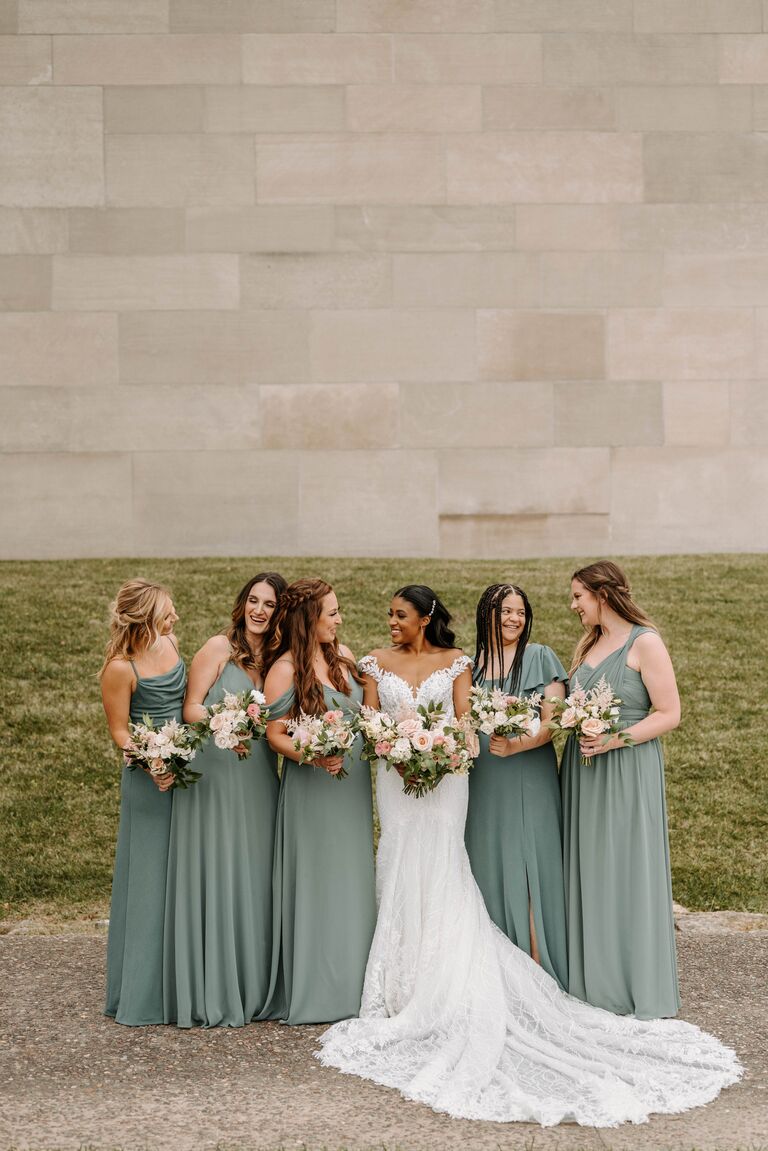 During the height of restrictions, Jones faced the possibility of suddenly having to do things independently. "We don't have much family in Kansas City so planning our wedding was often a lonely process," reflects Jones. "For example, my friends and family couldn't all be with me for dress shopping. We figured out a way to have everyone 'there' on Zoom. We had to be flexible and resilient even though it wasn't the experience I had always imagined."
With the help of their vendors and loved ones–especially each other–the future spouses saw it through. On a sunny, fall day in Missouri, the pair exchanged vows, at last. "We got married at The Grand Hall in the Power and Light District of town," she says. "The venue is historic in Kansas City and the architecture is incredible. We loved this venue because we didn't have to spend a lot on decorations. The space is naturally beautiful."
The couple's planner, Brennan Swirderski of As You Wish Event Planning, supported the pair and advised on health and safety measures for the wedding day. "She was a lifesaver and really helped anywhere we needed her," says Jones. "If you have a planner, lean on them for advice on best practices. Don't put pressure on having everything go a certain way. Flexibility and prioritizing safety will still lead to a beautiful wedding."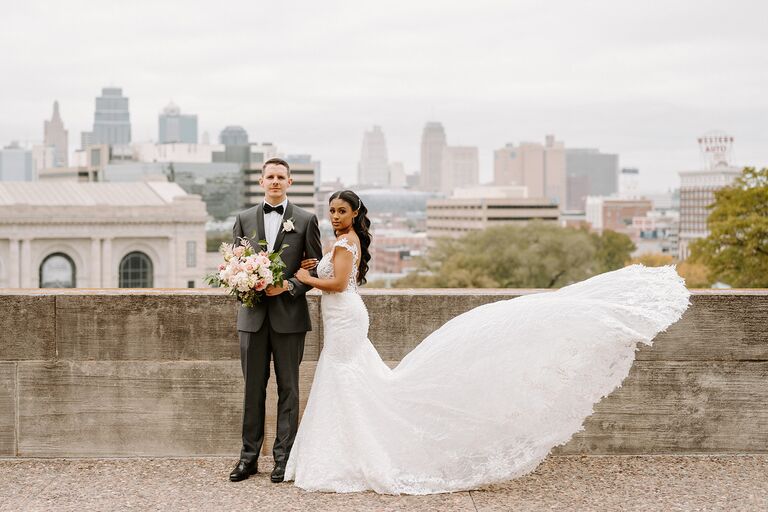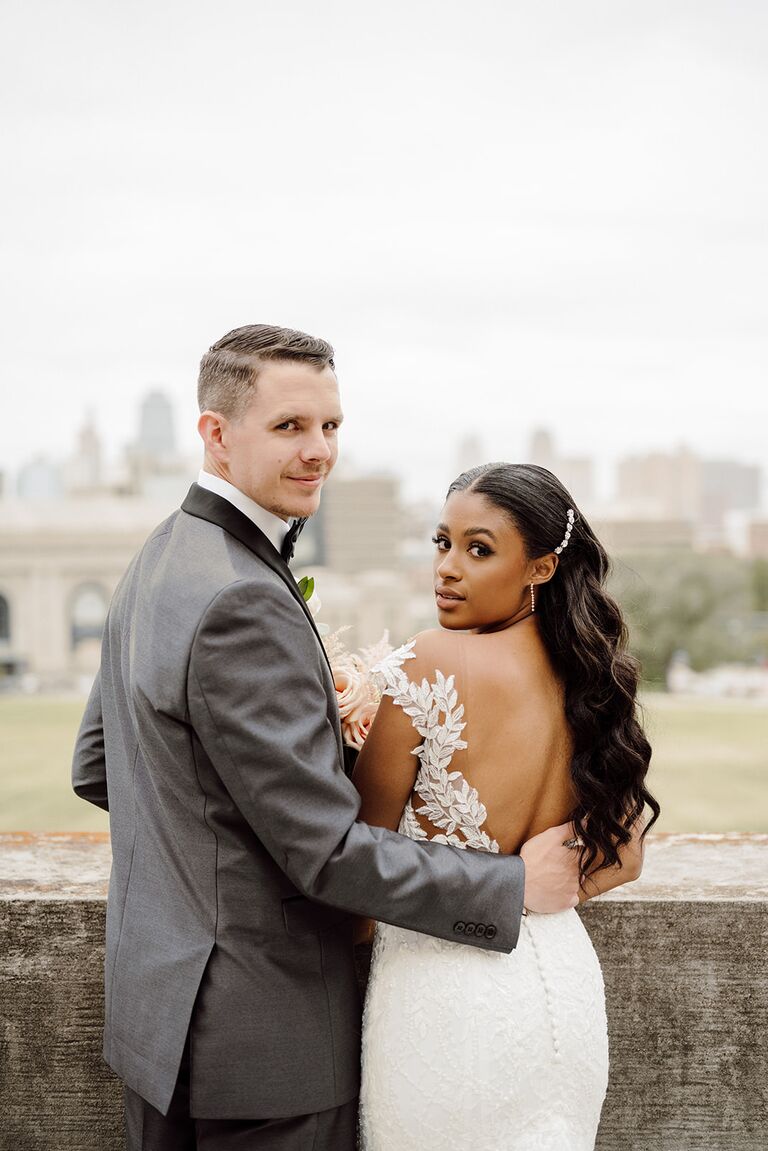 In fact, the couple prepared several, clever COVID-compliant experiences for their guests. "We offered masks at the venue entrance, along with these ribbon bracelets in our wedding colors," she recalls. "They were there to non-verbally communicate comfort levels for greetings between our loved ones. The pink bracelet meant you were social distancing, green meant you are all in for hugs, and the cream tone was for people who welcomed fist bumps."
Despite the turns they had to make, such joy-filled the ceremony venue with promise. "My favorite moment was when the curtains were drawn and I walked down the aisle," reflects Jones. "It wasn't only seeing our guests, but how it felt in that room with our loved ones–most whom we hadn't seen in two years or more. I immediately started crying, and was so thankful to be surrounded by all that love."
Bria Jones & Her Husband's Wedding Vendors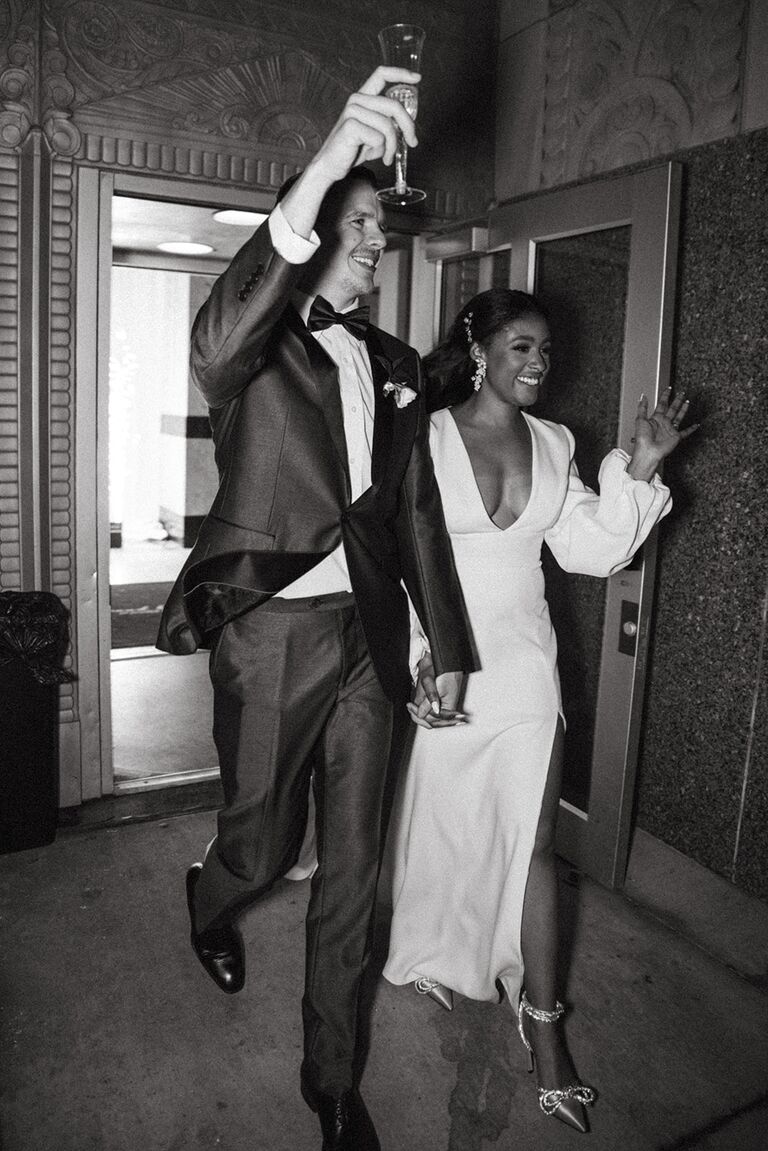 Venue: The Grand Hall | Photography: Jefferson May Photography | Ceremony Dress: Martina Liana, True Society by Belle Vogue Bridal | Reception Dress: Elizabeth Leese | Officiant: Gabe Combs | Florals: Lily Floral Designs | Designer: Heather Lane Events | Planning: As You Wish Event Planning | Videographer: RGKC Films | Bridesmaid Attire: Birdy Grey | Catering: Jack Stack BBQ | Rentals: Heather Lane Events | Music: DJ Litebrite | Registry: The Knot Registry