21 Bridesmaid Proposal Boxes You Can Deliver to Their Door
It's time to get your squad assembled—these shippable treats should do the trick.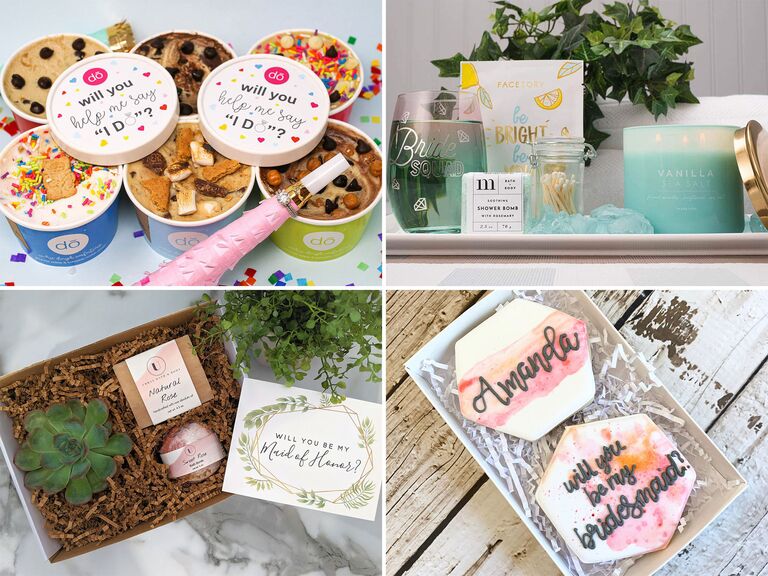 We have included third party products to help you navigate and enjoy life's biggest moments. Purchases made through links on this page may earn us a commission.
There's a certain childlike excitement that takes over when someone receives an unexpected package in the mail. When the members of your crew realize it's a super-sweet bridesmaid proposal box, expect full-on giddiness to kick in. Treat your loved ones to one of these amazing delivery-ready gifts that double as the perfect way to ask, "Will you be my bridesmaid?" Talk about an offer they can't refuse. And while these curated sets work for any kind of 'maid, they're especially great gifts for long-distance besties you can't pop the question to in person.
1. Personalized Wrapping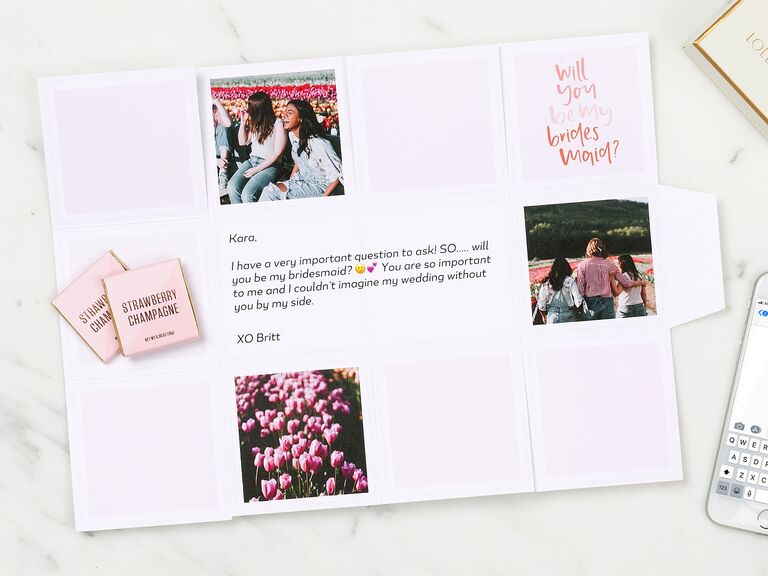 This customizable bridesmaid proposal box is such a special way to ask your squad for their support. You can personalize the "will you be my bridesmaid" wrapping with photos and a sweet message containing the proposal, before finding the right gift to include. Our pick? A Big Day Minimergency kit for the wedding.
Greetabl Be My Bridesmaid gift wrapping and gift, from $13, Greetabl.com
2. Tropical Treats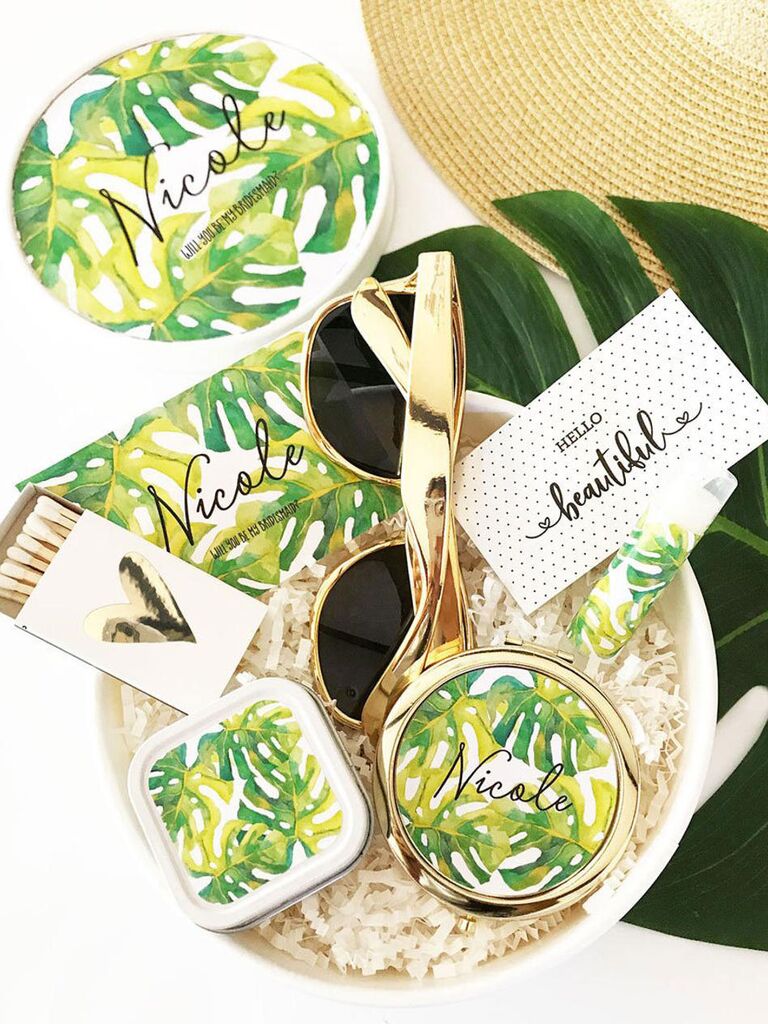 This Etsy shop makes curated bridesmaid boxes for practically any style. Take this tropical option, which will mentally transport them straight to the beach. (There's also an animal print set we're eyeing, plus a floral design too.) The boxes come stuffed with items like personalized compact mirrors and candles with matching matchboxes. 
ModParty tropical bridesmaid proposal box, from $34, Etsy.com
3. A Night of Self-Care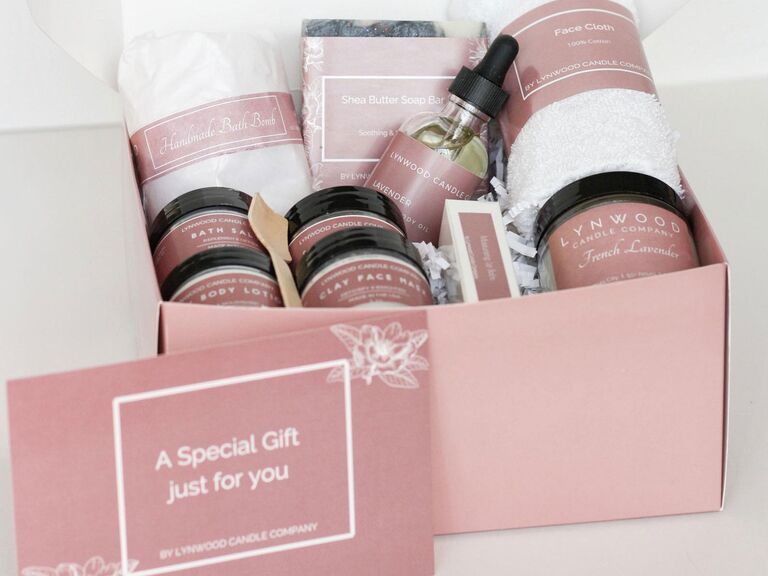 This bridesmaid proposal box has everything she'll need for a relaxing night of self-care, from bath salts to face masks. It's filled to the brim with luxe products, including a scented candle. Personalize the inside of this box's lid with the all-important question: "Will you be my bridesmaid?"
Lynwood Candle Company bridesmaid proposal box, $65, Etsy.com 
4. Bride Squad Supplies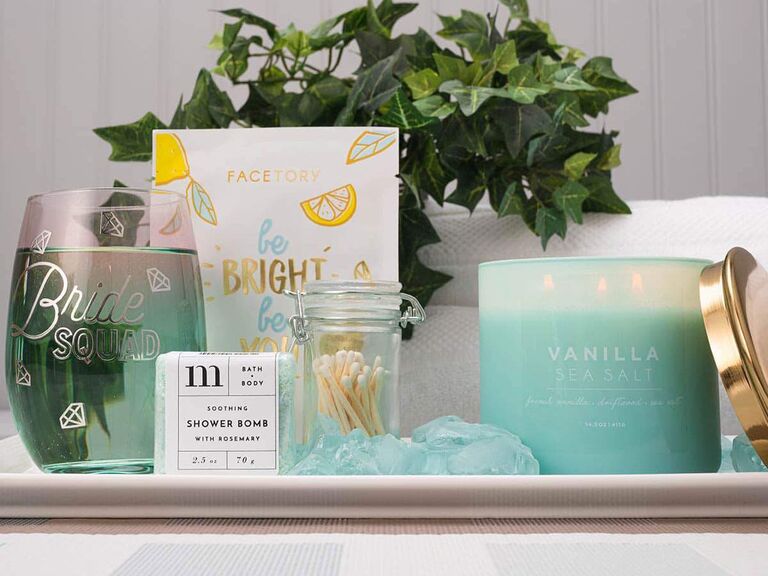 Ready to pull out all the stops? This "be my bridesmaid" box is pricey, but it's chock-full of cute presents. There's a wine glass, a face mask, a big scented candle, a shower bomb and apothecary matches. 
GiftBasket.com Be My Bridesmaid spa gift set, $95, GiftBasket.com 
5. A Walk Down Memory Lane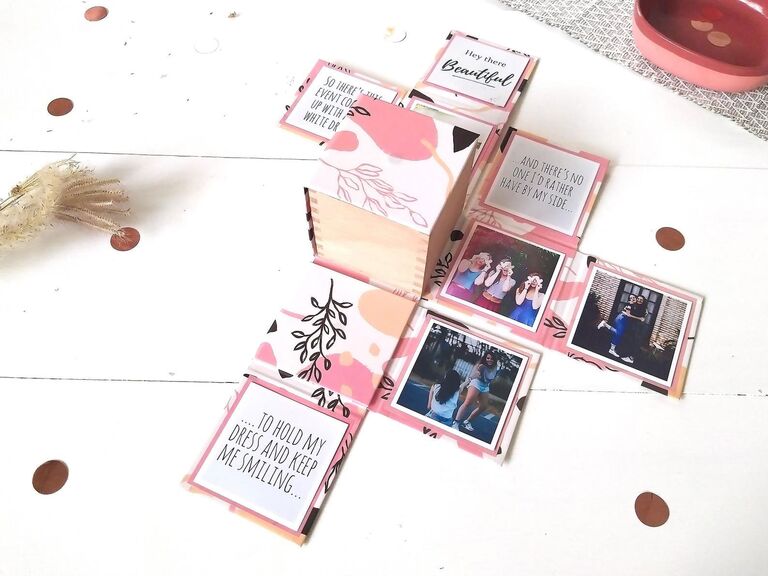 Go ahead and get creative! This genius bridesmaid proposal box unfolds to display cherished photos of you and each lady. Interspersed between the snapshots are loving messages that all lead up to: "Will you be my bridesmaid?"
LovinBox bridesmaid proposal box, from $40, Etsy.com
6. Custom Cookies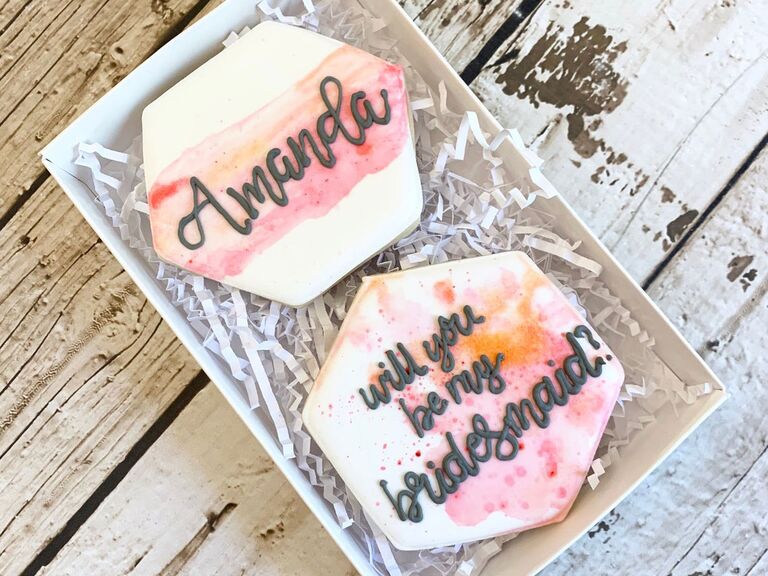 What about a bridesmaid proposal box that's good enough to eat? These vanilla almond cookies are carefully decorated with her name and a bridesmaid proposal.
Mrs. Cookie Bakes bridesmaid proposal cookies, $12, Etsy.com 
7. Ready for Bubbly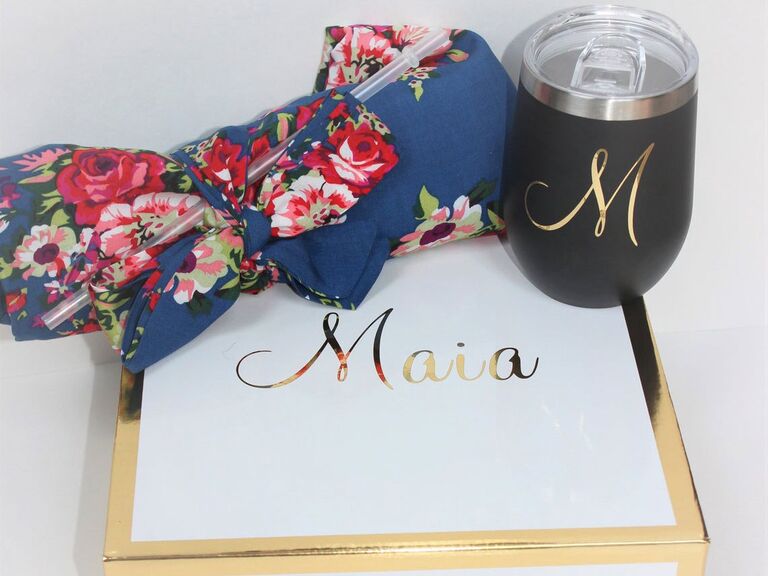 They'll get so much use out of this filled bridesmaid proposal box. The robe is ideal for relaxing around the house, while the stemless wine tumbler (which you can have monogrammed) is sure to come in handy while you're celebrating together.
DK Gifts Boutique bridesmaid proposal gift box set, $40, Etsy.com 
8. Personalized Mugs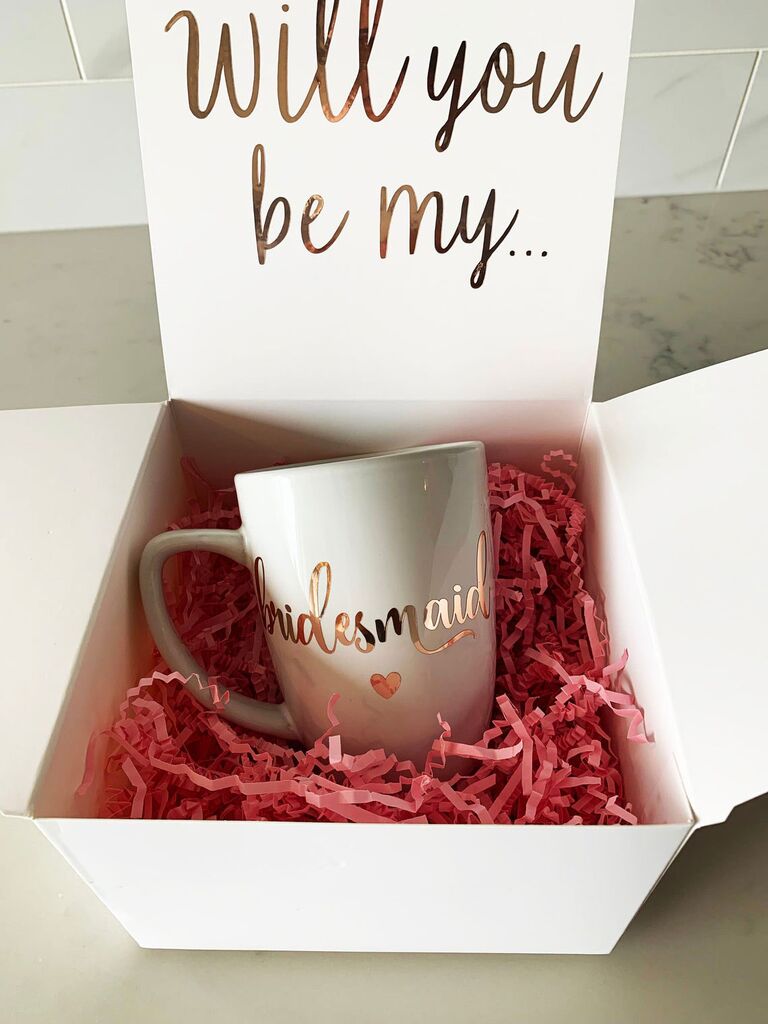 You don't have to go wild with your bridesmaid boxes. A simple mug that completes the box's "Will you be my bridesmaid?" message is a perfectly thoughtful and appreciated gift—especially when it's this pretty.
Faded Gardenias bridesmaid proposal box set, $14, Etsy.com 
9. Cookie Dough Cups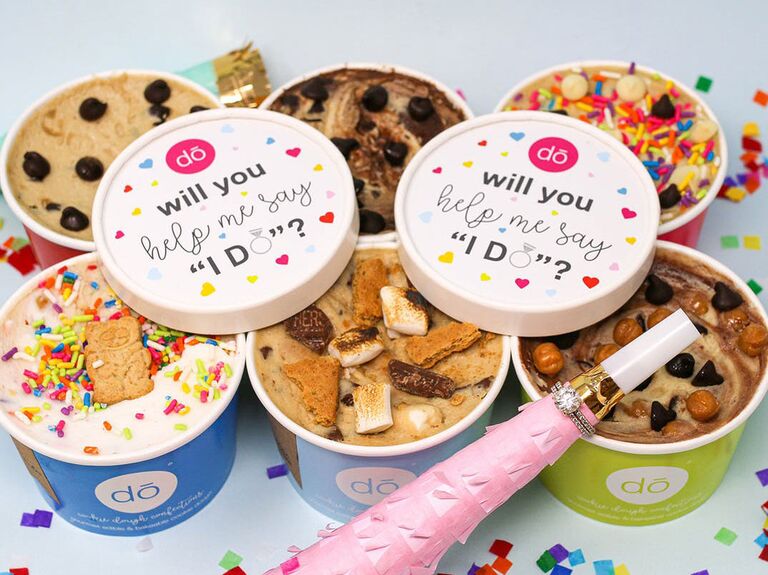 Ask them to help you say "I dough" with cookie dough delivered right to their door. Honestly, what sounds more amazing than that? Choose six different flavors for your crew to savor—there are even gluten-free and vegan options.
Cookie DŌ bridesmaid proposal cookie dough 6 pack, $75, GoldBelly.com
10. A Mini Succulent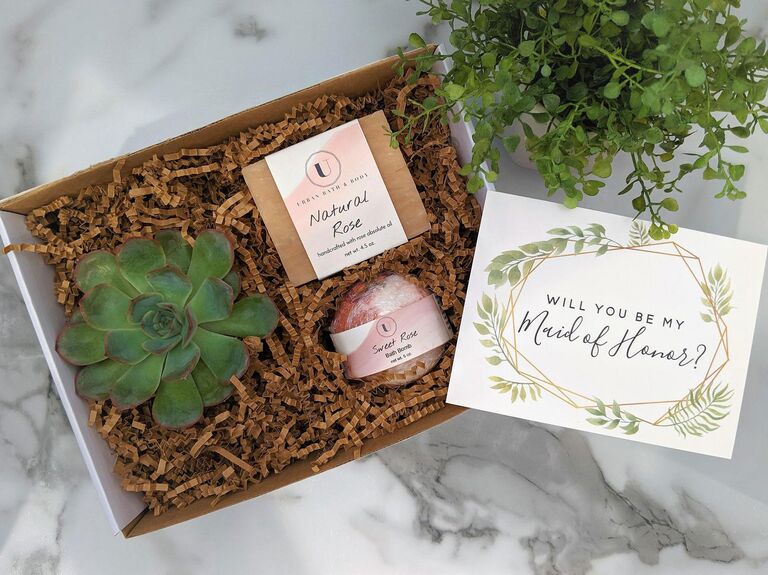 This "Will you be my maid of honor?" proposal box is perfect for any plant mom in your life. It comes with a succulent in a ceramic pot, a large bath bomb and a bar of handcrafted soap. How could they say no?
Urban Bath and Beauty maid of honor proposal box, $38, Etsy.com 
11. Pampering Essentials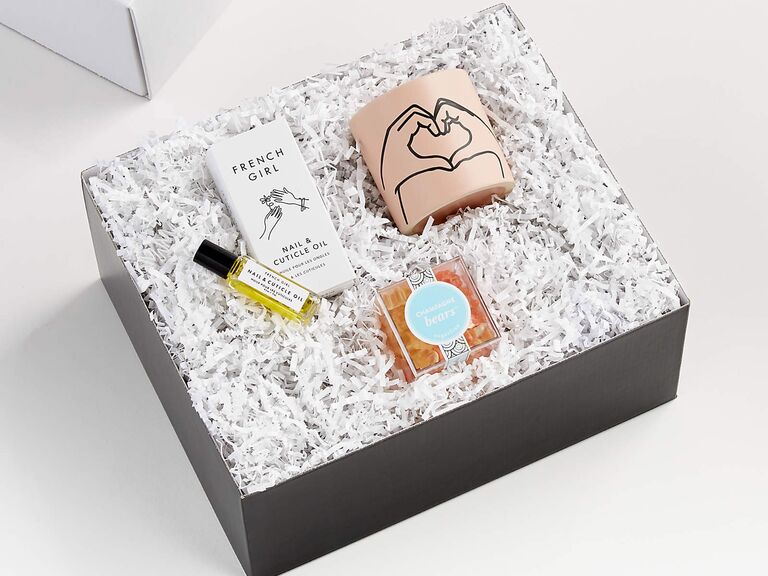 This stylish bridesmaid gift box is full of her soon-to-be favorite things: Champagne bears from Sugarfina, a scented candle in a trendy holder and cuticle oil from French Girl. Pair it with a bridesmaid proposal card for a super-special moment.
Crate & Barrel bridesmaid gift set, $55, CrateandBarrel.com 
12. Gold Goodies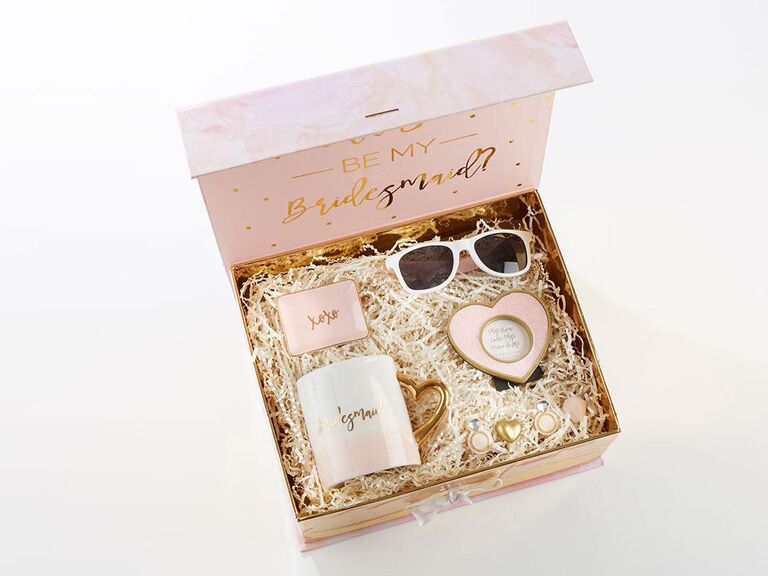 Searching for something super cute? Try this pink and gold "Will you be my bridesmaid?" box. Each girl gets a heart-shaped picture frame, thematic magnets, a watercolor mug, "bridesmaid" sunglasses and an "XOXO" trinket dish.
Kate Aspen pink and gold Will You Be My Bridesmaid kit gift box, $45, KateAspen.com 
13. For the Hot Drink Lover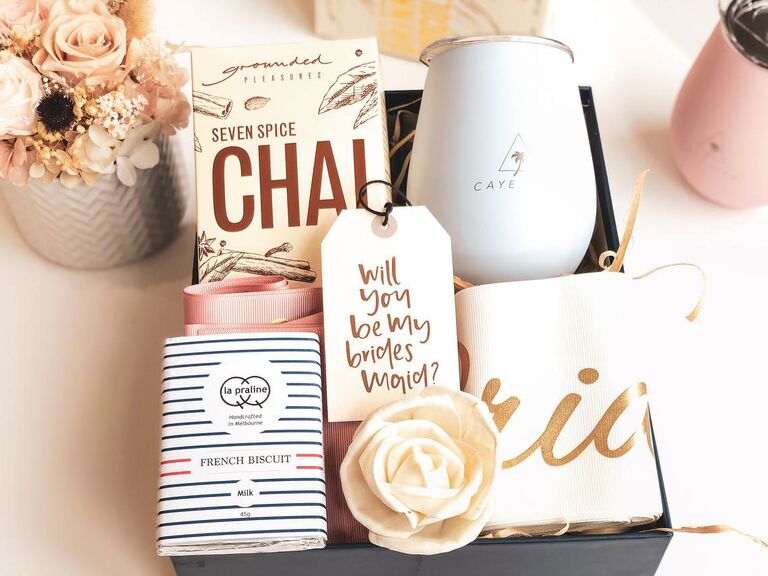 Does she love sitting down with a warm drink? Show her how well you know her with this premade bridesmaid proposal box that's specifically designed for tea and hot cocoa lovers. It comes with a tumbler, a sash, a keepsake wooden flower and your choice of chai or drinking chocolate.
Rowdin Grace Tea Lovers bridesmaid proposal box, $58, Etsy.com 
14. Pop the Question (and the Bubbly)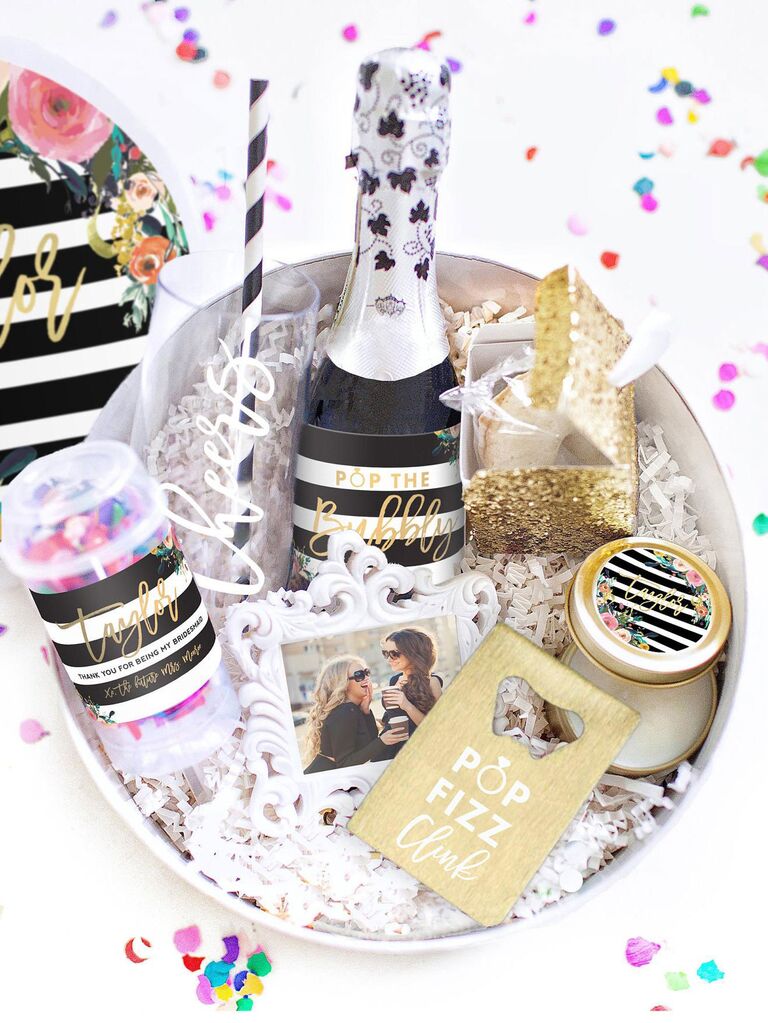 Let the good times roll when you gift your crew this confetti-filled bridesmaid proposal box. Inside, your best girls will find a bottle opener, a photo frame, a candle, a stemless champagne flute, a fortune cookie, some tissues and a confetti pop. There's even a personalized label for mini bottles of champagne, if you want to go all out.
White Confetti Box bridesmaid, maid of honor or matron of honor asking box, $45, Etsy.com 
15. Flamingo Fun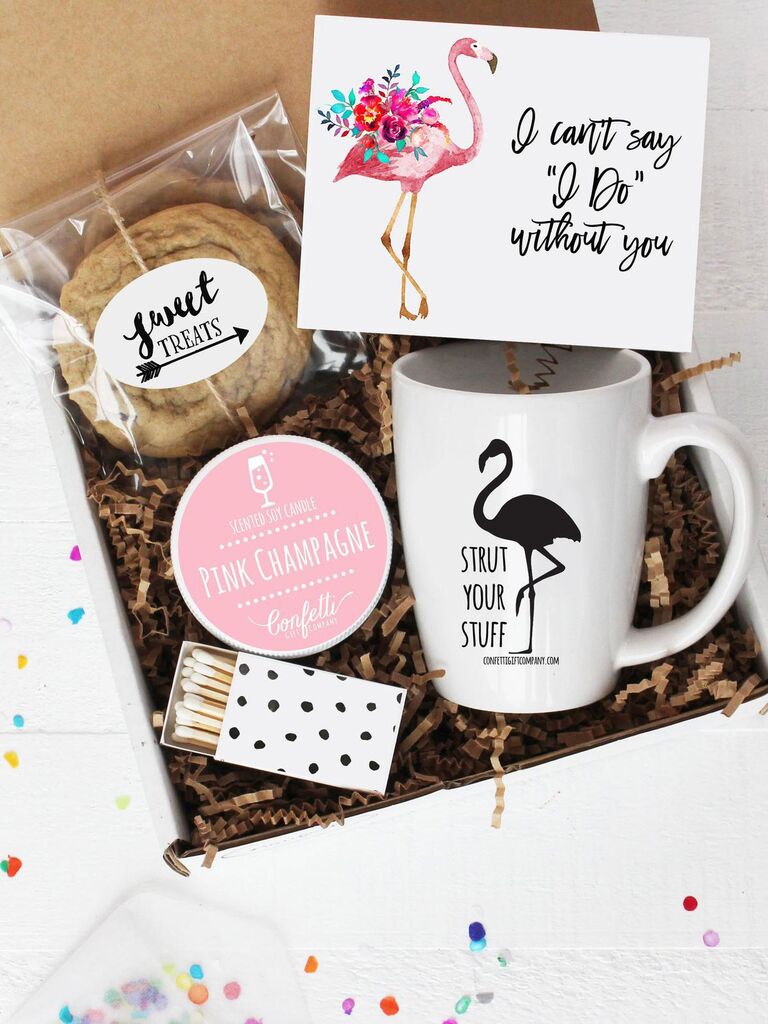 This cheerful bridesmaid proposal gift is super colorful and full of cute gifts. There's a scented candle, a mug with a flamingo design, chocolate chip cookies and an envelope of confetti for when she says "yes."
Confetti Gift Company I Can't Say I Do Without You flamingo bridesmaid proposal box, $48, Etsy.com 
16. Sweet Sets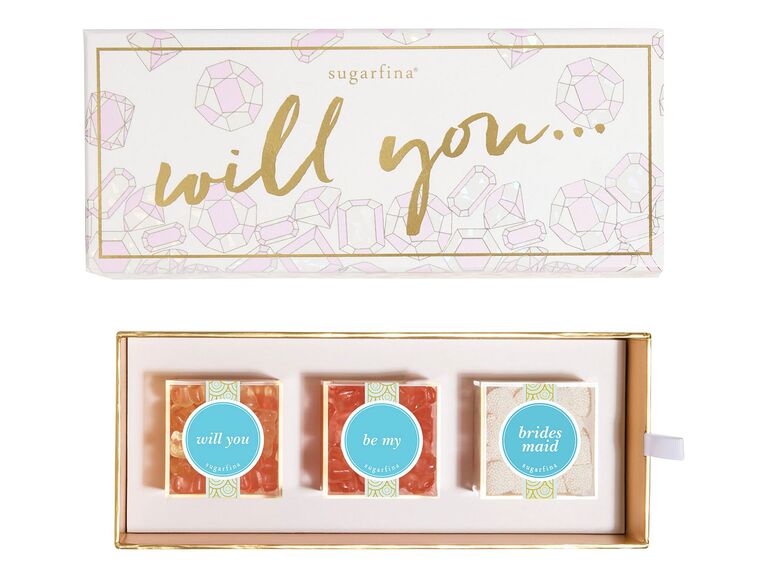 This bridesmaid proposal box is seriously sweet. Send each of your future wedding attendees a three-piece set of celebratory treats in fun flavors and shapes. 
Sugarfina Will You Be My Bridesmaid candy bento box, $28, Macys.com 
17. Wooden Keepsake Box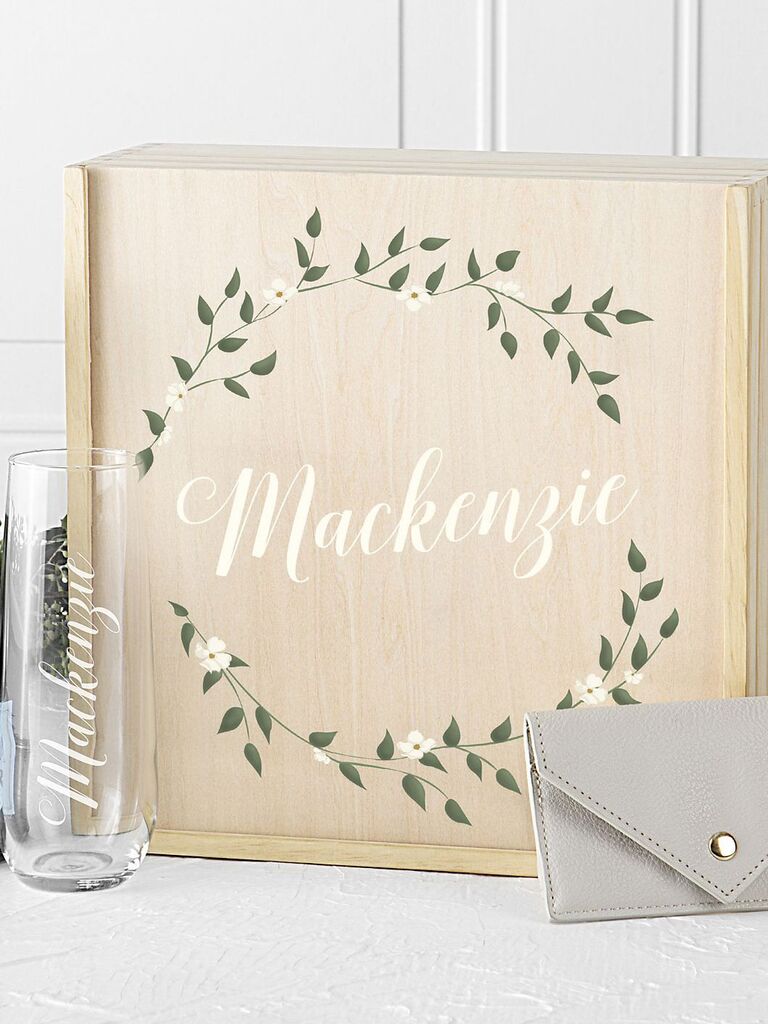 This wooden box is an adorable keepsake of your bridesmaid proposal. It contains a personalized stemless champagne flute and a handy card case made of vegan leather.
David's Bridal personalized floral bridesmaid gift box set, $55, DavidsBridal.com  
18. Pashminas and Punny Studs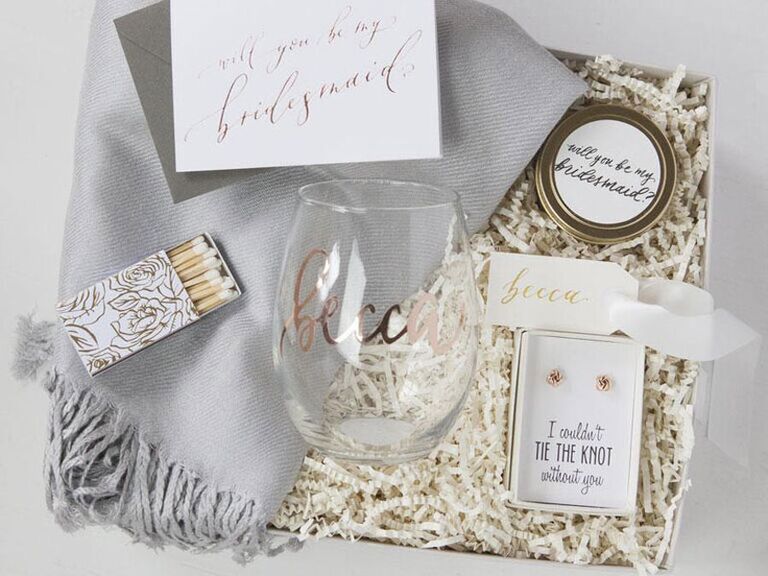 Looking for a luxe bridesmaid proposal gift? This is it. The box is packed with a super-soft pashmina, thematic knot studs and other treat-yourself-worthy items. Plus, the linen exterior, satin bow and calligraphed gift tag all feel ultra fancy.
Foxblossom Co. Bridesmaid gift box, $85, Foxblossom.com
19. Pampering Picks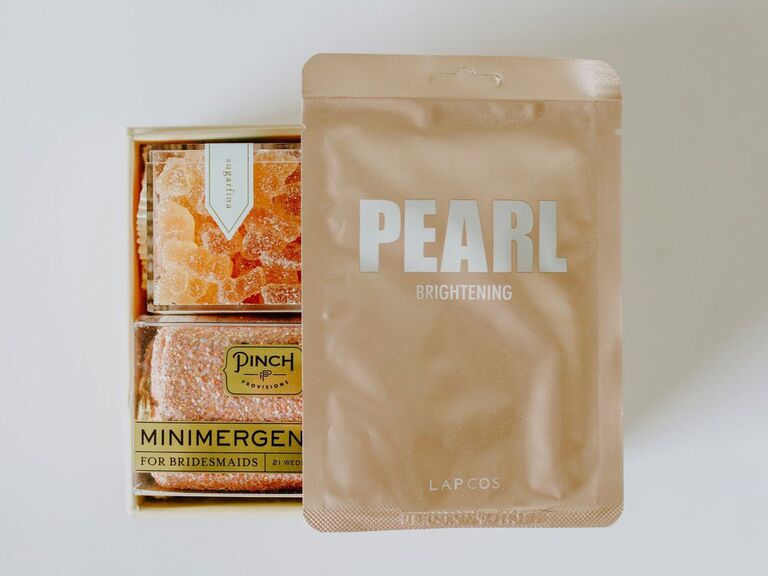 Sometimes the best gift you can give is a nudge to engage in some self-care. This bridesmaid proposal box is stocked with rosé-flavored gummies, a face mask and a Minimergency kit that's sure to come in handy on the big day. 
BOXFOX Bridesmaid proposal box, $38, ShopBOXFOX.com 
20. Girl's Night Essentials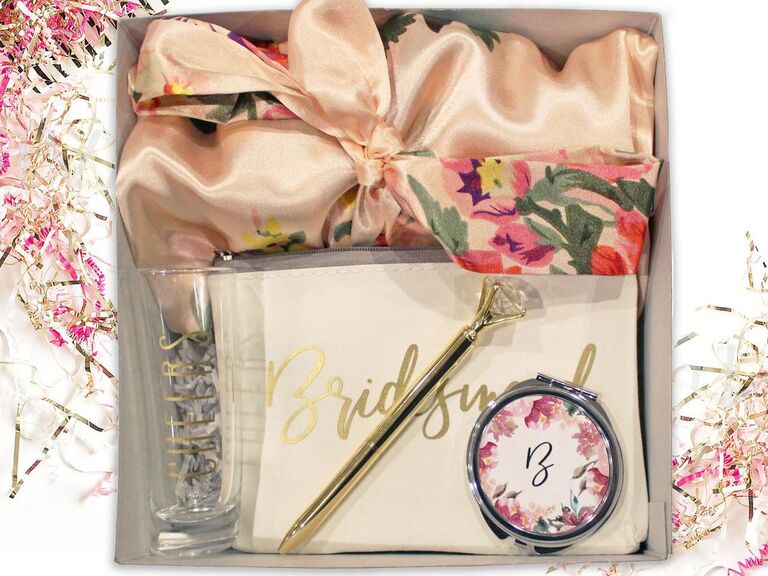 The bridesmaid proposal gift box is a super-thoughtful way to pop the question to your crew. It has a satin floral robe, a shot glass, a cosmetic bag, a compact mirror and a card with the proposal. There's even a diamond-topped pen, so they can have some bling of their own.
Lila Belle Gifts bridesmaid or maid of honor proposal gift box, $40, Etsy.com 
21. Triple the Tipple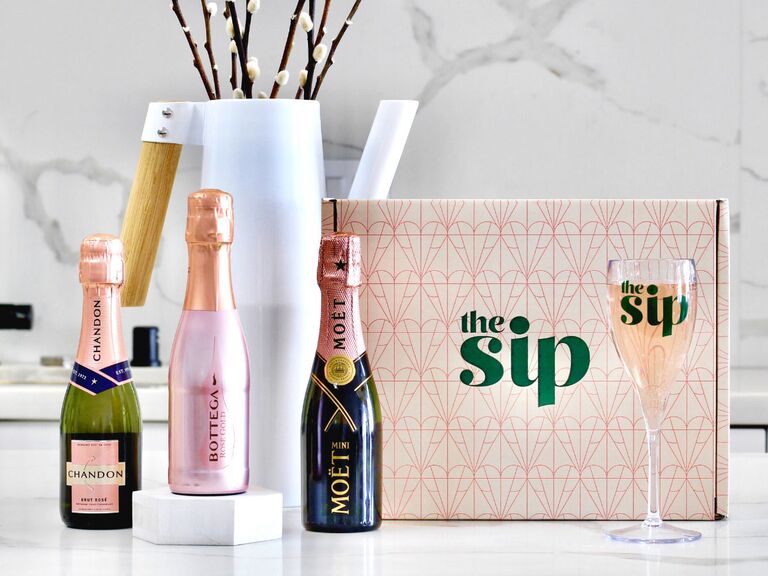 Make it easy for them to make a toast to your upcoming wedding. This celebratory gift box includes three different bottles of rosé. Add a custom message to ask the big question. Cheers!
The Sip Society Rosé All Day gift box, $61, TheSipSociety.com