Points for Your Ceremony Site Contract
We know contracts aren't the most fun part of wedding planning, but you'll thank us later.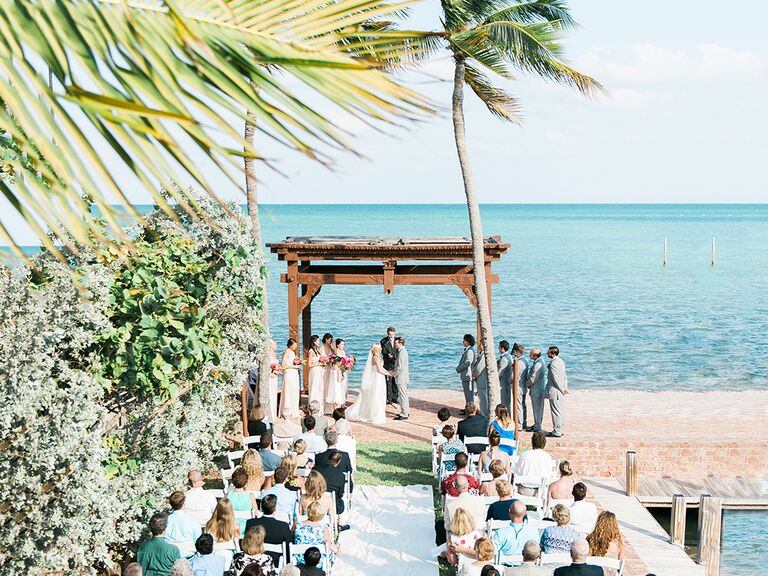 Christine Shea
Booking a wedding reception venue may seem like the biggest part of wedding planning (in part because it requires spending the largest portion of your wedding budget), but booking a ceremony site is just as necessary. Your wedding ceremony site should be booked about 12 months in advance and, unlike most reception spaces, may dictate a handful of ceremony details like mandatory prewedding counseling or specific readings or music if you choose a house of worship. For instance, booking a church for a Catholic ceremony has different requirements than booking a temple for a Jewish ceremony, so make sure to connect with the managing party of any religious-affiliated institution to make sure everyone's on the same page before going into the contract stage.
Do you have to get married in a church? Not unless you want to! If you and your partner would rather exchange vows outside in a local park, in a sophisticated loft space or somewhere even more unique, you absolutely can.
Whatever location you choose, here are some basic points for your ceremony site contract.
[ ] Name and contact information for you and the ceremony venue
[ ] Date and time frame for your ceremony
[ ] Exact names of specific rooms to be used (if you and your wedding party are getting ready in a side room, for example)
[ ] A detailed description of the space and any items that will be provided
[ ] A list of rentals and décor that will be brought into the space (chuppah, lighting, extra tables, microphones, sound amplifiers)
[ ] A detailed description of any outside vendors that will be on-site before, after or during the time of your event and the exact times they're scheduled (ceremony musicians, DJ, officiant, florist)
[ ] Approximate number of guests
[ ] The name and contact information of the manager or site director that can be a day-of point person and a name of a substitute in case of an emergency
[ ] Proof of insurance and food certification or liquor license if you're planning a preceremony cocktail hour
[ ] Setup, cleanup, overtime and any other fees that may be applicable
[ ] Include a copy of the expected ceremony program outline and script such as readings and religious or ethnic ceremony customs or traditions
[ ] Deposit amount and due date
[ ] Total cost and due date (itemized)
[ ] Cancellation and refund policy
After the contract is done, the only thing left to do is personalize. Write your vows, decide on a song to walk down the aisle to and think about your ceremony exit—maybe guests can toss dried lavender or confetti (if your venue allows it).
Find your perfect ceremony site here.
Check out tips for personalizing your wedding ceremony here.