How to Find an Interfaith Ceremony Officiant
A wedding is more than cake and lace: It's a legal, and often holy, union of two people—sometimes of two different faiths. Here are a few ways to find the right interfaith officiant for your ceremony.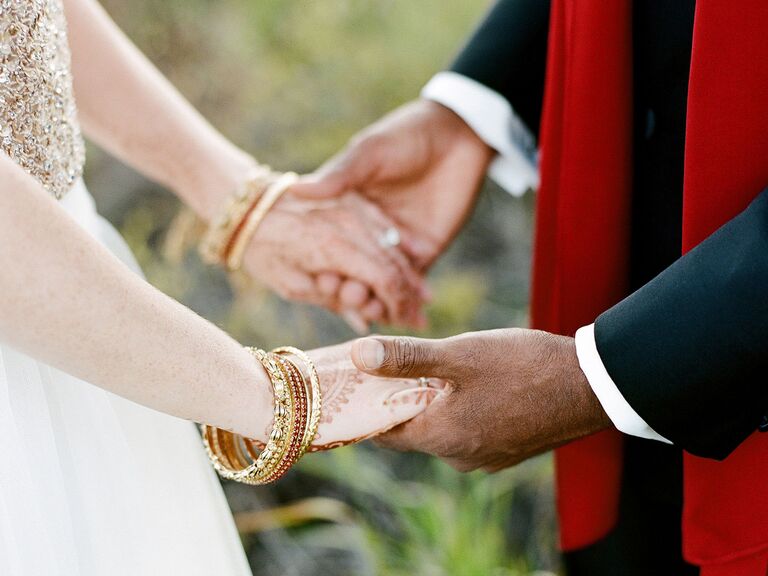 Lacie Hansen

If you and your spouse-to-be come from different religious backgrounds, you definitely have options when it comes to choosing a ceremony officiant. Approach this search the same way you would for any other vendor. Chemistry is an important factor, so it's fine to interview more than one officiant before you choose. Find someone you both feel comfortable with and who can bring your ideal ceremony to life. Below are four common types of officiants that will perform interfaith, secular or other unique ceremony types.
Interfaith Ministers
The main focus of this type of officiant is to bring people of different religions together, but they also work with same-sex and nonreligious couples. Many interfaith ministers define their work as being outside church walls by working in community service and spiritual counseling, and they're all about creating a special and personalized wedding services for their clients. Browse local interfaith ceremony officiants here.
Celebrants
A certified celebrant has training and certification from an organization like the Celebrant USA Foundation & Institute. They're usually unaffiliated with any religion and perform secular and interfaith ceremonies.
Clergy
A great resource for finding pastors, priests and rabbis who are open to performing interfaith ceremonies is your local college or university. Those studying to become clergy members often serve a diverse community and are used to working with clergy from various faiths. Another option is an officiant who's retired and may be willing to perform a more lenient, flexible ceremony.
Friends or family

You may not have considered it, but it's relatively easy and inexpensive to get ordained online (lots of celebrities have done it!). If you'd love to be married by a close friend or family member, ask if they'll undergo the official process and perform your ceremony. Having a loved one lead your vows is a wonderful way to personalize your nuptials. Just bear in mind that requirements for being ordained differ from state to state, so do your research first to make sure you're following local state or district rules.