Your Guide to Wedding Officiant Fees and Donations
The ins and outs about when, how and what to pay your wedding officiant.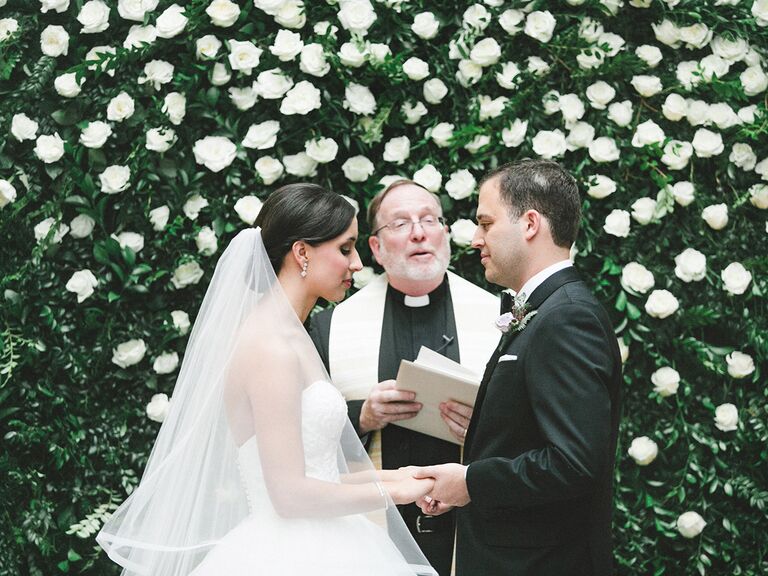 The Schultzes
Whether you're being married by a religious or civil officiant, you'll most likely be paying your dues with a donation to the house of worship or a fee (much like you would pay any other wedding vendor). Here, a rundown of what to expect to offer your officiant.
How to Pay Your Religious Wedding Officiant
Religious Wedding Officiant Fees
Instead of charging a fee, most houses of worship require or strongly encourage you to give money that covers expenses like building upkeep and living costs for your wedding officiant. How much you give is up to you, and you can call or email to ask if your house of worship has a suggested donation amount. If you're not a member of the institution, then the donation amount may be higher. The reason there's a difference in pricing for members versus nonmembers is it's assumed that members are contributing to the house of worship on a regular basis while a nonmember isn't.
Tipping Your Religious Wedding Officiant
Any donation you make goes directly into the house of worship rather than to the officiant. If you feel you want to give a thank-you, it's okay to contribute a tip or honorarium to the minister, rabbi, cantor or priest who officiated, but they may just put it back into the house of worship.
How to Pay Your Civil Wedding Officiant
Civil Wedding Officiant Fees
Hiring a civil officiant is the most similar to hiring any of your other pros. They'll give a price or quote that's standard for their services, and may even list prices on their website. A standard fee for a wedding officiant usually ranges from $500 to $800. Some civil officiants charge more for add-ons such as custom ceremony scripts, premarital counseling and/or a rehearsal. Ask ahead to see what the fee includes before you book. Your officiant may also require a percentage of the fee as a deposit at booking.
Tipping a Civil Wedding Officiant
Just like with your other pros, tipping your wedding officiant is optional—but expected. Typically, $50 to $100 is standard, and you can give it to your officiant when you pay them in full just before or after the ceremony.
How to Pay Your Friend or Family Wedding Officiant
You wouldn't offer to pay your maid of honor for her role (though she definitely deserves it), and the same goes for any loved one whom you ask to officiate your wedding. Your friend or family member can think of their officiating the ceremony as a wedding gift for the couple. That said, officiating a wedding is a pretty big job: Your officiant will likely be writing a custom service and they'll have to make time to attend the rehearsal in addition to being at the wedding.
Since officiating a wedding is a lot of work, you should give your family member or friend a gift to show your appreciation. You can give them the same thing you get the rest of your wedding party or a unique gift that speaks to your relationship. It's not required, but if they need to get certified, you might offer to pay for their classes or application too.
Religious and Civil Wedding Officiant Contracts
One rule we can't stress enough is how important it is to have a contract with any pro you book—always. But whether or not an officiant uses a contract varies. If the officiant is a leader of your house of worship, it's probably okay to skip the contract. This is someone who performs religious services for members of his congregation and it's not something they make a profit off of.
While some civil officiants do use contracts when booking clients, it's not the standard. Whether you're using a religious or civil officiant, we suggest getting the details in writing (hard copy or email) and confirmation of receipt. Before you confirm, review the big details, like the date, time and location of the wedding, in addition to any smaller requests, such as a unity candle ceremony. Having written evidence of an agreement serves as a reminder and protects you and the officiant in case of a cancellation.
Find a civil servant or ceremony officiant in your area here.
For more important questions to ask potential officiants, see our advice here.
Want more tips on finding an interfaith ceremony officiant? Look here.