Planning a Chicago Wedding Proposal? Consider One of These 25 Spots
Wondering where to propose in Chicago? Pop the question at one of these locations.
Thinking about proposing in the Windy City? You've come to the right place. We're diving into everything you need to know about popping the question in Chicago, Illinois. Deciding to propose to your significant other is a big decision. But once you've decided you're going to ask for their hand in marriage, there are still a few other questions you need to answer. Like where are you going to propose? Maybe an evening at home is the perfect setting for you or maybe you want to recreate one of your first dates. But if Chicagoland is your home, then you might want to pop the question at an iconic Chicago spot. We're taking a look at some of the best places to propose in Chicago to help you plan out an epic wedding proposal in the Windy City. Let the spots below inspire your special moment. While we're confident that you're going to love the 25 proposal locations below, you can find even more venues on The Knot Marketplace as well.
In this story:
Is Chicago Good for a Wedding Proposal?
To understand the pros and cons of wedding proposals in Chicago, we connected with two expert wedding photographers: Emilia Schobeiri of Emilia Jane Photography and Ashlee Cole of Ashlee Cole Photography. Read on for what these two wedding experts had to share about planning the perfect Chicago wedding proposal.
Pros of a Chicago Proposal
Simply put: there's so much to love about Chicago. "Chicago is a great place to get engaged whether you live here or are just visiting," says Schobeiri. Chicago is known for its iconic architecture, lakeshore views, love of sports and great food—no matter what interests you have, there's a way to plan a Chicago wedding proposal to fit your needs.
Cons of a Chicago Proposal
Most couples propose during the period between Christmas and Valentine's Day known as proposal season. However, Chicago is known for its harsh winter weather, which can be a drawback if you're planning to propose during that time of year. "A lot of people propose in the winter but if you're doing it outside and want to have it photographed, it can be trickier to look cute when we're all bundled up for the cold," notes Schobeiri. "Keep in mind if you're having the proposal photographed then you'll want to avoid inclement weather and have a backup plan ready since our forecasts can change at the last minute."
Another potential (but addressable) drawback is that "a lot of Chicago locations require a permit for photography," says Cole. "Some more famous location examples are Millennium Park, Buckingham Fountain, Lincoln Park Conservatory, and Zoo. Plan ahead at least 45 days in advance to give yourself time to work with these venues if you have your heart set on proposing there."
How to Decide Where to Propose in Chicago
To start, think about the vibe you want for your proposal. From there, backtrack to understand what elements are important to you. Do you want privacy? Is it important to you to retrace your steps from a meaningful date you shared? Consider what key elements are a priority to you. That will lay the groundwork for planning an epic marriage proposal in this Illinois city.
Even after you've decided on a marriage proposal location, it's critical that you have a backup plan, just in case. "This is something I work on with my clients," says Cole. "The weather might look good now, but there is always a chance of wind, rain, or cold in Chicago. Create a plan B, and you won't be stressing about what will happen if the weather is bad or, for some reason, your chosen location is suddenly unavailable."
The Best Time of Year for a Chicago Proposal
Summer is generally a great time to propose in Chicago because of the warmer weather and longer daylight hours. "During the warmer months, we have a lot more daylight to work with versus winter," notes Cole. "If you want your proposal photographed in natural lighting, you need to consider when the sun is setting on your chosen date. Your photographer should also be able to help guide you on lighting and what time of day is best. If you're proposing at night, ensure your chosen photographer is comfortable photographing at night and know they will likely have some artificial lighting to help keep you and your soon-to-be fiancé looking amazing."
Best Restaurants to Propose in Chicago
Calling all foodies! There are plenty of great restaurants that can serve as a backdrop for your dream wedding proposal. Invite your partner on a date night and pop the question over a meal at one of these spots.
NoMI
NoMI (short for North Michigan, a nod to the restaurant's address) is a renowned spot serving up American fare with subtle French influences. NoMI is located just down the street from the Museum of Contemporary Art Chicago. Start your date by taking in art before heading a block away for dinner and a proposal.
South Branch Tavern & Grille
If you looking for something on the casual side then South Branch Tavern & Grille is a great place to pop the question. Nestled along the Chicago River, South Branch has a terrace with river views. South Branch is great for a midday proposal—start the day by strolling along the river to lunch at this spot before asking your partner to marry you.
Chicago Winery
Is your partner an oenophile? Pop the question at Chicago Winery over a glass of vino. Chicago Winery has both a tasting room and a full restaurant so you can make the experience fit whatever vision you have. To commemorate the occasion, purchase a bottle of wine to open on your honeymoon or even your one-year anniversary.
Machine: Engineered Dining & Drink
If you and your partner enjoy adventurous eating and eclectic restaurants then Machine: Engineered Dining & Drink may be the spot for you. On offer at Machine? Duck gnocchi and squid ink pasta, among other tasty bites. But this spot's cocktails are what really sets it apart. Unique colors and serving vessels wow while compelling flavor combinations surprise the tongue. An exciting menu is the perfect pairing for a joyful wedding proposal, is it not?
Private Places to Propose in Chicago
"It's important to consider how public or private you want the proposal to be and how your soon-to-be fiancé will feel about that as well before you decide on a location," explains Schobeiri. If you want to savor the moment as a couple or if your partner isn't a fan of a big crowd, a private Chicago proposal may be the way to go.
Milton Lee Olive Park
Milton Lee Olive Park may be a public park, but the waterfront space north of the Navy Pier is a secluded oasis that's a great option is you want a lesser-known waterfront space for your proposal. This is almost a must-visit for history buffs. The park was designed in 1965 in honor of Milton L. Olive, III, who was a Vietnam veteran, Chicago native and the first African-American to receive the Medal of Honor.
Lurie Garden
Do you like the idea of proposing in Millenium Park but want to avoid the crowd at Cloud Gate? Lurie Garden is a 5-acre botanical park southeast of Cloud Gate and is often referred to as Millenium Park's secret garden. The garden is open year-round and is filled with plants that bloom during every season so there's no bad time to propose here—simply pick your favorite season.
Poetry Foundation Library
Filled with 30,000 volumes, the Poetry Foundation Library is a book lover's paradise. Read a love poem to your partner before asking them to marry you among the stacks of books. After the proposal, you could even scour the tomes for a poem to read during the wedding ceremony.
JW Marriott Chicago
Plan an intimate staycation in Chicago at the JW Marriott Chicago for your wedding proposal. This luxury hotel located in the heart of Chicago just blocks from The Art Institute of Chicago is the perfect spot for a romantic weekend getaway. Recharge at the spa or take a dip in the pool before curling up with room service or visiting the hotel's in-house restaurant.
Chicago Botanical Garden
The Chicago Botanical Garden is a great place for a wedding proposal if you want something just outside the city. Located 30 minutes north of downtown in Glencoe, the Chicago Botanical Garden is an oasis with 27 gardens spread across 385 acres—there's no shortage of beautiful spots to pop the question.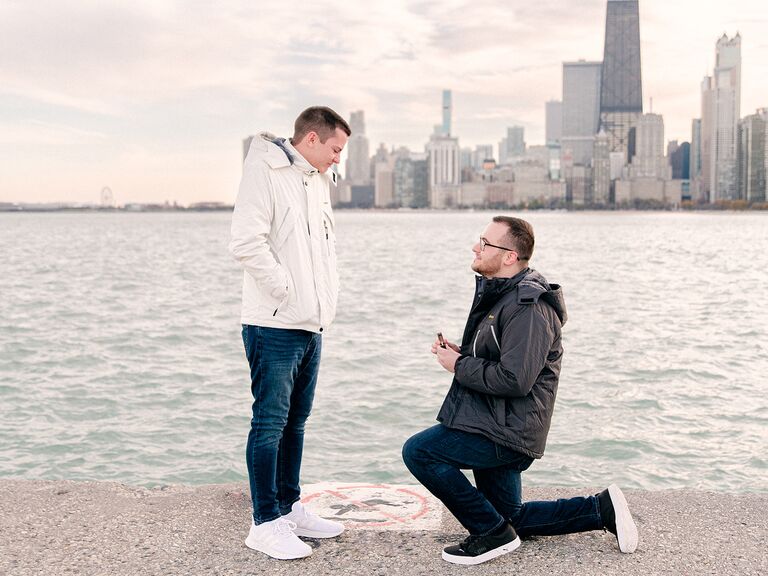 Romantic Places to Propose in Chicago
A marriage proposal is all about love, so prioritizing romance when selecting a proposal location is never a bad idea. These Chicago spots bring the love in droves.
North Avenue Beach
Cole loves North Avenue Beach because it is "easy to access and is downright gorgeous even when it's foggy. On most days, you have a clear view of a part northern skyline with the lake around you. This beach is one of the top requested locations I see from clients, and for a good reason. The best time to propose here is an hour or so before sunset. During the Summer, the beach will likely be full of volleyball players and others enjoying a walk. So more people to celebrate your new engagement!"
City Cruises - Chicago
Who said your Chicago proposal had to take place on land? Cruise around the lake with City Cruises - Chicago and enjoy views of the city you love before asking the person you love to marry you.
The Exchange
The opulent architecture of The Exchange just oozes romance. Cozy up over a drink at Theo's or enjoy an auditory experience at the Listening Room. No matter how you spend the evening, it's sure to be memorable at The Exchange.
Chicago Riverwalk
Sometimes a simple walk is more meaningful than all the frills of an over-the-top proposal. Invite your loved one on a stroll along the Chicago Riverwalk and spend the time talking about the city you call home, your early days as a couple, and everything in between. The great thing about the riverwalk is that there's no one spot that perfect for the proposal—you can simply ask when the moment feels right.
Hidden Romantic Spots in Chicago
Looking for a romantic hidden gem in Chicago? Maybe you want the best of both worlds—romance and privacy. These spots will afford you just that.
The Honeycomb at People's Gas Education Pavilion in Lincoln Park Zoo

Ashlee Cole

,Location: The Honeycomb at People's Gas Education Pavilion
Best Places to Propose in Chicago During the Winter
While a lakeshore proposal is probably off the table during the winter, that doesn't mean you can't pop the question during a Chicago winter. When the temperatures drop outside, head inside to one of these great places to propose during winter in Chicago.
Garfield Park Conservatory
Located northwest of downtown, Garfield Park Conservatory is one of the largest botanical conservatories in the nation. The glass-enclosed space affords lush, blooming flora and tropical temperatures for you to enjoy all year round. The largest room in the conservatory is the 65-foot-high Palm House which houses 70 palms. But there are a total of two acres of indoor display houses so you have plenty of spots to choose from.
Willis Tower Chicago Skydeck
The Willis Tower, formerly known as the Sears Tower, is an icon of the Chicago skyline. Take in views of your beloved city from 110 stories up at the Chicago Skydeck as you propose. A proposal at the Chicago Skydeck at Willis Tower will have you on cloud nine quite literally.
Tiffany Dome at Chicago Cultural Center
The Tiffany Dome at the Chicago Cultural Center is a magnificent 38-foot-wide dome of scalloped Tiffany glass. The dome contains "some 30,000 pieces of glass in 243 sections held within an ornate cast iron frame," according to the City of Chicago. Simply put, the dome is breathtaking and would make a stunning backdrop for an indoor wedding proposal.
Green Mill Jazz Club
Do you love live jazz? Spend an evening listening to jazz at Green Mill Jazz Club before popping the question. This cozy cocktail bar is about 15 minutes north of downtown. Of note: Green Mill is a cash-only establishment.
Unique Proposal Spots in Chicago
One way to guarantee that your proposal is totally memorable is to stage it in a truly unique place.
Rookery Building
"Only some people are keen on having their proposal in public. This is why I love the Rookery Building," says Cole. "It's still an iconic Chicago location with multiple options inside, and compared to other permit fees is on the lower end. Rentals vary depending on your chosen space and begin in the 250-dollar range. There is nothing else like the Rookery building; it's one of my favorite indoor spots in Chicago. Outside is the Board of Trade, another popular photo spot in the city. Fun fact: The outside facade of this building was used as the toy storefront entrance in Home Alone 2."
Ignite Glass Studios
Ignite Glass Studios is an art gallery showcasing hand-blown glass art. Additionally, they offer demonstrations and classes. Ignite your love for each other by enjoying glass art or even heat things up with a class before the proposal.
Field Museum of Natural History
The Field Museum of Natural History in Chicago showcases everything from dinosaur skeletons to geologic wonders. If your partner loves exploring the natural world, a visit to this iconic museum is a great date idea that can end with a proposal in front of Maximó the Titanosaur.
150 North Riverside
We know what you're thinking, a proposal at an office building? Hear us out. While 150 North Riverside is a highrise on the West Loop, it has a stunning riverside park that is a surprising burst of green among towering office complexes. If you really want to surprise your partner, this is the way to go. They won't expect a thing as you lead them to this space which you can transform into a romantic spot for the proposal.
Other Unique Chicago Proposal Spots
Fullerton Avenue Beach

Chicago Museum Campus

Garden of the Phoenix at The Osaka Garden

Buckingham Fountain

Obama Kissing Rock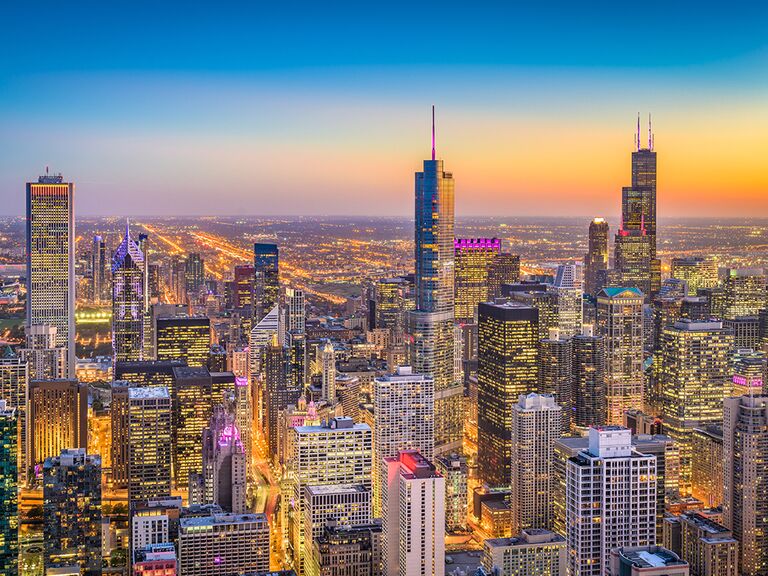 Best Places for a Chicago Rooftop Proposal
Who doesn't love a summer evening on a rooftop with a drink and a view? We've gathered some of our favorite Chicago rooftop spots for a wedding proposal.
Streeterville Social at Loews Chicago Hotel
Streeterville Social at the Loews Chicago Hotel is the hotel's outdoor bar and restaurant serving American fare and tasty cocktails. Streeterville Social is spacious with 7,500 square feet of outdoor space speckled with lounge seating. The rooftop is 100% outdoor without cover so inclement weather can cause it to close. However, the hotel has another dining option, Eta, which is indoors and is a great backup option in the event of rain.
Château Carbide at Pendry Chicago
Château Carbide at the Pendry Chicago is the hotel's swanky rooftop indoor-outdoor bar. The space in Chicago's Loop neighborhood is only open in the evenings but is a great spot to sip on some wine while taking in a summer sunset with your significant other.
Cindy's at Chicago Athletic Association Hotel
Cindy's at the Chicago Athletic Association Hotel, a restored 1893 Venetian Gothic hotel, is just across the street from Millennium Park and affords guests panoramic views of Lake Michigan, The Art Institute of Chicago and beyond. Cindy's family-style menu rotates seasonally so you can enjoy the freshest options available.
LondonHouse Chicago Rooftop
LondonHouse Chicago Rooftop, or LH Rooftop for short, is a tri-level rooftop bar with sweeping views of Chicago located on the 21st, 22nd and 23rd floors of LondonHouse Chicago. The space has both indoor and outdoor seating, making it a great choice for those concerned about inclement weather.
Other Chicago Rooftop Proposal Spots
Offshore

Upstairs at The Gwen

Z Bar

The Up Room at The Robey Chicago

Cerise Lounge at Virgin Hotel Chicago

Selva in The Emily Hotel