How to Write a Festive and Romantic Christmas Message for Your Husband
Slip this letter to him from under the mistletoe.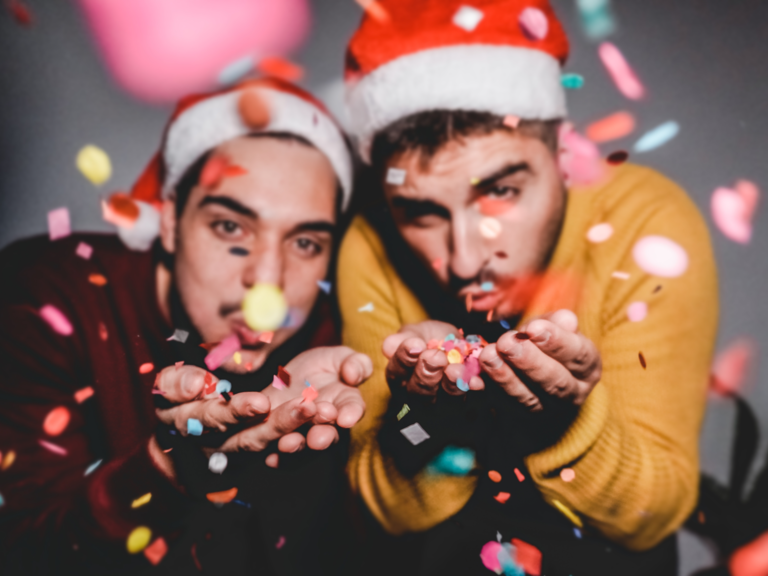 Photo: Nuva Frames / Shutterstock
The holiday season has come again! And with it, comes Christmas cards. You've stamped your envelopes and addressed them to every extended family member, but it's important not to forget about the most important person of all: your husband.
A Christmas message for your husband is the perfect way to express your love and gratitude for him this holiday season. It can accompany a Christmas gift for your husband or, if you've decided to forgo spending on presents this year, a handwritten note can easily stand alone if it's filled with some thoughtful Christmas wishes for your husband.
A romantic, festive and possibly even funny Christmas letter will bring up all those warm and fuzzy holiday feelings. Who knows, handwritten Christmas love letters may even become a new tradition for the both of you (they beat just a Christmas Instagram caption any day). So break out a warm mug of hot cocoa and your favorite pen. It's time to craft the ultimate Christmas card message for your husband. And lucky for you, we've already penned some ideas to help get you started.
In this article:
What to Write in a Christmas Card to Your Husband
When writing a Christmas card to your husband, it's important to ensure your personality comes through. You're taking the time to write a personal note, so don't fall into the trap of sounding like a generic, store-bought holiday card. Instead, throw in some personal touches, be it inside jokes, happy memories or holiday plans you're looking forward to. You can even add quotes from your favorite holiday songs and movies.
Your Christmas note to your husband should strike a strong balance of warm wishes for the holidays and romantic platitudes for your relationship. After all, you love each other, so don't be afraid to get mushy! Include a "merry Christmas" greeting, your excitement about the holidays and entering a new year together, memories of holidays past and everything you look forward to celebrating.
Romantic Christmas Messages for Your Husband
Want to say a romantic "merry Christmas" to your husband? We say bring on the love! Christmas is a naturally romantic time. The cheesy rom-coms, holiday party dates, choosing personalized gifts for your husband and other loved ones, coming together with family—there's plenty of opportunities to reflect on all the reasons you love your husband and how special he makes the holiday season. Here are some ideas for romantic Christmas wishes for your husband.
Having you as my husband is the best gift I could ask for this year.
I'm so happy to be celebrating another holiday season with the best husband I could ask for.
Christmases come and go, but my love for you always remains.
Merry Christmas and Happy New Year. As I reflect on our past together, it only makes me more excited for all the years to come.
Cheers to another holiday season together. I love you so much and look forward to celebrating this warm and fuzzy time of year with you.
Funny Christmas Messages for Your Husband
Of course you want to be sweet and nice to your husband in your Christmas letter. But that doesn't mean you can't have fun. This is the perfect opportunity to throw in a few jokes. After all, the gift of laughter is the best gift you can give. (Bonus points if you're delivering your funny card with some cheesy couples ugly Christmas sweaters.)
All I want for Christmas is you. And jewelry…and a new car…and new clothes…
I love you the way Rudolph loves Clarice, the way Hugo loves dentistry, the way Yukon Cornelius likes chasing abominable snow monsters. Merry Christmas!
Happy holidays to the Santa to my Mrs. Claus, minus all the elves.
May you receive the number one thing you want for Christmas this year: me!
When we got married, we vowed to be together through thick and thin. I hope Christmas with my family doesn't make you regret that…
The Best Christmas Quotes for Your Husband
A Christmas message to your husband doesn't have to all be originally written by you. You can pull in romantic quotes from your favorite Christmas songs and movies. What's the holiday season without a little Buddy the Elf and Marian Carey? Check out these Christmas sayings for your husband from some iconic films and tunes.
"Tell her that you love her…You've got nothing to lose and you'll always regret it if you don't."— Daniel, "Love Actually"
"I just want you for my own/More than you could ever know/Make my wish come true/All I want for Christmas is you."— Mariah Carey, "All I Want For Christmas Is You"
"Presents, what a beautiful sight/Don't mean a thing if you ain't holding me tight/You're all that I need/Underneath the tree."— Kelly Clarkson, "Underneath The Tree"
"I think you're beautiful and I feel really warm when I'm around you and, um, my tongue swells up."— Buddy, "Elf"
"Let's take the road before us and sing a chorus or two/Come on, it's lovely weather for a sleigh ride together with you." — The Ronettes, "Sleigh Ride"
Sample Christmas Poem for Your Husband
If you want to lean into your artsy side, a custom poem is a great way to express your love and excitement for the holiday season. Putting in the time and brainpower to find the perfect, poetic words isn't easy and your husband will appreciate this warm and sentimental Christmas gift. Here's a sample poem to help get the juices flowing:
Christmastime has come again
I'm reminded of the love I have for you this season
Each year I grow more and more fond of you
And the Christmas gifts you give me, it's true!
I can't wait to see you smiling at me
Under the warm, twinkling lights of the Christmas tree
Maybe I'll catch you underneath the mistletoe, if I'm lucky
Ready to gift a kiss to me!
Sample Christmas Letter to Your Husband
If you're still feeling like you need some inspo, look no further! We've pulled together a sample Christmas letter for your husband that'll help end writer's block for good. Feel free to customize this into the perfect extended Christmas card.
Dear Husband,
I wanted to take this opportunity to wish you a very heartfelt merry Christmas. Every year, the holiday season brings out my mushy side and I find myself reflecting on all the love I have for you. What better way to express that than with a handwritten Christmas letter?
It's so heartwarming to watch you interact each year with our extended families and I love how naturally you fit in at my family's wacky holiday dinners. Seeing how our lives have developed and grown together over the years truly brings me so much joy, especially during Christmas!
I also love how our holiday traditions have evolved. From snuggling by the fireplace, to picking out a tree with you, to watching our favorite holiday movies over and over, some of my favorite memories of us revolve around Christmas. You make this time of year extra magical!
I love you so much and truly wish you a bright and happy Christmas. I hope you get everything on your list and feel merry all season long. Next time we go out for hot cocoa, it's on me!
Love,
[your name]