The 44 Best Stocking Stuffer Ideas for Your Husband, No Matter His Interests
They're small, but they'll put a big smile on his face.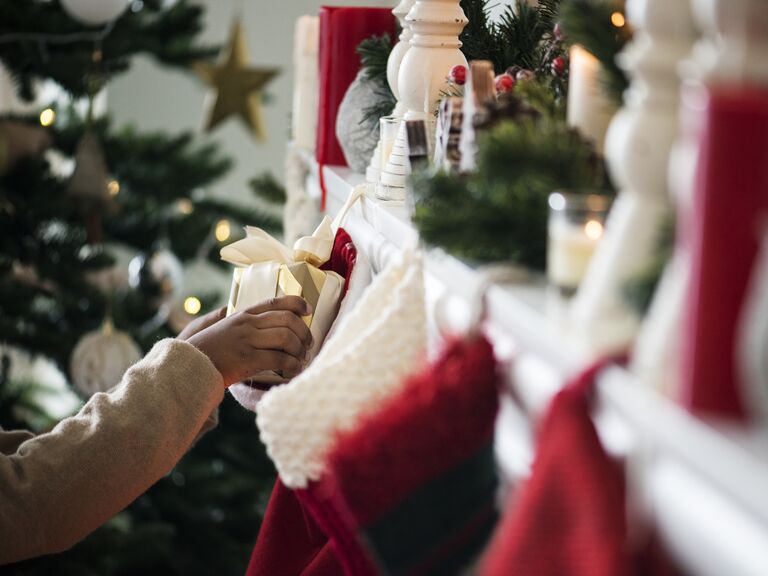 Rawpixel.com / Shutterstock
We have included third party products to help you navigate and enjoy life's biggest moments. Purchases made through links on this page may earn us a commission.
After searching high and low to find a great Christmas gift for your husband, you finally scored the perfect present. But before you go checking his name off your list, there's one more thing you need to think about: stocking fillers. Coming up with stocking stuffers for your husband can be a challenge (especially if you've already exhausted your creative abilities on the rest of your holiday shopping). But never fear—here's exactly what to put in your husband's stocking for the perfect Christmas morning treat.
When it comes to gifts for your husband, it's always a good move to make your picks feel personal—and this is just as important for stocking stuffers as it is for big-ticket items. Think about his various interests and what he would actually use. Another important thing to keep in mind is the size of your gifts. After all, stockings generally aren't very big, and half the fun is how creative small gifts can be. Finally, while it's up to you to set your own budget, keep in mind you'll likely be picking up more than one present to fill his stocking, which can start to add up. We're sharing our top stocking stuffer ideas for every type of husband below, with most picks coming in at $25 or below.
So, what are you waiting for? One scroll through our list of the best stocking stuffers for your husband and you'll be able to officially cross him off your holiday shopping list.
1. Something For Your Forgetful Husband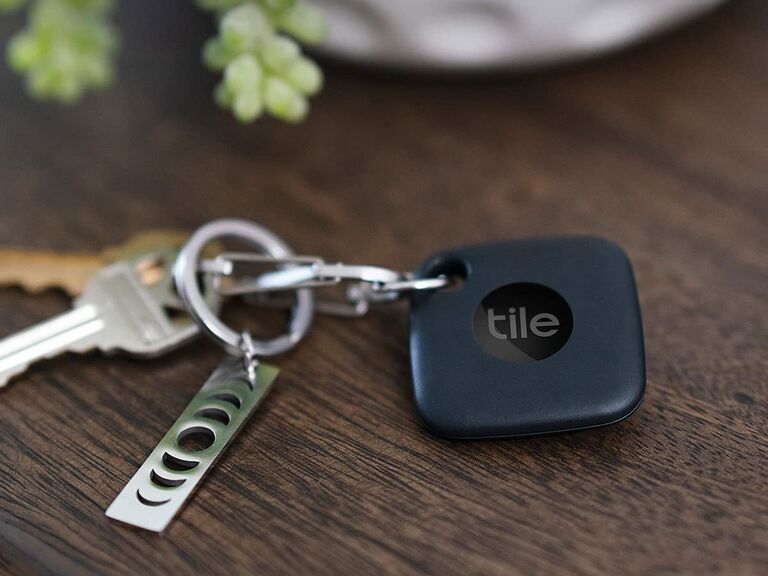 Is your S.O. always losing their keys (or their phone or wallet)? Here's a stocking stuffer idea your husband will definitely appreciate. The Tile Mate tracker hooks onto his keys so he can quickly find them the next time they're misplaced. All he has to do is use the corresponding app on his phone for easy locating within a 250-foot range. But that's not all—it also works the opposite way. If he can't find his phone, he can use his Tile Mate on his keys to force it to ring. (Yep, even if it's on silent.)
2. Something to Keep His Drink Cool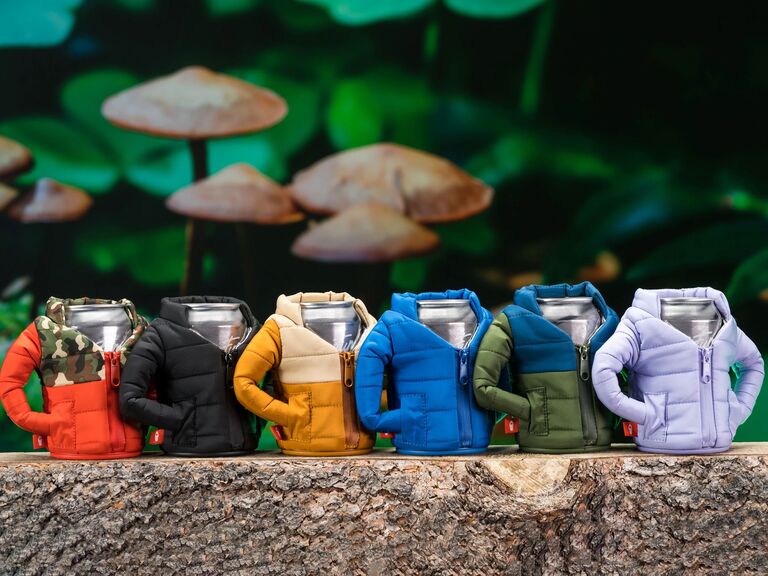 Embrace the true stocking-stuffer spirit with a gift that's equal parts funny and practical. These clever can koozies are designed to look like puffer jackets so his drinks are physically and visually cool. There are six different colorways, so bonus points if you pick one that resembles his own favorite winter wear.
3. Something He Won't Expect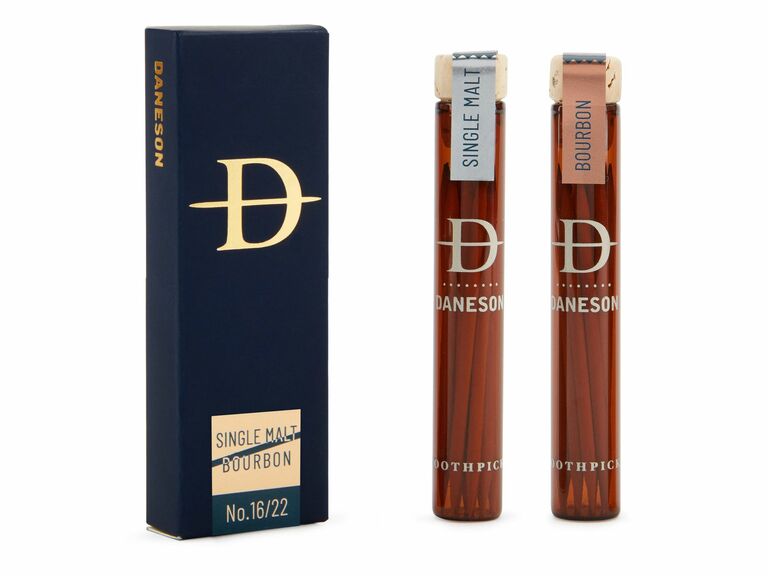 Chances are, single malt- and bourbon-infused toothpicks aren't something he'd pick out for himself (or even knows exist). But that's what makes these such a cool stocking stuffer for men who love dark liquor. Made from premium white birch and infused with 14-year-old Islay scotch whiskey and a six-year-old cask-strength Kentucky straight bourbon, they deliver a surprising flavor that'll leave him refreshed after any meal.
4. Something to Help Him Stay Hydrated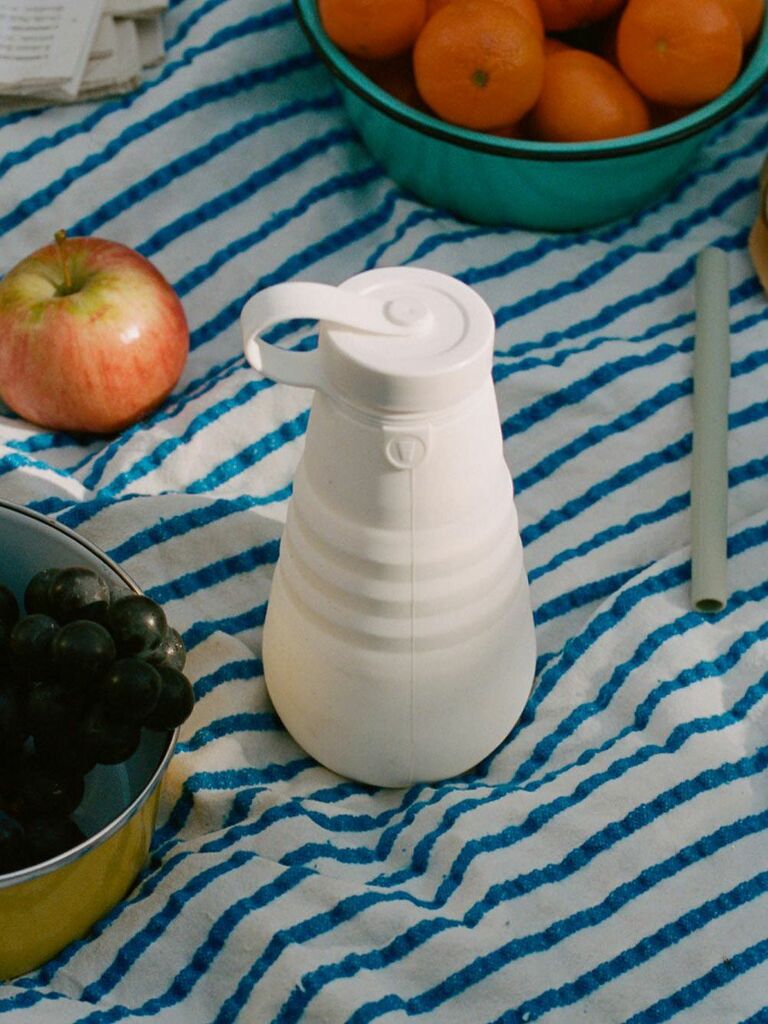 This genius bottle will fit perfectly in your husband's stocking thanks to its shape-shifting mechanics. It's made of flexible silicone that holds 20 ounces of liquid when full, then collapses into a small sphere when empty. It also boasts an airtight and leakproof cap that can hang from a bag strap, and is dishwasher-safe and BPA-free.
5. Something for the Chef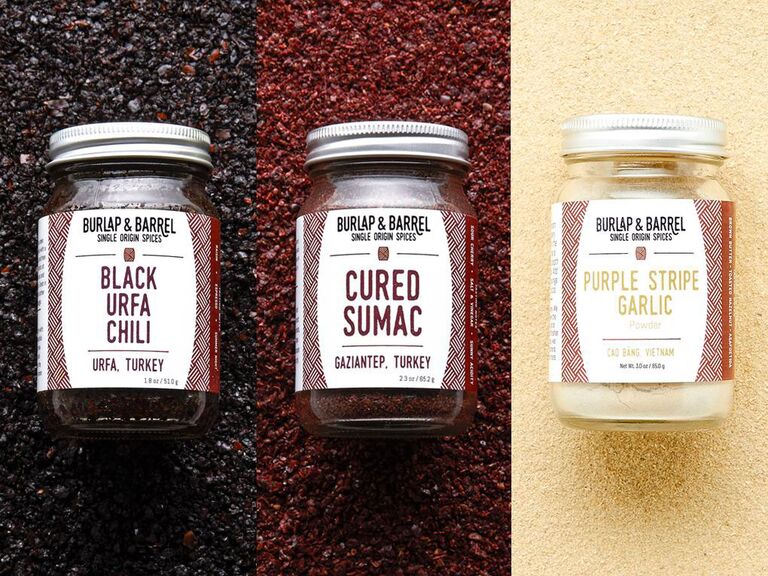 Your husband will want to show off his skills in the kitchen right away when he opens this spicy stocking stuffer. Dubbed the "Weeknight Dinner Collection," these versatile spices will add a flavorful kick to a range of dishes, from steak to fish and veggies. The pack of three includes Black Urfa Chili, Cured Sumac and Purple Stripe Garlic for savory seasonings he'll want to keep within reach no matter what he's whipping up.
6. Something for the Outdoorsman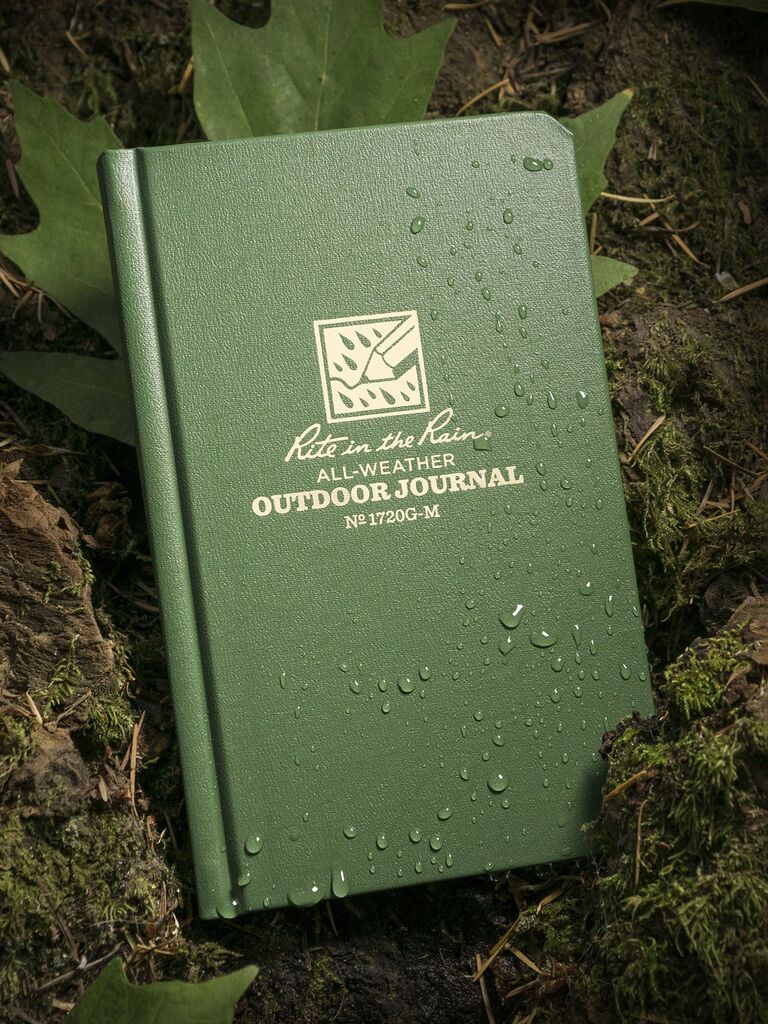 Whether your husband likes to hike, backpack or rock climb, this hardcover journal can accompany him on all his adventures thanks to its durable all-weather cover and paper. That's right—this notebook repels water, oil, mud, grime and other elements so he can draw or write under any condition. We can't think of a cooler stocking stuffer idea for outdoorsmen.
7. Something for the Beer Lover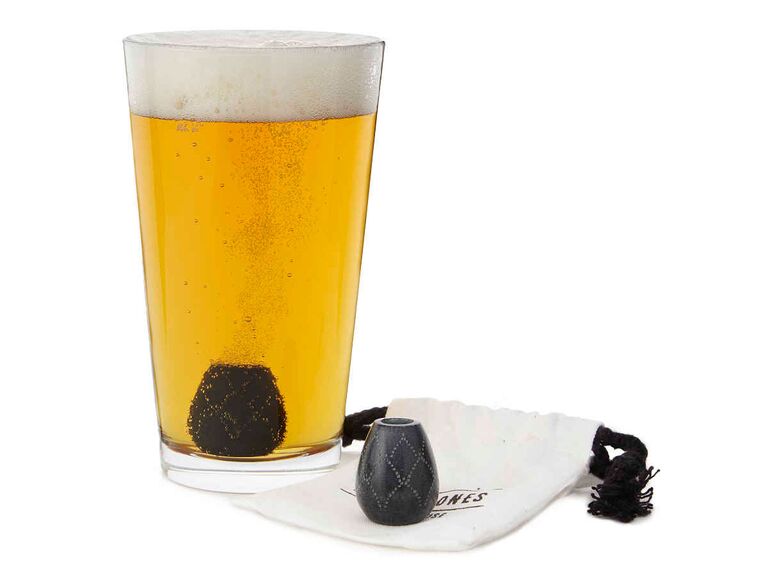 If your husband loves the taste of beer straight from the tap, these stones will give his bottled or canned brew a bubbly boost. And, unlike a bulky keg, they'll fit in his stocking! The soapstone nucleators do more than enhance the beer's flavor, though. He can also keep them in the freezer so they double as ice cubes to keep his pint cold to the last drop.
8. Something for His Cold Feet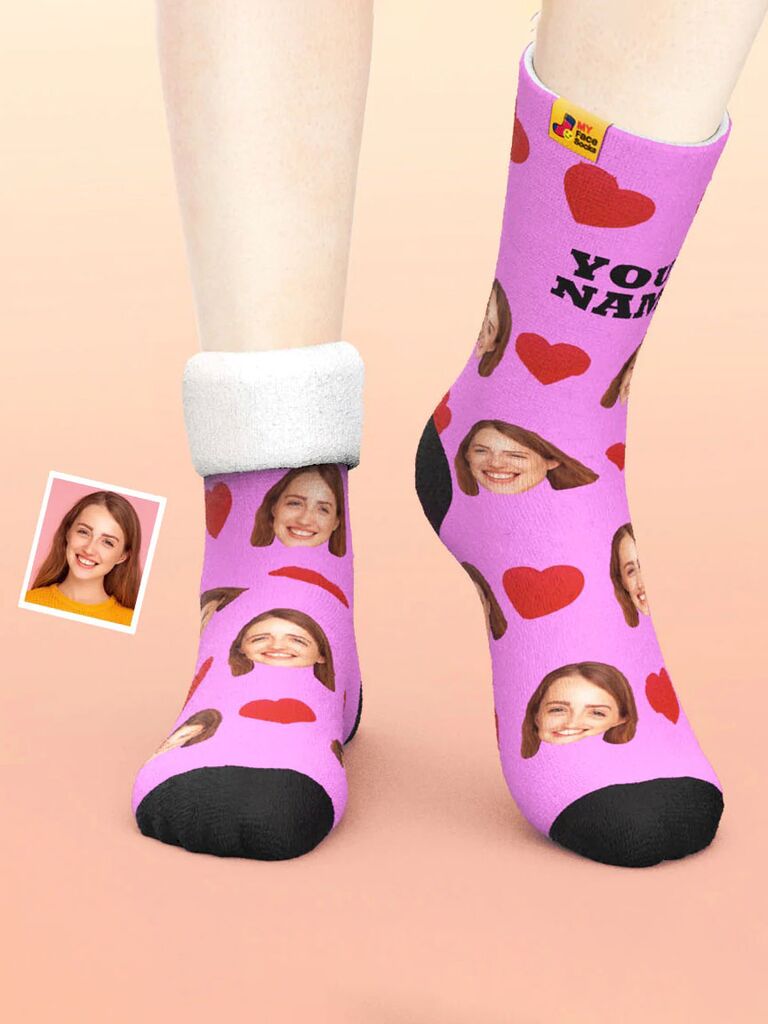 A pair of stockings in his stocking? If your husband is always trying to warm his feet on you, thick socks are exactly the kind of practical present he needs. These aren't just any pair you can pick up at the store, though—they have your face on them! He definitely won't be expecting this customized stocking stuffer.
9. Something to Get Him Started in the Morning
If your husband can't start his morning without a cup of joe, he'll appreciate an extra bag of beans in his stocking so he doesn't run out on a snowy day. Grounds & Hounds has dozens of coffee flavors in light, medium or dark roasts, so you're sure to find one for your hubby no matter how particular he is about his brew. Best of all, a portion of all Grounds & Hounds' profits go toward helping animals in need.
10. Something for His Underwear Drawer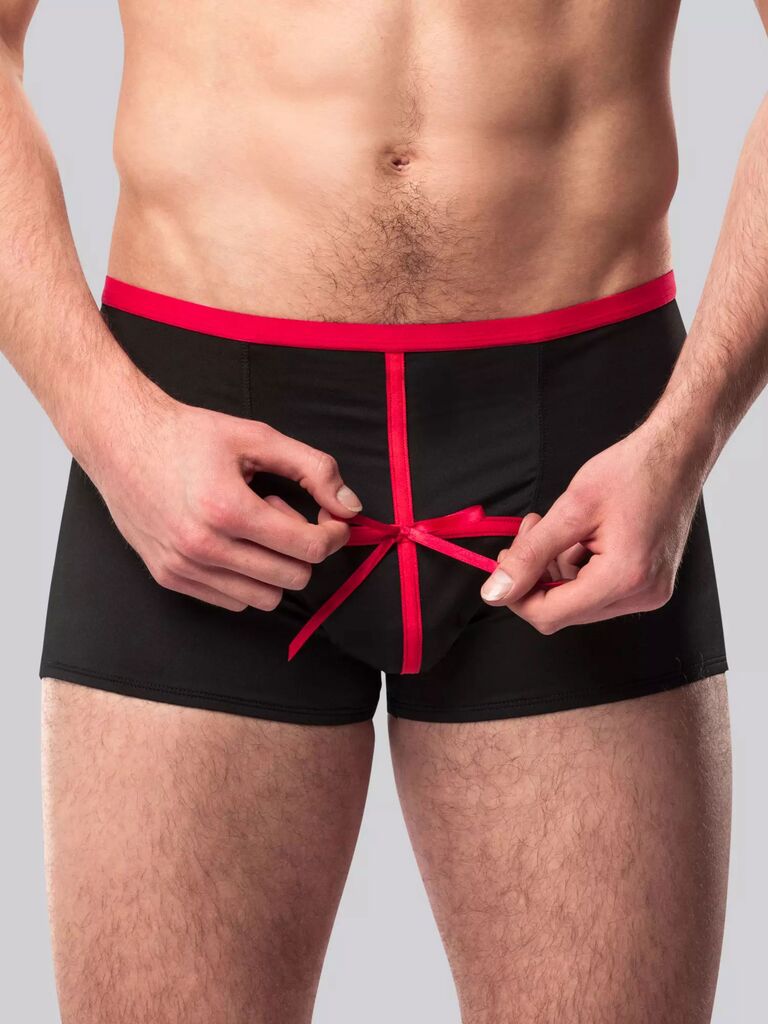 Let him know that he's the greatest present of all with these novelty boxers. They'll add a fun twist to your holiday celebrations—just wait for your husband to unwrap this stocking stuffer once you're home from the family gathering.
11. Something from the Heart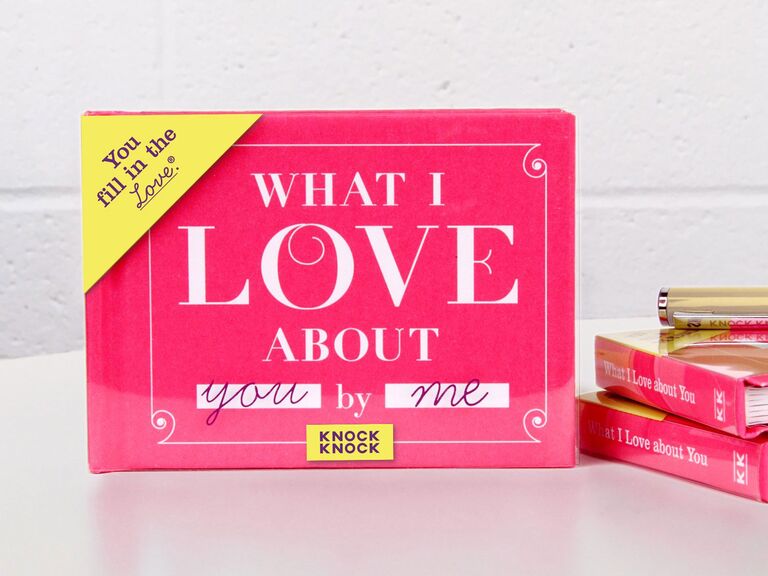 A romantic stocking stuffer for your husband is a surefire way onto his nice list. This fill-in-the-blanks book is your chance to let him know all the little things you cherish most about him. Just complete each prompt with what you love about him, like his great taste in music or sweet smile. It can be as sentimental or funny as you want, but either way, it makes a personal keepsake he'll hold onto forever.
12. Something for the Kid in Him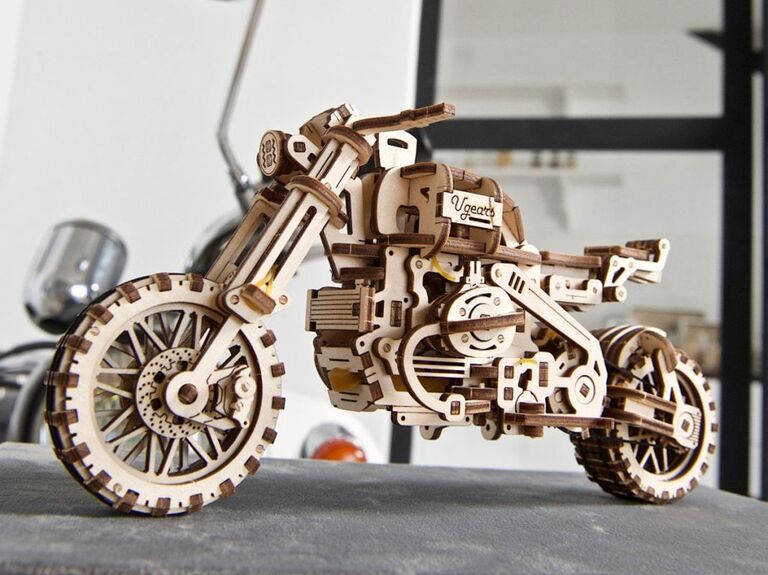 No, your husband is not too old to receive toys for Christmas, especially as a fun stocking stuffer for crafty men. This wooden model bike with a sidecar can be completely assembled without glue. That said, it's no easy task to put it together—it can take up to eight hours to finish! It'll be worth it though, especially, since it has a wind-up key so it can actually hit the open road (err, hallway).
13. Something for the Tech Lover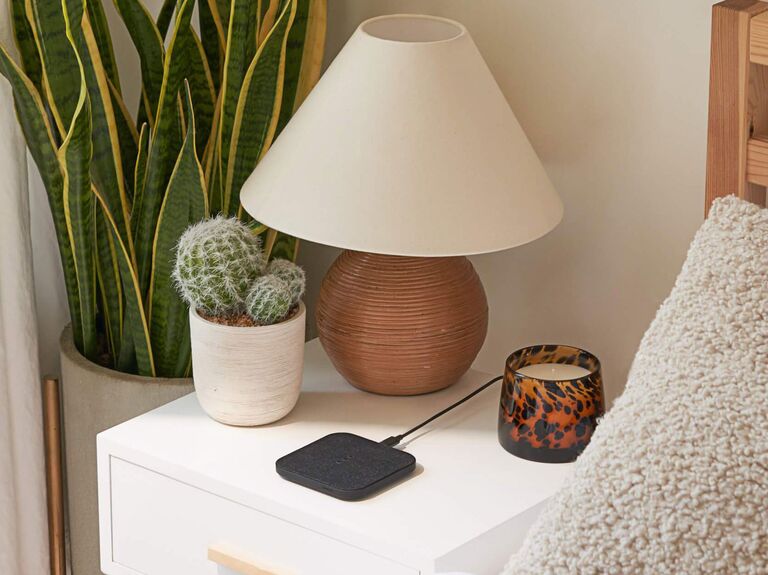 Tech gadgets make great Christmas gifts—and this one isn't too big to be a stocking stuffer. A wireless charger will clean up his bedside table or desk so he can charge his phone or headphones without the tangle of cords. Plus, it looks super stylish.
14. Something for the Sneakerhead
Did you get him new sneakers for Christmas? Pop this cleaning kit into his stocking so he can keep them dirt- and scuff-free. It comes with a bottle of tough-on-stains cleaning solution, a brush and a cloth. Best of all, it's travel-sized, so he can restore his kicks no matter where he wears them.
15. Something Classic for the Holidays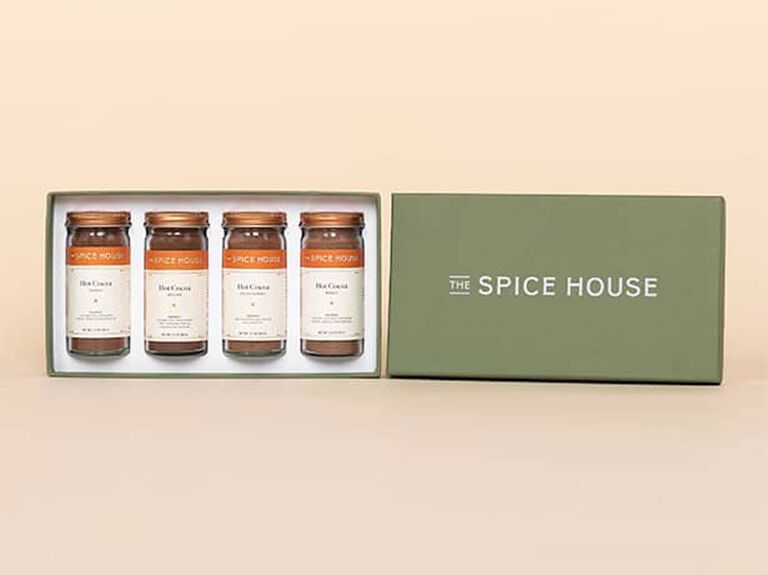 No holiday season is complete without a steaming mug of hot chocolate! If you're searching for a classic stocking stuffer for your sugar-obsessed husband, you can't go wrong with this gift set of gourmet cocoa. Along with traditional hot chocolate, it also has mixes for salted caramel, marsala and Mexican-style cocoa—he just needs to add hot water or milk. Trust us, this will be gone by New Year's.
16. Something for His Glasses
Your husband's stocking fillers can be funny or practical or both—like this glasses stand. Shaped like a nose and personalized with a short message—like, "Honey, don't forget your glasses" or "Eye love you!"—it's a cheeky place for him to store his eyewear. You can even add a mustache to it.
17. Something to Challenge His Brain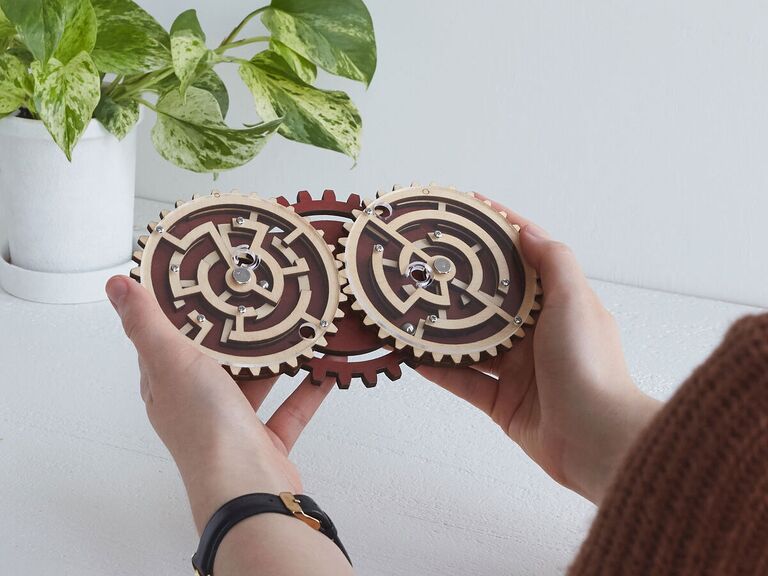 If you need a stocking stuffer idea for the man that has everything (aka your husband, since he has you), you'll have to really think outside the box. Thankfully, we've got an idea for you. This handheld wooden puzzle requires challengers to move a ball through a complex maze until it "escapes." You'll probably end up yelling at him to put it down at the dinner table.
18. Something for the New Year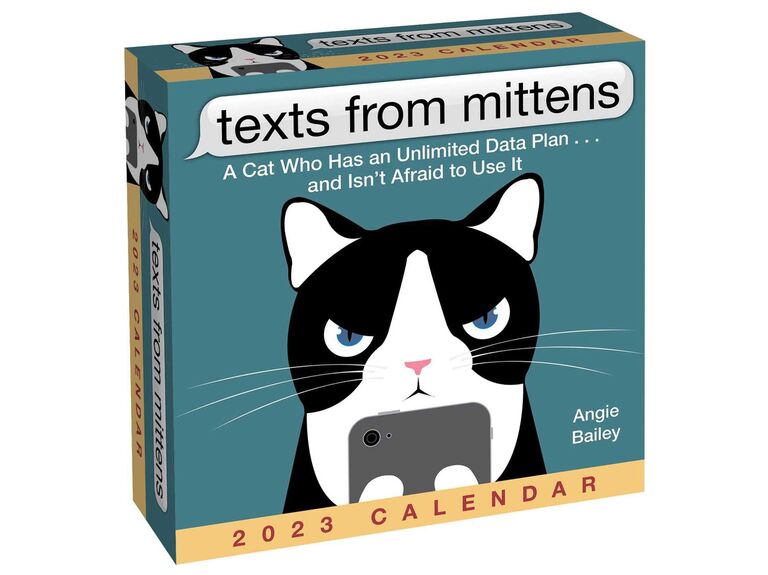 Calendars and planners are a great idea for stocking stuffers for your husband since they'll excite him for the new year ahead. We particularly love this humorous desk calendar with funny text exchanges between Mittens, a cat, and its owner each day. Of course, Calendars.com has hundreds of options so you can find one you know your partner will use.
19. Something Sweet and Spicy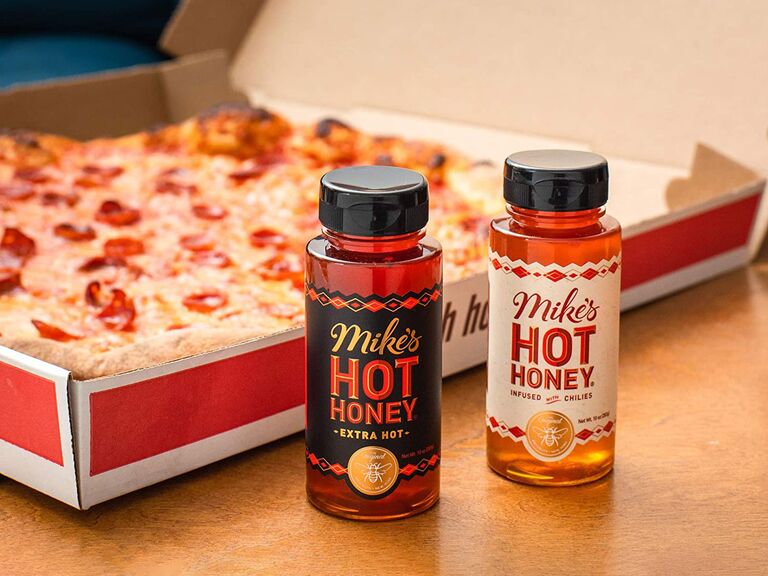 If your husband is a condiment connoisseur, introduce him to Mike and his spicy honey. Mike's Hot Honey is the perfect combination of sweetness and heat that will add a nice kick to any meal or cocktail. Grab him the original chili-infused honey and, if he's always pushing the Scoville scale, the extra-hot bottle too.
20. Something for the Cigar Smoker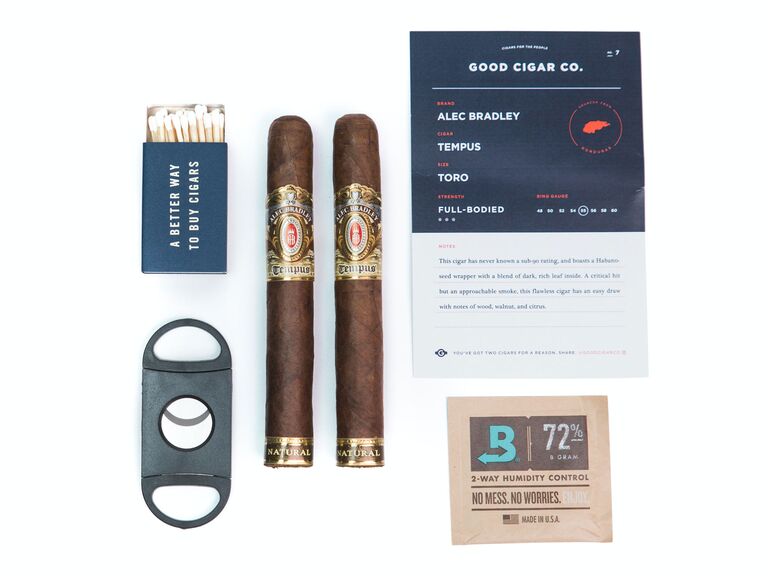 If your hubby's favorite way to celebrate milestones is with a rich, full-bodied cigar, we've found the perfect gift to put in his stocking. This pack of two Rove cigars is stored in a humidity-controlled package and shipped with a double-guillotine cutter for a clean cut and a box of branded matches so he has everything he needs to enjoy a puff with a friend. One thing to keep in mind: You'll need to verify your age after placing your order. Instructions on how to complete the verification process will be emailed within 24 hours.
21. Something He Can Wear Everyday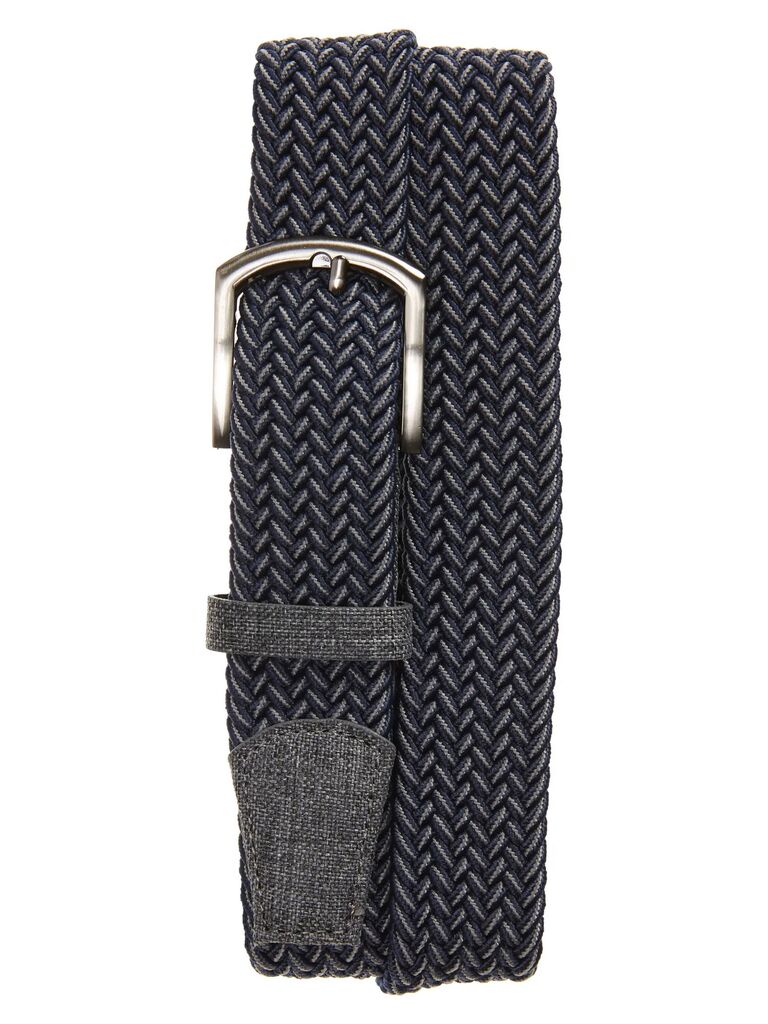 While a sweater is a good Christmas gift, belts make great stocking stuffers. Roll up this sporty option to surprise your husband. Its woven construction features brushed hardware for a casual style he can wear every day, even with his activewear.
22. Something to Help Him Stay Organized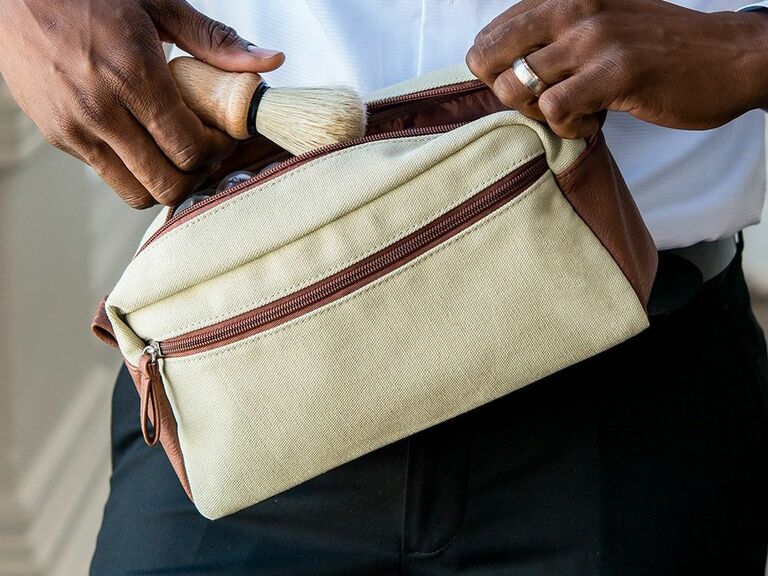 Streamline his self-care routine by giving him a handy toiletry bag to carry all his essentials. The lightweight canvas fabric of this pick means it'll be easy to fold into his stocking, but that will be the only time it's empty. From here on out, he'll have somewhere special to store grooming tools, skincare and more. It's especially practical if your husband travels a lot.
23. Something for His Beard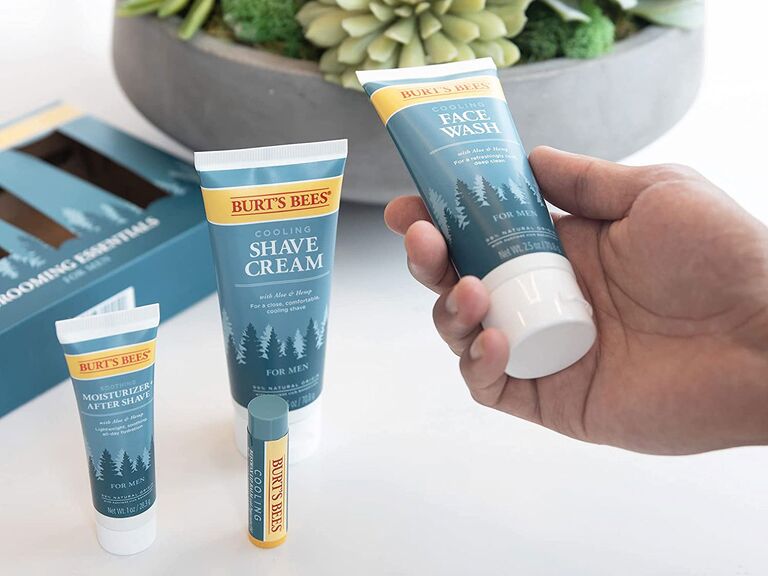 A go-to husband stocking stuffer: grooming essentials. If his morning routine centers around his beard, he'll love this hydrating kit from Burt's Bees. It comes with a cooling face wash and shaving cream for prep and a moisturizer that doubles as an aftershave, plus the brand's signature lip balm. He'll start the new year feeling extra fresh.
24. Something for His Sweet Tooth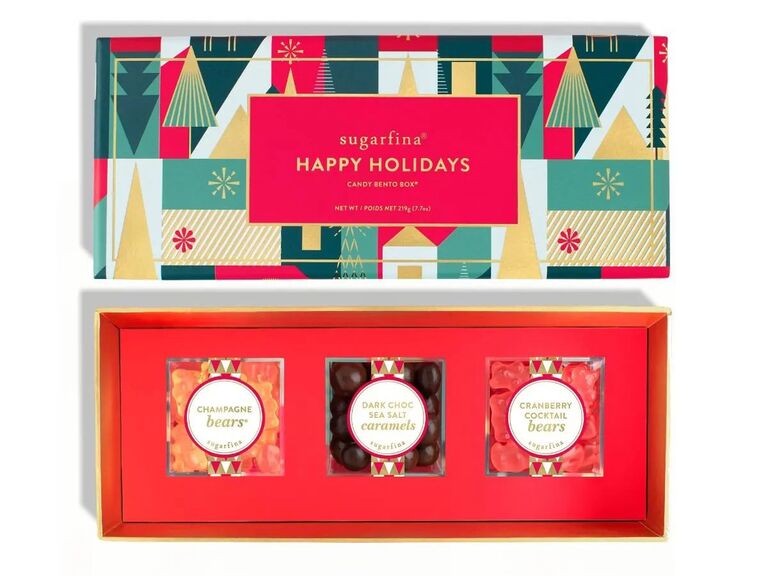 If there is one thing we know makes a good stocking stuffer for your husband, it's Sugarfina's gourmet candy—and these three bento boxes come in one festive gift box perfect for the holiday season. It has Champagne Gummy Bears (this editor's favorite), Dark Chocolate Sea Salt Caramels and Cranberry Cocktail Bears. Yum!
25. Something for the Music Lover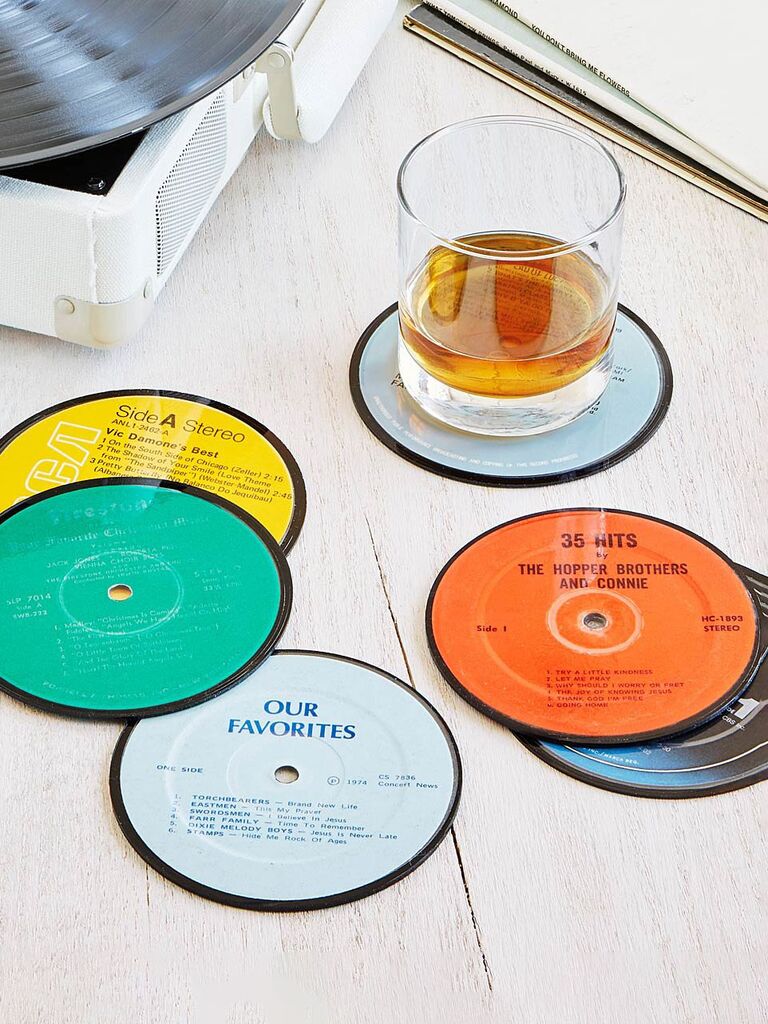 Keep water rings off the record table with these retro coasters. They're made from labels cut from the center of actual vinyl records, which are then sealed so moisture won't seep through to the surface. It's a great stocking stuffer for music buffs, since each set of six will include a variety of musical genres. If they don't already know the album, they'll certainly want to look it up.
26. Something for the Star Wars Fan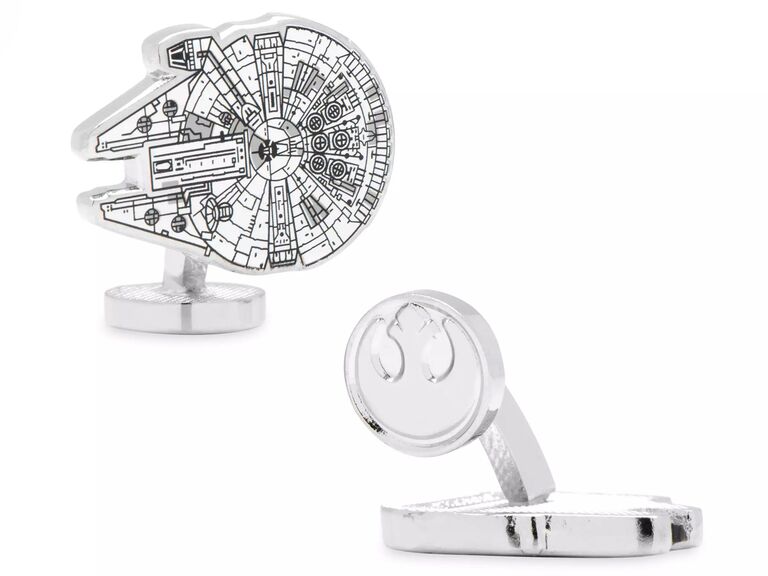 If your gifting method for your husband is one luxury stocking filler for him and then just a lot of candy, here's the one present: cuff links that nod to his favorite franchise. These silver polished cuff links of Millennium Falcon from Star Wars will be a sleek yet playful touch to his favorite formalwear. He'll love pulling these out for all future date nights.
27. Something for His Car
Whether he's driving his dream car or not, an air freshener will keep it smelling fancy and new—and this one is teasingly designed to look like a Land Rover. It's an especially clever idea for your husband's stocking stuffer if you've been hinting at him needing to clean out his gym bag from the car.
28. Something to Keep His Hands Warm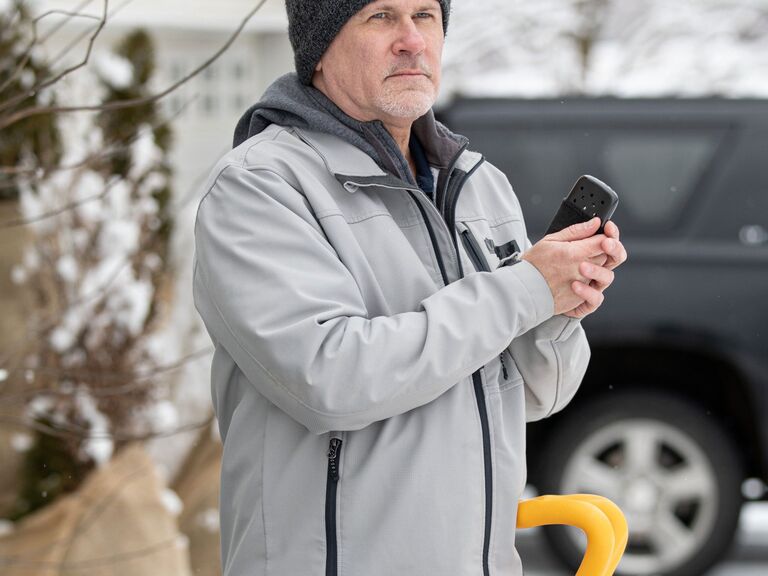 If you two are hitting the slopes the day after Christmas, he'll get immediate use out of this unique stocking stuffer idea for men who love winter sports. It's a 12-hour (that's longer than the lifts are even open each day) refillable hand warmer. It's easy to fill with fuel and slips into a pocket to generate flameless, cozy heat. Toasty!
29. Something for the Avid Traveler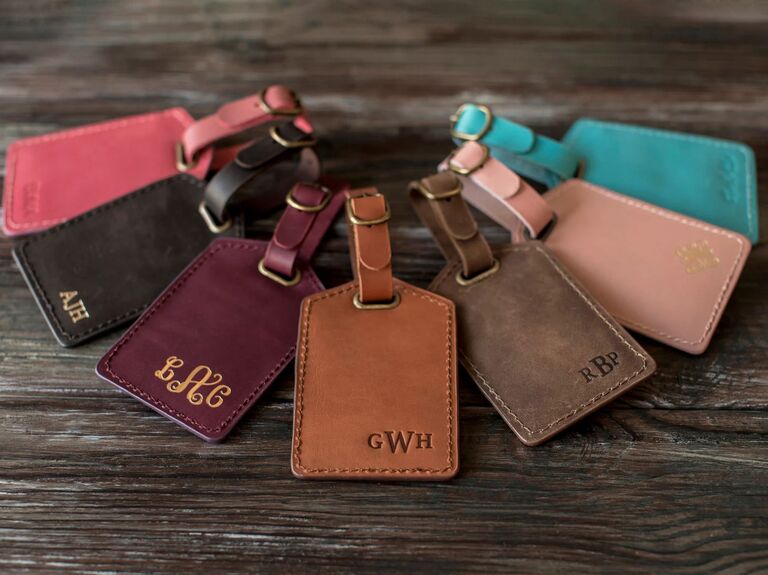 Planning a few trips in the new year? Slip a new luggage tag into your husband's stocking to help him prepare for your upcoming travels. These leather tags come in over a dozen different colors and can be personalized with his name or initials. You'll probably want to buy one for yourself too while you're at it!
30. Something He'll Use All the Time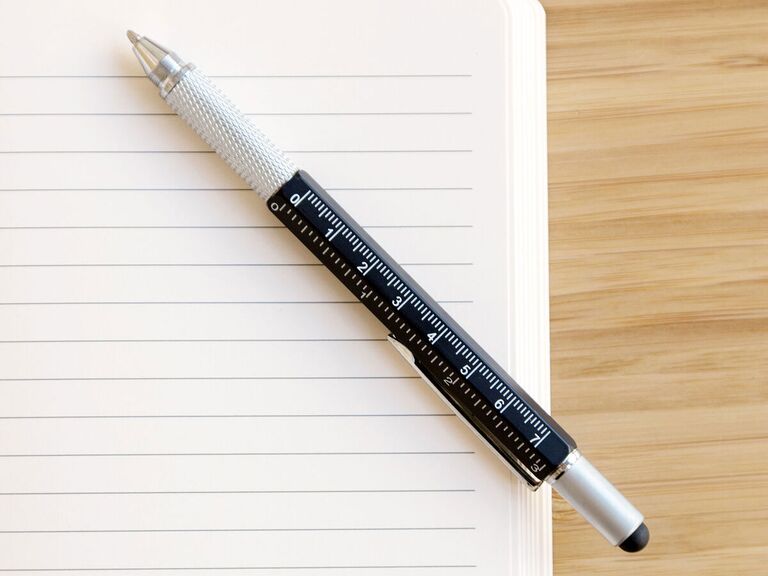 This stocking stuffer idea is perfect for your favorite handyman. The five-in-one pen won't just help your husband sign for deliveries, it also boasts a screwdriver, touch-screen stylus, spirit level and ruler. It'll serve him well in a pinch, especially since he probably doesn't have his toolbox at the office.
31. Something for Stress and Boredom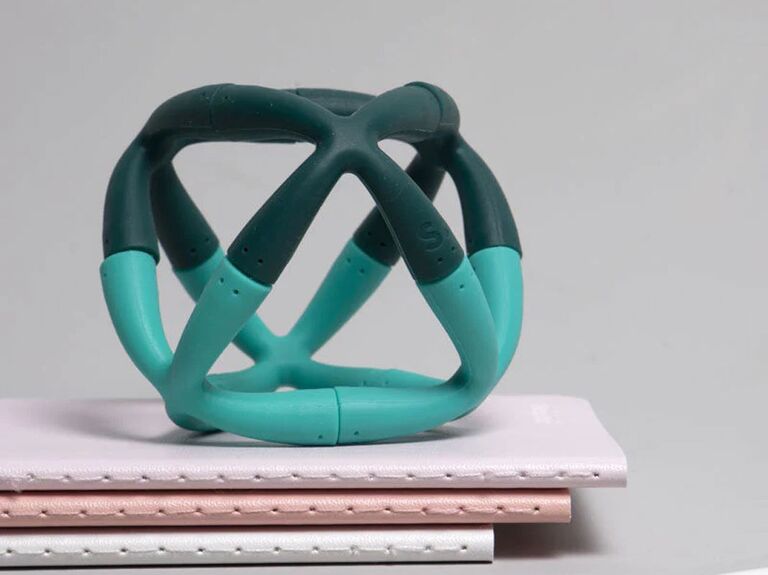 If your husband likes to keep his hands busy while he thinks, he'll love this unique stocking stuffer. This flexible magnetic building set bends to form practically any structure he desires and the high-quality silicone material is satisfyingly soft to the touch. It comes in four trendy colorways for a bright addition to his usual desk decor.
32. Something for When He's Really Tired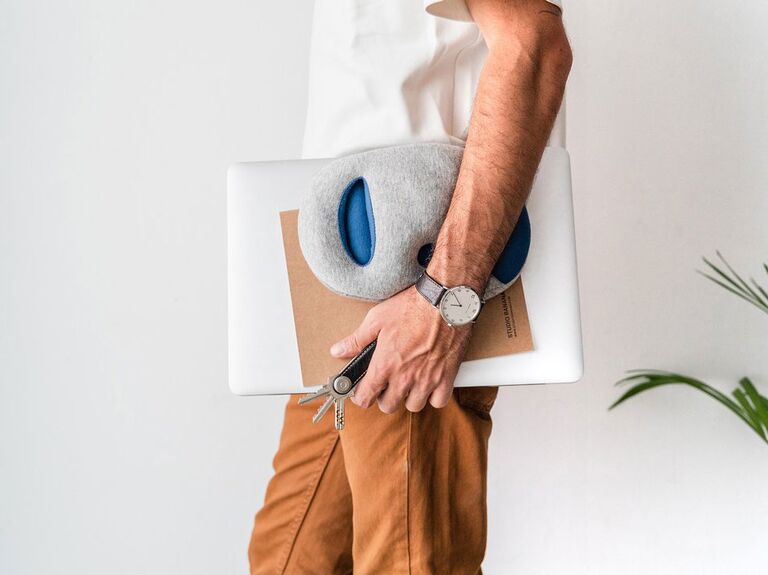 If your husband has a busy schedule, he'll love the gift of a little more sleep. This clever pillow lets him relax nearly anywhere, whether he's at his desk or commuting on a train. It just slides over his hand, forearm or elbow so he has a soft place to nap. It's even a great stocking stuffer idea for your spouse that's always suggesting family road trips.
33. Something for the Chocolate Lover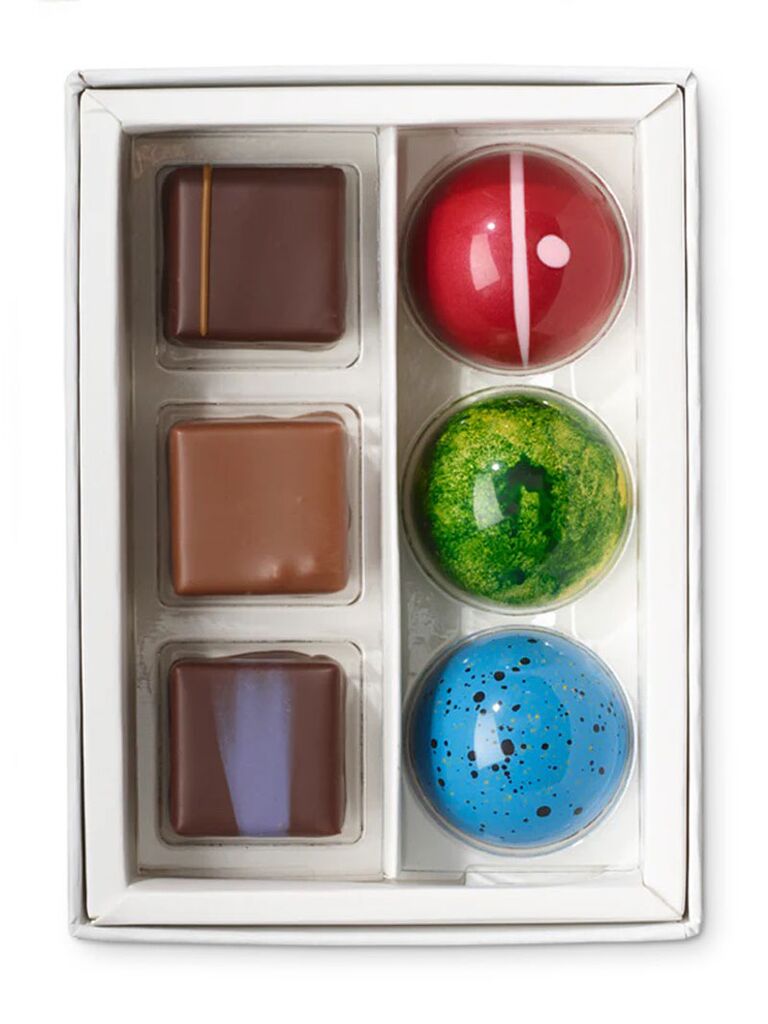 Tell your husband you like him a choco-lot with a box of gourmet truffles. This deluxe set combines classic European-style ganaches and pralines with colorful, hand-painted molded confections for an irresistible flavor combination. Sorry, with only six to a pack, we highly doubt he'll share.
34. Something For the Mixologist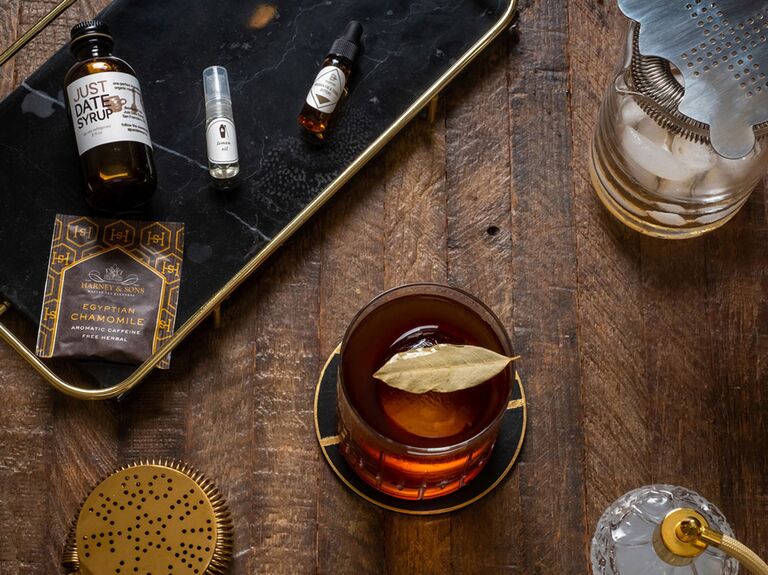 If he's more into cocktails than chocolate, check out this booze-themed stocking stuffer idea. Shaker & Spoon has dozens of kits to create artisanal drinks right at home—just choose the recipe you'll think he'll enjoy the most. This particular box comes with an Egyptian Chamomile tea bag, date-flavored syrup, fig and fennel bitters and a lemon oil spritzer (plus, instructions) so he can make a rich whiskey cocktail that's good cold or hot. Just remember to stow a bottle of his favorite bourbon in his stocking, too.
35. Something for the Golfer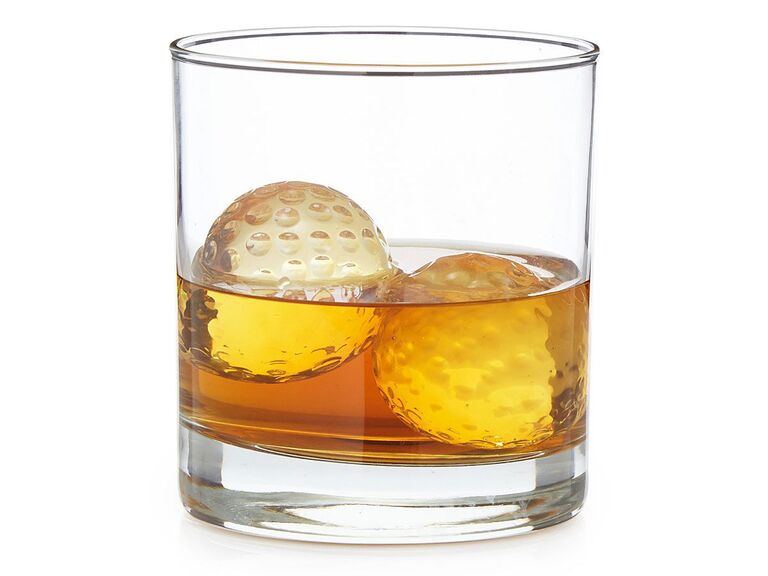 Combine two of your husband's favorite things with this fun stocking stuffer idea. These golf ball-shaped whiskey chillers will keep his drink nice and cold without diluting it. It'll be a thematic addition to his refreshing post-game sip after a day on the green.
36. Something for His Dopp Kit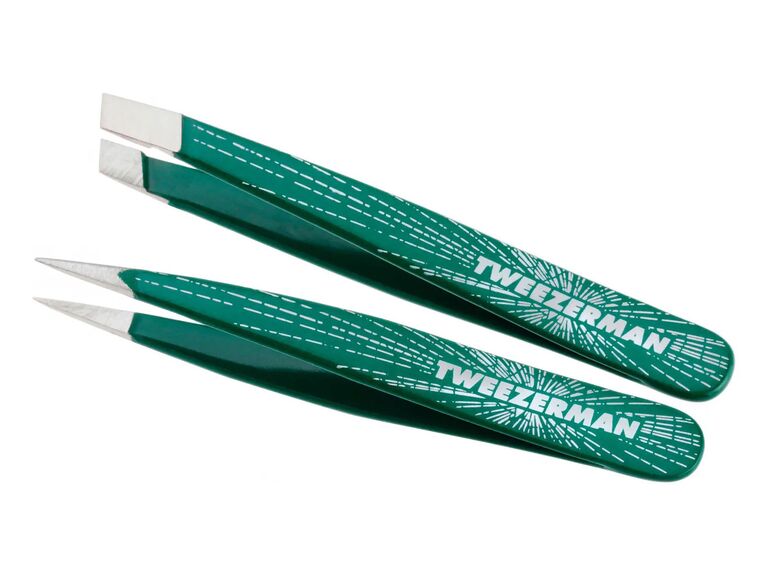 Stocking stuffers for your husband are the perfect way to give him less romantic gifts that he still really needs, like tweezers or nail clippers. This set comes with slanted and pointed pinchers so he can precisely shape his brows or beard. Bonus: Now he won't be borrowing yours all the time.
37. Something to Organize His Hats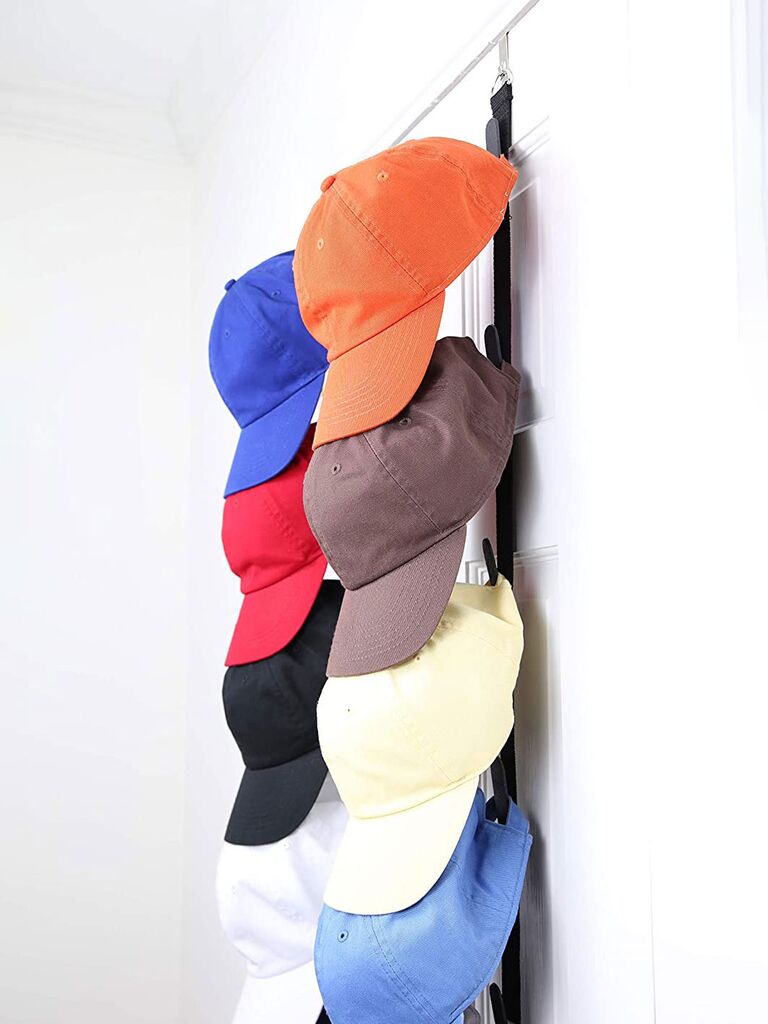 Speaking of things he needs, how about a cool way to store all his hats? This over-the-door hat rack can neatly hold 18 baseball caps or visors so they won't be taking up precious shelf space or end up scattered around the house. (It's kind of a gift for you, too.)
38. Something for His Man Cave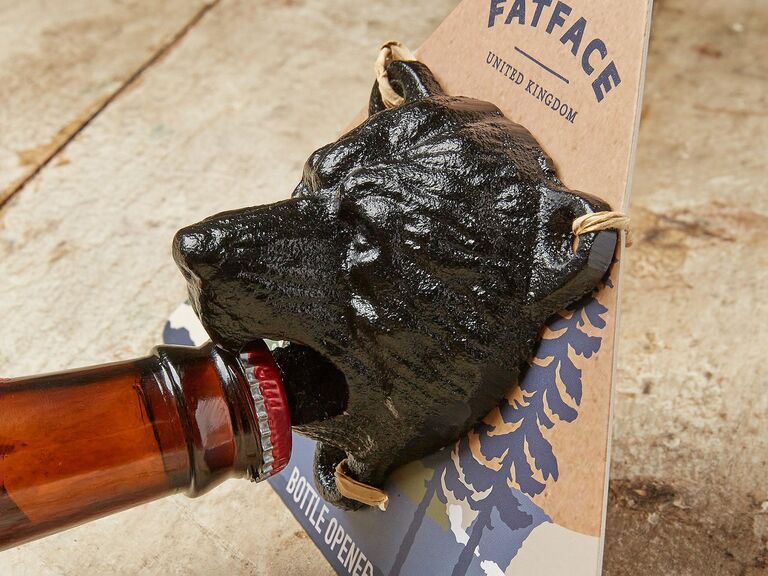 Married a beer-drinking, outdoorsy man? Decorate his bar with this rustic wall-mounted bottle opener shaped like a bear's head. It will perfectly fit in with his aesthetic—and his stocking.
39. Something to Spice Up Mealtime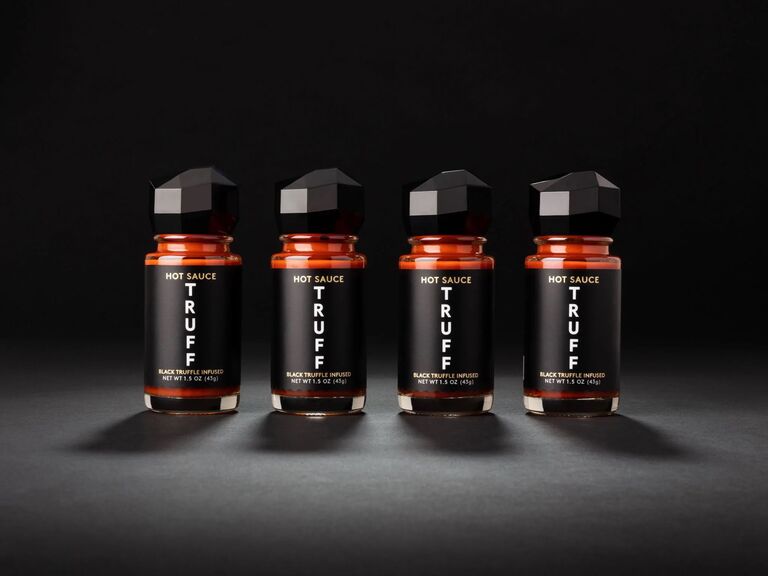 If your hubby believes spice makes everything better, then you can't go wrong with a bottle of TRUFF's Signature Hot Sauce—but in a travel size, so he can take it everywhere with him. It will elevate everything from his morning BEC to a slice of pizza during his lunch break. (And it's vegan and gluten-free in case he has dietary restrictions.)
40. Something for the Baseball Fan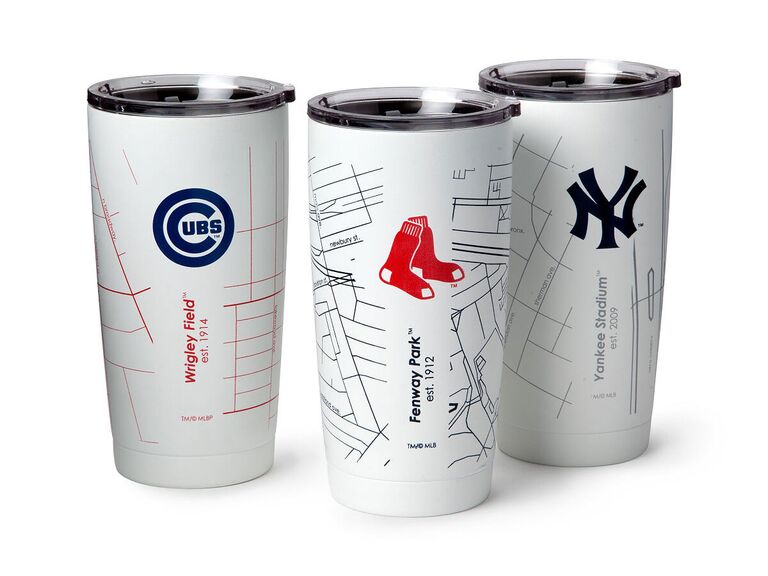 While you might worry about putting glass drinkware in your husband's stocking just in case it falls off the mantel, these travel mugs are a durable compromise. Decorated with the park map of his favorite MLB team, this insulated stainless steel pint will keep his drink hot or cold on his way to work or the stadium.
41. Something for the Guy Who's Always-Prepared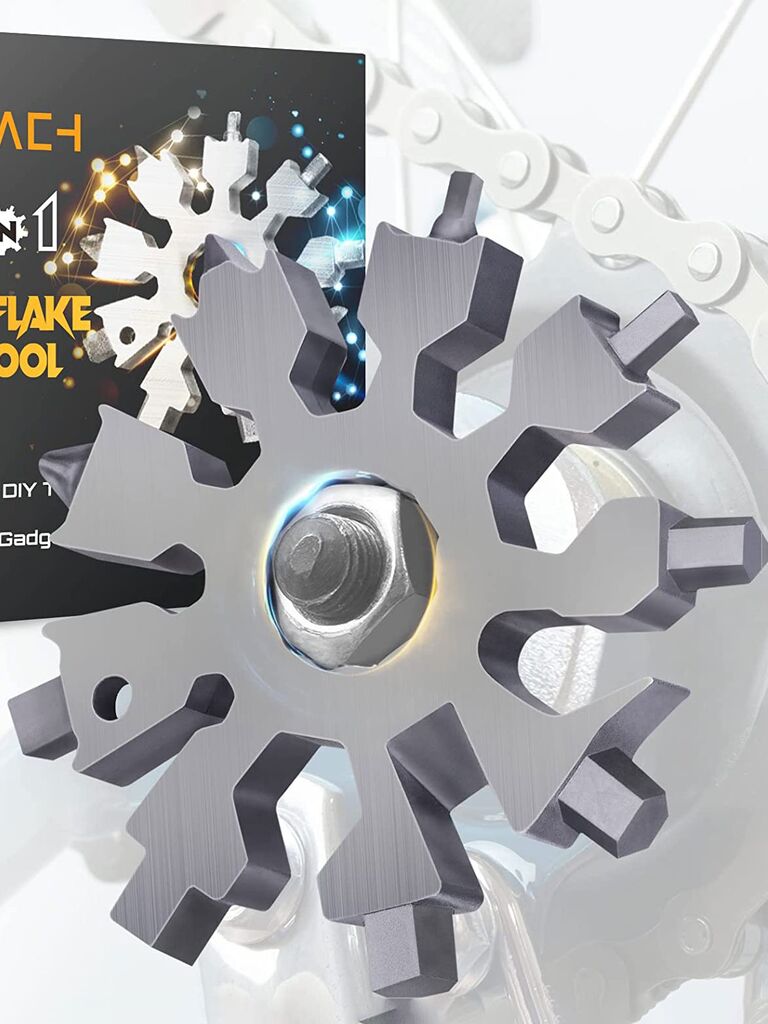 Here's a stocking stuffer idea for your husband that fits the winter season. This steel snowflake is actually a multi-tool with 20 different utensils, including screwdrivers, wrenches and a bottle opener. How cool is that?
42. Something for the Lead Guitarist in Your Life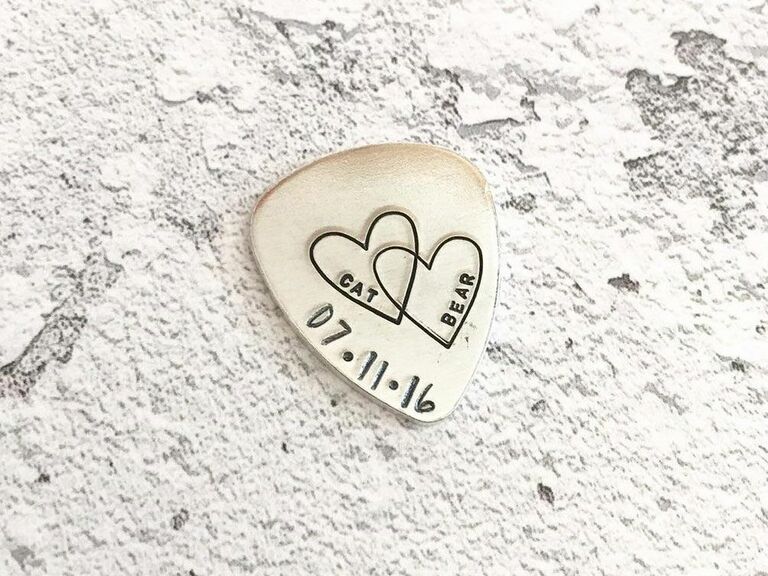 Our favorite stocking stuffers for your husband are practical and personal—like this custom guitar pick. Crafted from aluminum and engraved with a message of your choosing, it will be a sentimental keepsake for your musically inclined spouse. Whether he uses it to play you a song or as a good luck charm at his gigs, it'll be a stocking stuffer he's sure to remember.
43. Something To Go Deeper in Your Relationship
This stocking stuffer for your husband is for you, too! Regardless of how long you have been together, there's always something more you can learn about each other. Spark new conversations and build deeper connections with this couple's card game which boasts 150 different prompts. It's a creative way to share quality time, especially when it's too cold to do something outside.
44. Something for the Rock Climber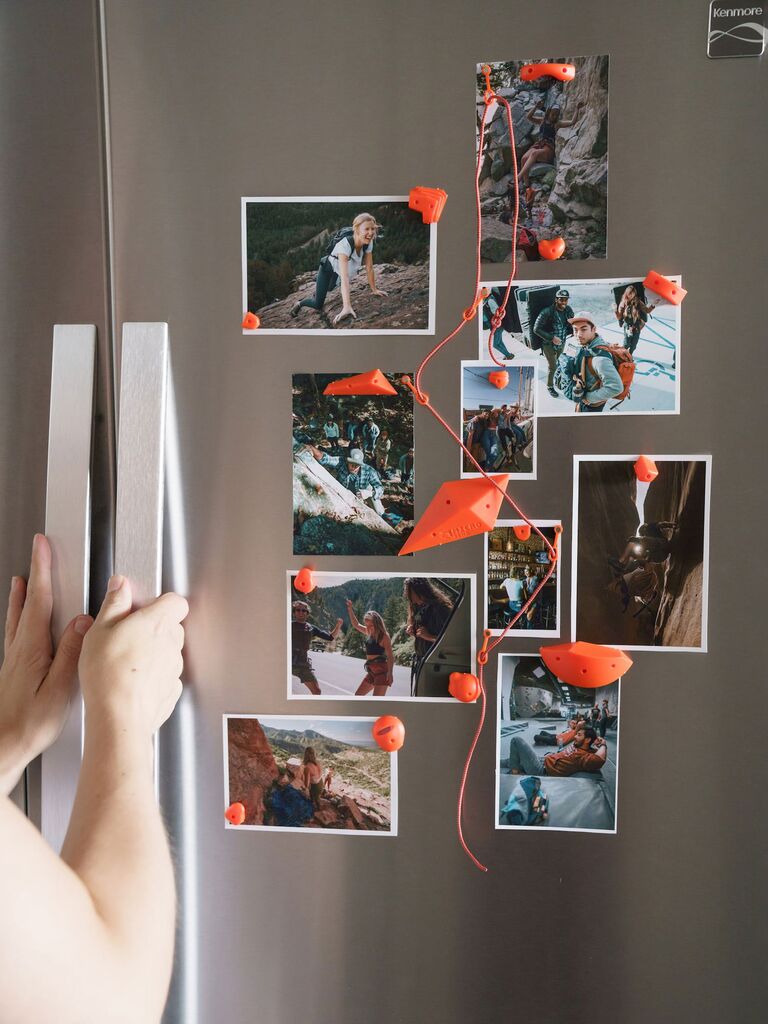 Here's one of the coolest stocking stuffers for guys who love bouldering. It's a mini magnetic route setting kit so he can chart his own course to display pictures (or grocery lists) on the fridge in an ultra-unique way. He'll constantly be rearranging the magnets based on the next mountain he plans to summit.